Jump to: Homeschool Co-ops | Homeschooling Classes & Academic Enrichment
Looking for someone to teach physics to your teen? Need a way to avoid teaching algebra? Want to enroll your Kindergartener in a co-op for social time? Homeschool classes and co-ops are a great way to spend time with other homeschoolers and skill-share with other homeschool parents.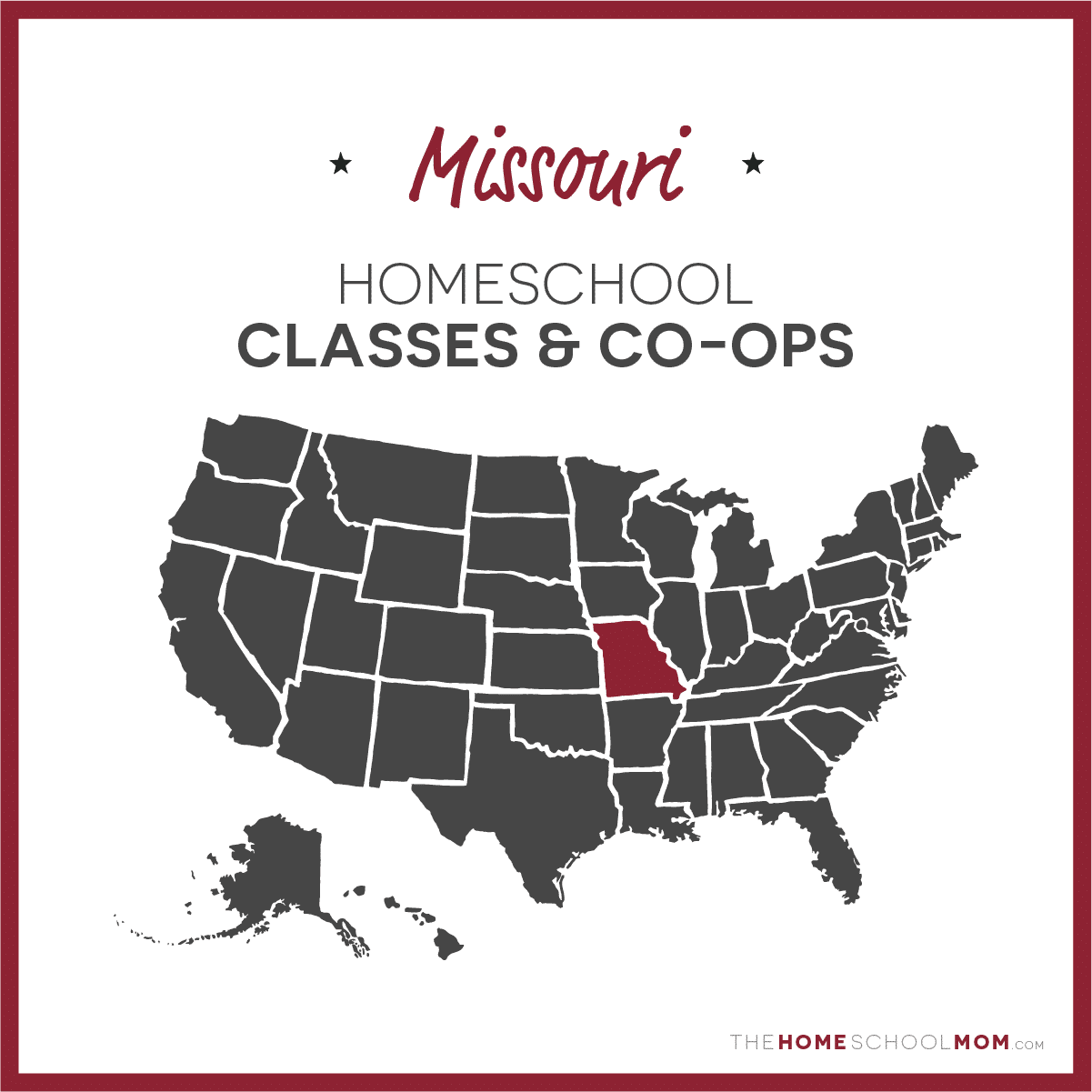 Submit a Local Resource
Our listing of Missouri co-ops and academic classes for homeschoolers is ordered alphabetically by city, with co-ops in the first section and all other academic resources below. If you would like to submit a Missouri co-op or academic resource, you may do so using the red button above.
Missouri Homeschooling Co-ops
Apex HomeschoolArnold
Apex is an academic co-op focused on "core" subjects. Classes are held on Mondays from 9:30 - 12:30. Courses begin the Monday after Labor Day and run for 14 consecutive weeks. After a break for Christmas, there is a 1...
Cedar Hill HomeschoolersCedar Hill
Cedar Hill Homeschoolers is a Local Homeschool Co-op near Cedar Hill, Missouri.
HUUGS Homeschool GroupEldon Versailles Lake Ozark
HUUGS Homeschool Group is a small Christian organization that seeks to encourage and equip local homeschoolers in the central Missouri area. The group is Biblically based, operates under a shared Articles of Faith doc...
Journey OutpostHarrisonville
Journey Outpost homeschooling families two options for its students. Elementary aged students are called Travelers or Adventurers. Travelers classes are held on Tuesdays and are aimed at families who are looking for a...
H.O.P.E. Christian CoopHarrisonville (Cass County)
H.O.P.E. (Helping Other Parents Educate) is a Christian coop is a group of moms and dads gathering to help each other with educating their children. H.O.P.E. is based in Harrisonville, Mo. with many members also from ...
The HomeSchoolers Network (HSN)Joplin
An enrichment co-op for homeschoolers in and around the Joplin, MO offering enrichment classes for Pre-School through the 12th grade on Tuesdays in 12 week semesters; field trips, activities for all ages and much more.
Outreach Christian Homeschool AcademyKansas City
We partner with Christian families in educating their children at home! OCHA provides variety and flexibility so you can choose a program that best suits your family. Whether you're looking for a complete program craf...
Christ the King Academy Co-opKansas City
Christ the King Academy Co-op classes are held on Wednesdays for students ages 4 years old through 12th grade. Christ the King Academy Homeschool Co-op is an educational and social network for homeschooling families, ...
LINKLeavenworth
L.I.N.K. is a parent-led, non-denominational, Christian Homeschool group offering support and encouragement in a Christ-centered environment to homeschoolers and their families. This group once met in Easton, and now ...
Mid-Missouri Christian Homeschool CooperativeMoberly
Mid-Missouri Christian homeschool cooperative meets once a week during the school year to provide kids with group learning experiences.
Rise Up St. CharlesO'Fallon
Offering Thursday in person classes for homeschooler families In O'Fallon.
Anchor Christian HomeschoolersRepublic
A Christian co-op designed to build community and fellowship in SW Missouri. We are currently operating in Republic, Mo and have open registration.
Backroads Homeschool Co-OpRoach
Backroads Homeschool Co-Op is a Christian co-op designed to enrich and enhance your student's learning with elective classes.
St. John Bosco Catholic Homeschool Co-opSaint Louis
St. John Bosco Co-op meets Fridays from 9:00-3:15 at St. Richard's Parish in Creve Coeur and is designed primarily for students grades 7-12. The Co-op offers a wide variety of classes taught by parents and paid teachers.
CASCO Cooperative SchoolSaint Louis
CASCO is a cooperative school located in Saint Louis, Missouri. We are rooted in the foundation of a strong community that thrives from families and educators working closely together. We are a multi-age, progressive,...
Smithville Scholars Homeschool Co-opSmithville
Our co-op exists to provide learning, fellowship, new experiences, and fun for homeschool families in the Smithville area in a Christ-like environment. Our goal is to supplement, enrich, and support what families are ...
Home Schoolers' AcademySpringfield
A co-operative of Christian parents. We are designed to provide our home-schooled children, K-12, with supplemental classes that honor Biblical standards and principles.
Springfield Well-Educated Heart Homeschool CooperativeSpringfield
Springfield Well-Educated Heart's (SWEH) principal goal is the development and formation of wholesome and lasting friendships which nourish our children and provide them with the riches of community. We believe that c...
Tri-County Christian Home EducatorsSt Charles, Lincoln, and Pike Counties
TCCHE is a Christ-centered organization whose primary goal is connecting families with kindred friends, community and other resources needed to support successful home education. We provide support and activities that...
St. Charles Christian Home EducatorsSt. Charles County
Homeschool group offering a Learning Center (7th-12th) with university-style classes, HeartStrong (prek-6th) with enrichment and university-style classes, choir, band, help for struggling learners, cluster groups, and...
SHINE St. CharlesSt. Charles County
A Christian led co-op, serving the St. Charles and St. Louis areas and are open to all homeschoolers. While we are a Christian led co-op, we do not require our members to sign a statement of faith and welcome all who ...
Berea Academy St. LouisSt. Louis
Berea is a homeschool academy, bringing the homeschool hybrid model to the South County area. Classes are K-12th, and include some classes for adults! Students can take just one class, or several. Classes are held on ...
St. Louis HomeschoolSt. Louis
We are a secular co-op for homeschooling families and an information source for prospective homeschoolers. The group is diverse with many religious, political and educational philosophies.
City Roots Homeschool CoopSt. Louis
City Roots Homeschool Co-op offers secular classes and social opportunities to build a city-based, sustainable, and supportive community.
Harper HybridSt. Louis
Harper Hybrid began an in-person school for famlies whose K-5 students were attending schools that were fully or partially closed due to the pandemic. With schools now re-opened, Harper Hybrid is a homeschooling co-op...
Catholic SchoolhouseSt. Louis/ MetroEast
More than an academic co-op, Catholic Schoolhouse is a structured program meeting weekly for homeschoolers that includes chorus, two hours of classroom instruction, hands-on science, art projects, and opportunities fo...
Arrows In The Woods Christian HomeschoolersWaynesville
Arrows in the Woods Christian Homeschoolers is a homeschool cooperative with the intent to support families local to the Fort Leonardwood and surrounding areas who homeschool from a Christian worldview.
Missouri Homeschooling Classes & Academic Enrichment
A Day in the OutdoorsBatesville/Oxford
This is a day once a month for 2nd-5th graders to learn and have fun in the outdoors! The children will come with a small group of their age on an assigned day and explore and learn about the outdoors.
Chesterfield Presbyterian Church Homeschool NetworkChesterfield
Chesterfield Presbyterian Church (CPC) Homeschool Network (HSN) is a Christian learning center where homeschooled students in grades K-8 can experience a day of classes. Our format helps students grow in skills necess...
St. Charles Community CollegeCottleville/St. Charles county
St. Charles Community College Home School Enrichment Program. The Home School Initiative is designed to give you the classes you need to supplement your home schooling efforts, especially those where specialized equip...
CPS Educational ConsultingFlorissant
CPS Educational Consulting offers homeschool assistance to the St. Louis area by an experienced educator with a doctorate level education and licensed as an educational therapist. CPS EdCon offers assistance in subjec...
Brighton AcademyKansas City
Brighton Academy serves the Kansas City area by partnering with parents to augment their home school education in a Christ-centered, college preparatory environment. Students from primary grades through senior high sc...
Bricks 4 Kidz Early Engineers With LEGOSKansas City
Bricks 4 Kidz provides on-site classes, field trips and spring break/summer camps that are open to the public. Provide students with custom LEGO kits and model plans which are complete with motors, gears, axles etc. T...
Little Medical SchoolKansas City
Little medical school is a STEM based enrichment program that brings medicine, science, and the importance of health to children in an entertaining, exciting, and fun way. Children learn while having fun as they dress...
Worlds of Fun Student and Youth GroupsKansas City
Whether it's for a reward, end-of-year celebration or educational experience, Worlds of Fun provides the perfect adventure for your students. Take your lesson plan on the road and show how your lessons apply to the wo...
Homestead Montessori Farm SchoolKansas City
Homeschool Enrichment at Homestead Montessori Homeschool enrichment is an extension of Homestead Montessori Farm School. The intent of this program is to offer extra-curricular activities to the homeschooled student a...
City of Fountains School Enrichment ClassesKansas city, MO/ Waldo area
The City of Fountains' enrichment programs offer homeschooling families a sample of education inspired by the Waldorf approach. The lower, middle and upper grades classes meet every Thursday from 9-1pm and each follow...
Powell Gardens Kids ClubKingsville
Powell Gardens offers a variety of themed program options for youth K-5. All reservations are first-come, first-served based on availability. Total payment for program admission is due the day of your visit in the for...
Susan's Learning Connection LLCLee's Summit
Students are serviced in one-on-one reading therapy/tutoring sessions where a multi-sensory, prescriptive and diagnostic lesson plan is geared toward that individual's needs. The Orton Gillingham approach is used, and...
Missouri Classical ConversationsMissouri Statewide
CC is a national homeschooling program that uses a Bible based curriculum taught in a christian, classical tradition. Classes are geared for age 4 through high school.
Missouri Odyssey of the MindMissouri Statewide
We are a creative problem solving program that gives kids the opportunity to work as a team to design, develop, and implement solutions to their chosen problem. There are five problems to choose from: Vehicle, Technic...
Eagle Learning CenterO'Fallon
Eagle Learning Center offers a variety of classes to homeschooled students for the purpose of enhancing their home education programs. We recognize parents' God-given responsibility to direct the training of their chi...
Ezra EnrichmentO'Fallon
Enrichment classes in O'Fallon, Missouri for students Pre-K through 12th grade.
Honors Summer Academy 2022Oklahoma City
Application is open for the 2023 Honors Summer Academy, July 9-14, 2023! Students can earn 2 hours of transferable college credit in Engineering, Bible, Humanities, or Science. HSA students receive the full university...
Orange Easel School of ArtPlatte Woods
Offering multi-session, grade-level classes. In these weekly classes, we build community. We learn to brainstorm, design, plan, and execute our artistic vision. When it goes wrong, we problem-solve together. We critiq...
Abra-Kid-AbraSaint Louis
This organization offers educational classes, camps, field trips, and assemblies centered around magic, comedy, and circus activities. Performances are age-appropriate and interactive, with the main goal being to help...
CoxHealth Medical ExplorersSpringfield
Considering a career in health care? CoxHealth Medical Explorers is a great way to learn what it takes. Medical Explorers Post 229 started in November 1968 as the first medical exploring post in the United States. The...
Ozarks GEMSSpringfield
Ozarks Grand Expeditions in Missouri Science (GEMS) in Springfield, Missouri is an outdoor education program offering science related classes to families in Southwest Missouri for children ages 6-12.
Federal Reserve Free Resources for Personal Finance and EconomicsSt Louis
If you'd like to teach your students the fundamentals of personal finance and economics, head to econlowdown.org. Launched in 2010 and always growing, this powerful portal contains quality resources from Federal Reserv...
St. Charles Christian Home EducatorsSt. Charles County
Homeschool group offering a Learning Center (7th-12th) with university-style classes, HeartStrong (prek-6th) with enrichment and university-style classes, choir, band, help for struggling learners, cluster groups, and...
The Center for Exceptional LearningSt. Charles County/ St. Peters
Social Engagement & Self-Development Class (Ages 5 to 15) The Social Engagement & Self-Development Class balances unique learning experiences with challenging social engagements to promote brain integration of...
Economics and Personal Finance Educational ResourcesSt. Louis
Econ Lowdown provides award-winning, free classroom resources for pre-K through college educators to teach about economics, personal finance, money and banking, and the Federal Reserve. Free resources for consumers an...
Soil science program for teensSt. Louis
MO DIRT - Missourians Doing Impact Research Together, which promotes STEM learning through new science education and outreach opportunities in Missouri. The goals of MO DIRT are two-fold: (1) to further educate citize...
Berea Academy St. LouisSt. Louis
Berea is a homeschool academy, bringing the homeschool hybrid model to the South County area. Classes are K-12th, and include some classes for adults! Students can take just one class, or several. Classes are held on ...
Fit Learning St. LouisSt. Louis
When choosing Fit Homeschool, parents choose to teach their child at home through their school district. Fit Learning then provides homeschool support and supplementation in core skill areas. Children attend Fit Homes...
Berea Academy Saint LouisSt. Louis
Berea Academy Saint Louis is a hybrid learning center located in central St. Louis, near the highway 270 and 44 intersection. Berea provides a traditional class experience for the homeschooling student. Classes includ...
Prickly Pear Nature SchoolSt. Louis
Prickly Pear Nature School is an alternative preschool/kindergarten (ages 4-6) program that focuses on nature play, child-lead exploring, and hands-on/experience learning. We meet 2 or 3 days per week (Tuesday, Wednes...
Homelink Learning CenterSt. Louis/South Area
Homelink is a homeschool learning center (not a co-op) that is an arm of the support group called S.H.A.R.E. in St. Louis, Missouri. Homelink offers once-a-week classes that provide guided independent learning for stu...
Leftovers, Etc. Homeschool Enrichment ProgramSt. Louis/St. Charles
A Home School Enrichment Center designed around the needs of the home school community. The goal is to offer activities throughout the day that will allow every family member to participate in a workshop or class simu...
Freedom Christian Learning CenterTroy
Freedom Christian Learning Center is a group of families who come together to support one another and share in homeschooling their children. Offering classes on Tuesdays and Thursday throughout the school year.
One Shepherd, Leadership InstituteUlman
Established in 1981. One Shepherd is a non-traditional, not-for-profit, leadership program for young adults 15 years of age and up. The program uses outdoor adventure "war gaming" as the experiential opportunity to de...
Go to...