Jump to: Homeschool Co-ops | Homeschooling Classes & Academic Enrichment
Looking for someone to teach physics to your teen? Need a way to avoid teaching algebra? Want to enroll your Kindergartener in a co-op for social time? Homeschool classes and co-ops are a great way to spend time with other homeschoolers and skill-share with other homeschool parents.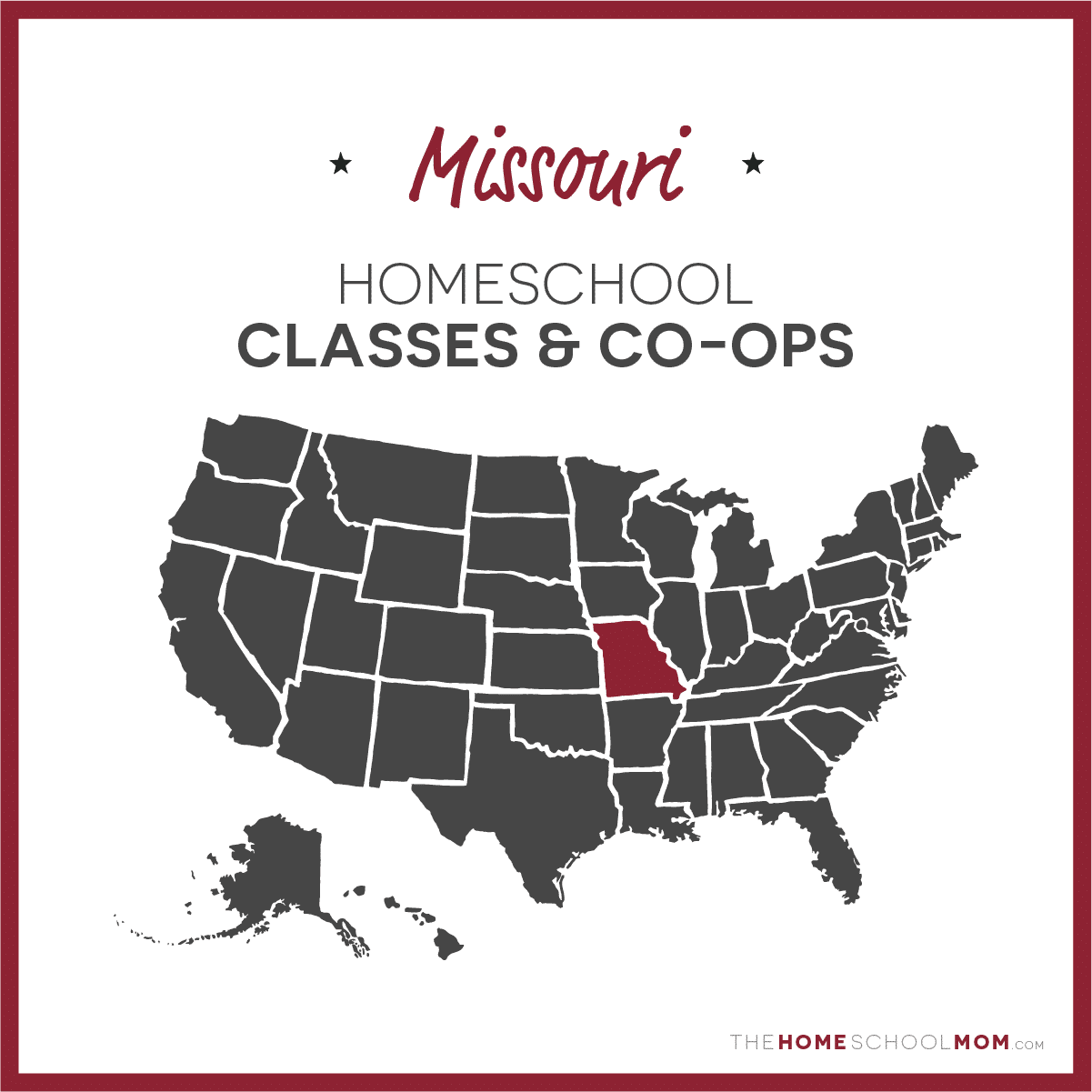 Submit a Local Resource
Our listing of Missouri co-ops and academic classes for homeschoolers is ordered alphabetically by city, with co-ops in the first section and all other academic resources below. If you would like to submit a Missouri co-op or academic resource, you may do so using the red button above.
Missouri Homeschooling Co-ops
Apex Homeschool

Arnold

Apex is an academic co-op focused on "core" subjects. Classes are held on Mondays from 9:30 - 12:30. Courses begin the Monday after Labor Day and run for 14 consecutive weeks. After a break for Christmas, there is a 14-week spring semester. Apex offers four unique age groups. It is possible your child might fit into more than one age group. You know your child best, however, the teacher knows their materials best. If you are unsure what class to register your child for, a conversation between you and the teacher is an excellent place to start. Our Jr. classes are for K-2 grade Elementary is 3-5th grade Middle school is usually to 6-8th grade High School classes are appropriate for those in 9-12th grade
Paideia Homeschool Co-op

Camdenton

Paideia Homeschool Co-op is a group of families who come together to support one another and share in homeschooling their children. Paideia Homeschool Co-op meets during the school year, each semester for 11-12 weeks. We meet on Thursdays from 1:00-3:30pm, for two classes and clean-up.
Cedar Hill Homeschoolers

Cedar Hill

Cedar Hill Homeschoolers is a Local Homeschool Co-op near Cedar Hill, Missouri.
HUUGS Homeschool Group

Eldon Versailles Lake Ozark

HUUGS Homeschool Group is a small Christian organization that seeks to encourage and equip local homeschoolers in the central Missouri area. The group is Biblically based, operates under a shared Articles of Faith document, and seeks to serve Jesus Christ as Lord. The group has three main branches: Bear HUUGS Meetings, which are a primarily social, once per month gathering for all members; HUUGS Happenings, which includes various parent and student-led clubs and classes, field trips, parties, events, and much more; and Tapestry of Grace Co-op, a cooperative of families that use the classical Tapestry of Grace curriculum in their individual homeschools and also together in a class setting of shared teaching responsibilities and student interactions.
Journey Outpost

Harrisonville

Journey Outpost homeschooling families two options for its students. Elementary aged students are called Travelers or Adventurers. Travelers classes are held on Tuesdays and are aimed at families who are looking for an enrichment program without many outside assignments. Wednesday (Adventurers) classes are aimed at families who are looking for a more in-depth program which will include assignments to complete at home throughout the week. Middle School and High School learners are called Voyagers or Navigators. While following the same schedule and material, the Tuesday (Voyagers) class will have a lighter course load than the Wednesday (Navigators) class which will cover topics more in depth and have additional outside assignments. In general, it is recommended that younger/less experienced students attend the Tuesday class and older/more experienced students attend the Wednesday class.
SJB Co-op

Hazelwood

Welcome to the St. John Bosco Co-op home page. St. John Bosco is a Catholic private not for profit Co-op aiding families in the education of their children from Pre-Kindergarten through 12th grade. SJB Co-op offers a variety of courses to enhance the educational and spiritual development of our students.
The HomeSchoolers Network (HSN)

Joplin

An enrichment co-op for homeschoolers in and around the Joplin, MO offering enrichment classes for Pre-School through the 12th grade on Tuesdays in 12 week semesters; field trips, activities for all ages and much more.
Outreach Christian Homeschool Academy

Kansas City

We partner with Christian families in educating their children at home! OCHA provides variety and flexibility so you can choose a program that best suits your family. Whether you're looking for a complete program crafted to your child's individual needs, need a teacher to guide your student from home while you work, want to customize your child's educational experience or you're just looking for a hands-on Science course with a Christian-worldview while you do the rest at home - we are here for you!
Christ the King Academy Co-op

Kansas City

Christ the King Academy Co-op classes are held on Wednesdays for students ages 4 years old through 12th grade. Christ the King Academy Homeschool Co-op is an educational and social network for homeschooling families, providing opportunities for parents to come together and share their talents and resources for the mutual benefit of all participants.
Wild + Wonder

Kansas City

Raising free thinkers of the future
Kearney Homeschool Co-op

Kearney

We exist to connect our homeschool community in a family learning environment for education, relationship, and fun!
Mid-Missouri Christian Homeschool Cooperative

Moberly

Mid-Missouri Christian homeschool cooperative meets once a week during the school year to provide kids with group learning experiences.
Rise Up St. Charles

O'Fallon

Offering Thursday in person classes for homeschooler families In O'Fallon.
Anchor Christian Homeschoolers

Republic

A Christian co-op designed to build community and fellowship in SW Missouri. We are currently operating in Republic, Mo and have open registration.
Backroads Homeschool Co-Op

Roach

Backroads Homeschool Co-Op is a Christian co-op designed to enrich and enhance your student's learning with elective classes.
St. John Bosco Catholic Homeschool Co-op

Saint Louis

St. John Bosco Co-op meets Fridays from 9:00-3:15 at St. Richard's Parish in Creve Coeur and is designed primarily for students grades 7-12. The Co-op offers a wide variety of classes taught by parents and paid teachers.
CASCO Cooperative School

Saint Louis

CASCO is a cooperative school located in Saint Louis, Missouri. We are rooted in the foundation of a strong community that thrives from families and educators working closely together. We are a multi-age, progressive, and globally-minded program that fosters authentic learning through whole-child development and Montessori practice.
Smithville Scholars Homeschool Co-op

Smithville

Our co-op exists to provide learning, fellowship, new experiences, and fun for homeschool families in the Smithville area in a Christ-like environment. Our goal is to supplement, enrich, and support what families are learning at home in their individual homeschools
Home Schoolers' Academy

Springfield

A co-operative of Christian parents. We are designed to provide our home-schooled children, K-12, with supplemental classes that honor Biblical standards and principles.
Springfield Well-Educated Heart Homeschool Cooperative

Springfield

Springfield Well-Educated Heart's (SWEH) principal goal is the development and formation of wholesome and lasting friendships which nourish our children and provide them with the riches of community. We believe that coupling such a community with enrichment activities that emphasize nature study and the arts can help foster a desire in the young minds of our children for lifelong learning.

Springfield Well-Educated Heart Homeschool Cooperative details
Tri-County Christian Home Educators

St Charles, Lincoln, and Pike Counties

TCCHE is a Christ-centered organization whose primary goal is connecting families with kindred friends, community and other resources needed to support successful home education. We provide support and activities that draw parents and students together to build lifelong friendships and accountability. St Charles, Lincoln, and Pike Counties and are based in Troy.
St. Charles Christian Home Educators

St. Charles County

Homeschool group offering a Learning Center (7th-12th) with university-style classes, HeartStrong (prek-6th) with enrichment and university-style classes, choir, band, help for struggling learners, cluster groups, and more.
SHINE St. Charles

St. Charles County

A Christian led co-op, serving the St. Charles and St. Louis areas and are open to all homeschoolers. While we are a Christian led co-op, we do not require our members to sign a statement of faith and welcome all who would like to participate in our co-op. Our goal is to foster an environment built on integrity and virtue, provide educational support, and opportunities to engage socially as well as a sense of community for those homeschooling their children. SHINE Wednesday class are offered on Wednesdays throughout the school year. Classes meet at Lighthouse Church. Classes are offered at 10am, 11am, 1pm, and 2pm with limited middle and high school classes at 3pm. Lunch is at 12pm and families may bring a lunch and eat at the church or leave for lunch. Parents are responsible for their children at lunch.
Berea Academy St. Louis

St. Louis

Berea is a homeschool academy, bringing the homeschool hybrid model to the South County area. Classes are K-12th, and include some classes for adults! Students can take just one class, or several. Classes are held on three days and on two campuses: Wednesdays at Canaan Baptist Church, and Tuesdays and Thursdays at Southgate Church. Berea Academy also features Fabulous Fridays which give your students the opportunity to participate in enriching educational experiences around St. Louis with other students and families. Check out the website for full list of classes.
St. Louis Homeschool

St. Louis

We are a secular co-op for homeschooling families and an information source for prospective homeschoolers. The group is diverse with many religious, political and educational philosophies.
City Roots Homeschool Coop

St. Louis

City Roots Homeschool Co-op offers secular classes and social opportunities to build a city-based, sustainable, and supportive community.
Harper Hybrid

St. Louis

Harper Hybrid began an in-person school for famlies whose K-5 students were attending schools that were fully or partially closed due to the pandemic. With schools now re-opened, Harper Hybrid is a homeschooling co-op for families who still want to be part of the same community with access to same educational resources. If the pandemic were to come back and schools close again, Harper Hybrid stands ready to offer in-person education. In the meantime, our goal is to help your child stay on track with their school day as laid out by their regular school or homeschool. If your child finishes their assigned school work early, we will have engaging and fun supplementary online curriculum for your child. They can play chess with a buddy, try coding, practice math on one of several super engaging math programs, or read a book, rate it, and write a review.
Redwood Classical Academy

St. Louis

Redwood Classical Academy seeks to create fun learning environments and memories to not only bring joy to our community but to help children learn to love learning. Who we are Redwood is a vibrant organization of educators in St. Louis, Missouri, and the surrounding area. RCA is a homeschool tutorial that is here to bring support to your home and the home educator by providing a one/two day drop off atmosphere that brings delight to the liberal arts, a committed community of like-minded friends, and enriched learning opportunities for the whole family. Come sow wisdom and harvest delight as we experience education together!
Catholic Schoolhouse

St. Louis/ MetroEast

More than an academic co-op, Catholic Schoolhouse is a structured program meeting weekly for homeschoolers that includes chorus, two hours of classroom instruction, hands-on science, art projects, and opportunities for socializing after class. Catholic Schoolhouse utilizes a classical education curriculum which educates from preschool to the senior year of highschool.
Arrows In The Woods Christian Homeschoolers

Waynesville

Arrows in the Woods Christian Homeschoolers is a homeschool cooperative with the intent to support families local to the Fort Leonardwood and surrounding areas who homeschool from a Christian worldview.
St. Gianna Classical Co-op

Wentzville

St. Gianna Classical Co-op is a group of families who come together to support Wentzville, MO homeschoolers.
Missouri Homeschooling Classes & Academic Enrichment
Zion Preparatory Academy

Cameron

Developing tomorrow's leaders, one child at a time Home
Chesterfield Presbyterian Church Homeschool Network

Chesterfield

Chesterfield Presbyterian Church (CPC) Homeschool Network (HSN) is a Christian learning center where homeschooled students in grades K-8 can experience a day of classes. Our format helps students grow in skills necessary for working with others, adapting to different teaching styles and meeting the expectations of teachers other than their parent. These classes serve as a supplement and enrichment to what the student is already doing at home and encourages the student to grow academically and socially as they work both with partners or in small groups to solve problems, work on projects, participate in discussions, and other class activities. Together the students develop empathy for each other and make new friendships as they journey through these subjects during the school year. We meet on Thursdays from 8:45 a.m. to 3:15 p.m. for two 12 week semesters. The first semester typically meets during the months of September - November. The second semester typically meets during the months of January - April. We meet at Chesterfield Presbyterian Church, located at 15037 Clayton Road, Chesterfield, Missouri.
St. Charles Community College

Cottleville/St. Charles county

St. Charles Community College Home School Enrichment Program. The Home School Initiative is designed to give you the classes you need to supplement your home schooling efforts, especially those where specialized equipment or knowledge is required or where group efforts are integral to the learning process.
CPS Educational Consulting

Florissant

CPS Educational Consulting offers homeschool assistance to the St. Louis area by an experienced educator with a doctorate level education and licensed as an educational therapist. CPS EdCon offers assistance in subject tutoring, educational therapy, curriculum guidance, full battery testing, and student coaching and guidance, either in person or online.
Brighton Academy

Kansas City

Brighton Academy serves the Kansas City area by partnering with parents to augment their home school education in a Christ-centered, college preparatory environment. Students from primary grades through senior high school can select core, elective and fine arts classes to extend their learning.
Bricks 4 Kidz Early Engineers With LEGOS

Kansas City

Bricks 4 Kidz provides on-site classes, field trips and spring break/summer camps that are open to the public. Provide students with custom LEGO kits and model plans which are complete with motors, gears, axles etc. This is a STEM enhancement program which provides a hands-on opportunity to develop crucial STEM skills.
Worlds of Fun Student and Youth Groups

Kansas City

Whether it's for a reward, end-of-year celebration or educational experience, Worlds of Fun provides the perfect adventure for your students. Take your lesson plan on the road and show how your lessons apply to the world around us. Homeschool Day is a program where home schoolers and their families can observe the mechanics of world-class thrill rides. Teachers are also welcome to download our online curriculum to create a corresponding lesson plan for their students. Tickets may be purchased online or by mail, phone or fax. Contact youthsales@worldsoffun.com for more information.
Homestead Montessori Farm School

Kansas City

Homeschool Enrichment at Homestead Montessori Homeschool enrichment is an extension of Homestead Montessori Farm School. The intent of this program is to offer extra-curricular activities to the homeschooled student as well as allow the non-Montessorian a peek into the world of a Montessori student. Each day will have an instruction period where the student will be given a lesson for the day and then the student will be allowed to further investigate the topic independently. The student will bring their own snacks and sack lunch for the day and will have time for independent or group activity at recess. Each Subject is $100 a month. There is a registration Fee of $50 and a materials fee of $50 per class. There will be an appointment set for the student to come tour the environment before school begins. There are a limited number of spaces available. Classes run for a semester and renew in January for the next semester. Music – Tuesday A History of Music – Students will learn about famous Composers, different genres of music – musical instruments, reading notes on a scale, rhythm and time signatures. Students will learn vocal techniques and learn songs for a musical program. Art – Thursday Art history and techniques – Students will learn about famous Artists and the techniques they use to create those artworks. Students will learn in a working art studio with materials to complete their own works of art. The rest of the day will be studying the geography and history of the different famous artists. STEAM DAY – Friday This is a day where the student will be either learning a science principle, learning about technology, engineering, art or woodworking. Students will learn about the different professions that are available and necessary in our society. A professional will come in at least once a month and share about their profession.
City of Fountains School Enrichment Classes

Kansas city, MO/ Waldo area

The City of Fountains' enrichment programs offer homeschooling families a sample of education inspired by the Waldorf approach. The lower, middle and upper grades classes meet every Thursday from 9-1pm and each follows a daily rhythm of morning circle and verse, movement, with main lessons and daily outdoor time to follow. The lower grades enrichment program is for children 6-7 years old and the curriculum is rich with nature stories and folk tales.The middle grades program is for children ages 8-10 and the upper grades is for children 11-13. There will be regularly scheduled field trips that follow along with the main lessons which will cover such topics as paper making, drawing, painting, botany, zoology, Native Americans/ primitive skills, clay sculpture, puppetry, theater and more.
Powell Gardens Kids Club

Kingsville

Powell Gardens offers a variety of themed program options for youth K-5. All reservations are first-come, first-served based on availability. Total payment for program admission is due the day of your visit in the form of check, cash or credit card. All fees are to be paid in the Visitor Education Center during group check-in. One adult chaperone is required for every 10 students (teachers/staff may serve as chaperones).
Susan's Learning Connection LLC

Lee's Summit

Students are serviced in one-on-one reading therapy/tutoring sessions where a multi-sensory, prescriptive and diagnostic lesson plan is geared toward that individual's needs. The Orton Gillingham approach is used, and all is based in structured litearcy and the science of reading. Dysleixa Assessment is also availalbe.
STEM Education Mobile Robotics STEM sessions

Lees Summit/Kansas City area

BRING STEM & ROBOTICS to your organization! STEM Education Mobile is committed to increasing student interest in science, technology, engineering, and math (STEM) careers especially in underprivileged, high risk, and rural areas. Mobile robotic sessions brings scientific tools and techniques right to your school or organization allowing students access to experiences far beyond what many schools can provide. Resources used are Lego Education WeDo 2.0 Robotics, Lego Spike Essentials, Ozobots, and Beebots. Resources are for students in grades 2nd-5th grade. Being mobile allows thousands more students each year to experience robotics. Currently more than 5000 students have had their interest sparked in robotics by experiencing these hands on interactive sessions
Missouri Classical Conversations

Missouri Statewide

CC is a national homeschooling program that uses a Bible based curriculum taught in a christian, classical tradition. Classes are geared for age 4 through high school.
Missouri Odyssey of the Mind

Missouri Statewide

We are a creative problem solving program that gives kids the opportunity to work as a team to design, develop, and implement solutions to their chosen problem. There are five problems to choose from: Vehicle, Technical, Classic, Structure, or Performance. Teams develop confidence and problem solving skills that they can apply to their daily lives.
Ezra Enrichment

O'Fallon

Enrichment classes in O'Fallon, Missouri for students Pre-K through 12th grade.
Orange Easel School of Art

Platte Woods

Offering multi-session, grade-level classes. In these weekly classes, we build community. We learn to brainstorm, design, plan, and execute our artistic vision. When it goes wrong, we problem-solve together. We critique each other kindly and learn to take criticism gracefully. We grow as artists. Our classes are academic in-style and follow the school year calendar...we're going to teach you skills and challenge you to try something new. The end goal is the learning that happens, not the product we get at the end.
Abra-Kid-Abra

Saint Louis

This organization offers educational classes, camps, field trips, and assemblies centered around magic, comedy, and circus activities. Performances are age-appropriate and interactive, with the main goal being to help children learn and improve communication, presentation skills, and overall self-confidence. Classes and shows are offered year round
CoxHealth Medical Explorers

Springfield

Considering a career in health care? CoxHealth Medical Explorers is a great way to learn what it takes. Medical Explorers Post 229 started in November 1968 as the first medical exploring post in the United States. The CoxHealth Medical Explorers program is a rewarding, non-traditional educational avenue for students ages 15-20 trying to decide if a health care career fits into their future. Explorers may begin their program in September or February. All qualifications must be met to be eligible for this exclusive, high quality program.
Ozarks GEMS

Springfield

Ozarks Grand Expeditions in Missouri Science (GEMS) in Springfield, Missouri is an outdoor education program offering science related classes to families in Southwest Missouri for children ages 6-12.
Federal Reserve Free Resources for Personal Finance and Economics

St Louis

If you'd like to teach your students the fundamentals of personal finance and economics, head to econlowdown.org. Launched in 2010 and always growing, this powerful portal contains quality resources from Federal Reserve educators nationwide. You'll find videos, modules, podcasts, reading activities and more. Get started with the examples below. Elementary School: Ella's Adventures Young students will learn basic financial concepts, such as decision-making, saving and using credit. Ella's Adventures modules let students follow along with young Ella as she encounters important life lessons. Middle School: No-Frills Money Skills This video series with Q&A features personal finance topics—from compound interest, to stocks, bonds and mutual funds, to different kinds of insurance. It uses clear language to help middle-schoolers understand how these work. High School: The Economic Lowdown Older students can dive into all things economics, banking and monetary policy. Learn about supply, demand and market equilibrium … then tackle gross domestic product, inflation and opportunity cost. Includes video with Q&A. Create Your Free Home School Account Today 1. Create an Instructor account at econlowdown.org. (Choose "home school" or "other organization.") 2. Browse and filter the Resource Gallery to build a classroom and enroll students in the lessons you select. 3. Track their progress and scores on activity assessments. You can follow along with what they're learning — and enjoy discussions about important life skills!

Federal Reserve Free Resources for Personal Finance and Economics details
Little Leaders Academy

St Louis

We are a small in-home Montessori, Nature-Based and Reggio Emilia Inspired Microschool teaching Pre-Kindergarten through second grade for children ages 4-7 in Sappington (Near Grants Farm). We have a Summer Camp and are currently taking applications for our waitlist for the school year. We run Mon-Fri (8am-3pm). In addition to teaching academics, we also educate children on nutrition, physical exercise, emotional and social growth. Daily we guide our learners through growth mindset habits. Message us your email, phone number and age of your child to view our whole child curriculum & 2023 tuition. If you have any questions please feel free to ask on our Facebook page: https://www.facebook.com/LittleLeadersAcademyStLouis! Also check us out on instagram @aprilmaura.
St. Charles Christian Home Educators

St. Charles County

Homeschool group offering a Learning Center (7th-12th) with university-style classes, HeartStrong (prek-6th) with enrichment and university-style classes, choir, band, help for struggling learners, cluster groups, and more.
The Center for Exceptional Learning

St. Charles County/ St. Peters

Social Engagement & Self-Development Class (Ages 5 to 15) The Social Engagement & Self-Development Class balances unique learning experiences with challenging social engagements to promote brain integration of social, emotional, relational & regulation abilities. Intentional focus on development of self-awareness, emotional regulation, and integrated communication. This is a great experience to support social/emotional development for children in homeschool settings. Classes occur 2-3x/week in 2 hour increments. Call us today for more information & to register (636)-248-7000
Economics and Personal Finance Educational Resources

St. Louis

Econ Lowdown provides award-winning, free classroom resources for pre-K through college educators to teach about economics, personal finance, money and banking, and the Federal Reserve. Free resources for consumers and parents who want to learn about these topics. Check out the extensive list of online courses.

Economics and Personal Finance Educational Resources details
Soil science program for teens

St. Louis

MO DIRT - Missourians Doing Impact Research Together, which promotes STEM learning through new science education and outreach opportunities in Missouri. The goals of MO DIRT are two-fold: (1) to further educate citizens on the societal importance of healthy soils and (2) to recruit as many individuals as possible to examine the current properties of our state soils and how these are being influenced by land use and management, as well as microclimate and climate change. Currently offering training to volunteer citizens who are interested in contributing to the research efforts through MO DIRT by conducting soil health surveys across the state of Missouri. The training takes about 3 hours, and participants receive instructions on how to measure various physical, chemical, and biological indicators of soil health such as soil temperature, moisture, respiration, nutrients, color, texture, etc. Participants interested in establishing their own survey site will receive a soil kit with a manual. The training as well as the kit and manual are free. looking for members to become a part of a great team of citizen scientists who, with research scientists, will learn more about climate, plants, communities and our state's natural resources.
Berea Academy St. Louis

St. Louis

Berea is a homeschool academy, bringing the homeschool hybrid model to the South County area. Classes are K-12th, and include some classes for adults! Students can take just one class, or several. Classes are held on three days and on two campuses: Wednesdays at Canaan Baptist Church, and Tuesdays and Thursdays at Southgate Church. Berea Academy also features Fabulous Fridays which give your students the opportunity to participate in enriching educational experiences around St. Louis with other students and families. Check out the website for full list of classes.
Fit Learning St. Louis

St. Louis

When choosing Fit Homeschool, parents choose to teach their child at home through their school district. Fit Learning then provides homeschool support and supplementation in core skill areas. Children attend Fit Homeschool sessions for three (3) hours per day, and they meet with their coach five days per week. During this time, they receive intensive one-on-one academic and cognitive training in math, reading, penmanship, comprehension/logic, and/or expressive writing.
Berea Academy Saint Louis

St. Louis

Berea Academy Saint Louis is a hybrid learning center located in central St. Louis, near the highway 270 and 44 intersection. Berea provides a traditional class experience for the homeschooling student. Classes include core subjects as well as enrichment.
Prickly Pear Nature School

St. Louis

Prickly Pear Nature School is an alternative preschool/kindergarten (ages 4-6) program that focuses on nature play, child-lead exploring, and hands-on/experience learning. We meet 2 or 3 days per week (Tuesday, Wednesday, and Thursday) 9am-3pm from September through the end of May. Space is limited to 4 or 5 children. Located in Tower Grove East, we usually begin our day with a walk to Tower Grove Park or other nearby park. We will spend most of our day outside reading, creating art, picnicking, and generally enjoying childhood. We go outside in all weather! The focus is on child led exploring/learning, fostering independence, confidence, and inclusion. If you have any questions please feel free to ask (pricklypearnatureschool@gmail.com)! Also check us out on instagram @prickly.pear.microschool
Homelink Learning Center

St. Louis/South Area

Homelink is a homeschool learning center (not a co-op) that is an arm of the support group called S.H.A.R.E. in St. Louis, Missouri. Homelink offers once-a-week classes that provide guided independent learning for students in grades K-12. The classes can provide the full home school academic experience or may be considered enrichment classes that extend and deepen the learning that is occurring in your home school. Prices vary depending on the teacher and the subject. Meets at former St. Andrew Catholic Church School, 309 Hoffmeister, St. Louis, MO 63125
Leftovers, Etc. Homeschool Enrichment Program

St. Louis/St. Charles

A Home School Enrichment Center designed around the needs of the home school community. The goal is to offer activities throughout the day that will allow every family member to participate in a workshop or class simultaneously. The classes can be educational or purely for your own enjoyment. Workshop complexity is divided into age groups so each child receives the most benefit from their time at the Leftovers Home School Enrichment Center. All classes are 1-1/2 hours in length unless otherwise noted. Based on the complexity of the workshop, homework will be provided.
Freedom Christian Learning Center

Troy

Freedom Christian Learning Center is a group of families who come together to support one another and share in homeschooling their children. Offering classes on Tuesdays and Thursday throughout the school year.
One Shepherd, Leadership Institute

Ulman

Established in 1981. One Shepherd is a non-traditional, not-for-profit, leadership program for young adults 15 years of age and up. The program uses outdoor adventure "war gaming" as the experiential opportunity to develop Warrior-Leaders through leader ethics, styles, and cognitive processes. Students plan, lead, and assess team performance in challenging mission simulations. Two 7-day semesters are held in central Missouri each year - the last week of May and the last week of September. Students typically require 6 semesters (3 years) to earn the coveted Warrior-Leader tab. There is no other program like this in the world. Serious fun!