TheHomeSchoolMom's local resource listings are sponsored by Time4Learning, where you can find resources, support groups, test prep info, and more.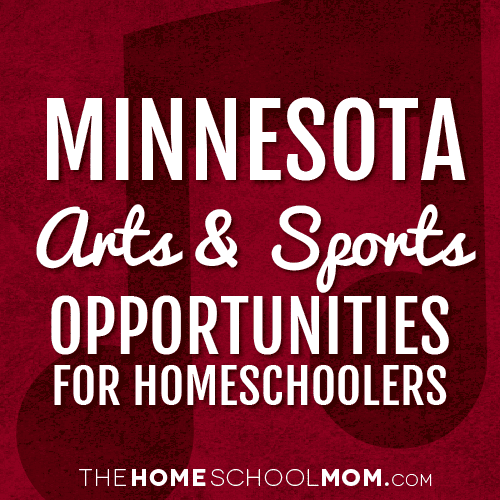 In addition to the opportunity to get out of the house and socialize, homeschool sports and arts programs can offer long-term benefits by developing characteristics like leadership, self-confidence, perserverance, and self-esteem. Many organizations and businesses have opportunities specifically for homeschoolers, while others invite homeschoolers to participate in their regular programs.
Not sure how to choose activity/activities for your children? Read how Rebecca narrows down the choice of extra-curricular activities.
Below is a list of homeschool sports and arts programs in Minnesota listed alphabetically by city, with arts resources in the first section and sports resources below. If you would like to submit a Minnesota arts or sports resource, you may do so using the red button above.
Homeschool Arts Opportunities in Minnesota
Jam Hops Homeschool ClassesAndover/Blaine/Ham Lake
Homeschool classes are a great way for children that are homeschooled to get their gym time in. Jam Hops offers gymnastics, dance, Ninja and an academic preschool during the day for children who a...
Twin Cities Homeschoolers for the ArtsApple Valley
TCHA provides performing arts classes and opportunities for home educated students in the Minneapolis and St. Paul area.
Acting Adventures Theater ProgramBurnsville
Acting Adventures Theater Program offers homeschoolers the opportunity to study Acting, Voice, Dance, Improvisation and More. Classes are held on Wednesdays from 1-2pm and also on Fridays from 10...
In The Company of Kids "Creative Arts Center" LLC (Theater School)Burnsville
Homeschool classes at In the Company of Kids. Acting Adventure Programs - Children have the opportunity to act, sing, dance, do puppetry, improv and more in a non competitive, nurturing environment...
Youth Dance EnsembleBurnsville
Youth Dance Ensemble would like to invite you to the annual The Nutcracker Story: A Community Special Event! (Formerly known as A Special Scouting Event.) On DEC 7th from 10-12pm at Burnsville High...
In the Company of Kids Performing Arts CenterBurnsville, Hopkins, Richfield, Maple Grove, Minnetonka
Performing Arts Center now with 5 locations: Burnsville, Hopkins, Richfield, Maple Grove and Minnetonka. Students study acting, song, dance, writing scripts, improvisation and of course the perfo...
Band class for home schooled students grade 5-12 Goodhue County (Cannon Falls)Cannon Falls
The Cannon Falls School band welcomes home schooled students in grades 5-12. Children can receive free instrument lessons at the school if they sign up for a period of band. Loaner instruments are ...
Shannon Waldron Music; Voice, Piano and Guitar LessonsCoon Rapids
A & S Waldron LLC offers one on one music lessons to students interested in studying piano, guitar, or voice. This company loves helping others find that musical creativity in them, and develop...
Maria Benaros Violin StudioEagan
Violin lessons in Eagan, MN, for children 4+, by an experienced and caring teacher. Special program and rates for home schooled children. Please visit website or email for more information.
Violin lessons for homeschoolersEagan
Special violin program designed for homeschoolers. Weekly private + group lesson at a home studio.
The Sotto Voce InstituteEagan/Mendota Heights
The Sotto Voce Institute offers private piano and voice lessons for children and adults. All lessons are instructed by a licensed, Minnesota music educator, with over 16 years teaching experience! ...
Academy of Russian BalletEden Prairie
Provides flexible daytime on-going homeschool classes and performance opportunities. The Academy of Russian Ballet is committed to educating children in the best traditions of Russian Ballet Master...
Fromherz Piano StudioFargo, Moorhead
Fromherz Piano Studio offers in-your-home piano lessons to students of all ages and levels in the immediate Fargo-Moorhead area. Instructor will consider traveling further for families with multipl...
Cara Mattson Music StudioLakeville
Private voice (singing) lessons in Lakeville, MN. MN Licensed K-12 General/choral music teacher. I teach music theory along with the singing lessons.
Rince Nua Irish DanceMaple Grove
Irish dance is a traditional, wholesome activity that combines musicality and high energy exercise. Rince Nua offers daytime Irish dance classes for pre-k through third grade. PreK/Kindergarten wil...
Farmhouse Music StudioMedina
Piano and Voice Lessons for students of all ages and abilities. Lessons are individually designed to meet the needs of each student and his or her goals. Classical, jazz, Broadway, and pop/rock m...
Cello and Bass LessonsMinneapolis
Private lessons on cello or bass. Teacher has BM and MM in music from Juillard on double bass and is a Suzuki certified cello teacher.
Strike Up The Band!Minneapolis
Homeschool Bands & Chamber Orchestra in the Twin Cities
Minnesota Center for Book ArtsMinneapolis
Minnesota Center for Book Arts offers workshops for students 2 years of age and up. Create handmade books, paper, and prints, while learning about the history of these traditions. Connect your curr...
Ensemble MusicMinneapolis
Rhythm Kids 2 music classes. Rhythm Kids Level 2 is a music, movement, and drumming class for children in Kindergarten through second grade (ages 5 through 8). Children integrate and assimilate rhy...
Green Fire Irish DancersMinneapolis
Green Fire offers the opportunity for children, teens and adults to learn traditional and modern Irish dancing and perform at events like the Minnesota Irish Fair and Renaissance Festival. Parents...
Minnesota Youth SymphoniesMinneapolis
Minnesota Youth Symphonies (MYS) is one of the nation's premier youth orchestra education programs. MYS is dedicated to conservatory-level orchestral training for students. Our students come fro...
Twin Cities Girls' ChoirMinneapolis
The Twin Cities Girls' Choir is a Minneapolis performance-based music education program whose mission is to be a diverse community that sings, performs, and affirms the voices of girls. We offer...
Twin Cities Homeschool BandMinneapolis & St. Paul Areas
The Twin Cities Homeschool Band includes a Beginning Band for students with no previous band experience (grades 4-12). Weekly rehearsal are one half-hour long, with an additional half-hour group le...
Traveling Music LessonsMinneapolis/St Paul
Traveling Music Lesson teachers bring inspiration right to your doorstep!  TML offers private, one-on-one music instruction for all instruments (voice, piano, violin, guitar) in the comfort and con...
Violin BeginnersMinneapolis/St. Paul
Violin Beginner I for ages 4 - 8 and Violin Beginners II for ages 9 - 12. Private and group lessons
Violin and Viola Lessons with Benjamin DavisMinneapolis/St. Paul
Private lessons for violin and viola for all ages. Teacher works full time as a teacher, performer, and artistic administrator. He holds a BM in viola performance and is a registered teacher with...
Angelica Cantanti Youth ChoirsMinneapolis/St. Paul
The Angelica Cantanti Youth Choirs are scheduling auditions now for singers in grades 2 – 12 for the 2017/18 season. Celebrating 37 years, Angelica is committed to promoting excellence in choral mu...
Northfield Dance AcademyNorthfield
Northfield Dance Academy will be offering day time dance classes for the home schooled population of Minnesota. Offering classes in Ballet, Modern, Tap, Jazz & Musical theatre for all ages.
Mcello, Inc. Cello teaching and performanceRoseville
Private Cello Lessons offering a wide variety of methods tailored to the individual. Cello Choir (Group Lessons) classes give cellists an opportunity to learn how to collaborate and bring songs to ...
Maestoso Band/ensemblesSaint Louis Park
Student ensembles for students of all ages and abilities.
Ordway Center's Performing Arts Classroom SeriesSaint Paul
The Performing Arts Classroom Series features weekday matinee performances of world-renowned global music and dance companies for students in kindergarten through twelfth grades. Performances are a...
Cynthia Ali Studios LLCSaint Paul
Offering piano, guitar, flute and voice private lessons. Located in Saint Paul near Como Lake and Roseville. Please email for price and availability. cynthiaalistudios@yahoo.com
Shakespearean Youth TheatreSaint Paul
Shakespearean Youth Theatre is an educational theatre company that offers classes, camps, workshops, and performance opportunities to homeschooled and alternatively schooled students ages 13-19. Th...
Eighty Eight Notes School of MusicSt. Paul/Roseville
Music classes for all ages and levels. Group and Private, preschool classes included. Choose from many different instruments and lesson packages. Two convenient locations to choose from.
Creo Arts & Dance ConservatoryWayzata
Offering ballet, jazz, modern/lyrical, hip-hop and tumbling classes. The school also offers dance classes with a biblical focus and faith based performance opportunities. Dance can be used as gym c...
Minnesota Conservatory for the Arts- Homeschool Arts Enrichment ProgramWinona
The Minnesota Conservatory for the Arts (MCA) offers a daytime classes in theatre, dance, music, and visual art specifically designed for homeschool students. Homeschoolers are invited to participa...
Dragon Fire CeramicsWrenshall
This resource offers pottery classes that run for six weeks. Students will learn the skills necessary to make mugs with handles, bowls, vases, and lidded canisters. Glazing techniques will also be ...
Homeschool Sports Opportunities in Minnesota
Bunker Park Stable; Horse Course Home School ProgramAndover
Bunker Park Stable offers a great program for horse crazy home school student. The Horse Course program is a weekly 2 hour time frame for four weeks. This program involves both theory and riding ...
Jam Hops Homeschool ClassesAndover/Blaine/Ham Lake
Homeschool classes are a great way for children that are homeschooled to get their gym time in. Jam Hops offers gymnastics, dance, Ninja and an academic preschool during the day for children who a...
Conquer Ninja WarriorBlaine, Burnsville, Eden Prairie, and Woodbury
Conquer Ninja Warrior is a ninja warrior training facility located in Blaine, Burnsville, Eden Prairie, and Woodbury, Minnesota. These are the ONLY facilities in the metro area dedicated to those s...
Red Line AthleticsChanhassen
RedLine Athletics is a source for Homeschool families to fulfill the Physical Education requirement of the home school curriculum. RedLine Athletics offers programs specifically designed for home ...
UM Duluth Swim LessonsDuluth
Serving generations of Northland families with the highest quality American Red Cross swim lesson instruction for over 25 years! • Infant, pre-school & youth group lessons • Adult private les...
Farmington Community Education HomeSchool Open GymFarmington
Homechool Open Gym and Open Swim days to homeschool students and families. The gym has volleyball, basketballs, dodge ball, hula hoops available, or bring your own equipment! We have a 6 lane 25 y...
Base CampFort Snelling
A camp in the city! Come to Base Camp for a one-of-a-kind interactive experience in a unique urban setting. Located in Fort Snelling, Minnesota, Base Camp offers year-round opportunities for team b...
Taekwondo for Homeschoolers (Twin Cities North Metro)Maple Grove
Meet your child's physical education needs in a fun and challenging way! The World Taekwondo Academy (WTA) in Osseo, Minnesota offers beginner classes, geared to homeschoolers, conveniently offered...
Great Wolf Swim TeamNorth Metro
A swim team in the north metro area with many swimmers that are apart of the Minnesota homeschool community.
Mulligan Manor LLC (Riding Lessons)Shakopee
Mulligan Manor offers riding lessons for all ages and skill levels. Riding is a low impact high cardio work out. Lessons are offered 7 days a week year round in the indoor arena and are set up to e...
CHEM AthleticsStillwater, Robbinsdale, Roseville, Plymouth , Maple Grove
CHEM Athletics, building character and self confidence through sports. Offering Tennis, field hockey, soccer, and more. Summer sessions being offered in the following locations: Stillwater, Rosevil...
St. Croix Training Center CampsTwin Cities
Spend the week at St. Croix Training Center working with select staff. Participants will experience St. Croix's principles of horsemanship that teach a well rounded approach to working with horses ...
Minnesota Homeschool HockeyTwin Cities Metro
Christian hockey program for homeschooled students
Bubble Smash SportsTwin City Area
Bubble Smash Sports is the fast-paced new sport that lets you, bash, crash and smash your way across the field. Most often used for soccer games, the bubble suits keep you safe, while letting you l...