Jump to: Homeschool Arts | Homeschool Sports
In addition to the opportunity to get out of the house and socialize, homeschool sports and arts programs can offer long-term benefits by developing characteristics like leadership, self-confidence, perserverance, and self-esteem. Many organizations and businesses have opportunities specifically for homeschoolers, while others invite homeschoolers to participate in their regular programs.
Not sure how to choose activity/activities for your children? Read how Rebecca narrows down the choice of extra-curricular activities.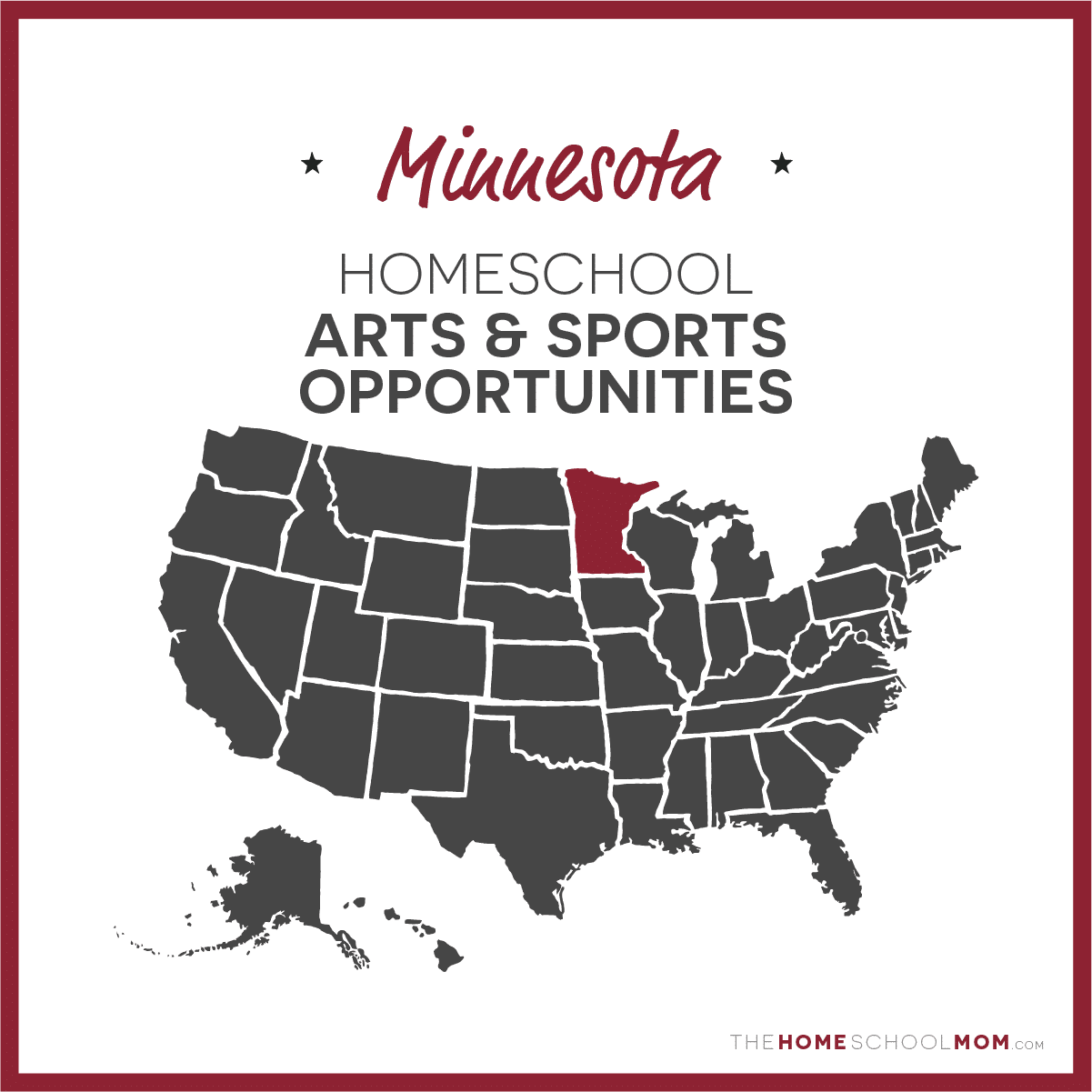 Submit a Local Resource
Our listing of Minnesota list of homeschool arts and sports programs is ordered alphabetically by city, with arts in the first section and sports in the second section. If you would like to submit an Minnesota arts or sports program, you may do so using the red button above.
Minnesota Homeschool Arts Programs
Jam Hops Homeschool Classes

Andover/Blaine/Ham Lake

Homeschool classes are a great way for children that are homeschooled to get their gym time in. Jam Hops offers gymnastics, dance, Ninja and an academic preschool during the day for children who are in a Homeschool environment. In addition to those classes, Jam Hops offers cheer classes and has a theater program that performs periodically throughout the year. There is a family cap on tuition for homeschool gymnastics, dance and Ninja Zone classes making it affordable to have all of your children in multiple activities or just participate in their favorite! Call today to set up a free trial class in some of the programs. Jam Hops also offers field trips, open gym times, camps, movie nights, clinics, birthday parties and a lot more!! Call 763-413-0647 for more information.
Twin Cities Homeschoolers for the Arts

Apple Valley

TCHA provides performing arts classes and opportunities for home educated students in the Minneapolis and St. Paul area.
Minnesota School of Music

Blaine

Minnesota School of Music provides personalized music lessons for kids and teens in a welcoming, family friendly environment. We currently offer individual lessons on piano, guitar, singing, and drums. We welcome students beginning at age 5. Lessons are one-on-one, 30 minutes in length, and held at the same day each week. There are no long-term contracts, and tuition is $138/month.
Stephanie Shogren Violin Studio

Bloomington

Stephanie Shogren offers high quality violin instruction and loves to work with homeschool students. Mrs. Shogren has a Bachelor of Music in Violin Performance from the University of MN and is trained in Suzuki Pedagogy. She teaches from her home in Bloomington and also offers virtual lessons.
Youth Dance Ensemble

Burnsville

The mission of the Youth Dance Ensemble is to enrich the residents of the Twin Cities and surrounding area by providing an environment of dance training and performance with emphasis on artistic, technical, and creative content all presented in a fun and energetic setting. The school of Youth Dance Ensemble will offer preprofessional training for the serious student as well as classes for the avocational and young dancer. The Repertoire Ensemble, a company of young artists, will inspire the general public to better understand and appreciate dance in its many forms, to preserve and promote the art of ballet and related cultural traditions.
Chaska Music Studios

Chaska, Chanhassen, Shakopee,

Chaska Music Studios has be teaching all instruments and voice in the Southwest Metro since 1995. All instructors are degreed professionals offering lessons in their primary instrument. Chaska Music Studios offers Fall, Spring and Summer sessions, to students of all ages and levels. Several instructors have been on staff for 12 to 26 years, loyalty and dedication are the mainstay of this studio. Each year there are many students that graduate from High School that have been taking lessons at Chaska Music Studios since 1st grade. We invite the Home School Community to join us for lessons in your chosen instrument. Lessons are private, one on one with the instructor held at the studio. Students may begin at any time.
Harp Music Lessons with Hannah

Chaska, Prior Lake, Savage, Shakopee, Eden Prairie, Edina, Chanhassen, Waconia, Plymouth, Minnetonka, Bloomington, Victoria, Carver, and Wayzata.

Hannah offers private harp music lessons for beginner and intermediate students of any age. She received her bachelors degree in harp music through Bethel University, and was the harpist for the band throughout her time there. Whether you are looking for your child to learn how to read music on a new instrument or to extend their musical experience, Hannah offers a versatile fun experience on the harp. Please email her for questions about rates, harp rental, or other musical questions. She is based out of Chaska, MN and is within 20-30 of The Prior Lake, Savage, Shakopee, Eden Prairie, Edina, Chanhassen, Waconia, Plymouth, Minnetonka, Bloomington, Victoria, Carver, and Wayzata.
Shannon Waldron Music; Voice, Piano and Guitar Lessons

Coon Rapids

A & S Waldron LLC offers one on one music lessons to students interested in studying piano, guitar, or voice. This company loves helping others find that musical creativity in them, and developing new and experienced musicians. Music is a wonderful tool used to grow and develop minds, and facilitate in the creativity that music initiates. Science proves that the study of music imcreases concentration, focus, and brain development as it uses both the right and left brain. Learning an instrument can also help increase self esteem, study habits and perseverance! A & S Waldron LLC has 12 years of teaching experience, in addition to the 7 years of teaching 2nd grade. Our teacher holds a bachelors degree in Elementary Education and Vocal Performance with many years of performing professionally. Visit www.shannonwaldronmusic.com/private-lessons/ for more information!

Shannon Waldron Music; Voice, Piano and Guitar Lessons details
Christian Eggert Violins - Orchestra Instruments and Rentals

Duluth

Violin, Viola, Cello and Bass: Established in Duluth MN in 1994 and Fargo ND in 2003. We are a full service shop serving the upper Midwest and across the country (Schools, Beginners and Professional Players). We proudly provide rental outfits, sales, repair, restoration and appraisals. We proudly display our "Distinguished Service Award" from the String Teachers Association. We look forward to serving you. CEViolins@aol.com Toll Free 1-877-800-6568 We also welcome students of all ages to tour our shop and they can play the instruments. Many schools bring their classes in for a field trip. Our Duluth, MN Shop is in the beautiful Historic DeWitt-Seitz Building in Duluth's Canal Park, always fun

Christian Eggert Violins - Orchestra Instruments and Rentals details
Maria Benaros Violin Studio

Eagan

Welcome to the violin world! Violin lessons in Eagan, MN, for children 4+, by an experienced and caring teacher. Special program and rates for home schooled children. Please visit website or email for more information.
The Sotto Voce Institute

Eagan/Mendota Heights

The Sotto Voce Institute offers private piano and voice lessons for children and adults. All lessons are instructed by a licensed, Minnesota music educator, with over 16 years teaching experience! Applications for the fall will be open on the website on August 15th. Daytime hours are available for home schooled students.
Violin/Viola/Music Theory Lessons with Evan Shallcross

Eden Prairie

Evan Shallcross offers violin, viola, and music theory lessons to students of all ages and levels. A holder of performance degrees from Oberlin Conservatory (BM) and the Yale School of Music (MM), he has performed and held positions with major orchestras in the US and abroad, including the Minnesota Orchestra, the Macao Orchestra and the City Chamber Orchestra of Hong Kong. Teaching method emphasizes well-rounded and confident musicianship, drawing on varied modes of musical engagement, sets goals collaboratively and establishes a solid technical and theoretical foundation. Online or in-person lessons available.

Violin/Viola/Music Theory Lessons with Evan Shallcross details
Homeschool Classes at Eden Prairie Art Center

Eden Prairie

The Eden Prairie Art Center is here for homeschoolers! Our classes serve as a supplement to homeschool curriculum and teach STEAM skills through hands-on art making. We offer classes during Fall (Sept. - Dec.), Winter (Jan. - March), and Spring (April - May) terms along with summer camps from June - August. Visit edenprairie.org/recreation, scroll to the "Art" drop down and check out our homeschool offerings and more. Examples of homeschool classes: Clay Lab- Math & Science Through Pattern, Glass Lab- Math & Science Through Color Chemistry, Print Lab- Science & Engineering Through Print & Paper Questions? Call 952-949-8304 or email arts@edenprairie.org
Kidcreate Studio-Eden Prairie

Eden Prairie

Kidcreate's homeschool classes offer children an exciting format for art exploration, experimentation, and fun! Perfect for homeschooled kids who are looking for a weekly social experience, learning new art techniques, and exploring creative expression. Your child doesn't have to attend public school to experience all the benefits of art education. Homeschool classes are available for both weekly enrollment and one-time studio workshops. Our goal is to provide your child with quality art education, and we keep our hours flexible so that parents can find the time. Once you drop off your child, we will entertain them for an hour or more and keep their creative mess contained within our studio walls. They'll be sent home at pick-up time with a smile on their face and a fridge-worthy masterpiece for you to hang up.
Itasca Orchestra & Strings Program

Grand Rapids

The Itasca Orchestra & Strings Program offers opportunities for all! IOSP provides opportunities to hear, learn and perform orchestral music for the youth and adults in Itasca County. Itasca Symphony Orchestra is made up of local community members and performs three concerts each season. The Strings Program offers lessons to young and older students, summer camps, chamber camps, and school-year lessons! Registration is open year round. IOSP embraces the community in which we live and thrives because the Grand Rapids community is second to none!
Young Actors Academy at Open Window Theatre

Inver Grove Heights

Participants 8 to 18 years old gain confidence, develop creativity and learn theater fundamentals as they participate in skills-based acting games & activities during biweekly classes culminating in an end-of-semester showcase performance. Guiding Principles 1. We believe creativity is a gift from the Divine Artist to be used in service of the common good. 2. We believe creative training is a highly valuable tool for the mental, emotional, and spiritual growth of young people. 3. We believe that artists, as ambassadors of empathy, should treat others as they themselves wish to be treated, with love and mutual respect.
Cara Mattson Music Studio

Lakeville

Private voice (singing) lessons in Lakeville, MN. MN Licensed K-12 General/choral music teacher. I teach music theory along with the singing lessons.
O'Neill School of Irish Dance

Maple Grove

Irish dance is a traditional, wholesome activity that combines musicality and high energy exercise. Irish dance classes for pre-k through third grade. PreK/Kindergarten will focus on rhythm, coordination and basic Irish dancing skills. Grades 1-3 will learn the skills that make up the beginner reel, slip jig and single jig. No dance experience required. (Contact the studio for options for older dancers.)
Farmhouse Music Studio

Medina

Piano and Voice Lessons for students of all ages and abilities. Lessons are individually designed to meet the needs of each student and his or her goals. Classical, jazz, Broadway, and pop/rock music explored. Accompanying, coaching, theory tutoring also offered. Experienced, accomplished instruction helps students develop a life long love of music.
Minnesota Center for Book Arts

Minneapolis

Minnesota Center for Book Arts offers workshops for students 2 years of age and up. Create handmade books, paper, and prints, while learning about the history of these traditions. Connect your curriculum to your project when planning your trip for deeper learning in Language Arts, Science, Social Studies, Art, or History.
Ensemble Music

Minneapolis

Rhythm Kids 2 music classes. Rhythm Kids Level 2 is a music, movement, and drumming class for children in Kindergarten through second grade (ages 5 through 8). Children integrate and assimilate rhythm into their lives as they: learn multicultural drumming patterns; develop new repertoire on various percussion instruments; explore movement and dance while singing songs; play games based on music and drumming; find new ways to connect mind, body, and voice through rhythm; and develop skill in improvising, soloing, conducting, composition, and improvisation. Classes run in sessions, 3 times throughout the year and include: 10 weekly, 45-minute classes, Animal Collection Songbook and CDs (2 copies) each semester, Access to online video tutorials and play-alongs. This is a drop off class and to accommodate families with multiple age children, a mixed age class (birth-5) is offered at the same time in a different room.
Green Fire Irish Dancers

Minneapolis

Green Fire offers the opportunity for children, teens and adults to learn traditional and modern Irish dancing and perform at events like the Minnesota Irish Fair and Renaissance Festival. Parents and kids have the option of dancing together. Costs are nominal and costumes are provided. Weekly practices are on Sundays 4:30 - 5:30.
Minnesota Youth Symphonies

Minneapolis

Minnesota Youth Symphonies (MYS) is one of the nation's premier youth orchestra education programs. MYS is dedicated to conservatory-level orchestral training for students. Our students come from all over Minnesota and western Wisconsin and from a wide variety of economic and cultural backgrounds to play in MYS orchestras. While many of students hail from Minneapolis, St. Paul, and Twin Cities suburbs, some are from as far away as Rochester, Hudson, Bemidji, and St. Cloud. MYS holds weekly Saturday rehearsals at Highland Junior High School in St. Paul. Every week these students spend Saturdays studying and playing fantastic music with some of the finest conductors and music educators in Minnesota.
Twin Cities Girls' Choir

Minneapolis

The Twin Cities Girls' Choir is a Minneapolis performance-based music education program whose mission is to be a diverse community that sings, performs, and affirms the voices of girls. We offer young women the experience of musical artistry and excellence through choral singing by empowering them to find their unique voice. Students develop their vocal mastery as they prepare and perform along with the members of their choirs. Literature covers a wide variety of musical styles and time periods. Rehearsals focus on vocal skill development, ear training, sight singing, and performance preparation. TCGC welcomes students from all ethnic, social or economic backgrounds, and tuition assistance is available to ensure that all girls are able to participate. There's no audition, but we do ask that new singers meet with the Director for an assessment. Assessments for our Choirs consist of a few simple vocal exercises to evaluate tone, musical abilities, and poise. Singers do not need to have previous musical experience or prepare any material for this brief meeting. Assessments simply allow us to more adequately prepare for the season. The Twin Cities Girls' Choir is always excited to welcome new singers into our ensembles and hope you will consider joining us during our annual enrollment.
Northern Clay Center

Minneapolis

Northern Clay Center offers a variety of clay experiences for homeschool students age 6 and up! We create custom ceramic classes—led by professional artists. You can pick from a variety of themes to suit the interests of your group, from fantastical creatures to fabulous functional forms! In addition to the hands-on instruction, your group can tour our facility and view the latest exhibition, wander through the sales gallery to see the work of over 50 ceramic artists, and witness artists creating work in their studios. Handbuilding classes are 2 hours in length and are suitable for ages 6 and up; wheel-throwing classes are 3 hours in length and suitable for ages 9 and up. Each participant will create their own unique piece of ceramic art. All work made during a clay event is clear-glazed and fired by NCC's staff, and is food safe. Work is be ready to pick up two to three weeks after the event date. NCC is a nonprofit working to advance the ceramic arts for artists, learners, and the community, through education, exhibitions, and artist services.
Carbonara Strings Studio

Minneapolis, St. Paul, and Hastings

Private lessons on Bass, Electric Bass and Cello. Teacher has BM and MM in music from Julliard on double bass and is a Suzuki certified cello teacher. Lesson Studios in Minneapolis, St. Paul, and Hastings.
Traveling Music Lessons

Minneapolis/St Paul

Traveling Music Lesson teachers bring inspiration right to your doorstep!  TML offers private, one-on-one music instruction for all instruments (voice, piano, violin, guitar) in the comfort and convenience of your home.   TML teachers are highly qualified. They all have music degrees or equivalent work experience, and they are positive and professional with their students. TML has experienced teachers across the Minneapolis/St Paul area who would love to help your musician excel to achieve their musical goals with one-on-one tailored attention designed to improve skillsets and build confidence.   Check TML out on TravelingMusicLessons.com!   For additional info or to book a private lesson, contact Steph at 480-205-2810 (call or text) or email travelingmusiclessonsmn@gmail.com.
Violin and Viola Lessons with Benjamin Burgdorf

Minneapolis/St. Paul

Private lessons for violin and viola for all ages. Teacher works full time as a teacher, performer, and artistic administrator. He holds a BM in viola performance and is a registered teacher with the Suzuki Association of the Americas.
Angelica Cantanti Youth Choirs

Minneapolis/St. Paul

The Angelica Cantanti Youth Choirs are scheduling auditions now for singers in grades 2 – 12 for the 2017/18 season. Celebrating 37 years, Angelica is committed to promoting excellence in choral music and dedicated to enriching the lives of youth by instilling a life-long love of music through performance and education. Singers rehearse once a week from September -- May at the Bloomington Center for the Arts. For more information, visit http://www.angelicacantanti.org or call 952-563-8572.
Master's Hands String Studio

Minnetonka

This resource is a private lesson studio in the western suburbs of Minneapolis near the Minnetonka/Eden Prairie/Chanhassen borders. This resource provides individual goal-setting and personalized instruction on violin, viola, 'cello, bass and piano; specializing in the unique needs of beginner and intermediate musicians. Students that utilize this resource will be taught by a highly-qualified master-teacher, who has achieved National Board Certification in elementary/middle childhood music, and has been teaching string/piano students in both the private studio and public school environments for 30 years. This resource is offering weekly, weekday lesson times of varying lengths (30, 45, 60-min); with availability throughout the entire day, including various morning, afternoon and evening times. Detailed information, tuition rates and contact form can be found on this resource's website.
Northfield Dance Academy

Northfield

Northfield Dance Academy will be offering day time dance classes for the home schooled population of Minnesota. Offering classes in Ballet, Modern, Tap, Jazz & Musical theatre for all ages.
The Artery Studio

Ramsey

The Artery Studio offers stained glass classes for beginners to advanced glass students. Many classes consist of a pre-cut set of glass pieces that students would apply foil to and solder together in one session. Design-your-own glass cutting classes are also offered for multi-day sessions. Class schedule and projects are posted monthly.
Melodic Milestones LLC

Rosemount

Melodic Milestones's goal is to provide and promote music lessons for kids of all ages and educational settings, especially homeschools. We provide fun and engaging music lessons in both group or individual settings. We will travel to your home or come visit us at our amazing studio in downtown Rosemount! We offer virtual classes as well. Looking for a certain instrument? Let us know and we would be happy to connect you!
Mcello, Inc. Cello teaching and performance

Roseville

Private Cello Lessons offering a wide variety of methods tailored to the individual. Cello Choir (Group Lessons) classes give cellists an opportunity to learn how to collaborate and bring songs to a performance level. This is a vital part of learning music. The connections students make with one another as well as how to relate to other musicians last a lifetime.
Maestoso Band/ensembles

Saint Louis Park

Maestoso Music Studio is a place where music teachers can connect with local students for music lessons, classes, and workshops.
Ordway Center's Performing Arts Classroom Series

Saint Paul

The Performing Arts Classroom Series features weekday matinee performances of world-renowned global music and dance companies for students in kindergarten through twelfth grades. Performances are approximately one hour and take place in the Ordway Center's Main Hall. Ordway Center provides Study Guides for all performances.
Cynthia Ali Studios LLC

Saint Paul

Offering piano, guitar, flute and voice private lessons. Located in Saint Paul near Como Lake and Roseville. Please email for price and availability. cynthiaalistudios@yahoo.com
Shakespearean Youth Theatre

Saint Paul

Shakespearean Youth Theatre is an educational theatre company that offers classes, camps, workshops, and performance opportunities to homeschooled and alternatively schooled students ages 13-19. They offer single workshops, co-op visits, and camps focused on both performance skills and the history and literary import of Shakespeare and his language. SYT puts on one full-length performance of a Shakespeare play each year, performed by homeschooled teenagers for homeschool audiences in the Twin Cities metro region.
Rockwell Music School

Saint Paul

Rockwell Music School provides online music instruction all over the US and in-home or studio lessons for residents of Minnesota. We have over 10 years experience delivering all of these formats for teaching guitar, bass, piano, banjo, mandolin, ukulele and music theory. We have worked with many homeschooled families and have found it to be a good fit. Our teaching method uses the artists, bands, and songs the student is interested in to help them learn, and fundamentals and technique are mixed in to play more difficult material. We utilize an achievement- and song-based system with personalized plans for each student. For more information please visit our website, and to see us in action please search "rockwell guitar school" on Google, Facebook, and YouTube.
Melody Tree Studios

Saint Paul

Melody Tree Studios offers individual piano, violin, fiddle, and guitar lessons for kids in a positive, encouraging learning environment. Lessons are taught with a student-centered approach, inviting and encouraging kids to take an active role in learning. Students enjoy learning fun music with an experienced and enthusiastic instructor. Our lessons provide a friendly and encouraging atmosphere for students to learn music. Students play fun music that interests them and inspires them to practice and improve. Regular workshops and recitals give students the opportunity to build community and develop performance skills.
WGS Clarinet Lessons

Spring Lake Park

Weily Grina-Shay offers online and in-person clarinet lessons in the Northwest metro area. Weily is currently Adjunct Clarinet Faculty at Bethel University and University of Northwestern St. Paul. She holds a M.M from the Peabody Institute and a B.M from UC College-Conservatory of Music. Weily loves being a part of a student's musical journey and nurturing creativity and passion for making music!
Twin Cities Home School Performing Arts

St. Paul

Twin Cities Home School Performing Arts, in coordination with Mid Metro Academy in St. Paul (www.midmetroacademy.com), offers several different bands (beginning, experienced, jazz, pep band). Additionally, we offer two choirs - "Man Choir" just for guys (grades 8-12) and "The Academy Chorale" just for girls (grades 8-12). All groups will rehearse in-person and perform multiple times throughout the year. All groups are led from a Biblical world-view. Find out more at our live, online information sessions hosted several times throughout the year. Visit our web site for more information: https://tchspa.org.
Dakota Squares - Learn to Square Dance!

St. Paul and surrounding areas

Dakota Squares is a square dance club offering continuous lessons for people of all ages desiring to learn the folk art of square dance. Dakota Squares and other clubs in Minnesota and the nation have strict ethics for how people conduct themselves at dances. Homeschool groups have recently taken lessons in some other clubs, such as Westonka Whirlers, and have found it to be a great way to socialize while having fun learning a dance with a strong heritage. If you are interested please check out lesson availability on the Dakota Squares website. It is also possible to arrange lessons for a specific group of interested individuals. You are never too young or too old to learn to square dance.
Eighty Eight Notes School of Music

St. Paul/Roseville

Music classes for all ages and levels. Group and Private, preschool classes included. Choose from many different instruments and lesson packages. Two convenient locations to choose from.
Twin Cities Homeschool Band

Twin Cities

The Twin Cities Homeschool Band is the most complete home school band program in the Twin Cities, offering a variety of bands and lessons from beginners through advanced high school level. We offer Beginner Band, Concert Band, Pops Band, Symphonic Band, small group lessons, and ensembles. The band is run as a non-profit 501(c)(3), which combines family involvement with a dedicated director, and provides a large-group band experience for our home-educated children.
Encore Ensembles

Twin Cities

Encore Ensembles provides homeschool bands throughout the Twin Cities area. Our teachers are licensed to teach instrumental music in the state of Minnesota and we provide small group lessons and large group rehearsals as well as additional performance opportunities every year. We host the East Metro Homeschool Band located in Woodbury, the West Metro Homeschool Band located in Golden Valley, the Burnsville Homeschool Band serving the south metro area, and we house a band at Faith Christian Home Educators co-op in North St. Paul.
Storytelling and folklore classes and workshops with Laura Packer

Twin Cities, Minneapolis

Laura Packer is a nationally recognized storyteller and folklorist with over 30 years of experience teaching, coaching, performing, researching, and more. She homeschooled two of her stepkids (who are now in their 30s!) and knows that homeschooled kids are curious, adventuresome, and fun. Laura's classes are designed to help students find their own voice and tell the stories that most speak to them. Her folklore classes are crafted with each student's interests in mind, and are committed to respectful learning about world culture and story, as well as the wonder found in myths and fairytales. When Laura coaches she is committed to helping the storyteller/speaker find their own best path for the best stories and speech. Please get in touch so we can shape the best storytelling, folklore, mythology, and fairy tale experience for your kids.

Storytelling and folklore classes and workshops with Laura Packer details
Creo Arts & Dance Conservatory

Wayzata

Offering ballet, jazz, modern/lyrical, hip-hop and tumbling classes. The school also offers dance classes with a biblical focus and faith based performance opportunities. Dance can be used as gym credits for home schoolers.
Minnesota Conservatory for the Arts- Homeschool Arts Enrichment Program

Winona

The Minnesota Conservatory for the Arts (MCA) offers a daytime classes in theatre, dance, music, and visual art specifically designed for homeschool students. Homeschoolers are invited to participate in our annual homeschool art exhibit and attend daytime performances by MCA's Dance Repertory Company.

Minnesota Conservatory for the Arts- Homeschool Arts Enrichment Program details
Dragon Fire Ceramics

Wrenshall

This resource offers pottery classes that run for six weeks. Students will learn the skills necessary to make mugs with handles, bowls, vases, and lidded canisters. Glazing techniques will also be taught. The class will end with a specialized firing developed by the Japanese and modified in the United States. All pieces made will be the property of the students. 5 is the maximum number of participants in each class.
Minnesota Homeschool Sports Programs
Bunker Park Stable; Horse Course Home School Program

Andover

Bunker Park Stable offers a great program for horse crazy home school student. The Horse Course program is a weekly 2 hour time frame for four weeks. This program involves both theory and riding instruction. The first hour of each week will consist of theory work that will cover safety, horse care, anatomy, and breeds. The second hour will be spent on the horse in a structured riding lesson covering safety, control, communication between horse and rider, proper position and rhythm. For more information or to sign up you can go to our website www.bunkerparkstable.com or call (763) 757-9445.

Bunker Park Stable; Horse Course Home School Program details
Jam Hops Homeschool Classes

Andover/Blaine/Ham Lake

Homeschool classes are a great way for children that are homeschooled to get their gym time in. Jam Hops offers gymnastics, dance, Ninja and an academic preschool during the day for children who are in a Homeschool environment. In addition to those classes, Jam Hops offers cheer classes and has a theater program that performs periodically throughout the year. There is a family cap on tuition for homeschool gymnastics, dance and Ninja Zone classes making it affordable to have all of your children in multiple activities or just participate in their favorite! Call today to set up a free trial class in some of the programs. Jam Hops also offers field trips, open gym times, camps, movie nights, clinics, birthday parties and a lot more!! Call 763-413-0647 for more information.
Conquer Ninja Warrior

Blaine, Burnsville, Eden Prairie, and Woodbury

Conquer Ninja Warrior is a ninja warrior training facility located in Blaine, Burnsville, Eden Prairie, and Woodbury, Minnesota. These are the ONLY facilities in the metro area dedicated to those seeking ninja warrior training. These gyms are specifically designed for both kids (ages 6 and up) and adults. There are full size and smaller scale obstacles. Trainers have diverse backgrounds in obstacle training and many have competed on the show, American Ninja Warrior! Offering field trip options for larger groups at great discounts. Be a Ninja Warrior for a day!
Red Line Athletics

Chanhassen

RedLine Athletics is a source for Homeschool families to fulfill the Physical Education requirement of the home school curriculum. RedLine Athletics offers programs specifically designed for home school students that promote lifelong physical fitness.
UM Duluth Swim Lessons

Duluth

Serving generations of Northland families with the highest quality American Red Cross swim lesson instruction for over 25 years! • Infant, pre-school & youth group lessons • Adult private lessons • Pre-school and youth private & semi-private lessons • Small classes sizes • Experienced, ARC Certified Water Safety Instructors
Legacy Gymnastics

Eden Prairie

Legacy Gymnastics offers instructor guided gymnastics field trips for ages 4 and up. Trampolines, foam pits and all the gymnastics events will be used to promote fun and fitness. Come flip with us!
Farmington Community Education HomeSchool Open Gym

Farmington

Homechool Open Gym and Open Swim days to homeschool students and families. The gym has volleyball, basketballs, dodge ball, hula hoops available, or bring your own equipment! We have a 6 lane 25 yd pool with basketball hoops, kickboards, and lots of water.
Base Camp

Fort Snelling

A camp in the city! Come to Base Camp for a one-of-a-kind interactive experience in a unique urban setting. Located in Fort Snelling, Minnesota, Base Camp offers year-round opportunities for team building, rock climbing, rope courses, and archery. Base Camp is open to everyone in the community!
Northwest Nighthawks

Hanover

Welcome to Nighthawk Athletics! Our purpose is to provide homeschooled students the opportunity to participate together in interscholastic athletics, giving athletes from junior high through high school a true competitive team experience while fostering relationships among participants, their families, and the local community. Our home schools are members of the Minnesota State High School League (MSHSL), cooperatively sponsoring sports teams for cross country running and track & field and competing with local public and private schools. The Northwest Homeschool Athletic Cooperative is a 501(c)(3) nonprofit organization run entirely by volunteers. We are based at Hanover/Greenfield, Minnesota, and we welcome student-athletes of all abilities--experience is not needed to join our team! All we ask is that you commit to the team; work hard; and uphold our core values of integrity, respect, and gratitude.
South Metro Huskies Basketball

Minneapolis

We are a youth basketball organization for homeschool families pursuing a Christ-centered approach to competitive sports. We offer teams for boys and girls from middle school through high school. "Character First. Competitive Always!" Practices for high school teams and home games for all teams are held at Bethany Global University in Bloomington, MN. Jr. High Teams practice in various gyms in Lakeville and Burnsville.
Minnetonka Homes Educators Association

Minnetonka

Minnetonka Home Educators Association (MHEA) has been around for over 30 years supporting Homeschool families. We are in the Minnetonka area but welcome families from all over the twin cities. We currently have about 35 families in our group. We support homeschool families by offering monthly support time for homeschool parents, weekly gym class for kids ages 3 to 15, coordinated field trips, an annual showcase for kids to display and present their areas of interest and other holiday group parties. We currently have room in our gym class for kids ages 3 to 11. Gym class is $80 for the semester. Please feel free to reach us at infomhea@gmail.com
Great Wolf Swim Team

North Metro

A swim team in the north metro area with many swimmers that are apart of the Minnesota homeschool community.
Soccer Shots

Oakdale

Soccer Shots is an engaging children's soccer program with a focus on character development. Our caring team positively impacts children's lives on and off the field through best in class coaching, curriculum and communication. Our Programs Mini (Ages 2-3) High energy program introducing children to the fundamental soccer principles, such as using your feet, dribbling, and the basic rules of the game. Through fun games and positive reinforcement children will begin to experience the joy of playing soccer and being active. Classic (Ages 3-5) Utilizes creative and imaginative games to focus on basic soccer skills like dribbling, passing, and shooting. We also highlight a positive character trait each session such as respect, teamwork, and appreciation. Premier (Ages 5-8) Focuses on individual skill, fitness, and sportsmanship, providing an opportunity for children to be challenged through fun games and team interaction. Children will also be introduced to competition in a developmentally appropriate manner. Please reach out to Jenna Kolke at twincities@soccershots.com if you are interested in starting a program or receiving more information on our programs.
Eureka Yoga Homeschooling Yoga Programs

Rogers

A fun and great way to add a fitness program to fit into your homeschooling curriculum! Your child will have a blast hanging upside down with us in this 60 minute class! They will learn new tricks on silk hammocks while improving your flexibility and building strength. We've created exclusive programs available to homeschooling families as an excellent option to add variety to your fitness needs!
Mulligan Manor LLC (Riding Lessons)

Shakopee

Mulligan Manor offers riding lessons for all ages and skill levels. Riding is a low impact high cardio work out. Lessons are offered 7 days a week year round in the indoor arena and are set up to educate students on the care of horses as well as the physical perks.
CHEM Athletics

Stillwater, Robbinsdale, Roseville, Plymouth , Maple Grove

CHEM Athletics, building character and self confidence through sports. Offering Tennis, field hockey, soccer, and more. Summer sessions being offered in the following locations: Stillwater, Roseville, Plymouth, Robbinsdale, and Maple Grove. The 1st lesson can be offered free to try this program out. If any homeschool group gets together 10 students a coach will travel to their destination if a 6 week program is signed up for. For more information on pricing in each area and for times please contact Coach Scott at addincoach@gmail.com or https://www.playyon.com/chem-athletics/
St. Croix Training Center Camps

Twin Cities

Spend the week at St. Croix Training Center working with select staff. Participants will experience St. Croix's principles of horsemanship that teach a well rounded approach to working with horses from the ground up. Horse Handling & Approach, Nutrition & Health, Barn Maintenance & Care, Ground Work are all a part of this camp. And, of course, participants will spend plenty of time in the saddle riding both hunt and western. Camp modules are designed to keep youth of all ages and abilities engaged. As campers progress so does the curriculum making more than one week at horse camp an option for many children.
Minnesota Homeschool Hockey

Twin Cities Metro

Christian hockey program for homeschooled students
North Metro Blazers Basketball

Twin Cities, north suburban area

The North Metro Blazers basketball program desires primarily to provide a venue for homeschooled basketball players to compete at the high school level. Homeschooling families have often found the athletic options for their students frustrating and ill-fitted. We endeavor to continue to provide a competitive, interscholastic basketball opportunities for homeschool athletes. We play about 25-30 games at the Varsity level each year (including end of year tournaments), and somewhat fewer games at the JV and Jr.High levels.
Bubble Smash Sports

Twin City Area

Bubble Smash Sports is the fast-paced new sport that lets you, bash, crash and smash your way across the field. Most often used for soccer games, the bubble suits keep you safe, while letting you land the biggest of hits.