Our listing of Minnesota jobs and volunteer opportunities for homeschoolers is ordered alphabetically by city. If you would like to submit a Minnesota co-op or academic resource, you may do so using the red button above.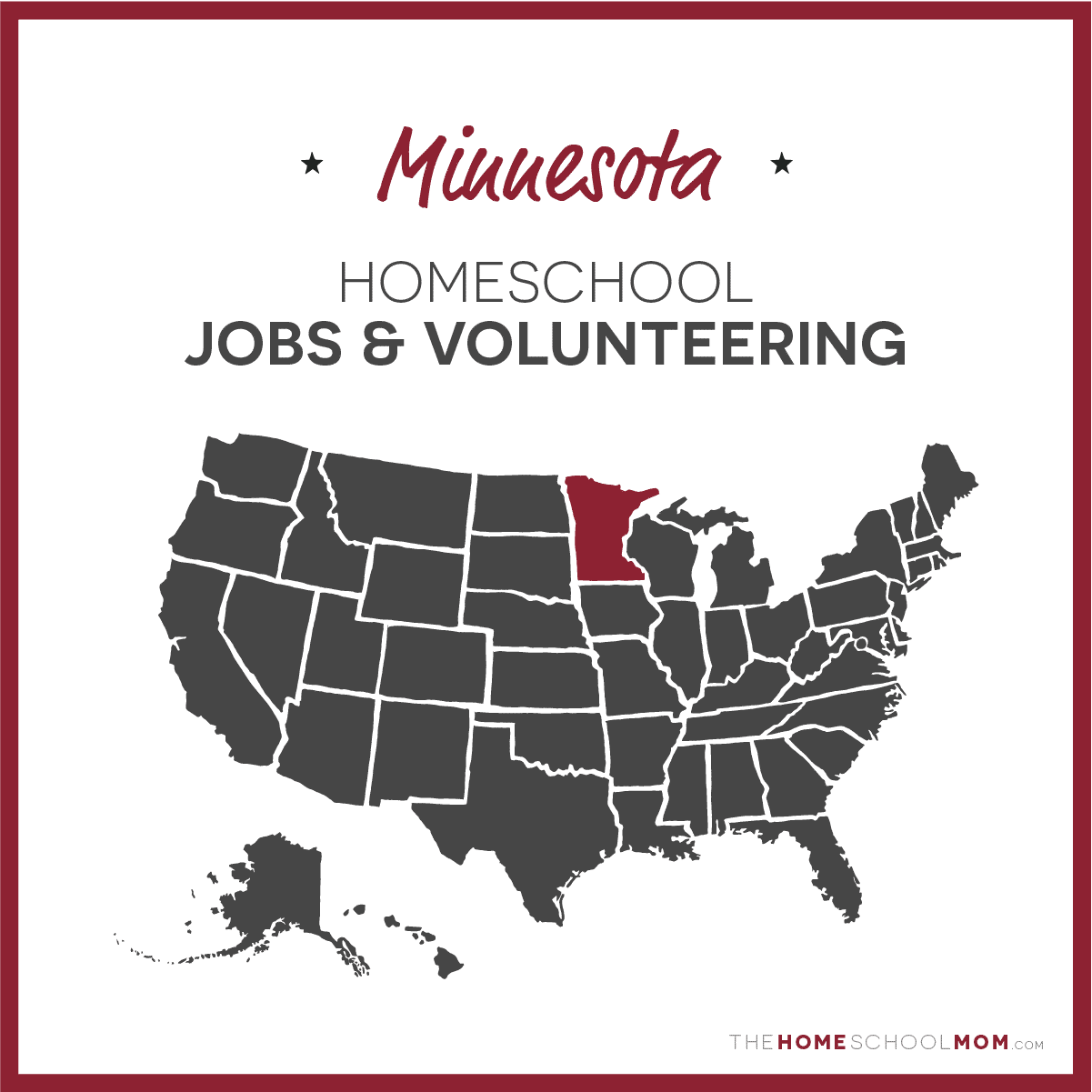 Submit a Local Resource
Aging seniors

Edina

Normandale Center for Healing and Wholeness is a non-profit, volunteer based organization dedicated to serving the needs of aging seniors. We are looking to partner with a home-school group to match families with isolated seniors as part of an adopt or foster a grandparent relationship. We are looking to expand this program further at an assisted living facility in Eden Prairie and for seniors who are still in their homes but lack positive and engaging social interactions
Coffee and Bagels Job Fair

Lakeville

Caribou Coffee & Einstein Bros. Bagels is looking for motivated, customer-focused individuals to join a team in Lakeville, MN. Positions available are looking Team Members, Shift Leaders, and Bakers.
Serving Seniors

Lakeville, Minnesota

Walker Methodist is a faith-based, non-profit senior living organization that's been serving older adults since 1945. We provide housing, healthcare, rehabilitation, and services to seniors and the people who support them. Additionally, Walker Methodist inspires people in the field of older adult services by establishing careers that create environments that enhance the lives of the people we serve. Walker Methodist Highview Hills seeks Waitstaff to work as part of the fun and hard-working Culinary Services Team in their restaurant-style dining room. The Waitstaff are responsible for dining room set-up, serving and clean-up. Will also assist with Dishwasher duties.
Blackwater Coffee and Cafe

Maple Plain

Full-time and Part-time barista job available at Blackwater Coffee and Cafe.
Kowalski's Markets

Minneapolis

As a locally owned business Kowalski's is passionate about investing into the lives of students in the community. Striving to provide a healthy environment for students to flourish by teaching civic and democratic standards. Partnering with home educated students is always a privilege, so Kowalski's has a created specific syllabus' that can be used by home educators so that they're students can enjoy the benefits of participating in a work-study program. We have locations throughout the Twin Cities! Students are encouraged to apply on-line. www.Kowalskis.com
Minnesota Department of Human Services Job Opportunity for Minnesota Homeschool Teens

Moorhead

Youth Position: Undercover Tobacco Purchaser Contractor $13 per hour The Minnesota Department of Human Services has an excellent opportunity for 16 or 17 year old youth. Currently we have two openings for two youths who are able to work a minimum of eight hours per week M-F between the hours of 8 AM and 5 PM year round. Home/Online/ALC or Post-Secondary students are especially well suited for this program. This is a year round, part-time paid position which pays $13.00 per hour. This job involves working with an adult Inspector and going into a wide variety of establishments including bars, liquor stores, grocery stores, convenience stores, tobacco shops, etc. in an attempt to purchase various tobacco products. Youth must be comfortable and capable of entering these types of establishments regularly. Youth are currently in needed that reside in any of the following counties: Clay, Becker, Ottertail, Wilkin or Norman (We will also accept Fargo and West Fargo, ND). Postion will re-post when positions in other areas of the state become available. For more information concerning this program, or to apply, please email Marc Baetsch at marc.baetsch@state.mn.us or call at 301-956-3742.

Minnesota Department of Human Services Job Opportunity for Minnesota Homeschool Teens details
Fourteen Foods DQ

South Metro

"Fourteen Foods is a multi-unit owner and operator of 240+ DQ Grill & Chill® restaurants across a 13-state footprint. We believe deeply in the importance of our mission of "changing lives, one smile and a story at a time." Our passion drives us to provide an escape from the ordinary, with a place to enjoy life's every day celebrations. We take pride in our company culture, where we lead with integrity, work hard and create one-of-a-kind experiences throughout the community." Mission & Purpose Changing Lives, One Smile and Story at a Time Our purpose is deeply rooted in faith; to bless our customers, communities, and teams by showing God's grace and being faithful stewards of all that is entrusted to us. Our Values Honesty and integrity in words and actions Passion for our Fourteen Foods family Foundation built on faith Driven to exceed expectations through accountability Play like a Champion every day
Woodwinds Hospital

Woodbury

Volunteers play an integral part in the success of Woodwinds Health Campus. Their dedication enhances the care provided. The hospital is always looking for compassionate people who can fulfill the important role of a Woodwinds volunteer. Woodwinds volunteers come from all backgrounds and age groups (age 15 or older).