Field trips are a great way to reboot a bad homeschooling week, get out of the house when everyone has cabin fever, and learn about your local area. Before heading out, check out Jeanne's tips for improving homeschool field trips.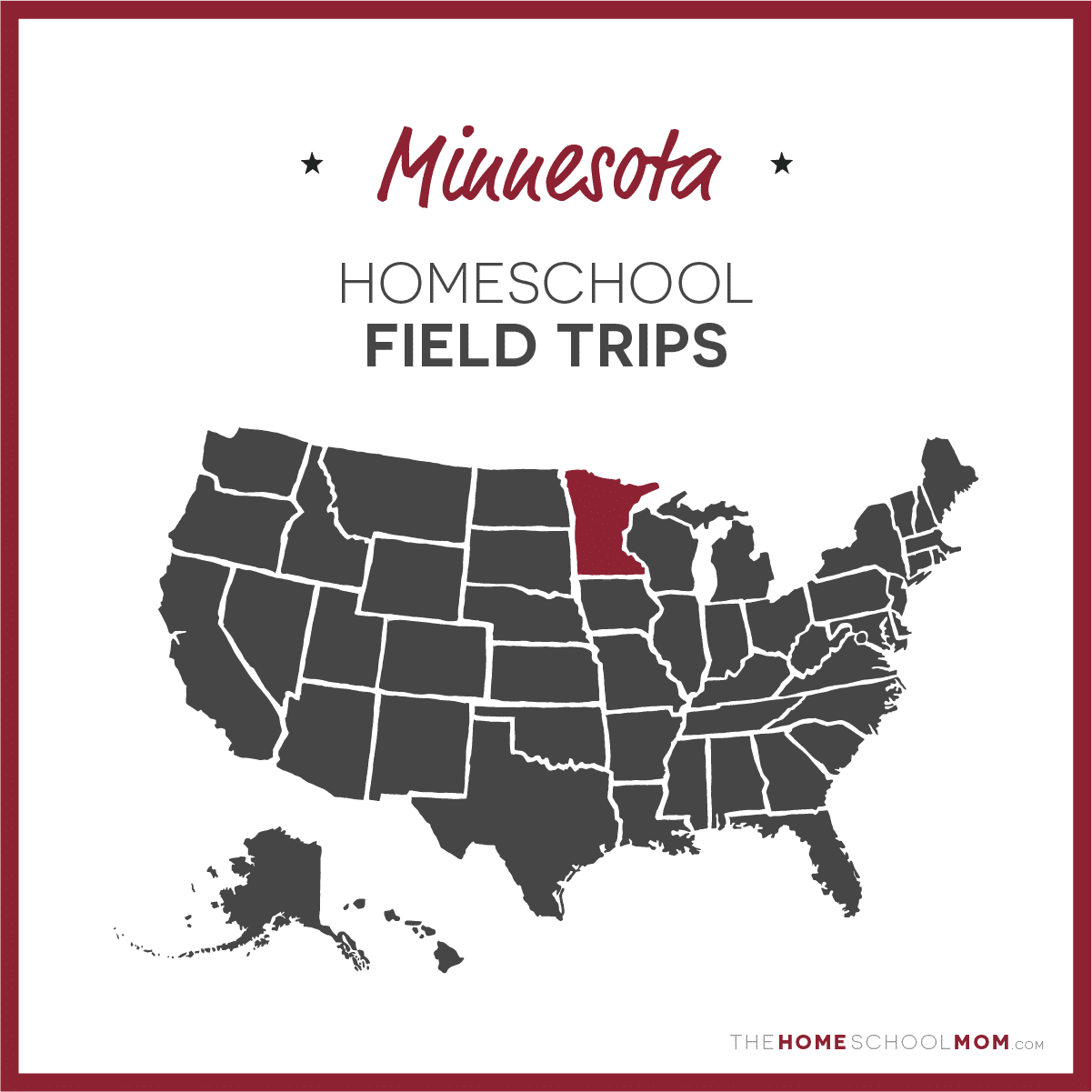 Submit a Field Trip Destination
Our listing of Minnesota field trips for homeschoolers is ordered alphabetically by city. If you would like to submit a Minnesota field trip destination, you may do so using the red button above.
An asterisk * after the title indicates that a virtual field trip is also available.
North Country National Scenic Trail

The North Country National Scenic Trail is the longest continuous hiking trail winding its way through seven states.
Gammelgården Museum

"Gammelgården" means Old Farm in Swedish. Visitors to the museum can step back in history and experience the lives of early Swedish immigrants in the only open air museum devoted to Swedish immigration in the United States. Today, in buildings that have been carefully preserved and restored, visitors can get a glimpse of the daily lives of these immigrants and participate in events and classes to learn more about the culture and times of the immigrants. Visit the many buildings on Gammelgården Museum's 11 acres site. Your tour guide will give a lots of information about the Välkommen Hus, Präst Hus, Gammel Kyrkan, Ladugård, Immigrant Hus and Swedish Stuga.
International Snowmobile Hall of Fame

ISHOF is dedicated to recognizing the men and woman who have made snowmobiling what it is today. From a leisurely weekend activity to national winter pastime, the sport of snowmobiling is continually growing. From snowmobile trails, weekend attractions, fund raising activities, to tournaments, many state, county, and local communities are now adding snowmobile associated activities to help enhance this winter sport.
Warden's House Museum

Warden's House Museum was built in 1853 as the residence of the Minnesota Territorial Prison warden. Over time there were thirteen wardens that lived in the house until 1914 when the prison moved to its present site in Bayport. After 1914 a Deputy Warden or Superintendent of the prison used the old Warden's House. In 1941 the State of Minnesota sold the house to the Washington County Historical Society and it was opened as the second house museum in the state in June 1941. The museum consists of 14 rooms decorated in the late 19th and early 20th century style. Many rooms are like that of a upper middle class household while other rooms depict certain historic themes of Washington County including a room dedicated to the lumbering industry and still another that shows off items that children would use more than one hundred years ago.
Anoka County Historical Society

Anoka

Take a trip through history! Colonial Hall Museum is the home for many of Anoka County's precious artifacts and stories. - Exhibits ranging from wedding gowns to logging tools, from school bells to butter churns.
Afton Historical Museum

Afton

The Afton Historical Society was organized in 1980 for the purpose of locating and collecting any material which would help to establish or illustrate the history of the Afton area or the state, the exploration, settlement, development, and activities in peace and war, the progress of population, ethnic groups, wealth, education, arts, science, agriculture, manufactures, trade, etc., and to disseminate historical information to interested persons, groups, and institutions.
Aitkin County Historical Museum

Aitkin

The Aitkin County Historical Society operates two museums: the Depot Museum and the Log Museum. Both provide ample opportunities to glimpse Aitkin County's past. The Depot Museum is housed in the historic 1916 Northern Pacific Depot. The building is listed on the National Register of Historic Places. The museum features a rotating schedule of exhibits regarding the heritage of Aitkin County. Riverboating on the upper Mississippi, native culture and unique artifacts encompass the exhibit halls. A museum store offers gifts and publications pertaining to area history. The Log Museum was the first home of the Aitkin County Historical Society and was constructed in 1950 with native cedar logs. Click here to read about this wonderful building's history. It was originally located on the court house lawn and moved to its present location in the mid-70s. Exhibits relate to the county's logging heritage, agricultural implements, and tools from the building trades. The Log Museum is open April to October during the same hours as the Depot Museum, otherwise by special appointment.
Freeborn County Historical Museum

Albert Lea

A depository for Eddie Cochran and Marion Ross both natives of Albert Lea. Many other collections to numerous to mention. Great Historical Village. Wonderful program called Discover History.
Myre-Big Island State Park

Albert Lea

This park has something for everyone. The trails take visitors around wet lowlands, oak savanna, and grasslands. Albert Lea Lake and park marshes draw hundreds of waterfowl during migration. Oak savanna and prairie landscape, including wetlands, dominate most of the park. One of the more unique aspects of the park is the 116-acre Big Island that is covered with baple/basswood forest. Another is the glacial esker located in the northeast section of the park.
Runestone Museum

Alexandria

Stop by and tour historic Fort Alexandria, take your picture with the country's biggest viking, and see the world famous Kensington Runestone. For awhile you will live in the past, so walk a little slower, talk a little slower, and enjoy the exhibition on Norse history, the Native American exhibit, the Minnesota wildlife display, the display of early pioneer life, and the hands-on children's area. Enter Fort Alexandria and visit several authentic log buildings, an 1880 country school house, and view the forty-foot viking ship, the Snorri. Experience the changing of the seasons in the display of tools and farm equipment used by an earlier generation.
Whitewater State Park

Altura

Picturesque limestone bluffs and deep ravines make Whitewater State Park a very popular southeastern park. The 2,700 acre park is an angler's paradise with brown, brook, and rainbow trout swimming in the spring-fed Whitewater River and Trout Run Creek. Visitors enjoy a sandy swimming beach, a year-round visitor center, easy-to-challenging hiking trails, camping, a group camp, and a modern group center. Come winter, enjoy cross-country skiing, snowshoeing, or stay at the group center in rustic, winterized cabins. All through the year, discover the natural and human history of the area at one of the many interpretive programs, visitor center exhibits or self-guided trails.
Carley State Park

Altura

Beauty and quiet, that is the essence of Carley State Park. In the spring, delicate bluebells (Mertensia virginica), and other wildflowers carpet the valley with a profusion of color. Hike along the trail that follows the Whitewater River and take in the grand old white pines. Listen for the sweet song of orioles, song sparrows, house wrens, and indigo buntings. Enjoy the picnic area, play on the swings or practice softball. Try your hand at horseshoes or sit back and see a red-tailed hawk ride thermals in the sky. The north branch of the Whitewater River is a designated trout stream and provides habitat for brown trout. Rustic campsites are located near the picnic area.
Minnesota Zoo

Apple Valley

Founded in 1978, the Minnesota Zoo exists to connect people, animals, and the natural world. Cutting-edge exhibits provide exciting experiences with animals and their habitats introducing guests to species from around the globe. Education programs engage audiences at the Zoo, throughout the region, and around world. Conservation programs protect endangered species and preserve critical ecosystems.
Old Mill State Park

Argyle

A log cabin and a steam-powered flour mill at Old Mill State Park are bold landmarks from the past. The grist mill still gets fired up once a year to grind flour. The Middle River meanders through the park and visitors can see deer, beaver, and moose. Enjoy the prairie and the ever-changing parade of wildflowers along wooded trails. A swimming area, swinging bridge, picnic grounds, campground, and interpretive displays are popular among visitors.
Jay C. Hormel Nature Center

Austin

A 507 acre nature center preserve established in 1971 and is located in Western Mower County within the city limits of Austin. The Nature Center features restored and remnant prairie, hardwood forest, wetlands and meandering streams. As you hike the ten miles of trail there are deer, mink, raccoons, salamanders, birds and other native wildlife for your viewing pleasure.
Mower County Historical Society

Austin

The Mower County Historical Society takes great pride in providing quality education programs. Site visits are the most commonly used part of our program. During a visit to our site, students are led through 12 buildings by volunteers, while actively learning the history of Mower County. Students are broken down into small, manageable groups that increase learning on an individual level. Visits can take place either in the fall or spring, depending on the weather.
SPAM® Museum

Austin

SPAM fans worldwide now have their own pilgrimage to make. - Located in Austin, Minn. , the 16, 500 square-foot museum is dedicated to the quirky joys and unprecedented excitement inspired by SPAM. - Museum visitors will be welcomed to the world of SPAM luncheon meat with a variety of interactive and educational games, fun exhibits and remarkable video presentations. Come See What's Inside The SPAM® Museum is dedicated to the delicious meat first created at the Hormel Foods Corporation plant in 1937. It's a fun and informational destination with interactive and educational elements designed for all ages.
Bagley Wildlife Museum

Bagley

Ahe Bagley Wildlife Museum is a jam-packed ark of a place, an extravagant monument to nature's fertility. This collection long ago outgrew the front window of a shoe store and now occupies half of a ranch home on the edge of town. Most of the animals were bagged and mounted by Bagley shoemaker Hank Haug from the 1940s through 1970s. Since everything in this space is Mr. Haug's creation there is a notable unity to the collection and displays, not only in the selection of items and their preparation but in the construction of exhibits and wording of labels. The museum is an all-encompassing work of untrained genius. Hank Haug's collection is a real compendium of nature's wonders of the northern prairie.
Glendalough State Park

Battle Lake

Glendalough also offers a designated "Heritage Fishery" on Annie Battle Lake. This 335-acre lake, located near the park campground, was for the most part, a private fishing lake for many years, and its fish populations and sizes are more comparable to historic times than most public fishing lakes. Very large bass and panfish are still relatively abundant, as are walleyes of good eating size. Special experimental regulations are in effect to preserve the serenity of this undeveloped lake and give anglers the opportunity to catch these sizeable fish. As a result, visitors can experience fishing as it was 100 years ago. Check with the park for current fishing restrictions. No gas-powered augers are allowed during winter fishing. During spring and fall migration, to the delight of birdwatchers, the park becomes a major waterfowl staging area. Two observation areas in the park provide excellent opportunities to see wildlife activity. Hiking trails take you through oak and northern hardwood forests. One trail leads to a prairie hill.
Headwaters Science Center

Bemidji

Headwaters Science Center provides the spark, offering a unique opportunity for young and old to begin this journey of discovery. Over 40 "hands-on" exhibits, a collection of live animals ready to reveal their innermost secrets, group demonstrations that are fun and educational covering 15 science topics presented by knowledgeable staff , and many special activities and programs - all combine for an exciting and rewarding experience at HSC.
Lake Bemidji State Park

Bemidji

This park is the perfect playground any time of year, offering visitors swimming, boating, fishing, birdwatching, hiking, camping, biking, picnicking, snowmobiling, cross-country skiing and year-around naturalist-led activities. Hikers can explore the beauty of a tamarack bog carpeted with showy lady's slippers, pitcher plants, dragon's mouth, grass pink, and insect-eating sundews. Most flowers are blooming in the bog during late spring and early summer.
Old Silo Flower Farm

Big Lake

Old Silo Flower Farm is located in Big Lake, MN. We are a small family run flower farm. We offer seasonal tours, flower arrangement classes, pick your own flower days, paint classes in the gardens and more!
Scenic State Park

Bigfork

With its pristine lakes, virgin pines, swimming beach, and nesting osprey, Scenic State Park is well deserving of its name. Here, visitors can hike the Chase Point Trail for hypnotic views of Coon and Sandwick Lakes and listen to the wind whistle through the giant pines. The park's overnight facilities include campsites (boat-in, drive-in, backpack), and a cabin. The historic lodge houses interpretive displays.
Franz Jevne State Park

Birchdale

Secluded and peaceful, this park offers picturesque views of Ontario and the Rainy River. Short paths and a boat launch offer access to the river for fishing, where anglers can catch walleyes, northerns, small mouth bass and sturgeon. Pitch a tent in the rustic campsites, equipped with pit toilets, and a hand pump for water. A picnic area overlooks Sault Rapids.
Crayola Experience-Mall of America

Bloomington

Crayola Experience is the only place in the world where the magic of Crayola comes to life. Here, kids are always encouraged to let their creativity run free, to color outside the lines and to play, explore and learn. Boasting over 20 hands-on attractions, Crayola Experience is where color, chemistry and technology magically combine to create a fun-filled, colorful adventure for a kid's imagination.
The Works Museum

Bloomington

Experience exciting hands-on engineering activities and science fun with elementary aged students. Explore interactive exhibits in The Museum featuring building, simple machines, optics, sensors, and more! Exhibits are located on one easy-to-supervise level. Add a workshop to field trips for more science education and engineering fun. Workshop topics include Light and Kaleidoscopes, Chemical Changes, Pasta Bridges, Super Circuits, and more! Students in grades K - 6 will experience hands-on science and engineering activities and complete a take-home project.
SEA LIFE Minnesota

Bloomington

An All-New Aquarium featuring displays, hands-on activities for kids, and over 10,000 sea creatures.
James B. Wakefield House Historical Museum

Blue Earth

View historic James B. Wakefield House Museum in his 1867 home, Church of the Good Shepherd Episcopal, and Etta C. Ross Memorial Library Museum. Enjoy a Tour arranged by appointment to restored buildings on History Lane including the Krosch Log House, Woodland School, Guckeen Post Office, Blacksmith shop and West Delavan Lutheran Church. In addition there is an extensive collection of farming implements, barb wire and a gas station housed in the Antique Machinery Shed. Campground available.
Jolly Green Giant Museum

Blue Earth

Blue Earth is the home to the world's largest statue of the Jolly Green Giant and possibly the largest collection of Giant memorabilia as well.
Crow Wing State Park

Brainerd

This is a nature lover's delight. Explore prairie, pine, and hardwood forests. View the Mississippi River from historic and picturesque "Chippewa Lookout." Novice canoeists can paddle the calm waters of the Crow Wing and Mississippi Rivers. Crow Wing is a park rich in cultural history. In this area, a frontier town emerged to serve the needs of travelers and traders. The town died when the railroad chose to cross the river at Brainerd. Walk through the site of the Old Crow Wing Village for a sense of history. The park still has a section of the famous Woods Trail, which served ox cart traffic that carried supplies between St. Paul and the Red River settlements.
Beaver Creek Valley State Park

Caledonia

Nestled in the blufflands of southeastern Minnesota, Beaver Creek Valley State Park is known for its clear streams fed by the "Big Spring." Its streams are home to brown and native brook trout. In spring, wildflowers that blanket the woodland hills and valleys attract migratory songbirds like the rare Acadian flycatcher, Cerulean warbler, and Louisiana waterthrush. These birds nest in the park. A hiking trail meanders along the stream and up into a maple-basswood and oak forest. Campers are lulled to sleep by the murmuring stream.
Schoolcraft State Park

Calumet

This secluded north woods park is the perfect place to unwind. Quiet and peaceful, the trail system leads hikers through the virgin pine forest that includes a white pine more than 300 years old. Canoeists and anglers enjoy the gentle waters of the Mississippi River. A boat access, picnic area, canoe and drive-in campsites are available to visitors.
Hill Annex Mine State Park

Calumet

Go down in history with a tour of the Hill Annex Iron Mine. On the 1 1/2-hour open pit mine tour, visitors make a spectacular descent into mining's past. Learn about the mine operation, the people who worked here, and where they came from. Discover marine fossils in northern Minnesota. Get a sense of the mine's deep, rich history. Learn how this National Historic Site played an important role in state, national, and world history.
Lake Carlos State Park

Carlos

Sculpted by ancient glaciers, Lake Carlos State Park contains a tamarack bog, marshes, woodland ponds, and lakes. A variety of recreational activities revolve around the lake. Clear and deep, Lake Carlos offers visitors a perfect setting for swimming, fishing, boating, camping, hiking and horseback riding. In the winter, ski from the tamarack bog to a maple-basswood forest.
Jay Cooke State Park

Carlton

Trailblazers: this park is a must! Park trails link up to the Willard Munger State Trail at the north edge of the park; perfect for backpackers, bikers (both mountain and tour), hikers, horseback riders, and skiers. Check out the wildflowers in the spring, and the vivid colors in the fall. Walk on the swinging suspension bridge high above the raging St. Louis River. Visit the historic cemetery and the gorge at Thomson Dam.
Wild River State Park

Center City

Wild River is located along 18 miles of the beautiful St. Croix River. The park attracts people who enjoy camping, hiking, horseback riding, canoeing, interpretive programs, self-guided trails, and cross-country skiing. Day visitors can enjoy a leisurely paddle down the St. Croix River from the Sunrise river access to the southern park river access. The park provides opportunities for semi-modern camping, group camping, backpack camping, canoe camping, and walk-in camping. Visitors who want modern amenities can reserve the guest house which provides a living room, dining room, kitchen, and fireplace. The park also has two camping cabins which include bunkbeds, a table, and benches. An all-season trail center is a great spot to relax after hiking or cross-country skiing on the 35-mile trail system. A visitor center with exhibits and environmental education programs is open year-round.
Minnesota Discovery Center

Chisholm

The museum, research center and park showcase northeastern Minnesota's Iron Range. Sharing the region's stories through artifacts, exhibits, oral histories, interpretive demonstrations and education programs that help preserve history and make it accessible to all.
Cokato Museum & Akerlund Studio

Cokato

The Cokato Museum is an award-winning local history museum that focuses on the history of the city of Cokato and the surrounding townships in southwestern Wright County. Built in 1905, the Gust Akerlund Photography Studio, an historic photography studio, is on the National Register of Historic Places. It was used for over half a century by Swedish immigrant Gust Akerlund. The site is fully restored and includes his original furnishings, cameras, and other equipment, and also a 12-foot skylight. It is the only studio of its kind in the Upper Midwest, and possibly one of a few left in the entire nation.
End O Line Railroad Park and Museum

Currie

The depot was the gathering place for ticket purchasing, sending/receiving mail and packages, and relaying telegraph messages. This proved to be the hub of activity for farmers, businessmen, grain merchants, lumber barons, and the tiling industry. A model railroad display, in HO scale, is one of the highlights of the museum. This display is an authentic reproduction of the Currie railroad yards as they were around the Turn of the Century. The layout features scratch-built locomotives and structures, complete landscaping, a full wrap-around mural, complete sound effects and more.
Lake Shetek State Park

Currie

The word "Shetek" is Ojibwe for "pelican," a bird which visits Lake Shetek during the summer and fall. The park contains the largest lake in southwestern Minnesota, which forms the headwaters of the Des Moines River. Expect great fishing for walleye, northern, crappie, and bullheads. Loon Island, a 45-acre bird sanctuary, is accessible on foot via a causeway and includes an interpretive trail. Visit the Koch Cabin and monument memorializing pioneer settlers. The park includes a swimming beach, boat launch, campgrounds and a scenic six-mile loop bicycle trail into the town of Currie. Boat and canoe rentals are available.
Dassel History Center and Ergot Museum

Dassel

Ergot is a fungus that grows on small grains like rye, oats and wheat, growing naturally in damp, cool growing seasons. Ergotism is a disease caused from ingesting ergot, that causes death by gangrene and by attacking the neurological system. Assyrians, 600-500 BC, used ergot as a biological weapon by contaminating their enemies wells with ergot, and in 945 CE, 40,000 died in Paris of the "Plague of Fire" caused by ergotism. Today, with the development of chemistry, the alkaloids of ergot became the basis of medicines, saving lives not taking them.
Becker County History Museum, Library & Gift Shop

Detroit Lakes

Learn about Becker County Minnesota by stepping back in time. From a Native American Wigwam, a logging camp Wannigan, a 1870's log cabin, "Old Three Legs", a summer kitchen to the World's smallest gas station you are sure to find something of interest.
Duluth Children's Museum

Duluth

The Duluth Children's Museum was founded in 1930 as the fifth children's museum in the United States. Its mission was to be a place for the children and families of this area to learn about other peoples and cultures of the world.
The Duluth Depot

Duluth

The St. Louis County Heritage and Arts Center's Historic Union Depot, better know as simply the Depot. This former Union Railroad Depot was built in 1892 by the Boston firm of Peabody, Stearns and Furber. The historic part of the building houses exhibits by four different museums and its theater wing functions as a studio and administrative home to five performing arts organizations.
Karpeles Manuscript Library Duluth Museum

Duluth

The Karpeles Library is the world's largest private holding of important original manuscripts & documents. The archives include Literature, Science, Religion, History and Art.
Lake Superior Maritime Visitor Center

Duluth

Located at Canal Park next to the Duluth Ship Canal, Aerial Bridges, and Lake Walk at Duluth Harbor. The Center features information of the history of Lake Superior, the shipping activity of the Twin Ports, and the work of the Corps throughout the region. Among the attractions within the modern two-story building are full- sized replicas of ship cabins and a pilothouse, a massive steam engine, a working radar, and dozens of the finest scale ship models in the Midwest.
Lake Superior Railroad Museum

Duluth

Housed in Duluth, Minnesota's Historic Union Depot, the Lake Superior Railroad Museum works in conjunction with the North Shore Scenic Railroad to offer one of the richest historic experiences in railroading available anywhere.
Lake Superior Zoo

Duluth

The Lake Superior Zoo shows visitors responsible stewardship of our natural environment through exhibits of living animals and plants and programs in conservation and wildlife education.
Tweed Museum of Art

Duluth

With a permanent collection of over 6,000 art objects representing a range of cultures and periods of art history, the Tweed Museum of Art on the campus of the University of Minnesota Duluth is a major cultural and educational resource for the Upper Midwest.
Cahill School and Minnehaha Grange Hall No. 398

Edina

Take a tour of the historic Cahill School and Minnehaha Grange Hall No. 398. Built in 1864, Cahill School is the oldest surviving building in Edina and served School District No. 16 in southwest Edina. History-themed programming at Cahill School and Minnehaha Grange No. 398 are offered by the Edina Historical Society.
Oliver H. Kelley Farm

Elk River

Step onto a working 1860s farm. Pick heirloom vegetables from the garden, visit the farmhands and animals at the barn, or churn butter and see what's cooking in the farmhouse. Costumed guides work the fields with oxen and horses. At different times throughout the season, you'll see plowing with oxen, horse-powered threshing, haymaking and other harvest activities. The gardens and fields are filled with many of the same plants the Kelley farm grew over 130 years ago. Animals similar to those raised by pioneer families fill the barn and outbuildings. In the house, try your hand at domestic crafts like making straw hats and soap.
Dorothy Molter Museum

Ely

Dorothy Molter carved out her legacy in the Boundary Waters Canoe Area Wilderness (BWCAW) located within the Quetico-Superior National Forest. Dorothy lived on the Isle of Pines on Knife Lake for more than 56 years where she paddled, hiked, fished, and snow shoed this pristine area, until her death in 1986. She was visited by as many as 7,000 people a year.The Dorothy Molter Memorial Foundation located in Ely, Minnesota, was formed to preserve and interpret her legacy. Dorothy's homestead was dismantled in 1987 and transported by dogsled and snowmobile to Moose Lake, and then on to Ely where volunteers restored two of her cabins. Come visit the museum where the welcome is always warm and the root beer is always cold.
Bear Head Lake State Park

Ely

Secluded in the Northwoods, this park contains pristine lakes; it is home to black bears, nesting eagles, timber wolves and moose. Stands of white and red pine trees tower over the birch, aspen and fir trees. Located just south of the Boundary Waters Canoe Area, the park shares a similar wilderness quality. Explore miles of shoreline by canoe. Swim at the beach, picnic in the shelter building, or fish for walleye, bass, crappies or trout. Trails in the park link-up with the Taconite State Trail and offer snowmobilers, skiers and hikers plenty to enjoy. Rent a three-bedroom guest house any season of the year.
Fort Ridgely Historic Site

Fairfax

Tour Historic Fort Ridgely and wander through the ruins of this once thriving outpost. Learn about the U. S.-Dakota Conflict of 1862, a major event in Minnesota's early history. Stop by the cemetery to learn more about the history.
Fort Ridgely State Park

Fairfax

Tour Historic Fort Ridgely and wander through the ruins of this once thriving outpost. Learn about the U. S.-Dakota Conflict of 1862, a major event in Minnesota's early history. Stop by the cemetery to learn more about the history. For recreation, this park offers plenty: play a nine hole course; hike or ride the trails on horseback; play volleyball or softball; fish; and camp (drive-in and walk-in sites are available). Come winter, ski, snowmobile or sled down the big hill.
Martin County Historical Society

Fairmont

Mission is to preserve and share the history of Martin County by acquiring, conserving, appropriately displaying, and making it accessible for viewing, research, and educational purposes.
Dakota City Heritage Village

Farmington

Dakota City Heritage Village is a 1900-era village and museum dedicated to connecting people to the rural past. The village is located in Farmington on the Dakota County Fairgrounds. This five-acre site includes 22 buildings where visitors experience living history firsthand with costumed interpreters and demonstrations. Events throughout the year focus on rural life 100 years ago including how residents met their needs for food, clothing, shelter, and social connection. The Ahlberg Heritage Center Museum, houses more than 10,000 artifacts depicting social and rural history, with an emphasis on agriculture.
Hemker Park and Zoo

Freeport

The family owned Hemker Wildlife Park has been USDA licensed for 20 plus years. They have 14 acres of well kept grazing land located just 90 minutes from the Twin Cities right off 1-94 in Freeport, MN. Learn more about the animals while receiving a personalized tour from the people who care for them every day. Guided tours available at 11 a.m. and 2 p.m., otherwise it's a self-guided tour at the other times of the day. From the world's most exotic animals to Minnesota's most cherished creatures, Hemker offers a friendly environment to better appreciate the natural beauty of the outdoors.
Frontenac State Park

Frontenac

Located on the Mississippi River, Frontenac is a birdwatcher's paradise. It's one of the best spots in the country to view birds migrating in the spring and fall. More than 260 species of birds have been recorded here. No wonder: Lake Pepin's diverse habitats -- bluffland, prairie, floodplain forest and upland hardwood forest -- attract numerous warblers, hawks, waterfowl and shorebirds. Hikers and skiers enjoy spectacular views of this beautifully wooded river valley. Fishing, swimming and boat tours are all available nearby.
Iron Range Historical Society Museum

Gilbert

Among our artifacts are a number of law enforcement items, such as billy clubs, handcuffs, weapons, shield, and a moonshine still. These are located in the jail area which has unique features. This is the only standing up jail cell in existence.
Pope County Museum and History Center

Glenwood

The Pope County Historical Society organized in 1931 to collect and preserve Pope County history. A unique collection of Native American arts and crafts is a highlight of the Museum experience.
Buffalo River State Park

Glyndon

Prairie lovers, this park is for you. Trails wind through one of Minnesota's finest and largest remnant prairies. Listen for bobolinks, prairie chickens, marbled godwits and upland sandpipers. A picnic area, swimming area and campground are located in the hardwood forest along the Buffalo River. The park is only 14 miles from the large metropolitan area of Fargo, North Dakota - Moorhead, Minnesota.
Red River State Park

Grand Forks

The creation of the Red River State Recreation Area was a grass root effort that came about as a result of the flood of 1997 that devastated the communities of East Grand Forks, MN and Grand Forks, ND. After the U.S. Army Corps of Engineers redrew the floodplain, the Federal Emergency Management Agency bought 500 homes and other buildings in East Grand Forks along the Red and Red Lake rivers. Red River State Recreation Area logo showing King fisher sitting in a tree along the river. Various structures and homes were removed and the land, now a 1,200-acre greenway, is a state recreation area. Included in this greenway area is a new campground that features 72 campsites including 48 electric sites that have full hookups (sewer and water). The new recreation area also includes trails for walking and biking, areas for picnicking and rivers for fishing and boating. The recreation area's setting in an urban area, offers visitors access to outdoor recreational opportunities as well as shopping and dining facilities within walking distance of one another.
Judge C.R. Magney State Park

Grand Marais

Come for the quiet, the solitude, and the famous Devil's Kettle waterfall. The most popular hike leads from the trailhead upstream along the Brule River to Devil's Kettle, where the river splits around a mass of volcanic rock. Half of the river plunges 50 feet into a pool, while the rest pours into a huge pothole. Anglers can catch brook and rainbow trout in the Brule River or its tributary, Gauthier Creek. The park offers camping, picnicking and hiking.
Grand Portage National Monument

Grand Portage

Grand Portage: A Celebration of Heritage For over 400 years. - Ojibwe families of Grand Portage have tapped maples every spring on a ridge located just off Lake Superior. During the summer, Ojibwe fishermen harvest in the same areas their forefathers have. Before the United States and Canada existed, the trading of furs, ideas and genes between the Ojibwe and French and English fur traders flourished. From 1778 until 1802, welcomed by the Grand Portage Ojibwe, the North West Company located their headquarters and western supply depot here for business and a summer rendezvous. Today, Grand Portage National Monument and Indian Reservation form a bridge between people, time and culture.
Grand Portage State Park

Grand Portage

Torrents of wild water plummet 120 feet over the High Falls down to the Pigeon River in this park on the U.S. - Canadian border. The falls, the highest in the state, presented a serious obstacle to river travel, so a "carrying place," or portage, was necessary. American Indians created the ancient nine-mile trail from Lake Superior to bypass the falls. This trail became known as "The Grand Portage." Today, visitors of all abilities can take a one-half mile trail and boardwalk to the falls overlook area. The park is designed for day use only and contains mixed hardwood-conifer forests and hiking trails along the banks of the Pigeon River. The spectacular scenery sets the stage for recreational opportunities that include hiking, photography, and picnicking. The park lies within the Grand Portage Indian Reservation and is bordered by Canada on the north and east. Lake Superior is about one mile east of the park.
Itasca County Historical Society

Grand Rapids

The Itasca County Historical Society is located at Old Central School in downtown Grand Rapids, Minnesota. It houses the Little Gem's Gift Shop, The Itasca Museum, Judy Garland exhibit, and The Karjala Research Genealogy and History Center.
The Judy Garland Museum

Grand Rapids

Visit the Judy Garland Birthplace - Located at the southern gateway to the Emerald City, Grand Rapids, Minnesota - The Judy Garland Museum's mission is to engage people in exploring the life and times of Judy Garland. Through educational exhibits, publications, and special events, the Museum encourages people to learn about this great 20th Century artist.
Upper Sioux Agency State Park

Granite Falls

Upper Sioux Agency State Park contains the site of the Upper Sioux or Yellow Medicine Agency. The park was established in 1963 to preserve and interpret the remains of the old Agency site. The park covers 1,280 acres and offers diversity: open prairie knolls, bluffs, and cool, wooded slopes. From the vistas, visitors enjoy the trails which are ideal for horseback riding, hiking, skiing, and snowmobiling. The park also offers a huge sliding hill for winter fun.
Deep Portage Learning Center

Hackensack

Deep Portage Conservation Reserve is available for school visits, organizational meetings and training, family educational adventures, weekend retreats, and teacher workshops. Groups can conduct their own agenda, or as most do, utilize the expertise of the Deep Portage faculty and many lessons from the accredited curriculum.
Minnesota's Machinery Museum

Hanley Falls

The museum features five large buildings (26,000 sq ft) on a beautiful six-acre site. Its mission is to recapture a century of stories about farm life. Implements, tools, tractors and gas engines in mint condition along with rural art help you look back to an era when neighbors worked together to harvest their crops, raise barns and build a better life for their families.
Amish Tours of Harmony

Harmony

A 2 to 2 1/2 hour tour stopping at 4 or 5 Amish farms while a knowledgeable guide tells you about the Amish culture and history. You may see the Amish working in their fields with horses and machinery reminiscent of the late 1800's. Stops will have small shops with crafts the Amish make such as baskets, quilts, furniture, baked goods, etc.
Niagara Cave

Harmony

?In Niagara Cave you will have the opportunity to see natural canyon-like passageways sculpted by water from an underground stream.
St. Croix State Park

Hinckley

Plan an extended visit to St. Croix. With over 34,000 acres and two great rivers: the Saint Croix River, a National Scenic Riverway, and the Kettle River, a State Wild and Scenic River, there's so much to do. Explore the rivers by canoe or with a fishing pole. Swim at Lake Clayton or climb a fire tower. The park has miles of trails for hikers, horseback riders, bicyclists, snowmobilers, and cross-country skiers. Campers can reserve drive-in, walk-in, backpack, and horseback campsites. Large groups can reserve the modern group centers or the primitive group camps.
Hinckley Fire Museum

Hinckley

With the coming of the railroad, the lumbering industry boomed and for twenty years, Hinckley was a growing, prosperous town with a population of 1,500. - On September 1, 1894, all of that changed. - When it was over the Firestorm had completely destroyed six towns, and over 400 square miles lay black and smoldering. The firestorm was so devastating that it lasted only four hours but destroyed everything in its path.
International Owl Center

Houston

Meet owls up close and learn far more than just the basics. Find out what YOU can do to help make the world a better place for owls by changing a few things in your life. Small groups are welcome to attend regularly scheduled public programs, or larger group may schedule private programs for a flat fee. Live online programs are even possible for those at a distance.
Voyageurs National Park

International Falls

Explore the Lakes of the North Woods - Nearly 200 years ago voyageurs paddled birch bark canoes full of animal pelts and trade goods through this area on their way to Lake Athabaska, Canada. Today, people explore the park by houseboat, motorboat, canoe and kayak. Voyageurs is a water-based park where you must leave your car and take to the water to fully experience the lakes, islands and shorelines of the park.
Cuyuna Country State Park

Ironton

Abandoned by mining companies more than 20 years ago, this area of former mining pits and rock deposit stockpiles now boasts regenerated vegetation and clear lakes that draw a wide range of recreation enthusiasts. Twenty-five miles of undeveloped shoreline can be explored by boat or canoe and anglers can cast a line for trout, northerns, bass, crappies, sunfish, and walleyes. As one of Minnesota's newest state recreation areas, Cuyuna's 5,000 acres are mostly undeveloped, and some of the land is being acquired. Most of the current facilities are privately owned and operated, including campgrounds and a historical park. Off- highway vehicles are not permitted within the boundaries of Cuyuna Country Recreation Area.
Father Hennepin State Park

Isle

Father Hennepin State Park is located on the southeast shore of Mille Lacs Lake. Visitors enjoy a large sandy beach for swimming, two boat accesses, fishing piers and picnic sites with a panoramic view of the lake. The park's 320 acres include two campgrounds and hiking trails that wind through a hardwood forest and along the rocky shoreline of Mille Lacs. The park's original vegetation was northern hardwoods mixed with marsh areas and pines along the lake. The hardwoods provide shade during the summer and spectacular color in the fall.
Split Rock Creek State Park

Jasper

Swim, fish, or boat the waters of Split Rock Lake, the largest body of water in Pipestone County. The lake is the predominant feature of this park. Stop by the Beach Side Trail Center for an excellent vista and to discover more about the area. Seven miles north of the park is the famous Pipestone National Monument.
Minnesota Valley State Park

Jordan

Just minutes from the Twin Cities, this state recreation area preserves part of the Minnesota River Valley. The Minnesota Valley Trail takes you along the Minnesota River. The section of trail from Shakopee to Chaska is paved and a natural surface trail runs from Chaska to Belle Plaine. The area is ideal for hiking, biking, cross-country skiing, horseback riding, mountain biking, snowmobiling and camping in one of the many rustic campsites. The landscapes are just as diverse as the trail system and include wetlands, floodplain forest and blufftop oak savanna. Wildlife observation and birdwatching are popular activities year-round.
Lake Bronson State Park

Lake Bronson

From the observation tower in the park, view the prairie and aspen-oak forests or watch for deer, sharp-tailed grouse, moose and sandhill cranes. The South Branch of the Two Rivers fills Lake Bronson. The lake, which is actually a reservoir, offers visitors swimming, fishing, boating, great camping, and a tranquil backdrop for the picnic grounds. For those who prefer a prairie experience, one of the campground areas allows camping on the prairie. Trails for hiking, biking, cross-country skiing, and snowmobiling provide visitors with great recreation choices.
Jackson County Historical Society

Lakefield

The Jackson County Historical Museum is located in the Pearson Building at the Jackson County Fairgrounds, located at the east end of town on the corners of Hwy 64 (East Platt St.) and Hwy 62. Their hours are 10:00 a.m to 4:00 p.m. Tuesday through Friday, and 12:00 p.m. to 4:00 p.m. Saturday and Sunday, closed on Mondays.
Kilen Woods State Park

Lakefield

For a quiet, relaxing time, hike the cool woodland trail which meanders along the tranquil Des Moines River, or enjoy the view of the river valley from Dinosaur Ridge Overlook. You'll find pleasant surprises as you explore small creeks, prairie grasslands, and oak savannas. Visitors enjoy camping, canoeing, fishing, picnicking and hiking. In the winter, enjoy tubing down the long, steep hill.
Lake Louise State Park

LeRoy

Lake Louise lures hikers, horseback riders, skiers, and snowmobilers to its trails, which wind through open landscapes and lush hardwoods. The confluence of the Little Iowa and Upper Iowa Rivers that occurs in the park provides water recreation. In addition, visitors swim, boat, or fish in Lake Louise. Hiking and horseback riding are also popular sports at this park. The lakeside picnic grounds and beach area draws visitors in the summer.
Arches Museum

Lewiston

Before the completion of the Interstate Highway System, roadside museums were common sights to America's motoring public. Usually owner operated, they ranged in quality from tawdry to excellent. A rare example of the latter still operates today -- the work of one dedicated individual, folk-artist and collector Walter Rahn (1902--1984). Motivated by a love of children and a genuine appreciation of pioneer ingenuity, Walter collected everything imaginable to illustrate the past, and what he couldn't collect he created. Today his charmingly constructed handmade models -- many of them operable -- bring to life bygone machinery, vehicles and processes to the delight of all age groups.pioneer school The grounds of the Arches also feature a furnished log home and barn from the 1860's, displays of large agricultural equipment, and a complete one-room pioneer school. Cross the covered bridge over the brook for a serene, shaded picnic spot.
Charles A Lindbergh House

Little Falls

Exhibits at the Charles A. Lindbergh Historic Site tell the full scope of Lindbergh's life, beginning with his boyhood in Little Falls, Minnesota. In the visitor center, gain perspective on Lindbergh's life and his legacy. Step inside a full-scale replica of the Spirit of St. Louis cockpit and envision flying across the Atlantic. See hundreds of photographs and artifacts, many of them never before publicly displayed.
Charles A. Weyerhaeuser Memorial Museum

Little Falls

The Morrison County Historical Society (MCHS) is a non-profit organization devoted to preserving artifacts and historical information regarding Morrison County, Minnesota, and to educating the public about the history of the county. MCHS owns and operates The Charles A. Weyerhaeuser Memorial Museum in Little Falls, Minnesota. The museum was built in honor of lumberman, Charles A. Weyerhaeuser, who managed the operations of Pine Tree Lumber Company in Little Falls from 1890 to 1920. Exhibits in the museum are devoted to all aspects of Morrison County history, including the lumber industry. The museum has extensive non-circulating archives that are available to researchers and genealogists.
Charles A. Lindbergh State Park

Little Falls

Located on the Mississippi River, Charles A. Lindbergh State Park offers visitors a quaint picnic area. The picnic area includes a historic Work Projects Administration (WPA) picnic shelter and a stone water tower. Fish the waters of the Mississippi River, canoe Pike Creek, or walk the trails amid grand red and white pine, aspen, oak and prairie. Look for bald eagles in the spring and fall. During your visit, stop in at the historic home of Charles A. Lindbergh, Sr., father of the famous aviator, Charles A. Lindbergh, Jr. The home is operated by the Minnesota Historical Society (MHS) and is adjacent to the park.
Minnesota Military Museum

Little Falls

The Minnesota Military Museum, located at Camp Ripley, is open to the general public as well as military personnel. Nowhere in Minnesota are the experiences of military men and women so vividly captured and interpreted as at the Minnesota Military Museum. The museum aims to enhance public understanding of how armed conflicts and military institutions have shaped our state and national experience. The museum also functions as a major repository in Minnesota for historical artifacts and records. Indoor and outdoor exhibits depict the stories and contributions of Minnesotans who served in all branches of service or on the home front, in time of peace and war, from our early frontier years to the present.
WHCPA Pioneer Museum

Long Lake

The museum has four main display rooms upstairs in former classrooms. The Victorian Room with displays of a Victorian dining room, kitchen, bedroom and parlour. The General Store Room with displays of guns from the landmark Buckhorn restaurant, a general store display and miscellaneous displays. The Textile Room has a loom, quilts and other textile related materials. The Music Room has displays of vintage instruments and music players, a hand carved pulpit, the megalethscope and a vintage 1900 classroom. On the lower level we have a research facility for people who want to use our archives and a picture gallery of early western Hennepin County pioneer families. Come in and find your family's roots in Hennepin County!
Cascade River State Park

Lutsen

Come to Cascade for the rushing river and grand waterfalls that lay within a gorge, lush with moss and ferns that grow on black volcanic rocks. Hike the trail through birch, spruce and white cedar; stop to see the views of Lake Superior, the largest freshwater lake in the world. Trails connect with the Superior Hiking Trail and the North Shore State Trail and offer great recreational opportunities to hikers and cross-country skiers. Drive-in and backpack campsites are available.
Blue Mounds State Park

Luverne

Blue Mounds State Park is full of natural surprises. Start with the Sioux quartzite cliff, rising 100 feet from the plains. A bison herd grazes on the prairie. Prickly pear cactus blooms in June and July. A sea of prairie grasses and flowers sway in the wind. The park is also a favorite for birdwatchers who want to see nesting blue grosbeaks and other birds. Enjoy camping and swimming.
Rock Co. Historical Museum

Luverne

The RCHS preserves, maintains, and presents the history of Luverne and Rock County. A member of the Minnesota Historical Society, the RCHS operates two museums: The Rock County Historical Museum, located at 123 North Freeman Avenue (Masonic Temple); and the Hinkly House Museum, a renovated authentic Victorian home, located at 217 North Freeman Avenue.
Camden State Park

Lynd

Camden State Park offers much for visitors to enjoy. Fish for brown trout in the Redwood River or bass and bluegill in Brawner Lake. Hike the trails or cool off in the spring-fed pool. Walk along the wooded river valley, climb the Dakota Valley Trail to the lookout for great fall colors, or go canoeing on Brawner Lake. Woodlands, maples, basswoods, oaks, and cottonwoods, dominate this park. Sun-drenched prairies, grasslands, and marshes offer added diversity. The park provides picnic areas, campgrounds (drive-in, horseback, and group), swimming, hiking, and cross-country skiing.
Lac qui Parle County Museum

Madison

The complex consists of six separate buildings; a 10,000 sq. ft. Educational Museum; an 1870's Log Cabin furnished for that period; a Rural Schoolhouse built in ca.1887, equipped for that period through the early 1900's; and an Agricultural machinery, tools and early transportation exhibit building.
Minneopa State Park

Mankato

The word Minneopa comes from the Dakota language and is interpreted to mean "water falling twice," referring to the beautiful waterfalls of the Minneopa Creek. Walk the trail which encircles the falls, leading down a limestone stairway to the valley below. Ascend the opposite side and enjoy a panoramic view of the valley which reveals the underlying geology of this area. Visit Seppmann Mill, a wind driven grist mill fashioned in German style from native stone and lumber, or hike through oak savanna and native prairie grasslands overlooking the scenic Minnesota River Valley.
Snake Discovery

Maplewood

Looking for an unforgettable hands-on experience? Book one of our educational reptile programs! We offer hands-on programs both at our facility and offsite. Our programs cover topics like diet, habitat, defense mechanisms and fun facts, using an assortment of props and live animals! From touching lizards to holding snakes, attendees of all ages are sure to experience something new! Programs are given by one of Snake Discovery's Zookeepers.
William O'Brien State Park

Marine-on-St. Croix

A great "get away" park only one hour from the Twin Cities, William O'Brien provides a beautiful setting for quality recreation along the banks of the St. Croix River. Hiking trails offer quiet exploration of the park's rolling, wooded hills. For anglers, the channels of the St. Croix have northerns, walleye, bass and trout. Ideal for canoeing, the river is also a migratory pathway that offers visitors an exciting diversity of sights and sounds. In the winter, snowshoeing, skiing and camping attract enthusiasts.
Savanna Portage State Park

McGregor

Time slips by when you visit this park of the north. Walk the Savanna Portage Trail, a historic trail traveled by fur traders, Dakota and Ojibwe Indians, and explorers more than 200 years ago. Savanna Portage State Park has 15,818 acres of rolling hills, lakes, and bogs. The Continental Divide marks the great division of water: water to the west flows into the Mississippi River; water to the east runs into Lake Superior. Visitors can hike the Continental Divide Trail and see forested vistas. During the summer, visitors enjoy swimming at Loon Lake. Bike enthusiasts can pedal on roads, or on dirt trails designated for mountain bikes. With four fishing lakes and a river, its common for anglers to catch panfish, trout and bass. Come winter, this park offers snowmobilers approximately 60 miles of trails to explore. This park is a favorite among cross-country skiers too with 10 miles of trails to ski.
Melrose Area Historical Society

Melrose

The Melrose Area Historical Society was formed in 1988 with the purpose of collecting and preserving artifacts pertaining to the history and heritage of the area. The Society is dedicated to operating a museum and heritage center where these artifacts are on display for visitors to enjoy and learn of the past. See the displays that depict the life and times of the pioneers and citizens.
Mississippi Watershed Management Organization

Minneapolis

MWMO works to protect and improve water quality, habitat, and natural resources by monitoring and tracking water quality in the watershed and working to promote active environmental stewardship among residents. Visitors can, individually or with a facilitator, explore Minnesota's changing climate and home energy themes through interactive displays inside our learning center and walk through our stormwater park to access the Mississippi River and learn about various landscape features including green infrastructure that captures, cleans, and reuses stormwater runoff.
Wells Fargo History Museum, Minneapolis

Minneapolis

On the skyway of the Cesar Pelli designed Wells Fargo Tower in downtown Minneapolis, Wells Fargo presents its Midwestern heritage.
Minneapolis Institute of Arts

Minneapolis

Join us for our free monthly event for families, kids, and the young at heart. One Sunday a month, you'll have a blast making art, going on artful adventures, meeting local artists, musicians, dancers, and story tellers, and more! Enjoy FREE general admission to the museum every day, thanks to the generosity of MIA members and supporters!
The Museum of Russian Art (TMORA)

Minneapolis

A member-supported non-profit that preserves and displays historically significant examples of Russian art and artifacts. It is the only museum in North America solely dedicated to the preservation and presentation of Russian art and artifacts. Through the universal language of art, TMORA visitors explore new and unique perspectives of Russia, a country with a recorded history that spans over one thousand years. Recognizing the importance of educating current and future generations about Russian art and culture, TMORA exhibitions are designed to provide our guests with an opportunity to examine important artistic achievements and historical events through the works of Russia's most esteemed artists.
The American Swedish Institute

Minneapolis

In 1908, the Turnblads--a Swedish immigrant family--completed the construction of their castle-like mansion on Minneapolis' Park Avenue. Just twenty-one years later, they gave it all away to the community, founding the museum and cultural center that would become the American Swedish Institute. Today, the American Swedish Institute, housed in the Turnblad mansion, is a place to learn about and experience Swedish, Swedish-American, and Nordic culture, learn about the role of Swedish and other immigrants in Minnesota's history, and share stories and experiences.
The Bakken Museum

Minneapolis

A one of a kind museum exploring the mysteries of our electric world. The Bakken Museum acquired its name from Earl Bakken. Bakken was born in 1924 and grew up in Minneapolis and received his training in electrical engineering at the University of Minnesota. The Bakken Museum inspires a passion for science and its potential good by helping people explore the history and nature of electricity and magnetism.
Minnesota Center for Book Arts

Minneapolis

Minnesota Center for Book Arts offers workshops for students 2 years of age and up. Create handmade books, paper, and prints, while learning about the history of these traditions. Connect your curriculum to your project when planning your trip for deeper learning in Language Arts, Science, Social Studies, Art, or History.
Hennepin History Museum

Minneapolis

The Hennepin History Museum is one of the Twin Cities' most unique social history museums. It offers superb exhibits, a historic mansion setting, and archival collections of priceless scholarly value. HHM has evolved from the Hennepin County Territorial Pioneers Association in 1858 to the County Historical Society in 1938 to an award-winning history museum embracing a diverse range of cultures and social histories. The exhibition and education programs have grown from a focus on original Hennepin County settlers to documenting the wide range of people who make up the county today. As one of Minnesota's most rapidly growing and diverse counties, Hennepin includes urban, suburban, and rural communities. You can find all of these stories in the exhibits, library, and outreach programs at the Hennepin History Museum.
Walker Art Center

Minneapolis

The Walker Art Center is a catalyst for the creative expression of artists and the active engagement of audiences. Focusing on the visual, performing, and media arts of our time, the Walker takes a global, multidisciplinary, and diverse approach to the creation, presentation, interpretation, collection, and preservation of art. Walker programs examine the questions that shape and inspire us as individuals, cultures, and communities.
Frederick R. Weisman Museum of Art

Minneapolis

Housed in a striking stainless steel and brick building designed by architect Frank Gehry, the Weisman Art Museum offers an educational and friendly museum experience. The museum's collection features early 20th century American artists such as Georgia O'Keeffe and Marsden Hartley, as well as a diverse selection of contemporary art. A teaching museum for the University of Minnesota and the community, the Weisman provides a fresh, engaging arts experience through an array of programs and a changing schedule of exhibitions.
Lake Maria State Park

Monticello

Visitors who come to Lake Maria State Park will enjoy one of the few remaining stands of the "Big Woods," a maple, oak and basswood forest that once covered part of southern Minnesota. The park is perfect for hikers, backpackers, horseback riders, and cross-country skiers who enjoy the challenge of the rolling terrain. Take a stroll on the boardwalk which winds through a marsh. Backpack sites, located on remote lakes and ponds throughout the park, are just two miles from the trailhead parking lot. New log camper cabins, located near lakes and ponds, provide bunk beds for six people and a table and benches for campers who want more of the creature comforts. Lake Maria State Park is home to the Blandings turtle, easily identified by bright yellow spots on its shell. It is one of Minnesota's threatened species.
HCSCC Hjemkomst Center

Moorhead

Collects, preserves and disseminates the history of Clay County, Minnesota. Tens of thousands of artifacts, photos and documents.
The Rourke Art Gallery Museum

Moorhead

The Rourke Art Gallery Museum building was designed by architect Oscar Wenderoth and constructed in 1913 as the Moorhead Federal Post Office. The building was used by the Postal Service until 1960. The building is on the National Register of Historic Places. The Permanent Collections consist of over 3,000 contemporary paintings, prints, drawings, sculptures, photographs, African, Native American, Pre-Columbian and Hispanic works of art.
Moose Lake State Park

Moose Lake

Rolling hills surrounded by fields, woods, ponds and fishing lakes make this park popular for hikers, anglers, canoeists, swimmers and campers. Quiet Echo Lake is ideal for catching bass, northerns and panfish. The Willard Munger Trail is located two miles west of the park. The trail stretches for 60 miles from Hinckley to
Kanabec History Center

Mora

The Kanabec History Center opened to the public in 1978. Operated by the Kanabec County Historical Society, the Center is located on 37 acres bordering the Snake River on the west side of Mora, MN. The main facility contains an exhibition hall, climate controlled storage areas, reference library, conference room, gift shop and office space. The Coin School, constructed in 1898, now serves as an education building for Kanabec History Center programs. It is also available for meeting use and other community classes. Currently yoga classes are held there twice a week. The one room Whittier School house is used for Old Tyme Country School classes each summer.
Stevens County Historical Society

Morris

Since its beginnings in 1922 -- and even back to the Old Settlers Association, founded in 1876 -- the Stevens County Historical Society has worked diligently to collect the best examples of historical artifacts of life on the prairie. Everything from books and letters to clothing, tools, utensils, photographs, and handmade articles have found its way into the collections. The Historical Museum houses captivating displays of items once used in farming, industry, spinning, cooking, education, religion, medicine, animal husbandry, housing, and works of local artisans in Stevens County.
Nerstrand-Big Woods State Park

Nerstrand

Enjoy this park on foot, any season of the year. In the spring, the park is a wildflower garden where hepatica, bloodroot, Dutchman's breeches, and the dwarf trout lily bloom. The dwarf trout lily is only found here. Relax by Hidden Falls in the summer. The autumn brings a burst of red, orange, and gold in the maple-basswood forest, one of the last extensive stands of the "Big Woods." When winter comes, ski or snowmobile the trails through picturesque woods.
Sibley State Park

New London

There is something for everyone at this popular west-central Minnesota State Park. Hike to Mount Tom, one of several high points in a 50-mile radius, and see a patchwork of forest, farmland, prairie knolls, and lakes. Summer visitors enjoy swimming, boating, and fishing on Lake Andrew. A canoe route invites adventurers to portage and canoe on Henschien Lake and Swan Lake. The park offers campgrounds, a modern group center, horseback camps, picnic area, and interpretive programs year-around.
Flandrau State Park

New Ulm

The gentle flowing Big Cottonwood River meanders through this southern park. The sand-bottom swimming pond, picnic area, campgrounds and group center attract many visitors every summer to this very popular state park. The terrain is diverse, offering views of wooded river bottoms, oxbow marshes and open grasslands. Hikers and cross-country skiers enjoy the flat trails on the bottom of the valley or more challenging routes on the oak-shaded bluffs. Visit historic stone buildings crafted by Works Progress Administration(WPA)crews. Vegetative features include goat prairies, small white lady's slippers, and the floodplain forest.
Finn Creek Open Air Museum

New York Mills

An eighteen acre interpretive site devoted to the preservation the heritage of the Finnish Culture. Open all summer, the site includes a 1900 original farmstead, log barns, "Savu" smoke sauna, sawmill and gift shop. The last weekend in August the site is host to Finn Creek Festival, an annual celebration featuring entertainment, demonstrations and food.
Northfield Historical Society

Northfield

Since 1975, the Northfield Historical Society (NHS) has been dedicated to preserving, interpreting and honoring the unique history of Northfield Minnesota. This weblog acts as a conduit for information on anything and everything NHS related. Today the Northfield Historical Society actively serves the Northfield area by offering presentations of Northfield history, educational programs, special historical events, exhibits, and a library and archives.
Mille Lacs Indian Museum

Onamia

The Mille Lacs Indian Museum, which opened May 18, 1996, offers exhibits dedicated to telling the story of the Band. Trace their journey to settle in Northern Minnesota, learn about their fate during a period of treaties made and broken, and follow their story up to the present.
Mille Lacs Kathio State Park

Onamia

Mille Lacs Kathio State Park has so much to offer and discover. Its 9000 years of human history and archaeological significance has made it a National Historic Landmark. You can learn about its rich history and all of Kathio's other treasures at the Visitor Center located next to the picnic grounds. While you're at Mille Lacs Kathio, take some time to visit the Mille Lacs Indian Museum located just two miles north on US Hwy. 169. It is operated by the Minnesota State Historical Society and exhibits the Mille Lacs area history from 1680 forward.
Big Stone Lake State Park

Ortonville

Big Stone Lake is 26 miles long and is located on the South Dakota-Minnesota border. The lake is the source of the Minnesota River and attracts anglers who catch walleye, northerns and bluegills. The northern section of the park, called the Bonanza Area, provides a picnic area, boat launch and a primitive group camp for guests. The area also includes the Bonanza Education Center which provides a place to discover the past and ways to preserve it. The southern section of the park, called the Meadowbrook Area, contains a campground, swimming beach and hiking trails.
Rice Lake State Park

Owatonna

Long ago, American Indians harvested wild rice from this lake where today, the shallow waters and marshy edges of Rice Lake attract many waterfowl during migrations. Rice Lake is a major wetland in the area. Visitors enjoy camping under the tall hardwoods, photographing spring wildflowers, picnicking, and birdwatching. For a more secluded camping experience, paddle across the lake and camp in a canoe campsite. Winter activities include cross-country skiing and snowmobiling on the trails.
Long Lake Conservation Center

Palisade

Long Lake Conservation Center is a nature school - one of Minnesota's six Residential Environmental Learning Centers. Our mission is to inspire a deep appreciation of nature, promote wise use of our natural resources and foster a lifelong stewardship of the environment. We have dormitory style lodging and a cafeteria where we serve breakfast, lunch and dinner to groups come for three-day, two-night nature field trips.
Itasca State Park

Park Rapids

Established in 1891, Itasca is Minnesota's oldest state park. Today, the park totals more than 32,000 acres and includes more than 100 lakes. Walk across the mighty Mississippi as it starts its winding journey 2,552 miles to the Gulf of Mexico. Stand under towering pines at Preacher's Grove. Visit the Itasca Indian Cemetery or Wegmann's Cabin, landmarks of centuries gone by. Camp under the stars, or stay the night at the historic Douglas Lodge or cabins. Explore Wilderness Drive past the 2,000-acre Wilderness Sanctuary, one of Minnesota's seven National Natural Landmarks.
Maplewood State Park

Pelican Rapids

The maple forest turns brilliant shades of orange, gold, and red in the fall. Eight major lakes and many ponds offer water lovers places to swim, fish, boat, and simply relax. Lake Lida has a sandy beach and large picnic areas for visitors. Drive along the scenic route to observe the wildlife: the park is host to 150 bird species and 50 species of mammals. The extensive trail system attracts hikers, horseback riders, and cross-country skiers.
North West Company Fur Post

Pine City

Step into the recreated world of 1804, where you can stop at the Ojibwe encampment and learn how the seasonal living of the Ojibwe changed when Europeans arrived. Meet a fur trade clerk who explains the system of barter that moved beaver fur from the hands of Indian hunters onto the heads of fashionable Europeans.
Pipestone National Monument

Pipestone

An opportunity to explore American Indian culture and the natural resources of the tallgrass prairie. Established by Congress in 1937 to protect the historic pipestone quarries, the site is considered sacred by many American Indians. Spanning centuries of use, American Indians continue to quarry pipestone which they carve into sacred pipes.
Pipestone County Historical Society

Pipestone

The Pipestone County Historical Society is a group of people dedicated to the preservation of the history of Pipestone County, Minnesota. It operates a historical museum that has many historical artifacts as well as genealogical resources.
Historic Forestville

Preston

Walk across the Carnegie Steel Bridge into 1899 Forestville. See 19th century merchandise in the Meighen family store, discover what's cooking in the kitchen, and help the hired hand with chores in the garden and farm buildings. Costumed guides portray actual residents and their daily activities.
Forestville/Mystery Cave State Park

Preston

Visit Forestville/Mystery Cave State Park to see natural wonders above and below ground. Explore the world of Mystery Cave with its stalactites, stalagmites and underground pools. Park naturalists provide tours of the cave throughout the summer and on weekends in the spring and fall. The temperature stays at a constant 48 degrees Fahrenheit. Above ground, stop by Historic Forestville, a restored 1800s village operated by the Minnesota Historical Society (MHS). Fish three blue-ribbon trout streams for brown trout. Take in the soft pastels of wildflowers in spring or listen to ruffed grouse drumming and wild turkeys gobbling. Hike or bring your horse to ride the ridge tops and stream valleys. Observe interesting geologic features along the way including sinkholes and dramatic Big Spring. In the fall, don't miss the bold colors of the forest. Winter invites visitors to ski or snowmobile the Bluff Country.
Goodhue County Historical Society

Red Wing

Minnesota's Oldest County Historical Society. First Sunday of each month is free admission!
Sheldon Theatre of the Performing Arts

Red Wing

Discover the one-of-a-kind Sheldon Theatre in Red Wing, MN. Since its opening in 1904, the historic Sheldon Theatre of Performing Arts warmly welcomes about 30,000 people to dozens of performance events every year. Its ornately gilded walls have played host to thousands of large national touring acts, international artists, and local performers alike. Visit our website for a current listing of school matinee shows.
Redwood Historical Museum

Redwood Falls

Redwood Historical Museum located on Highway 19 West, Redwood Falls, was constructed in 1908 as the county poor farm. The 30 rooms including a living room, dining room, kitchen, general store, military room, doctor's office, and 3 wildlife rooms. Interesting items such as toys tools, clothing, fine linens, photos, fans, Indian artifacts, and much more are displayed. A one-room school building is also on the grounds.
Rochester Art Center

Rochester

Each year, the Rochester Art Center offers over 100 adult and children educational programs. These exceptional educational offerings include classes, workshops, film presentations, lectures and gallery tours for all ages. Programs are designed to encourage an understanding and appreciation of the visual arts. Children and youth programs provide valuable hands-on art experiences under the direction of professional guest artists. Classes, art- after-school sessions, career and portfolio counseling, along with the popular Total Arts Day Camp, are just some of the programs offered for youth at the Center. Scholarships are available for Art Center classes and workshops, making art accessible for everyone.
Olmsted County Historical Society

Rochester

Established in 1926, the Society's mission is to collect, preserve and interpret the history of Olmsted County. - Owns and operates five historic buildings and sites. A qualified staff manage the programs assisted by many enthusiastic volunteers.
Roseau County Historical Society and Museum

Roseau

The Roseau County Historical Society was organized in April 1927 with the intent of collecting, preserving and disseminating the history of Roseau County, Minnesota. The Historical Society is a 501(c)3 nonprofit educational organization. The organization displays artifacts from the present and the past that represent the history of the county as well as hosts traveling exhibits at the museum. The Historical Society also has an extensive research center.
Hayes Lake State Park

Roseau

Some days it's just you, loons, and moose, while you traverse around Hayes Lake. Fed by the north fork of the Roseau River, the lake supports crappie, sunfish, and northerns. Birdwatchers have spotted over 200 species in or near the park. The summer is perfect to look for orchids, gentians, and blueberries (you can pick the berries, but not the flowers). Visitors also enjoy swimming and canoeing in the lake, along with camping. Trails for hiking, skiing, snowmobiling, and horseback riding connect with the Beltrami Island State Forest.
Banning State Park

Sandstone

In the spring, watch daring canoeists and kayakers shoot the turbulent rapids at Blueberry Slide, Mother's Delight, Dragon's Tooth and Hell's Gate. In the summer, hike along the Kettle River amid dramatic sandstone rock formations with lush lichens, liverworts and mosses. Visit Wolf Creek Falls, the Log Creek Arches and Robinson's Ice Cave. Stay at the new camper cabin (sleeps five people), which includes bunk beds, a table and benches. Take in the historic ruins of Banning Sandstone Quarry. The park is known for camping, picnicking, cross-country skiing, beautiful trails for hiking and the study of natural history.
Hay Lake School and Erickson Log House Museum

Scandia

The Hay Lake School was constructed in 1896. This was rural school district #2 and that district was organized in Washington County in 1855. After several years of school being held in local homes, the school was moved into the old Elim Lutheran Church building. The school used that structure, which is now a part of the Gammelgarden complex, until this brick school building was built. Hay Lake School was used by Washington County Rural School system until 1963. The school was placed on the National Register of Historic Places on July 1, 1970. The Erickson Log House was placed on the National Register of Historic Places on June 17, 1976.
Temperance River State Park

Schroeder

Take the trail that winds along the edge of the Temperance River gorge and enjoy the rushing waterfalls surrounded by pine, spruce, cedar and birch forests. The rapidly flowing river has cut deep potholes in and along the riverbed. Hike the trail to Hidden Falls or connect up with trails into the Superior National Forest and the Cross River Wayside. Visitors come to camp and picnic along the shore of Lake Superior. Winter brings cross-country skiers and snowmobilers to tackle the hilly terrain. Carlton Peak, a recent addition to the park, is popular with rock climbers and offers even more recreational opportunities to park visitors.
The Landing at Minnesota River Heritage Park

Shakopee

Step back in time see what life was like for people who lived in the Minnesota River Valley 150 years ago. It's history happening right before your eyes. Costumed interpreters and authentic buildings help recreate late 19th-century life in Minnesota, a time when settlers were establishing farmsteads and villages on the frontier. The park is open for tours, educational events, group events and weddings. On weekends in December, revisit the settlers' holiday traditions with Folkways of the Holidays. Kids also love playing house in 1880s style at the Martinson House.
Stans Museum

Shakopee

Located in the scenic Minnesota River Valley, visitors to the Stans Museum can explore interactive exhibits featuring unique history and people of Scott County, Minnesota. Named for Maurice H. Stans, the museum also includes exhibits commemorating Stans' life as an entrepreneur, African adventurer and public servant. Persons interested in genealogy research will want to investigate our Research Center & Archives.
Valleyfair Amusement Park

Shakopee

Valleyfair has you covered whether you are looking to take a spin on the newest family thrill ride Delirious or enjoy some of the area's most entertaining events. Valleyfair has all the fun you are looking for in a place where the fun never ends!
McCarthy Beach State Park

Side Lake

Come to McCarthy Beach State Park and you'll remember the lakes. Dig your toes into the sandy beach on Sturgeon Lake, rated one of the top 17 beaches in North America by Highways' Magazine. Launch a boat to explore Side Lake and the four connected lakes of the Sturgeon chain. Hikers, cross-country skiers, and snowmobilers enjoy the scenic trails winding through stands of large red and white pines. For longer ventures, head out on the Taconite Trail for access to hundreds of miles of additional trails.
Tettegouche State Park

Silver Bay

Come to Tettegouche for a great sense of the North Shore: the spectacular overlooks at Shovel Point; rocky, steep cliffs and inland bluffs; the cascading 60 ft. High Falls of the Baptism River; and the historic Tettegouche Camp where visitors can stay the night. This is a hiker's paradise with miles of trails that overlook the Sawtooth Mountains and wind down to inland lakes accessible only by foot. The Palisade Valley Unit features broad scenic vistas coupled with an expanse of multi-use, four-season trails. Two more trout lakes complement the fishing opportunities within the rest of the park. The park is also known for rock climbing opportunities and quality birdwatching in the spring, summer, and especially the fall.
George Crosby Manitou State Park

Silver Bay

Come to this north-country wilderness park where waterfalls cascade through a volcanic canyon surrounded by majestic forest. The trails in the park are carved through a forest of fir, cedar, spruce, and northern hardwoods. Although the trails are steep and challenging for hikers and backpackers, they offer spectacular views. Secluded campsites are for backpackers only. Trout (brown, rainbow, and brook) and splake (a hybrid of brook and lake trout) reside in Benson Lake. Watch for moose, deer, bear, and wolves.
Sleepy Eye Area Depot Museum

Sleepy Eye

The Sleepy Eye Area Historical Society opened a museum after they received the keys to the depot on July 3, 1990. Displayed there are artifacts from the Sleepy Eye area. Also on display at the depot museum is the Sleepy Eye drum and bugle corps. which won many state and national championships. The depot was named to the State and National Register of Historic Places in 1992. Drum & Bugle Corp Display, Many displays of old photos of Sleepy Eye, Chief Sleepy Eye History
Soudan Underground Mine State Park

Soudan

A century slips by when you visit this park. Visitors wear hard hats and journey down 2,341 feet via a "cage." On the 27th level, the transportation shifts to a rail car for a ride back into the mine as you listen to the stories of the mining days. Above ground visitors can explore the dry house, drill shop, crusher house and engine house. Visitors also can walk the boardwalk past one of the deepest open mine pits or hike the trails in the park through a northern hardwood conifer forest, past the famous Soudan Iron Formation.
Afton State Park

South Hastings

Grand oaks and delicate prairie flowers grace the rugged, rolling landscape of this park. Trails traverse remnant and restored prairies, wind down deep ravines and rise up to the grassy ridgetops and bluffs overlooking the scenic St. Croix River. The trails are perfect for hikers, horseback riders and cross-country skiers. The park offers visitors a swimming beach, backpack campsites and a visitor center with interpretive displays.
Blue Sun Soda Shop

Spring Lake Park

Blue Sun Soda Shop is proud to offer tours of the Whistler Soda bottling facility so you can see our vintage in action. Whistler Classic Soda and North Star Craft Soda are both bottled on an authentic 1952 Crown, Cork and Seal Dixie Model F bottling line just like they used to do it in the good old days. The price of the tour is $5 per person with a 10 person ($50 minimum) and you receive a bottle of Whistler soda to enjoy at the end.
Stearns History Museum

St. Cloud

A visit to the Stearns History Museum makes a perfect family activity. With two floors of exhibits, a Research Center, Museum Store, and a children's playroom, there is something for everyone in the family. Walk four miles of nature trails and enjoy the woods, prairie, and ponds of Heritage Park.
Museum of Broadcasting

St. Louis Park

The Museum of Broadcasting houses one of the world's finest collections of antique radio, television, and broadcast equipment. The Museum has gained international recognition for its continuing efforts in preserving and documenting the history of an industry that has made monumental changes in the fabric of modern life.
Mississippi National River and Recreation Area

St. Paul

The Mississippi River - Established in 1988, the Mississippi National River and Recreation Area includes 72 miles of the Mississippi River stretching from the cities of Dayton and Ramsey to just south of Hastings. The segment of the river flowing through the park has always been of major significance as a spiritual site, a place for recreation, and a tourist attraction.
Minnesota Transportation Museum - Jackson Street Roundhouse

St. Paul

Come learn about St. Paul's railroad history at our unique and FUN museum! Located in St. Paul at the historic Jackson Street Roundhouse - built in 1907 by James J. Hill as a train maintenance facility. The building has been restored and is now a fully functioning train restoration shop and family-friendly museum.

Minnesota Transportation Museum - Jackson Street Roundhouse website
Minnesota Transportation Museum

St. Paul

The Minnesota Transportation Museum invites travelers of all ages to experience the changing world of transportation. The Minnesota Transportation Museum is constantly evolving. Come experience any one of our interactive exhibits, take a train, caboose, or bus ride, or simply stop in to enjoy the memories of days gone by.
Gallery of Wood Art

St. Paul

Offers an often surprising and always engaging view of contemporary works created in wood. Although all pieces on exhibit have been at least partially created on a lathe, the diversity of techniques, subjects, materials and ideas of each artist keeps each exhibit fresh and engaging. The Gallery of Wood Art also features educational exhibits, a display of vintage lathes, and a gallery gift store offering turned items, books and DVDs.
Dakota County Historical Society

St. Paul

The Dakota County Historical Society continues to build upon the efforts of Fred E. Lawshe and others who have worked for the Society over the years. There are now over 25,000 objects in the museum's collections and more than 20,000 photographs. Its publishing program, first begun in 1951 with a newsletter called Over the Years, now creates over 100 pages of original historical research a year. Its research library has one of the best collections of local history in the State.
Czech and Slovak Cultural Center of Minnesota

St. Paul

Since Czech and Slovak immigrants first established settlements in Minnesota in the 1850s, they have joined with other immigrant groups to build thriving towns and communities across the state. - Headquartered at the historic CSPS (Sokol) Hall in St. Paul, the Czech and Slovak Cultural Center is a unique organization that integrates the past, present and future.
Como Park Zoo & Conservatory

St. Paul

Animals, family fun, and gardens all in one place. Located in historic Como Park, this popular zoo, especially known for its California sea lion exhibit, also features a great cat display, gorillas and giraffes. Como Park Zoo and Conservatory hosts creative, hands-on classes designed especially for homeschool students, ages 5-15 (as noted). During each class, students will explore the natural world with art projects, plant and animal visitors, scavenger hunts and more.
Gibbs Farm

St. Paul

Jane and Heman settled on the frontier site in 1849. By 1900, the Gibbs family was operating a market-garden farm on the edge of a growing metropolitan region. The house, which reached its present size in 1874, is furnished the way a farm house close to the city would have been in 1900. - There are also two Dakotah style tipi at the Gibbs Museum.
Goldstein Museum of Design

St. Paul

The Goldstein is an internationally recognized teaching museum and research center for interpreting the vital role of art in everyday life. The museum collects, preserves, documents and exhibits clothing, textiles, and decorative and graphic arts, with an emphasis on objects of the late 19th and 20th centuries.
Schubert Club Music Museum

St. Paul

Experience the Schubert Club Music Museum Explore our newly designed galleries: Music Makers Zone where visitors can explore, discover and create music with instruments from around the globe. Keyboard Journey where visitors will be immersed in the sights and sounds of Schubert Club's keyboard and composer letter collections.
Minnesota Air National Guard Museum

St. Paul

The Largest Collection of Military Aircraft in a Five State Region.
Minnesota Children's Museum

St. Paul

At Minnesota Children's Museum, kids will have a blast discovering an exciting, immersive world that arouses their curiosity, increases their understanding, and ignites an appreciation for learning.
Minnesota Historical Society

St. Paul

Established in 1849 to preserve and share Minnesota history. The Society collects, preserves and tells the story of Minnesota's past through interactive and engaging museum exhibits, extensive libraries and collections, 25 historic sites, educational programs and book publishing.
The Museum of Questionable Medical Devices

St. Paul

Devious Displays of Quackery, Fraud, Deceit and Deception -- the largest collection of medical chicanery and mayhem ever assembled under one roof !!!World-renowned expert on Medical Quackery and Health Fraud, and founder of The Museum of Questionable Medical Devices, which is now located at the Science Museum of Minnesota.
Science Museum of Minnesota

St. Paul

The Science Museum of Minnesota, founded in 1907, is a large regional science museum located on the banks of the Mississippi River in downtown St. Paul. The Science Museum's programs combine research and collection facilities, a public science education center, extensive teacher education and school outreach programs, and an Imax Convertible Dome Omnitheater to provide science education to our audience of more than a million people per year. The Science Museum of Minnesota is known worldwide for its interactive exhibits, dynamic traveling exhibitions, and internationally distributed large format films.
Ordway Center For the Performing Arts

St. Paul

For more than 20 years the Ordway has been a destination for thousands of students and educators, welcoming Public, private and homeschools from throughout the region to experience the magic of live music, dance, puppetry and theater. Performances are both engaging and educational, starting with artists and art forms that inspire and ignite imaginations. School performances are programed for students in grades PK-12. Tickets start at just $3.50 a ticket and bus reimbursement is available for all schools and home school groups.
Fort Snelling State Park

St. Paul

Located in the heart of the Twin Cities, this park offers extensive hiking, bike and ski trails that link to Minnehaha Park and the Minnesota Valley National Wildlife Refuge. Canoe on Gun Club Lake, play golf, swim in Snelling Lake, or hike on Pike Island where the Mississippi and Minnesota rivers converge. Interpretive exhibits and films on display in the Thomas C. Savage Visitor Center give visitors a good background on the history and resources of the park and area. Trails also allow visitors to hike up to the historic Fort Snelling for a view of military life in the 1820s. This is a day-use only park; no camping is available.
Minnesota Wing

St. Paul

Minnesota's Premier WWII Aviation Museum.
W.W. Mayo House

St. Paul

What do the Mayo Clinic and the Green Giant Company have in common? Their stories begin in the same modest home in Le Sueur. Explore the home with costumed guides and hear stories of the Mayo and Cosgrove families who lived here in this home before founding the Mayo Clinic and the Green Giant Company.
Eugene Saint Julien Cox House

St. Peter

This neo-Gothic, wood-frame dwelling is known as much for its architectural beauty as for its association with its original owner, St. Peter's first mayor. Eugene Saint Julien Cox served as an officer in the Civil War before becoming a lawyer and eventually a district judge. The extraordinary house has a prominent tower, elaborate pinnacles, finials and bargeboards with cusped traceries. Today it is a museum administered by the Nicollet County Historical Society.
Treaty Site History Center

St. Peter

The Treaty Site History Center is the headquarters of the Nicollet County Historical Society. You can stroll through a restored prairie (Traverse des Sioux Historic Site) adjacent to the Treaty Site History Center. Located inside the Treaty Site, you can take in absorbing exhibits that change periodically through out the year. While you are at the Treaty Site, you can learn about the 1851 Treaty that altered the future and the territory soon to become Minnesota in a semi-permant exhibit. Also, come and enjoy some of the many programs that the Nicollet County Historical Society has all year round, from the annual meeting to the "Shadows at the Crossing."
Glacial Lakes State Park

Starbuck

Stand on top of the scenic glacial hills and experience the vast, open prairie which once dominated Minnesota. Wildflowers and prairie grasses blanket the landscape from spring through fall. Swim, fish or boat (electric motors only) in the fresh, clear waters of 56-acre Mountain Lake. A shady, spacious campground is available; horseback riders and backpack campers can camp at the trail center and at remote sites. Canoe rental available. A picnic area deck overlooks Mountain Lake.
Monson Lake State Park

Sunburg

Cast your line for walleye, northerns, bass, and sunfish in Monson Lake. Birdwatchers look for white pelicans, herons, western grebes, and songbirds in this 187-acre park with a diverse landscape of wetlands and hardwood forests. The park includes a quiet campground and wooded picnic area. Paddle the lake and take a short portage that leads from Monson Lake to West Sunburg Lake.
Interstate State Park

Taylors Falls

There is so much to do at Interstate State Park, located on the beautiful St. Croix River. Visitors can climb the cliffs of the St. Croix River Dalles, canoe the flat-water, watch kayakers rush through the rapids, or relax on a excursion boat. Spring brings a great diversity of wildflowers and in fall, the St. Croix River Valley forest is ablaze in the autumn colors of red, gold, and orange. The geology that formed this park intrigues visitors, and brings geologists from all over the world. At least 10 different lava flows are exposed in the park, along with two distinct glacial deposits, and traces of old streams valleys and faults. During the summer, hike the trails and explore the glacial potholes that make this park unique.
Split Rock Lighthouse State Park

Two Harbors

This park is situated on the North Shore of Lake Superior. Perhaps best known for its historic lighthouse, this park offers numerous recreational opportunities. Visitors can cart-in their supplies to pristine campsites along Lake Superior. Scenic trails along the lake link up to the spectacular Superior Hiking Trail. Anglers cast their lines for lake trout, salmon, and brown trout. The rocky beach is perfect for skipping stones into Lake Superior.
Gooseberry Falls State Park

Two Harbors

Gooseberry Falls is the gateway to the North Shore. It is known for its spectacular waterfalls, river gorge, Lake Superior shoreline, Civilian Conservation Corps log and stone structures, and north woods wildlife. Hike or ski to see the Fifth Falls through a forest of evergreens, aspen, and birch. Enjoy camping in modern campsites, picnicking, and relaxing along the Lake Superior shoreline or the Gooseberry River. To get the most out of your visit, stop by the Joseph N. Alexander Visitor Center where you can find park information, interpretive displays, a park video, Nature Store, and more. Or visit the Gateway Plaza for outdoor interpretive signs on area resources and history.
Carver County Historical Society

Waconia

A private, non-profit organization established in 1940 to collect, preserve and interpret the history of Carver County. Shares this history through the Historical Society's exhibits, local research library, adult and children's programs, newsletter and website
Wadena County History Museum

Wadena

The museum offers 15 exhibits featuring artifacts depicting the lifestyles of early pioneers. Among the displays are: elegant wedding fashions, 1920s-30s garments, country school items, military uniforms and equipment, American Indian artifacts, and much more.
Walnut Grove: Childhood Home of Laura Ingalls Wilder

Walnut Grove

The Walnut Grove Museum's collections are housed in a series of buildings, including an 1898 depot, a chapel, an onion-domed house, dugout display, little red schoolhouse, early settler home, and covered wagon display.

Walnut Grove: Childhood Home of Laura Ingalls Wilder website
Big Bog State Park

Waskish

Minnesota's last true wilderness. This two-part recreation area includes a northern unit and a southern unit. The 500-square-mile peat bog, the largest in the lower 48 states, is located in the northern unit. A mile-long boardwalk, completed in 2005, enables visitors to get a first-hand look at the unique plant and animal life of this rare resource. The bog, which has long been a source of medicinal plants for the Ojibwe Indians, represented a barrier to European settlers who tried in vain to drain it. Today, many of the native plants, including yellow-eyed grass, bog rush and two kinds of sundews, are on Minnesota's endangered or threatened species list. From orchids to carnivorous plants to rare birds, visitors will see a mixture of fascinating and rare resources.
Sakatah Lake State Park

Waterville

Sakatah-Singing Hills State Trail runs through Sakatah Lake State Park and stretches 39 miles from Mankato to Faribault. The paved trail offers hikers, bikers, skiers, and snowmobilers beautiful scenery through Minnesota's hardwoods. Sakatah Lake, a natural widening of the Cannon River, lures canoeists to paddle the calm waters, and anglers to catch walleye, large mouth and white bass, northern pike, and panfish. Whatever the season, visitors enjoy camping and picnicking.
Lac Qui Parle State Park

Watson

Lac qui Parle is a French translation of the name given to the lake by the Dakota Indians who called it the "lake that speaks." If you visit in the spring or fall you'll understand why. The lake is a stop over for thousands of migratory Canada geese and other waterfowl. You'll hear a chorus of honking, quacking, and other vocalizations. Paddle the lake, or cast a line and catch walleye, northerns, perch, or crappie. Explore one of the trails by foot or horseback. Visit the historic Fort Renville and Lac qui Parle mission sites. While in the area, be sure to visit the 27,000 acre Lac qui Parle Wildlife Management Area.
Zippel Bay State Park

Williams

After visiting Zippel Bay, you'll remember the sunsets, and the miles of white sand beach. The park is located on the shores of Lake of the Woods, one of the world's largest lakes. Because of its size, the lake freezes much later than most lakes and remains ice covered much later in the spring. In the spring hear the ice as it is stressed by wind and compression. During the winter, visitors will be treated to the intricate ice forms on rocks and the shore. The mood of the lake is always changing, from three-foot high crashing waves, approaching storms and lightening flashes, to an eerie stillness with faint sounds from a thousand raucous gulls, out of sight in the lakes interior. The 3,000-acre park offers a swimming beach on the big lake, a marina in Zippel Bay and stone jetty providing access to Lake of the Woods and safe passage off the lake. Watch for sandhill cranes and piping plovers. The park offers drive-in campsites and a group camp.
Pickwick Mill

Winona

The Pickwick Mill was built from 1856 to 1858 by Thomas Grant and Wilson Davis and is one of the oldest water powered gristmills found in southeast Minnesota. The mill was constructed as a gristmill and sawmill on the banks of Big Trout Creek located in Pickwick Minnesota. The mill ran 24 hours a day during the Civil War and produced 100 barrels daily for the Union Army. After the war, the mill became a flour-milling center for most of southern Minnesota and portions of Iowa and Wisconsin.
Great River Bluffs State Park

Winona

This is beautiful bluff country! The park contains two Scientific and Natural Areas (SNAs), King's and Queen's Bluff. The King's Bluff trail offers a breathtaking view of the Mississippi River Valley. Bring your binoculars; the river valley is a major flyway for waterfowl, eagles, and hawks. Explore the diversity in this park: oak-hickory and maple-basswood forests, pine plantations, fields, and goat prairies offer visitors excellent hiking and a diversity of wildlife. Look for ruffed grouse, wild turkeys, coyotes, and many species of songbirds.
John A. Latsch State Park

Winona

John A. Latsch, a successful Winona businessman and founder of the Izaak Walton League, loved to fish in the waters of the Mississippi River below the bluffs of Faith, Hope, and Charity. Today, a half-mile hike up the deep ravine for a view from these peaks is well worth the effort. From this vantage point, visitors relish a grand long view of the Mississippi River Valley, the green lush forest in the summer, and the colors in the fall.