Homeschooling is regulated at the state level, so connecting with local homeschoolers is an important step to start homeschooling in Minnesota. Find the Minnesota homeschool groups closest to you and get connected with your local homeschooling community, learn about the homeschool requirements in Minnesota, and discover the co-ops, classes, sports and arts opportunities, and social get-togethers in your area.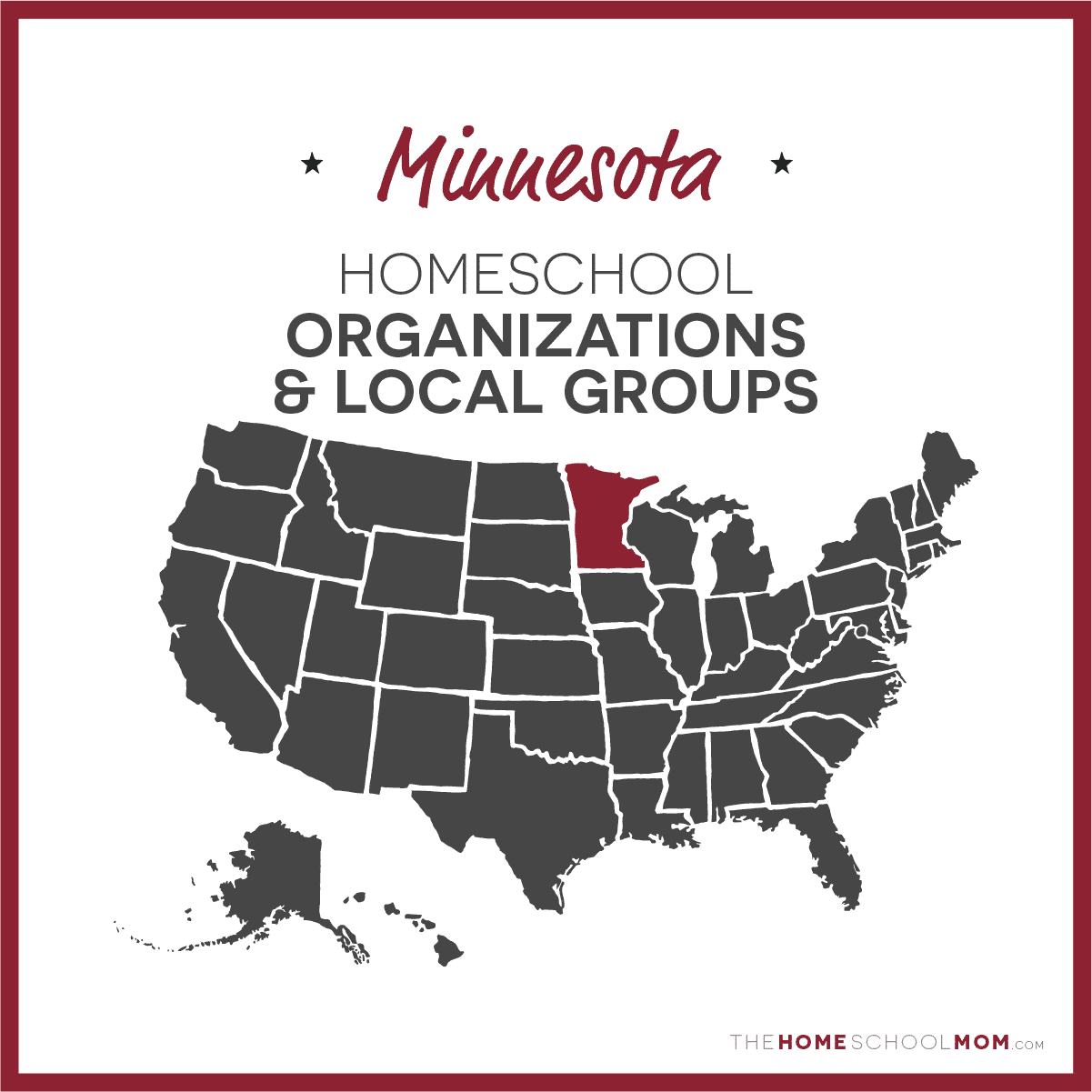 Submit a Local Resource
Jump to: State Organizations | Local Groups
Our listing of Minnesota state organizations and local homeschool groups is ordered alphabetically by city, with statewide organizations listed first. If you would like to submit a group, you may do so using the red button above.
Minnesota Homeschool Organizations (Statewide)
Minnesota Homeschoolers Alliance (MHA)

Minnesota Statewide

A statewide organization that provides information and support to homeschooling families. MHA is nonsectarian - there is no religious affiliation or orientation, and people of all faiths and beliefs are welcome. Our members are a diverse group of families with different backgrounds and different approaches to homeschooling, but we all share a common goal: to encourage and facilitate families that choose to educate their children at home.
Minnesota Association of Christian Home Educators (MACHE)

Minnesota Statewide

Formed in 1983 to encourage Christian families in the home education of their children. MACHE (pronounced "Mah-shay'") is a statewide, facilitating organization for all parents who have chosen to homeschool.

Minnesota Association of Christian Home Educators (MACHE) details
Home-Based Educators' Accrediting Association (HBEAA)

Statewide

Formed in 1989 to provide accountability, guidance, and encouragement to families who have a conviction to educate their children at home. HBEAA is the only accrediting agency recognized by the State of Minnesota under the auspices of the Nonpublic Education Council.

Home-Based Educators' Accrediting Association (HBEAA) details
Minnesota Local Homeschool Groups
Anchor Homeschool Group

Anoka

Anchor Homeschool Group was formed by Christian homeschool educators in order to provide enrolled homeschooled students, as defined by Minnesota homeschool laws, with supplemental educational classes, field trips, and opportunities for friendships with other homeschool families in our community.
NLHSA - Northern Lights Home-School Association

Blaine

Here at NLHSA we love partnering with families as they walk their home school journey. We are a tight-nit community of 30-35 families who love doing life together, investing in our kids together and supporting one another through life's challenges and victories, all with Christ-centered love and grace. NLHSA holds class days two Thursdays each month (Sept - May) and provides activities for K-12th grade with child care for younger siblings. Parents have support group during each co-op. Each meeting is held at Oak Haven Church, located at 1555 Constance Blvd NE in Ham Lake. Class days start at 9:00 a.m. and conclude at 12:25 p.m. We hold a variety of extra activities including field trips, a spelling bee, Christmas and Valentine's Day parties, socials, picnics a year-end Variety Show and more!
Wahpeton Breckenridge Home Educators

Breckenridge

A a Christian group we strive to unite the homeschool families in our community and provide a safe environment for learning; mind, body and spirit. We strive to promote homeschooling and give support to Christian homeschool families.
Grace Fellowship - Grace Home Educators

Brooklyn Park

The mission of Grace Home Educators is to equip our members with support, encouragement, enrichment opportunities, and pertinent information that will allow them to become experts in their role as Home Educators. Our common goal is to raise children to become Godly adults that are prepared for their own calling from God. Cottage Classes meet every Friday (September-May) from 8:30-2:30. A variety of classes are available each year for birth-12th grade. Grace Home Educators has a variety of field trips, teams, clubs, classes, and enrichment opportunities that meet on and off site throughout the year. Friendship Club meets the first Thursday of each month (September thru May) from 9:30am–11:30am. Families are welcome with children from birth–high school. Children participate in small groups according to their age/grade level. A parent is required to help with one of the groups. Parent Support Group meetings are at 7:00 pm on the fourth Monday or Tuesday of each month at various locations during September–May. This small group format is open for moms and dads to address questions, share ideas and receive support. Topics are chosen based on the needs of the group.
WINGS at Grace

Eden Prairie

WINGS was started in 2012 by a group of Christian homeschool families from Grace Church.  It is open to all families from Grace and the surrounding community that currently homeschool.
Esther's Place Homeschool Resource Center

Eden Prairie

Esther's Place Homeschool Resource Center was established in early 2021 to dismantle the objections to home education, particularly in the ways of curriculum, special education, and athletics. As home educating parents themselves, the founders wanted to create a space where home educating families can regularly meet together to offer support, encouragement and tangible resources.
JUBILEE Christian Homeschool Families

Forest Lake

JUBILEE Christian Homeschool Families is a home school support group meeting in the Forest Lake area of Minnesota. JUBILEE strives to provide encouragement, Christian support and prayer for families who home educate, and to provide opportunities for our children to interact with and build relationships with other children of all ages who are being home educated. We meet weekly on Thursday mornings.
Grand Marais MN Home School Community

Grand Marais

The goal of this group is to bring the community and other local communities such as Lutsen, Silver Bay, and Two Harbors together and bring more awareness and knowledge to homeschooling. Homeschooling is an amazing experience that you can offer your child. This Facebook page will post field trips, social gatherings, and support to local area homeschoolers.
Field Trip Friday

Hastings

Welcome to Field Trip Friday! We have a great year planned. This year we'll be doing art, learning about history, science, exploring nature, and creating friendships that will last a lifetime! We're so glad you're here. We will meet up on the 2nd and 4th Friday of every month for organized field trips and events. In between, we'll have park dates so our kids will have time for free play and hanging out. This group is for families with kids ages 10+ (younger siblings are welcome to join in). We know it's hard to find friendship circles for older kids, so we are catering to the "older" crowd here. Field trips will be posted on August 16th. Since you're a member, you'll be among the first to sign up! See you in September!
MHEA - Minnetonka Home Educators Association

Hopkins

Minnetonka Home Educators' Association (MHEA) is a group of Christian families joined together to encourage and build one another up as we home school our children. We confess that Jesus Christ is Lord and seek to honor Him daily. Our beliefs can be found in our faith statement on the toolbar to the left. Moms meet together regularly to enjoy fellowship, learn from others and pray for our families. We also provide opportunities for our children to participate in educational, social, and enrichment activities with their fellow home schooled friends. MHEA is primarily a moms support group. Our monthly meetings are held the first Monday evening of the month, September through May. Our format changes from month to month and has included guest speakers, a panel of experienced homeschool parents or graduates, small group and large group discussions on various relevant topics and at least one social get together. In addition to monthly meetings, there are opportunities for members to join in on activities and field trips with other families throughout the year. Highlights have included going to plays, serving together at Feed My Starving Children, book club/social groups, and park/beach dates. Our annual Valentine's Party and Experts Night are family favorites. Activities depend on the interests and initiative of our members and vary from year to year. While attendance at monthly meetings is encouraged, participation in other activities is optional.
Southmetro Christian Home Educators (SCHE)

Lakeville

Southmetro Christian Home Educators is a Christian homeschool cooperative that meets for active fun and fellowship in the Twin Cities South Metro area. While our focus is athletic activities and fellowship time, we also enjoy field trips, classes, social events, and service opportunities.
WEST

Maple Grove

WEST seeks to provide quality tutor-based classroom instruction, from a Christian perspective, to home-educated students in the 7th through 12th grades within a community setting..
F.I.C.H.E. (Fellowship In Christian Home Education)

Maple Grove

F.I.C.H.E. - Fellowship in Christian Home Education is a Christian, extra-curricular homeschool coop of families who meet on the 2nd and 4th Thursday afternoons of the month. The first semester takes place from September through December; the second semester meets from February through April, taking breaks to observe the holidays. Class time is from 12:30-3:30pm. FICHE provides additional, supplemental homeschool curriculum to families that want their students to enjoy the school experience with other homeschool families. FICHE Kids! offers educational and cultural field trips, community service, and a variety of fun social gatherings for students, moms, and families are available to help develop the fellowship and friendship that is needed to "keep on swimming!"
Wings Homeschool Group

Maple Grove

Wings Homeschool Group exists to provide an academic and social time for both parents and children in a Christian environment. We offer support and fellowship for parents while children engage in sharing and learning experiences.
STAR Academy

Minneapolis

STAR (Scholars Together Always Reaching) is a secular and inclusive group for the families of highly gifted children. Through classroom settings and the ever-important lunch and recess hour, highly gifted children interact with others who are closer to being both intellectual and social peers than they may find in settings geared solely to their age or academic level. STAR began over ten years ago when a handful of local homeschooling parents joined together to provide enrichment opportunities for their highly and profoundly gifted homeschooled children. Over the years, STAR has continued on that mission and grown into a wonderfully supportive community for families raising these unique children. Most STAR families today homeschool some or all of their children part- or full-time, and STAR parents find themselves connecting over the intricacies of their experiences. STAR meets on Wednesday days in the fall and spring for two thirteen-week semesters. Knowing that our parents are carefully curating their children's dynamic and individualized core curriculum needs, STAR's classes are instead inspired by topics that either are unique to the group's interests or are enhanced when experienced in a group setting. The STAR community is self-selected, meaning that it does not require proof of giftedness. Classes are designed for children aged 5-18 (plus limited preschool activities) who tend to succeed when working 2-3 grade levels ahead and moving through material more quickly than traditional classes.
MACHE Support groups

Minnesota Statewide

Local members of the home education community who gather together to share suggestions, experiences, and talents to help one another in the journey. Sometimes the essence of a support group is a monthly morning coffee meeting of the moms. Other times it is moms and dads together, conducting the business of the group and discussing policies and strategies. At times it may be the families getting together for an evening hay ride in the winter. Some support groups sponsor periodic group teaching opportunities somewhat similar to co-ops.
Minnesota Homeschoolers' Alliance

Minnesota Statewide

MHA has a wonderful support group directory which they will provide to homeschoolers via email.
Minnetonka Homes Educators Association

Minnetonka

Minnetonka Home Educators Association (MHEA) has been around for over 30 years supporting Homeschool families. We are in the Minnetonka area but welcome families from all over the twin cities. We currently have about 35 families in our group. We support homeschool families by offering monthly support time for homeschool parents, weekly gym class for kids ages 3 to 15, coordinated field trips, an annual showcase for kids to display and present their areas of interest and other holiday group parties. We currently have room in our gym class for kids ages 3 to 11. Gym class is $80 for the semester. Please feel free to reach us at infomhea@gmail.com
Aquinas Catholic Educators

Moorhead

A group of about 40 Catholic homeschooling families who live within 90 miles of Fargo. We maintain a private member listing, calendar, and classifieds-announcements section. All of our members are entitled to use our group insurance to hold activities at facilities that require insurance. Dues are just $20 per year to cover insurance, and scholarships are available.
H.E.Y. (Home Educators and Youth)

Northeast Minnesota

HEY membership benefits are as follows: 1. HEY Days...monthly hands on learning experience for your children of all ages! Each month we explore a new topic and have activities to enhance it. 2. Ski Days....winter monthly ski days at Giants Ridge with member discount. 3. Field Trips... outings to area attractions. 4. Access to HEY's own website where we interact and keep updated. 5. Ed Fair...yearly event where children give a presentation on a topic of their choice. 6. End of school year event.
RAACHE Rochester Area Association of Christian Home Educators

Rochester

Monthly newsletters with information about local events. $25 annual membership. Offers monthly Mom's meetings, graduation, choir, band, hand-bells, basketball, volleyball, annual picnic,etc

RAACHE Rochester Area Association of Christian Home Educators details
Warroad Area Teachers of Children at Home

Salol

WATCH exists to facilitate networking in order to provide encouragement and assistance for those so desiring. The idea is to watch and see what happens when parents work at raising their children in a Godly manner. In addition, watch and see what happens when families work together to assist and encourage each other in the context of home education and other family related issues.
HOPE

Sandstone

HOPE provides support for homeschooling families in Pine and surrounding counties.
Anchor Homeschool Group

Shorewood

Anchor Homeschool Group seeks to provide a place for relationship and fellowship with like-minded families as we endeavor to homeschool our children. We come together to offer gatherings to supplement and enrich our children's education.
Rooted Homeschool Network

Waconia

We are a Christ-centered homeschool support group with a Biblical worldview established to serve Oakwood Community Church homeschool families, as well as homeschooling families in the surrounding Waconia area. We operate as an independent homeschool support group.