Jump to: Homeschool Co-ops | Homeschooling Classes & Academic Enrichment
Looking for someone to teach physics to your teen? Need a way to avoid teaching algebra? Want to enroll your Kindergartener in a co-op for social time? Homeschool classes and co-ops are a great way to spend time with other homeschoolers and skill-share with other homeschool parents.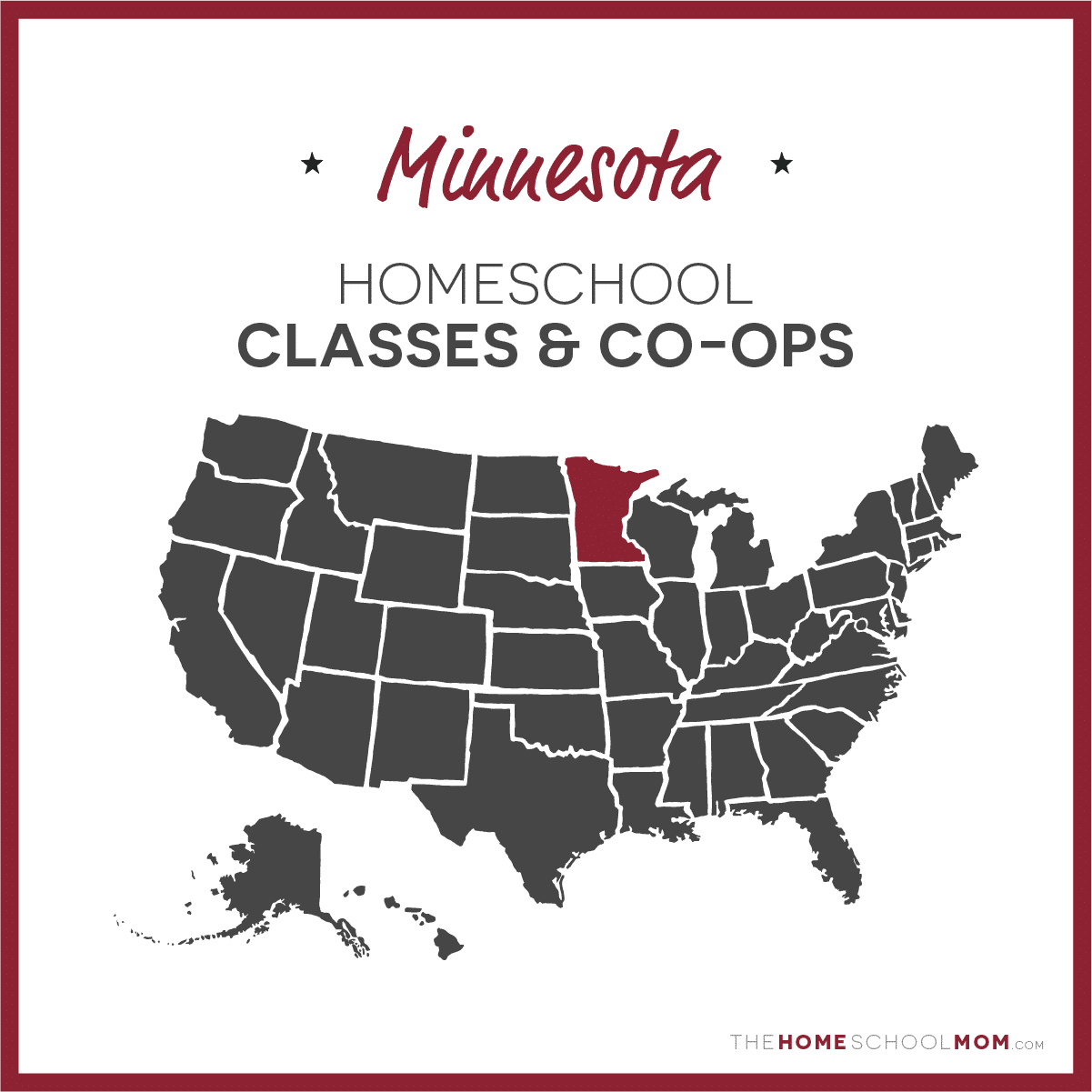 Submit a Local Resource
Our listing of Minnesota co-ops and academic classes for homeschoolers is ordered alphabetically by city, with co-ops in the first section and all other academic resources below. If you would like to submit a Minnesota co-op or academic resource, you may do so using the red button above.
Minnesota Homeschooling Co-ops
Constance Homeschool Co-op

Andover

The co-op meets 16 times during the school year, typically on the 2nd and 4th Fridays of the month between September and May. Accommodations are made for holidays and the MACHE conference. A 5th Friday may be used as needed.
Southern Cross Christian Co-op (SCCC)

Apple Valley

A Christian homeschool co-op that meets from 11:30 - 4 pm on the 1st and 3rd Tuesdays of the month from Sept thru May serving students in K thru 8th grade. Offering classes such as Science, Cultural Studies, Art, Communications, Preschool, Nursery and more. All classes are taught by qualified teachers. The mom's support time includes prayer groups, speakers, and food. Also offer extras such as field trips, yearbook, picnics, Christmas party, mom's night out, and Spring Extravaganza.
KNEEL Co-op

Apple Valley

KNEEL Co-op was formed in 1998 by a group of Christian home educating parents who wanted to provide additional opportunities for their children's social and educational needs outside of the home. A cooperative group of families worked together to fund teacher-led classes, interesting field trips, and unique recreational activities. KNEEL strives to meet children's needs not easily accomplished by families in their home academic settings.
Grace Fellowship - Grace Home Educators

Brooklyn Park

The mission of Grace Home Educators is to equip our members with support, encouragement, enrichment opportunities, and pertinent information that will allow them to become experts in their role as Home Educators. Our common goal is to raise children to become Godly adults that are prepared for their own calling from God. Cottage Classes meet every Friday (September-May) from 8:30-2:30. A variety of classes are available each year for birth-12th grade. Grace Home Educators has a variety of field trips, teams, clubs, classes, and enrichment opportunities that meet on and off site throughout the year. Friendship Club meets the first Thursday of each month (September thru May) from 9:30am–11:30am. Families are welcome with children from birth–high school. Children participate in small groups according to their age/grade level. A parent is required to help with one of the groups. Parent Support Group meetings are at 7:00 pm on the fourth Monday or Tuesday of each month at various locations during September–May. This small group format is open for moms and dads to address questions, share ideas and receive support. Topics are chosen based on the needs of the group.
Common Sense Homeschool Group

Cambridge

Common Sense Homeschool Group is a Christian academic co-op with all families providing help as class facilitators and assistants. At Common Sense, we provide classes for all ages from nursery through high school with a focus on history and science. Our co-op days consist of a large group opening time followed by three hours of academic instruction. Common Sense meets on Monday mornings for 15 weeks of instruction each semester (Fall & Spring) for a total of 30 weeks.
TAG Homeschool Group

Coon Rapids

TAG is a co-op made up of Christian homeschooling families who have come together to enrich our children with science, arts, and gym classes. We usually meet the first and third Friday of every month, with exceptions around the holidays throughout the calendar school year. TAG begins in September and ends at the beginning of May. It is a co-op as parents are expected to share in the duties of running the co-op.
Mankato Homeschool Connection

Ellendale

Mankato Homeschool Connection exists to create a supportive community for both parents and students. Our fun enrichment co-op classes provide a variety of learning experiences that will challenge your children and leave them eagerly anticipating our next meeting. Classes meet on Thursdays throughout the school year.
River Of Life Home School Co-op

Lindstrom

We are a group of christian home-educators in the Chisago County area of eastern Minnesota. Our co-op meets in Lindstrom twice a month from September - May. Members teach classes based on the needs of the group each year, though our classes are primarily enrichment in nature.
F.I.C.H.E. (Fellowship In Christian Home Education)

Maple Grove

F.I.C.H.E. - Fellowship in Christian Home Education is a Christian, extra-curricular homeschool coop of families who meet on the 2nd and 4th Thursday afternoons of the month. The first semester takes place from September through December; the second semester meets from February through April, taking breaks to observe the holidays. Class time is from 12:30-3:30pm. FICHE provides additional, supplemental homeschool curriculum to families that want their students to enjoy the school experience with other homeschool families. FICHE Kids! offers educational and cultural field trips, community service, and a variety of fun social gatherings for students, moms, and families are available to help develop the fellowship and friendship that is needed to "keep on swimming!"
Wings Homeschool Group

Maple Grove

Wings Homeschool Group exists to provide an academic and social time for both parents and children in a Christian environment. We offer support and fellowship for parents while children engage in sharing and learning experiences.
Planet Homeschool

Minneapolis

Planet Homeschool is a secular homeschool co-op in Minneapolis dedicated to serving families homeschooling through the teen years. The co-op meets on Fridays during the academic year and offers a wide range of classes for students aged 10 and up.
STAR Academy

Minneapolis

STAR (Scholars Together Always Reaching) is a secular and inclusive group for the families of highly gifted children. Through classroom settings and the ever-important lunch and recess hour, highly gifted children interact with others who are closer to being both intellectual and social peers than they may find in settings geared solely to their age or academic level. STAR began over ten years ago when a handful of local homeschooling parents joined together to provide enrichment opportunities for their highly and profoundly gifted homeschooled children. Over the years, STAR has continued on that mission and grown into a wonderfully supportive community for families raising these unique children. Most STAR families today homeschool some or all of their children part- or full-time, and STAR parents find themselves connecting over the intricacies of their experiences. STAR meets on Wednesday days in the fall and spring for two thirteen-week semesters. Knowing that our parents are carefully curating their children's dynamic and individualized core curriculum needs, STAR's classes are instead inspired by topics that either are unique to the group's interests or are enhanced when experienced in a group setting. The STAR community is self-selected, meaning that it does not require proof of giftedness. Classes are designed for children aged 5-18 (plus limited preschool activities) who tend to succeed when working 2-3 grade levels ahead and moving through material more quickly than traditional classes.
Equip Christian Homeschool Coop

Princeton

Equip Christian Homeschool Coop is a parent led and taught academic coop meant to encourage and support one another in our individual homeschool journeys. We meet on Wednesday mornings from 9am to Noon for 24 weeks during the school year. We have optional additional activities such as field trips, park days, etc. We have offerings from nursery through high school so that the whole family can attend.
PriZim Homeschool Co-op

Princeton

Prizim is a Christ centered 501(c)(3) homeschool group that was formed to provide families with support, supplemental classes, field trips, and opportunities to develop friendships with other homeschooling families in our community. We are a member based, parent taught co-op located in Princeton, MN. We meet once a month. Our classes are a mix of academic and elective type classes with more elective options than academic.
Heritage Home School Academy

Robbinsdale

Heritage Homeschool Academy is a homeschool co-op made up of families from across the northern Twin Cities suburbs collectively rooted in Christ. The Co-op meets on the 1st and 3rd Thursdays from 9:00 AM to 12:00 PM September through April. The purpose of this group is to serve as a partner in education with your family through the homeschooling experience by providing challenging and exciting large group class experiences, promoting group activities outside of the co-op school day including field trips, parties, and park days, and serving as a source of community and encouragement on your homeschooling journey.
PATH Learning Cooperative

Rochester

PATH comes alongside homeschooling parents to provide academic, social, and spiritual development, all under the banner of Jesus Christ for the purposes of preparing students to take their next steps. When you leave PATH, our prayer is you will be fueled to head to college, faithful to engage with the local and global church, all with well developed friendships that reflect the love of Jesus.
Partnership Homeschool Co-op

Rogers

Partnership Homeschool Educational Association of Minnesota exists to provide affordable, quality, academic classes to homeschooled children while building Godly character and good study skills, as well as promoting a Christian worldview. We cultivate strong family relations and parental support in our membership. We are a member based co-op located in the Rogers, MN area. This co-op is a parent taught, academic program teaching ages K-12 from September to April. We meet on Thursdays from 12:30-4pm.
Mid-Metro Academy

Saint Paul

Mid-Metro Academy offers academic, drama, art, language, and career track classes from a foundation of Christian values to homeschooled students in grades 7 – 12, preparing them for success in undergraduate programs and careers. Courses are taught by highly qualified, personable instructors who have a passion for their field and for working with youth. Mid-Metro Academy partners with North Central University to provide a unique PSEO program designed with homeschoolers in mind. This new approach to PSEO maintains the high school experience while offering college-ready juniors and seniors a rigorous and intellectually stimulating yet supportive environment in which to earn college credit while still in high school.
Substance Homeschool Co-op

Spring Lake Park

Substance Homeschool Co-op offers enrichment classes for pre-k through 8th grade homeschool children. Classes include (but are not limited to): science, writing, Spanish, art, dance, Bible, etc. We also have programming for toddlers and care for babies. Check out our website for more information on tuition rates and academic calendar.
UPLIFT

St. Cloud

Welcome to UPLIFT! *Christ-Centered Homeschool Co-op in St. Cloud, MN *We meet twice a month for 3 hours September-April *All parents teach or help in classes *Enrollment is open to students ages 6 and up plus siblings *Wonderful Homeschool community and support *Variety of academic and fun classes
Teach Co-op - Minnesota

St. Louis Park

TEACH Co-op is a Christian co-op that meets weekly on Tuesdays in St. Louis Park, Sept-May, for 30 weeks and offers Gr K-12 semester and half semester classes. Choose from 4 IEW classes (Gr K-12), 8 Science classes (Gr K-11), 5 Art classes (Gr K-12), 2 Spanish classes (Gr 7-12), 2 Speech classes and Ancient History Alive. Childcare 0-5 yr avail, drop off for Gr 7-12 only. Contact teachcoop1@gmail.com or visit www.homeschool-life.com/mn/teach.
Faith Christian Home Educators

St. Paul

Faith Christian Home Educators (FCHE) is a homeschool cooperative that Christian parents provide for their homeschooled children. At Faith Christian Home Educators, you will find that our classes, tutors, and staff provide a supportive environment rooted in Biblical standards for the Christian homeschooling family. We are dedicated to prayerfully walking alongside each of our Faith Families. Classes meet on Thursdays.
Truth Academy Christian Homeschool Group

Wayzata

Truth Academy is a Christian home school drop-off program which meets Fridays in the west metro at Calvary Memorial Church, providing home school classes that are designed to support parents in providing a high quality education for their children. Classes are "a la carte" for students in grade school through high school. Contact administrator, Maria Matthys at 952-484-6758 or truthacademymn@gmail.com to set up a visit.
Minnesota Homeschooling Classes & Academic Enrichment
Cornerstone Academy

Annandale

Cornerstone Academy's vision is to train students in Biblical truth and academic knowledge, helping them root their faith deeply, grow in wisdom, and build their lives and convictions up in Christ.
Nowthen Classical Conversations Community

Anoka/Nowthen

Classical Conversations is a nationwide Academic Classical Christian Home school Co-op. The mission is to Know God and Make Him Known. Students study using the classical model stages of Grammar, Dialectic, and Rhetoric. Believe the intent of education is to teach a child how to learn, that parents are the best teachers for their children, and that the practice of education is most fruitful in a supportive community. For more information, visit the website or email Hannah @ hannah.jo22@yahoo.com.
Stem Builder Learning Center of Blaine, MN

Blaine, Coon Rapids, Lino Lakes

We provide education by bringing STEM to life in a fun and interactive way. Learn more about our robotics, coding and math enrichment programs.
The Works Museum

Bloomington

Experience exciting hands-on engineering activities and science fun with elementary aged students. Explore interactive exhibits in The Museum featuring building, simple machines, optics, sensors, and more! Exhibits are located on one easy-to-supervise level. Add a workshop to field trips for more science education and engineering fun. Workshop topics include Light and Kaleidoscopes, Chemical Changes, Pasta Bridges, Super Circuits, and more! Students in grades K - 6 will experience hands-on science and engineering activities and complete a take-home project.
Patriotic Heritage Allegiance Honor Guard

Brooklyn Park

Patriotic Heritage Allegiance Honor Guard is an instructional organization that trains young ladies age 11-18 in the skills needed to be in an Honor Guard. Hands on training, classroom curriculum, and service events are all part of this group. Open to all types of students. We work closely with MN Veterans, Memorial Events, parades, and other organizations.
Christian Homeschool Academy of Tutoring (CHAT)

Eden Prairie

CHAT offers classes for students in grades 7-12 on Wednesdays and Thursdays. eCHAT offers classes for students in grades K-6 on Thursdays. All classes are held at Grace Church in Eden Prairie. Sign up for as many or as few classes as desired. Visit the website or contact kim@mcg.net or lauragj7@gmail.com with questions!
Lakeside Readers, LLC

Excelsior

This is a group of reading specialists in Excelsior, MN working with struggling readers of all ages. The tutors employ the Orton-Gillingham approach to structured literacy. Students are seen both in person, and virtually. Lakeside Readers specialists have extensive training in the Orton-Gillingham approach to structured literacy, and several of the tutors have advanced degrees in the area of special education, teaching, and speech-language pathology. In addition to private tutoring, our teachers are available to give inservices to parent groups about literacy skills and how to teach, enrich, and support struggling readers.
River Bend Nature Center

Faribault/ Rice County

River Bend Nature Center is a 501c3 non-profit nature center which is home to 743 acres of prairie, forest, wetland, and river. There are 10 miles of year-round, multi-use trails, and an interpretive center building with educational displays. River Bend Nature Center invites homeschool families and co-ops the opportunity to experience all of the seasons at River Bend! On each seasonal homeschool science day, two age-specific educational programs are offered in the morning and two age-specific recreational programs are offered in the afternoon. Sign up for one or sign up for them both! Students are invited to bring a lunch and enjoy it in the Interpretive Center between programs. Students may be dropped off for programs, including lunch.
Wargo Nature Center

Lino Lakes

Wargo Nature Center offers monthly homeschool classes for a variety of ages. Professional naturalists provide quality environmental, recreational and natural history programming that focuses on hands-on experiential learning. Third Thursday of each month at 10:00 - 12:00 or 2:00 - 4:00. The cost is $4/child. Pre-registration is required.
Wood Lake Nature Center

Minneapolis

Wood Lake Nature Center provides fun and educational programs for homeschoolers grades K through 6. There is a five-year rotation of nine topics for each school year. Homeschool Co-ops, associations, groups, and individual families are welcome. For more information check out the programs below or call Wood Lake's Homeschool Coordinator at 612-861-0551.
Snapology of Minneapolis

Minneapolis

Snapology of Minneapolis offers fun programs for a wide variety of ages and interests. With an emphasis on play, children achieve academic enrichment and social development objectives. At Snapology there is something for everyone with everything from LEGO-themed programs, robotics, engineering, animation, and more! Our new 2500 square foot discovery center is the perfect destination for your playgroup, field trip or just fun afternoon out with your child.
Snapology Enrichment Classes - Plymouth

Minneapolis

Snapology provides interactive, STEM / STEAM programs for children featuring technology and/or popular building toys (such as LEGO® bricks and K'Nex® toys). We provide a dedicated Snapologist to teach your students, as they work in pairs to promote team building and earn badges, pins and awards. Snapology STEM patches are available at an additional cost. Need a customized event? We'll design one to accomplish your desired goal or achieve a scouting pin, badge or award. We offer dozens of engaging activities for your group.
Big River Journey Online

Minneapolis, St. Paul

Big River Journey is an amazing science and riverboat adventure field trip that has been around for over 20 years! Now it is available to teachers and students in an online format - that can be accessed anytime and for free! This highly interactive website was designed in conjunction with Hamline University and provides students an exciting way to explore the many topics associated with the actual field trip. Highly adaptable to an educator's curriculum, this site contains all you need for learning more about the science and heritage of the Mississippi River.
Mad Science of Minnesota

Minnesota Statewide

Mad Science has been providing youth enrichment classes in the Twin Cities area since 1998. Their mission is to spark the imagination of children with exciting interactive programs that instill a clear understanding of what science is really about and how it affects the world around them. Mad Science offers a large selection of after-school, preschool, summer and vacation camp programs, workshops, special events and birthday parties. From entertaining educational programs to educational entertainment, Mad Science sparks imaginative learning.
Minnesota Classical Conversations

Minnesota Statewide

CC is a national homeschooling program that uses a Bible based curriculum taught in a christian, classical tradition. Classes are geared for age 4 through high school.
BrainyAct

Minnetonka and Elk River

BrainyAct helps with learning challenges. It targets motor, motor-sensory, visual motor and rhythm and timing. It is a four or six month program that helps strengthen the brain and body together to improve reading, handwriting, homework, focus, memory, auditory and confidence. It is non-tutorial, non-behavioral based and focused on the brain's critical motor functions to achieve success. It has been very successful with homeschool families. They have seen huge gains in academic, social and behavioral skills. Ages 6 - 30 with learning challenges or to boost learning skills through brain body exercise. Families can do our program BrainyAct at our Center 2-3 times per week or at home with our equipment. Early and missed motor skills can be strengthened in four to six months and are long lasting.
New Prague Homeschool Academy

New Prague

Cultivating student leaders through character-building activities while thoughtfully investing in their community, through servant-leadership.
Homeschool Experiences

North Metro

Individual tutoring, study groups, courses, or creative one day learning events crafted and taught by a veteran teacher and homeschool parent. We can meet at Pine Grove Bible Church in Brooklyn Park, or at your Minnesota location. I have been teaching for over 20 years in public school, homeschool, individual and group settings. Watching information sink in, a lightbulb go on, or a student overcome a hurdle never gets old. I'd love to work with you and your family!
ESCHEL - East Side Christian Home Educators, Ltd.

Oakdale

ESCHEL is a community of Christian families working together to enhance their children's home education. We offer classes for home-educated students from preschool through high school.
Brightmont Academy

Plymouth

Brightmont Academy, serves grades 6-12 in tutoring. Families are invited to stop by between 9:00am and 5:00pm to tour this quaint campus, meet the campus director, and learn more about their one teacher-to-one student model.
Write/Right Tutoring

Rochester

Write/Right Tutoring is a private tutoring service for preschool through elementary school age children struggling with pre-writing, printing and cursive handwriting. Patricia Nyberg MS., OTR/L owner of Write/Right tutoring is a pediatric occupational therapist who is a Handwriting Without Tears (HWT) certified specialist. Patricia provides individual and group customized instruction utilizing HWT curriculum, materials and HWT printing evaluation tool, the "Print Tool". In addition her instruction emphasizes postural control, hand strengthening and mature pencil grip. Patricia works closely with parents to implement home activities. Lessons are offered before school, after school, evenings and some weekends.
Trilogy STEM Academy

Rogers

Trilogy STEM Academy is a private STEM focused high school, offering small class sizes, hands-on learning and college preparatory classes. Twelve AP classes are offered; Calculus, Statistics, Chemistry, Biology, Physics, Environmental Science, Computer Science, Language, Literature, Government, World History, and Human Geography. Join the entire program or just a class or two.
Flat Rock River YMCA Camp

Saint Paul

Providing multi-day overnight trips that include curriculum that match what you need your campers to learn. In addition, campers explore nature through hikes, canoeing, archery, exploring pond and river ecology and much more! In summer, schedule one, two or three day trips and give your campers the experience of a lifetime!
Mid-Metro Academy

Saint Paul

Mid-Metro Academy offers academic, drama, art, language, and career track classes from a foundation of Christian values to homeschooled students in grades 7 – 12, preparing them for success in undergraduate programs and careers. Courses are taught by highly qualified, personable instructors who have a passion for their field and for working with youth. Mid-Metro Academy partners with North Central University to provide a unique PSEO program designed with homeschoolers in mind. This new approach to PSEO maintains the high school experience while offering college-ready juniors and seniors a rigorous and intellectually stimulating yet supportive environment in which to earn college credit while still in high school.
Code Ninjas

Shakopee

At Code Ninjas, students learn the basics of coding through engaging game-based curriculum that teaches teamwork, logic, math, and problem solving. Code Ninjas is a Drop-In, self-paced center, allowing parents and students to have flexibility with their time. Summer Camps and Birthday Parties are also offered throughout the year, creating an atmosphere that allows all types of children to feel welcome and able to put their love of technology and gaming towards skills necessary for the future.
Customized Training - CPR and First Aid

St. Cloud

Pediatric Heartsaver First Aid CPR/AED This course is a classroom, video-based, Instructor-led training that teaches students to respond to and manage illnesses and injuries in a child or infant in the first few minutes until professional help arrives. This course is designed to meet the regulatory requirements for child care workers in all 50 U.S. states. Length: 6 hours Hours: 8:00 a.m. - 2:30 p.m. (half hour lunch break included) Day: Saturday Results in a Heartsaver Pediatric First Aid CPR AED Course Completion Card, valid for two years Heartsaver Pediatric CPR Course objectives: • Describe how high-quality CPR improves survival • Explain the concepts of the Chain of Survival • Recognize when someone needs CPR • Perform high-quality CPR for and infant/child • Describe how to perform CPR with help from others • Give effective breaths by using mouth-to-mouth or a mask • Demonstrate how to use an AED on an infant/child • Describe when and how to help a choking child • Demonstrate how to help a choking infant Pediatric Heartsaver First Aid Course Objectives: • List the priorities, roles, and responsibilities of first aid rescuers • Describe the key steps in first aid • Remove protective gloves • Find the problem • Describe the assessment and first aid actions for the following life-threatening conditions: heart attack, difficulty breathing, choking, severe bleeding, shock, and stroke • Use an epinephrine pen • Control bleeding and bandaging • Recognize elements of common injuries • Recognize elements of common illnesses • Describe how to find information on preventing illness and injury • Recognize the legal questions that apply to first aid rescuers
Arete Academy Enrichment Clusters

St. Louis Park

Arete Academy is a small independent school located in Saint Louis Park serving bright students who learn differently. All students are welcome including those with ADHD, anxiety, and other learning differences. Friday Enrichment Clusters are student-centered classes that allow students the opportunity to delve deeply into a subject area or project with guidance and support from a teacher with a similar interest. Friday Enrichment Clusters are open to homeschool students. This program runs classes on a 4-6 week cycle on Friday afternoons from 12:45-2:45. Course offerings change on a regular basis. This year's courses include Escape Room Creation, Aquaponics, Fashion Design, Interactive Story Telling, The Sketchbook Project, Food Science, Equine Assisted Learning, and more. Courses are best for students in grades 5-12. Please contact Jamie Teigen jamiet@areteacademymn.org for the latest class schedule and registration information.
Minnesota Statewide Testing Program

Statewide

The Minnesota Statewide Testing Program (MSTP) provides consulting, scoring and reporting services to measure and assess K-12 student ability, achievement, and academic growth. MSTP services are available to all K-12 educators, schools and districts including public, private, charter, and homeschools. Take advantage of their rapid turnaround, competitive pricing, and error review process. MSTP ensures that students' assessments are scored accurately and their instructors get the results they need. For more information visit their website oms.umn.edu or call (612) 626-0006.
Home Educators for Excellence (HEdfex.org)

Twin Cities

Home Educators for Excellence (HEdFEx ) is a secular educational co-op. HEdFEx offers classes for ages 3-14 as well as social opportunities. The core classes that are offered each year and each term are art, Spanish, science, and early childhood music. Electives change each year and each term. Take only the classes that interest your child. Location: Mount Olivet Lutheran Church of Plymouth
Truth Academy Christian Homeschool Group

Wayzata

Truth Academy is a Christian home school drop-off program which meets Fridays in the west metro at Calvary Memorial Church, providing home school classes that are designed to support parents in providing a high quality education for their children. Classes are "a la carte" for students in grade school through high school. Contact administrator, Maria Matthys at 952-484-6758 or truthacademymn@gmail.com to set up a visit.
Miriam's Tutoring

Wayzata

Miriam has 20 years of experience as a literacy expert working with brilliant and unique students who struggle with a learning difference such as dyslexia, ADHD, etc., which affects their ability to independently read, process, or understand language and information. She also homeschooled her 4 kids so she understands and appreciates the differentiated learning techniques and environments. Miriam is professional yet fun and engaging and students enjoy working with her. It's so reassuring to have a local expert who parents can trust to help improve these critical skills. She has in-person and virtual lesson available throughout the day, and because she works one-to-one, students can sign up for lessons at any time throughout the year.