Jump to: Homeschool Co-ops | Homeschooling Classes & Academic Enrichment
Looking for someone to teach physics to your teen? Need a way to avoid teaching algebra? Want to enroll your Kindergartener in a co-op for social time? Homeschool classes and co-ops are a great way to spend time with other homeschoolers and skill-share with other homeschool parents.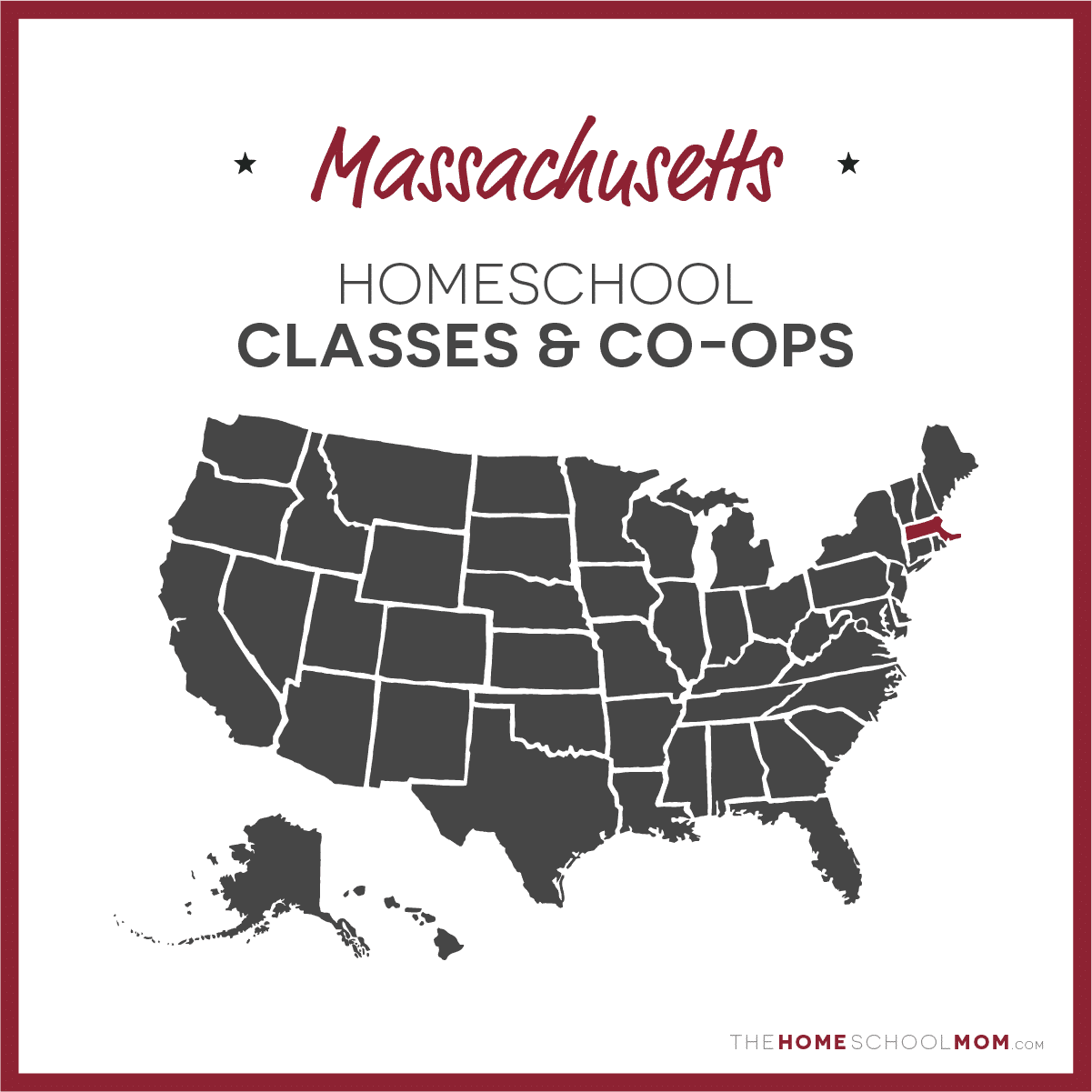 Submit a Local Resource
Our listing of Massachusetts co-ops and academic classes for homeschoolers is ordered alphabetically by city, with co-ops in the first section and all other academic resources below. If you would like to submit a Massachusetts co-op or academic resource, you may do so using the red button above.
Massachusetts Homeschooling Co-ops
Friends of Grace

Chelmsford

We welcome families from our surrounding area to join with us and encourage each other on the homeschool journey. We are a Christian fellowship of families from many area churches in Middlesex County, MA. We are affiliated with MassHOPE and HSLDA. We offer frequent organized field trips and a homeschool cooperative which meets for 24 weeks during the school year on Fridays in Chelmsford, MA. Registration for our cooperative is in June of every year. We will be accepting new participants to the cooperative at that time. Membership is available at any time during the year.
Pilgrims Progress Home School Association

Duxbury, South Shore area

A Christian, non-profit organization that offers support to families who choose to home educate their children. Offering weekly co-op classes, field trips, fairs, graduation ceremony, as well as many opportunities for students as well as parents to build relationships.
North Star: Self Directed Learning for Teens

Hadley

North Star teens choose from a wide array of educational options depending on their needs and interests. Founded by two middle school teachers in 1996.
Beacon Homeschool Group

Hanson

BHSG is a support group with a vision to connect area Christian families by providing opportunities to learn, serve, and build life-long friendships together on their homeschooling journey.  Monthly support group meetings are open to all homeschooling parents who might need some encouragement or more information. BHSG co-op classes meet on Tuesdays, for 3.5 hours, from September thru April. We provide two 10-week sessions. Each class is taught by our members or friends in the local community. Each teacher is required to fill out a CORI form and must follow guidelines set up by Beacon Home School Group.  All member families teach a class of your choosing for at least one session. Ages Elementary: Ages 6-11 Junior and Senior High: Ages 12 and up Siblings: Ages 4 and 5
Parent Association of Christian Educators

Hyannis

We are a Christian support group for home education, providing weekly co-op enrichment classes, and events for all homeschoolers interested, field trips, etc.
Walnut Grove Coop

Newark

Walnut Grove Coop is a nonprofit educational organization serving Delaware, Maryland, New Jersey, and Pennsylvania. This group provides opportunities for children to learn in a respectful, inclusive, secular community through fun classes and meaningful experiences. Walnut Grove Coop offers both instructor and child-led homeschool enrichment programs.
Massachusetts Homeschooling Classes & Academic Enrichment
Literacy Owl

Andover

Literacy Owl provides 1:1 and small group reading support to homeschooled students north of Boston. Sofia Flaherty, owner and founder, is a speech-language pathologist and a reading specialist. She uses her knowledge of oral and written language acquisition to address difficulties in reading, reading comprehension, and spelling. She is certified and trained in various reading programs and has received the designation of Structured Literacy/Dyslexia Interventionist by the International Dyslexia Association. Lessons are available in the morning and in the afternoon and are held at the convenience of your home or at the local library. Please visit LiteracyOwl.com to contact Sofia and schedule an initial free-of-charge consultation.
Arlington Center for the Arts

Arlington

Arlington Center for the Arts' "Interdisciplinary Alternative Education for the Arts" series grants children who are home schooled, in co-ops, or other alternative education programs to engage in the arts and socialize with those in their community. Our curriculum comes from established teaching artists, arts educators, and STEAM (science, technology, engineering, art and math) educators whose teaching philosophies include social/emotional growth into their interdisciplinary lessons. Come learn, create, and celebrate community with us!
Writing Classes with Miss Lorraine

Attleboro and Dartmouth

Small creative writing classes for ages 8 and up, (especially recommended for reluctant writers). Essay and SAT prep classes available for older students. Classes include: Creative Writing Jumpstart (for reluctant or hesitant writers), Creative Writing Workshop (for those teens who love writing), Beginning Essays, and Book Reports. See website for current offerings and more information.
Good Company Tutorials

Attleboro, MA and Cranston, RI

Ongoing weekly classes for students in grades 5-12. Over 40 courses, including apologetics and worldview; various levels of public speaking, literature, and writing; Spanish; seven science courses; personal finance; algebra, geometry, and SAT math prep; logic; study skills; art, music, and drama; world history; several AP courses; and more.
Inventor STEM School

Bedford

Inventor STEM School inspires kids to experiment freely, think critically, and create boldly.  Inventor's programs for kids from 3-16+ use LEGO and Minecraft for hands-on learning to strengthen creativity, critical thinking, teamwork and communication, and scientific and technological literacy.
Animal Adventures

Bolton

New agricultural school at the family zoo in Bolton. Partnerships or working relationship opportunities for home-school parents to teach academics, and the zoo would provide extracurricular club for students to learn about zoology.
LEX Language Project

Boston

LEX Language Project offers unique multilingual language learning clubs that focus on the natural process of language development "from the whole to the parts". At the clubs, parents and children acquire new language by playing games, singing songs and participating in mimicking and talking activities. Clubs meet in North Cambridge four times a week. Visitors are welcome to attend an open club, usually held during the first week of every month. Call 617-354-1140 or send an email to info@lexlrf.org for more information.
Philosophy and Arts (MOSHI workshops)

Boston

MOSHI workshops are based on 2 pillars: philosophical thinking and artistic expression. Started in Paris, France, MOSHI workshops are supported by the City of Paris and UNICEF. Each workshop is customized regarding the location where it takes place: home, museums, libraries, festivals, schools, birthday parties
Boston Tutoring Services

Boston

Boston Tutoring Services can support homeschool families with either tutoring services or help with curriculum. Totors work at the local library, or students' homes. Working with students in grades K-12 in all subject areas and test prep. Offering support to families with the process of applying to private or Montessori schools, or college. Special Ed certified tutors are available, if needed.
SEA Education Association

Boston

Adventure with a purpose! SEA Education Association offers high school, home school, GAP year and college students exciting ocean education programs on Cape Cod and on our two tall ships. Students study the environment through hands-on, experiential, and community-based learning. SEA Expedition is a 2-week high school program in which students gain experience in sailing a tall ship and doing research at sea. SEASCape is a 3-week shore-based program in the marine science community of Woods Hole, with field work, leadership training, academic classes and field trips. SEA Semester builds on these experiences for GAP year and college students by offering multidisciplinary Study Abroad programs on shore and at sea. SEA nurtures ocean stewards who help to address the critical environmental issues of our time.
Regina Caeli Academy of Boston

Boston

Regina Caeli Academy is a unique, affordable, 2-day per week hybrid homeschooling program in the classical education tradition. Two days a week are spent at the resource center, and the remaining three days are taught in the home with plans that are already prepared for the home lessons. We are unified by the same classical curriculum and fidelity to the Catholic Church. All staff and tutors at RCA sign an Oath of Fidelity to the Roman Catholic Church. Our RCA motto is "training the mind to form the soul." https://rcahybrid.org/ Our Boston center is located at: St. Mary of the Assumption 25 Avery Street Dedham, MA 02026 For more information regarding this new center please contact admissions@rcahybrid.org
New England Chess School

Boston

New England Chess School offers local and virtual chess classes for kids ages 6-14.

Convenient chess classes in 4  locations. Offering multiple skill levels.

One hour classes let students participate in a virtual chess lesson with a classroom structure. Students will learn a new concept in a live video presentation from certified chess instructors. New concepts will be applied using chess puzzles and discussions during the interactive video with teachers and students. Students will have the opportunity to play simultaneous chess games between classmates and teachers. Students will have an online portal to access lesson reviews, practice puzzles and worksheets, and video recordings from past classes. Chess classes are a fun, rewarding, and engaging experience for kids to learn the game of chess. Our chess coaches will work with your student to develop their chess ability, develop maturity, and learn life lessons through their efforts. An emphasis on 'life skills' is at the core of the programs at New England Chess School.
KIT Academy

Boston

Knowledge. Invention. Teamwork. KIT Academy is a new way to learn through gameplay! Calling all adventurers! Any curious, creative, precocious young mind from grades 6-10 is invited to play a groundbreaking new kind of learning adventure at KIT Academy. This program uses roleplaying game mechanics to make the simple joy of learning new things as exciting and fun as it should be. The month-long Adventures in Ancient Rome, The Islamic Golden Age, and Revolutionary America cover STEM, History, Literature, and more! All of these topics are seamlessly integrated into the fabric of the game world adventurers collaboratively explore through the safe and simple medium of Zoom. If you're interested, please consider signing up with local classmates to build local friendships through our adventures! If you have a young adult adventurer who is creative, social, smart, or maybe just plain bored, check out KIT Academy at www.kit-academy.com or contact us at sawyerf@kit-academy.com.
Fusion Academy - Boston

Boston

This resource provides academic support and social opportunities for the homeschool community. Tutoring/mentoring sessions are available 12-months out of the year from 7:30am - 7:30pm. Families may access this resource virtually or in-person at our four campus locations around the Boston area. Tutoring offerings include core subject support, art/music/dance opportunities and executive function coaching. All sessions are taught one-to-one unless request from families for group tutor/mentor sessions.
Little Social Navigator

Boston

Navigating the social world can be very difficult for young children. There are social rules both overt and hidden that children are expected to understand. Little Social Navigator offers services to help children learn how to read the social map. In addition we offer life skills coaching for those children who may understand the social cues, but are struggling with self esteem, risk taking or making and keeping friends. Following well designed and proven curriculum, through weekly sessions we read books and stories, have discussions, create art projects and play games to introduce and reinforce concepts. We offer one to one sessions or small group sessions either in your home or in a public space
Rose Public Speaking and Debate Institute

Boston Area Metropolitan

Rose Debate Institute offers private Public Speaking and Debate programs to the home school community in homes, co-ops, and churches etc., grades 4-12. Rose Debate's Public Speaking 1 course lays a foundation for every kind of communication, from making good first impressions to practicing for future job and college interviews. The course includes: • Confidence building, • Interactive oratory, • Body language, and much more. The Fundamentals of Debate and Advanced Seminars prepare homeschoolers for speech and debate competition including but not limited to the NCFCA as well as STOA home school leagues.
Rose Public Speaking and Debate

Boston metropolitan area

Rose Debate Institute, founded seven years ago in San Jose, CA by home school national debate champion's Paul and Bob Rose, is offering in-home classes in the greater Boston area for students 9 and up. Classes are typically 11 weeks, once per week, 75-90 min. and scheduling is very flexible. The Public Speaking 1 course lays a foundation for every kind of communication, from making good first impressions to practicing for future job and college interviews. The course includes: confidence building, interactive oratory, body language, and much more. The Fundamentals of Debate and Advanced Seminars prepare homeschoolers for speech and debate competition including but not limited to the NCFCA and STOA home school leagues.
Coding Butterfly | Coding & Robotics

Boston, Newton, Norwood

Coding Butterfly is a coding and robotics educational program committed to providing students with personalized instruction and a hands-on learning experience. Coding Butterfly offers two semesters (Fall and Spring) with full curriculum classes for kids from 2nd to 8th grade. Courses range from Scratch for beginners, to Python, JavaScript and 3D Design classes.
Zuckerman Education

Boston/Cambridge

Zuckerman Education was founded by a veteran teacher and tutor and offers 1:1 tutoring in a wide range of academic subjects for students in grades 5-12. They have a holistic, student-centered approach to help students pursue their curiosities, overcome challenges, and reach their learning goals. Zuckerman Education also offers college application coaching.
Studio of Engaging Math

Brighton

Studio of Engaging Math is a K-8 after-school math program. Small groups and expert teachers provide an ideal environment for developing critical thinking and advanced problem-solving skills. Programs incorporate the best practices of the advanced math schools in the United States, Russia and Singapore. For more than a decade, students have consistently posted top scores in international math competitions, on standardized tests and gained admission to the top colleges.
The Makery - Massachusetts

Brookline

The Makery's after school program features a rich interdisciplinary curriculum of 10-week class options. Professional instructors guide students in art-tech, project and problem-based learning while maintaining a fun social environment for exploration, discovery, and hands-on making.
Harvard Museum of Natural History

Cambridge, MA

The Harvard Museum of Natural History offers entertaining and educational special events for visitors of all ages. A variety of weekend, summer, and weekday courses are available for kids and families at the museum.
Top Secret Science

Chelmsford

We are a STEM non profit that does hands-on, make and take home projects and experiments that are very fun and engaging. We work with up to 1,200 PreK - 6th students at schools, camps, recreation centers, libraries, etc. throughout New England every week. We now also have a really cool and unique science lab that is really exciting.
Boston College Experience for high school students

Chestnut Hill

ALL BCE ONLINE COURSES ARE OFFERED PRIMARILY ASYNCHRONOUSLY. This means that there is no specific time each day that a student must log in to engage with the materials. The exception is on Friday afternoons when the faculty will host a 2-3 hour live session. We encourage all students to attend these live sessions but understand that international time zone differences may prohibit attendance. All live sessions will be recorded and made available for students. Asynchronous Program Participation Expectations - Please Read! Students have assignments due each day (i.e., required readings, viewings, discussion board participation, etc). Detailed instructions for completion of these assignments including relevant resources and links, will be provided by faculty through the Canvas Learning Platform daily. This process ensures that students know what they are expected to accomplish for that day. Students can expect 2-3 hours per day of ASYNCHRONOUS course engagement completing these tasks.
Encompass Community At Friends Academy

Dartmouth

The Encompass Community for Independent Learning offers affordable enrichment and resources to homeschool families and life-long learners of all ages. Offering Nature Expeditions on 65 acres of wilderness and trails for ages 6-14 every Monday and/or Wednesday from 9:15am-12:30pm, cost is $40 per day, siblings save $10. Also offering Short Courses in special interest topics lead by an expert in their field: Currently offering Drama, Music Composition and STEAM Mini-Maker Space for ages 6-14, $10 per class. Encompass hosts 100% free and family-friendly events once a month and an early learning playgroup for ages 3-6 once a week. Also hosts workshops for curious adults...
Creative Writing - First Steps

Fall River, Berkley, Attleboro

The "first steps" toward creative writing for students, ages 8-12, this class is geared to those reluctant or hesitant writers. The focus is on self-expression, imagination, and fun, (and in this age group - silliness). Spelling, punctuation, and technical writing skills are addressed, but take a backseat to building an enthusiasm for writing. See website for full class description, location, and times.
RSM-MetroWest

Framingham

RSM-MetroWest, formerly known as MetroWest School of Mathematics (MWSM), is an after-school pre-K through 12 program located in the Historic District of Framingham MA.
Orton Gillingham Tutor Donna Paladino

Framingham

Donna Paladino is a licensed elementary educator with a masters in mod. spec. needs. She holds an Associates in Orton-Gillingham and taught science at the Carroll School for eight years. She is also a yoga instructor for kiddos. Tutoring available to support your students in reading, science, and yoga in the Metro-West and Belmont areas.
BSA Troop 55 Billerica

Greater Billerica Area

Get Outside with Troop 55! Scouting can augment your homeschooling curriculum through weekly meetings and monthly trips year round. Boys (age 10/ ½ - 17) experience Adventure, Learning, Goal Setting, Achievement, Friendship, Teamwork, Leadership, Mentoring, Character, Confidence, Citizenship, Service, Fitness… This winter 55 tried sub-freezing camping in over a foot of snow, BBQed among tanks, and hiked historic trails! Exciting upcoming events: backpacking the Mid-State Trail and white water rafting- events your boy could participate in if they join 55! Think this sounds fun, but worry that your child has no camping experience? No worries, 55 has gear and skills to share! Visit out page to see what we have been up to: facebook.com/Troop55Billerica Message us to learn more about joining the 55 Family!
Boston International Kids Film Festival Filmmaking Classes

Greater Boston area

In this class, students can bring their creative ideas to fruition in a fun, collaborative and exciting environment. Students will learn skills in scriptwriting, storyboard sketching, improvisation and camera skills. The group will write, shoot and edit a film in a genre of their choosing. Students will learn to edit their films using the professional editing software, Adobe Premiere. All final projects are eligible for submission into an upcoming Boston International Kids Film Festival event!

Boston International Kids Film Festival Filmmaking Classes details
Circuit Lab Electronics Programs

Greater Boston Area

Circuit Lab runs hands-on learning programs to teach children about circuitry (electrical engineering) and programming (computer science). Circuit Lab after-school and summer programs are offered in many locations around Boston, and they can travel to any site to run a series of classes for homeschool groups. These classes give kids the opportunity to learn essential modern-world skills in a creative setting where they have access to leading-edge electronics prototyping equipment. Students work both independently and in teams on a variety of hands-on projects during a Circuit Lab program. They explore new concepts each day, with a cumulative curriculum that builds to more advanced projects. In the course of a typical program, students will create projects like interactive flashlights, digital musical instruments, self-designed computer games, and robotic cars.
Learn and Play Tutoring

Hanover

Learn and Play Tutoring offers 1:1 in person sessions for children in Preschool through Grade 1. We focus on early literacy, math, and work on strengthening fine motor skills to aid in handwriting. The Learn and Play program uses a multisensory approach to engage and reach all young learners. The hour long session is made up of interactive games, song, stories, and activities that promote confidence and successful learning in an exciting way!
Compassionate Math

Hartford area

Compassionate Math is the idea that learning mathematics is both an intellectual and emotional challenge – you can't move forward intellectually if you don't address negative emotions. Compassionate Math provides ongoing math learning support to homeschoolers and parents that does not ignore the emotional baggage that goes with learning math. Regular in-person workshops/classes held in and around CT.
KaiPod Learning - Boston

Highlands

17 Lincoln St, Newton Highlands, MA 02461 KaiPod Learning provides in-person support for online and homeschool learners. A KaiPod is a group of 10-12 online or homeschool learners who meet in person to work on their courses, collaborate, and socialize together with the support of a KaiPod Coach. Each child uses the curriculum that works best for them. KaiPod Learning is a supplement to your favorite self-paced online or homeschool curriculum! The KaiPod Learning Center is led by KaiPod Coaches, who are former teachers that love working one-on-one with students and small groups. Throughout the day, students participate in enrichment activities and socialization opportunities to nurture lifelong friendships with their peers. The KaiPod Learning program is fully flexible with 2 Day, 3 Day, and 5 Day plans available. Students can join their pod as much or as little as they'd like. There are no attendance requirements or tardy penalties.
Boston Outdoor Preschool Network

Jamaica Plain

Boston Outdoor Preschool Network is an entirely outdoor early childhood program. They are committed to nature immersion, interest-led learning, inquiry-based teaching, and authentic play. The ever-changing landscape of the Arnold Arboretum provides endless opportunities to spark children's curiosity, discovery, and learning. They build community while valuing each child's unique experiences and needs.
Empow Studios STEM Center

Lexington

Offering Art & Design, Building, and Coding programs for kids. The curriculum is designed for children in grades 1-8, and includes projects that students are proud to share with family and friends. Programs available both off site and at the Lexington location. Themes include coding, animation, robotics, 3D modeling, video game design, and more.
Fusion Academy Burlington/Lexington

Lexington

Fusion Academy Burlington/Lexington is a wonderful resource that provides single for credit classes as well as enrichment opportunities. All of the Fusion Academy classes are conducted in person and 1:1. Fusion Academy works with students in grades 5-12 creating specific courses that combine Common Core Curriculum with individual students Learning Styles and Passions.
Massachusetts Classical Conversations

Massachusetts Statewide

CC is a national homeschooling program that uses a Bible based curriculum taught in a christian, classical tradition. Classes are geared for age 4 through high school.
Boston Nature Center & Wildlife Sanctuary

Mattapan

Mass Audubon loves to work with homeschooling families. We encourage students to develop their own personal relationship with nature and we nurture each student's curiosity and wonder using our wildlife sanctuaries as outdoor classrooms. To accomplish this, Mass Audubon offers several options for homeschooling students and parents: * Recurring programs specifically designed for homeschoolers at select sanctuaries during the school year. * Custom homeschool programs tailored to meet your needs. * General nature classes at our wildlife sanctuaries across the state geared to school-aged children.
Classical Conversations of Merrimack Valley

Merrimack Valley

Classical Conversations supports parents who desire to teach their children from a Christian curriculum in the classical method within a vibrant community. The focus of a classical education is to learn how to learn in the ways best suited to the stages of a child's mental development. In the Grammar stage, children under age 12 in the Foundations program use fun memorization activities in History, Science, English, Latin, Geography, and Math to lay a foundation of knowledge for further learning. Students ages 9-12 participate in the Essentials program, which teaches excellent English grammar skills and lays the foundation for future foreign language acquisition. This complete language arts program includes writing instruction based on taking notes, making outlines, and writing essays on history-based themes. Students aged 12 and over in the Challenge program are challenged to deepen their understanding in Science, History, Math, Philosophy, and Literature as they hone their abilities in exposition, speaking, debate, research, and logic. In weekly seminars, directors guide a variety of activities in which students learn to integrate their knowledge across the core subjects and under the plumb line of God's Word. The North Reading Classical Conversations community has Foundations and Essentials programs. The Burlington community offers Foundations, Essentials, and a complete Challenge program that covers the high school years. Both communities meet on Thursdays, bringing students, parents, and trained tutors and directors together to encourage and support one another learning through art and music projects, science experiments, speeches, debates, and more, all within a Christian world-view.
Essential Elements Workshop

Metrowest Boston

The Chemical Educational Foundation created the You Be The Chemist Essential Elements program to provide K-8 educators nationwide with professional development to empower educators to teach science through hands-on activities and real-world applications. These professional development workshops are 100% funded by our sponsors and donors and are schedule at absolutely no cost to schools or educators. I am contacting you to see if you would be interested in bringing a FREE, hands-on science workshop to your organization. Essential Elements workshops provide educators with: • A CEF giveaway bag that includes a flash drive with 50+ Activity Guide experiments, which educators can bring right to their learners. The activities use household materials and are affordable, easy to do, and can be done in any space. All of our activities come with background information for the educator and editable student-facing documents. • A chance to see the 5E Instructional Model in action! This model, centered around student-driven inquiry, allows students to build their own understanding of new concepts from both old ideas and their own experiences. • Opportunity to collaborate with other educators to help plan their own 5E lessons using additional activities from the Activity Guides. I hope you consider this professional development opportunity for your organization. I can run a free workshop for a minimum of 6 people. If you are interested, please contact CEF on their website to discuss potential dates and times.
Symbiosis Learning Center

Milton

Families in search of a peaceful, nurturing, and noncompetitive environment for their child to learn, socialize, and grow should explore the Symbiosis Learning Center in Milton, MA. Offering a variety of courses and activities, including Environmental Science, Math at all levels, English Language Arts, Dungeons & Dragons, Visual Art, Drama Club, Social Thinking, Life Skills, Health & Wellness, Music, Spanish, Media Literacy, Financial Literacy, Social Studies, History, Spelling & Grammar, hiking, archery, kayaking, and many more!
Natick Community Organic Farm Pod Classes

Natick

Farm Pod Classes are perfect for your self-selected group of children and adults. Supplement homeschooling or school curricula with programs designed to bring earth and life science, and ecological concepts, to life with personal instruction and hands-on activities. Pod Classes are offered by season at our Farm, and all instruction is 100% outdoors. Programs meet MA Curriculum Framework Standards, and can be adapted for all ages. Extend the fun by touring our animals or hiking our nature trail after your program.
Strength in Numbers Tutoring

Needham, Newton, Wellesley

Strength in Numbers Tutoring is Needham's leading provider of one-on-one in-person tutoring and test preparation. Their students go on to study engineering and math at top universities.
Write Brained

Newburyport

Specializes in helping youth self-advocate and find their voice through evidence based interventions, mindfulness and using writing as a creative outlet. Their stories become part of a tool kit in sensory processing and self- regulation. Children learn skills that can transcend to real life situations through the pivotal moments faced by the dynamic characters they create. Evidence based therapeutic creativity interventions will help guide children to build resiliency and learn to adapt self-soothing de-escalation strategies as life skills transcendent to real world situations.
Montessori Math Club

Newton

This program provides homeschoolers with a rich math experience that is rooted in Montessori pedagogy and utilizes hands-on Montessori materials. Elementary students, in small groups, will have lessons facilitated by a highly experienced Montessori and MA certified teacher who challenges each student by meeting them at their edge and helping them progress. She focuses on students discovering math concepts and moving from a very concrete experience to abstraction. With games, group activities, and art projects interspersed into the curriculum, students have fun and develop a deep appreciation for math.
HEARTS Workshops at Plumfield Academy

North Shore

A Charlotte Mason Education emphasizes the Creative Arts, Music, Handcrafts and Nature Study to educated the "Whole Hearted Child". Plumfield Academy in Danvers, MA is pleased to offer a selection of hands-on workshops open to local families. For details and enrollment please visit our website.
Tinkergarten Classes

North suburban/ Winchester, Burlington

Tinkergarten provides outdoor play-based learning for children ages 18 months - 8 years old in local parks. Tinkergarten classes help kids develop a host of important capabilities, including empathy, collaboration, creativity, persistence and problem solving. The expert-designed classes and activities help kids develop core life skills while enjoying healthy, fun, engaging experiences in the physical freedom of local green spaces. Mixed age groups allow the whole family to enjoy Tinkergarten together. Free trial classes are available at the beginning of each season.
Modern Woodmen of America Youth Education Programs

Northcentral Massachusetts, Southern New Hampshire

More than 1.3 million children participate in Modern Woodmen youth educational programs each year, gaining light-bulb moments of understanding through hands-on activities. Representatives donate these free programs to schools, home-schools and youth groups nationwide. Each program includes flexible instructions, activities, resources for the students, and reproducibles for the teacher/parent on topics relevant to today's children, pre-kindergarten through 8th grade. Available courses include: Ecology Awareness; Exercise & Nutrition; Financial Literacy; and Patriotic Civics. Each course has three different age-graded segments—lower elementary, upper elementary, and middle school. Modern Woodmen also sponsors an annual Speech Contest for middle school students. https://www.modernwoodmen.org/about-us/community-impact/youth-educational-programs/ SAFETY KIT & DATA KEEPER. These kits are provided upon request for parents to use with their children. The kits include fingerprint ink, data-keeper envelope, and medical & dental record keeper. There is no cost for parents to receive these kits. Contact your MWA agent to get your kit(s). Your local MWA contact is Dr. Claude Wiggins. He has extensive previous experience in Christian higher education and in local church ministry. He is the parent of a home school graduate now attending a Christian university. His other two children graduated from Christian schools. You can reach him at any of the following: Mail: P.O. Box 401, Ashby, MA 01431. Email: claude.b.wiggins.ii@mwarep.org Work ph: 978.870.0386 Cell ph: 978.321.2646 Website: https://reps.modernwoodmen.org/cwigginsii/
Commonwealth Learning Center

Northshore and Metrowest

Commonwealth Learning Center is an independent nonprofit organization that has served the Massachusetts community as a leading educational resource for more than 25 years. With locations in Needham and Danvers, they provide 1-to-1 customized tutoring and assessment services for all ages (kindergarten through adult), in all subject areas. Commonwealth Learning Center specializes in assisting those who learn differently, including individuals with ADHD, dyslexia, autism, executive functioning challenges, etc., and offers services such as Orton-Gillingham, Wilson, SAT/ACT test prep, and more. Daytime, evening, and weekend scheduling is available, and no contracts are required. Financial aid is available for those who qualify.
Mathnasium of Hanover

Norwell, MA Hanover, MA Rockland, MA

Mathnasium of Hanover helps kids in grades K-12 understand math by teaching the way that makes sense to them. When math makes sense, kids leap way ahead – whether they started out far behind or already ahead in math. Our formula for teaching kids math, the Mathnasium Method™ has transformed the way kids learn math for over a decade. We offer flexible schedules for homeschooling families. Call us at 781-659-1225 to find out more today.
Berkshire Humane Society

Pittsfield

Four-Legged Lessons from the Humane Society. Bring the Humane Society to your school. Berkshire Humane Society will come to a homeschooling group or homeschooling groups can visit the Society. Through the Classroom Education Program, a BHS representative will do an hour-long presentation on "how to be a responsible pet owner" and "what it means to be a humane being." The program is made age-appropriate for each particular class/group. Classes teach students about fostering responsibility, building a sense of family and community, empathy, problem-solving, while creating a sense of self-worth. Educational programs are offered FREE of charge to all elementary schools and homeschooling groups in Berkshire County.
Bay Farm Montessori Academy

Plymouth County

Bay Farm Montessori Academy is a learning community where children ages 12 months - 8th grade are inspired to grow with joy, purpose, and compassion. The work of the school is grounded in the firm belief that the Montessori educational model provides a proven and effective foundation for learning. The Montessori method concentrates on the specific developmental needs of the student and Dr. Montessori believed there is no cookie-cutter approach to educating a child. Through her research, she developed a new type of classroom, one that challenged students as individuals in a prepared environment. Bay Farm operates under the Montessori theory of giving each child respect as an individual in order to ignite their passion for learning. We provide a nurturing environment for students so that they can develop the skills and sense of responsibility to be confident learners, eager to understand themselves and their place in the world. Learn more at https://www.bfarm.org/tour
Dyad Speech Services

Providence

Dyad Speech Services offers speech therapy for ages K -12. Free screeings, collaborative and intergrative with curriculum. Days, evenings and weekends, year round. Therapy provided in home. Social/pragmatic skills. Summer school ramp up to next grade level. ESL services to enhance language skills.
MagneticVisions 3D Modeling and Printing training

Rhode Island / Bristol

This resource provides two and three day courses, with hands-on instruction and training to design and build 3D models, using Rhino NURBS modeling (CAD-Computer Aided Design) software. No previous experience is required. Instruction provides in-depth tools and techniques used in 3D modeling and the 3D printing process. Emphasis is on promoting individuals' logical thinking, and enhancing problem solving skills. Courses are also available to build an affordable 3D printer. This course covers the step by step construction of the printer from a kit, materials and operation processes used, as well as how to maintain and troubleshoot the printer. Weekday, weekend and evening schedules are available.
STEM programs at Sylvan learning Center

Salem, NH

What You'll Get With STEM at Sylvan of Salem *A ton of fun!: From coding video games to building robots, the hands-on STEM activities are a blast. (Best of all, the kids don't even realize they're learning.) *Teamwork with new buddies: Your child and a buddy will work together to plan, build and problem solve. It's a cool way to encourage creativity and build collaboration skills. Valuable skills for school and careers. Sylvan's one-of-a-kind curriculum will help your child develop high-value skills (like problem solving and critical thinking) and STEM vocabulary. *Super cool technology for extra fun: No one else uses technology in its STEM programs like Sylvan. It keeps learning fun and expands your child's tech skills. *Ongoing ways to learn: You'll enjoy helpful tools to encourage STEM conversations and learning at home. A great way to get concepts to stick! *Activities that grow with your child: Your child will find new and exciting challenges to grow into from grades 1-8. There's always another cool class to take.    
LEGOLAND Discovery Center Boston

Somerville

Homeschool classes welcome at LEGOLAND Discovery Center Boston, the Ultimate indoor LEGO playground! Offering an imaginative, hands-on learning experience that's tons of fun. Schools receive access to all of LEGOLAND Discovery Center at a special discounted rate and the opportunity to add on a special educational workshop. Learn more about workshop offerings on the website.
Parts and Crafts

Somerville

Parts & Crafts is an EEC-licensed homeschool resource center for kids 7-13 that has been serving the Boston area since 2012, offering programming 5 days a week from 9-3 with late care available in our afterschool program. P&C is primarily focused on making things & making things happen - crafts, electronics, games, 3D printing, cardboard constructs, boffer swords, arduino, woodworking, and much more. All projects are opt-in, and most are child-directed. Homeschoolers and unschoolers register per semester for 1-5 days per week. The afterschool program is open to any kids 7-13 and there is a "walking schoolbus" from 3 local schools. Summer camp runs from June through August. Open enrollment.
Marine Science Experiential Learning

Stonington

Our mission at New England Science & Sailing Foundation (NESS) is to empower students with a love of learning through ocean-based experiential programs that serve schools, teachers, and families. NESS is the first and only program of its kind to be accredited by the New England Association of Schools and Colleges (NEASC). Our goal is to advance academic opportunities for K-12 students of all backgrounds in both urban and suburban markets. We offer a unique education model that empowers students with leadership, teamwork, confidence, and problem-solving skills to ensure academic success. Our STEM-based curriculum uses marine science, sailing, powerboating, and adventure sports as learning platforms. We hope you will play a role in helping us continue this important educational mission! The NESS instructor-led, hands-on programs include topics such as: marine debris, navigation, erosion, camouflage, deep sea exploration, and even sailing at home! Classes range from 1-2 hours based on the needs of the students. These courses are correlated to standards related to science, ocean literacy, and socio-emotional learning. If you are interested in learning more about NESS programs, please feel free to email Nina Quaratella, Education Specialist, at nquaratella@nessf.org or call at 860-535-9362.
Xperiment Virtual Reality

Trumbull

Xperiment VR is the newest place to experience the power of virtual reality. We host birthday parties & events as well as free play whenever you're in the mood to step into another reality. We are a fully immersive Virtual Reality social play space that delivers the best VR experiences to you without any hassle and expensive home set ups. ​ Prepare to jump into realistic worlds with explosive visuals as you step beyond reality and explore just about anything you can imagine. Whether you're playing games, exploring the world, or unleashing your artistic talents, It's fun for EVERYONE and a great way to stay active!
AoPS Academy Lexington

Waltham/Eastern and Central MA

The Art of Problem Solving Academy Lexington, an accredited organization, offers classes in math and language arts which are ideal for homeschooling families with students who best learn by tackling problems themselves, not by watching passively as others do the work. AoPS classes meet weekly during the school year for 36 weeks and are carefully designed to prepare students for the rigors of advanced university classes and highly competitive careers. Each of the math and language arts classes stress both the fundamentals and extending those fundamentals to advanced applications. Students develop a deep understanding of new concepts and learn how to use them in complex situations. AoPS Academy instructors are chosen based on proven domain expertise as well as their pedagogical skills. All curriculum is designed by AoPS employed experts in their fields. The math curriculum is centered on students solving problems. Students are guided through the experience of developing new mathematical ideas. The language arts classes teach students the craft and art of effective communication. Instruction focuses on multiple components of writing, building from the fundamentals to give students a deep appreciation of language. AoPS Academy draws strong students from schools and homeschooling networks, giving AoPS students an outstanding peer group with whom they can learn, form friendships, and draw inspiration.
iCode of Wellesley

Wellesley

iCode of Wellesley is a premier award winning STEAM afterschool, weekend and all year programs for kids 5-18.. We are flexible and offer classes all 7 days a week. iCode Wellesley offer variety of STEAM programs both classroom classes or self paced options to progress at your child(ren)'s own pace. We offer all latest technologies and have top of the line curriculum and equipment. We offer classes in Scratch, Scratch junior, Robotics, Digital Art, 3D printing, Minecraft, Roblox, Python, Java, AI, Unity, C#, C++, etc.
Code Ninjas in Wellesley

Wellesley

Code Ninjas teaches kids between the ages of 7-14 how to code by building their own video games. The Code Ninja's belt program is a 3-4 year self-paced curriculum where "ninjas" progress through 9 belts, similar to a Karate studio. It teaches "ninjas" to code with games they already love, such as Scratch, Minecraft, and Roblox. If a "ninja" commits to completing the program, the black belt level will allow them to create a game using the Unity 3D editor and publish it to the App store. All belt progression must be done within the "dojo" where mentors , or "Senseis," facilitate and guide each "ninja" through their learning. Each belt gives the "ninjas" the opportunity to prove themselves before advancing. "Ninjas" will come in twice a week for an hour each visit.
Code Ninjas Wellesley

Wellesley, Needham, Newton, Dover/Sherborn, Weston, West Roxbury, Waltham, Natick

Learn how to code by building games and projects. From the ages of 5 and up, kids will participate in a fun, self-paced environment, that they will feel comfortable learning an important skill set.
Core Homeschool Learning

Wenham

Core Homeschool Learning provides high-quality in-person learning for middle- and high-school homeschoolers. Whether you are looking for one supplemental course for your 7th grader or planning six years of learning with multiple children through high school, you can look to Core for your "core" subjects. Midyear enrollees are welcome! Core meets on the beautiful campus of Gordon College and runs the entire academic year, September through May. Their teachers are committed to their subjects and passionate about teaching and mentoring young people. Core fosters 'around the table' conversation and deep engagement with source material, whether full texts of literature and history or experiments and proofs in science and mathematics.
Fun World Language Academy

Westford

Various Foreign language classes taught by native speakers. We offer fun curriculum, friendly environment, and many languages to choose from. Spanish, German, French, Italian, Hindi, Russian, Bulgarian, Portuguese and more. After school and weekend options available.
Foraging and Mushrooming Classes and Workshops

Worcester & Middlesex Counties

Join a Forager and MA Certified Educator who is state-certified in Mushrooming in the fields and forests of Massachusetts to learn about and collect edible and medicinal plants, fruits, and mushrooms. Indoor workshops, too! Can be booked for private groups or see her web site links for Upcoming Classes and Events. Bio: Rachel Goclawski, Forager and Certified educator, state-certified in Mushrooming, is a Programmer for The Museum of Natural History, Sudbury Valley Trustees, New England Botanic Garden, and other organizations. She is a contributing writer for The Cook's Cook: Now, Forager Magazine and has been featured on WBZ, in The Boston Globe, Edible Worcester and Baystate Parent magazines, local television talk shows, radio, and other documentaries and print. Rachel comes from a long line of foragers, including her great-grandfather, Arthur W. Fairbanks, founder of the Boston Mycological Club. Visit her Facebook, Instagram or YouTube for Forage to Table tips, recipe ideas and videos- all entitled, Cooking With Mrs G.