Jump to: Homeschool Co-ops | Homeschooling Classes & Academic Enrichment
Looking for someone to teach physics to your teen? Need a way to avoid teaching algebra? Want to enroll your Kindergartener in a co-op for social time? Homeschool classes and co-ops are a great way to spend time with other homeschoolers and skill-share with other homeschool parents.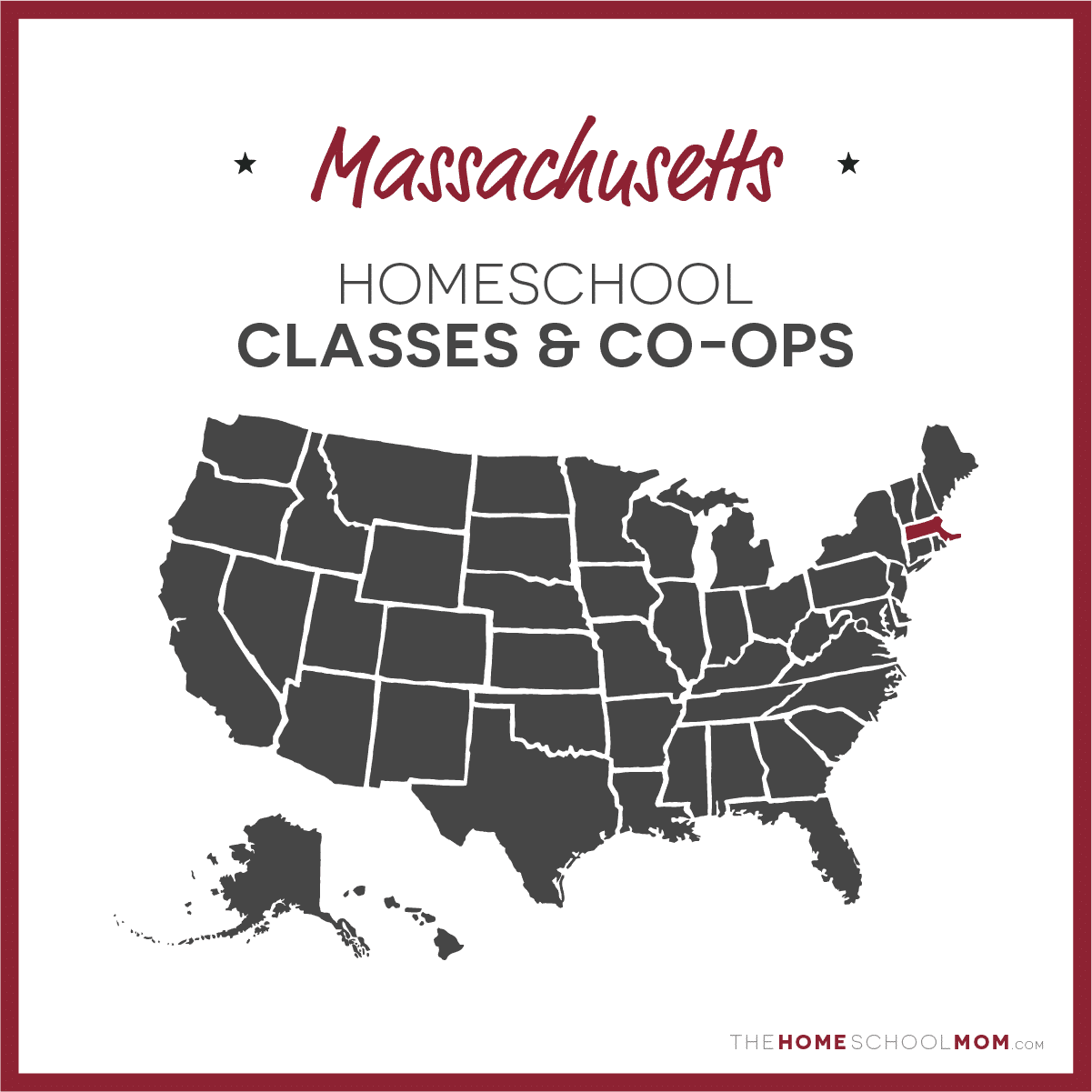 Submit a Local Resource
Our listing of Massachusetts co-ops and academic classes for homeschoolers is ordered alphabetically by city, with co-ops in the first section and all other academic resources below. If you would like to submit a Massachusetts co-op or academic resource, you may do so using the red button above.
Massachusetts Homeschooling Co-ops
Voyagers, Inc. Homeschool Coop & Resource CenterActon
Homeschool Coop
Friends of GraceChelmsford
We welcome families from our surrounding area to join with us and encourage each other on the homeschool journey. We are a Christian fellowship of families from many area churches in Middlesex Coun...
Pilgrims Progress Home School AssociationDuxbury, South Shore area
A Christian, non-profit organization that offers support to families who choose to home educate their children. Offering weekly co-op classes, field trips, fairs, graduation ceremony, as well as ma...
North Star: Self Directed Learning for TeensHadley
North Star teens choose from a wide array of educational options depending on their needs and interests. Founded by two middle school teachers in 1996.
Beacon Homeschool GroupHanson
BHSG is a support group with a vision to connect area Christian families by providing opportunities to learn, serve, and build life-long friendships together on their homeschooling journey.  Monthl...
Walnut Grove CoopNewark
Walnut Grove Coop is a nonprofit educational organization serving Delaware, Maryland, New Jersey, and Pennsylvania. This group provides opportunities for children to learn in a respectful, inclusiv...
Massachusetts Homeschooling Classes & Academic Enrichment
Literacy OwlAndover
Literacy Owl provides 1:1 and small group reading support to homeschooled students north of Boston. Sofia Flaherty, owner and founder, is a speech-language pathologist and a reading specialist. She...[Read more...]
Arlington Center for the ArtsArlington
Arlington Center for the Arts' "Interdisciplinary Alternative Education for the Arts" series grants children who are home schooled, in co-ops, or other alternative education programs to engage in t...[Read more...]
Writing Classes with Miss LorraineAttleboro and Dartmouth
Small creative writing classes for ages 8 and up, (especially recommended for reluctant writers). Essay and SAT prep classes available for older students. Classes include: Creative Writing Jumpstar...[Read more...]
Good Company TutorialsAttleboro, MA and Cranston, RI
Ongoing weekly classes for students in grades 5-12. Over 40 courses, including apologetics and worldview; various levels of public speaking, literature, and writing; Spanish; seven science courses;...[Read more...]
Inventor STEM SchoolBedford
Inventor STEM School inspires kids to experiment freely, think critically, and create boldly.  Inventor's programs for kids from 3-16+ use LEGO and Minecraft for hands-on learning to strengthen cre...[Read more...]
Waldorf School at Moraine FarmBeverly, Massachusetts
Waldorf School at Moraine Farm offers a homeschool program on-campus for homeschooled children in grades 1-8. The program is offered Tuesdays and/or Thursdays from 10:35 am to 12:10 pm. "With a gro...[Read more...]
Animal AdventuresBolton
New agricultural school at the family zoo in Bolton. Partnerships or working relationship opportunities for home-school parents to teach academics, and the zoo would provide extracurricular club fo...[Read more...]
LEX Language ProjectBoston
LEX Language Project offers unique multilingual language learning clubs that focus on the natural process of language development "from the whole to the parts". At the clubs, parents and children a...[Read more...]
Philosophy and Arts (MOSHI workshops)Boston
MOSHI workshops are based on 2 pillars: philosophical thinking and artistic expression. Started in Paris, France, MOSHI workshops are supported by the City of Paris and UNICEF. Each workshop is cus...[Read more...]
Boston Tutoring ServicesBoston
Boston Tutoring Services can support homeschool families with either tutoring services or help with curriculum. Totors work at the local library, or students' homes. Working with students in grades...[Read more...]
SEA Education AssociationBoston
Adventure with a purpose! SEA Education Association offers high school, home school, GAP year and college students exciting ocean education programs on Cape Cod and on our two tall ships. Students ...[Read more...]
Mayflower TutoringBoston
Mayflower Tutoring is a reputable Plymouth, MA-based tutoring service. It proudly offers online and in-person tutoring sessions for elementary through high school students. Its founder, Matthew Row...[Read more...]
Regina Caeli Academy of BostonBoston
Regina Caeli Academy is a unique, affordable, 2-day per week hybrid homeschooling program in the classical education tradition. Two days a week are spent at the resource center, and the remaining t...[Read more...]
The Innovation Institute - Online STEM ClassesBoston
The Innovation Institute offers STEM enrichment classes led by research scientists and engineers in-person and live online from their Boston-based laboratories. All learning is inquiry-based, cente...[Read more...]
Fusion Academy - BostonBoston
This resource provides academic support and social opportunities for the homeschool community. Tutoring/mentoring sessions are available 12-months out of the year from 7:30am - 7:30pm. Families may...[Read more...]
New England Chess SchoolBoston
New England Chess School offers local and virtual chess classes for kids ages 6-14. Convenient chess classes in 4  locations. Offering multiple skill levels. One hour classes let students participa...[Read more...]
KIT AcademyBoston
Knowledge. Invention. Teamwork. KIT Academy is a new way to learn through gameplay! Calling all adventurers! Any curious, creative, precocious young mind from grades 6-10 is invited to play a groun...[Read more...]
KaiPod LearningBoston
KaiPod Learning provides in-person support for online and homeschool learners. A KaiPod is a group of 8-10 online or homeschool learners who meet in person to work on their courses, collaborate, an...[Read more...]
Rose Public Speaking and Debate InstituteBoston Area Metropolitan
Rose Debate Institute offers private Public Speaking and Debate programs to the home school community in homes, co-ops, and churches etc., grades 4-12. Rose Debate's Public Speaking 1 course lays a...[Read more...]
Rose Public Speaking and DebateBoston metropolitan area
Rose Debate Institute, founded seven years ago in San Jose, CA by home school national debate champion's Paul and Bob Rose, is offering in-home classes in the greater Boston area for students 9 and...[Read more...]
Coding Butterfly | Coding & RoboticsBoston, Newton, Norwood
Coding Butterfly is a coding and robotics educational program committed to providing students with personalized instruction and a hands-on learning experience. Coding Butterfly offers two semesters...[Read more...]
Zuckerman EducationBoston/Cambridge
Zuckerman Education was founded by a veteran teacher and tutor and offers 1:1 tutoring in a wide range of academic subjects for students in grades 5-12. They have a holistic, student-centered appro...[Read more...]
New Hope "A la carte" homeschool classesBoxford
New Hope Courses offers full-year, small group, a la carte classes for middle and high school homeschoolers, as well as workshops for students as young as 8. Located in Boxford, MA.  "Graduating" c...[Read more...]
New Hope Courses for HomeschoolersBoxford
New Hope Courses for Homeschoolers provides high-quality small-group education for middle and high school homeschooled students on Boston's North Shore and beyond. Offering full-year courses in the...[Read more...]
Studio of Engaging MathBrighton
Studio of Engaging Math is a K-8 after-school math program. Small groups and expert teachers provide an ideal environment for developing critical thinking and advanced problem-solving skills. Progr...[Read more...]
The Makery - MassachusettsBrookline
The Makery's after school program features a rich interdisciplinary curriculum of 10-week class options. Professional instructors guide students in art-tech, project and problem-based learning whil...[Read more...]
Harvard Museum of Natural HistoryCambridge, MA
The Harvard Museum of Natural History offers entertaining and educational special events for visitors of all ages. A variety of weekend, summer, and weekday courses are available for kids and famil...[Read more...]
Top Secret ScienceChelmsford
We are a STEM non profit that does hands-on, make and take home projects and experiments that are very fun and engaging. We work with up to 1,200 PreK - 6th students at schools, camps, recreation c...[Read more...]
Boston College Experience for high school studentsChestnut Hill
ALL BCE ONLINE COURSES ARE OFFERED PRIMARILY ASYNCHRONOUSLY. This means that there is no specific time each day that a student must log in to engage with the materials. The exception is on Friday a...[Read more...]
Encompass Community At Friends AcademyDartmouth
The Encompass Community for Independent Learning offers affordable enrichment and resources to homeschool families and life-long learners of all ages. Offering Nature Expeditions on 65 acres of wil...[Read more...]
Creative Writing - First StepsFall River, Berkley, Attleboro
The "first steps" toward creative writing for students, ages 8-12, this class is geared to those reluctant or hesitant writers. The focus is on self-expression, imagination, and fun, (and in this a...[Read more...]
RSM-MetroWestFramingham
RSM-MetroWest, formerly known as MetroWest School of Mathematics (MWSM), is an after-school pre-K through 12 program located in the Historic District of Framingham MA.[Read more...]
Orton Gillingham Tutor Donna PaladinoFramingham
Donna Paladino is a licensed elementary educator with a masters in mod. spec. needs. She holds an Associates in Orton-Gillingham and taught science at the Carroll School for eight years. She is als...[Read more...]
BSA Troop 55 BillericaGreater Billerica Area
Get Outside with Troop 55! Scouting can augment your homeschooling curriculum through weekly meetings and monthly trips year round. Boys (age 10/ ½ - 17) experience Adventure, Learning, Goal Settin...[Read more...]
Boston International Kids Film Festival Filmmaking ClassesGreater Boston area
In this class, students can bring their creative ideas to fruition in a fun, collaborative and exciting environment. Students will learn skills in scriptwriting, storyboard sketching, improvisation...[Read more...]
Circuit Lab Electronics ProgramsGreater Boston Area
Circuit Lab runs hands-on learning programs to teach children about circuitry (electrical engineering) and programming (computer science). Circuit Lab after-school and summer programs are offered i...[Read more...]
Learn and Play TutoringHanover
Learn and Play Tutoring offers 1:1 in person sessions for children in Preschool through Grade 1. We focus on early literacy, math, and work on strengthening fine motor skills to aid in handwriting....[Read more...]
Compassionate MathHartford area
Compassionate Math is the idea that learning mathematics is both an intellectual and emotional challenge – you can't move forward intellectually if you don't address negative emotions. Compassionat...[Read more...]
Boston Outdoor Preschool NetworkJamaica Plain
Boston Outdoor Preschool Network is an entirely outdoor early childhood program. They are committed to nature immersion, interest-led learning, inquiry-based teaching, and authentic play. The ever-...[Read more...]
Empow Studios STEM CenterLexington
Offering Art & Design, Building, and Coding programs for kids. The curriculum is designed for children in grades 1-8, and includes projects that students are proud to share with family and friends....[Read more...]
Fusion Academy Burlington/LexingtonLexington
Fusion Academy Burlington/Lexington is a wonderful resource that provides single for credit classes as well as enrichment opportunities. All of the Fusion Academy classes are conducted in person an...[Read more...]
Massachusetts Classical ConversationsMassachusetts Statewide
CC is a national homeschooling program that uses a Bible based curriculum taught in a christian, classical tradition. Classes are geared for age 4 through high school.[Read more...]
Classical Conversations of Merrimack ValleyMerrimack Valley
Classical Conversations supports parents who desire to teach their children from a Christian curriculum in the classical method within a vibrant community. The focus of a classical education is to ...[Read more...]
Essential Elements WorkshopMetrowest Boston
The Chemical Educational Foundation created the You Be The Chemist Essential Elements program to provide K-8 educators nationwide with professional development to empower educators to teach science...[Read more...]
Natick Community Organic Farm Pod ClassesNatick
Farm Pod Classes are perfect for your self-selected group of children and adults. Supplement homeschooling or school curricula with programs designed to bring earth and life science, and ecological...[Read more...]
Write BrainedNewburyport
Specializes in helping youth self-advocate and find their voice through evidence based interventions, mindfulness and using writing as a creative outlet. Their stories become part of a tool kit in ...[Read more...]
Tinkergarten ClassesNorth suburban/ Winchester, Burlington
Tinkergarten provides outdoor play-based learning for children ages 18 months - 8 years old in local parks. Tinkergarten classes help kids develop a host of important capabilities, including empath...[Read more...]
Modern Woodmen of America Youth Education ProgramsNorthcentral Massachusetts, Southern New Hampshire
More than 1.3 million children participate in Modern Woodmen youth educational programs each year, gaining light-bulb moments of understanding through hands-on activities. Representatives donate th...[Read more...]
Commonwealth Learning CenterNorthshore and Metrowest
Commonwealth Learning Center is an independent nonprofit organization that has served the Massachusetts community as a leading educational resource for more than 25 years. With locations in Needham...[Read more...]
Mathnasium of HanoverNorwell, MA Hanover, MA Rockland, MA
Mathnasium of Hanover helps kids in grades K-12 understand math by teaching the way that makes sense to them. When math makes sense, kids leap way ahead – whether they started out far behind or alr...[Read more...]
Berkshire Humane SocietyPittsfield
Four-Legged Lessons from the Humane Society. Bring the Humane Society to your school. Berkshire Humane Society will come to a homeschooling group or homeschooling groups can visit the Society. Thro...[Read more...]
Bay Farm Montessori AcademyPlymouth County
Bay Farm Montessori Academy is a learning community where children ages 12 months - 8th grade are inspired to grow with joy, purpose, and compassion. The work of the school is grounded in the firm ...[Read more...]
Slovenski CampsPortland
Traditional summer camp in Raymond, Maine. Instructional activities include swim lessons, sailing & windsurfing, guitar & ukulele instruction, archery training, arts & crafts, and sport...[Read more...]
Dyad Speech ServicesProvidence
Dyad Speech Services offers speech therapy for ages K -12. Free screeings, collaborative and intergrative with curriculum. Days, evenings and weekends, year round. Therapy provided in home. Social/...[Read more...]
MagneticVisions 3D Modeling and Printing trainingRhode Island / Bristol
This resource provides two and three day courses, with hands-on instruction and training to design and build 3D models, using Rhino NURBS modeling (CAD-Computer Aided Design) software. No previous ...[Read more...]
STEM programs at Sylvan learning CenterSalem, NH
What You'll Get With STEM at Sylvan of Salem *A ton of fun!: From coding video games to building robots, the hands-on STEM activities are a blast. (Best of all, the kids don't even realize they're ...[Read more...]
LEGOLAND Discovery Center BostonSomerville
Homeschool classes welcome at LEGOLAND Discovery Center Boston, the Ultimate indoor LEGO playground! Offering an imaginative, hands-on learning experience that's tons of fun. Schools receive access...[Read more...]
Reading and Writing TutoringSomerville
Reading and writing tutoring and small group classes for children and young adults with reading and writing difficulties. Ms. Drake is certified at the Advanced level through the Barton System for ...[Read more...]
Marine Science Experiential LearningStonington
New England Science & Sailing (NESS) is based in Stonington, CT, and runs on-the-water programs with homeschool families across New England. NESS's marine science and adventure sports programs ...[Read more...]
Xperiment Virtual RealityTrumbull
Xperiment VR is the newest place to experience the power of virtual reality. We host birthday parties & events as well as free play whenever you're in the mood to step into another reality. We are ...[Read more...]
AoPS Academy LexingtonWaltham/Eastern and Central MA
The Art of Problem Solving Academy Lexington, an accredited organization, offers classes in math and language arts which are ideal for homeschooling families with students who best learn by tacklin...[Read more...]
Classical Conversations Challenge B program in WatertownWatertown
This is an Academic, Classical Christian homeschool community/support group for 8th (and 8th-ish but a little older, too) grade kids. It is part of a nationwide program, called Classical Conversati...[Read more...]
Code Ninjas in WellesleyWellesley
Code Ninjas teaches kids between the ages of 7-14 how to code by building their own video games. The Code Ninja's belt program is a 3-4 year self-paced curriculum where "ninjas" progress through 9 ...[Read more...]
iCode of WellesleyWellesley, MA
iCode of Wellesley is a STEAM afterschool and summer camp program that teaches life skills alongside a diverse set of technologies. Using this fun and engaging activities we help children build res...[Read more...]
Code Ninjas WellesleyWellesley, Needham, Newton, Dover/Sherborn, Weston, West Roxbury, Waltham, Natick
Learn how to code by building games and projects. From the ages of 5 and up, kids will participate in a fun, self-paced environment, that they will feel comfortable learning an important skill set.[Read more...]
Fun World Language AcademyWestford
Various Foreign language classes taught by native speakers. We offer fun curriculum, friendly environment, and many languages to choose from. Spanish, German, French, Italian, Hindi, Russian, Bulga...[Read more...]
Go to Massachusetts...