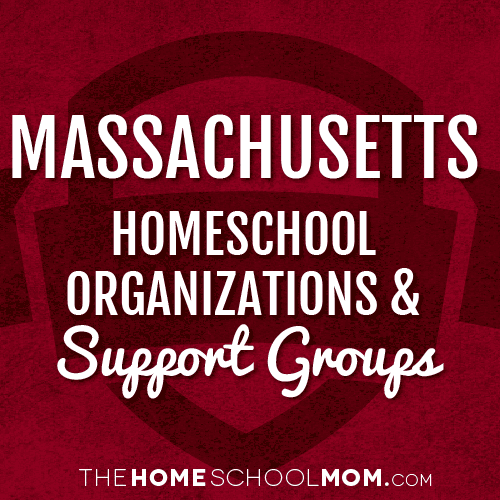 Since homeschooling is regulated at the state level, connecting with local homeschoolers is an important step to start homeschooling in Massachusetts. State homeschool organizations and local homeschool groups are not just a good place to learn the specifics of legally homeschooling in Massachusetts—they can also help you to get connected with the local homeschooling community. Many homeschool groups offer co-ops, classes, sports and arts opportunities, and social get-togethers.
Our listing of Massachusetts state organizations and local homeschool groups is ordered alphabetically by city, with statewide organizations listed first. If you would like to submit a group, you may do so using the red button above.
Use the secondary navigation menu above to quickly make your way to pages for Massachusetts state organizations, local homeschool groups, classes, co-ops, field trips, and more.
Massachusetts Homeschool Organizations
Massachusetts Homeschool Organization of Parent Educators (MassHOPE)Massachusetts Statewide
A Christian ministry for the express purpose of encouraging home educators across the Commonwealth. Mass H.O.P.E. has a statewide network of support groups for home educators from beginners to vete...
Massachusetts Home Learning Association (MHLA)Massachusetts Statewide
An advocacy and education organization, which endorses home learning as an alternative to public or private schooling. MHLA informs and educates families, school officials, the media, elected offic...
Massachusetts Local Homeschool Groups
Attleboro Area HomeschoolersAttleboro, MA
A group of families that welcomes all homeschoolers in many communities in southeastern Massachusetts and northern Rhode Island. The main purpose of the Attleboro Area Homeschoolers is to give home...
Berkley Area HomeschoolersBerkley
Online support group for Berkley, Dighton, Taunton, and surrounding areas. Classes, field trips, play dates, and homeschool support.
Berkshire Mountains Homeschool Co-op.Berkshires
We are a secular homeschooling group in the Berkshires of Massachusetts.We will provide other homeschoolers with links, ideas and support. If you are in our area, give us a holler and come to one o...
Metrowest HomeschoolersBoston
This is an inclusive group for homeschoolers throughout the Metrowest area of Boston to share ideas, classes and information.
Family Educators Resource Network (FERN)Columbia to Berkshire counties and surrounding areas
FERN is an informal networking group for home educators in the areas of Columbia, Rensselaer, and Albany counties in New York and in Berkshire county in Massachusetts. FERN operates as a computer-b...
Pilgrims Progress Home School AssociationDuxbury, South Shore area
A Christian, non-profit organization that offers support to families who choose to home educate their children. Offering weekly co-op classes, field trips, fairs, graduation ceremony, as well as ma...
Co-op Homeschool Support GroupGardner and surrounding towns.
We are a functioning support group open to homeschooling families in Gardner and surrounding towns.
AHEMMassachusetts Statewide
Local Support Groups
MHLA Local Support GroupsMassachusetts Statewide
Homeschool Support Groups in Massachusetts
MassHOPE Support GroupsMassachusetts Statewide
Living and LearningMilford
Providing a forum for exchanging information on local events, online educational materials, and places of interest for homeschooling families in the greater Milford, MA area.
Tri County homeschoolersNorfolk county
Support group connecting the counties of Norfolk, Middlesex and Worcester.
Berkshire HomeschoolersPittsfield
This group is a way to connect with other homeschooling families in Berkshire County Massachusetts who have chosen to homeschool their children. We are a group of about 200 families growing into a...
Berkshire County HomeschoolersPittsfield, Lee, Lenox, Lanesborough, Stockbridge, Great Barrington, Housatonic, Adams, North Adams, Williamstown, and Dalton
This group is a way to connect with other homeschooling families in Berkshire County Massachusetts who have chosen to homeschool their children. We are a small group but we are growing into a grea...
Southcoast HomeschoolersSouth Coast areas from New Bedford to Tiverton
We are a support group that spans the South Coast of Massachusetts. We are centered out of New Bedford, but have members as far east as Wareham and as far west as Tiverton, RI. We are not political...
LEAF Home Learners Network-Yahoo groupSouth-central MA, northern RI and northeastern CT
LEAF is a network of home learners that welcomes all homeschoolers in south-central MA, northern RI and northeastern CT. LEAF is informal, all-inclusive and participant-directed. There is no one le...
Coastal Free LearnersSouthern Massachusetts
This group supports Home Schoolers living in the coastal communities of Southern Massachusetts. All types of home educators are welcome, regardless of religious or political preference.*