Jump to: Homeschool Arts | Homeschool Sports
In addition to the opportunity to get out of the house and socialize, homeschool sports and arts programs can offer long-term benefits by developing characteristics like leadership, self-confidence, perserverance, and self-esteem. Many organizations and businesses have opportunities specifically for homeschoolers, while others invite homeschoolers to participate in their regular programs.
Not sure how to choose activity/activities for your children? Read how Rebecca narrows down the choice of extra-curricular activities.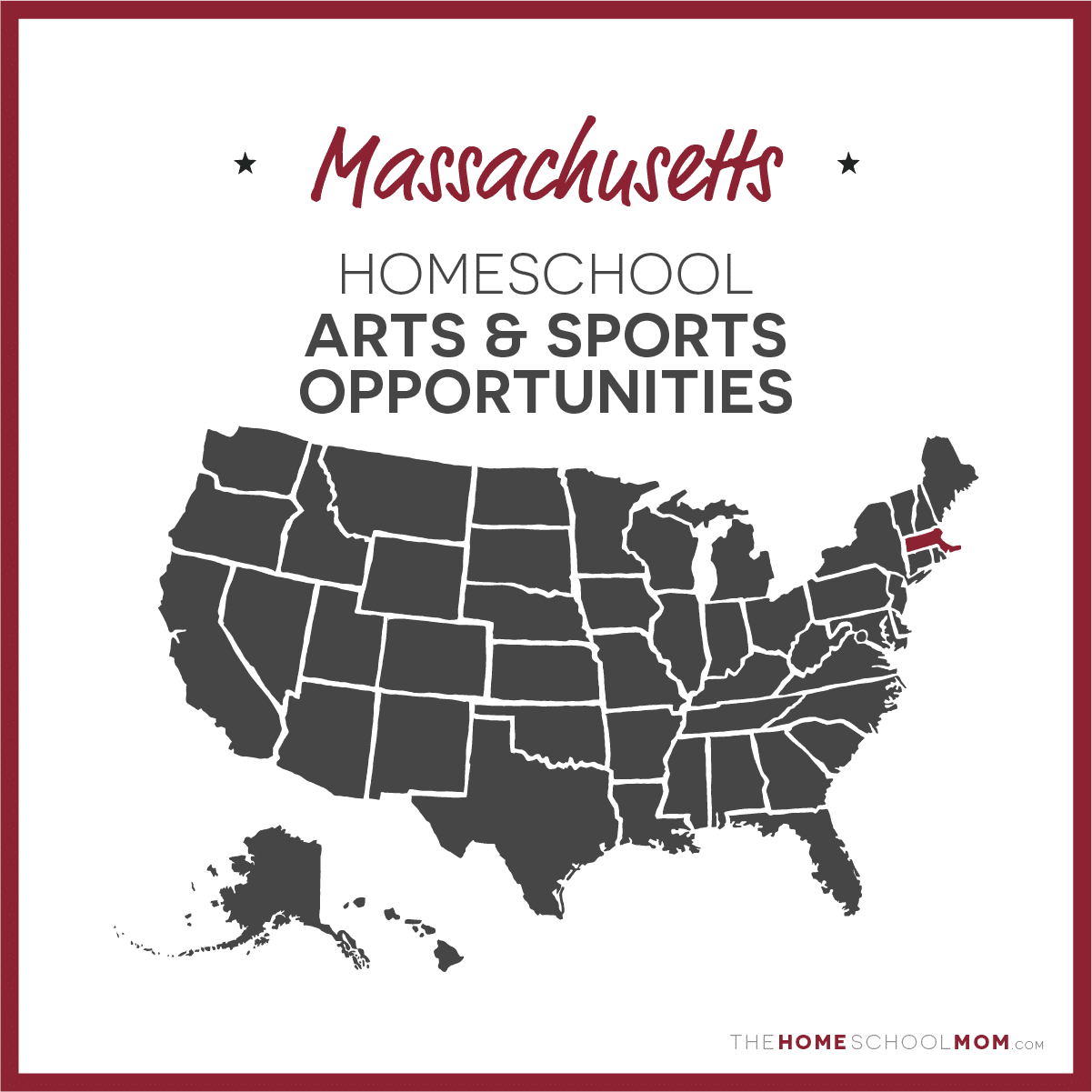 Submit a Local Resource
Our listing of Massachusetts list of homeschool arts and sports programs is ordered alphabetically by city, with arts in the first section and sports in the second section. If you would like to submit an Massachusetts arts or sports program, you may do so using the red button above.
Massachusetts Homeschool Arts Programs
Stained Glass MosaicsAmesbury
Enjoy the Magic of Glass while discovering Stained Glass Mosaics! Each student will have the opportunity to create a unique piece of art as they learn the ancient art of Stained Glass Mosaics. Project choices include ...
House Call Guitar LessonsArlington
David Hinckley offers house call guitar lessons in the communities north of Boston including Arlington, Bedford, Lexington, and Winchester. David is a graduate of Berklee College of Music with over 20 years of experie...
Morningside Music StudioArlington
Morningside Music Studio is a small community music school in Arlington Center in the Regent Theater building that offers a wide variety of ensembles and private lessons on different instruments.
LARP Adventure ProgramArlington
LARP Adventure Program is an interactive and improvisational theater program in which participants create a storyline featuring a heroic character. Through acting out the plot of the story, characters evolve and grow....
Arlington Center for the ArtsArlington
Arlington Center for the Arts' "Interdisciplinary Alternative Education for the Arts" series grants children who are home schooled, in co-ops, or other alternative education programs to engage in the arts and socializ...
Saxophone Lessons with Jonathan AmonAttleboro
Offering weekly saxophone lessons to students of all abilities, ages 10-adult. Jon teaches repertoire from a variety of styles based on students' interests and goals. Lessons are available online and on a limited basi...
DeeAnne ARTAttleboro, North Attleboro, Norton, Seekonk, Mansfield
Art lessons for students from 6-18 years old. Private lessons for students since 2012. Accepting new homeschool students for lessons during the day on Mondays or Tuesdays. Lessons can be started at any level-beginner ...
Barbieri Voice StudioAttleboro, North Attleboro, Plainville,Norton, Mansfield, Foxboro, Sharon, Pawtucket, Providence
Barbieri Voice Studio offers voice lessons for students ages 10-up. The focus is on learning to sing in a natural, healthy manner. Lessons can be 30 or 60 minutes. 30 minute lessons are recommended for beginners, rega...
ArtSpark School of Visual ArtBedford
ArtSpark is a school for learning the fundamentals of drawing and is based on the belief that making art helps us solve problems and learn from our environments. Small class instruction for students (ages 6 +) will bu...
Powers Music SchoolBelmont
Powers Music School is a community-based music school in Belmont offering early childhood and group classes, private lessons, ensembles, orchestra, summer programs, performance opportunities, and free community concer...
Aleksandra Lvin Piano StudioBelmont
Private Piano Lessons, Piano Duo classes, and Chamber Music coaching in Belmont, MA. Classes are offered to students of all ages and levels. At the studio students learn classical repertoire, music theory, technique, ...
Private Piano Lessons with Stephanie A. EmberleyBeverly
Give your children the gift of music. Piano lessons offered in Beverly throughout the day from a classical concert pianist. Teaching both beginners and advanced students of all ages and ability levels.
Diablo Glass SchoolBoston
Glass classes
Deborah Apple - Private lessons for violin, viola, and celloBoston
Suzuki and traditional instruction for all ages and abilities. Studio of over 30 students in Brookline, Brighton, Newton, Lexington, and Wayland. The students learn musicianship, theory, and technical facility as well...
Suzuki Boston Music SchoolBoston
Suzuki Boston Music School is a violin music school that concentrates on teaching the student and parent within the lesson to ensure successful practice in the home. The primary focus is to aurally train the student t...
Ine't Productions Inc.Boston
This music production company has been providing piano, voice, drums and bass lessons for over 20 years. Instructors are from The Berklee College of Music. Currently offering private lessons, group lessons via interne...
Wheelock Family TheatreBoston
Bring your students to a student matinee of one of Wheelock Family Theatre's professional, award winning productions at a low rate of $12/ticket! Experience live theatre while giving your student the learning experien...
The Sparrow ProjectBoston
The Sparrow is a small bird with mighty purpose. It symbolizes community and connection. The Sparrow Project is a space where we can work on building greater connection to ourselves so we can ultimately reconnect to o...
Fusion Academy - BostonBoston
This resource provides academic support and social opportunities for the homeschool community. Tutoring/mentoring sessions are available 12-months out of the year from 7:30am - 7:30pm. Families may access this resourc...
Yasmin Music Homeschool music classes/lessonsBoston, Cambridge, Somerville, Arlington, Belmont, watertown, Brookline, Newton, Wellesley
Offering piano, composition, musicianship and general music lessons in Cambridge and the surrounding towns and in Wellesley/Newton. Learning process is created with the student, materials chosen together following the...
New Hope Courses for HomeschoolersBoxford
New Hope Courses for Homeschoolers provides high-quality small-group education for middle and high school homeschooled students on Boston's North Shore and beyond. Offering full-year courses in the core subjects (hist...
In-Sight Photography ProjectBrattleboro, VT
The In-Sight Photography Project and its Exposures Cross-Cultural Youth Arts Program empower youth, through photography, to find their own creative voices and to communicate their unique personal visions. Classes in p...
Southeastern Massachusetts Arts CollaborativeBristol County
During the academic year, SMARTS offers many student programs that encourage young people to discover their talents. Offering classes in creative writing, dance, drama, music, visual arts, and computer arts
SMARTS CollaborativeBristol County
Recognized across the Commonwealth since 1986, the Southeastern Massachusetts Arts Collaborative, better known as SMARTS, is a year round non-profit organization dedicated to the arts and creativity. This dynamic mult...
Fuller Craft MuseumBrockton
Fuller Craft Museum provides art and pottery classes designed specifically for homeschool artists ages 5 – 12. This is a wonderful opportunity for children to explore craft, learn a variety of techniques, and make new...
Sing for Joy Vocal Ensemble and Piano StudioBrookline
Sing for Joy is a Brookline based chorus for children serving different age groups, in both English and Russian. The chorus is a non-audition community music program, featuring small-group vocal and ear training instr...
The Makery - MassachusettsBrookline
The Makery's after school program features a rich interdisciplinary curriculum of 10-week class options. Professional instructors guide students in art-tech, project and problem-based learning while maintaining a fun ...
RealVoices ChorusBurlington
RealVoices Chorus, at The Real School of Music in Burlington, is a choral ensemble offering for students in grades 3-12 and ALL levels of singing experience! RealVoices Chorus is an excellent opportunity for home scho...
Cambridge Youth GamelanCambridge
The Cambridge Youth Gamelan (Gamelan Anak Tika) aims to inspire, engage with, and educate youth about traditional gamelan music and dance of Bali, Indonesia. Classes meet weekly at the MIT Museum (265 Massachusetts Av...
Harvard Museum of Natural HistoryCambridge, MA
The Harvard Museum of Natural History offers entertaining and educational special events for visitors of all ages. A variety of weekend, summer, and weekday courses are available for kids and families at the museum.
The Concord Conservatory of MusicConcord
The Concord Conservatory of Music is a non-profit school serving Concord and surrounding communities. CCM strives to provide comprehensive, high quality music instruction, to grow a community of music lovers, and to m...
Boston School of Music ArtsDorchester
Community-oriented private music school in Dorchester, MA, near Milton, MA and Mattapan borders. Offering private music lessons & group music classes to Children ages 2 1/2 and up, & adults - all ages & le...
Art classes at Toad Hallow studioFitchburg
A certified Art teacher, looking to transition to teaching homeschooled students and parents who are interested. Instructor has ever 20 years of experience as a working artist and art teacher. Offering many types of c...
Sol Music SchoolGreater Boston
Sol Music School provides piano lessons at home for all ages and all different levels. More than 20 years of teaching experience! Lessons can be taught in English and in French.
Boston International Kids Film Festival Filmmaking ClassesGreater Boston area
In this class, students can bring their creative ideas to fruition in a fun, collaborative and exciting environment. Students will learn skills in scriptwriting, storyboard sketching, improvisation and camera skills. ...
South Shore YMCAHanover
Classes offered in Visual Art, Music, Theatre, and Dance. Custom designed classes available with a minimum enrollment of 6 students. Open to all ages and abilities. Classes taught by faculty selected by the Director a...
Shoestrings Studio - Dance ClassesHanover
Shoestrings Studio provides high-quality dance instruction to students ages 2-18, encouraging each student to develop a passion for dance in a fun, supportive environment. By treating each student as an individual, we...
Music Lessons with Ian Taker-WalshHaverhill MA
Music Lessons! Instruments include Piano, Guitar, Bass, Banjo, Ukulele, Mandolin. Fields of study include Reading, Performance, Music Theory, Ear Training, Songwriting, Instrumental Composition, Arranging, Audio Engin...
Merrimack Repertory TheatreLowell
Merrimack Repertory Theatre Student Matinees provide many students with their first exposure to professional theatre. It gives them the opportunity to experience literature in a different way, often resulting in a dee...
LB Music SchoolMedford
Offers instrument lessons in piano, violin, guitar, bass, voice, ukulele and drums. Instruction to students ages 6 and up.
Always Be Dancing Expressive Arts: Yoga & Flamenco for Every/BodyNatick
Programs are available for grades K-12; college level; corporate events; senior living facilities and private hire. All programs are inclusive and can be adapted as needed for those with special needs including physic...
Private voice and beginning piano lessons with Jessica PetrusNatick
Private voice and/or beginning piano lessons offered to students in teacher's home studio in Natick, MA. Vocal repertoire includes a large range of styles (classical, musical theatre, pop, folk, etc), with a focus on ...
ZDR Performing Arts Studio: Piano and Voice LessonsNewton, Wellesley, Watertown, Dedham, Boston, Waltham, Arlington,
ZDR Performing Arts studio is offering private studio and In-Home lessons available for piano, voice, and songwriting. All skills and age levels are able to join. Students (and parents) will work together with their i...
Assabet Valley Mastersingers Apprentice Singer ProgramNorthborough
The Assabet Valley Mastersingers' Apprentice Singer Program offers an extension of 11th and 12th grade student's choral experience. The Program offers talented and motivated high school choral students the opportunity...
Jack's Guitar GarageNorthborough / North Grafton
Jack's Guitar Garage offers morning classes in Northborough and North Grafton, MA from 10:30 to 2:00. Whether its private instrument lessons, or general music classes, JGG can work with you to provide first-rate music...
Private Harp LessonsNorwood
Lizary offers harp lessons in her studio located in Norwood, Massachusetts for ages eight and up on both lever and pedal harp. Lessons are tailored according to the students' needs and interests. For more information,...
School of Rock NorwoodNorwood
School of Rock offers students of all skill levels age 7-18 a performance-based music curriculum in a fun environment. Weekly private lessons are combined with structured group rehearsals. Students prepare to perform ...
Middle Street School of MusicPlymouth
Middle Street School of Music employs talented musicians to teach instruments, music theory, and other music related skills to students of all ages and skill levels. Students are matched with a teacher and time that f...
Bay Farm Montessori AcademyPlymouth County
Bay Farm Montessori Academy is a learning community where children ages 12 months - 8th grade are inspired to grow with joy, purpose, and compassion. The work of the school is grounded in the firm belief that the Mont...
South Shore Piano SchoolQuincy
Founded in 2019, the South Shore Piano School's mission is to make music a meaningful part of students' lives for the long term. SSPS offers weekly one-on-one and group piano lessons. In addition, SSPS offers student ...
South Shore Children's ChorusQuincy, Braintree, Sharon
The mission of the South Shore Children's Chorus is to provide quality musical education and vocal training to students living in the South Shore communities and beyond. SSCC keeps the development and well-being of ou...
New England Studio of MusicSeekonk
Offers flexible lesson schedules for piano, voice, guitar, strings, brass, and woodwind at two convenient studio locations. Call to find out about a limited number of in-home lesson slots.
School of Rock SeekonkSeekonk
School of Rock offers students of all skill levels age 7-18 a performance-based music curriculum in a fun environment. Weekly private lessons are combined with structured group rehearsals. Students prepare to perform ...
Homeschool Clay Classes at Mudflat Pottery SchoolSomerville
Mudflat offers classes for Home School students in 3 age groups: Clay for Kids (5-7), Kids Pottery (8-11), and Teen Clay (12+). To see a full schedule of classes please visit www.mudflat.org. Mudflat offers a 10% disc...
Greater Boston Stage CompanyStoneham
This season we are offering student matinee performances to the following productions! Little Women: The Broadway Musical, Disney's Newsies Jr., SpongeBob SquarePants The Musical, Fun Home, Boulevard of Bold Dreams, J...
The Music RoomTewksbury
The Music Room offers private music lessons for all ages. Lessons are for all levels of singing and beginner to intermediate piano. Lessons are tailored towards each student's individual goals and needs. Optional stud...
School of Rock Boston WatertownWatertown
School of Rock offers students of all skill levels age 7-18 a performance-based music curriculum in a fun environment. Weekly private lessons are combined with structured group rehearsals. Students prepare to perform ...
Matt Hanna Piano and Guitar TeacherWatertown
Matt Hanna is a Watertown musician and teacher that provides weekday in-home morning and afternoon performances and lessons for kids (and their adults!) of all ages. Instruments and skills taught include piano, guitar...
Private Harp Lessons with Krysten KechesWellesley
Krysten teaches students of all ages and levels at her private studio in Wellesley, Massachusetts. She specializes in classical pedal and lever harp instruction and strives to share her love of music in a warm and enc...
Go Go Allegro School of MusicWeston
Go Go Allegro is a traveling music school offering private music lessons to students of all ages and levels in the comfort of their own homes, or Weston studio, with highly-trained teachers. We believe all students sh...
Stage Music CenterWinchester
Our music school in Winchester MA aspires to bring the best in music education to all ages and levels. We offer piano, violin, guitar, voice - singing, flute lessons and much more. We provide in-person and remote live...
Waldron's Studio 88 Home School Co-OpWindham
Waldron's Studio 88 has partnered with local home school families to create a fun and exciting Homeschool Co-op based in Music and Arts! A variety of classes are led by professional teachers as well as parents and inc...
Worcester Children's ChorusWorcester/Central MA
Worcester Children's Chorus provides professional-level choral singing instruction and an enriching program for each child. Singers will learn a range of vocal, movement and music literacy skills in a group choral set...
Massachusetts Homeschool Sports Programs
Attleboro YMCAAttleboro
The Attleboro YMCA is excited to announce that we are now offering swim lessons, open swim, and PE time at the downtown YMCA for homeschool groups. If you are interested in finding out more informa... [Read more...]
Boston Fencing ClubBoston
Boston Fencing Club is a non-profit 501(c)(3) organization, tracing its roots back to 1858. The Olympic sport of fencing is a great for children to learn, developing co-ordination, skills and tacti... [Read more...]
Rock Spot Climbing of BostonBoston
Rock Spot Climbing is offering an 8-session, bi-weekly home school program starting fall 2018 at the South Boston location. Students will have 8, 1-hour long sessions facilitated by a dedicated ins... [Read more...]
Blue Hills Ski AreaBoston
Blue Hills Ski Area is within distance to Boston, located in Canton MA. The ski area is a great spot to have lessons, join a program, or buy a snow pass to enjoy the day. Skiing and snowboarding ar... [Read more...]
Old Colony YMCABrockton
We would love to engage folks within the Greater Brockton area as we do have a downtown Brockton Youth center where the pool and gym is available during the day. We would love to expand partnership... [Read more...]
Gymnastics Academy of BostonCambridge
Gymnastic Academy of Boston – Cambridge (GABC) is the leader in providing gymnastics and gymnastic-related activities to all ages and levels in a fun, clean, safe, and high-energy environment.  We ... [Read more...]
Homeschool Team at Central Rock WarwickCranston, Warwick, Providence
This Homeschool Team runs more free form than other team programs at CRG Warwick in an effort to engage those in a non-traditional schooling atmosphere. The Head Coach, Chris Zimmerman, along with ... [Read more...]
Girls on the Run Greater BostonEssex, Middlesex, Norfolk, Plymouth, and Suffolk counties
At Girls on the Run, we inspire ALL girls to build confidence and make intentional decisions, while fostering care and compassion for self and others. Trained coaches use physical activity and dyna... [Read more...]
Premier Sport TaekwondoGrafton
Premier Sport Taekwondo is a martial arts school in Grafton, MA that offers classes for a variety of groups. The Little Tigers program is designed specifically for 4-5 year olds to work on their ba... [Read more...]
Kartwheel Kids Active Strength ClassHopkinton
Kartwheel Kids offers active strength classes several days of the weeks with times starting at as early as 2:00pm. Classes consist of working balance, coordination, strengthening cross-sectional mu... [Read more...]
Open Gyms at North East RhythmicsMiddleton
Every Saturday morning from 10am-open gym, free class to try. Girls and boys ages 2.5 and up. Fun activities accompanied by music with the use of props like ball, ribbon, hoop, rope, and scarves. G... [Read more...]
Goldfish Swim School MilfordMilford
Goldfish Swim School is proud to provide state-of-the-art aquatic facilities that are dedicated to indoor swim classes and programs for children, ages 4 months and up. From Jump Start Clinics to ou... [Read more...]
Goldfish Swim School of MilfordMilford
Located in Milford, Massachusetts, Goldfish Swim School is a premier learn-to-swim facility dedicated to teaching children starting at 4 months how to swim and be safer in and around the water. Wit... [Read more...]
Exxcel Gymnastics and ClimbingNewton
Exxcel is the perfect place to have your next Fit Trip. Opportunities are available for 1 to 2 hours for any organization looking for fun & fitness to challenge any child's strength and creativ... [Read more...]
Exxcel Gymnastics and Climbing classesNewton
Homeschoolers attend a beginner-level class that meets once a week for one hour. It is designed to give students a well-rounded introduction to gymnastics and/or rock climbing that incorporates saf... [Read more...]
Energy Fitness and GymnasticsNewton Highlands
Delivers high-quality gymnastics and recreational programs that foster a passion for physical fitness in people of all ages. [Read more...]
Windrush farm Therapeutic ridingNorth Andover
Group riding lessons for children ages 6-21 [Read more...]
Altitude Trampoline Park Home School Friday Fun-DaysNorth Attleboro
Altitude Trampoline Park in North Attleboro is all about the attractions and no distractions. A park that focuses on fitness and fun! Providing the home school community a way to be able to enjoy t... [Read more...]
Hub ParkourNorton
HUB Parkour Training Center is a Movement Academy based in Norton, MA specializing in group classes, school vacation camps, birthday parties and parkour events. Join us at HUB during the afternoons... [Read more...]
Gymnastic Academy of Boston NorwoodNorwood
Gymnastic Academy of Boston Norwood offers exciting OPEN GYMS, field trip opportunities and classes to children, ages one through high school, looking to learn gymnastics. GAB is a great place for ... [Read more...]
Central Rock Gym RandolphRandolph
The Homeschool Team runs more free form than the other team programs in an effort to engage those in a non-traditional schooling atmosphere. The Youth Programs Director, Cody Theall, along with the... [Read more...]
Premier Martial Arts - RandolphRandolph
Premier Martial Arts Randolph is a locally, family-owned martial arts school located in the Shaw's Shopping Center, across from Randolph High School. The school specializes in self-defense, charact... [Read more...]
Body Mind Systems Martial Arts SchoolStoneham
Body Mind Systems teaches martial arts principles and movements to build confidence and leadership skills through incremental physical and mental challenges. Our martial arts training has improved ... [Read more...]
Marine Science Experiential LearningStonington
New England Science & Sailing (NESS) is based in Stonington, CT, and runs on-the-water programs with homeschool families across New England. NESS's marine science and adventure sports programs ... [Read more...]
North Gate Farm Horse Back Riding LessonsSudbury
Horse riding lessons and other horse related activities available on a year round basis. [Read more...]
Boys & Girls Clubs of Metro South - Ice SkatingTaunton
Come Ice Skate with us at the Camp Riverside rink. We offer Friday evening, Saturday, and Sunday hours. We are open to hosting groups during the weekdays as well. Skate Session includes an hour of ... [Read more...]
One Stop FunWestford
At One Stop Fun, the main goal is to provide a fun and active environment for children with activities that boost self-esteem and encourage fitness. Amenities include an outdoor Olympic-size pool, ... [Read more...]
Go to...