Jump to: Homeschool Arts | Homeschool Sports
In addition to the opportunity to get out of the house and socialize, homeschool sports and arts programs can offer long-term benefits by developing characteristics like leadership, self-confidence, perserverance, and self-esteem. Many organizations and businesses have opportunities specifically for homeschoolers, while others invite homeschoolers to participate in their regular programs.
Not sure how to choose activity/activities for your children? Read how Rebecca narrows down the choice of extra-curricular activities.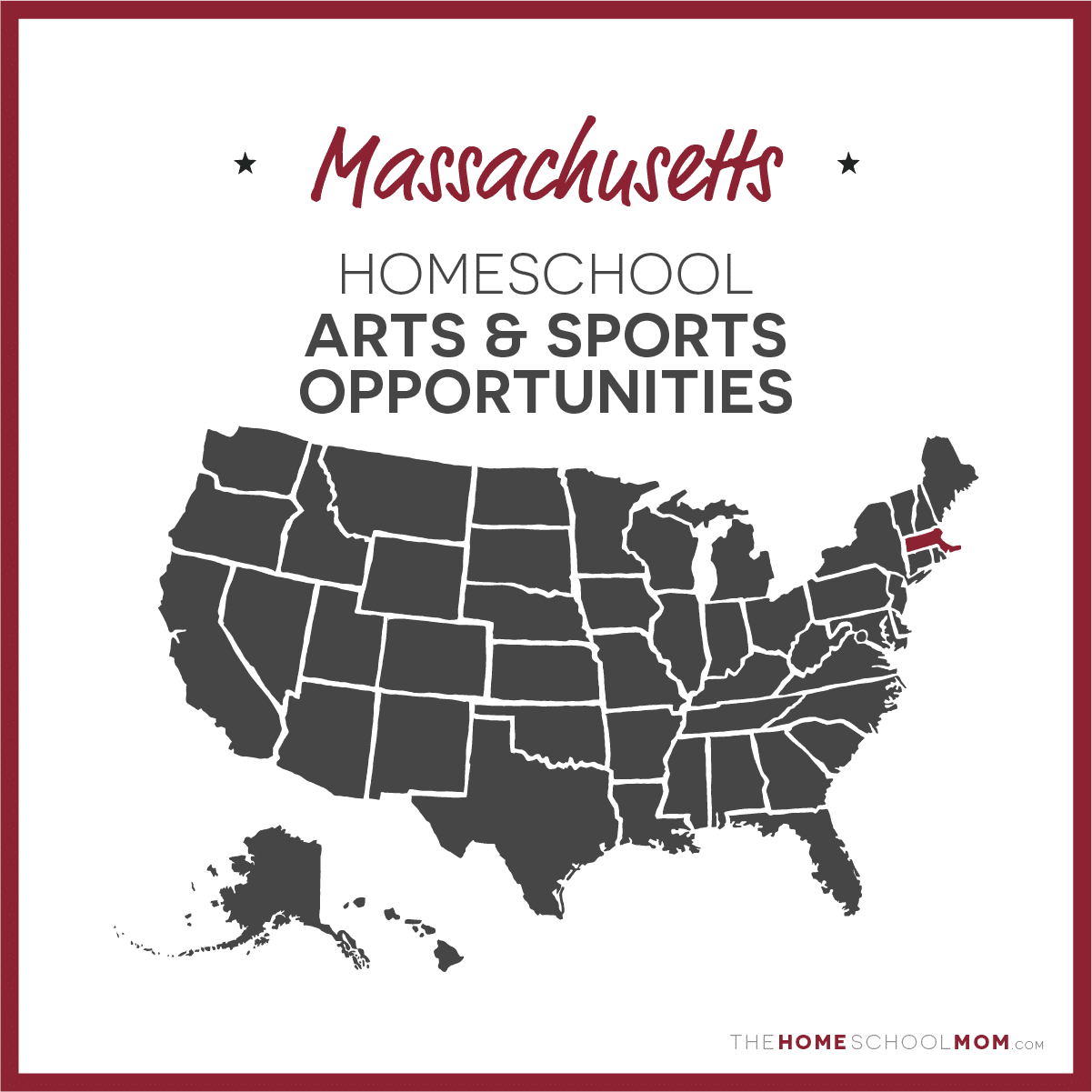 Submit a Local Resource
Our listing of Massachusetts list of homeschool arts and sports programs is ordered alphabetically by city, with arts in the first section and sports in the second section. If you would like to submit an Massachusetts arts or sports program, you may do so using the red button above.
Massachusetts Homeschool Arts Programs
ActonArt

Acton

ActonArt aims to provide the highest quality drawing and fine art process and technique instruction to children, teens and adults. Daytime classes are offered year-round to accommodate homeschool schedules. ActonArt believes that everyone can benefit by learning foundational drawing skills whether they intend to use them in their careers or as a means of personal self-expression or enjoyment.
Stained Glass Mosaics

Amesbury

Enjoy the Magic of Glass while discovering Stained Glass Mosaics! Each student will have the opportunity to create a unique piece of art as they learn the ancient art of Stained Glass Mosaics. Project choices include sun catchers, tile trivets, planter pots, wall plaques, mirrors and garden stepping stones. No experience is necessary. The activity is safe and fun for all age groups. Currently, workshops are being offered via Zoom and will resume in studio when safe to do so. These workshops are individually scheduled and dates and times are flexible. It is my hope that the homeschool family will find this shared activity to be a wonderful opportunity to participate in an artistic experience with peers. Projects are also offered as Make-At-Home Kits. Each kit includes everything needed to successfully complete the chosen project; plenty of multi-colored stained glass pieces which offer infinite color combinations and patterns, glue, popsicle stick, grout, and easy to follow written instructions. To schedule a Zoom workshop or to order a Make-At-Home Kit please contact Leslie@waysofcolor.com
House Call Guitar Lessons

Arlington

David Hinckley offers house call guitar lessons in the communities north of Boston including Arlington, Bedford, Lexington, and Winchester. David is a graduate of Berklee College of Music with over 20 years of experience as a teacher and professional musician.
Morningside Music Studio

Arlington

Morningside Music Studio is a small community music school in Arlington Center in the Regent Theater building that offers a wide variety of ensembles and private lessons on different instruments.
LARP Adventure Program

Arlington

LARP Adventure Program is an interactive and improvisational theater program in which participants create a storyline featuring a heroic character. Through acting out the plot of the story, characters evolve and grow. LARP stands for Live Action Roleplay and our classes are a combination of theater, martial arts, and costume/prop/stage design. We combine these arts with critical thinking, creative problem solving, and community leadership skills. Our services include afternoon and evening programming for youths aged 10-18, weekend full-immersion events throughout the year for youth and adults, day camps during school vacations and summer break, and multiple weeks of our fantastic residential camp experiences.
Arlington Center for the Arts

Arlington

Arlington Center for the Arts' "Interdisciplinary Alternative Education for the Arts" series grants children who are home schooled, in co-ops, or other alternative education programs to engage in the arts and socialize with those in their community. Our curriculum comes from established teaching artists, arts educators, and STEAM (science, technology, engineering, art and math) educators whose teaching philosophies include social/emotional growth into their interdisciplinary lessons. Come learn, create, and celebrate community with us!
DeeAnne ART

Attleboro, North Attleboro, Norton, Seekonk, Mansfield

Art lessons for students from 6-18 years old. Private lessons for students since 2012. Accepting new homeschool students for lessons during the day on Mondays or Tuesdays. Lessons can be started at any level-beginner or more advanced. Lessons can be in drawing, watercolor painting, pastels, general art or you can work with me to develop a program that interests your child. The cost is $35 for a 1 hour lesson. Private art lessons are in your home and all materials are provided. Lessons are usually every other week. An adult must be in the home during lesson times. If you are interested, please contact Debbie Banna at 508-226-313 or email at deeanneart@yahoo.com.
Barbieri Voice Studio

Attleboro, North Attleboro, Plainville,Norton, Mansfield, Foxboro, Sharon, Pawtucket, Providence

Barbieri Voice Studio offers voice lessons for students ages 10-up. The focus is on learning to sing in a natural, healthy manner. Lessons can be 30 or 60 minutes. 30 minute lessons are recommended for beginners, regardless of age. Students will learn a Classical vocal technique, and Broadway belting style (when appropriate). We sing Classical and Musical Theatre songs to bolster our technique and musical knowledge. Plus, the singer will have music appropriate to choir and school musical auditions. Recitals are offered every Spring, and students often perform at assisted living communities. Theory classes (how to read music) are also available (limit 4/class).
ArtSpark School of Visual Art

Bedford

ArtSpark is a school for learning the fundamentals of drawing and is based on the belief that making art helps us solve problems and learn from our environments. Small class instruction for students (ages 6 +) will build life-long drawing skills for those who want to learn to see and think creatively. Drawing skills can be learned and provide students with the ability to express themselves creatively through skill building and observational drawing. By emphasizing the fundamentals (contours and edges, proportion, light and shadow, composition, perspective, etc.) students will become confident in their creative expression and thinking. Teaching students to see and express themselves through drawing injects a sense of play and creative problem solving in STEM. ArtSpark is a new studio in Bedford, MA and offers flexible scheduling for homeschooled students. Classes can be arranged for groups of 3 or more students by contacting the director through info@artsparkschool.com. ArtSpark provides all the high quality art supplies needed and will customize your group's classes to meet your needs.
Powers Music School

Belmont

Powers Music School is a community-based music school in Belmont offering early childhood and group classes, private lessons, ensembles, orchestra, summer programs, performance opportunities, and free community concerts to the greater Boston area. Classes and lessons help students learn critical thinking and fine motor skills, build self-confidence, work on a team, devote themselves to their passion, excel in school and in life, laugh, and become the people they are meant to be. We teach students of all ages, abilities, and interests, and would love to help you achieve your musical and personal goals in a supportive environment.
Aleksandra Lvin Piano Studio

Belmont

Private Piano Lessons, Piano Duo classes, and Chamber Music coaching in Belmont, MA. Classes are offered to students of all ages and levels. At the studio students learn classical repertoire, music theory, technique, and performance preparation, and have year-round opportunities to participate in small, private recitals, as well as regional and national festivals, and competitions. Collaboration with other students is highly encouraged so that students make friends and find joy in making music together. Private lessons are 30, 45, and 60 minutes in length. Morning Piano Duo and Chamber Music class is 60 minutes.
Private Piano Lessons with Stephanie A. Emberley

Beverly

Give your children the gift of music. Piano lessons offered in Beverly throughout the day from a classical concert pianist. Teaching both beginners and advanced students of all ages and ability levels.
Diablo Glass School

Boston

Glass classes
Deborah Apple - Private lessons for violin, viola, and cello

Boston

Suzuki and traditional instruction for all ages and abilities. Studio of over 30 students in Brookline, Brighton, Newton, Lexington, and Wayland. The students learn musicianship, theory, and technical facility as well as leadership, perseverance, and commitment through semi-annual studio recitals.

Deborah Apple - Private lessons for violin, viola, and cello details
Suzuki Boston Music School

Boston

Suzuki Boston Music School is a violin music school that concentrates on teaching the student and parent within the lesson to ensure successful practice in the home. The primary focus is to aurally train the student through the use of CD and physical instruction. Suzuki Boston also focuses on musical theory and ensemble classes with students. At the end of each term there is a solo and ensemble recital in which the students recite the pieces performed in the lessons and ensemble. Suzuki Method is a fun way to immerse your child in music while developing their musical abilities aurally visually and technically! Suzuki Music School strives to achieve all rounded musicians!
Ine't Productions Inc.

Boston

This music production company has been providing piano, voice, drums and bass lessons for over 20 years. Instructors are from The Berklee College of Music. Currently offering private lessons, group lessons via internet, and through the studio in Boston Ma. or at the Roslindale Community Center. Students will learn not only how to sightread but how to play chords, play by ear and write songs if interested. Please call or email with any questions. Studio-(617)296-3282 Website: www.inetproductionsinc.net Email: inetproductionsinc@gmail.com.
Wheelock Family Theatre

Boston

Bring your students to a student matinee of one of Wheelock Family Theatre's professional, award winning productions at a low rate of $12/ticket! Experience live theatre while giving your student the learning experience of a lifetime!
The Sparrow Project

Boston

The Sparrow is a small bird with mighty purpose. It symbolizes community and connection. The Sparrow Project is a space where we can work on building greater connection to ourselves so we can ultimately reconnect to our own story and the story of others. Bringing change one chapter at a time - through individual, family, or group learning sessions we harness the power of your story to help you rediscover your wings. The Sparrow Project offers a plethora of opportunities: Youth drama classes, Improv, Teen Leadership for Young Women, Monthly Workshops for Women, and create your own! Visit the website for programming details.
Fusion Academy - Boston

Boston

This resource provides academic support and social opportunities for the homeschool community. Tutoring/mentoring sessions are available 12-months out of the year from 7:30am - 7:30pm. Families may access this resource virtually or in-person at our four campus locations around the Boston area. Tutoring offerings include core subject support, art/music/dance opportunities and executive function coaching. All sessions are taught one-to-one unless request from families for group tutor/mentor sessions.
Yasmin Music Homeschool music classes/lessons

Boston, Cambridge, Somerville, Arlington, Belmont, watertown, Brookline, Newton, Wellesley

Offering piano, composition, musicianship and general music lessons in Cambridge and the surrounding towns and in Wellesley/Newton. Learning process is created with the student, materials chosen together following their interests regarding methods of learning and musical styles. Lessons take place at your home, in individual setting or groups of up to 5 students; 30/45/60 minutes long lesson options. Available days for Cambridge area: Monday-Tuesday between 9:30-1:00, for Wellesley/Newton Thursday 10:00-1:00 or Friday 10:00-12:30. All ages and all levels welcome! Teacher is an experiences pianist, composer and music instructor. Teaches also at New England Conservatory Preparatory School and Dana Hall school of music. If you are interested, please email Yasmin.tal@necmusic.edu
In-Sight Photography Project

Brattleboro, VT

The In-Sight Photography Project and its Exposures Cross-Cultural Youth Arts Program empower youth, through photography, to find their own creative voices and to communicate their unique personal visions. Classes in photographic arts are provided regardless of ability to pay. The curriculum is guided by understanding and respect for individuals, communities, and cultures. Ages 11-18.
Southeastern Massachusetts Arts Collaborative

Bristol County

During the academic year, SMARTS offers many student programs that encourage young people to discover their talents. Offering classes in creative writing, dance, drama, music, visual arts, and computer arts
SMARTS Collaborative

Bristol County

Recognized across the Commonwealth since 1986, the Southeastern Massachusetts Arts Collaborative, better known as SMARTS, is a year round non-profit organization dedicated to the arts and creativity. This dynamic multifaceted arts organization provides people of all ages with discipline-based and interdisciplinary training, education and performance experiences in creative writing, dance, drama, film/video, music, vocal, visual arts, and computer arts, under the guidance of some of New England's finest artists. SMARTS offers programs and events for students and community; professional development for teachers and administrators; partnerships and alliances with local, regional, and state arts organizations and universities; and strong advocacy for arts education in our schools.
Fuller Craft Museum

Brockton

Fuller Craft Museum provides art and pottery classes designed specifically for homeschool artists ages 5 – 12. This is a wonderful opportunity for children to explore craft, learn a variety of techniques, and make new friends. In these comprehensive courses students will learn age-appropriate techniques in a variety of media and will be encouraged in directed projects as well as in exploring their own ideas. All Supplies are included. Five week sessions. Please contact the Education department for more information.
Sing for Joy Vocal Ensemble and Piano Studio

Brookline

Sing for Joy is a Brookline based chorus for children serving different age groups, in both English and Russian. The chorus is a non-audition community music program, featuring small-group vocal and ear training instruction, percussion instruments and movement to music. The are at least three performances throughout the school year: a Holiday Concert, a Family Concert and a musical play. The goal is to instill love and appreciation of music and make music a joyful experience. For schedule and fees please visit Brooklinesings.com. The schedule may be adjusted by request of prospective students.
The Makery - Massachusetts

Brookline

The Makery's after school program features a rich interdisciplinary curriculum of 10-week class options. Professional instructors guide students in art-tech, project and problem-based learning while maintaining a fun social environment for exploration, discovery, and hands-on making.
RealVoices Chorus

Burlington

RealVoices Chorus, at The Real School of Music in Burlington, is a choral ensemble offering for students in grades 3-12 and ALL levels of singing experience! RealVoices Chorus is an excellent opportunity for home school students to sing a fun and varied repertoire of music with their peers, learn about musical concepts and singing technique, and make great friends! Rehearsals are held on Thursdays. Please contact info.burlington@therealschoolofmusic.com
Cambridge Youth Gamelan

Cambridge

The Cambridge Youth Gamelan (Gamelan Anak Tika) aims to inspire, engage with, and educate youth about traditional gamelan music and dance of Bali, Indonesia. Classes meet weekly at the MIT Museum (265 Massachusetts Avenue, Cambridge, MA) on Wednesdays from 5:30-7:00pm and are open to any student in Grades 3 - 9 regardless of prior musical experience. Multiple sessions are run each year including a week-long summer workshop series. At the end of each session, students have the opportunity to perform at Kresge Auditorium alongside MIT's gamelan ensemble, Gamelan Galak Tika.
Cambridge Youth Gamelan

Cambridge

The Cambridge Youth Gamelan teaches youth about traditional gamelan music and dance of Bali, Indonesia through hands-on learning experiences delivered by experienced instructors and guest artists. This group is open to students in Grades 2 - 12 regardless of prior musical experience. Financial aid and flexible payment options available to all families.
Harvard Museum of Natural History

Cambridge, MA

The Harvard Museum of Natural History offers entertaining and educational special events for visitors of all ages. A variety of weekend, summer, and weekday courses are available for kids and families at the museum.
The Concord Conservatory of Music

Concord

The Concord Conservatory of Music is a non-profit school serving Concord and surrounding communities. CCM strives to provide comprehensive, high quality music instruction, to grow a community of music lovers, and to make music accessible to everyone. CCM offers a full music curriculum that includes private instruction, group classes, ensembles, chorus, master classes, and performance workshops.
Boston School of Music Arts

Dorchester

Community-oriented private music school in Dorchester, MA, near Milton, MA and Mattapan borders. Offering private music lessons & group music classes to Children ages 2 1/2 and up, & adults - all ages & levels, in: Piano, Guitar, Voice, Violin, Drums, Bass, Trumpet, Saxophone, Cello, Viola, Clarinet, Flute, Banjo, Trombone, Accordion, Mandolin, Bassoon, and more. All styles of music, including, Classical, Rock, Soul, Jazz, R&B, Gospel, Pop, and more. Bands, Ensembles, Choir, Performance, and Songwriting. Children's Summer Music Programs, Practice and theory labs, and many Performance Opportunities.
Art classes at Toad Hallow studio

Fitchburg

A certified Art teacher, looking to transition to teaching homeschooled students and parents who are interested. Instructor has ever 20 years of experience as a working artist and art teacher. Offering many types of classes in different media such as puppet making, sculpture, polymer clay, printmaking, drawing, painting, collage and more.
Sol Music School

Greater Boston

Sol Music School provides piano lessons at home for all ages and all different levels. More than 20 years of teaching experience! Lessons can be taught in English and in French.
Boston International Kids Film Festival Filmmaking Classes

Greater Boston area

In this class, students can bring their creative ideas to fruition in a fun, collaborative and exciting environment. Students will learn skills in scriptwriting, storyboard sketching, improvisation and camera skills. The group will write, shoot and edit a film in a genre of their choosing. Students will learn to edit their films using the professional editing software, Adobe Premiere. All final projects are eligible for submission into an upcoming Boston International Kids Film Festival event!

Boston International Kids Film Festival Filmmaking Classes details
South Shore YMCA

Hanover

Classes offered in Visual Art, Music, Theatre, and Dance. Custom designed classes available with a minimum enrollment of 6 students. Open to all ages and abilities. Classes taught by faculty selected by the Director and Assistant Director of Arts and Education based on education, experience, and classroom observation. Classes are open to members of the South Shore YMCA and Non-Members.
Shoestrings Studio - Dance Classes

Hanover

Shoestrings Studio provides high-quality dance instruction to students ages 2-18, encouraging each student to develop a passion for dance in a fun, supportive environment. By treating each student as an individual, we help students emphasize their strengths and reach their own specific goals, whether they want to compete for a top award or just dance for exercise and enjoyment. We are now offering a Jazz/Funk dance class during school hours for Home Schooled Children! Tuesdays 10:15am-11am (begins 9/10/19) Grades 3 - 8 Monthly tuition is only $25!
Music Lessons with Ian Taker-Walsh

Haverhill MA

Music Lessons! Instruments include Piano, Guitar, Bass, Banjo, Ukulele, Mandolin. Fields of study include Reading, Performance, Music Theory, Ear Training, Songwriting, Instrumental Composition, Arranging, Audio Engineering, Mixing and Mastering.
Your Tempo Studio

Leominster

This music teacher provides private, tailored piano lessons at a home studio where each student is given age appropriate repertoire and activities. Your Tempo Studio has flexible hours during morning, afternoon and early evenings.
Merrimack Repertory Theatre

Lowell

Merrimack Repertory Theatre Student Matinees provide many students with their first exposure to professional theatre. It gives them the opportunity to experience literature in a different way, often resulting in a deeper connection to the story and characters. Attending MRT meets many MCAS and NHCF requirements. Student Matinees start at 10:30 a.m. Teachers are provided with copies of the script upon request in advance. For select productions there are PlayGuides, which contain background material. See website for available dates. Welcoming homeschool groups!
LB Music School

Medford

Offers instrument lessons in piano, violin, guitar, bass, voice, ukulele and drums. Instruction to students ages 6 and up.
Always Be Dancing Expressive Arts: Yoga & Flamenco for Every/Body

Natick

Programs are available for grades K-12; college level; corporate events; senior living facilities and private hire. All programs are inclusive and can be adapted as needed for those with special needs including physical disabilities, medical conditions, intellectual difficulties, or emotional problems, including deafness, blindness, dyslexia, learning difficulties, and behavioral problems.

Always Be Dancing Expressive Arts: Yoga & Flamenco for Every/Body details
Private voice and beginning piano lessons with Jessica Petrus

Natick

Private voice and/or beginning piano lessons offered to students in teacher's home studio in Natick, MA. Vocal repertoire includes a large range of styles (classical, musical theatre, pop, folk, etc), with a focus on developing healthy, flexible technique that can be applied to any genre. Lessons are taught in teacher's home and are offered in 30, 45, and 60 minute sessions.  Online lessons available as well.

Private voice and beginning piano lessons with Jessica Petrus details
Sound & Spirit

Natick

Sound & Spirit is a welcoming intergenerational choir, based out of Metrowest Boston, that has entertained audiences since 2012. Our kids, starting at age 8, and teens (grades 7-12), meet on Wednesdays from 5:00-6:30 weekly to rehearse in Natick. Our adult, kid, and teen choirs all perform together both in the fall and spring complete with a band for accompaniment. We sing all genres of music and no singing or performing experience is necessary.
ZDR Performing Arts Studio: Piano and Voice Lessons

Newton, Wellesley, Watertown, Dedham, Boston, Waltham, Arlington,

ZDR Performing Arts studio is offering private studio and In-Home lessons available for piano, voice, and songwriting. All skills and age levels are able to join. Students (and parents) will work together with their instructor to establish musical goals and learn new repertoire. Each student will have an individualized curriculum based on their goals, age, and choice of genre and style to study. Students will also have opportunities to perform their pieces if they so wish!
Assabet Valley Mastersingers Apprentice Singer Program

Northborough

The Assabet Valley Mastersingers' Apprentice Singer Program offers an extension of 11th and 12th grade student's choral experience. The Program offers talented and motivated high school choral students the opportunity to prepare and perform classic masterworks in concert with mature vocalists, professional soloists and instrumentalists within our community. The AVM vocalist community is a welcoming, multi-generational ensemble that is congenial and collaborative, and values high artistic standards. Rehearsals are generally Monday evenings 7:30 - 9:45 p.m., September to May. The AVM Apprentice Singer Program assigns no dues and music is provided at no cost to the Apprentice Singer. Apprentice Singers may perform with AVM for the full 2019 - 2020 concert season, or perform selected concerts. Apprentice Vocalist openings are limited. If interested, please visit the AVM website, print and complete the application form.

Assabet Valley Mastersingers Apprentice Singer Program details
Jack's Guitar Garage

Northborough / North Grafton

Jack's Guitar Garage offers morning classes in Northborough and North Grafton, MA from 10:30 to 2:00. Whether its private instrument lessons, or general music classes, JGG can work with you to provide first-rate music education to enrich your homeschool curriculum. Contact either location for available times, and/or questions with what JGG can offer!
Private Harp Lessons

Norwood

Lizary offers harp lessons in her studio located in Norwood, Massachusetts for ages eight and up on both lever and pedal harp. Lessons are tailored according to the students' needs and interests. For more information, or to arrange a free trial lesson, please visit her website at http://www.lizary.net.
School of Rock Norwood

Norwood

School of Rock offers students of all skill levels age 7-18 a performance-based music curriculum in a fun environment. Weekly private lessons are combined with structured group rehearsals. Students prepare to perform live on stage. Areas of instruction range from guitar lessons to bass, vocals, keys and drums lessons. Also offers summer camps, monthly events, workshops, clinics, guest professors and additional performance opportunities through the local House Band and national All Stars programs. Location: 1250 Washington Street. Norwood, Massachusetts 02062
Middle Street School of Music

Plymouth

Middle Street School of Music employs talented musicians to teach instruments, music theory, and other music related skills to students of all ages and skill levels. Students are matched with a teacher and time that fits your schedule. All of Middle Street's music teachers have spent years of intense study, perfecting skills in their chosen field. They are prepared to take on the unique challenges presented with teaching both beginners and professional musicians.
Bay Farm Montessori Academy

Plymouth County

Bay Farm Montessori Academy is a learning community where children ages 12 months - 8th grade are inspired to grow with joy, purpose, and compassion. The work of the school is grounded in the firm belief that the Montessori educational model provides a proven and effective foundation for learning. The Montessori method concentrates on the specific developmental needs of the student and Dr. Montessori believed there is no cookie-cutter approach to educating a child. Through her research, she developed a new type of classroom, one that challenged students as individuals in a prepared environment. Bay Farm operates under the Montessori theory of giving each child respect as an individual in order to ignite their passion for learning. We provide a nurturing environment for students so that they can develop the skills and sense of responsibility to be confident learners, eager to understand themselves and their place in the world. Learn more at https://www.bfarm.org/tour
South Shore Piano School

Quincy

Founded in 2019, the South Shore Piano School's mission is to make music a meaningful part of students' lives for the long term. SSPS offers weekly one-on-one and group piano lessons. In addition, SSPS offers student recitals twice a month, and monthly workshops on a variety of topics for all students. By taking a skill-building approach to instruction, students learn to make music for life.
South Shore Children's Chorus

Quincy, Braintree, Sharon

The mission of the South Shore Children's Chorus is to provide quality musical education and vocal training to students living in the South Shore communities and beyond. SSCC keeps the development and well-being of our students as our top priority, and aims to create a safe space and loving community for choristers to learn, to grow, and to find their own voice. SSCC welcomes singers grade Kindergarten - 12th grade who are dedicated, responsible, and interested in receiving a well-rounded choral education. The SSCC is passionate about offering the experience of being a chorister to any student, regardless of financial situation. Year round long classes at two sites - one in Sharon and one in Quincy. No auditon required!
New England Studio of Music

Seekonk

Offers flexible lesson schedules for piano, voice, guitar, strings, brass, and woodwind at two convenient studio locations. Call to find out about a limited number of in-home lesson slots.
School of Rock Seekonk

Seekonk

School of Rock offers students of all skill levels age 7-18 a performance-based music curriculum in a fun environment. Weekly private lessons are combined with structured group rehearsals. Students prepare to perform live on stage. Areas of instruction range from guitar lessons to bass, vocals, keys and drums lessons. Also offers summer camps, monthly events, workshops, clinics, guest professors and additional performance opportunities through the local House Band and national All Stars programs. Location: 1295 Fall River Avenue. Seekonk, Massachusetts 02771
Homeschool Clay Classes at Mudflat Pottery School

Somerville

Mudflat offers classes for Home School students in 3 age groups: Clay for Kids (5-7), Kids Pottery (8-11), and Teen Clay (12+). To see a full schedule of classes please visit www.mudflat.org. Mudflat offers a 10% discount off the tuition of a second child of a family when registering for any children's class. For questions please contact by phone at 617-628-0589 or by e-mail at info@mudflat.org
The Music Room

Tewksbury

The Music Room offers private music lessons for all ages. Lessons are for all levels of singing and beginner to intermediate piano. Lessons are tailored towards each student's individual goals and needs. Optional studio recitals and trips are offered periodically throughout the year.
School of Rock Boston Watertown

Watertown

School of Rock offers students of all skill levels age 7-18 a performance-based music curriculum in a fun environment. Weekly private lessons are combined with structured group rehearsals. Students prepare to perform live on stage. Areas of instruction range from guitar lessons to bass, vocals, keys and drums lessons. Also offers summer camps, monthly events, workshops, clinics, guest professors and additional performance opportunities through the local House Band and national All Stars programs. Location: 120 Elm Street Watertown, Massachusetts 02472
Matt Hanna Piano and Guitar Teacher

Watertown

Matt Hanna is a Watertown musician and teacher that provides weekday in-home morning and afternoon performances and lessons for kids (and their adults!) of all ages. Instruments and skills taught include piano, guitar, general music theory, and listening skills. Matt is a Bennington College graduate with over a decade of teaching experience.
Private Harp Lessons with Krysten Keches

Wellesley

Krysten teaches students of all ages and levels at her private studio in Wellesley, Massachusetts. She specializes in classical pedal and lever harp instruction and strives to share her love of music in a warm and encouraging environment. During lessons she focuses on developing strong, fluid technique while encouraging individual creativity. Harvard College (B.A.); Australian National University School of Music (Fulbright Scholarship, Graduate Diploma in Harp Performance); New England Conservatory (M.M. in Harp Performance). Please visit her website, www.krystenkeches.com, for more information.
Go Go Allegro School of Music

Weston

Go Go Allegro is a traveling music school offering private music lessons to students of all ages and levels in the comfort of their own homes, or Weston studio, with highly-trained teachers. We believe all students should be given a solid foundation in music and the inspiration to express themselves artistically. We introduce the students to a wide variety of musical styles and allow them to play music of their choice. We want our students to learn the fundamentals and develop a love for music, and we want them to have fun playing and performing, whatever genre of music they choose to play!
Stage Music Center

Winchester

Our music school in Winchester MA aspires to bring the best in music education to all ages and levels. We offer piano, violin, guitar, voice - singing, flute lessons and much more. We provide in-person and remote live music lessons. Babies and Toddler Music program is available to families.
Waldron's Studio 88 Home School Co-Op

Windham

Waldron's Studio 88 has partnered with local home school families to create a fun and exciting Homeschool Co-op based in Music and Arts! A variety of classes are led by professional teachers as well as parents and include introductory music classes, American Sign Language, drama programs, fiber arts, dying, and more! THE co-op runs sessions in Fall, Winter, and Spring! For more information, please visit the website!
Worcester Children's Chorus

Worcester/Central MA

Worcester Children's Chorus provides professional-level choral singing instruction and an enriching program for each child. Singers will learn a range of vocal, movement and music literacy skills in a group choral setting. The WCC experience begins with a low-key audition and then placement into an age-appropriate ensemble. Weekly rehearsals lead to exciting performance opportunities locally throughout Central MA in venues like Mechanics Hall, Polar Park or Worcester Art Museum. The music education your child or youth will gain is meaningful, serious and fun or as we like to say "serious fun"! WCC educators, staff, children and their families foster an environment that is warm, supportive and safe for all, allowing singers to flourish. WCC's artisitic staff are dedicated professionally-trained musicians and educators devoted to our mission. Each director has a unique ability to make each rehearsal and performance experience fun and educational. They love what they do and are met with the same passion as their students. Auditions to join the choir are offered each spring, fall and mid-season in January. Inquiries are welcome all year long!
Massachusetts Homeschool Sports Programs
Attleboro YMCA

Attleboro

The Attleboro YMCA is excited to announce that we are now offering swim lessons, open swim, and PE time at the downtown YMCA for homeschool groups. If you are interested in finding out more information about these programs or any other programs we offer please call (508)222-7422 if you would like you can also stop by the branch for a tour and more information.
Boston Fencing Club

Boston

Boston Fencing Club is a non-profit 501(c)(3) organization, tracing its roots back to 1858. The Olympic sport of fencing is a great for children to learn, developing co-ordination, skills and tactics along side a workout. A range of classes and summer camps are available starting with beginner classes. Offering a free trial session with no commitment to see if fencing is a good fit for you!
Rock Spot Climbing of Boston

Boston

Rock Spot Climbing is offering an 8-session, bi-weekly home school program starting fall 2018 at the South Boston location. Students will have 8, 1-hour long sessions facilitated by a dedicated instructor. The curriculum will be based on introducing and building climbing and safety skills from week to week, while in a social environment with other homeschooled students. This program can be a supplement to MA homeschool physical education requirements.
Blue Hills Ski Area

Boston

Blue Hills Ski Area is within distance to Boston, located in Canton MA. The ski area is a great spot to have lessons, join a program, or buy a snow pass to enjoy the day. Skiing and snowboarding are both offered, along with private, semi-private and group lessons. They also offer programs where children will stay within the same group for a set amount of weeks and work on improving their skills together as a team. There is a lodge located where children or their families can stay warm near the fire or grab an affordable snack or meal to enjoy.
Montella's Karate Academy

Bristol County

Martial Arts programs for Ages 4 and Up. Programs designed for character development, life skills, physical fitness. Homeschoolers day programs available. Classes are supportive to learners in a fun and engaging manner. Drills enhance agility, focus, and confidence. More information can be found on the website or call 508-493-3471.
Old Colony YMCA

Brockton

We would love to engage folks within the Greater Brockton area as we do have a downtown Brockton Youth center where the pool and gym is available during the day. We would love to expand partnerships to utilize our space from 9:30am-2pm on week days! Contact us for questions!
Gymnastics Academy of Boston

Cambridge

Gymnastic Academy of Boston – Cambridge (GABC) is the leader in providing gymnastics and gymnastic-related activities to all ages and levels in a fun, clean, safe, and high-energy environment.  We are putting together a class just for home schooled children during the day.
Homeschool Team at Central Rock Warwick

Cranston, Warwick, Providence

This Homeschool Team runs more free form than other team programs at CRG Warwick in an effort to engage those in a non-traditional schooling atmosphere. The Head Coach, Chris Zimmerman, along with the help of other event staff offer great climbing advice, technique tips, plenty of games, and activities. Kids 13 or older will learn how to belay; Discretionary training is offered for those under 13 with direct supervision. Parents are encouraged to participate on a weekly basis at no additional charge in order to achieve a greater sense of involvement. The Homeschool Team is offered on Mondays from 10-12pm. Please email Sally Faulkner, sally@centralrockgym.com, with any questions about the program and its current openings. This program is ongoing with no set start or end date.
Girls on the Run Greater Boston

Essex, Middlesex, Norfolk, Plymouth, and Suffolk counties

At Girls on the Run, we inspire ALL girls to build confidence and make intentional decisions, while fostering care and compassion for self and others. Trained coaches use physical activity and dynamic discussions to build social, emotional, and physical skills in every girl while encouraging healthy habits for life. Girls on the Run of Greater Boston is proud to serve Essex, Middlesex, Norfolk, Plymouth, and Suffolk counties.
Premier Sport Taekwondo

Grafton

Premier Sport Taekwondo is a martial arts school in Grafton, MA that offers classes for a variety of groups. The Little Tigers program is designed specifically for 4-5 year olds to work on their balance, coordination, fine & gross motor skills, and also to teach them focus and cooperation in group settings. The kids martial arts program is for children 6-12 years old, offering flexible class schedules throughout the week. Children will learn the aims of Taekwondo such as respect, humility, perseverance, self-control, and integrity. They will also learn Olympic style Taekwondo through engaging drills that will increase their strength and agility and learn self-defense that will boost their confidence. The adult Taekwondo at Premier Sport Taekwondo is for adults looking to stay in shape, learn self-defense, and kick away stress. Classes run Monday-Saturday. Other programs such as summer camp, board breaking class, birthday parties, and after-school programs also offered.
Kartwheel Kids Active Strength Class

Hopkinton

Kartwheel Kids offers active strength classes several days of the weeks with times starting at as early as 2:00pm. Classes consist of working balance, coordination, strengthening cross-sectional muscle fibers, social investment, and team building. This will be a fun event focusing on fitness education, movement patterns, gymnastic movement, ninja elements with a professional staff.
Open Gyms at North East Rhythmics

Middleton

Every Saturday morning from 10am-open gym, free class to try. Girls and boys ages 2.5 and up. Fun activities accompanied by music with the use of props like ball, ribbon, hoop, rope, and scarves. Giant obstacle course to play.Parents can participate in the class.
Goldfish Swim School Milford

Milford

Goldfish Swim School is proud to provide state-of-the-art aquatic facilities that are dedicated to indoor swim classes and programs for children, ages 4 months and up. From Jump Start Clinics to our competitive team known as Swim Force, we're committed to helping your child develop important life skills so he or she can make waves in life. Parents and kids across North America prefer Goldfish Swim School because they offer: A unique curriculum that's convenient and can work with your busy schedule A wide variety of available program options, including infant and toddler swim lessons Shiver-free pools that are a pleasant 90° all year long An emotionally and intellectually stimulating environment Air-conditioned viewing galleries equipped with free Wi-Fi Convenient access to snacks and swim gear Safety and supervision at all times
Goldfish Swim School of Milford

Milford

Located in Milford, Massachusetts, Goldfish Swim School is a premier learn-to-swim facility dedicated to teaching children starting at 4 months how to swim and be safer in and around the water. With a 90 degree shiver free pool, Goldfish is the hot spot for getting those wiggles out! They offer various lessons based on level of experience and comfort and they have regular events for the whole family to enjoy. Call them today at (508)488-9510 or email at swimmilford@goldfishss.com to learn more!
Exxcel Gymnastics and Climbing

Newton

Exxcel is the perfect place to have your next Fit Trip. Opportunities are available for 1 to 2 hours for any organization looking for fun & fitness to challenge any child's strength and creativity. Our 15,000 square foot gym is fully equipped with state of the art Olympic apparatus, foam pit, bungee, trapeze, zip line and includes a 20'x60' rock wall. Exxcel provides a vast array of activities for children to exercise in fun and safety. Exxcel also offers open gyms, kids' night out, vacation camps and gymnastics and climbing classes for ALL ages.
Exxcel Gymnastics and Climbing classes

Newton

Homeschoolers attend a beginner-level class that meets once a week for one hour. It is designed to give students a well-rounded introduction to gymnastics and/or rock climbing that incorporates safety, strength, and flexibility. Students learn basic skills and techniques on all Olympic apparatus and/or rock wall in a fun and interactive way. No prior gymnastics/rock climbing experience is necessary.
West Suburban YMCA

Newton

The West Suburban YMCA is excited to announce that we are now offering swim lessons, open swim, and PE time at our Wells Avenue location for home school groups. If you are interested in finding out more information about these opportunities or any other programs we offer please call (617) 795-0798 to speak to the Association Sport or Aquatic Directors. If you are in the area, please stop by the branch for a tour and more information.
Martial Arts Classes

Newton

Compass Martial Arts welcomes students of all ages to participate in classes that specialize in self-defense that goes hand in hand with traditional karate. These 50-minute long classes focus on a number of concepts, including strength, balance, teamwork, stranger danger, & many more. Students will learn the martial arts curriculum of the Chuck Norris System which includes periodic belt testing that guides them all the way through (and past) receiving a black belt.
Energy Fitness and Gymnastics

Newton Highlands

Delivers high-quality gymnastics and recreational programs that foster a passion for physical fitness in people of all ages.
Windrush farm Therapeutic riding

North Andover

Group riding lessons for children ages 6-21
Altitude Trampoline Park Home School Friday Fun-Days

North Attleboro

Altitude Trampoline Park in North Attleboro is all about the attractions and no distractions. A park that focuses on fitness and fun! Providing the home school community a way to be able to enjoy the Physical Fitness aspect of school and be able to be in a relax, open, clean park where you can sit in one spot and be able to watch your children play and have fun without taking them from station to station.

Altitude Trampoline Park Home School Friday Fun-Days details
Hub Parkour

Norton

HUB Parkour Training Center is a Movement Academy based in Norton, MA specializing in group classes, school vacation camps, birthday parties and parkour events. Join us at HUB during the afternoons for our Homeschool Parkour Classes! Parkour is noncompetitive, unique, and adapts to every student!
Gymnastic Academy of Boston Norwood

Norwood

Gymnastic Academy of Boston Norwood offers exciting OPEN GYMS, field trip opportunities and classes to children, ages one through high school, looking to learn gymnastics. GAB is a great place for the kids to run around and use some of that high-energy while learning the basics in gymnastics. Children learn to focus on balance, Strength, body awareness all well building self-confidence and coordination. The objecti.ve is to have fun while learning skills
Central Rock Gym Randolph

Randolph

The Homeschool Team runs more free form than the other team programs in an effort to engage those in a non-traditional schooling atmosphere. The Youth Programs Director, Cody Theall, along with the help of other event staff offer great climbing advice, technique tips, plenty of games, and activities. Kids 13 or older will learn how to belay and discretionary training is offered for those under 13 with direct supervision. Parents are encouraged to participate on a weekly basis at no additional charge in order to achieve a greater sense of involvement. Homeschool Team is offered on Mondays from 10-12pm. Please email the Youth Programs Coordinator Cody Theall at Cody@centralrockgym.com with further inquiries about the program and current openings.
Premier Martial Arts - Randolph

Randolph

Premier Martial Arts Randolph is a locally, family-owned martial arts school located in the Shaw's Shopping Center, across from Randolph High School. The school specializes in self-defense, character development, and life skills for children, and fitness and self-protection for adults. The school's class curriculum and programs focus on leadership, focus, and having fun. PMA's kid's programs start at 3 years old and they have adults who participate in the programs well into their 70s!
Body Mind Systems Martial Arts School

Stoneham

Body Mind Systems teaches martial arts principles and movements to build confidence and leadership skills through incremental physical and mental challenges. Our martial arts training has improved students' coordination and motor skills as well as their focus, patience, discipline, and teamwork. We offer classes for children ages 5 to 14 years as well as adults. Children can try a week of complimentary classes.
Marine Science Experiential Learning

Stonington

Our mission at New England Science & Sailing Foundation (NESS) is to empower students with a love of learning through ocean-based experiential programs that serve schools, teachers, and families. NESS is the first and only program of its kind to be accredited by the New England Association of Schools and Colleges (NEASC). Our goal is to advance academic opportunities for K-12 students of all backgrounds in both urban and suburban markets. We offer a unique education model that empowers students with leadership, teamwork, confidence, and problem-solving skills to ensure academic success. Our STEM-based curriculum uses marine science, sailing, powerboating, and adventure sports as learning platforms. We hope you will play a role in helping us continue this important educational mission! The NESS instructor-led, hands-on programs include topics such as: marine debris, navigation, erosion, camouflage, deep sea exploration, and even sailing at home! Classes range from 1-2 hours based on the needs of the students. These courses are correlated to standards related to science, ocean literacy, and socio-emotional learning. If you are interested in learning more about NESS programs, please feel free to email Nina Quaratella, Education Specialist, at nquaratella@nessf.org or call at 860-535-9362.
North Gate Farm Horse Back Riding Lessons

Sudbury

Horse riding lessons and other horse related activities available on a year round basis.
One Stop Fun

Westford

At One Stop Fun, the main goal is to provide a fun and active environment for children with activities that boost self-esteem and encourage fitness. Amenities include an outdoor Olympic-size pool, zip line, three stories of tunnels and tubes, foam pit, and a rock wall. Call us at (978) 577-5058 to request more information about our classes and services. See website or call for class schedules and homeschool programing.