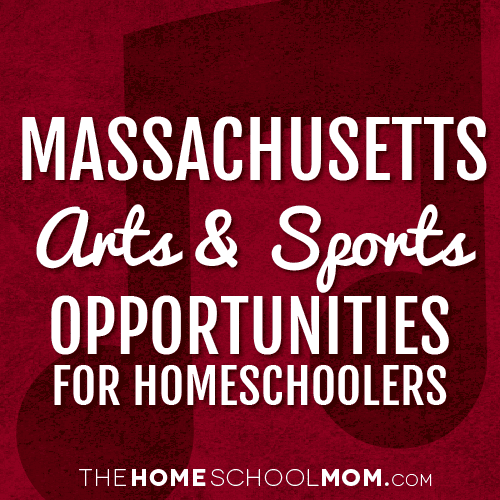 In addition to the opportunity to get out of the house and socialize, homeschool sports and arts programs can offer long-term benefits by developing characteristics like leadership, self-confidence, perserverance, and self-esteem. Many organizations and businesses have opportunities specifically for homeschoolers, while others invite homeschoolers to participate in their regular programs.
Not sure how to choose activity/activities for your children? Read how Rebecca narrows down the choice of extra-curricular activities.
Below is a list of homeschool sports and arts programs in Massachusetts listed alphabetically by city, with arts resources in the first section and sports resources below. If you would like to submit a Massachusetts arts or sports resource, you may do so using the red button above.
Use the secondary navigation menu above to quickly make your way to pages for Massachusetts state organizations, local homeschool groups, classes, co-ops, field trips, and more.
Homeschool Arts Opportunities in Massachusetts
Arlington Center for the ArtsArlington
The Arlington Center for the Arts offers home schooling classes in addition to regular youth and adult classes. Browse the course catalog at www.acarts.org
House Call Guitar LessonsArlington
David Hinckley offers house call guitar lessons in the communities north of Boston including Arlington, Bedford, Lexington, and Winchester. David is a graduate of Berklee College of Music with over...
Morningside Music StudioArlington
Morningside Music Studio is a small community music school in Arlington Center in the Regent Theater building that offers a wide variety of ensembles and private lessons on different instruments.
LARP Adventure ProgramArlington
LARP Adventure Program is an interactive and improvisational theater program in which participants create a storyline featuring a heroic character. Through acting out the plot of the story, charact...
DeeAnne ARTAttleboro, North Attleboro, Norton, Seekonk, Mansfield
Art lessons for students from 6-18 years old. Private lessons for students since 2012. Accepting new homeschool students for lessons during the day on Mondays or Tuesdays. Lessons can be started...
Barbieri Voice StudioAttleboro, North Attleboro, Plainville,Norton, Mansfield, Foxboro, Sharon, Pawtucket, Providence
Barbieri Voice Studio offers voice lessons for students ages 10-up. The focus is on learning to sing in a natural, healthy manner. Lessons can be 30 or 60 minutes. 30 minute lessons are recommended...
ArtSpark School of Visual ArtBedford, MA
ArtSpark is a school for learning the fundamentals of drawing and is based on the belief that making art helps us solve problems and learn from our environments. Small class instruction for student...
Children and Teens Sewing ClassesBellingham
Beginner through Advanced. Learn to sew in a fun and relaxed atmosphere. Everyone chooses their own projects and then works on them at their own pace with instructors help.
Sewing ClassesBellingham
Beginner through Advanced. Learn to sew in a fun and relaxed atmosphere. Everyone chooses their own projects and then works on them at their own pace.
Powers Music SchoolBelmont
Powers Music School is a community-based music school in Belmont offering early childhood and group classes, private lessons, ensembles, orchestra, summer programs, performance opportunities, and f...
Private Piano Lessons with Stephanie A. EmberleyBeverly
Give your children the gift of music. Piano lessons offered in Beverly throughout the day from a classical concert pianist. Teaching both beginners and advanced students of all ages and ability lev...
Waldorf School at Moraine FarmBeverly, Massachusetts
Waldorf School at Moraine Farm offers a homeschool program on-campus for homeschooled children in grades 1-8. The program is offered Tuesdays and/or Thursdays from 10:35 am to 12:10 pm."With a ...
Family Experience at Diablo Glass SchoolBoston
Participants will learn about the venetian technique and the process to produce amazing and colorful pieces. During this one hour demonstration kids and adults will enjoy learning something uniq...
Diablo Glass SchoolBoston
Glass classes
Boston University School of TheatreBoston
For select productions, the BU School of Theatre offers special matinee performances. BU includes study guides and talk-backs with the actors, designers and director after the show. The tickets ar...
Deborah Apple – Private lessons for violin, viola, and celloBoston
Suzuki and traditional instruction for all ages and abilities. Studio of over 30 students in Brookline, Brighton, Newton, Lexington, and Wayland. The students learn musicianship, theory, and techni...
BSNJ Community Children's ChorusBoston
The BSNJ Community Children's Chorus is a comprehensive musical training program for children in grades 3 to 7. Your child will be participating in a program that promotes: the Love of Music, expre...
Suzuki Boston Music SchoolBoston
Suzuki Boston Music School is a violin music school that concentrates on teaching the student and parent within the lesson to ensure successful practice in the home. The primary focus is to aurally...
Private Harp Lessons with Krysten KechesBoston
Krysten teaches students of all ages and levels at her private studio in Boston, Massachusetts. She specializes in classical pedal and lever harp instruction and strives to share her love of music ...
Ballroom in BostonBoston
The pros at Ballroom in Boston are focused on making sure beginners have a great time learning all forms of partner dance, from waltz and tango to swing, salsa and more! Ballroom in Boston is open ...
Private voice and beginning piano lessons with Jessica PetrusBoston
Private voice and/or beginning piano lessons offered to students in teacher's home studio in Belmont, MA. Vocal repertoire includes a large range of styles (classical, musical theatre, pop, folk, e...
Quinn's Piano StudioBoston
Dynamic piano lessons held in your home or over video conference! Ages 5+ will love learning music they enjoy during a relaxed but structured lesson. Lessons are typically a half hour and scheduled...
Verse One Music LessonsBoston
Verse One Music Lessons is a group of professional musicians who came together in 2015 with one goal: spread the love of leaning an instrument to people across the country. Teachers are hand-picked...
Ine't Productions Inc.Boston
This music production company has been providing piano, voice, drums and bass lessons for over 20 years. Instructors are from The Berklee College of Music. Currently offering private lessons, group...
Yasmin Music Homeschool music classes/lessonsBoston, Cambridge, Somerville, Arlington, Belmont, watertown, Brookline, Newton, Wellesley
Offering piano, composition, musicianship and general music lessons in Cambridge and the surrounding towns and in Wellesley/Newton. Learning process is created with the student, materials chosen to...
The Music Tree of BostonBoston, Cambridge, Somerville, Brookline, Wellesley, Natick, Sudbury (MetroWest)
The Music Tree of Boston has been growing since 2005, offering a variety of music services in the homes of families throughout the metropolitan area.  Music Tree services include private lessons fo...
Classes in Glass Work for Homeschooled Teens at Diablo Glass SchoolBoston: Mission Hill
In this intensive workshop, teens will build basic skills in three areas of glass: glassblowing, flameworking, and fused glass. Classes closely incorporate the principals of the AP Studio Art Progr...
Southeastern Massachusetts Arts CollaborativeBristol County
During the academic year, SMARTS offers many student programs that encourage young people to discover their talents. Offering classes in creative writing, dance, drama, music, visual arts, and com...
SMARTS CollaborativeBristol County
Recognized across the Commonwealth since 1986, the Southeastern Massachusetts Arts Collaborative, better known as SMARTS, is a year round non-profit organization dedicated to the arts and creativit...
Fuller Craft MuseumBrockton
Fuller Craft Museum provides art and pottery classes designed specifically for homeschool artists ages 5 – 12. This is a wonderful opportunity for children to explore craft, learn a variety of tech...
Sing for Joy Vocal Ensemble and Piano StudioBrookline
Sing for Joy is a Brookline based chorus for children serving different age groups, in both English and Russian. The chorus is a non-audition community music program, featuring small-group vocal an...
RealVoices ChorusBurlington
RealVoices Chorus, at The Real School of Music in Burlington, is a choral ensemble offering for students in grades 3-12 and ALL levels of singing experience! RealVoices Chorus is an excellent oppor...
New England Movement ArtsBurlington
New England Movement Arts (NEMA) is a 501 (c)(3) non-profit, community-based, multi-activity facility offering world-class instruction in ballet, dance, fencing, fitness, and martial arts. NEMA is ...
Cambridge Youth GamelanCambridge
The Cambridge Youth Gamelan (Gamelan Anak Tika) aims to inspire, engage with, and educate youth about traditional gamelan music and dance of Bali, Indonesia. Classes meet weekly at the MIT Museum (...
The Concord Conservatory of MusicConcord
The Concord Conservatory of Music is a non-profit school serving Concord and surrounding communities. CCM strives to provide comprehensive, high quality music instruction, to grow a community of mu...
Boston School of Music ArtsDorchester
Community-oriented private music school in Dorchester, MA, near Milton, MA and Mattapan borders. Offering private music lessons & group music classes to Children ages 2 1/2 and up, & adults - all a...
Art classes at Toad Hallow studioFitchburg
A certified Art teacher, looking to transition to teaching homeschooled students and parents who are interested. Instructor has ever 20 years of experience as a working artist and art teacher. Of...
Children's Studio Art ClassesFramingham/Metrowest/Greater Boston
Danforth Art is a museum and studio art school in Framingham, Massachusetts, that invites kids to see, create, learn about, and be inspired by art. In Danforth Art's studio art classes, children wi...
Boston International Kids Film Festival Filmmaking ClassesGreater Boston area
In this class, students can bring their creative ideas to fruition in a fun, collaborative and exciting environment. Students will learn skills in scriptwriting, storyboard sketching, improvisation...
South Shore YMCAHanover
Classes offered in Visual Art, Music, Theatre, and Dance. Custom designed classes available with a minimum enrollment of 6 students. Open to all ages and abilities. Classes taught by faculty select...
Shoestrings Studio – Dance ClassesHanover
Shoestrings Studio provides high-quality dance instruction to students ages 2-18, encouraging each student to develop a passion for dance in a fun, supportive environment. By treating each student ...
Music Lessons with Ian Taker-WalshHaverhill MA
Music Lessons! Instruments include Piano, Guitar, Bass, Banjo, Ukulele, Mandolin. Fields of study include Reading, Performance, Music Theory, Ear Training, Songwriting, Instrumental Composition, ...
Essex Art CenterLawrence
video and art classes
Yamaha Music School of BostonLexington
With Yamaha's comprehensive approach, kids develop musical sensitivity, imagination, and the ability to express themselves freely. Yamaha students learn to play and read music on a high level and ...
Merrimack Repertory TheatreLowell
Merrimack Repertory Theatre Student Matinees provide many students with their first exposure to professional theatre. It gives them the opportunity to experience literature in a different way, ofte...
LB Music SchoolMedford
Offers instrument lessons in piano, violin, guitar, bass, voice, ukulele and drums. Instruction to students ages 6 and up.
Always Be Dancing Expressive Arts: Yoga & Flamenco for Every/BodyNatick
Programs are available for grades K-12; college level; corporate events; senior living facilities and private hire. All programs are inclusive and can be adapted as needed for those with special ne...
ZGuitar StudioNewton, Brookline, Jamaica Plain
Group lessons for Children who wish to learn how to play the guitar & read music with Kinder Guitar Method.
ZDR Performing Arts Studio: Piano and Voice LessonsNewton, Wellesley, Watertown, Dedham, Boston, Waltham, Arlington,
ZDR Performing Arts studio is offering private studio and In-Home lessons available for piano, voice, and songwriting. All skills and age levels are able to join. Students (and parents) will work ...
Assabet Valley Mastersingers Apprentice Singer ProgramNorthborough
The Assabet Valley Mastersingers' Apprentice Singer Program offers an extension of 11th and 12th grade student's choral experience. The Program offers talented and motivated high school choral stud...
Jack's Guitar GarageNorthborough / North Grafton
Jack's Guitar Garage offers morning classes in Northborough and North Grafton, MA from 10:30 to 2:00. Whether its private instrument lessons, or general music classes, JGG can work with you to pro...
Private Harp LessonsNorwood
Lizary offers harp lessons in her studio located in Norwood, Massachusetts for ages eight and up on both lever and pedal harp. Lessons are tailored according to the students' needs and interests. F...
School of Rock NorwoodNorwood
School of Rock offers students of all skill levels age 7-18 a performance-based music curriculum in a fun environment. Weekly private lessons are combined with structured group rehearsals. Student...
South Shore Children's ChorusQuincy, Braintree, Sharon
The mission of the South Shore Children's Chorus is to provide quality musical education and vocal training to students living in the South Shore communities and beyond. SSCC keeps the development ...
New England Studio of MusicSeekonk
Offers flexible lesson schedules for piano, voice, guitar, strings, brass, and woodwind at two convenient studio locations. Call to find out about a limited number of in-home lesson slots.
School of Rock SeekonkSeekonk
School of Rock offers students of all skill levels age 7-18 a performance-based music curriculum in a fun environment. Weekly private lessons are combined with structured group rehearsals. Student...
Homeschool Clay Classes at Mudflat Pottery SchoolSomerville
Mudflat offers classes for Home School students in 3 age groups: Clay for Kids (5-7), Kids Pottery (8-11), and Teen Clay (12+). To see a full schedule of classes please visit www.mudflat.org. Mudf...
Visiting ArtistSoutheastern area
Acrylic painting classes for ages 7-12 and up. Children will meet for 2 hrs each week for a 6 week period. All art materials are included. Children will make and take home a 11x14 painting while l...
The Music RoomTewksbury
The Music Room offers private music lessons for all ages. Lessons are for all levels of singing and beginner to intermediate piano. Lessons are tailored towards each student's individual goals and ...
Interactive School House Art ClassesThree Rivers/Western Massachusetts
This group of artists and former teachers offers art lessons enriched with cultural background and history in series of four consecutive, 2-hour classes, which meet once a week. The theme of each ...
School of Rock Boston WatertownWatertown
School of Rock offers students of all skill levels age 7-18 a performance-based music curriculum in a fun environment. Weekly private lessons are combined with structured group rehearsals. Student...
Go Go Allegro School of MusicWeston
Go Go Allegro is a traveling music school offering private music lessons to students of all ages and levels in the comfort of their own homes, or Weston studio, with highly-trained teachers. We be...
Waldron's Studio 88 Home School Co-OpWindham
Waldron's Studio 88 has partnered with local home school families to create a fun and exciting Homeschool Co-op based in Music and Arts! A variety of classes are led by professional teachers as wel...
Homeschool Sports Opportunities in Massachusetts
Boston Fencing ClubBoston
Boston Fencing Club is a non-profit 501(c)(3) organization, tracing its roots back to 1858. The Olympic sport of fencing is a great for children to learn, developing co-ordination, skills and tacti...
Rock Spot Climbing of BostonBoston
Rock Spot Climbing is offering an 8-session, bi-weekly home school program starting fall 2018 at the South Boston location. Students will have 8, 1-hour long sessions facilitated by a dedicated ins...
Kid's Class at Brookline Body & BrainBrookline
Kid's Class: Fridays 4:30-5:30pm @ Brookline Body & BrainBased on the revolutionary Brain Education Teacher's Workshop. For children ages 5-12 (parents and family welcome!). Children play ...
Premier Sport TaekwondoGrafton
Premier Sport Taekwondo is a martial arts school in Grafton, MA that offers classes for a variety of groups. The Little Tigers program is designed specifically for 4-5 year olds to work on their ba...
Exxcel Gymnastics and ClimbingNewton
Exxcel is the perfect place to have your next Fit Trip. Opportunities are available for 1 to 2 hours for any organization looking for fun & fitness to challenge any child's strength and creativity....
Exxcel Gymnastics and Climbing classesNewton
Homeschoolers attend a beginner-level class that meets once a week for one hour. It is designed to give students a well-rounded introduction to gymnastics and/or rock climbing that incorporates saf...
Energy Fitness and GymnasticsNewton Highlands
Delivers high-quality gymnastics and recreational programs that foster a passion for physical fitness in people of all ages.
Altitude Trampoline Park Home School Friday Fun-DaysNorth Attleboro
Altitude Trampoline Park in North Attleboro is all about the attractions and no distractions. A park that focuses on fitness and fun! Providing the home school community a way to be able to enjoy t...
Gymnastic Academy of Boston NorwoodNorwood
Gymnastic Academy of Boston Norwood offers exciting OPEN GYMS, field trip opportunities and classes to children, ages one through high school, looking to learn gymnastics. GAB is a great place for ...
Central Rock Gym RandolphRandolph
The Homeschool Team runs more free form than the other team programs in an effort to engage those in a non-traditional schooling atmosphere. The Youth Programs Director, Cody Theall, along with the...
Body Mind Systems Martial Arts SchoolStoneham
Body Mind Systems teaches martial arts principles and movements to build confidence and leadership skills through incremental physical and mental challenges. Our martial arts training has improved ...
North Gate Farm Horse Back Riding LessonsSudbury
Horse riding lessons and other horse related activities available on a year round basis.
One Stop FunWestford
At One Stop Fun, the main goal is to provide a fun and active environment for children with activities that boost self-esteem and encourage fitness. Amenities include an outdoor Olympic-size pool, ...