Jump to: Homeschool Arts | Homeschool Sports
In addition to the opportunity to get out of the house and socialize, homeschool sports and arts programs can offer long-term benefits by developing characteristics like leadership, self-confidence, perserverance, and self-esteem. Many organizations and businesses have opportunities specifically for homeschoolers, while others invite homeschoolers to participate in their regular programs.
Not sure how to choose activity/activities for your children? Read how Rebecca narrows down the choice of extra-curricular activities.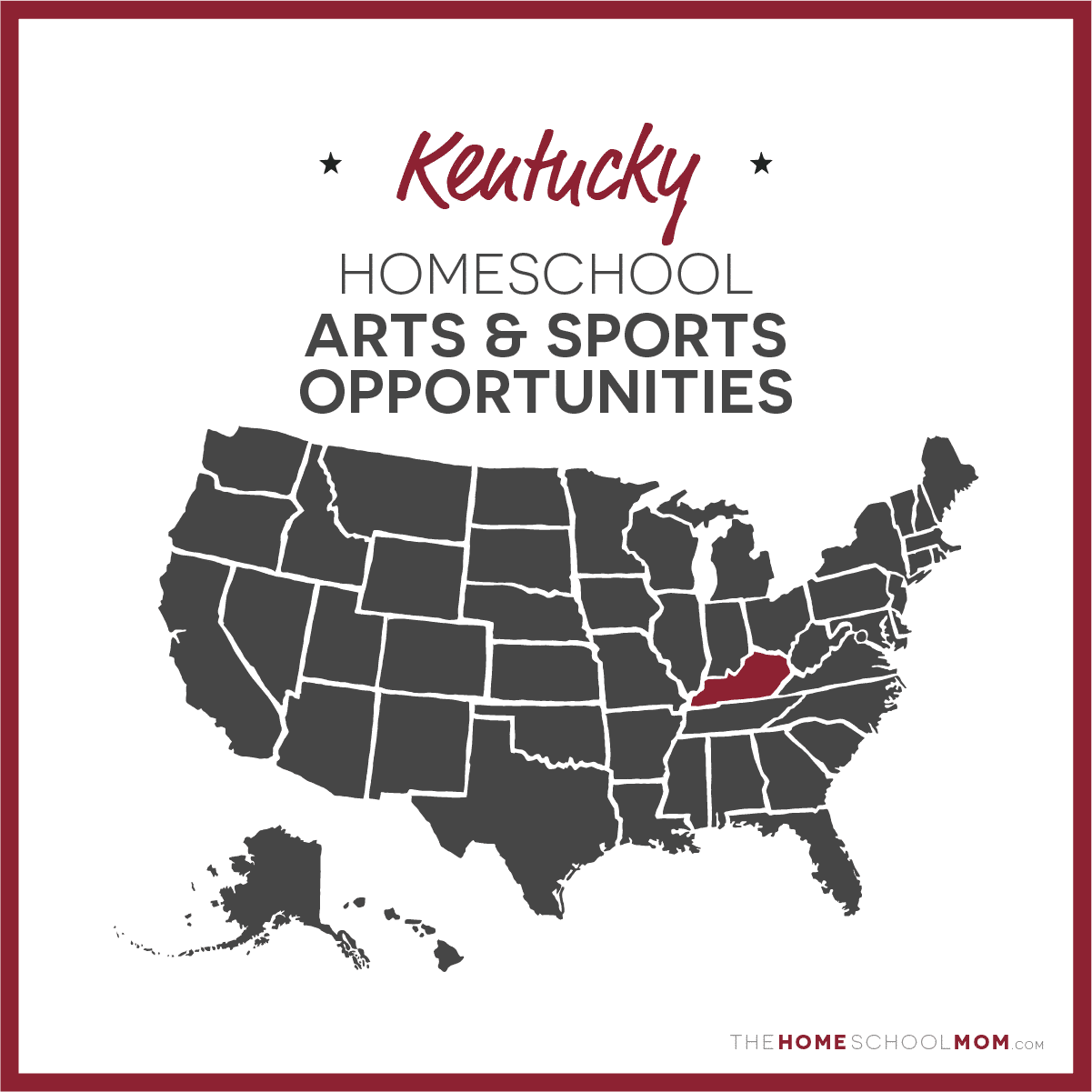 Submit a Local Resource
Our listing of Kentucky list of homeschool arts and sports programs is ordered alphabetically by city, with arts in the first section and sports in the second section. If you would like to submit an Kentucky arts or sports program, you may do so using the red button above.
Kentucky Homeschool Arts Programs
Classical Christian Choir of Central KentuckyElizabethtown
Regional choral program for homeschool students based in Elizabethtown, KY but including families throughout several surrounding counties. Choirs for 2nd - 6th/7th and 7th/8th - 12th. Rehearsals on Wednesday afternoon...
Lexington Ballet CompanyLexington
Lexington Ballet Company was founded in 1974 in Lexington, KY as a 501c3 nonprofit with a mission of artistic performance, education, and community outreach. The Nutcracker is presented every December, a classic story...
University of Kentucky String ProjectLexington
The UKSP provides instrument instruction on violin, viola, cello and bass for children from age 8 and up, based on the methods and philosophies of esteemed violin pedagogue, Mimi Zweig. This is a proven method for dev...
Amelia Long Music StudioLexington
This music studio offers private Piano and Voice Lessons for students of all levels (beginner- advanced), ages 8+. Additionally, ALMS offers Young Beginner Lessons, specially structured for the developmental needs of ...
Bluegrass Youth BalletLexington
Bluegrass Youth Ballet (BYB) is a 501 (c)(3) non-profit ballet school in Lexington, Ky with the mission of engaging and inspiring youth by providing access to the art of dance throughout the community. Classes are ava...
Magpie3x3 Homeschool Pottery ClassLouisville
In our classes, you will learn processes and techniques for creating ceramic art, experiencing the whole cycle from soft clay to a finished, glazed piece. We provide the relaxed environment, use of our tools, up to 25...
McClanahan School of Irish DanceLouisville
McClanahan School of Irish Dance fosters and promotes the preservation of Irish culture through the instruction and performance of traditional Irish step dancing and ceili (group) dancing. Students will experience Iri...
Keen Voice StudioNorthern Kentucky
Keen Voice Studio is a caring yet challenging voice studio where students learn what their voices can truly do. Ms. Keen leads dedicated singers to new heights in musical theatre, classical, and contemporary popular s...
The Wellspring ChorusRichmond
This is a treble chorus for girls age 8-17 and boys 8-13 (with unchanged voices.) All home school students are welcome. No, you do not need to be a Wellspring member. White Oak Pond Christian Church in Richmond, KY; F...
Kentucky Homeschool Sports Programs
Lacrosse Team in Elizabethtown, KYElizabethtown
Elizabethtown Lacrosse Club is a competitive High School Boys and High School girls program serving the Elizabethtown, KY area. The primary focus is teaching and growing the game of Lacrosse with a... [Read more...]
Cumberland Homeschool Athletic Teams-CHATKnox, Laurel, Whitley, and surrounding areas (Southeastern KY)
Cumberland Homeschool Athletic Teams, Incorporated is a 501c3 nonprofit organization designed to provide opportunities for K-12 student-athletes to participate in competitive athletics principally ... [Read more...]
Brian Chewning's TaekwondoLexington
Special Offer for homeschool students. Meet physical education requirements and develop life skill, safety awareness and physical Fitness. 4 weeks of lessons $99.00 for one student. 4 weeks of less... [Read more...]
House of Boom Flight ClubLouisvile
Join House of Boom's Flight Club today! For only $17 a month you can jump every single day. The Flight Club also gives you exclusive discounts on birthday parties and merchandise. Also, the Flight ... [Read more...]
The Sporting Club at the FarmLouisville
The Sporting Club at the Farm is a new outdoor sporting club in the New Albany, IN area. The farm boasts 700+ acres of hiking trails, four gorgeous lakes for fishing, a sporting clays course for sh... [Read more...]
National Flag Football - LouisvilleLouisville
National Flag Football is the largest NFL FLAG affiliate organization in the country. Offers programming designed exclusively for boys and girls Pre-K through 8th grade. This program provides a saf... [Read more...]
CCHE Girls Basketball TeamSomerset
We have a girls basketball team of homeschooled middle-high school aged students are looking to continue to grow and build our program. If you have a child that would like to join a basketball prog... [Read more...]
Go to...