Jump to: Homeschool Arts | Homeschool Sports
In addition to the opportunity to get out of the house and socialize, homeschool sports and arts programs can offer long-term benefits by developing characteristics like leadership, self-confidence, perserverance, and self-esteem. Many organizations and businesses have opportunities specifically for homeschoolers, while others invite homeschoolers to participate in their regular programs.
Not sure how to choose activity/activities for your children? Read how Rebecca narrows down the choice of extra-curricular activities.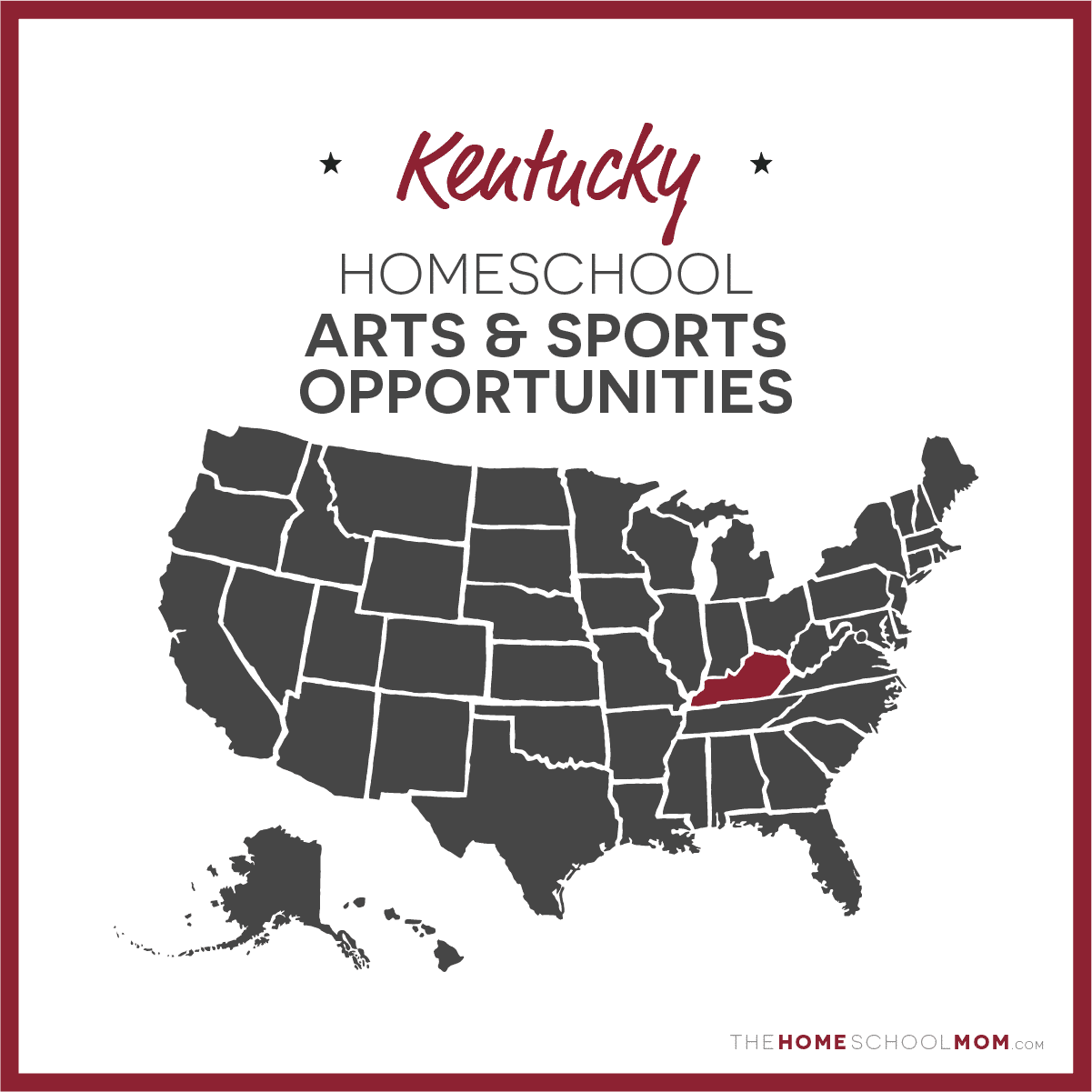 Submit a Local Resource
Our listing of Kentucky list of homeschool arts and sports programs is ordered alphabetically by city, with arts in the first section and sports in the second section. If you would like to submit an Kentucky arts or sports program, you may do so using the red button above.
Kentucky Homeschool Arts Programs
Classical Christian Choir of Central Kentucky

Elizabethtown

Regional choral program for homeschool students based in Elizabethtown, KY but including families throughout several surrounding counties. Choirs for 2nd - 6th/7th and 7th/8th - 12th. Rehearsals on Wednesday afternoons, with each semester culminating in a formal concert. Focus on worship and musicianship through high quality choral literature. Vocal production, singing and music skills, music appreciation, team-building, performance opportunities.
Lexington Ballet Company

Lexington

Lexington Ballet Company was founded in 1974 in Lexington, KY as a 501c3 nonprofit with a mission of artistic performance, education, and community outreach. The Nutcracker is presented every December, a classic story ballet such as Cinderella or The Jungle Book is presented each spring, as well as other artistic works throughout the season. Educational performances are scheduled on weekdays so that schools and non-profit groups may attend at reduced rates. These include detail introduction, question and answer time with the Artistic Director, and study guides.
University of Kentucky String Project

Lexington

The UKSP provides instrument instruction on violin, viola, cello and bass for children from age 8 and up, based on the methods and philosophies of esteemed violin pedagogue, Mimi Zweig. This is a proven method for developing confidence, creative thinking, and a general work ethic that will assist students' musical and non-musical endeavors. The students of the UKSP receive weekly group lessons on Saturday morning, as well as performance opportunities throughout the semester. The classes are taught by the director, Dr. Tze-Ying Wu, and a group of enthusiastic UK music students. This semester the participants will receive a scholarship to attend the project free of charge.
Amelia Long Music Studio

Lexington

This music studio offers private Piano and Voice Lessons for students of all levels (beginner- advanced), ages 8+. Additionally, ALMS offers Young Beginner Lessons, specially structured for the developmental needs of new pianists, vocalists, and ukulele players ages 5-7.
Bluegrass Youth Ballet

Lexington

Bluegrass Youth Ballet (BYB) is a 501 (c)(3) non-profit ballet school in Lexington, Ky with the mission of engaging and inspiring youth by providing access to the art of dance throughout the community. Classes are available for ages three to adult, teaching ballet technique, barre, pointe, and more. BYB provides students with multiple performance opportunities throughout the year, and has a tuition assistance program so that no monetary obstacles can keep children from dancing.
McClanahan School of Irish Dance

Louisville

McClanahan School of Irish Dance fosters and promotes the preservation of Irish culture through the instruction and performance of traditional Irish step dancing and ceili (group) dancing. Students will experience Irish music and dance — integral parts of Irish culture — while building camaraderie, social skills, and sportsmanship. Solo & group lessons are offered & can be tailored to meet the needs for different ages and levels.
Keen Voice Studio

Northern Kentucky

Keen Voice Studio is a caring yet challenging voice studio where students learn what their voices can truly do. Ms. Keen leads dedicated singers to new heights in musical theatre, classical, and contemporary popular styles. Ms. Keen's technical expertise grew from an accomplished opera career and years of dedicated experience to her craft. She is proud to say that her students have gone on to advanced study and even careers in vocal performance. Students of Keen Voice Studio receive access to a huge network of opportunities, including workshops with expert vocalists, singing competitions, and audition practice with performance specialists. She connects her studio to one another, to the community, and to the world!
The Wellspring Chorus

Richmond

This is a treble chorus for girls age 8-17 and boys 8-13 (with unchanged voices.) All home school students are welcome. No, you do not need to be a Wellspring member. White Oak Pond Christian Church in Richmond, KY; Fridays from 2:30-3:30pm. ​
Kentucky Homeschool Sports Programs
Lacrosse Team in Elizabethtown, KY

Elizabethtown

Elizabethtown Lacrosse Club is a competitive High School Boys and High School girls program serving the Elizabethtown, KY area. The primary focus is teaching and growing the game of Lacrosse with an emphasis on teamwork, hustle, and character development. Serving kids ages 14-18 (9-12 grades). Plans in the works to expand to Junior High School in the future.
Ft. Wright CrossFit Physical Education Fitness Class

Fort Wright (NKY)

This Fitness Class for children help them learn the importance of nutrition, physical fitness as well we mental awareness. This class is taught my certified coaches that engage the whole group and assist in thriving in a group environment.

Ft. Wright CrossFit Physical Education Fitness Class details
Cumberland Homeschool Athletic Teams-CHAT

Knox, Laurel, Whitley, and surrounding areas (Southeastern KY)

Cumberland Homeschool Athletic Teams, Incorporated is a 501c3 nonprofit organization designed to provide opportunities for K-12 student-athletes to participate in competitive athletics principally in the Cumberland Valley region of Southeast Kentucky.
Brian Chewning's Taekwondo

Lexington

Special Offer for homeschool students. Meet physical education requirements and develop life skill, safety awareness and physical Fitness. 4 weeks of lessons $99.00 for one student. 4 weeks of lessons $125.00 for whole family. Classes are Monday, Wednesday, Friday at 9:00 a.m.
House of Boom Flight Club

Louisvile

Join House of Boom's Flight Club today! For only $17 a month you can jump every single day. The Flight Club also gives you exclusive discounts on birthday parties and merchandise. Also, the Flight Club gets you into our member only nights. Sign up at http://www.houseofboom.us/membership or in store today.
The Sporting Club at the Farm

Louisville

The Sporting Club at the Farm is a new outdoor sporting club in the New Albany, IN area. The farm boasts 700+ acres of hiking trails, four gorgeous lakes for fishing, a sporting clays course for shooters, two world class 3D archery ranges, and one kids archery practice course. The Sporting Club would love to host families and children's group who have a love for the outdoors, want to explore archery, and learn about the wonders of nature not a screen. The Sporting Club also offers archery and shooting lessons to nearly every skill and age level. They have hosted non-profit children's groups and given group lessons with great success and interest from the kids.
National Flag Football - Louisville

Louisville

National Flag Football is the largest NFL FLAG affiliate organization in the country. Offers programming designed exclusively for boys and girls Pre-K through 8th grade. This program provides a safe, convenient, affordable, and fun opportunity to build the FUNdamentals of football. National Flag Football offers leagues in Lexington and Louisville for Spring and Fall. For more information on when registration is open or if you have any questions, please check out the website.
Old Louisville JiuJitsu Academy

Louisville

Enrolling homeschool children in this gym's public jiu-jitsu class can provide them with a range of unique benefits. By joining this resource, these children have the opportunity to engage and socialize with peers from diverse backgrounds, fostering cultural exchange and broadening their perspectives. Interacting with other students in a structured environment promotes essential social skills such as teamwork, respect, and cooperation. Moreover, the jiu-jitsu classes offer a specialized setting for physical activity, enhancing fitness levels, coordination, and body awareness. Through the practice of jiu-jitsu, children also cultivate discipline, patience, and resilience as they strive to master techniques and overcome challenges. Overall, participating in this gym's public jiu-jitsu class can enrich the homeschooling experience by providing invaluable opportunities for socialization, physical development, and character growth.