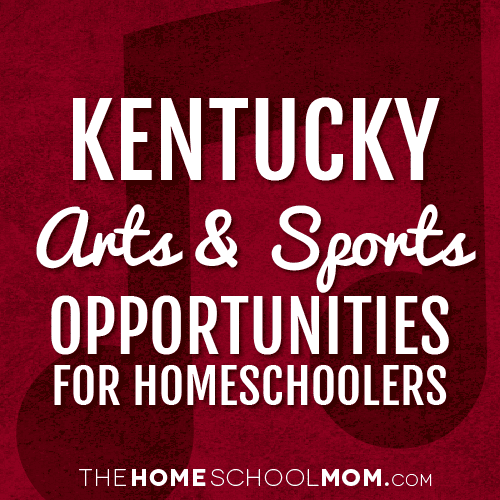 In addition to the opportunity to get out of the house and socialize, homeschool sports and arts programs can offer long-term benefits by developing characteristics like leadership, self-confidence, perserverance, and self-esteem. Many organizations and businesses have opportunities specifically for homeschoolers, while others invite homeschoolers to participate in their regular programs.
Not sure how to choose activity/activities for your children? Read how Rebecca narrows down the choice of extra-curricular activities.
Below is a list of homeschool sports and arts programs in Kentucky listed alphabetically by city, with arts resources in the first section and sports resources below. If you would like to submit a Kentucky arts or sports resource, you may do so using the red button above.
Use the secondary navigation menu above to quickly make your way to pages for Kentucky state organizations, local homeschool groups, classes, co-ops, field trips, and more.
Homeschool Arts Opportunities in Kentucky
Classical Christian Choir of Central KentuckyElizabethtown
Regional choral program with choirs for 2nd grade and up offering music education, worship, and service for Christian homeschool students. Please register by Jan 14 for Spring semester 2015.
Lexington Ballet CompanyLexington
Lexington Ballet Company was founded in 1974 in Lexington, KY as a 501c3 nonprofit with a mission of artistic performance, education, and community outreach. The Nutcracker is presented every Decem...
Magpie3x3 Homeschool Pottery ClassLouisville
In our classes, you will learn processes and techniques for creating ceramic art, experiencing the whole cycle from soft clay to a finished, glazed piece. We provide the relaxed environment, use of...
Austinburg Music AcademyNorthern Kentucky/ Cincinnati
This resource is a newly opened music studio, offering piano and saxophone lessons to the Northern Kentucky and Cincinnati areas! Austinburg teachers love working with all learning levels and style...
Homeschool Sports Opportunities in Kentucky
Lacrosse Team in Elizabethtown, KYElizabethtown
Elizabethtown Lacrosse Club is a competitive High School Boys and High School girls program serving the Elizabethtown, KY area. The primary focus is teaching and growing the game of Lacrosse with a...
Brian Chewning's TaekwondoLexington
Special Offer for homeschool students. Meet physical education requirements and develop life skill, safety awareness and physical Fitness. 4 weeks of lessons $99.00 for one student. 4 weeks of ...