Jump to: Homeschool Co-ops | Homeschooling Classes & Academic Enrichment
Looking for someone to teach physics to your teen? Need a way to avoid teaching algebra? Want to enroll your Kindergartener in a co-op for social time? Homeschool classes and co-ops are a great way to spend time with other homeschoolers and skill-share with other homeschool parents.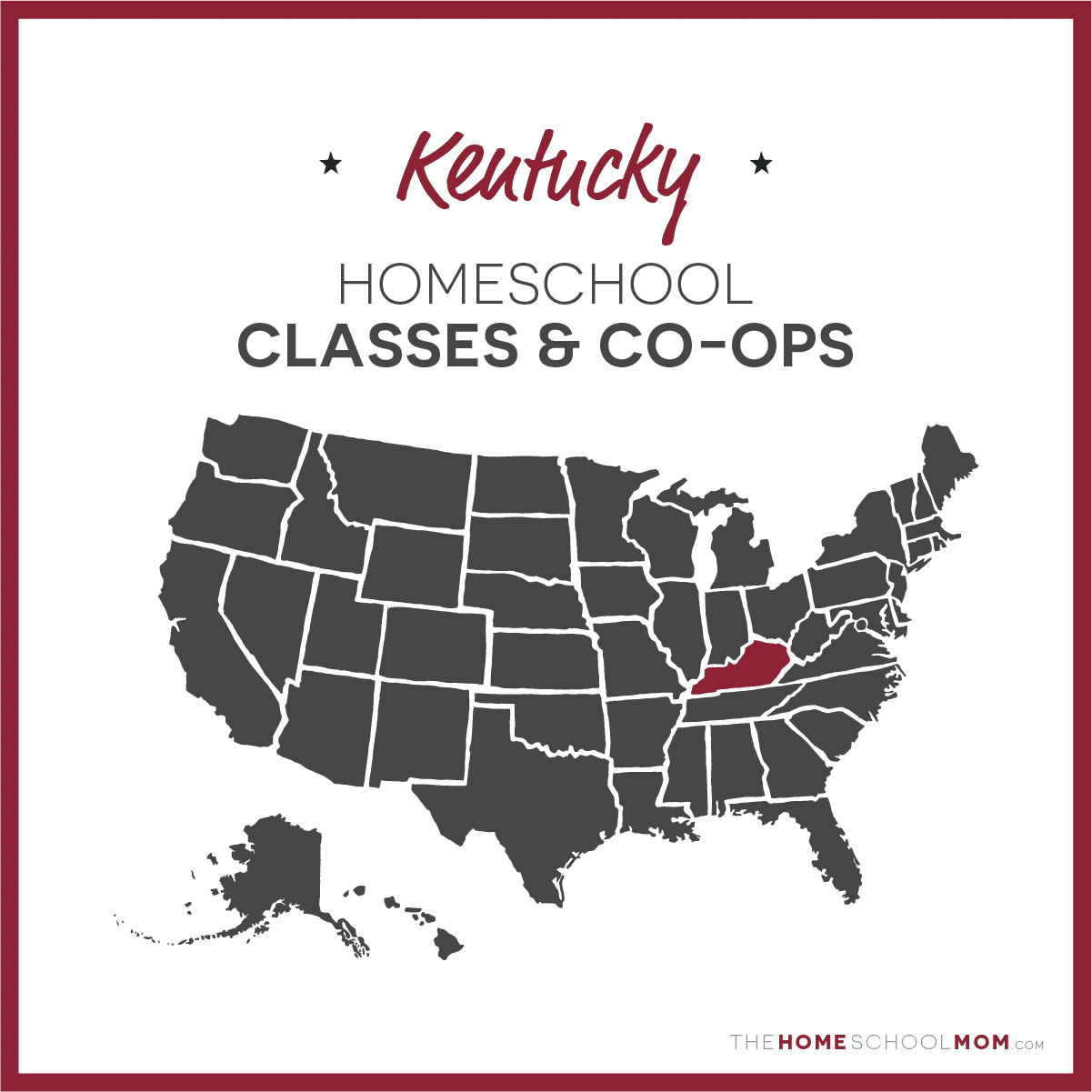 Submit a Local Resource
Our listing of Kentucky co-ops and academic classes for homeschoolers is ordered alphabetically by city, with co-ops in the first section and all other academic resources below. If you would like to submit a Kentucky co-op or academic resource, you may do so using the red button above.
Kentucky Homeschooling Co-ops
MC Homeschool

Benton

This website was created for MC Homeschool Co-op, so only co-op participants can join. We hold a registration for Fall and Spring Semesters that are open to all local homeschoolers. Those that register and pay the fee to participate that semester are able to join the website. We maintain a private side to the website for Co-op communication and co-op specific events. Our Field Trips and public events are posted to the public side of our calendar and accessible to you without joining the website.
Seeds of Faith Homeschool Co-op

Brooks

A Christian homeschool co-op and charter of HomeForHisGlory, Inc. We meet one day per week for two 10-week semesters each school year and share in the blessing of homeschooling our children. We have 4 classes in a day for grades K-12 and additional progams for the younger siblings, with all moms and/or dads staying to help by teaching, assisting, serving as a hall monitor, helping to clean, or by serving in the nursery/toddler/Pre-K areas. Each family is expected to do their part to help co-op run smoothly. Our classes are structured so that the first two classes of the day are typically "core classes" like science, social studies, mathematics, etc. We also offer some elective classes such as karate, Bible, arts/crafts, study habits, creative writing, literature, etc. Classes offered change each semester, so check back to see the current class schedule.
West KY Homeschool Support

Caldwell & surrounding counties

West KY Homeschool Support consists of families who wish to join each other in the journey of homeschooling. We welcome all types of homeschoolers regardless of ethnicity, religion, race, or type of schooling. We enjoy field trips, play dates & co-op. Contact: Natalie Lee 270-217-2405
Campbellsville Homeschool Co-op

Campbellsville

Welcome to Campbellsville Homeschool Co-op! Whether you are a veteran homeschooler or new to homeschooling our goal is to develop relationships with each other and to provide a Christian environment for homeschooling families! We are very EXCITED about this opportunity that God has given us to SERVE one another!!
Grace and Growing Homeschool co-op

Ekron

Homeschool co-op located in Meade County Kentucky. Supporting Grades K-8th. High school students are encouraged to volunteer to earn elective credits.
FAITH

Elizabethtown

FAITH Homeschool Group is a Christian support group offering support and resources to over 150 families. FAITH provides many opportunities for its members, including: Co-op classes for Pre-K through high school (additional registration and fees may apply) Field Trips Athletics Special events (Christmas party, Family Fall Festival, Spelling Bee, and more!) Monthly Moms Night Out events Bi-weekly prayer meetings
Strong Oaks Academy

Hebron

A homeshool Co-op in northern Kentucky
Salt and Light HFHG Homeschool Co-op

Jeffersontown

A Christian group of Homeschoolers that meet for a 9-week class session each fall and winter/spring, to share in the blessing of homeschooling our children. We are an elective based co-op. Our heart behind this co-op to create community for our children and families. We will meet on Thursday mornings in the Jeffersontown, KY area. There will be 3 classes a day. Every month we have a field trip planned in place of classes. The field trips are not mandatory but attendance is encouraged. We will also be hosting holiday parties and other social funcations. To help the co-op run smoothly each family must have an attending adult stay to help by teaching, assisting in a class, serving as a hall monitor, helping to clean, or by serving in the nursery/toddler/Pre-K areas.
Solid Rock Christian Home Educators

Knox, Laurel, & Whitley Counties

A group of Christian homeschool families who come together for encouragement, support, and fellowship while offering our children fun, hands-on enrichment classes, field trips and special events throughout the school year. You can find information about our weekly classes, monthly field trips, and special events like our annual Easter Egg Hunt and Christmas party. Families can also share tips, ask questions, and post books, curriculum, or any homeschool-related items for sale.
Christian Home Educators of the Bluegrass

Lexington

CHEB Classes meet on Mondays from 9 am to 4 pm at Tates Creek Christian Church. We offer core subject and elective courses to middle and high school students. We also have an elementary group called Learning Zone for K-5th graders which provides enrichment classes from 12:30-3:30 p.m. This group has limited spaces and gives priority to long-term homeschool families.
Teen Homeschool Co-op Louisville

Louisville

Teen Homeschool Co-op Louisville. Teen group with almost 200 members for teens 13-18 years old. Teens meet for classes and social outings several times per month. Offering field trips, dances, volunteer work, and classes.
New Song Christian Academy

Louisville

New Song Christian Academy is a Christian homeschool supplemental program. Their goal is to partner with families to help provide the best of homeschool education and private Christian classroom education. Programs are available for PreK-High School.
CROSS Academy

Louisville

Welcome to CROSS Academy, a private homeschool group and Christian homeschool cooperative, for grades 1-12, meeting on Mondays during the school year.
Wellspring Homeschool Community

Madison County

Wellspring is not just a co-op, but a growing, multifaceted community that offers field trips, special events, middle and high school socials, middle and high school academic and enrichment classes, standardized testing, service projects, and more. Although weekly co-op classes are a great way to connect with other homeschoolers, you do not need to attend Wellspring's co-op to be able to participate in these additional homeschool opportunities.
Graves County Home Education Co-op

Mayfield

We meet on Fridays from 9:15 a.m. - 12:00 noon on the campus of High Point Baptist Church 220 West Farthing Road, 611, Mayfield, KY. We meet for ten weeks during the fall semester and ten weeks during the spring semester.
AGAPE Teen Co-op

Montgomery County/ Mount Sterling

AGAPE Teen Co-op is a group of Christian homeschool families partnering to offer programs that nurture and enrich students in their academic, social, and spiritual development. Our focus is on 6th-12th grades but we also include our teens' younger siblings. We offer a variety of co-op classes September through May as well as numerous year round activities. Some of our activities include fieldtrips, a talent show, an art and science fair, formal banquets and dances, yearbook, 8th grade crossover ceremony and senior graduation.
Kentucky Homeschooling Classes & Academic Enrichment
Tinkergarten - Kentucky

Bowling Green

With Tinkergarten® and Tinkergarten Babies®, children develop, grow and better prepare through outdoor play-based learning class activities. The expert-designed classes and activities help kids ages 18 months—8 years and babies ages 6—18months learn and develop the skills that matter most, while enjoying fun, engaging experiences in the physical freedom of local green spaces. Classes are offered by the season (Spring, Summer, Fall & Winter) for 8 to 10 weeks and are a packed 75 minutes. Independent exploration and well-designed play-based activities are the keys to developing a host of important capabilities, including self reliance, collaboration, creativity, leadership and problem solving.
PATH Milford - Partners in Academic Training of Homeschoolers

Cincinnati

A Christ-centered group of volunteer home school parents, partnering together with Christian teachers to provide high quality courses for 7th – 12th grade home school students. The goal is to have all courses taught from a Biblical perspective at an academic level to prepare students for higher education. Meets Mondays and Wednesdays. Choose what classes you want. All classes meet once a week, except for math classes, which meet twice a week. Parents retain responsibility and control, but receive help and accountability.

PATH Milford - Partners in Academic Training of Homeschoolers details
Austin Peay University Dual Enrollment

Clarksville, Nashville, Knoxville, Memphis

Check out the Dual Enrollment program at Austin Peay University! This exclusively-online dual enrollment program is a wonderful option for homeschool students, especially those living in the state of Tennessee. Interested in hearing more? Visit the website and get your student's college career started ASAP!
Think Move Learn is partnering with Montessori Family Co-Op

Goshen

Think Move Learn is a fun, movement based program that combines, occupational therapy, special education, sensory integration, and other research based techniques to promote mind and body development in children of all ages.

Think Move Learn is partnering with Montessori Family Co-Op details
Millennial Academy Home School Division

Jefferson and surrounding counties

All children can learn and be successful! The Millennial Academy is a new division of The Collaborative for Teaching and Learning a non-profit organization developed to improve education founded on the premise that all children are capable of success. Through new teaching methods that stimulate learning through the arts and a variety of teaching strategies that are non-prescriptive but based on each individual child, children learn to enjoy learning. We can provide the right support for you and your children to ensure your goals are met and exceeded. The collaborative has worked in KY for the last 12 years and has developed an all-star staff of the best of the best in educators. Come by and let show you how your child is smart.
Kentucky Classical Conversations

Kentucky Statewide

Classical Conversations is a national homeschooling program that uses a Bible based curriculum taught in a christian, classical tradition. Classes are geared for age 4 through high school.
Solid Rock Christian Home Educators

Knox, Laurel, & Whitley Counties

A group of Christian homeschool families who come together for encouragement, support, and fellowship while offering our children fun, hands-on enrichment classes, field trips and special events throughout the school year. You can find information about our weekly classes, monthly field trips, and special events like our annual Easter Egg Hunt and Christmas party. Families can also share tips, ask questions, and post books, curriculum, or any homeschool-related items for sale.
The Great American Bus Interactive Education Company

Lexington

The Great American Bus Interactive Education Company provides a mobile, interactive, educative tool that travels to your school. Gabie, who is our " Awareness Bee", is pollinating the children of Georgia with fun facts about Agriculture. Climb on board and enter our world of fun and experience learning in a different way that will enlighten your students to the world of Georgia's Agriculture. We hope that they have an amazing agricultural experience. But watch out, there are some surprises along the way…. \

The Great American Bus Interactive Education Company details
Class 101

Lexington

Our mission is to provide families with expert guidance in the college search, admissions, and financial aid process. Our dedicated counselors help high school students identify their college goals as well as support them in the steps necessary to achieve those goals in the most cost-effective manner possible. We help with scholarships, applications, deadlines, essays, and more. We can also help homeschooled students compile and organize highschool transcripts in preparation of sending them to colleges.
Kentucky 4-H Horse Program

Lexington

The Kentucky 4-H Horse Program is offering Teach Kentucky Ag in the Classroom Horse Science lessons to 4-H aged junior youth (ages 9-13) to provide a fun, hands-on, educational experience at no cost to the group. Youth will learn something about horses, and also learn how to join their local 4-H Horse Club! We will travel across the state, so the City/Area section will read Lexington, but we can come to you anywhere in Kentucky.
Louisville Bridge Association

Louisville

Free Bridge Lessons for children
Learning Boost Educational Services

Louisville

Learning Boost is a tutoring organization focused on providing children with the tools they need to successfully learn and produce results academically.
Highlands Latin Cottage School in Louisville

Louisville

Highlands Latin Cottage School in Louisville offers an affordable one-day program for homeschoolers. Classes are held on Monday and are taught by instructors from Highlands Latin School. All of the instruction is provided in the classroom with parents providing homework and individual assistance throughout the week. A one-day cottage school is a wonderful way to introduce classical education into a homeschooling curriculum.
GradePower Learning Programs

Louisville

GradePower Learning also known as Oxford Learning had been helping kids reach their fullest potential since 1984. Students begin with a diagnostic assessment that helps pinpoint learning strengths and weaknesses as well as any skill gaps. GradePower provides individualized programs for ages 3 to 18. Each programs include reading, writing, math and study skills for students of all skill levels and abilities. Programs are customized to meet each student's unique learning needs so that each student is able to develop confidence in his or her academic abilities.    
Creative Learning Solutions

Louisville

Creative Learning Solutions operates secular and hands-on learning pod programming out of Whet Your Palette in Anchorage, Kentucky. The Learning Pod has two separate pod groups: one is for K-5 students, and the other is for ages twelve and up. Creative Learning Solutions and their learning pods are run by former public school teachers, both of whom have Masters degrees in education fields. All pod programming includes social-emotional learning instruction and an hour of art and music.
Louisville Magic Academy

Louisville/Jefferson County

Magic Classes with Life Skills. What makes these magic classes truly special is the structure of the classes. Leveraging the power and excitement of learning magic secrets to get kids to put down their electronic devices and learn important social skills that will last a lifetime. Each lesson teaches one of the 8 traits of a true magician. The purpose is to teach respect, inspire creativity, encourage preparation and so much more all in a safe, friendly, fun environment.
Groza Learning Center

Pacific Palisades

At Groza Learning Center we believe that every student is unique which means every child can learn but not on the same day or in the same way. For over 18 years our award-winning programs have provided educational experiences that have helped students discover a love for learning and inspires them to dream big. Our programs are available for students from Pre-K through college level, online, in-person, or in-center, 7days a week. Services include: tutoring in all subjects and across all levels, tutoring with management, test-prep (SAT, ACT, ISEE, PSAT, AP Test), college essay writing, academic management, executive functioning, reading/writing programs, and study skills. Groza can support CHEA families by assisting students who require additional academic help. We provide live, 1:1, interactive instruction with a credentialed teacher who can help bridge any learning gaps and move the student ahead. We can also support students who may be lacking academic management or executive functioning skills. .
Painted Stone Settlers School Day Program

Shelbyville

A hands-on field trip to the 18th century! Over 20 re-enactors have stations set up depicting fire-starting, cooking, spinning, Native American lifestyle, blacksmithing, 18th century customs, and much more. Each year approximately 800 students visit our event at Red Orchard Park in Shelbyville, KY.
Classical Conversations of Vine Grove (Ft. Knox)

Vine Grove, N. Hardin, Meade Counties

The Classical Conversations community, which meets at Valley View Baptist Church, exists to serve homeschooling families in classical education. Student meet weekly with a trained tutor to assist students as they learn and parents as they teach classically at home. Our community is central to Ft. Knox, North Hardin County and Meade County. Visit www.classicalconversations.com for more information.
St. Joseph Academy Homeschool Enrichment Program

Walton

We the Home School Enrichment Program, (HEP), in response to our vocation as parents, strive to model a truly Catholic life through embracing the Gospel message of Jesus Christ. It is our mission to promote, strengthen, and support Catholic Homeschool families within Diocese of Covington and surrounding areas who are interested in or involved in home education. The Sisters of St. Joseph the Worker, who administer St. Joseph Academy and our Homeschool Enrichment Program are dedicated to the magisterium of the church.