Field trips are a great way to reboot a bad homeschooling week, get out of the house when everyone has cabin fever, and learn about your local area. Before heading out, check out Jeanne's tips for improving homeschool field trips.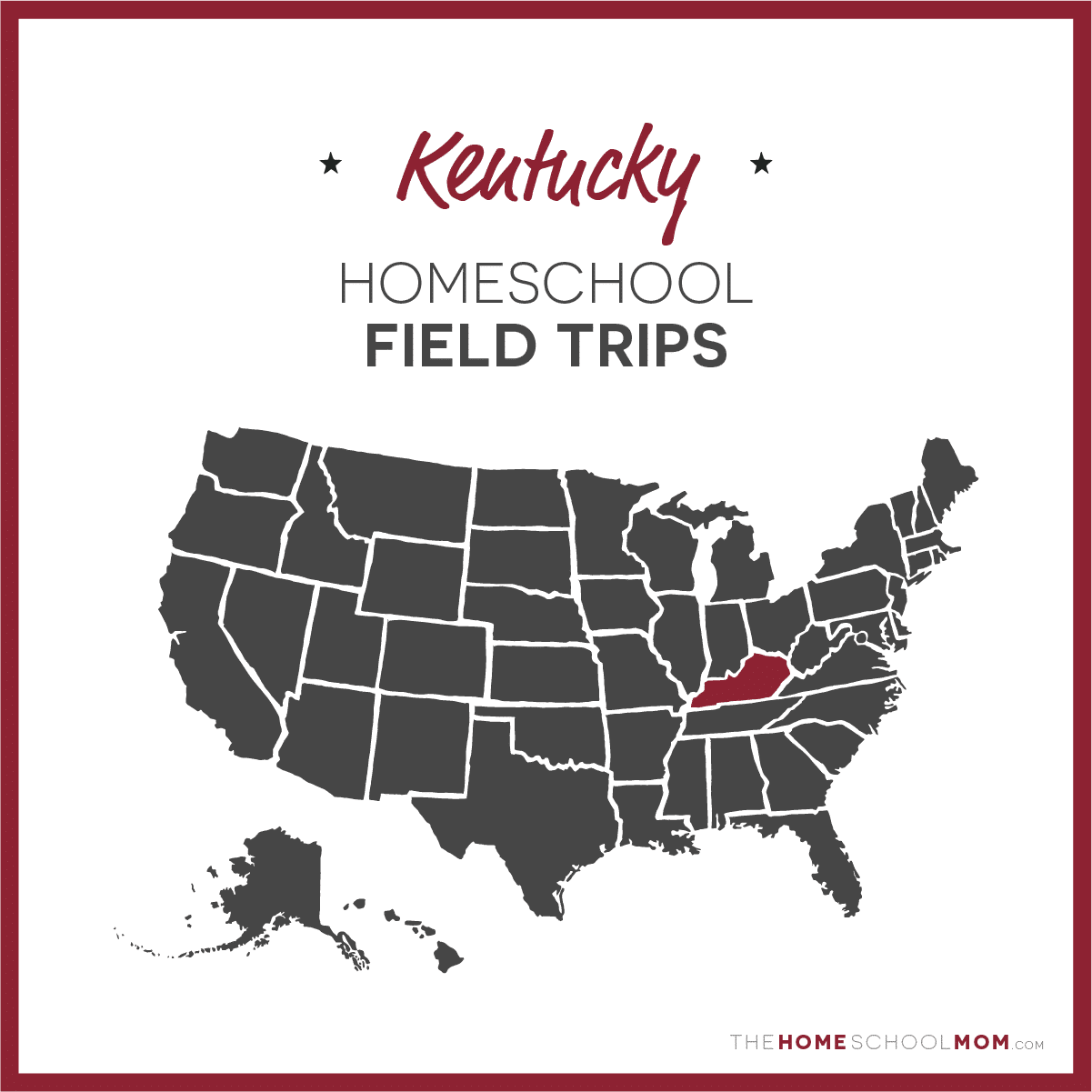 Submit a Field Trip Destination
Our listing of Kentucky field trips for homeschoolers is ordered alphabetically by city. If you would like to submit a Kentucky field trip destination, you may do so using the red button above.
An asterisk * after the title indicates that a virtual field trip is also available.
Highlands Museum & Discovery Center

Ashland

The Highlands Museum & Discovery Center provides avenues of discovery to children and visitors of all ages. Interactive exhibits, educational experiences and innovative programs, both cultural and historical, celebrate our past, explore our present, and enrich our future.
Dr. Thomas Walker State Historic Site

Barbourville

Explore Kentucky's History - Although Daniel Boone is often remembered as Kentucky's most famous pioneer, Dr. Thomas Walker was actually the first frontiersman in Kentucky, preceding Boone by 17 years. Come visit the Dr. Thomas Walker State Historic Site and follow in the footsteps of the famous--and not so famous--Kentucky pioneers.
My Old Kentucky Home State Park

Bardstown

Federal Hill was the inspiration for Stephen Foster's famous ballad, My Old Kentucky Home. Today, this Georgian-style mansion is as endearing to visitors as it was in 1852, the year Foster wrote what has become the official state song while visiting his cousins, the Rowan family. Step into the days of the antebellum South as costumed guides escort you through the stately mansion and formal gardens.
Old Bardstown Village

Bardstown

The fourth-largest Civil War Museum in the United States. In 1999 we added the only museum dedicated to the women of the Civil War, featuring exhibits of period clothing, paintings, and personal artifacts. Unlike the other museums, this one focuses mainly on the War of the Western States. The story of the western theater is told plainly in geographical and chronological segments. Visitors move through a series of exhibits featuring myriad artifacts from both the Union and the Confederacy.
Oscar Getz Museum of Whiskey History and the Bardstown Historical Museum

Bardstown

Oscar Getz Museum of Whiskey History displays a 50 year collection of rare artifacts and documents concerning the American whiskey industry dating from pre-Colonial days to post-Prohibition years. The museum includes exhibits on President Washington, Abraham Lincoln, authentic moonshine stills, antique bottles and jugs, medicinal whiskey bottles, unique advertising art, novelty whiskey containers, and much more. [photos] The Bardstown Historical Museum contains items relating to 200 years of area history. You will find indian relics, Lincoln documents, pioneer papers, John Fitch land grant, a replica of his first steamboat, Stephen Foster memorabilla, a new Trappist monks' exhibit, gifts of Louis Phillippe and Charles X of France, Civil War artifacts and guerrilla Jesse James hat and wine bottle, St. Joe Preparatory School momentos and much more

Oscar Getz Museum of Whiskey History and the Bardstown Historical Museum website
Coal Miners' Museum

Benham

The Kentucky Coal Museum allows the public to learn about coal mining through access to perhaps the most comprehensive collection of mining memorabilia in the nation. The product of study and painstaking research, the Museum's collection uniquely portrays life in a coal camp.
Benham School House Inn and Kentucky Coal Mining Museum

Benham

The school house was built in 1926 by Wisconsin Steel Corporation (later known as International Harvester) as a high school and elementary school for coal camp children. The last high school class graduated in 1961, but the building continued to be used as an elementary school until 1992. The Kentucky Coal Mining Museum collects and preserves the rich history of the coal mining and coal camps throughout Kentucky.

Benham School House Inn and Kentucky Coal Mining Museum website
Kentucky Museum

Bowling Green

In addition to collecting, preserving, and exhibiting Kentucky artifacts, the museum provides educational opportunities for elementary, secondary, and college students and the general public. The Kentucky Museum contributes to the tourism and cultural offerings in the South Central Kentucky region as well.
National Corvette Museum

Bowling Green

Since 1953 the Corvette has been America's Sports Car. The National Corvette Museum was established as a 501(c)3 not-for-profit foundation with a mission of celebrating the invention of the Corvette and preserving its past, present and future.
Buckhorn Lake State Resort Park

Buckhorn

Positioned just along the edge of the Daniel Boone National Forest, this resort appeals to nature-lovers or anyone who just wants to get away from it all.
Dale Hollow Lake State Resort Park

Burkesville

Located on Kentucky's southern border, this resort park offers a vast, unspoiled wilderness to refresh and rejuvenate the senses.
Dinsmore Homestead *

Burlington

Virtual field trip onlinehe Dinsmore Homestead is a unique historic site where visitors can learn what rural life was like in the 19th and early 20th centuries. Nature enthusiasts enjoy the hiking trails developed in cooperation with the Kentucky Nature Conservancy and the Boone County Parks Department. It is a resource for students and scholars and an area where artists can sketch and paint. Those who enjoy antiques and historic interiors delight in touring the house that contains the original accumulated belongings of five generations of the Dinsmore family.
General Burnside State Park

Burnside

General Burnside Island State Park was named for the sideburn-whiskered Civil War general Ambrose Burnside. Burnside led patrols along the Cumberland River, circling this 400-acre island while on the look out for Confederate soldiers.
Thomas Edison House

Butchertown

Louisville's Thomas Edison House is located in historic Butchertown, a neighborhood which has been known as the center of meat production in this city for over 200 years. It was also one of the areas Thomas Alva Edison called home during the years he lived and worked in Louisville.
Lake Barkley State Resort Park

Cadiz

Lake Barkley State Resort Park rests on the shores of one of the world's largest man-made lakes and provides for an array of outdoor activity.
Green River Lake State Park

Campbellsville

Green River Lake State Park opened in 1969 contains 1,331 acres along with the 8,200-acre lake. The park has many attractions for those who love nature and wish to experience the beauty that is Kentucky.
General Butler State Resort Park

Carrollton

Enjoy General Butler State Resort Park's unique setting at the confluence of the Kentucky and Ohio Rivers from the scenic overlook. Butler-Turpin State Historic House.
Yogi Bear's Jellystone Park Mammoth Cave

Cave City

Family-friendly Resort near Mammoth Cave National Park (only 4 miles) that welcomes all ages. We offer daily field trips or overnight field trips. We offer cabins, camping sites and tent sites. Amenities available: Private areas for education, Karst Beach, pools, playgrounds, mining sluice, basketball, kickball, waterslide, splashpad, Wibit obstacle course, wooded areas for exploration, food and more! Our recreation staff can assist with your needs while here. Opportunities to see Yogi Bear, Boo Boo Bear and Cindy Bear! We are open year round.
Columbus-Belmont State Park

Columbus

Columbus-Belmont State Park is a 156-acre site that played a fascinating role in the War Between the States. This is the site of fortifications built by the Confederates and later occupied by Union forces. The 1861 Battle of Belmont, a raid fought to test the strength of this Confederate stronghold, marked the opening of the Union's Western Campaign. It was also Union General Ulysses S. Grant's first active engagement in the Civil War. Some of the artillery, which shelled the Union troops, and the six-ton anchor that held the great chain stretching across the river, are on display in the park.
Cumberland Falls State Resort Park

Corbin

Imagine a wall of water falling 60 feet into a boulder-strewn gorge, a whispering mist that kisses the face and a magical moonbow visible on a clear night under a full moon.
Battle of Leatherwood

Cornettsville

The event will feature Civil War re-enactors, a battle both Saturday and Sunday. It always is on the fourth weekend of October. The event will begin on Friday with an Education Day for students in the regional counties. There will be demonstrations and discussions from our volunteer presenters including a period school, period music, spinning wool and weaving fabric, making brooms, making salt, herbal medicine, a CW nurse, a lecture on the history of the battle and salt works, cannon firing and skirmish, a blacksmith, and an exhibit of Native American items. Visitors can take a photograph with President Abe Lincoln or General Robert E. Lee.
Behringer-Crawford Museum

Covington

The Behringer-Crawford Museum is a center for the collection, presentation, study and enjoyment of our natural, cultural, and visual and performing arts heritage.
Kingdom Come State Park

Cumberland

With an elevation of 2,700 feet, Kingdom Come is Kentucky's highest state park. The park offers scenic vistas second to none. Extraordinary rock formations are featured at this park, including Log Rock, a natural sandstone bridge, and Raven Rock, a giant monolith that soars 290-feet into the air at a 45-degree angle.
McDowell House

Danville

Provides historical, tourist, and genealogical information. Here on Christmas morning 1809, Dr. Ephraim McDowell performed surgery on Jane Todd Crawford for the removal of an ovarian tumor. The ovarian tumor he removed from Mrs. Crawford weighed twenty-two and one-half pounds. The surgery was performed without benefit of anesthetic or antisepsis, neither of which was known to the medical profession at the time. Mrs. Crawford's surgery was successful. She returned to her home in Green County twenty-five days after the operation and lived another thirty-two years. This was the first successful removal of an ovarian tumor in the world. Click here to learn more by visiting the History pages.
The Great American Dollhouse Museum

Danville

Activity abounds in the miniature village. Visitors will be intrigued by the social interaction and historical detail in its hundreds of buildings, and by the vivid characters that fill its streets, back yards, and parks. As enchanting as it is educational, the extensive town provides both an unforgettable day trip and a dynamic lesson in American social history.
Pennyrile Forest State Resort Park

Dawson Springs

Named for the tiny Pennyroyal plant found in the woodlands surrounding this resort, Pennyrile Forest is the perfect back-to-nature hideaway.
Lake Malone State Park

Dunmore

The lake is enclosed by dramatic 50-foot sandstone bluffs rising above the water's edge and surrounded by hardwood forests. Discover the beautiful landscape of Lake Malone State Park on the 1.5-mile Laurel Trail or the .25-mile Wildflower Trail. These easy-rated hiking trails provide picturesque views of many rock walls, once used as shelters by Native Americans. Mountain laurel, holly, dogwood and wildflowers provide a rich tapestry of native flora. Natural wonders abound in this secluded wilderness!
Mineral Mound State Park

Eddyville

This peaceful setting on the shores of Lake Barkley is historically linked to the author F. Scott Fitzgerald.
Jefferson Davis State Historic Site

Fairview

The 351-foot monument to Davis constructed on this site marks Davis' birthplace and rests on a foundation of solid Kentucky limestone. Our visitor's center features exhibits detailing Davis' political life before and after the Civil War, and offers Kentucky handcrafts, souvenirs, books and Civil War memorabilia.
Rough River State Resort Park

Falls of Rough

Rough River State Resort Park is surrounded by rolling countryside overlooking a 5,000 acre lake.
Kincaid Lake State Park

Falmouth

Explore the lake in a rental boat from the marina, or soak up the summer sunshine at the lakeside swimming pool. Surrounded by open woodland, the campground offers quiet seclusion with all of the modern conveniences campers expect.
Vent Haven Museum

Fort Mitchell

The world's only museum dedicated to the art of ventriloquism.
Capital City Museum

Frankfort

Housed in a 150 year old building that represents all that is left of the Capital Hotel, which burned in 1917, the museum is a large room filled with history and character. There are plenty of details to explore, with exhibits painting a vivid picture of both political and personal life in Kentucky over the past 200 years.
Kentucky Historical Society

Frankfort

The Kentucky Historical Society, founded in 1836, operates three Kentucky history destinations: the museum at the Kentucky History Center, the Old State Capitol and the Kentucky Military History Museum. Activities on the Society's campus include group tours, educational programs for kids and adults, the finest genealogical research library in the state and a host of special events.
Patton Museum

Ft. Knox

The General George Patton Museum (formerly the Patton Museum of Cavalry and Armor) was established to preserve historical material, enhance the training of Armor soldiers and for public exhibit and research. The Museum is administered by the U.S. Army Armor Center, Fort Knox, and is one of the largest in the U.S. Army Museum System.
Georgetown and Scott County Museum

Georgetown

The museum's mission is to provide exhibits and programs that celebrate community history and tell the stories of the citizens of Georgetown and Scott County--how they have influenced and been influenced by the region, state, and nation in which they lived. The museum provides programs for adults, students, and families that encourage them to actively participate in learning about the history of the community. Through the museum's annual program schedule, community members can tour historic areas of the community, listen to local authors and historians discuss local history, and participate in activities that promote an appreciation for the community's heritage.
Kentucky Dam Village State Resort Park

Gilbertsville

Things To Do: Village Inn Lodge & Village Green Inn, Cottages, Harbor Lights Restaurant, Camping and Golf.
Greenbo Lake State Resort Park

Greenup

The fieldstone lodge at this resort is named in honor of Jesse Hilton Stuart, (1906-1984) Poet Laureate and native of Greenup County. Outdoor Amphitheatre: Enjoy a variety of entertainment this summer, including "Battle of the Bands", high school drama productions, concerts, music festivals, arts and more.
Kenlake State Resort Park

Hardin

Located on the mid-west shore of Kentucky Lake, with the longest shoreline of any man-made lake in the eastern United States, Kenlake is the perfect spot to enjoy the great outdoors.
Devine's Corn Maze and Pumpkin Patch

Harrodsburg

A real working farm where education and fun meet! Learn about milk production from "Mable the Marvelous Milking Moo" Free dairy education materials 3 corn mazes to accommodate any age group. Hayride tour of farm on the way to the pumpkin patch. "Critter" Petting area, Children play area with hay maze, rubber duck races, "Corn Hopper", "Trike Track", Human Hamster Wheel and other activities Covered picnic area.
Old Fort Harrod State Park

Harrodsburg

In 1774, James Harrod established the first permanent settlement west of the Alleghenies in what would become Central Kentucky. Preserving Kentucky's pioneer history, the fort has been reconstructed near the site of the original. Heavy timbers form stockade walls and enclose the cabins and blockhouses. Interpreters in period-correct clothing perform pioneer tasks such as woodworking, weaving, broommaking, and blacksmithing and tend the farm animals and gardens.
Shaker Village of Pleasant Hill

Harrodsburg

Discover America's largest restored Shaker community, where a remarkable society once flourished and where today, you can experience a true national treasure. This 3,000 acre National Historic Landmark charms guests with distinct Shaker style and the beauty of Lexington's Bluegrass Region. A stay at the Inn offers peaceful accommodations, gracious dining, exceptional shopping, historical activities and invigorating recreation.
John James Audubon State Park

Henderson

John James Audubon State Park houses the world's largest collection of Audubon's art and offers exhibits on the artist's life. Here, nearly two centuries ago, John James Audubon, renowned naturalist and artist, came with his family to operate a small mercantile business and to explore the surrounding wilderness in search of wild birds to study and sketch.
The NKU Museum of Anthropology

Highland Heights

Founded in 1976 by Dr. James Hopgood, the NKU Museum of Anthropology serves as an educational, research, and conservational unit of Northern Kentucky University with responsibilities in selected areas of archaeology and ethnology. Through its mission, the Museum contributes to knowledge of and promotes the appreciation of the diversity and richness of human cultures and societies.
Lincoln Museum of Kentucky

Hodgenville

The museum's main exhibits include a dozen dioramas of the life of the 16th president of the United States.
Abraham Lincoln Birthplace National Historic Site

Hodgenville

Lincoln's life in Kentucky.
Pennyroyal Area Museum

Hopkinsville

The Pennyroyal Area Museum was Hopkinsville's first museum and is the only Hopkinsville museum featuring Edgar Cayce and African American history.
Lake Cumberland State Resort Park

Jamestown

Lake Cumberland is considered one of the finest fishing and boating areas in the Eastern United States.
Oldham County Historical Society

LA Grange

The Oldham County Historical Society has launched a Veterans History Project. Acting in partnership with the Library of Congress and like-minded organizations throughout the nation, the Oldham County Historical Society is undertaking a Veterans History Project, with the initial emphasis on the experiences of local veterans and their families during the Second World War. The interviews will be indexed at the Library of Congress, but housed at the Oldham County Historical Society.
Aviation Museum of Kentucky

Lexington

The Aviation Museum of Kentucky is located at Blue Grass Airport, Lexington. The facility has 12,000 square feet of display area, a fully equipped shop for aviation restoration projects, an office, a library/archive and a gift shop. The Museum is a dynamic entity which includes not only older restored aircraft and memorabilia, but also air-worthy, flyable aircraft for the public to enjoy.
Bodley-Bullock House

Lexington

The Bodley-Bullock House is one of the most prominent and stately mansions in the Bluegrass region. The home was built circa 1814 for Lexington Mayor Thomas Pindell. Shortly after its construction it was sold to General Thomas Bodley, a veteran of the War of 1812, for whom the house was named. The home has many unusual architectural features and is very similar in design to the Hunt-Morgan House. Originally constructed as a Federal style residence, numerous additions and alterations during the 19th century resulted in a house that is more characteristic of the Greek Revival period. A small, one-story columned portico was added to the front entrance, at which time a Palladian window above the door was removed. A large, two-story columned portico was also added to the side of the house that faces the garden.
Hunt-Morgan House

Lexington

The Hunt-Morgan House, historically known as Hopemont, was built by John Wesley Hunt in 1814. Hunt was known as the first millionaire west of the Alleghenies and earned his fortune from the mercantile business shortly after Lexington was established. Other notable personalities have also resided at Hopemont. Hunt's grandson, General John Hunt Morgan, was a dashing general in the Confederate Army who gained the nickname "The Thunderbolt of the Confederacy" through his many raids and daring military feats. John Wesley Hunt's great grandson, Dr. Thomas Hunt Morgan, was born in the house in 1866. Dr. Morgan became famous for his work in genetics and is one of a very few Kentuckians to have won the Nobel Prize. The Hunt-Morgan House is a Federal style residence with specific emphasis on the geometric phase of the period. The building has many fine architectural features including a Palladian window with fan and sidelights that grace the front facade, as well as a large spiral staircase in the front entranceway.
International Museum of the Horse Home

Lexington

"The International Museum of the Horse is committed to educating the general public, equestrian and academic communities about the relationship between man and the horse throughout history and the world." With over 38,000 square feet of exhibition space, IMH is dedicated to the history of the horse and its unique relationship with humans through time. Permanent museum exhibitions highlight the history of the horse from ancient times to the many popular sporting events of modern times.
Mary Todd Lincoln House

Lexington

The Mary Todd Lincoln House was the family home of the future wife of the 16th President. The 14 room house contains period furniture, family portraits and furnishings from the Todds as well as the Lincolns.
Explorium of Lexington

Lexington

The mission of the Explorium of Lexington is to create a fun and dynamic hands-on learning environment that inspires imagination and curiosity.
American Saddlebred Museum

Lexington

The American Saddlebred Museum presents the traditions and heritage of the American Saddlebred Horse through the collection, preservation, and display of artifacts, fine art, photography and the written word.
Ashland, The Henry Clay Estate

Lexington

The highlight of a visit to Ashland is the guided tour of the 18-room mansion, which begins with a brief introductory video before your guide greets you and escorts you through the house. Guided tours of the mansion take one hour. Additional time may be spent visiting the permanent Henry Clay exhibit room, taking the self-guided tour of the outbuildings, strolling the formal garden and walking trails, shopping in the Museum Store, or having a bite to eat or a refreshing glass of iced tea at the seasonal Ginkgo Tree Cafe (open mid-April through mid-October, weather permitting).
Safety City

Lexington

Safety City is a child size city complete with electric child sized cars where children can play and learn about driving a pedestrian safety.
Waveland State Historic Site

Lexington

The Bryan family accompanied Daniel Boone through the Cumberland Gap to the Bluegrass Region, and established Bryan's Station in 1779--one of Kentucky's first settlements. Tours of Waveland focus on the Bryan family and life on a 19th-century Kentucky plantation.
University of Kentucky Art Museum

Lexington

The University of Kentucky Art Museum owns over 4,000 art treasures in all media. Highlights are on view in the collection galleries on the second floor. Selections from our holdings of works on paper and photographs are displayed on a rotating schedule.
Battle of Camp Wildcat

London

Though the armies have long since disappeared, many of their trenches remain as reminders of what happened on that October day. If you visit the battlefield and stand quietly behind the trenches you may feel your heart begin to pound just like the soldiers' hearts pounded in 1861.
Levi Jackson Wilderness Road State Park

London

Levi Jackson Wilderness Road State Park combines the beauty of a rolling, wooded hills park with a historic site that honors the pioneers who braved the perils of the wilderness to settle Kentucky.
Yatesville Lake State Park

Louisa

Yatesville Lake provides plenty of room to skim the waves or catch some rays in your favorite cruisecraft--be it a houseboat, pontoon, speed boat or jet ski. The Yatesville Marina offers everything boaters and fishers need for lake fun.
Louisville Water Tower Park and WaterWorks Museum

Louisville

A cross-curricular, real-world experience connecting students to the stories behind every glass of drinking water. Visits include time in our museum with an activity, a guided tour of on-site facilities, and a lesson. All ages welcome but work best for 5 and up.
Conrad-Caldwell House Museum

Louisville

A magnificent Richardsonian Mansion on St. James Court. The finest in the city. Also known as "Conrad's Castle," this is one of the most stunning of Old Louisville's houses and defines Richardsonian Romanesque architecture. The house was built for Theophilus Conrad, a Frenchman (Alsace) who made his fortune in the tanning business. The original construction price was $75,000.Walk around it and enjoy its gargoyles, swags, massive arches and fleur-de-lis.
Farmington Historic Plantation

Louisville

Farmington, the center of a 550-acre hemp plantation, was built for John and Lucy Speed during 1815 and 1816. The Federal-style house has an ambitious and unusual plan identified in the original building contract as the work of Paul Skidmore, (? - 1817), a Kentucky entrepreneur about whom little is known. Skidmore was clearly influenced by the architectural work of Thomas Jefferson. With two octagonal rooms imbedded in the center of the house, Farmington's plan is very similar to one produced by Jefferson for an unidentified residence. Farmington hosts numerous historical re-enactments throughout the year. Costumed Interpreters depict the Speed family, Abraham Lincoln, and the nearly sixty enslaved African-Americans that lived and labored on the plantation. Re-enactments are designed for the entire family to experience history, not just be by-standers. The performances do explore complicated and tangled issues such as slavery, the Civil War, politics of the period, gender roles, etc. Farmington aspires to provide the most accurate, sensitive and honest portrayals of life on the plantation.
Frazier International History Museum

Louisville

Come face to face with some of the people and stories that changed the world forever! The Frazier International History Museum brings history to life everyday through live interpretations by costumed interpreters, multimedia presentations, educational programming and hands-on learning. Covering 1,000 years of history, our priceless collection is housed in a 100,000 square foot, state-of-the-art facility on downtown Louisville's historic West Main Street. Our vision is for every visitor to leave with a broader knowledge of history, a greater respect for the human spirit and a deeper commitment to tolerance.
Locust Grove

Louisville

Locust Grove is a National Historic Landmark on 55 acres of the original 694 acre farm established by William and Lucy Clark. Revolutionary War hero, George Rogers Clark, spent the last nine years of his life at Locust Grove, from 1809 until his death in 1818. Locust Grove also hosted three U.S. Presidents, Monroe, Jackson and Taylor, and was a stopping point for famed explorers Meriwether Lewis and William Clark upon their return from their expedition to the Pacific. In addition, Locust Grove was home to numerous enslaved African-Americans who lived and worked on the farm and contributed to its success. Locust Grove tells the story of George Rogers Clark, early Kentucky history, western expansion and everyday life on the frontier.
Kentucky Derby Museum

Louisville

The Kentucky Derby Museum, which sits on the front steps of historic Churchill Downs, is a very visible part of our community. Graciously welcoming over 200,000 guests through the doors each year and giving them a first hand look at the event for which Louisville, Kentucky is known worldwide. The Museum aims to provide a lasting impression of tradition, hospitality and pride to our many visitors. The Kentucky Derby Museum, in addition to being the guardian of the Kentucky Derby, offers so much more to our community. Through our Education Department, we offer a free kids program to all public and parochial schools within the states of Indiana and Kentucky. Our Outreach Program travels to communities within our state to educate Kentucky youth about the economics, history and significance of the Kentucky Derby.
Water Works Museum

Louisville

Visit Louisville Water Tower Park. While on site do an activity inside our WaterWorks Musem, take a guided tour of the water tower and working facilities and receive a lesson in your choice of science, social studies or practical living.
Kentucky Museum of Art Craft

Louisville

Welcome to the Kentucky Museum of Art Craft, the home of the best of Kentucky's Art and Craft Heritage located on historic West Main Street, Louisville.
Kentucky Science Center

Louisville

Discover the fun of the Science Center. You'll find all the major sciences brought to life with exciting, interactive exhibits that engage your hands, your mind and your imagination! Kids, families, adults, grandparents, students ... there's something for everyone. See it all or explore one topic in depth. A full schedule of special events, temporary exhibits and IMAX® films means there's always something new.
Louisville Slugger Museum

Louisville

It takes a special place to craft the Official Bat of Major League Baseball. Since 1884, Louisville Slugger has put prime lumber in the hands of the greatest players of the game. A visit to the museum shows you how the sport has changed a bit between then and now, but the "crack of the bat" remains one of the sporting world's most thrilling moments.
Louisville Zoo

Louisville

The Louisville Zoo serves as a living classroom, helping students of all ages develop an appreciation for and sense of responsibility toward the treasure of animal and plant life on our earth.
E.P. "Tom" Sawyer State Park

Louisville

Tom Sawyer Park is a mecca for indoor and outdoor recreation enthusiasts.
Muhammad Ali Center

Louisville

Muhammad's dream to share his inspiration with the world is being realized through the Muhammad Ali Center in Louisville, Kentucky. The Center appeals to the heart, spirit, and imagination. It inspires both children and adults to form new commitments in their lives in areas of personal growth, integrity, and respect for others, and it gives them the tools to make these commitments happen.
Portland Museum

Louisville

Get Lost...in history at the Portland Museum and discover the charm of Portland, Louisville's riverside community. Explore Louisville's river heritage through vivid dioramas, life-sized character mannequins, automated sound track, documentaries, and much, much more. Discover the Portland neighborhood, once an independent town below the Falls of the Ohio, through walking tours, restored historic properties, archaeology and interpretation at Portland Wharf Park, art exhibits, programs, and heritage events.
Speed Art Museum

Louisville

Kentucky's oldest and largest art museum with over 13,000 pieces in its permanent collection. Its extensive collection spans 6,000 years, ranging from ancient Egyptian to contemporary art. The museum has distinguished collections of 17th century Dutch and Flemish painting, 18th century French art, Renaissance and Baroque tapestries, and significant holdings of contemporary American painting and sculpture. African and Native American works also represent a growing segment of the museum's collection.
Barren River Lake State Resort Park

Lucas

This resort park is located near Kentucky's famous cave area, which includes Mammoth Cave National Park, the longest cave system in the world!
Hopkins County Historical Sites & Museum

Madisonville

Located in western Kentucky, Hopkins County is a wonderful place to visit. With a rich history and vibrant community spirit, Hopkins County offers something for everyone. Whether you are looking to relax and get away from it all with a lazy kayak paddle down the Tradewater River or you are seeking weekend of arts and fine dining, we have it all. Residents are always eager to content that we have the best of both worlds: the quaint atmosphere of a small southern town with many of the amenities of a larger city.
Nolin Lake State Park

Mammoth Cave

Nolin Lake is popular with boaters and fishermen alike, and campers will enjoy the new Nolin Lake Campground, featuring 32 camp sites with water and electricity.
Mammoth Cave National Park

Mammoth Cave

Mammoth Cave is the world's longest cave system. The website offers historical information about the park for those who cannot visit in person.
Clement Mineral Museum

Marion

Crittenden County is believed to be the first place in Kentucky where the mineral fluorspar was mined. Fluorspar is used primarily as a flux in the steel-making industry and to a lesser extent in the production of hydrochloric acid. In the predawn of history, migrating Indians discovered the soft, colorful deposits of fluorite in the forests of what is today the Southern Illinois and Western Kentucky Fluorspar Region. Using stone-age technology, they were the first to fashion ornaments and carvings from the mineral. Unknown to them were the secrets of the substance that in the years to come would give rise to a global industry. The Clement Mineral Collection is comprised of specimens of exquisite beauty from throughout the world. Thousands of these minerals are from the mines of the famous Southern Illinois and Western Kentucky Fluorspar Region.
Harriet Beecher Stowe, Slavery to Freedom Museum

Maysville

(The Marshall Key House) - 1807 - The museum is an early antebellum home where Stowe, the author of Uncle Tom's Cabin visited and witnessed a slave auction in 1833. This brick Georgian townhouse is one of the finest historic structures in Washington. It is distinguished by a handsome Georgian frontispiece and an elegant curved interior stairway. The form, character and exterior original brick portion are stylistically Georgian and the interior Federal. The museum has the original woodworking, mantels, doors, floors and chair railings.
Battle of Sacramento

McLean County

Nathan Bedford Forrest's First Battle, largest cavalry in Kentucky. Will include: Parade, Cemetery Dedication, Tea, Cavalry Races, Living History/School Days, Memorial Services, Battlefield Ball. Don't miss this unique experience. Visit our website or call (270) 781-6858 for more information. Check website for details of event held in May.
Battle of Middle Creek

Middle Creek

Join us as we reenact the Battle of Middle Creek. This reenactment takes place on the actually battlefield that saw action during the Civil War, we reenact on ground made hallowed by the blood of our ancestors, we fight in their honor! Exciting activities each day, an exciting tactical battle on Saturday an a historic reenactment of the battle on Sunday. Check website for event held in September.
Cumberland Gap National Historical Park

Middlesboro

At Cumberland Gap, the first great gateway to the west, follow the buffalo, the Native American, the longhunter, the pioneer... all traveled this route through the mountains into the wilderness of Kentucky. Modern day explorers and travelers stand in awe at this great gateway and the many miles of trails and scenic features found in the park.
Kentucky Folk Art Center

Morehead

The Kentucky Folk Art Center offers visitors one of the most important and unique cultural experiences to be found anywhere in Appalachia. From the fun and quirky to the fantastical, the folk art exhibited and conserved by KFAC is an engaging and vital piece of our region's history and contemporary culture.
Blue Licks Battlefield State Resort Park

Mt Olivet

Throughout history, the salt springs at Blue Licks State Park have attracted prehistoric animals, Indians and pioneers such as the legendary Daniel Boone.
Wrather West Kentucky Museum

Murray

The primary mission of the Wrather West Kentucky Museum is to highlight and promote an understanding of the social, cultural and economic development of West Kentucky and the Jackson Purchase. Acquisitions, exhibits and special programs support this mission.
Kentucky Railway Museum

New Haven

At the Kentucky Railway Museum in New Haven, Kentucky, recapture the romance of the local passenger train when it was small-town America's link to the world. Enjoy a 22 mile, 90 minute train excursion through the scenic and historic Rolling Fork River Valley on a restored passenger train.
Carter Caves State Resort Park

Olive Hill

Beneath the forested hills of this resort, nature has hidden more than 20 twisting caverns, where you'll discover a 30-foot underground waterfall, and many more surprises!
Grayson Lake State Park

Olive Hill

Sheer sandstone canyons and gentle slopes comprise the 1,512 acres of Grayson Lake State Park. This site was a favorite camping area for Shawnee and Cherokee Native American. The hiking trails offer several species of ferns, mosses, and lichens, the flowering rhododendron, "lizard head rock," and the unusual combination of beech-hemlock trees.
Big South Fork National River & Recreation Area

Oneida

Encompassing 125,000 acres of the Cumberland Plateau, Big South Fork National River and Recreation Area protects the free-flowing Big South Fork of the Cumberland River and its tributaries. The area boasts miles of scenic gorges and sandstone bluffs, is rich with natural and historic features and has been developed to provide visitors with a wide range of outdoor recreational activities.
International Bluegrass Music Museum

Owensboro

Bluegrass is the official State Music of Kentucky, and Bill Monroe's "Blue Moon of Kentucky" shares with Stephen Foster's "My Old Kentucky Home" the honorable distinction of being the official Kentucky State Songs. The infectiously energetic style of dance that grew up around bluegrass and old time music is clogging, the official Kentucky State Dance. The International Bluegrass Music Museum is located in the RiverPark Complex at the foot of "the blue bridge" in downtown Owensboro, Kentucky. As you draw near, you'll hear the sounds of bluegrass music emanating from the museum's radio station, RBI, with audio speakers taking the music to the streets. Only a few hundred feet from the museum's entrance, the sound of music drifts downstream via the mighty Ohio River, the subject of more than a few memorable bluegrass songs.
Ben Hawes State Park

Owensboro

Ben Hawes State Park offers opportunities for fun and education. On the park grounds are the remains of a deep coal mine operation that thrived from the early 1900s through the 1950s. Several buildings remain that can be reached by hiking trails. Park benches are conveniently located around the mine site. Along the wooded countryside of the park, there is an outdoor classroom where nature classes can be held.
Owensboro Area Museum of Science & History

Owensboro

The Owensboro Museum offers a wide range of educational programming to school groups and other organizations. All of our programming is in alignment with core content curriculum developed by the Kentucky Department of Education and the Indiana Department of Education.
Owensboro Museum of Fine Art

Owensboro

Owensboro Museum of Fine Art expands and enhances the cultural environment of the region through a permanent collection of American, European and Asian fine and decorative arts dating from the 15th century to the present. Major traveling exhibitions; visual and performing arts; interpretive events and educational programs for children and adults occur throughout the year.
National Quilt Museum

Paducah

Welcome to The National Quilt Museum of the United States. Colors and designs flourish inside this attraction newly designated as The National Quilt Museum of the United States. The museum has three amazing galleries that showcase more than 150 quilts at a time. There is always something new to see. The museum is open year round and the quilt exhibits change regularly with approximately a dozen new exhibitions annually.
River Heritage Museum

Paducah

The River Heritage Museum is located within the oldest surviving antebellum building in Paducah's historic downtown. Known locally as the Petter Building, this two-story, double-pile, brick structure was built circa 1843 to house the newly-formed Branch Bank of Louisville. The building still exhibits the original molded lintels, parapet end walls, and denticulated cornice that are characteristic features of the Greek Revival style.
Market House Museum

Paducah

The collection and preservation of quality Paducah artifacts, especially those that underscore the town's rich historical past, are the primary goals of the museum. Today over 4,000 square feet of rotating exhibits and displays are offered for the viewing pleasure of our guests. New artifacts arrive and are continually added to the collection to keep the museum growing and serving the community.
Perryville Battlefield State Historic Site

Perryville

Perryville became the site of the most destructive Civil War battle in the state which left more than 6,000 killed, wounded or missing. The battlefield is one of the most unaltered Civil War sites in the nation; vistas visible today are virtually those soldiers saw on that fateful day in 1862. A self-guided walking tour on the battlefield interprets battle events.
Pine Mountain State Resort Park

Pineville

A spectacular mountaintop wonderland overlooking the Kentucky Ridge State Forest, became Kentucky's first state park in 1924.
Jenny Wiley State Resort Park

Prestonsburg

Make plans to enjoy the Jenny Wiley Theatre this season, a showplace for the performing arts!
Fort Boonesborough State Park

Richmond

When Daniel Boone and his men reached the Kentucky River on April 1, 1775, they quickly moved to establish Kentucky's second settlement--the site still known as Fort Boonesborough. To many Americans, Boone remains the epitome of the free spirit of the wilderness. Therefore it is only natural that sites associated with his life be preserved and visited by those who revere his memory.
White Hall State Historic Site

Richmond

The restored Italianate mansion was built in 1798 and remodeled in the 1860's. The home of Cassius Marcellus Clay: emancipationist, newspaper publisher, Minister to Russia, and friend to Abraham Lincoln. Clay's daughter, Laura Clay, was politically active for women's suffrage and states' rights. In 1920, Laura Clay became the first woman to be nominated for U.S. President by a major political party.
Carr Creek State Park

Sassafras

Carr Creek Lake was once home to some of the area's earliest pioneer settlements as early as the 1770s. The marsh environment in the Carr Creek area is unusual for the Mountains of Eastern Kentucky, but provides a wide assortment of watchable wildlife. Wood duck, great blue and green heron, ruffed grouse, bobwhite, wild turkey, red-winged blackbird, warblers, raccoon and striped skunk may be found making their homes in this area.
Fishtrap Lake State Park

Shelbiana

A man-made lake surrounded by natural beauty, Fishtrap Lake was created to help control flooding along the Ohio and Big Sandy Rivers. Nestled among mountains and dense forests, the Fishtrap Lake area will appeal to anyone who loves boating, fishing or hiking. But don't be surprised if the other visitors you meet as you wander around the park area aren't of the human variety; this site is well-known as a haven for deer, raccoons and even the occasional grouse.
Natural Bridge State Resort Park

Slade

It has taken nature millions of years to form the natural sandstone arch from which Natural Bridge is named.
Shaker Museum at South Union

South Union

South Union today is more than just a memory. It is a place to visit and learn firsthand about the Shaker way of life. Several of the original buildings have been restored and now house a fine museum of Shaker folklife and material culture, a unique gift shop, and overnight lodgings.
Lincoln Homestead State Park

Springfield

Discover the original home of Lincoln's mother, as well as replicas of the 1782 cabin and blacksmith shop where his father was reared and learned his trade. The park offers a gift shop, golfing, picnicking and a museum.
Paintsville Lake State Park

Staffordsville

With steep cliffs and wooded coves along the shoreline, this lake provides 1,140 acres of boating, skiing and fishing pleasure. After a day on the lake, relax in the campground, featuring 32 developed sites with restrooms, showers, laundry and sewer hookups. A full-service marina is located near the campground, offering rental houseboats, pontoons and fishing boats.
William Whitley State Historic Site

Stanford

The William Whitley House, also known as Sportsman's Hill, stands today as a monument to pioneer ingenuity and resourcefulness. It was the first brick home and circular racetrack built west of the Alleghany Mountains, completed in 1794 by William Whitley and his wife Esther. Dubbed the "Guardian of Wilderness Road," the house was a gathering spot for early Kentuckians, including George Rogers Clark and Daniel Boone.
Historic Stearns

Stearns

Historic Stearns was a hub of Kentucky's rich coal history in a town built during America's Gilded Age. A ride aboard Big South Fork Scenic Railroad will deliver visitors to Blue Heron, an interpretive coal camp ran by the National Park Service. A park ranger will greet your train. Train fare offers you complimentary admission to the McCreary County Museum, where you can explore coal, lumber, and railroad history, as well as exhibits on life throughout the ages. Stearns also offers many outdoor adventures, including golf on the state's 2nd oldest course and meals at Whistle Stop Cafe.
Taylorsville Lake State Park

Taylorsville

Taylorsville Lake State Park is a wrangler's and angler's dream come true!
Old Mulkey Meetinghouse State Historic Site

Tompkinsville

The oldest log meetinghouse in Kentucky was built in 1804 during a period of religious revival. Many Revolutionary War soldiers and pioneers, including Daniel Boone's sister, Hannah, are buried here. The structure has twelve corners in the shape of a cross and three doors, symbolic of the Holy Trinity. he Old Mulkey Church, originally called the Mill Creek Baptist Church, was established by a small band of pioneer Baptists from North and South Carolina and led by Philip Mulkey.
Big Bone Lick State Park

Union

Ancient creatures like the mammoth, mastodon, ground sloth and bison once roamed through mineral springs and swamps now grassy plains covered with trees and shrubs. Visit this state park to get an up close look at an American Buffalo herd.
Riverside, the Farnsley Moreman Landing

Valley Station

Riverside, the Farnsley-Moremen Landing exists to promote, preserve, restore and interpret historic farm life on the Ohio River. Today, visitors can tour the historic house and grounds which include: the reconstructed 19th century detached kitchen, on-going archaeological excavations (seasonal), and the kitchen garden where volunteers grow many of the same vegetables and herbs that would have been part of meals served during the period. A modern Visitors Center houses an auditorium, museum exhibits and a museum store. Visitors to Riverside can once again experience the majesty and beauty of the Ohio River by cruising on a riverboat from a landing on the site. The modern boat landing is completely accessible and it is the seasonal home of the Spirit of Jefferson, a replica paddlewheeler.
Bluegrass Scenic Railroad Museum

Versailles

Located 15 miles from Lexington, the Bluegrass Railroad Museum offers a journey through the gently rolling hills and picturesque farmland known as the Bluegrass region of Central Kentucky.
Nostalgia Station Toy and Train Museum

Versailles

Located on Depot Street, this is a model train museum housed in a restored 1911 railroad staton. Exhibits include a reproduction of a 1926 standard gauge Lionel store display as well as children's toys and railroad memorabilia. A late 1950s Lionel store display includes accessories authentic to the original layout.
Woodford County Historical Society

Versailles

The Woodford County Historical Society Museum features items of significance to Woodford County history. Permanent and changeable exhibits allow visitors to catch a glimpse of Woodford County's past. The collection contains many items of Civil War memorabilia, including General Grant's field glasses, presented to Captain Fuller after the siege of Vicksburg. Fuller was an uncle of Woodford County 19th Century Women's Rights activist, Josephine Henry, who resided in Woodford County most of her life.
Wickliffe Mounds State Historic Site

Wickliffe

Wickliffe Mounds is the archaeological site of a prehistoric Native American village of the Mississippian mound builders. The Welcome Center offers visitors an introduction to the Wickliffe Mounds, provides information on park activities and tourism opportunities, and is the admission desk for the museum.
Ark Encounter

Williamstown

Ark Encounter features a full-size Noah's Ark, built according to the dimensions given in the Bible. Spanning 510 feet long, 85 feet wide, and 51 feet high, this modern engineering marvel amazes visitors young and old. Ark Encounter is situated in beautiful Grant County in Williamstown, Kentucky, halfway between Cincinnati and Lexington and right off I-75.