TheHomeSchoolMom's local resource listings are sponsored by Time4Learning, where you can find resources, support groups, test prep info, and more.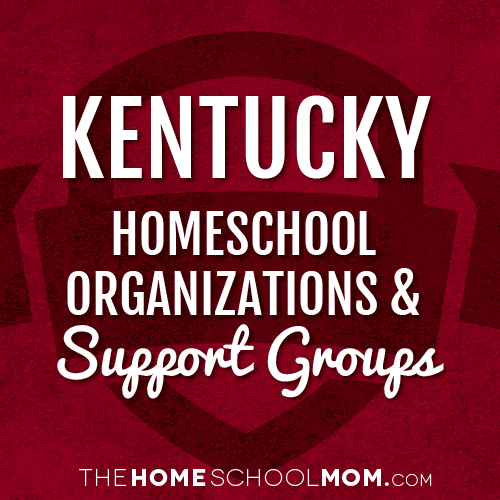 Since homeschooling is regulated at the state level, connecting with local homeschoolers is an important step to start homeschooling in Kentucky. State homeschool organizations and local homeschool groups are not just a good place to learn the specifics of legally homeschooling in Kentucky—they can also help you to get connected with the local homeschooling community. Many homeschool groups offer co-ops, classes, sports and arts opportunities, and social get-togethers.
Our listing of Kentucky state organizations and local homeschool groups is ordered alphabetically by city, with statewide organizations listed first. If you would like to submit a group, you may do so using the red button above.
Kentucky Homeschool Organizations
CHEK – Christian Home Educators of KentuckyKentucky Statewide
A statewide home schooling educational and informational organization established to assist families who choose to educate their children according to the dictates of their conscience and their fun...
Kentucky Local Homeschool Groups
West KY Homeschool SupportCaldwell & surrounding counties
West KY Homeschool Support consists of families who wish to join each other in the journey of homeschooling. We welcome all types of homeschoolers regardless of ethnicity, religion, race, or type o...
Pennyroyal Area Christian Home Educators of Kentucky:Christian, Trigg, and Todd counties
PACHEK is devoted to supporting area families who are exercising their God-given right and responsibility to educate their children. We strive to provide encouragement and fellowship to homeschoole...
Cincinnati Area Teaching Children at HomeCincinnati
CATCH is a community-based educational organization for all who educate at home, or are interested in home education options, especially for those who live in the tri-state area which includes Sout...
Christian Homeschool Network of KentuckyClark County
This group is for Christian homeschoolers in the areas surrounding Clark County, Kentucky.
Christian Home Educators of Kentucky Support GroupsKentucky Statewide
Solid Rock Christian Home EducatorsKnox, Laurel, & Whitley Counties
A group of Christian homeschool families who come together for encouragement, support, and fellowship while offering our children fun, hands-on enrichment classes, field trips and special events th...
POLE Homeschool Support Group & Resource CenterLawrence County
Support for Lawrence and surrounding counties of KY & WV. We are a homeschool support group who assist in social activities and resources for curriculum and record keeping. We supply support and t...
Grayson County HomeschoolersLeitchfield
Grayson County Homeschoolers Facebook support group offers field trips, park days/play dates, share information, sell used curriculum/supplies, and share experiences.
Lexington KY Homeschool SupportLexington
An inclusive group offering support to anyone regardless of religion, race, or homeschooling method. We are a secular (not religiously affiliated) group valuing diversity, creativity and open minde...
Lexington Christian Homeschool Support GroupLexington
The purpose of the Lexington Christian Homeschool Support Group is to bring encouragement and support to homeschooling families in the Lexington, Ky. area, as well as to provide information to thos...
Free Range HomeschoolersLouisville
This secular group is open to all individuals interested in homeschooling. The organizers are located near Louisville, Kentucky, so many group activities will be focused on that area (but are not l...
River City Homeschool Field Trip GroupLouisville
Field trip group for all homeschoolers in the Louisville region
Teen Homeschool Co-op LouisvilleLouisville
Teen Homeschool Co-op Louisville. Teen group with almost 200 members for teens 13-18 years old. Teens meet for classes and social outings several times per month. Offering field trips, dances, vol...
Louisville HSLouisville metropolitan area
A secular list for all Home Educators. This list will be used to notify users of field trips available in the Louisville area and also as a forum for discussion concerning homeschooling. It is ope...
Western KY Cooperative HomeschoolersMurray
Homeschool Support group welcoming families from all walks of life.
Our Lady of Guadalupe HomeschoolNorthern Kentucky
The Our Lady of Guadalupe Catholic Homeschool Group supports the families that reside in Northern Kentucky and surrounding areas. The group was started over 20 years ago by Catholic homeschooling ...
Three Rivers Homeschool NetworkPaducah
The Three Rivers Homeschool list functions to connect homeschooling families and their support groups in western Kentucky, southern Illinois, and northwest Tennessee. Its purpose is to keep familie...