Jump to: Homeschool Arts | Homeschool Sports
In addition to the opportunity to get out of the house and socialize, homeschool sports and arts programs can offer long-term benefits by developing characteristics like leadership, self-confidence, perserverance, and self-esteem. Many organizations and businesses have opportunities specifically for homeschoolers, while others invite homeschoolers to participate in their regular programs.
Not sure how to choose activity/activities for your children? Read how Rebecca narrows down the choice of extra-curricular activities.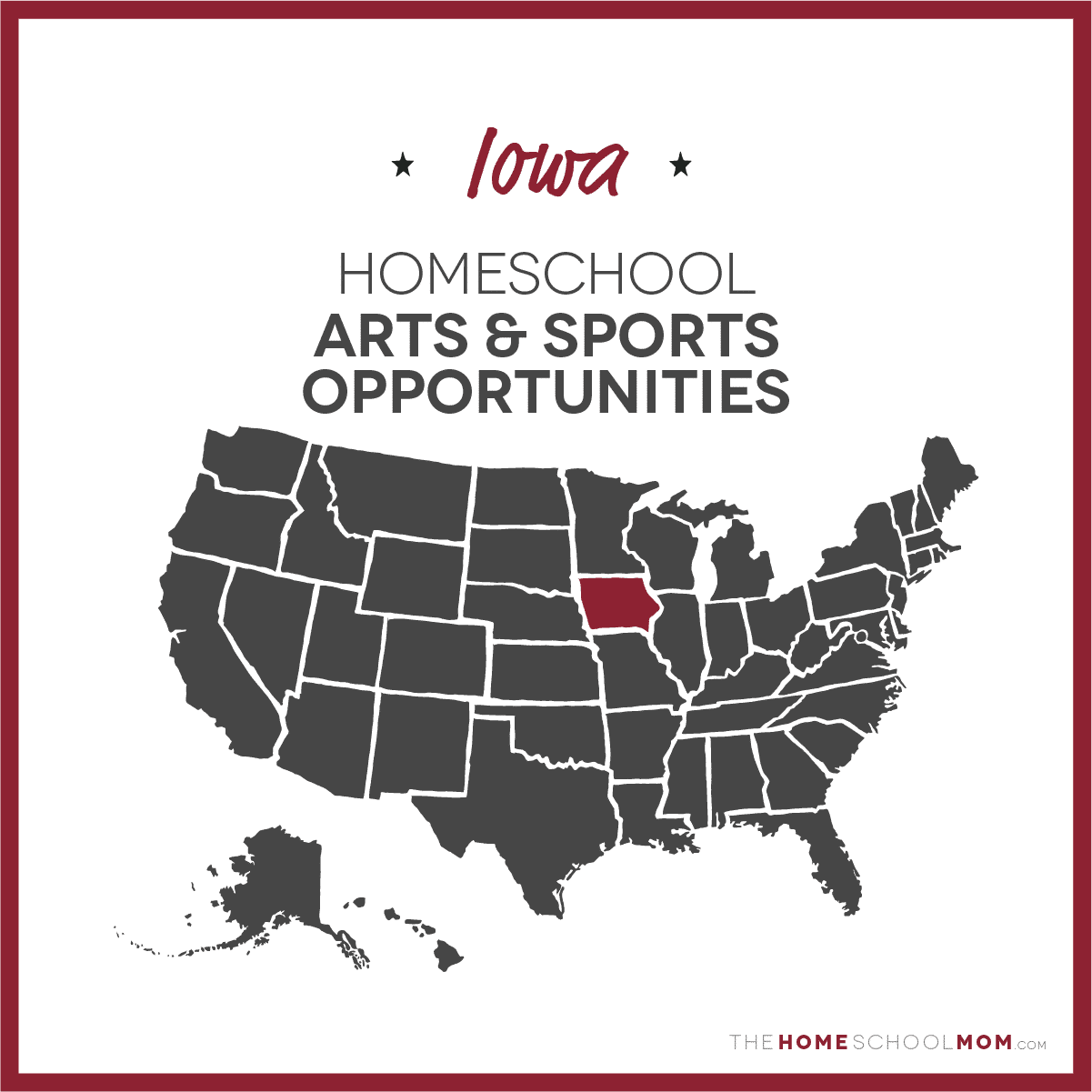 Submit a Local Resource
Our listing of Iowa list of homeschool arts and sports programs is ordered alphabetically by city, with arts in the first section and sports in the second section. If you would like to submit an Iowa arts or sports program, you may do so using the red button above.
Iowa Homeschool Arts Programs
ThreadsCedar Rapids
If you have a flair for fun and a need to create, you'll fit right in at Threads Cedar Rapids. We offer online and in-person art classes for kids and adults in Cedar Rapids, IA. Using unconventional materials, like fa...
Joy SingersDes Moines
Joy Singers provides choral training for homeschooled students in the Des Moines area. We seek to glorify God through singing and fellowship while sharing God's message of love and grace through ministry outreaches an...
Master ArtKanawha
Master Art holds weekly, year round art lessons in instructor's Kanawha, IA home. Classes are for ages 5 and up, dividing classes up into age groups. Scripture and art are paired together, creating a very unique exper...
Cedar Valley Makers Inc.Waterloo
Cedar Valley Makers is a 501C3 non profit with the mission to promote collaborative learning, creative design and manufacturing for people of all ages and skill levels. This resource is free for community membership, ...
Iowa Homeschool Sports Programs
Custom Fitness TaekwondoCedar Rapids
The style of Taekwondo taught at Custom Fitness is not the Olympic-style sport, but rather the "family style" originating in Korea that includes elements beyond technique like character development... [Read more...]
Ashley Mason EquestrianCouncil Bluffs
Ashley Mason Equestrian offers riders a foundation to last a lifetime. Riders learn not only riding skills but daily horse care, basic vet care and more! Riders have the opportunity to work their w... [Read more...]
AirFX Home School JumpHiawatha - Cedar Rapids
Offering monthly sessions of Home School Jumping. Please remind all your friends and join in the fun. Offering a Home School Loyalty Card program where you buy 10 admissions and the 11th one is FRE... [Read more...]
Tennis Group Lessons at the Black Hawk Tennis ClubWaterloo/Cedar falls
Day time group tennis lessons for home-school students in the indoor facility. This class will be open to students of all ages and abilities. If you are interested please contact us 319-232-7512. [Read more...]
Go to...