Homeschooling is regulated at the state level, so connecting with local homeschoolers is an important step to start homeschooling in Iowa. Find the Iowa homeschool groups closest to you and get connected with your local homeschooling community, learn about the homeschool requirements in Iowa, and discover the co-ops, classes, sports and arts opportunities, and social get-togethers in your area.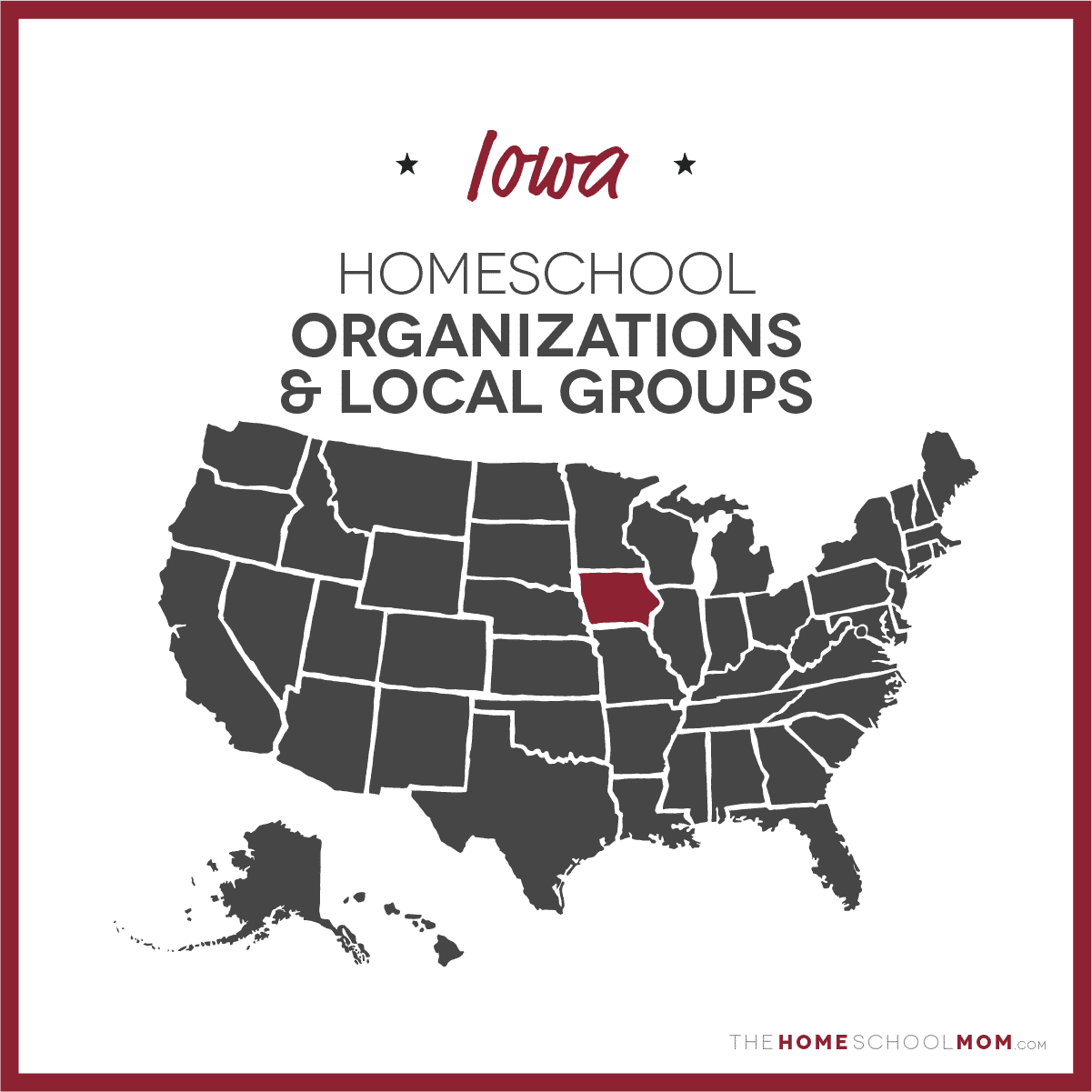 Submit a Local Resource
Jump to: State Organizations | Local Groups
Our listing of Iowa state organizations and local homeschool groups is ordered alphabetically by city, with statewide organizations listed first. If you would like to submit a group, you may do so using the red button above.
Iowa Homeschool Organizations (Statewide)
The Network of Iowa Christian Home Educators

Iowa Statewide

The official site of the Network of Iowa Christian Home Educators - with information and resources for families homeschooling in Iowa
Iowa Local Homeschool Groups
The Network - Iowa

Des Moines

The Network is a Christian organization for families who are actively engaged in the home schooling process. Our classes are a supplement, not a replacement, for home education. We meet on Mondays at Grace Church (4200 E 25th Street, Des Moines, IA). Students receive 90 minutes of instruction per week for each class in which they are enrolled. During the rest of the week, students complete homework assignments, work on projects, read course material, and study for upcoming quizzes and tests. Parents help students organize their schedules for adequate studying, review assignments before they are turned in, and maintain good communication with teachers. Parents also have opportunities to assist The Network community in various capacities.
Dubuque Area Homeschoolers

Dubuque

A group of homeschooling families who come together to offer opportunities to socialize, make friends, and find support. We offer weekly gatherings including unstructured socialization events, field trips, naturalist lead nature center events, as well as parent support, mom's nights out, and semi-regular parties! Join for any activities that you feel would benefit your family.
HEED-Home Educators for Excellence in Des Moines

Guthrie Center

A Christian home school support group in the Central Iowa area. Meetings are on the first Monday of each month from September thru May and are open only to HEED members. New member orientations at 6:30 at most meetings, with the meeting itself getting underway at 7:00 p.m. In addition to the meetings, members enjoy many benefits, including field trips, sports, play days, and other educational activities.
F.I.S.H. Christian Homeschooling Co-op

Harlan

Cultivates a Christ-centered homeschooling community in which the members support, encourage, and learn from each other in a fun and positive atmosphere. This is a homeschooling co-op serving the southwest Iowa region. Students meet in Harlan Iowa twice a month during the school year. Offering classes for pre-K through high school as well as free nursery care.
LIGHT - Loving & Inspiring Godly Homeschoolers Together

Indianola

A homeschool support group established in 2009 and based in Warren County, Iowa. Our members live in (or near) Warren County, come from different backgrounds and employ a variety of homeschooling styles. Throughout the year, we offer activities & events for kids, moms and entire families. Activities & events typically take place in or around Indianola, but we take field trips all over Central Iowa.

LIGHT - Loving & Inspiring Godly Homeschoolers Together details
Iowa City Secular Homeschool Group

Iowa City

This secular homeschool association welcomes all Iowa City and surrounding area families who are interested in creating community with homeschooling families of all backgrounds and lifestyles. Members are encouraged to plan and participate in events that will provide educational and social opportunities for our children. All members who join this group must be aware that people of all religious backgrounds (including Pagan, Buddhist, Muslim, Judaic, Christian, etc.) and people with no religious affiliation will be attending events. Respect of these differences is important to the creation of a supportive community.
Mothers Of Many Young Siblings

Iowa Statewide

Welcome to MOMYS! MOMYS is an acronym for Mothers Of Many Young Siblings. If you have, have had, or hope to have, four or more children under eight years old, this is the place for you.
Network of Iowa Christian Home Educators Support Groups

Iowa Statewide

NICHE has a variety of resources to assist home school support groups and those who are seeking support groups in Iowa.

Network of Iowa Christian Home Educators Support Groups details
Stepping Stones

Mason City

Stepping Stones is North Iowa's Homeschool Association, associated with the Network of Iowa Home Educators (NICHE).  We are an ecumenical group of Christian believers that share a Christ-centered approach to homeschooling.  Our methods and curriculum are varied, but our core is the same, God in Christ. We strive to offer support, encouragement, and fellowship to our members. Each month during the school year, events are organized and planned by the Leadership Team for our group.  Participation is encouraged, but is optional, of course.  We hope that each family prayerfully considers what events would benefit their family.  Members are encouraged to plan activities they would like to do as well and the Leadership Team will advertise it for the group. Here are some examples of activities and field trips we have organized in the past:

Art Fair, Forensics Study, Etiquette Meal
Ice Skating, Sledding, Fossil Park Adventure
Activites at the Lime Creek Nature Center
TEEN events: Movie Night, Game Night, Bonfire/Hayride
Police or Fire Station Tour
Winter Olympics
KIMT TV Tour, Globe Gazette (local newspaper)
Heart of Mary Educators

Moline

Heart of Mary Educators is a local group and community of Catholic homeschoolers.
Christian Homeschool Assistance Program of Oskaloosa (CHAP)

Oskaloosa

Christian Homeschool Assistance Program is organized exclusively for religious and educational purposes. The mission of Christian Homeschool Assistance Program (CHAP) is to love and honor Christ as we encourage, educate and engage with the local community of homeschool families.

Christian Homeschool Assistance Program of Oskaloosa (CHAP) details
St Ansgar Area Homeschool Club

St Ansgar

A Christian-based group that meets weekly year-round for fun, learning, and play. We go on field trips or outings to explore Northern Iowa, and have established a great group of homeschool friends. All ages are welcome!
Metro Home Educators

Waterloo/Cedar Falls

Metro Home Educators (MHE) is a support group for homeschooling families living in, or near, the Cedar Valley. We offer many opportunities for member families to enhance their homeschooling experience. There are three main components under the MHE umbrella: Co-op, CORE Classes and Supplemental Opportunities.
MASCHE-Madison Area Support for Christian Home Educators

Winterset

A Christian homeschool support group in Madison County, Iowa. Our group is here to encourage one another in our homeschool journey with monthly family events, field trips, "moms only" gatherings, and other events depending on the interest of the group. MASCHE is volunteer based so we rely on our members to help with events.

MASCHE-Madison Area Support for Christian Home Educators details