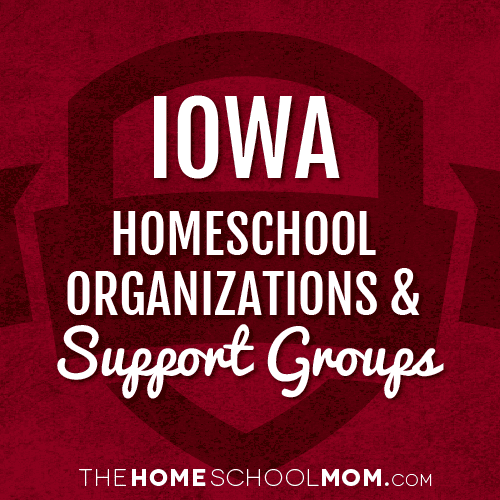 Since homeschooling is regulated at the state level, connecting with local homeschoolers is an important step to start homeschooling in Iowa. State homeschool organizations and local homeschool groups are not just a good place to learn the specifics of legally homeschooling in Iowa—they can also help you to get connected with the local homeschooling community. Many homeschool groups offer co-ops, classes, sports and arts opportunities, and social get-togethers.
Our listing of Iowa state organizations and local homeschool groups is ordered alphabetically by city, with statewide organizations listed first. If you would like to submit a group, you may do so using the red button above.
Use the secondary navigation menu above to quickly make your way to pages for Iowa state organizations, local homeschool groups, classes, co-ops, field trips, and more.
Iowa Homeschool Organizations
The Network of Iowa Christian Home EducatorsIowa Statewide
The official site of the Network of Iowa Christian Home Educators - with information and resources for families homeschooling in Iowa
Iowa Local Homeschool Groups
Columbus Academy Catholic HomeschoolColumbus
A Non-profit Support Group for Catholic Home Schooling Families in Iowa
Homes Offering Positive EducationCouncil bluffs and surrounding areas
HOPE has been formed to support and encourage all homeschoolers regardless of the reasons for homeschooling, philosophy, or methods of instruction. This is done through support meetings, a monthly ...
Dubuque Area HomeschoolersDubuque
A group of homeschooling families who come together to offer opportunities to socialize, make friends, and find support. We offer weekly gatherings including unstructured socialization events, fiel...
F.I.S.H. Christian Homeschooling Co-opHarlan
Cultivates a Christ-centered homeschooling community in which the members support, encourage, and learn from each other in a fun and positive atmosphere. This is a homeschooling co-op serving the s...
Iowa City Secular Homeschool GroupIowa City
This secular homeschool association welcomes all Iowa City and surrounding area families who are interested in creating community with homeschooling families of all backgrounds and lifestyles. Mem...
Mothers Of Many Young SiblingsIowa Statewide
Welcome to MOMYS! MOMYS is an acronym for Mothers Of Many Young Siblings. If you have, have had, or hope to have, four or more children under eight years old, this is the place for you.
Network of Iowa Christian Home Educators Support GroupsIowa Statewide
NICHE has a variety of resources to assist home school support groups and those who are seeking support groups in Iowa.
Central Iowa Christian Home EducatorsMarshalltown
This is a Christian based home schooling group in the Marshalltown area.
Metro Home EducatorsWaterloo/Cedar Falls
Metro Home Educators (MHE) is a support group for homeschooling families living in, or near, the Cedar Valley. We offer many opportunities for member families to enhance their homeschooling experi...