Jump to: Homeschool Co-ops | Homeschooling Classes & Academic Enrichment
Looking for someone to teach physics to your teen? Need a way to avoid teaching algebra? Want to enroll your Kindergartener in a co-op for social time? Homeschool classes and co-ops are a great way to spend time with other homeschoolers and skill-share with other homeschool parents.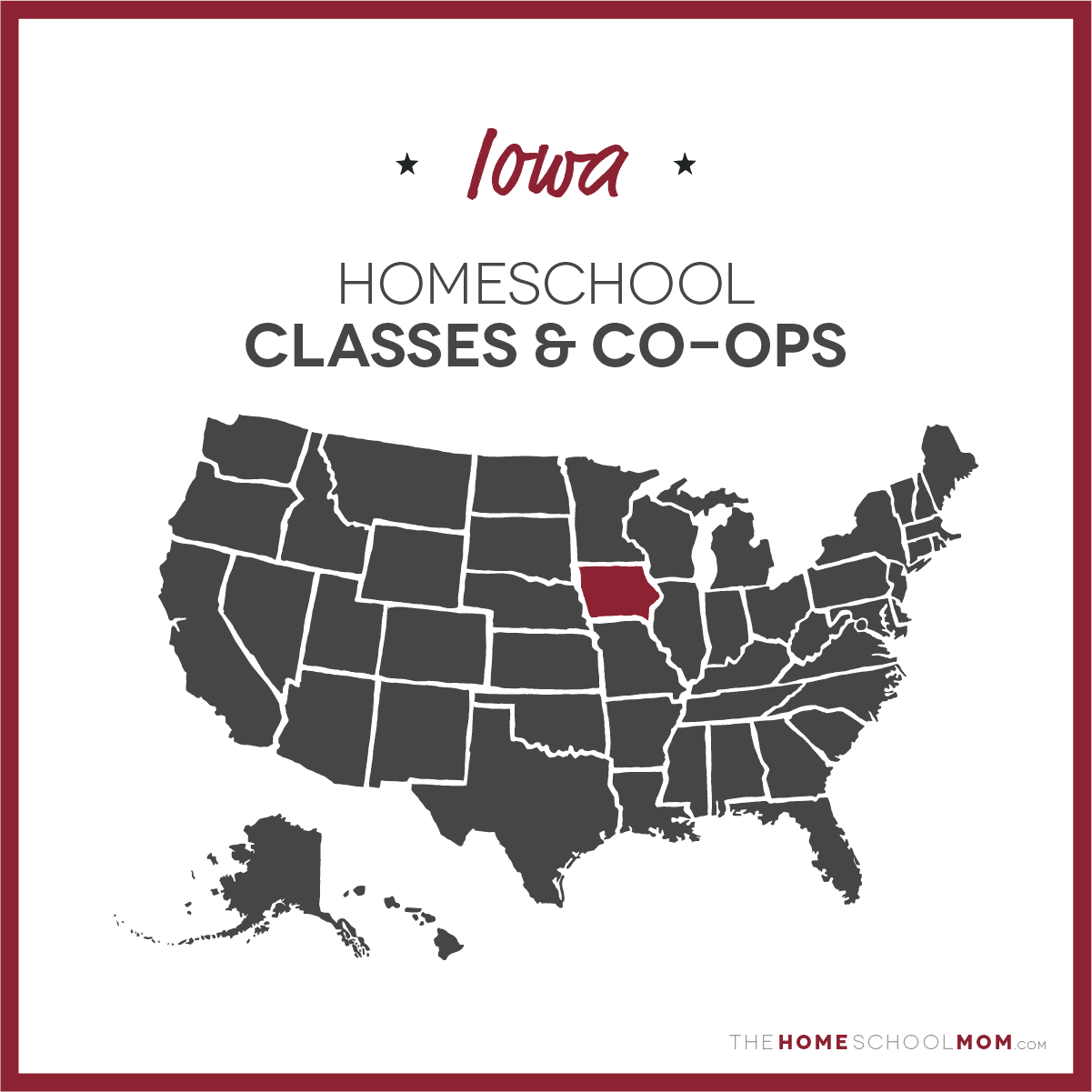 Submit a Local Resource
Our listing of Iowa co-ops and academic classes for homeschoolers is ordered alphabetically by city, with co-ops in the first section and all other academic resources below. If you would like to submit a Iowa co-op or academic resource, you may do so using the red button above.
Iowa Homeschooling Co-ops
Raising Arrows Co-op - IowaDes Moines
Raising Arrows is a co-operative of Christian families who feel God's calling to educate our children at home. We desire to provide a structure where we can work together to refine and develop well-rounded students to...
Veritas Catholic AcademyMarion
Veritas Catholic Academy exists to serve homeschooling families in Cedar Rapids, Iowa City, Coralville, North Liberty, and surrounding areas.
Omaha Homeschool Learning CenterOmaha metropolitan area
The Omaha Homeschool Learning Center provides weekly classes for ages 3-18 to supplement home curriculum. The Learning Center typically offers 80-90 classes per semester with 550 or more kids in attendance throughout ...
Metro Home EducatorsWaterloo/Cedar Falls
Metro Home Educators (MHE) is a support group for homeschooling families living in, or near, the Cedar Valley. We offer many opportunities for member families to enhance their homeschooling experience. There are three...
Iowa Homeschooling Classes & Academic Enrichment
Threads of AmesAmes
Threads of Ames is a non-profit organization dedicated to enriching, enhancing, and empowering home education in Ames and the surrounding areas. Threads has developed educational programs for students in pre-kindergar...
The Network - IowaDes Moines
The Network is a Christian organization for families who are actively engaged in the home schooling process. Our classes are a supplement, not a replacement, for home education. We meet on Mondays at Grace Church (420...
Aspire AcademyDes Moines, Iowa
Successfully improving student reading, writing and spelling for 5 years. Is your child bright and intelligent, but struggles with reading, writing and spelling? Do they guess at short words, stumble through long word...
Boost A Child's Skill LevelIowa City, Cedar Rapids
Enrichment Therapy and Learning Center provides learning strategies in the areas of speech, reading, math, writing and comprehension.
Enrichment TherapiesIowa City, Cedar Rapids
Licensed Speech-Language Pathologist with personal home-school experience offering services in the areas of articulation, phonological awareness, literacy, receptive language (increasing comprehension and memory) and ...
Iowa Classical ConversationsIowa Statewide
CC is a national homeschooling program that uses a Bible based curriculum taught in a christian, classical tradition. Classes are geared for age 4 through high school.
Enrichment Therapy & Learning CenterNorth Liberty and Urbandale
Enrichment Therapy & Learning Center offers speech-language therapy, private tutoring, and small group academic programs. The learning specialists and speech-language pathologists understand that each child learns dif...
Christian Homeschool Assistance Program of Oskaloosa (CHAP)Oskaloosa
Christian Homeschool Assistance Program is organized exclusively for religious and educational purposes. The mission of Christian Homeschool Assistance Program (CHAP) is to love and honor Christ as we encourage, educa...
Aspire AcademyUrbandale
Aspire Academy is a learning center that helps students who struggle with reading, writing, and spelling. They use the Wilson Orton-Gillingham method that focuses on teaching the five building blocks of reading with a...
Cedar Valley Makers Inc.Waterloo
Cedar Valley Makers is a 501C3 non profit with the mission to promote collaborative learning, creative design and manufacturing for people of all ages and skill levels. This resource is free for community membership, ...
Go to...