From the feedback and questions that we get on our Facebook page, there is a great deal of interest in how to homeschool high school. This year my daughter is a sophomore in high school, and I thought it might be helpful to share our 10th grade plan with you.
Contrary to popular belief, homeschooling high school is often easier than homeschooling younger grades. Students are older, more mature, and better able to manage their own academics. When they need assistance, the material is more difficult, but between teacher guides, online resources, and friends with a knowledge of the subject matter, we have not found this to be a problem.
Jump to:
Tracking Our 10th Grade Homeschool Plan
I prefer customizing a plan that works best for my daughter's learning style over going with one curriculum provider (but if you prefer one provider, you will find our curriculum reviews of complete homeschool curriculum sets or online homeschool programs helpful for high school curriculum).
We have an overall plan for high school which we track on the High School Course Planner tab of Homeschool Planner Plus, TheHomeSchoolMom's free comprehensive spreadsheet planner (see screeenshot below). Our goal for graduation is completion of 30 high school credits, with some as dual enrollment at the local community college.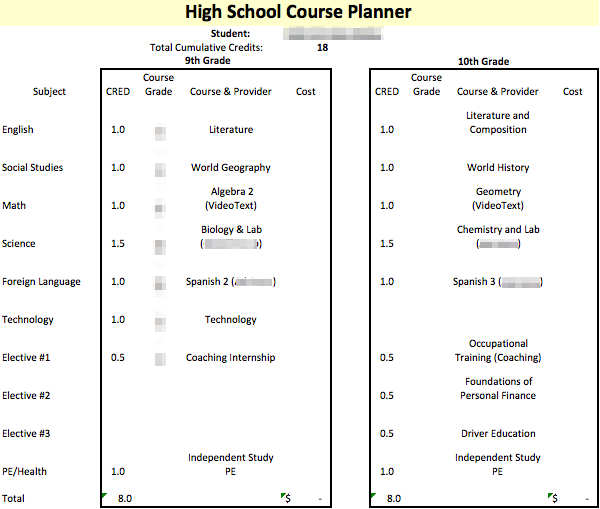 We are blessed to live in an area with 2 different co-ops offering high school level courses, but I know families that travel up to 90 miles to attend a homeschool co-op a couple of times a week. Don't count that out if the courses offered are valuable to you -- you can use the drive time to advance your inquiry-based learning and phoneschooling the way Jeanne does. We use our co-op for the courses that are best suited to teaching by someone other than me (I am completely unqualified to teach science and it is important to me that my kids learn foreign language from someone fluent in the language).
I've also detailed our 11th Grade Homeschool Plan, and Vanessa has posted her 9th grade and 10th grade plans for a non-traditional learner.
World History
Typically we try to combine the social sciences with literature to make the most of time and topics. This year is world history and we are focusing to a great extent on politics and world rule under fascism, communism, and socialism. For our overview, we are combining 3 resources:
Crash Course World History - A fun video overview of world history by the Vlog Brothers, Crash Course World History is a good way to summarize the topics covered in our textbook.
World History: The Human Experience (affiliate link) by National Geographic - The Human Experience is a thorough and well-written textbook that I picked up for $5 at a used curriculum sale. We use it as a course spine and a reference.
The Story of Mankind (affiliate link) by Van Loon - This is world history in story form -- the book is geared toward a younger audience but it makes a nice complement to the more detailed textbook.
Wonders of Old Timeline Book (affiliate link) - Filling in a timeline as historical figures and events are encountered helps keep the bigger picture in focus.
I had to rework the order of the topics covered in the first 3 resources, which was the most time-intensive part of planning for this year, in order to cover topics at the same time. I set it up so that the reading comes first, then the video, with the timeline being filled in as needed.
Literature and Composition
We like to combine literature with our social studies topics in order to study them in context. Both last year and this year we have used topics in world literature that we are focusing on in world geography and world history. We do not have a textbook for this subject. I use my own reading list and some research to put together a book list for each year.
With this year's focus on politics and world rule under fascism, communism, and socialism, we are using Red Scarf Girl although it is below high school reading level. Our focus in language arts is heavily weighted toward learning composition -- specifically, the process behind writing. We are using what we learned in Brave Writer last year along with the UNC Writing Center's online resources to cover topics like brainstorming, organization, transitions, summaries, citations, and many more.
Covering several books that show the rise of totalitarian rulers gives us lots of material for our study of the topic, and Composition will culminate with a research paper on a thesis of my daughter's choosing as it relates to Animal Farm. As a left-brained thinker, I have had to learn about how right-brained, creative thinkers should approach writing (which is radically different but much more thorough than the way I learned to write). It has actually been very helpful to me and has illuminated some weak areas in my own approach to writing.
The works we are using this year are:
Macbeth (affiliate link) - This version contains lots of extras like notes, scene-by-scene plot summaries, a key to famous lines and phrases, an introduction to reading Shakespeare's language, and more. We intended to watch a broadcast of the National Theatre's production of Macbeth but my daughter's session for a gymnastics meet ended up being scheduled at the same time so we weren't able to attend. I am hoping to still be able to catch it at some point.
Night (affiliate link) - Elie Wiesel's autobiographical account of his survival as a teenager in the Nazi death camps
Animal Farm (affiliate link) - George Orwell's allegorical "fairy tale" depicting Joseph Stalin's totalitarian takeover of Russia
Red Scarf Girl: A Memoir of the Cultural Revolution (affiliate link) - A juvenile non-fiction memoir of the Chinese Cultural Revolution, Red Scarf Girl is included in our reading list because it is a first hand account of the totalitarian communist regime that sought to destroy all pre-revolution values. Teaching Red Scarf Girl (affiliate link) provided copies of some primary source documents that enhanced the topic.
A Thousand Splendid Suns (affiliate link) - Covering thirty years of Afghan history through the eyes of women who experienced freedom under the Soviets and oppression under the Taliban, A Thousand Splendid Suns is an important work that depicts how the lives of women are affected when totalitarian fundamentalists are in power.
My daughter can fill in with other works that interest her. Her current interests tend toward books with a dytopian theme, which blend well with the totalitarian themes we are studying. I am rereading 1984 and may add that in as well.
Geometry
Normally the progression in high school math is Algebra I, Geometry, Algebra II, Advanced Geometry, Trigonometry, Precalculus,  Calculus. We use VideoText, which combines both algebras and both geometries instead of alternating them. VideoText Algebra worked well for us for Algebra I & II, so we chose to stick with it for Geometry. Using videos, workbooks, and a book of quizzes and tests, VideoText is easy to use and my daughter does well with little parental help.
Chemistry and Lab
This is one of 2 courses my daughter takes at the local co-op. I don't do science (my repertoire includes a grand total of 2 successful science experiments) and my daughter loves it, so we outsource this subject. Last year she took Biology at a different co-op, and next year she is thinking about Anatomy, probably at the community college if it is not offered at the co-op.
Spanish 3
Since I took 4 years of French in high school and no foreign language in college, I am useless for Spanish. This is the second course that we outsource.  This is our second year taking Spanish at this co-op (Spanish I was an online class), and it has been a great experience with excellent teachers and a fun, small class.
Foundations of Personal Finance
Foundations of Personal Finance is a  video course by Dave Ramsey that is an excellent overview of money management. It is often available at Homeschool Buyers Co-op for a good price.
Driver Education
We used DriversEd.com for my older daughter and will use them again. Their online course, like all of the others I have seen, uses timed pages in order to comply with the number of course hours required by the state.
Physical Education
Since my daughter is a competitive gymnast that spends approximately 20 hours in the gym each week, we've got this covered. Since she is also an instructor at the gym, she also earns a partial credit for occupational training.