I recently shared a bunch of resources for homeschooling a non-traditional learner for high school that helped me to map out how we would approach high school, so check it out if you have a non-traditional learner in or approaching high school! My son and I are polar opposites, so homeschooling a non-traditional learner presents a challenge to me.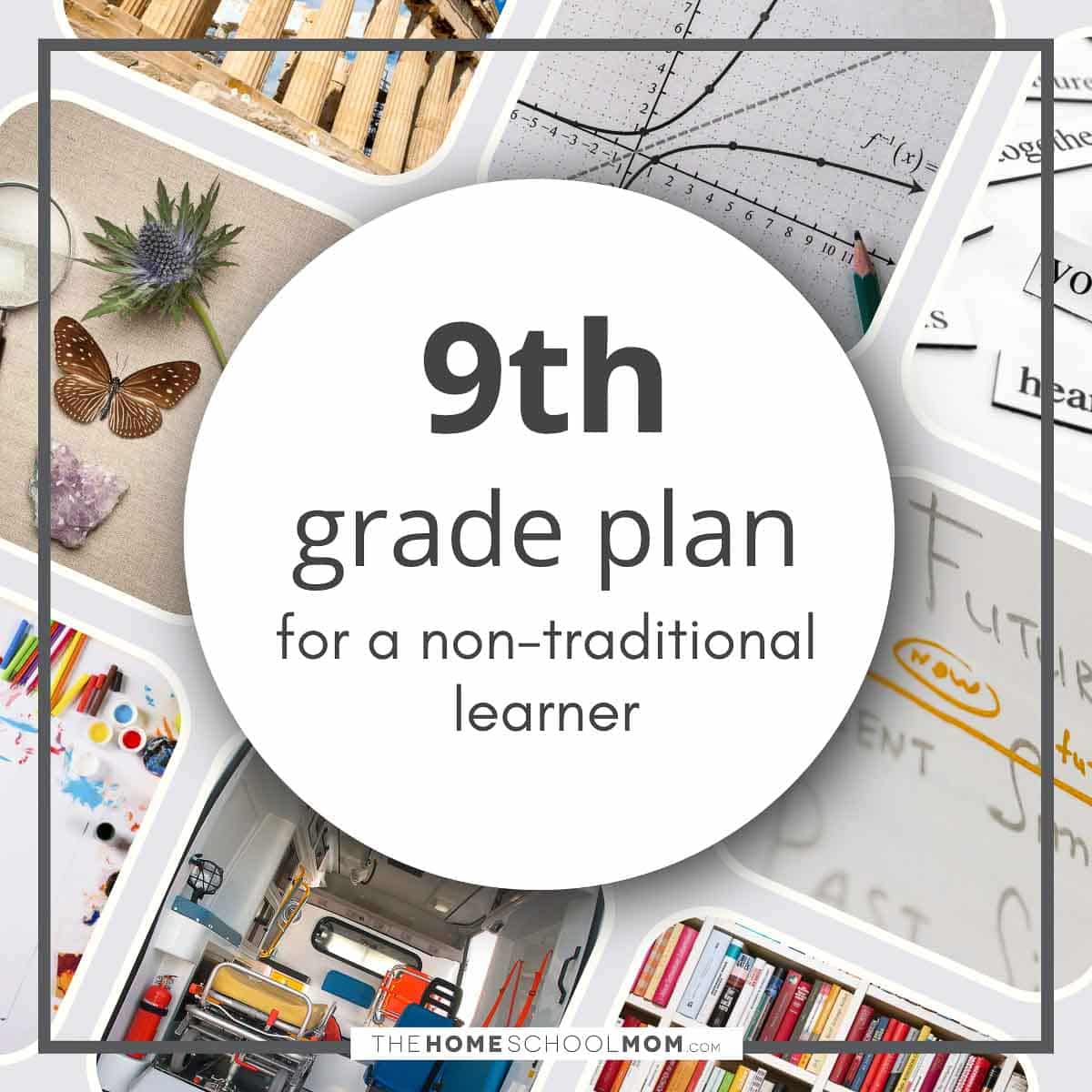 Below I'm giving you a look at our 9th grade plan (our first year of homeschooling high school!) with a non-traditional learner. I'm not an expert by any means—my teen is my guinea pig and I definitely needed some guidelines on how I could build an experience for him and not just school. My kid thrives on experiences. The more the better.
This was a joint effort in terms of planning. He really wants ALL the outside activities and I really need him to have some time at home because he also has siblings with their own activities and because we need to have family balance. Compromise is what it's all about, right?
Our 9th Grade Plan
We are using a combination of homeschool curriculum, and we are using outside co-ops & classes for subjects where mom's not the expert.
Math
We are blessed that my mother-in-law is a former high school math teacher who is also tech-savvy. She works with my son several times a week via Zoom. She teaches his lessons, reviews topics, and assigns his homework via email. It has saved my relationship with my son.
We had unschooled math for about a year and then he was finally ready to "caught up" (whatever that means) but he asked for a tutor. Grandma to the rescue!  They have worked diligently and math is not a stressor for him anymore.
I highly recommend thinking outside the box if you have a kid who struggles with math (or struggles with a particular type of math curriculum). Don't force it and don't let it take down your relationship.
Grammar
We are keeping it simple this year with an Easy Grammar book. He is doing a page or two a day three to four days a week. That's it! We have done some form of grammar every year and we both feel pretty confident that he's making good strides.
Language Arts & Literature
My son chose this Poetry & a Movie class! I may have suggested it, but he had the final say. We are studying the Master Poets and modern-day movies. The students learn about literary elements and how classical material is still relevant to our culture today.
The format of the class is both online (for home assignments) and in person. We meet twice a month at our home to discuss a monthly literary analysis theme and to watch the corresponding movie. There are, of course, be snacks. Lots of snacks.
Science
Our co-op offers a few science classes led by a dynamic teacher the kids call Mr. Nate. This year, my son is taking biology. It is a classroom setting with labs, reading, homework, and projects.
This is probably the most traditional type of class on my son's schedule, but it's a topic he is interested in learning, so he is motivated. And when my son is motivated AND excited, amazing things happen.
Art
My son has never taken formal art before but when heard that our co-op was offering an art class, he asked to sign up immediately. His main reason for taking the art class is to be with friends. I am totally fine with this.  My friend's daughter is teaching, so I am happy to support a recent homeschool graduate in her business.
History
Our homeschool co-op is offering Crash Course World History for high schoolers. My son, who typically isn't into history, is excited about this class. He discovered Crash Course last year and he enjoys the videos.
This class provides a chance for him to discuss topics and work on projects with other kids and have some assignments to complete at home as well. We also supplement with plenty of non-fiction books and documentaries.
Volunteering
A huge part of my son's schedule is centered around volunteering. He truly enjoys it. He works at our local library helping with various children's programs. He's been doing this for nearly three years and has developed some very sweet connections with children in our community.
This past summer he spent several weeks volunteering at a local camp. He has fallen in love with this place and is hoping to volunteer there during their fall homeschool programs, monthly parents' night out camps, and whatever else he can do. All of the skill he is learning are priceless. Leadership, public speaking, taking directions, problem-solving, developing friendships, and more.
Having time to do this is a huge reason why we love homeschooling. I don't consider volunteering to be an extra-curricular activity. I consider it a crucial life skill and a way for him to develop his passions.
Emergency Medical Technician (EMT) Club
My son is fascinated by all things EMT-related. This has been an ongoing interest since he was about four. He loves the action, the ambulance, the medical side, helping people, and more.
Our county offers a free monthly EMT club at their training facility. I drive him and a few friends and they spend two hours learning about various topics including how to use defibrillators, putting injured people on stretchers, medical equipment, crisis situations, and more.
It is hands-on and the folks who run the program are great with the teens. Next summer he will be old enough to take their weeklong camp. He can't wait!
Co-op Field Trips/Activities
We are very fortunate that our co-op is geared for middle school and high school age homeschoolers. It is truly amazing! It's an inclusive group of families from a variety of backgrounds and our main goal is to create friendships and connections.
In addition to the co-op classes, we have weekly FUN-days at the park, local lake, coffee shop, zoo, etc. We have field trips, theater trips, holiday parties, and volunteer opportunities. This co-op is vitally important to my very social teen (and my twins as well). I have developed great friendships with other mothers too.
Phew! That's it? Yes, that's it. Of course he is coming up with 127 other things to keep himself busy, but this is a solid base. It feels good to have some things in place that will provide both structure and freedom to explore his passions.
Mary Ann detailed her 10th Grade and  11th Grade Homeschool Plans, so check those out if you are interested in other high school schedules.