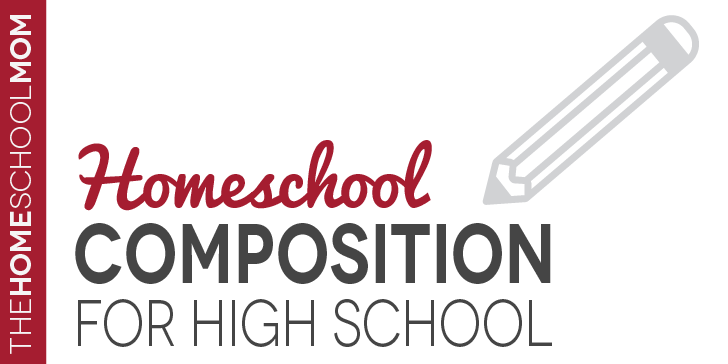 The Writing Center at UNC has put together a large collection of writing resources for college writing that are excellent tools for teaching homeschool high school composition. The center's printables and videos offer detailed explanations about research, sourcing, organization, editing, and proofreading, voice, fallacies, thesis statements, and dozens of other writing topics. The resources are arranged alphabetically, which unfortunately makes them easy to find by topic but doesn't offer much in the way of an orderly progression for teaching.
I put together a suggested order of study to use the resources for composition for a homeschooled high school student and thought I would share it with you as the second part of this post. In our case, we are using this for a literature composition, but literature compositions can be the most difficult type to write. It might be more effective to initially use the process with a non-fiction topic of choice instead of an essay on a particular book. Before listing the assignments, I want to share some thoughts about composition in general and breaking free of the typical high school format in order to better prepare for college writing.
The UNC Writing Center offers 3 Tips on Teaching Writing articles that instructors will find useful, particularly the In-Class Writing Exercises. Note that the writing and organizing process will affect students in dramatically different ways. In an email discussion recently, Jeanne Faulconer, who has taught composition at the college level and who is also a homeschool evaluator and popular convention speaker, reminded me that the writing process for creative thinkers may look backwards to more left-brained analytical thinkers (who tend to feel very comfortable with the Introduction-3-Main-Points-Conclusion format of high school writing). It is important to let go of the typical whole-to-part organization and work with your child's natural bent, which may include thinking that is differently organized than you are used to:
To help the kids who don't write naturally and easily, we can't just keep putting super structure on top. We have to get them comfortable with the mystery. Get them comfortable with their voices. Get them comfortable with their opinions. Get them comfortable asking questions. Get them comfortable forming a hypothesis (thesis). Then seeking evidence. When they have these things, and can be sure that they won't be skewered, they will begin to reach through their discovery toward expression to whatever extent they are able at that stage of development.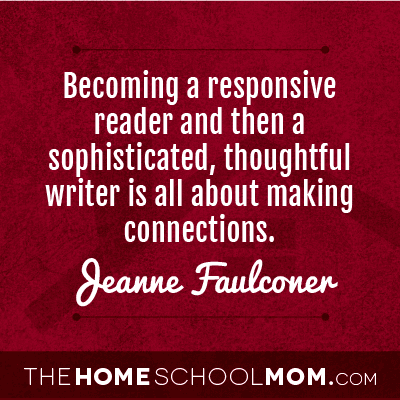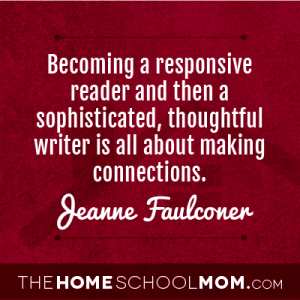 As we work through the writing process, our natural inclination tends to be pushing them toward the end goal -- the finished, organized draft. That pushing may have the opposite effect, as they freeze and find themselves unable to produce any worthwhile writing. One way around this is to widen the focus. When working toward a literature composition, Jeanne suggests: "Do a unit study around this novel. See if you can find a play or movie version. Look for cartoons that refer to it. Encourage an art or dance project depicting some aspect of it. Look at current events that seem to echo similar themes or just plain courses of action -- in politics, on the world stage, etc. Keep asking those open-ended questions, and follow them with another question, because becoming a responsive reader and then a sophisticated, thoughtful writer is all about making connections. Connections often can't come from a single text alone. They have to come from the brain, plucking 'aha' moments seemingly out of thin air." Widening the process like this seems to work well for divergent thinkers, and as Jeanne contends, "Many divergent thinkers turn out to be our most important truth-tellers with effective writing, so we need to encourage their seeing and discovering."
The wider the focus, the more likely that your student will have that "aha" moment, finding a hook that resonates. If your student has trouble with the structure of writing, perhaps focusing on the content will help free up her creative juices. Research Writing as a Process from Methods of Discovery: A Guide To Research Writing by Pavel Zemliansky, Ph.D., discusses the difference between product-based writing and process-based writing, and emphasizes that:
Writing is a non-linear and recursive process. This means that most writers do not "begin at the beginning" of a piece and "end at the end." Instead, composing takes places [sic] in chunks, with authors going back and forth between clusters of ideas and writing possibilities, constantly reviewing and revising them, and moving them between the various parts of the prospective text...

The purpose of research is not to look for proofs that would fit the author's pre-existing theories, but to learn about the subject of the investigation as much as possible and then form those theories, opinions, and arguments on the basis of this newly found knowledge and understanding. And what if there is no data that prove your theory? What if, after hours and days of searching, you realize that there is nothing out there that would allow you to make the claim that you wanted to make? Most likely, this will lead to frustration, a change of the paper's topic, and having to start all over again. Not only will this inconvenience you by making you to race against the clock to meat the deadline and to do lots more busywork than necessary, but it will also be a waste of time because you will not learn anything new. Even if you manage to create a neat and efficient paper, it will be false research, simply jumping through hoops in order to fulfill another meaningless school assignment.
The following assignments make use of the resources from the UNC Writing Center and are organized in such a way as to show the non-linear and recursive nature of writing, which is sometimes even more difficult for us as parents to recognize than it is for our students. The initial focus is on the thought process rather than the structure, although the progression leads toward organization and structure. Some students may work through these assignments quickly. For others, it may be a months-long process. Remember that the goal is not a certain number of papers per year, but mastery of the process. As Jeanne reminded me in our email conversation, "We can't can't can't MAKE them reach a stage of development in writing any easier than we can do so in potty training or long division."