I feel like I  just wrote a blog post about our oldest's 9th-grade homeschool plan and here I am now sharing everything about his 10th-grade year.
Time, please slow down.
My oldest is not a traditional learner. He's a questioner. He's a doer. He's already planned out his life and knows what he wants to do and how he wants to do it. It's awesome and refreshing and also makes me nervous because high school feels super important and in truth, I don't want to mess things up for him.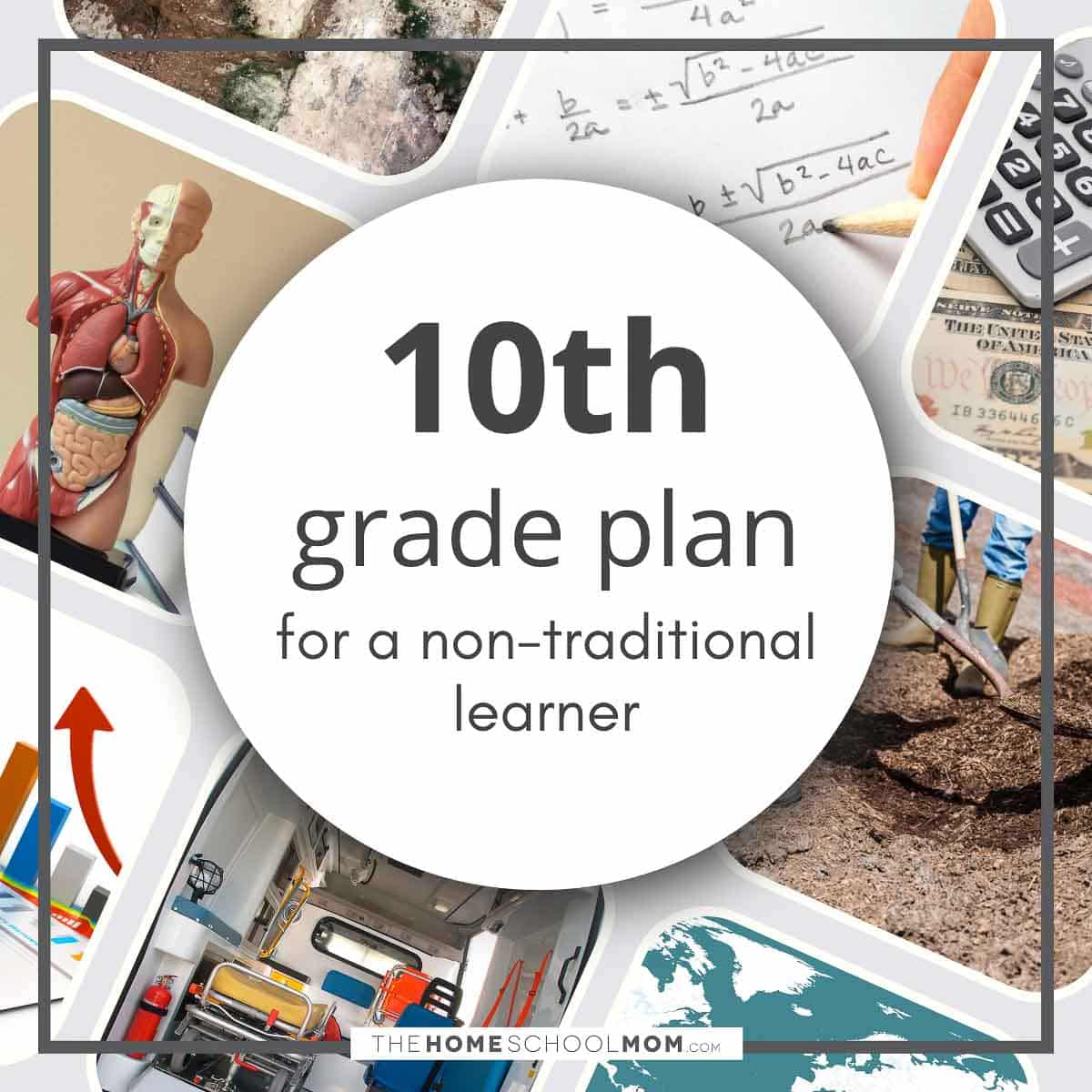 The great thing about homeschooling is the flexibility. It can also be a challenging thing if you live in a state that doesn't have rigid homeschooling requirements. Sometimes, this mama likes rules and checklists. But then I sit down with my out-of-the-box-strong-willed-teen and quickly realize that when we partner together, everything is better.
He stated that he wanted to tackle more challenging content, more in-person classes with homework and projects, and wanted to be in charge of his schedule. I got to work researching local classes, online classes, curricula, and more. We had long conversations, lots of texting back and forth, and finally came up with a plan that worked for him, for me and his dad, and for our budget and schedule.
Before I share our plan, I want to add that one of the most important things I did was to start working with a homeschool coach who specializes in homeschooling high school, particularly for out-of-the-box teens. She's been incredibly supportive, and her guidance has allowed me to breathe and relax a bit. She's offered me advice on creating high school transcripts as it is important that we have our bases covered and that my son can pursue his interests upon graduation.
Our 10th-Grade Plan
Math
My kids are fortunate to have a former high school math teacher give them personalized, one-on-one instruction—my mother-in-law. She plans the lessons, grades the tests, and send them notes. It's been an absolute lifesaver! I get to be just mom and not an evil-homeschool-math-nagging-crying-and-pulling-my-hair-out-mom. And no, she's not taking on any more students at this time.
Foreign Language (Latin)
We've been around and around on foreign languages. Our state doesn't have any high school homeschooling requirements, but I know that most four-year colleges do. Also, he wants to be an Emergency Medicine Technician (EMT), and knowing another language, like Spanish, would be helpful. However, I mentioned this kid is strong-willed, and no matter how many conversations we had about Spanish, it just wasn't going to fly.
When he came to me with an Outschool Latin class that his friend signed up for, I took a few minutes to look at it, we chatted about Latin and how it can be useful, and signed him up. We're huge fans of Outschool, and his friend is someone he met in another Outschool class this past spring. He's also taken a medical terminology class on Outschool that introduced him to Latin and Greek roots, so I think this will be a good fit. Also, I feel like I can finally earn an official HOMESCHOOL MOM badge because I have a kid studying Latin.
U.S. Government and Economics:
My teen is not a big history buff, but we found a small, in-person U.S. Government and Economics class that fit the bill. It's a mix of reading, quizzes, and tests, with homework, discussions, and projects included. It's also great for an election year.
World Geography
Even though he's already taking a social studies class (see above), he also asked to take a World Geography class. We have a wonderful facility near us that hosts homeschooling classes a few times a week. Since my son volunteers at their summer camp, it's become a home-away-from-home for him.
This class is reading and project heavy. It will definitely be a challenge for him, but I'm excited for him to learn more about the world around him and to have classroom experience.
Personal Finance
I am not sure who's more excited about this class,—me or my teen. Okay, it's me. I never took a personal finance class in high school or college.
Again, this was a class he found. It coincides perfectly because he just landed his first job and now he can start adulting (just a bit). I could not be more thrilled. This class is also taught at the same place where he takes geography, so he will have a half-day there which also gives him some time away from home (something we both need) and lots of great projects to boot.
Physiology and Anatomy
He is thrilled about this class! He's loved everything human-body related since he was little. I have photos of him with his Magic School Bus science kits and his human body model.
This class is important for his career as an EMT. It's a hands-on class with an enthusiastic teacher in a personal environment, and I don't have to deal with being queazy unless he starts sharing details with me.
Camp Volunteer
As I mentioned above, he volunteers at a camp that is fairly close to our home with many volunteer opportunities. He works there during the summer, and in the fall and winter, he will volunteer for their monthly parent's night out. He develops leadership skills, works with a variety of children, meets new friends, and serves the community.
Job
This kid has wanted to work since he was very young. He asked if he could get a job at age 11, move to Los Angeles, and then proceeded to look for an apartment and how much it would cost to buy a motorcycle. True story.
We were thrilled when he was able to find a job at a local farm. He'll get to be outside doing manual labor, moving around a lot, and interacting with customers. He will get a paycheck. We've already talked about taxes (yes, child, you have to pay taxes) and how he can help contribute to paying for his new cell phone.
This is a seasonal job, and he is also looking into lifeguard training as well. He wants to work and we're not going to get in his way. We can support him as best as possible knowing that real-world experience is how this kid learns best.
EMT Cadet Program
Our county has a free training program for high school students interested in pursuing careers as emergency medical technicians. He will be starting weekly online training classes then move to small group training that includes learning to use all the equipment, going on emergency calls, working at local events, and more. It is a year-long program and comes with a uniform. Yes, I've already taken 17 pictures. I cannot wait to see what he learns and what he does.
Stepping back so my son can step up and shine
Homeschooling high school looks different for each teen and for each family. I have three teens and I can promise that each one will have different high school experiences.
Our world is rapidly changing. Our goal is to give our teens a strong foundation, opportunities to explore their interests, and to step back so they can step up and shine.