Why Start a Teen Book Club
Summer was coming to an end, and I found myself worrying about my oldest. He was newly 13 and insisting that he wanted different school projects that didn't always include his younger siblings (11 year old twins). After discussing, we decided to start a teen book club that would appease my desire for him to branch out into other literary genres AND would give him a social opportunity with his friends. There would, of course, be lots of food too.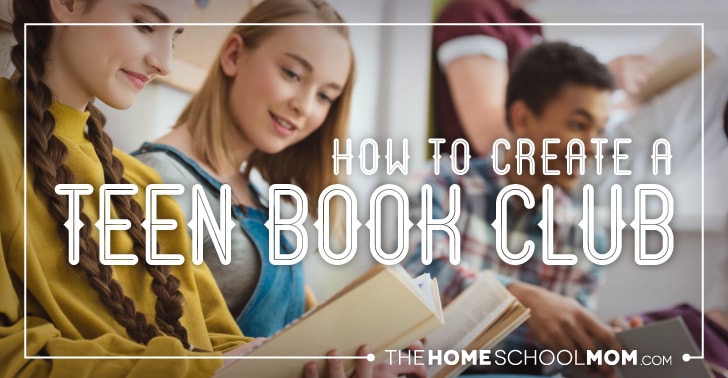 Plan Your Teen Book Club
Let's plan (but not too much)

The first thing that we did was to pick five books. Why five? Because I knew with our schedule that trying to do one book a month was not going to happen and would probably cause insane amounts of stress on me and him.  We decided to read two books in the fall and then three over the winter/spring. This spreads out the reading, the planning, and the prep and also gives us time to dig into the books a bit more.
Because I didn't feel like finding a place to host the book club, I decided to use our home for each of the meetings. This way, parents could stay or drop off, there was no cost, and we could meet outside if weather was nice or inside if needed. We don't have a huge house, but it's open and we make room.  It also forces me to do a quick clean up the day before (or the morning of, if I am being honest). You can also ask if people are willing to rotate homes too. Do what works best for your group and don't be afraid to ask for help with hosting, snacks, and decorations.
Choose the Book Club Books
Next, we had to choose books. I'll be honest, my son and I have very different tastes when it comes to defining quality literature. While I skimmed the book list over on Brave Writer's site, I could see his eyes glaze over when I suggested anything too "old-fashioned" or anything that even smelled like something I would enjoy. I quietly dropped Anne with an E off the list and started reading book descriptions to him.
We finally agreed on five books, only one of which I had read—The Westing Game­ (affiliate link)—back in 1986 or 1987. I offered to pull out my handwritten book report, but he passed. We chose books from several different eras and authors. They were a mix of sci-fi, mystery, comedy, and dystopian.
Find the Book Club Members
Armed with our list, it was time to find some teens to join us. We posted to our local homeschool Facebook groups and within a week, we had a group formed!
Where you live and the number of homeschoolers in your area will dictate how easy or difficult it is to put a group together. You might start have a particular age group in mind, mixed group of boys and girls, etc. Be up front with people about your expectations. All teens come to the table with different levels of maturity, abilities, and personalities.
If your circle of friends doesn't pan out, don't be afraid to look beyond—post on other homeschool Facebook Groups or lists. Be open to meeting to new people. Homeschooled teens can be hard to find. Don't give up. Homeschool families with teens ARE out there and they are looking for connection. You could even consider doing a book club using an online video platform like Zoom or Skype with homeschool friends across the country.
Host a Book Club Kick-Off Party
We had our books and the teens—now, it was time to schedule. I had my yearly calendar out and I had a general idea of when we'd be free to host and when we'd be on breaks or vacation. As the club organizer, I made sure the schedule works for me and my family. Otherwise, that pesky stress will come sneaking back around, and you'll be questioning your sanity before the club even gets started.
We hosted a kick-off party about five weeks before our first book club. I wanted the kids to get to know each other and break the ice before we came together to discuss books. My son shopped for snacks and we set up our deck furniture to encourage talking.
We also played a literary-themed game. I came up with a list of popular literary characters, such as Harry Potter, Laura Ingalls, and Percy Jackson. I taped a character on the back of each teen and everyone had to go around asking each other questions so they could determine who they were.
This gently forced the kids to talk to each other and we spent a solid 30 minutes playing game. The parents laughed and we had to hold back from giving them clues. This was a simple way to get the kids connecting and smiling.
I then discussed the books we'd be tackling over the next several months and we also talked about everyone's favorite books. It was great to hear them talking about their favorite and NOT so favorite books. So many opinions!
The rest of the party was spent eating, exploring our yard, and getting to know one another. I was able to meet all the parents and we chatted about the upcoming books.
 Book Club Party Prep

Can I tell you a secret? I don't do tons of pre-party prep. I have a general outline and otherwise, I just try to enjoy the book and scribble down some ideas a week before we meet. I find a used copy of the book for me and my son enjoys listening to audio books. I don't require him to read the book in addition to listening to it. We learn very differently and the joy of homeschooling is that I can play to his strengths.
Book club parties can be as elaborate or simple as you'd like. Really! If you're awesome at party-planning and decorating and themed food—GO FOR IT! If your kids are into all the fun stuff, why not hand this job over to them? Give them a budget and/or a timeline and let them run wild! You will take something off your plate and you will also be giving your teen ownership over a project that his or her friends will see.
For our clubs (we also have a geography club), we decided to keep low key. And guess what? It works well too. I move around the furniture a bit to encourage conversations. We set up our kitchen island with plenty of help-yourself-type food and drinks, paper napkins and plates—nothing fancy.
I allot 15 to 20 minutes for social time before we start. This gives people a chance to get here and for the teens to catch up a bit before we get going. I encourage them to get their snacks and take a seat and then we dive into the book. I use my prepped questions to start the conversation, which helps get the kids talking. Depending on the book and the size of the group, you might find that the teens start going down rabbit holes to other topics.
Because our group is made up of introverts and extroverts, I try to wrangle the conversations so that everyone who wants a chance to say something can. I have been so impressed by the group. Even if the discussion questions are challenging, they go for it. And the opinions—so fantastic! Remember, they don't have the same life experience or perspective as adults. I usually try to steer the conversations back around to discussing favorite quotes from the book, characters and whether or not they would recommend a book to a friend.
If you want to include a themed activity, go for it! I like perusing Teachers Pay Teachers for ideas or just doing Google searches. Don't forget to ask your online Facebook groups for ideas too. No need to reinvent the wheel!
Once we wrap up the discussion, the teens are free to hang out more and eat snacks. I think it's important to leave plenty of time for the teens to socialize. This is where the connection happens. Yes, reading the books and engaging in a literary discussion is awesome (well, it's awesome to me), but my goals for the book club are to:
Create friendships for my son with other teens in our homeschool group.
Read some good books and talk about them with friends.
I leave it up to the parents how much they want to dig into the book at home with their own kid. Every family has a different style and schedule. My goal is not to add stress to anyone's day. Also, a wonderful by-product of holding these book clubs is getting to know the other parents. Not only do we end up chatting about the books, we have a chance to just catch up on life and laugh and get to know one another.
 Don't Overthink It
Over-planning anything will lead to stress and probably disappointment. Teens crave a relaxed environment for discussing topics and sharing ideas. Your group might start small—that's okay! Give things time to grow and develop. Be open to changes and having the teens be involved in the whole process. If one of the books is a flop, don't sweat it! Discuss why the book didn't resonate with anyone or what would have made it more interesting. The atmosphere, the food and the friendships are what will linger long past reading the book. Grab your tea and a book and enjoy your teens.