Spring is nature's way of saying, 'Let's Party!'" ~ Robin Williams
Spring might be my favorite time to homeschool. It has quickly replaced the awesomeness of back-to-homeschool in late summer. It's not necessarily because of the weather. We live in the southeast and our winters are not too harsh or too cold for too long. Spring just feels different. The days are longer and the sun is shining stronger and oh my word--the flowers! I love the bright colors and have started to buy myself flowers every couple of weeks. They bring me so much joy!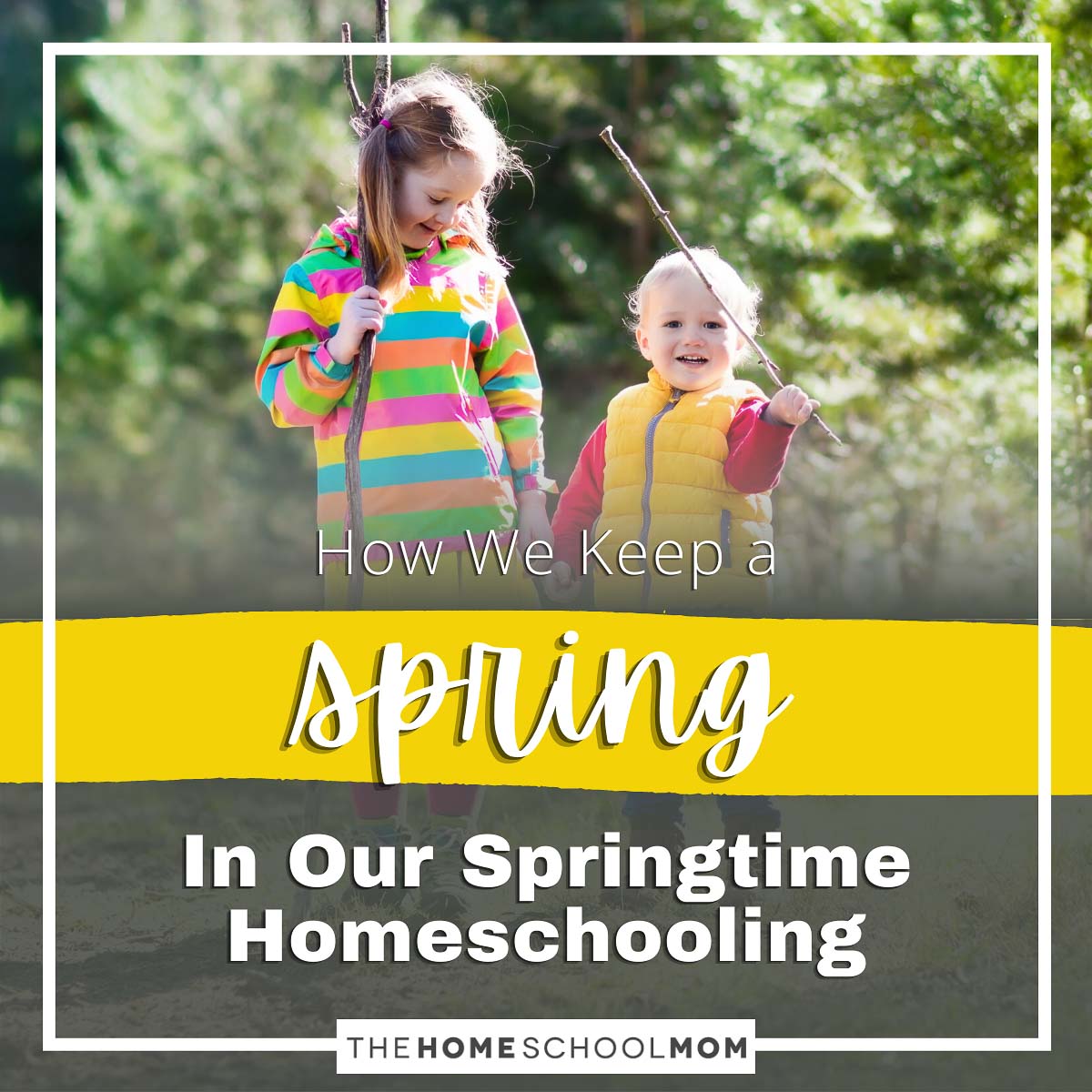 Alas, I digress. Spring fever homeschooling mom brain—it's a thing.
I freely admit that we are not the most structured or formal homeschoolers any time of the year. I've shared our Type B homeschooling tendencies and how we've tackled homeschooling middle school. We usually start out the year with "formal" academics, classes, group activities, etc. By spring, basketball season is over, classes have tapered off, and my kids are itching to get outside and tackle more self-directed projects.
But First, a Reality Check
My kids are all adolescents. We currently have boy and girl twins who are just shy of 12 and a son who is almost 14. Our days are very different now and it took me a while to come around to the fact that my kids were not little anymore. I also tend to walk a fine line between wanting to have our entire homeschool planned out and just going full-on unschooling.
Recently, my younger son expressed some frustrations to me, including how he feels about his homeschool subjects and how he wants to learn. So, I made a smoothie, ignored the dishes, and I sat down with him and we worked out a schedule that will help him feel good and also hold me accountable too.
It's April and I tend to get a bit distracted (see above). We aren't buying anything new. We aren't cracking whips and buckling down.
He spoke. I listened. He acknowledged. I planned just enough. It felt good.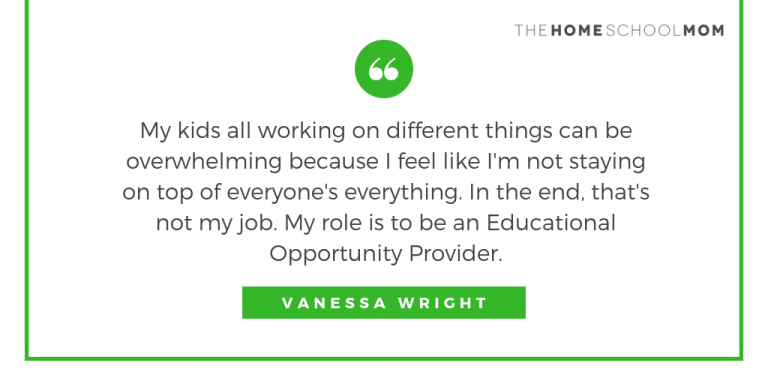 I went ahead and did this for my other two kids. Each one had input into their spring term schedules. My kids are all working on different things at this point. It can be overwhelming because I feel like I'm not staying on top of everyone's everything. In the end, that's not my job. My role is to be an Educational Opportunity Provider. We can flow with the seasons and our energy levels. It's spring and it's a good time to both shake things up and create a flowing routine.
How We're Springing into Spring Homeschooling
Our spring homeschooling might not look like yours. In fact, my spring homeschooling this year is quite different then it was two years ago and certainly five years ago when my kids were younger. Seasons of life change, kids grow up, mom learns what works and what doesn't and that's how you create a sustainable homeschool flow throughout your year.
So, on that note—let's dive into what spring homeschooling looks like for us and perhaps it will give you some fun ideas and also permission to try something new in your homeschool.
Shelve chronological history. We use a chronological history program during the year, but for spring we are putting the program away in favor of self-directed studies. My oldest is starting two Crash Course online classes and I will add some writing and note-taking assignments. My boy twin is reading through American history, learning to take notes and watching videos to coordinate with the topics he reading about that week. My girl twin is researching countries she's interested in and using notebooking pages from www.notebookingpages.com (TheHomeSchoolMom offers a country report and state/province reports at no cost to newsletter subscribers).
Add Mi Academy. Mi Academy is an online program with academic subjects, games, virtual stores where my kids can create products (clothes, furniture, etc.) and sell to other members, a virtual newspaper (my daughter writes short articles and loves seeing them published). I can set up parameters, subjects, and see what they are doing. My teen is even enjoying it.
Use a Brain Quest workbook. The twins will use Brain Quest to practice skills in preparation for required state testing that we have to do in June.
Sign up for Outschool. My teen recently took a class from a former FBI agent-turned-homeschool mom and it was amazing! These classes are a great way to add fun and interest to your homeschool without leaving your house. Winning!
Keep up with math. Nothing exciting to add here. We try to do math five days a week and I do add in Mi Academy math games to that time as well.
Take geography club outside. We enjoy doing geography club outside when the weather allows, so after having it indoors all winter we are ready to head outside to wrap up the year with Fiji and Australia!
Get outside every day. It's really important that my kids move their bodies and take breaks during our "school" hours and throughout the day. Unless the spring showers and storms are pouring down, it's a requirement for us. We meet up with friends at the park, we have a teen meet up at a local lake each week, we installed a basketball hoop in the driveway, and I make sure to take my own walks whenever I can. Movement IS so important for brains and bodies.
Go on adventures. Homeschool field trips are something that I am trying to do more of this spring, but also just getting out of the house for low key adventures. A few weeks ago, I bagged school, put the kids in the van and drove into our little town. The weather was perfect, we stopped into a new chocolate store for treats, we walked around and chatted, stopped at the library, and nobody fought. It was really fun! We also have "Monday Fundays" nearly every Monday with our homeschool group. These planned out adventures are such a great way to motivate my kids on a Monday morning! We get our lessons done and grab lunch or pack up food and head out to meet up with friends. Trips include park days, local indoor trampoline parks, Nerf days, trivia day at a local tavern, art projects, and more.
Explore new interests. Last spring, my twins went on an entrepreneurial kick. This year they are all about home design and reorganization. I won't lie, it's pretty awesome. They have checked out books, found decorating and organizing videos on YouTube, and binge-watched HGTV shows (I knew all those hours watching Fixer Upper would pay off). As a result, they both have completely redone their bedrooms, reorganized our front room/my office, organized my kitchen pantry and cabinets and cleaned out the mudroom. Fingers crossed this interest stays well beyond springtime.
Do a writing workshop. We plan to write our way through this FREE 6 week writing workshop from Heather of Blog, She Wrote.
I should point out a few things we're not doing this spring. We're not doing spring sports or any scheduled outside classes. We're not taking a vacation this spring because we went on a week-long basketball tournament trip back in March. We also didn't sign up for other extracurricular activities, aside from library volunteering.
So that's it! This is spring homeschooling for us this year. Some routine, some projects to finish, planned activities and also lots of margin for spontaneous trips or following rabbit holes. I don't do homeschool planning for the upcoming fall in the spring (okay, maybe some product browsing) because I want to stay focused on finishing strong and not burned out.
On that note, I am off to sip tea and admire my organized pantry. Happy Spring!