This post is contributed by Oak Meadow, the sponsor of our Living Education series.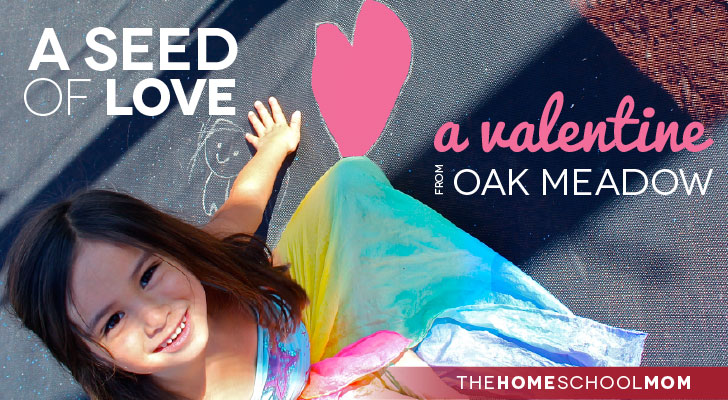 By Leslie Ann Daniels
It is important to recognize that one of the major tasks for a home teacher is to create an atmosphere in which real learning can occur. Such an atmosphere exists where the children are nurtured and supported to explore their own personal interests, as well as the world around them. As we are all well aware, this best happens where there is a warm, loving relationship between the child and the parent.
Sharing love is like sharing a treasure. Whether it be through expressing warm thoughts towards one another, opening up and sharing feelings with each other, or just spending some pleasant moments together, it is the essence of the learning process. In a loving relationship, we also discover that communication becomes greatly enhanced. When communication comes from the heart, be it verbal or nonverbal, it allows the opportunity to better understand and accept the thoughts, ideas and actions that are shared with each other. This form of communication may come through a special hug, a quiet conversation, a wonder-filled nature walk, or even in the sharing of a favorite art exercise or baking activity. Whatever the form may be, grabbing these wonderful opportunities will truly aid in deepening the bond in our relationships.
When we are sharing these treasured times together with our children, we are spending true quality time with them. Quality time certainly does not mean planning a special activity at a particular time, but rather means experiencing quality moments that are unscheduled and spontaneous. All of us, as parents, have had our children rush to us with enthusiasm and bright faces saying, "Come quickly! I have to show you something!" How do we respond to our children's excitement? Do we reply, "In just a minute." Or do we say, "Later, I'm really busy right now." Or do we not even hear them because we are so absorbed into our own work?
If we could just keep in mind that, when we give our complete attention to these unexpected and unplanned moments, we are also acknowledging how important they are and how wonderful it is to be a part of the joy in their lives. If for some reason, you can't drop everything and attend to your child's request at that very moment, you can still express your eagerness: "I can't wait to see it! First, just let me _______ (finish making your sandwich, hang up the phone, take the sleeping baby to bed, etc.) and then I'll come right away." Of course, then you have to do that, as quickly as possible.
I once asked my sweet little seven year old friend, Anna, "What do you think of when you think of love?" She replied without any hesitation, "My family." This immediate response would be the same answer for most children. Family plays a very integral part of life for the child, which is certainly another valid reason why family-centered education will flourish most in a healthy, happy environment.
As your family ventures through homeschooling, please remember to keep in your heart that when you clear time and space to focus completely on your child's lessons, when you teach the lessons with personal interest and enjoyment, and when you introduce the new material with sensitivity towards your child's skill level, you are sharing love that will provide not only a sense of fulfillment for your child, but will also give you great satisfaction for your own teaching endeavors.
Now, for some Valentine's fun to share with your children:
What animals kiss? Snails do. So do many fish. One fish, known as the "kissing gourami," has been observed kissing for as long as 25 minutes! Manatees hug one another and kiss, too.
What animal brings gifts to his sweetheart? Male spiders offer the female delicacies, such as a fly wrapped in a web. This is done for self-preservation in that the present keeps the female's attention long enough to give the male time to get away before the female tries to eat him.
How to elephants show affection? They wrap their trunks around each other and swish their tails back and forth.
How to elephants fend off unwanted romantic advances? With a slap of the trunk.
What is the most family-oriented animal? The wolf. Wolves usually mate for life, and they even make a point of controlling their population! Generally, a "pack" of wolves consists of a father, mother and their offspring. Only two in each pack mate, but older brothers and sisters all help raise the newborn.
Which animal is best at playing hard to get? The lady porcupine who, if not interested, will threaten the male by raising her quills!
Which are the least romantic animals? Zebras, wild horses and the male orangutan (who is a real brute).
Which animals are most romantic? Gorillas, elephants and lions all show affection and are very tender lovers to their mates.
Leslie Daniels has been an Oak Meadow teacher since 1986, and she homeschooled her children with Oak Meadow's K-8 curricula. She is the founder, director, and head teacher of the "Little Tree Education" program, which offers educational activities to groups of homeschooled students.