Among the academic reasons we began homeschooling was that the math taught at school was a poor fit and created a lot of stress and little math learning.
And then, as a homeschooler, I purchased Saxon Math, which was... a poor fit and created a lot of stress and little math learning.
The curriculum didn't work for us. In fact, it didn't work in dramatic ways.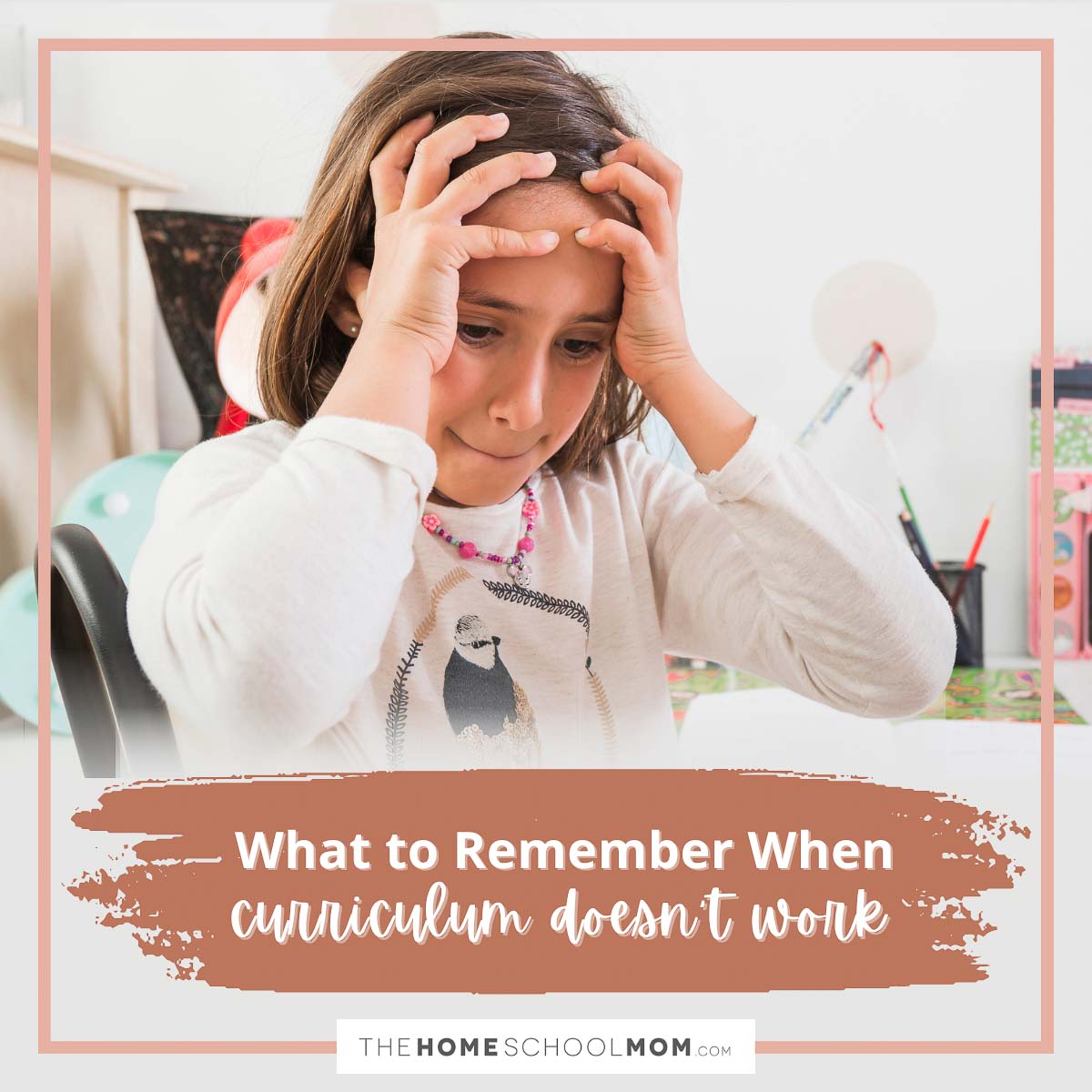 I was a new homeschooler, in my first year of what would become near-two-decades of homeschooling. I cajoled. I insisted. My son cried.
I supplemented. I skipped the odd problems. He cried.
Then I skipped some of the lessons. I made up my own lessons. It became hard to find the book in the house. Where is the Saxon book? Stuffed under a pile of magazines in the piano bench, up under the couch, then eventually re-shelved to a book shelf we don't visit very often. We gave it up.
Honestly, at first I confused the resistance to the work with disobedience.
Then I thought it was poor math skills or maybe lack of focus. But my son was not a disobedient child, and he seemed to be competent with the same skills when I presented them in a different way.
When I had first insisted on working from Saxon and worried myself about doing everything "by the book"—and when I later returned to the curriculum episodically because it was "the text"—my son exhibited the same anti-math behaviors I'd seen when he was in school.
Frustration. Reluctance. Anger. Inattention. No learning of math. Misery.
It finally clicked for me: it was too much like the math curriculum from school. Too much drill and kill. Too relentless. Too much review. The print was too small. The text was boring. The approach was too part-to-whole.
As I later thought of it, there were too many scales and not enough music—an idea I've condensed from the header paragraph at the Living Math website. (If that idea resonates with you, you'll enjoy this post about using a Living Math approach instead of curriculum).
And so we moved away from Saxon to math materials that worked better for us. I wanted to get the book off my shelf, but I really couldn't bring myself to give it away or sell it. What if it inflicted the same misery on another family?
I joked about it with my widening circle of homeschooling friends: "We can't use it, but we can't let it hurt anyone else."
However, over the years, I have run into many families who have loved Saxon, whose kids thrived on it.
"It's complete." "It's organized." "It's not distracting -- straight to the point." "Plenty of practice." "Great review." "Gets kids to mastery."
Since I've been working as a homeschool evaluator, I've seen that it's true! I've visited plenty of households with lovely math work from Saxon texts and kids who can discuss math concepts fluently and demonstrate them competently. I've seen these kids excel at the SAT and do well in college math.
They've learned the scales, and they can play the music.
Our experience with the curriculum turned out not to be to help my kids learn math; its role was to help me understand more about homeschooling.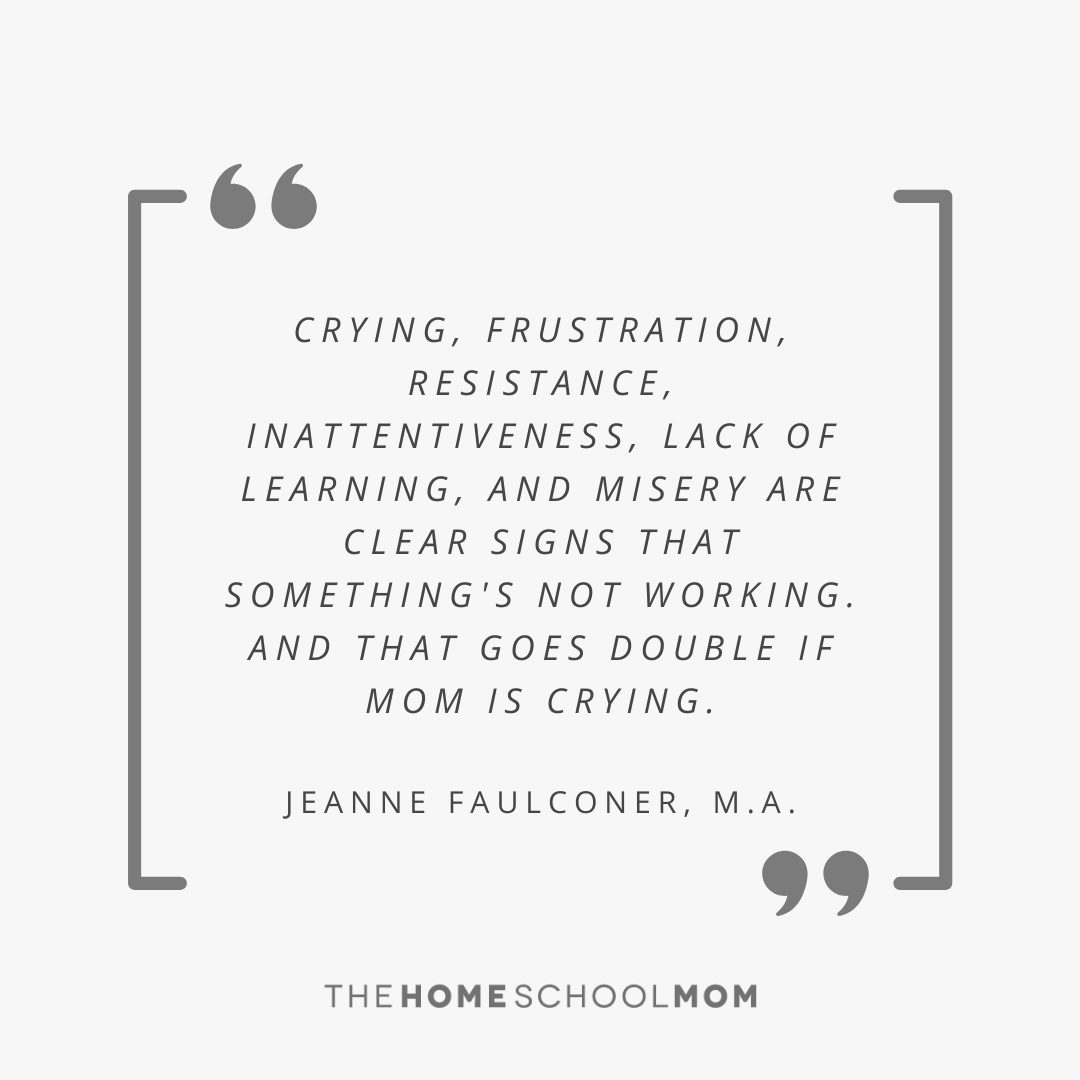 How can my experience help you? You can skip the learning curve and be aware of these homeschooling truths:
A book or resource that makes your kid miserable might work beautifully for someone else.
A book or resource that works beautifully for your kid might make someone else miserable.
The ability to choose a curriculum or approach to learning that works for an individual child is one of the most important benefits of homeschooling—one of the "secrets" of homeschooling success.
A homeschooling parent shouldn't wait too long before making a change when it's clear that a certain approach or textbook isn't working. Sure, you may want to encourage your child through an adjustment period, but don't belabor ineffective efforts too long.
Crying, frustration, resistance, inattentiveness, lack of learning, and misery are clear signs that something's not working. And that goes double if Mom is crying.
Children's individual learning styles can make certain books a good or bad fit—the amount of color, the amount or size of the text on a page, the amount of review or practice, the number of illustrations, the style and reading level of the writing, and the approach to concepts.
Parents' understanding of what homeschooling should "be" will evolve over time.
The amount of money paid for a book does not justify its continued use.
There is no substitute for paying attention to a child's level of engagement and learning and changing things to work better.
If you scroll through the Saxon Math reviews here at TheHomeSchoolMom, you'll see just what I mean. There are families who love it, families who don't love it but still use it effectively, and families who couldn't stand it and got nothing from it even when they persisted.
We're in the last group, but today, I can set my Saxon book free. I know the chances are good that it will go to a family that will benefit from it. I know that if someone tries it and it works well, it will be a great path of learning for a kid.
I also know that if a homeschooling parent finds it not to be a good resource, she can choose another book or another approach to helping her kid learn math. My blogging colleague at TheHomeSchoolMom, Rebecca Capuano, described this well in her post about math, Changing Curriculum, Again.
This nimbleness is one of the major benefits of homeschooling.
While adopting new textbooks or reform agendas in public education is akin to turning a battleship, my decision to try new things with my children is more like turning a kayak. Sure, we'll encounter some white water here and there, but basically we can navigate to effective resources quickly.
My youngest son, who cut his teeth on living math, is now studying high school math using a textbook that is typically used in public schools. In fact, it has crossed my mind that the Saxon approach might have worked perfectly for this kid.
The homeschool mom that was me so many years ago never would have believed it. Our kayak has paddled full circle.