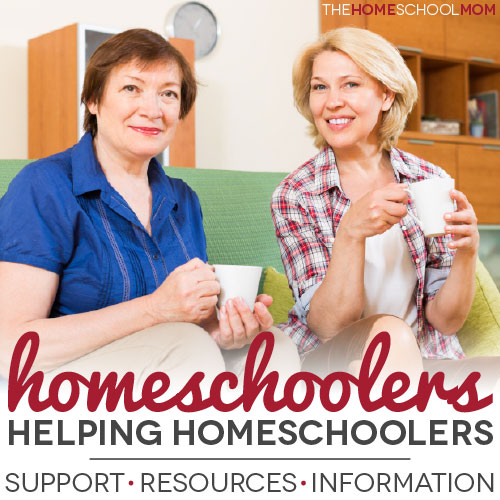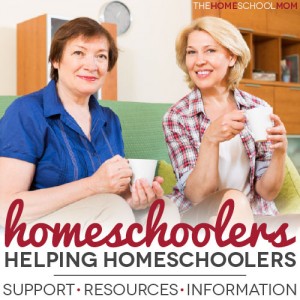 What do new homeschoolers need from "old" homeschoolers?
In a previous post in my "Homeschoolers Helping Homeschoolers" series, I suggested that providing new homeschoolers with information is better than giving directive advice -- but what else is helpful?
If you are an established homeschooler reaching back to assist new homeschoolers, in addition to offering basic information about homeschooling -- offer Support, Resources, and Inspiration.
What are the best ways to provide support? 
Listen. New homeschoolers need to talk about why they are homeschooling, what is working, and what challenges they are facing.
Reflect. Yes, it's corny, but reflecting back what someone said does make them feel heard and understood. With practice, it becomes more natural to say, "You sound overwhelmed," or "You feel relieved," or "You feel doubtful" -- about that new math curriculum, the in-laws' reaction to homeschooling, or managing three kids who are no longer attending school.
Ask questions. "How is the new approach going?" "Have you considered changing the time of day for your read alouds?" "Has your sister become more supportive of your homeschooling?"
Invite. Ask new homeschooling families to attend parents' meetings, park days, the Not Back To School Picnic, field trips, and workshops. These activities often provide opportunities for people to find like-minded parents or kids with similar ages or interests.
Include dads. Make it comfortable for fathers to attend events as full partners in homeschooling and family life, not assuming them to be distant or far removed from their children's education.
Do something practical. If the new homeschooler you're helping is a friend or relative, provide something practical -- an unexpected dinner dropped off at just the right time, an invitation to take her most active child to the park one afternoon, a ride to the used curriculum sale, or an evening of babysitting. Sometimes support truly is about lightening someone's load.
What are some resources you can provide?
The printed word. Recommend or loan homeschooling books, magazines, curricula, and catalogs to new homeschoolers.
Social media. Help new homeschoolers find the Facebook groups, email lists, Twitter accounts, and blogs that will be helpful in their journey. If you share a particular slant on homeschooling, send her your favorite groups for Charlotte Mason, Waldorf-inspired homeschooling, unschooling, or Classical education.
Websites. Recommend informational websites (like TheHomeSchoolMom.com!) about homeschooling. This is especially valuable when homeschoolers may find themselves in particular situations, such as homeschooling special needs kids, homeschooling on the road, homeschooling while employed, or homeschooling gifted kids.
Organizations. Make it your goal to help prospective homeschoolers connect with at least one local/regional homeschool group and one state-wide organization. Share the organization newsletter or magazine. Invite new homeschoolers to attend a conference with you. Give a gift membership to personal friends who are new homeschoolers. Provide website links to homeschool organizations. Don't forget to consider the "flavor" of the organizations. Some have specific world views that might not be a match for the homeschoolers you're helping. You'll be doing a favor to them if you explain the organizations' religious, political, or lifestyle leanings.
How can you provide inspiration?
Take your older kids. Truly, there is nothing like seeing interesting and responsible homeschooled teenagers to encourage young families. Yes, they're busy with sports, babysitting in the neighborhood, jobs, and their studies, but explain to them that their occasional appearance at park days and their volunteering at conferences plays a vital role of encouragement to new homeschooling parents.
Tell your stories. Writing and telling about how homeschooling has worked for you -- and the ways it hasn't -- can be inspiring. While you don't have to shape your story as the only way to homeschool, your examples can add to the plethora of ways homeschooling has worked. When you describe overcoming a challenge or finding a new way to meet your child's needs, you may inspire someone else.
Share ideas. Give homeschoolers ideas of the things you've done in your own family or heard about over the years -- robotics, dog training, a unit study on weather, a change in daily schedule, nature walks, reading to the kids in the sandbox, community college as university prep, debate teams, book clubs, writing camp, foreign language CDs, and more. New homeschooling parents are often processing all they can just to make the decision to homeschool. Most will appreciate your ongoing ideas as they add and subtract activities and refine the ways they spend their days.