Why do some homeschoolers choose not to use one of the many complete math curricula available today? And what do they do instead?
To many homeschooling parents, math feels like the one thing that must be taught and learned in a systematic way even for very young children. Even many people who are otherwise attracted to or influenced by a version of interest-based learning or unschooling often say— "except for math."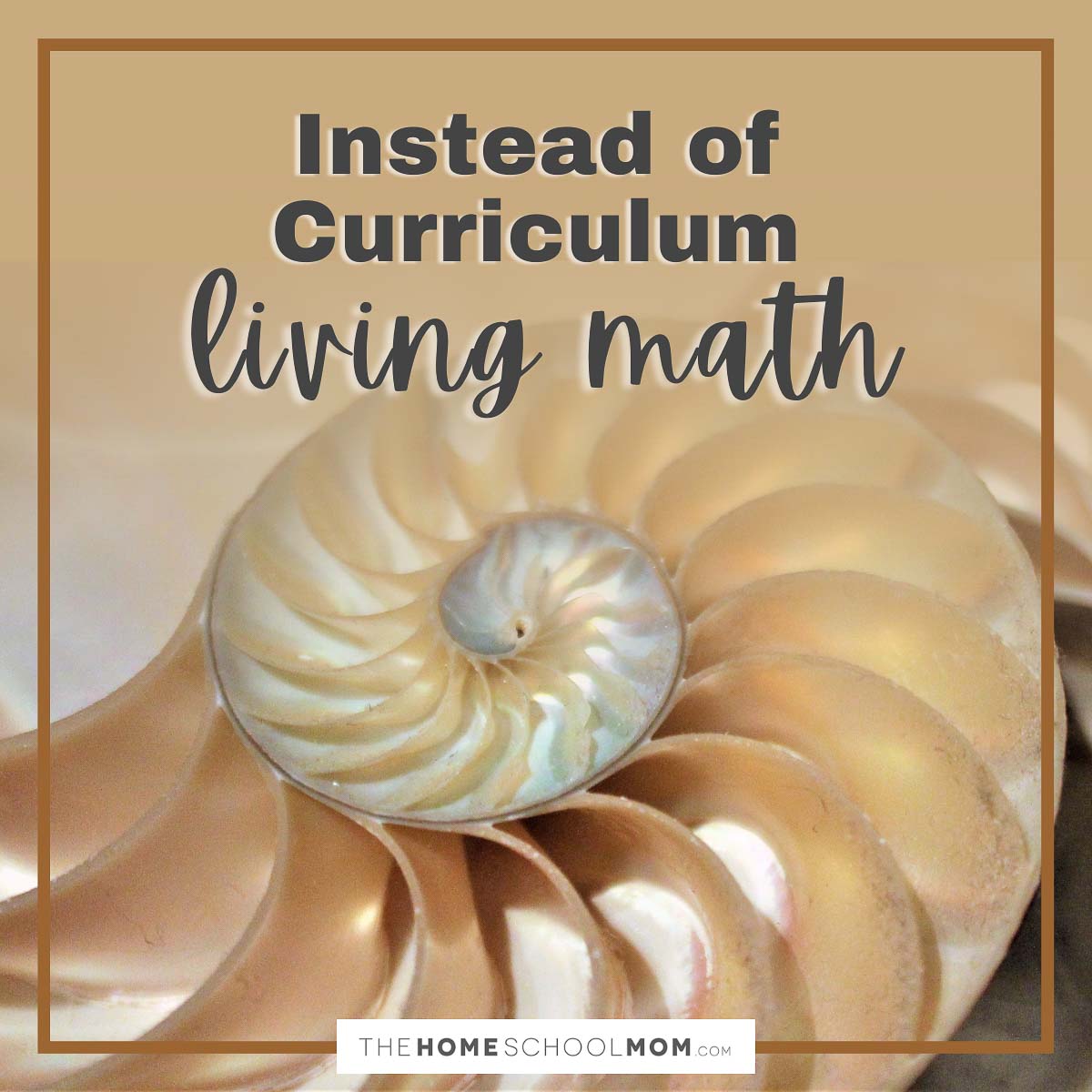 If we have been "schooled" into thinking that learning is about covering discrete subjects using textbooks, this impact seems to be at its height in learning arithmetic and mathematics.
However, some homeschooling parents do depart from using the typical scope and sequence of a math curriculum, and they are pleased with their children's increase in mathematical understanding and competency. Far from ignoring mathematics education, they use a strategy called "living math."
The best resource I have found on this approach, and the originator of the term "Living Math®", is the website Living Math, whose founder and developer Julie Brennan says
Insisting a child must be taught traditional, scope-and-sequence arithmetic to learn mathematics is like saying one must learn classical notes and scales before one can learn music. You might get there, but you miss out on the inspiration of beautiful music created by the masters along the way. We need not master all the "basics" before being able to experience the appreciation that carries us through the hard work of learning. Think of applying living math principles as developing a "mathematical ear" while working toward the mastery of basic theory.
This "mathematical ear" is developed by relating math to history, art, games, stories, architecture, and daily life. Far from eschewing resources, living math proponents seek out and provide math readers, math tools, and math experiences for their families.
So why might you consider using a living math approach in your homeschooling?
You have tried multiple math curricula and your child keeps hitting the wall, unable to master lessons or concepts in the expected way.
Your child is math resistant, frequently balking or crying when it's time to do math.
You are math resistant, frequently balking or crying when it's time to do math!
Your child's unwillingness to do math seems willful, like a discipline problem rather than an inability to do the work.
Your child can't do arithmetic calculations that are considered typical for his or her age, but can understand more advanced concepts.
Your child is great at basic arithmetic calculations, but seems stuck on learning more abstract mathematical concepts.
Your child has low frustration tolerance, so getting "wrong answers" short circuits his or her ability to continue to focus.
Your child is good at math, but other academic challenges or learning differences make completing curriculum difficult -- such as inability to write in workbooks, auditory or visual processing issues that make computer or video based curricula ineffective, or developmental delays.
You want to avoid your child developing math anxiety -- perhaps especially if you experienced a fear of math during your school years.
Your child loves math and enjoys integrating mathematical ideas into other studies and daily life.
Your child is advanced in math, and you want to provide more opportunities and resources to enrich learning.
You want to create a lifestyle of learning in your home, with a more holistic approach to math.
You love math and want to share your passion from many angles -- including having "relationship time" built around enjoying math readers together and sharing dynamic math activities.
Your kid is a STEM geek—interested in Science, Technology, Engineering, and Math -- so will probably do a lot of advanced math study, which you know will be enhanced by building a lot context for math.
Your kid is humanities-oriented, so learns math best if it is related to history, literature, story telling, art, architecture, and creativity.
The Living Math site is full of insight about how to incorporate living math concepts into your homeschooling. The site includes book lists, learning ideas, games, and lesson plans.
Most helpful to me has been the companion email list, the Living Math Forum, where parents write about their challenges and insights in helping their children learn math.I've been a member for years. During that time, it's been affirming to hear stories of children who have grown up with living math and excelled in their advanced studies. Some definitely use curriculum as well -- there is no "throw the baby out with the bathwater" attitude here -- but what a joy to see curriculum used as one tool of many, rather than as a one-size-fits-all requirement that simply "checks off the box" of covering math.
In my family, my three sons' math inclinations have been wide ranging -- including one who is an especially good math student who is headed for a STEM career and one whose natural talents are in other areas. Our experience with living math is that it supports mathematical learning all along the spectrum of ability and interest, helping provide the math understanding and skill that is a foundation for further learning in college and in life.
---
Living Math® is a registered trademark of Julie Brennan