The cherry trees are blooming, the air is warmer, and the snows have melted for good. Every parent of young (or even not-so-young) children wants to do a happy dance when spring arrives and the kids can actually go outside again ("Hide the puzzles! Hunt for the short sleeves!").  Riding bikes, playing in outside forts, soccer practice -- the bottom line is that all of it means energy expenditures!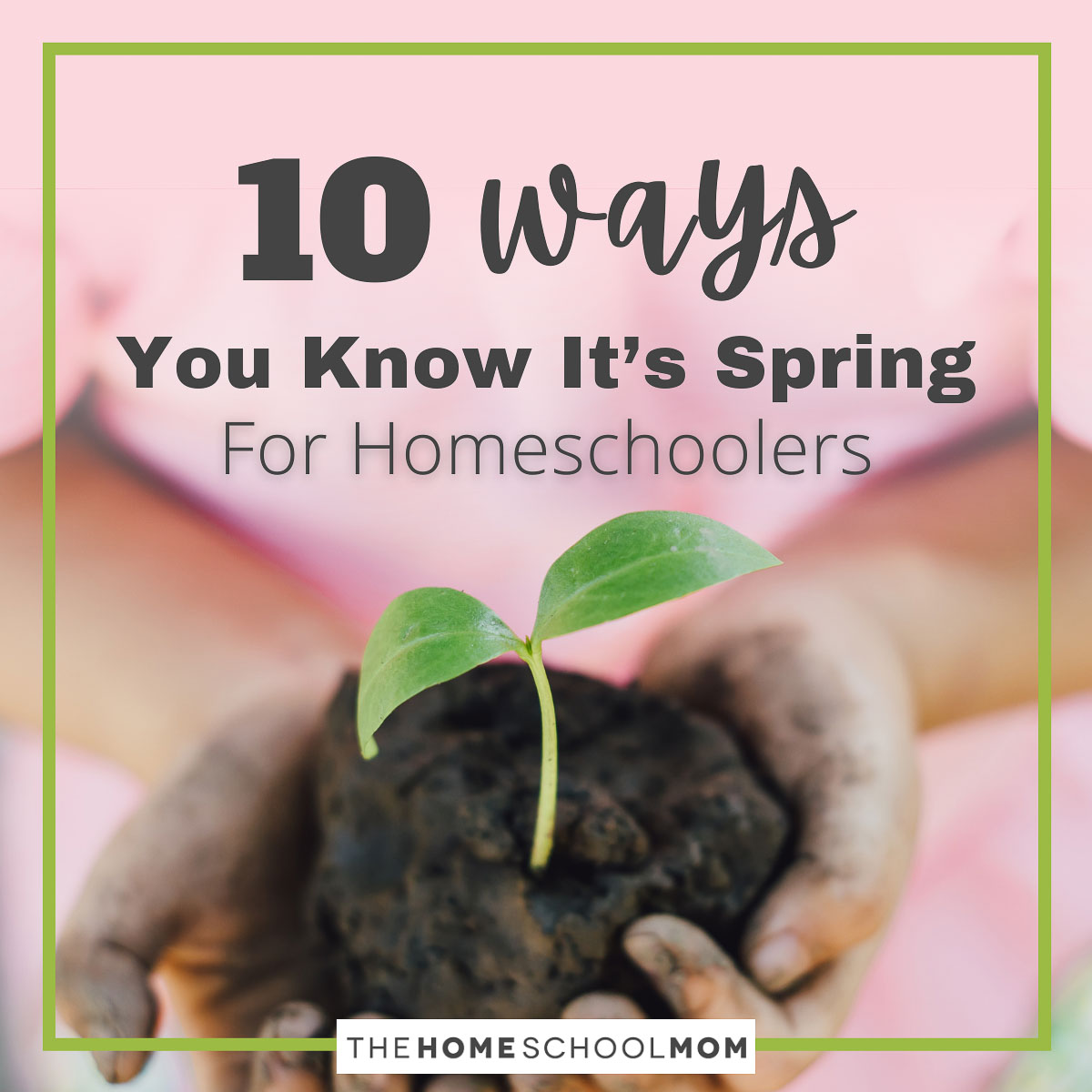 Homeschoolers, in particular, have a specific investment in the weather turning warm: The more kids go outside and get out their energy, the more they are able to focus on school work inside!
Homeschooling often becomes miraculously easier in the Spring (in spite of the fact that kids fight to go out instead of staying inside to work), just by virtue of the fact that kids tend to be more active. But when you add in the fact that you can do some of your school work and projects outside, it's no surprise that Spring becomes a favorite season for homeschoolers everywhere.
While open-toed shoes and open windows might be the telltale signs of spring for most of the world, home educators have some particular signposts that illustrate the season of warmth has arrived. So here you go, 10 signs homeschoolers know it's spring:
The craft box is completely empty, the puzzles have all been completed, every board game has been played...but the list for flora-and-fauna-science projects is fuller than your bookshelves.
Your best-laid plans for homeschooling to have more "family time" somehow get overtaken by carpools to soccer practice, field trips to memorials and outdoor historical attractions, and homeschool co-op activities.
New homeschooling subjects suddenly get added to the curriculum, like "Outside swing repair", "Attic organization" and "Garden bed weed management".
Notebooking, particularly in areas that require nature drawing, becomes a sudden and profound interest of every child.
You start hearing "standardized testing" over and over again in your head like a schizophrenic hears demonic voices.
You start thinking about home equity loans to cover this year's homeschool convention purchases.
Economics, supply and demand, fiscal management, and entrepreneurial skills all get covered under the subject heading "Yard sale".
Your kitchen starts overflowing with hand-cut flowers in drinking glasses from little hands picking... the carefully planted daffodils and tulips in the house plant beds.
Shopping for vegetables gets replaced by growing vegetables. In the garden. That the kids help plant and tend. It's called "Horticulture".
Overflowing books get replaced by...uh, more books. Maybe now some can be stored on the screened in porch?