Our listing of Tennessee jobs and volunteer opportunities for homeschoolers is ordered alphabetically by city. If you would like to submit a Tennessee co-op or academic resource, you may do so using the red button above.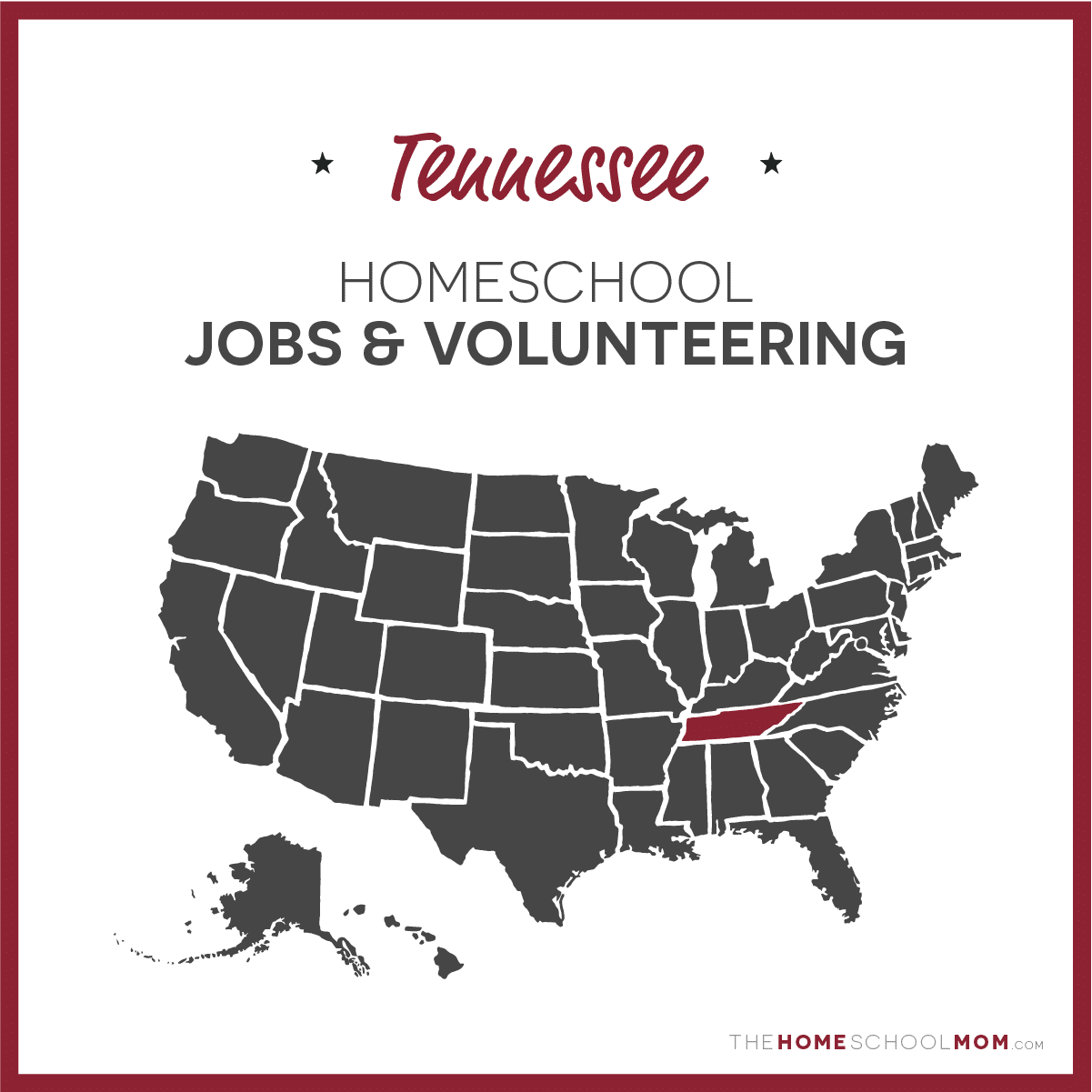 Submit a Local Resource
Saddle Up!

Franklin

Saddle Up! is an equine assisted activities and therapies program in Franklin, Tennessee. For over 25 years Saddle Up! has offered children with special needs from the age of 4 to the age of 19 opportunities to grow and develop through therapeutic, educational and recreational activities with horses. Programs available during the day for families with qualifying children to participate in one of our 4 programs. Saddle Up! is a non-profit that utilizes over 200 volunteers every week, so we can also offer volunteer opportunities for homeschool students and their families.
Hogwood BBQ

Franklin

Hogwood BBQ is searching for extraordinary people to join thier team. No restaurant or customer service experience is needed, as long as the candidate has a coach-able, positive yet driven spirit. Offering flexible scheduling, leadership opportunities, competitive pay, paid vacation time for all team members after a year and the best part is that Hogwood is closed on Sundays! Hogwood BBQ is a new fast casual restaurant brand serving our guests artisan smoked meats. We believe that the soul of barbecue is in the fire and our team. Using only the finest meats and freshest ingredients, along with signature sauces and rubs, award-winning Hogwood BBQ offers handcrafted, artisan smoked meats and signature sides in a fun, positive and passionate environment. Hogwood BBQ was founded in 2014 by Michael Marsee. The mission of Hogwood BBQ is "to inspire passionate people to serve great BBQ and exceed expectations every time." Along with providing the best BBQ and elevating the guest service experience in the BBQ sector, Hogwood is committed to making a positive difference in the communities it serves. The Hogwood BBQ of Cool Springs is the inaugural location for the brand and is locally owned and operated by Emily Yamanaka.
Goldfish Swim School - Franklin

Franklin

Saving and changing lives, every single day. We have a mission to teach kids how to swim and be safer, in and around the water, while making their experience GOLDEN! Working for Goldfish Swim School will allow you to provide children and families with necessary life skills to combat the ever growing drowning statistics. Whether you are in the pool leading instruction for our swimmers or warmly greeting our members in our tropical lobby as a front desk representative, you are making an impact. About Goldfish Swim School: Goldfish Swim School has been an industry leader in the swim lesson community since 2006. Our team is growing, and we are looking for team players who are enthusiastic, have a can-do perspective, and enjoy working with kids. We provide paid on-the-job training, flexible scheduling, a rewarding work environment, and a one-of-a-kind culture that will make you smile, too!
Youth Volunteer Corps (YVC) of Nashville

Nashville

Youth Volunteer Corps (YVC) of Nashville works alongside local nonprofits to create meaningful service-learning volunteer opportunities for teens 11-18 years old. There are monthly recurring projects, as well as special events throughout the year. Parents with teens 11-18, please check out the website and find an opportunity that fits their needs.
Boost Aquatics - Lifeguards Needed!

Nashville

Lifeguards needed at Boost FitClub - Nashville! Great part time opportunity in a fun and healthy environment! Top pay per hour based upon experience and certification. Week day afternoon shifts 12pm-6pm available. Must be at least 16 years old, professional, accountable and responsible. Please call 615-414-0302 for more information.
Nashville Dolphins

Nashville

The Nashville Dolphins provide year-round swim instruction, training, competition, social activities, and travel at NO cost to children and adults with special needs, giving them life-long opportunities to develop physical fitness, build confidence, develop friendships, and experience the joy and pride of being part of a team. Many volunteer opportunities for anyone who would like to help. Volunteer coaches and instructors and no experience is necessary.