Field trips are a great way to reboot a bad homeschooling week, get out of the house when everyone has cabin fever, and learn about your local area. Before heading out, check out Jeanne's tips for improving homeschool field trips.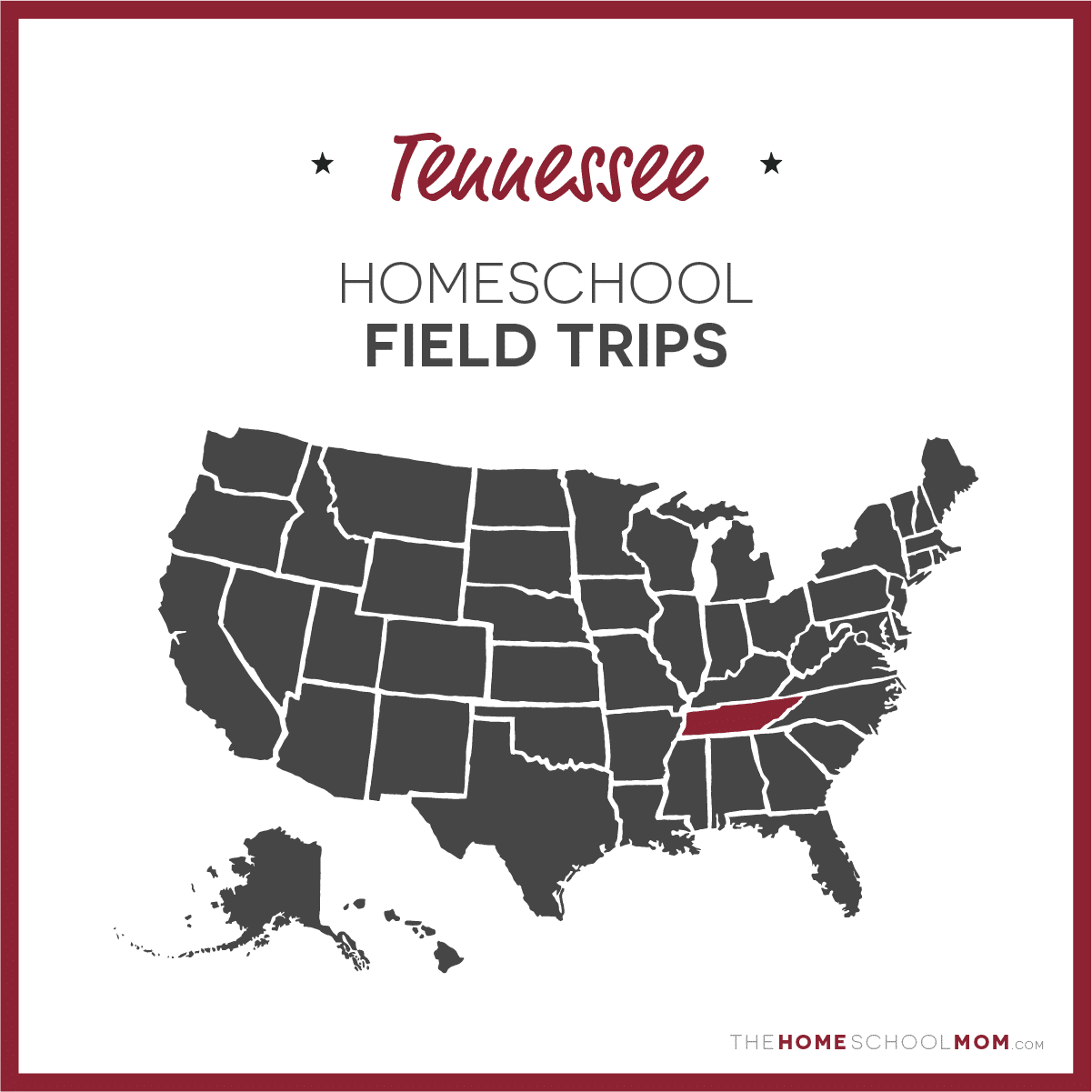 Submit a Field Trip Destination
Our listing of Tennessee field trips for homeschoolers is ordered alphabetically by city. If you would like to submit a Tennessee field trip destination, you may do so using the red button above.
An asterisk * after the title indicates that a virtual field trip is also available.
The Overmountain Victory National Historic Trail

It recognizes the Revolutionary War Overmountain Men, Patriots from what is now East Tennessee who crossed the Great Smoky Mountains and then fought in the Battle of Kings Mountain in South Carolina. The website offers historical information about the park for those who cannot visit in person.
Natchez Trace National Scenic Trail

The Old Natchez Trace was a 500-mile footpath that ran through Choctaw and Chickasaw lands connecting Natchez, Mississippi, to Nashville, Tennessee. Today there are four separate trails totaling 65 miles and they are administered by the Natchez Trace Parkway. The website offers historical information about the trail for those who cannot visit in person.
Port Royal State Park

Adams

Port Royal is an historic park and a day use park. Port Royal State Park is a place of quiet natural beauty. This park is a satellite of Dunbar Cave State Park.
Appalachian National Scenic Trail

Appalachian Mountains

The People's Path and America's First National Scenic Trail. The Appalachian Trail (A.T.) is more than 2,175-mile long footpath stretching through 14 eastern states from Maine to Georgia. Conceived in 1921 and first completed in 1937, it traverses the wild, scenic, wooded, pastoral, and culturally significant lands of the Appalachian Mountains.
McMinn County Living Heritage Museum

Athens

Relive more than a century of the rich, turbulent history of Southeast Tennessee at the McMinn County Living Heritage Museum in Athens, Tennessee. Thirty permanent exhibit areas depict life from the Cherokee Indians and early pioneer settlers through 1940 as well as several changing exhibits and programs throughout the year. Exhibits that will captivate, and programs and events that educate and entertain, await you.
Backyard Terror's Dinosaur Park

Bluff City

The Dino Park currently has over 50 prehistoric creatures (with more coming soon). They are open every day from 9 a.m. to 9 p.m. Tours are self-guided and maps are available; photos and videos are permitted. There is a picnic area and the local Pizza Plus delivers here. They have a small gift shop and are a donation based attraction, so they don't currently charge any admission to get in.
Paris Landing State Park

Buchanan

Paris Landing State Park is an 841 acre park located on the western shore of the Tennessee River, which is dammed to form Kentucky Lake (160,000 acres). The park sits on the widest part of the lake (3 miles wide) and is the perfect location for all water sports such as fishing, boating, swimming, and skiing. On land, there is plenty of activity with golfing, hiking, camping, or just relaxing and enjoying the natural beauty and wildlife. Be on the lookout for deer, turkey, fox, and coyote that roam the park. Eagles can be seen in the winter months.
Montgomery Bell State Park

Burns

Montgomery Bell State Park is located seven miles east of Dickson in Dickson County. The rolling hills of Dickson County contain a treasure that was considered more precious than gold to the builders of young America. The treasure was iron ore, and it lured men by the hundreds to this area of Middle Tennessee. The site of the first Cumberland Presbyterian Church is located at Montgomery Bell State Park.
Cordell Hull Birthplace State Park

Byrdstown

The Cordell Hull Birthplace and Museum consists of a representation of Hull's log cabin birthplace, an activities center and a museum housing documents and artifacts. Also on the park is beautiful Bunkum Cave Trail leading to an overlook and the actual entrance of historic Bunkum Cave where Cordell Hull's father made moonshine years ago. The collection includes his Nobel Peace Prize that is on display.
Cove Lake State Park

Caryville

Cove Lake State Park's 673 acres are situated in a beautiful mountain valley setting on the eastern edge of the Cumberland Mountains. There are scenic nature trails and bike trails leading through the open grasslands and woodlands. In the winter, several hundred Canada Geese make this lakeshore their feeding ground. Nearby is the Devil's Race Track whose steep pinnacle rock affords a panoramic view.
Cumberland Trail State Park

Caryville

Upon completion, the Justin P. Wilson Cumberland Trail State Park -- the state's only linear park -- will be 300 miles, cutting through 11 Tennessee counties from the Cumberland Gap National Historic Park on the Tennessee-Virginia-Kentucky border, to the Signal Point near Chattanooga. One hundred fifty miles of the Cumberland Trail are open and ready for exploration.
Reflection Riding Arboretum

Chattanooga

Our educational programs aim to cultivate and inspire an interest in science and the importance of nature with hands-on, experiential learning that leaves a lasting impact on kids of all ages. Field Trips can be self guided $5.50 per Student and $10 per Adult for Self Guided. Please Call for rates on Guided Programs. Full list of Programs on website.
The Coker Museum at Honest Charley Speed Shop

Chattanooga

The Coker Museum is located inside World Famous Honest Charley Speed Shop. Inside you will find vintage cars, hot rods, motorcycles, trucks, buses, airplanes, rare engines, and memorabilia. You will also be able to view our working woodshop, fabrication area, paint booth, and machine shop. With over 100 vintage cars, motorcycles, trucks, buses, and even 3 airplanes hanging overhead, the history that can be found here is very impressive. Cost is $10 for adults, $8.00 for children 5-12. Free for children under 5.
Audubon Acres

Chattanooga

Environmental and Nature based field trips. Guided and Self Guided Options available. We offer a variety of educational programs for schools and homeschool groups. All of our programs can be customized to fit your curriculum and the needs of your group.
National Medal of Honor Heritage Center

Chattanooga

The National Medal of Honor Heritage Center in the heart of downtown Chattanooga brings to life the amazing stories of ordinary people who demonstrated extraordinary heroism under the most difficult circumstances. Spending an hour or more here will inspire your group with the values demonstrated by Medal of Honor recipients - Patriotism, Citizenship, Courage, Integrity, Sacrifice and Commitment. Your group is sure to leave encouraged knowing that they too have the potential to be a hero. Your visit can be tailored to reinforce and expand on content covered in your "classroom".
Booker T. Washington State Park

Chattanooga

Situated on the shores of scenic Chickamauga Lake not far from the city of Chattanooga is 353-acre Booker T. Washington State Park. The park is named in honor of the famous leader, Booker Taliaferro Washington. Washington was born into slavery at Hale's Ford, Virginia, but with great determination he secured an education and went on to become one of our great Americans. He is perhaps best known as a former president of the Tuskegee Institute, a black organization for higher education.
Dunbar Cave State Park

Clarksville

Dunbar Cave is located 60 minutes northwest of Nashville and about one and a half miles northeast of downtown Clarksville, TN in Montgomery County. Dunbar Cave is the most prominent of several caves located in this designated natural area. In the roomy mouth of the cave, square dances, radio shows, and big band era concerts were once held.
Red Clay State Park

Cleveland

Red Clay State Historic Park is located in the extreme southwest corner of Bradley County in Tennessee, just above the Tennessee-Georgia state line.
Museum Center at 5ive Points

Cleveland,

Museums are places where objects of scientific, historical, and artistic value are collected, displayed, preserved, and interpreted. The Museum Center at 5ive Points meets this mission with objects and archival material related to the Ocoee Region which includes, Cleveland, Bradley County, and Polk County. Our mission is to preserve and interpret the history and culture of the Ocoee District of Tennessee by highlighting the adventures of its people.
Biblical Resource Center & Museum

Collierville

The museums main gallery features the permanent exhibit includes a visual display of object and images from the near Eastern and Classical worlds representing over 2,000 years of history.
Cumberland Mountain State Park

Crossville

Cumberland Mountain State Park is situated on the Cumberland Plateau, a segment of the great upland, which extends from western New York to central Alabama. It is said to be the largest timbered plateau in America. This 1,720-acre park was acquired in 1938 as a project of the Farm Security Administration to provide a recreational area for some 250 families selected to homestead on the Cumberland Plateau.
Hiwassee/Ocoee Scenic River State Park

Delano

Hiwassee Scenic River Park is located on Spring Creek road at U.S. Hwy. 411, the Ocoee river on U.S. Hwy. 64. The Hiwassee was the first river managed in the State Scenic River program. A 23-river mile section, from the N.C. state line to U.S. 411 North of Benton, has been declared a Class III partially developed river. This stretch of river offers canoeing, rafting, fishing, hiking and nature photography. A scenic portion of the John Muir trail winds through the river gorge. Numerous public access sites provide boat-launching ramps. At the Gee Creek campround, picnic areas, sanitary facilities and primitive camping are available. Adjacent is the Gee Creek Wilderness of the Cherokee National Forest.
Fort Donelson National Battlefield

Dover

Unconditional surrender of Fort Donelson created jubilation throughout the North and silence in Dixie. It was the North's first major victory of the Civil War.
Fort Donelson National Cemetery

Dover

In 1867, Fort Donelson Cemetery was established as the final resting for Union soldiers and sailors initially buried in the Fort Donelson area.
Sycamore Shoals State Historic Park

Elizabethton

Sycamore Shoals State Historic Park is open from daylight to dark each day. The Visitors Center, which houses an interpretive facility with information, historic displays, and a theater, is open Monday through Saturday from 8 a.m. to 4:30 p.m. and on Sunday from 1 p.m. to 4:30 p.m. Picnicking is available at Sycamore Shoals State Historic Park with tables and grills provided. A two-mile fitness trail constructed jointly between the park and adjacent hospital is also available.
Nathan Bedford Forrest State Park

Eva

The park was named for General Nathan Bedford Forrest, the intrepid Confederate cavalry leader, who on November 4, 1864, attacked and destroyed the federal supply and munitions depot at (Old) Johnsonville at the mouth of Trace Creek. His operations were concentrated along the river in the vicinity of the park and the town of Eva.
Bledsoe Creek State Park

Gallatin

Park Activities/Amenities:Boating, Camping, Fishing, Hiking Trails and Picnic Facilities.
Great Smoky Mountains National Park

Gatlinburg

This is America's most visited national park. Famous for its diversity of plant and animal life, the beauty of its ancient mountains, and Southern Appalachian mountain culture.
Gray Fossil Museum

Gray

Children and adults alike will have the opportunity to learn about natural history in an exciting and engaging environment with the new 7,000-square foot annex. The building will feature a rooftop outdoor classroom with a weather monitoring station, a cafe, an indoor wet lab, and a second outdoor classroom. Excavations for this year have begun on the fossil site. Visitors can tour the fossil site and see the paleontologists hard at work in a fossil dig pit.
Andrew Johnson National Historic Site

Greeneville

The site honors the life of the 17th President, Andrew Johnson. Johnson is known as the Defender of the Constitution for his work to reunify a nation torn apart by civil was after the assissination of President Lincoln.
Gnome Hollow at Dixon Hill Farms

Greeneville

We are a small farm just south of Greeneville, TN. We have a Gift Shoppe, Event Hall, Small Playground & Games along with farm animal feeding. We would love to have your group or individual family visit and enjoy a Day of Family Fun on the Farm.
Big Cypress Tree

Greenfield

Recently planted native wild flowers draw hummingbirds, butterflies and nature lovers to Big Cypress Tree State Park in Weakley County. The 17 distinctive wild flower beds are complemented by a number of benches that make it easy for visitors to relax and watch wildlife. These gardens are a wonderful place to see beautiful colors, enjoy nature or even practice your photography.
Herb & Plow farm

Grimsley

Offering tours of the farm to homeschool groups. Herb & Plow is a certified naturally grown fruit and vegetable farm. This certification abides by the organic standards based on the USDAs National Organic Plan(NOP), and requires regular farm inspections implemented by other CNG farmers. The farm grows over 50+ varieties of fruits and veggies.
Harrison Bay State Park

Harrison

The 1,200-acre Harrison Bay State Park, with approximately 40 miles of Chickamauga Lake shoreline, was originally developed as a Tennessee Valley Authority recreation demonstration area in the 1930's. This beautiful wooded park is a haven for campers, boaters and fishermen, as well as picnickers and other day-use visitors from Chattanooga and the surrounding tri-state area.
Chickasaw State Park

Henderson

Chickasaw State Rustic Park is situated on some of the highest terrain in west Tennessee. A park recreation director, on duty during the summer months, conducts group games, arts and crafts, evening movies, campfire programs and hay rides.
Fort Pillow State Historic Park

Henning

The 1,642 acre Fort Pillow, located in Lauderdale County on the Chickasaw Bluffs overlooking the Mississippi River, is rich in both historic and archaeological significance. In 1861, the Confederate Army built extensive fortifications here and named the site for General Gideon J. Pillow of Maury County. Because of its strategic location, the fort was taken by the Union Army who controlled it during most of the war. Remains of the earthworks are well-preserved.
Long Hunter State Park

Hermitage

Long Hunter State Park is situated along the shore of J. Percy Priest Lake. It consists of four units: Couchville, Baker's Grove, Bryant Grove and Sellars Farm. Picnicking, swimming, hiking, backpacking, boating, fishing, nature photography and wildlife observation are among the activities available to park visitors. Planned activities include interpretive and recreation programs for the general public and environmental education programs for school and other interested groups.
Standing Stone State Park

Hilham

Standing Stone State Park covers nearly 11,000 acres on the Cumberland Plateau of north-central Tennessee. The quaint and rustic park is noted for its outstanding scenery, spring wildflowers, fossils and other natural diversity.
Pickett State Park

Jamestown

Situated in a remote section of the upper Cumberland Plateau, Pickett CCC Memorial State Park is known for its geological, botanical, and scenic wonders. The park lies within the 19,200-acre Pickett State Forest, and adjacent to the massive 120,000 acre Big South Fork National River and Recreation Area, both areas containing prime wilderness country. Visitors to the park can explore large rock houses, natural sandstone bridges, scenic bluffs, and wild mountain streams. Spring brings dazzling displays of wildflowers, summer an abundance of blackberries and wild blueberries, and autumn a patchwork of colors to the countryside. The park memorializes and preserves the unique work of the Civilian Conservation Corps CCC, who first developed the park.
Indian Mountain State Park

Jellico

Indian Mountain State Park is a multi-use facility in Campbell County near Tennessee's northern border. In addition to providing camping and recreation opportunities, the 200-acre park is unique in that it was developed on reclaimed strip mine land. Park visitors can enjoy fishing at the two small lakes, picnicking, camping, and two walking trails. Park visitors have the opportunity to view a variety of wildlife.
Warriors' Path State Park

Kingsport

Warriors' Path State Park was named for the park's proximity to the ancient war and trading path used by the Cherokee. Since that time, the park land has known a long history of travelers, and is still a pathway for modern-day outdoor enthusiasts. The 950-acre area was acquired from the Tennessee Valley Authority is 1952, to serve the people who live in or visit this section of Northeast Tennessee. It is situated on the shores of TVA's Patrick Henry Reservoir on the Holston River.
Harpeth River State Park

Kingston Springs

This unique linear park located along the Harpeth River in Middle Tennessee offers natural, cultural, and recreational day use areas rich in historic significance and natural beauty. Canoe access areas are located at all sites (excluding archeological areas) providing beginner and advanced paddlers opportunities to float this beautiful class II river.
East Tenneessee Historical Museum

Knoxville

History speaks through the Museum of East Tennessee History's permanent and changing exhibits, which focus on East Tennessee's rich history and heritage. Traveling exhibits from the Smithsonian and other venues also share special stories from our past. The Museum's new permanent signature exhibit, Voices of The Land: The People of East Tennessee.
Norris Dam State Park

Lake City

This 4,038-acre park, located on the Norris Reservoir, began in 1933 as the first Tennessee Valley Authority project. Miles of trails lead hikers through deeply forested valleys and ridges. Many other attractions await your finding at Norris Dam State Park.
David Crockett State Park

Lawrenceburg

David Crockett State Park was dedicated in May of 1959, in honor of one of Tennessee's most famous native sons.
Cedars of Lebanon State Park

Lebanon

Cedars of Lebanon State Park is named for the dense cedar forest that existed in the Biblical lands of Lebanon. The park contains 900 acres which are used for intensive recreation. An additional 8,100 acres are operated by the Parks Division as a natural area and by the Forestry Division as a State Forest.
Davy Crockett Birthplace State Park

Limestone

Davy Crockett's Birthplace has been preserved by the State of Tennessee Department of Environment and Conservation as an historic site within the state park system. The site consists of 105 partially wooded acres of land along the Nolichucky River in Greene County, Tennessee.
Mousetail Landing State Park

Linden

This 1, 247-acre area is located on the east banks of the Tennessee River in the state's picturesque Western valley. Tradition has it that Mousetail Landing received its name during the Civil War period when one of the area's tanning companies caught fire. The exodus of mice fleeing the burning tannery was so profuse that the area in proximity of the park became known as Mousetail Landing. The scenic Buffalo River flows nearby, providing opportunity for family canoe float trips.
Old Stone Fort State Archaeological Park

Manchester

This State Archaeological Park is dedicated to the preservation, protection, study and interpretation to the public of this significant survival of ancient culture. The park offers educational and entertaining programs, which increase understanding of the Old Stone Fort, archaeology, and Native American cultures. The museum includes exhibits that orientate the visitor to the Old Stone Fort and its setting, the hilltop enclosure mound site's broader significance and the culture of its builders.
Big Ridge State Park

Maynardville

The heavily forested, 3,687-acre park lies on the southern shore of TVA's Norris Reservoir approximately 25 miles north of Knoxville. Visitors to the park will find a wealth of activities to meet any interest from guided nature tours to backcountry camping.
Memphis Brooks Museum of Art

Memphis

The Brooks is your art museum, a place where you can experience the transformative power of art. As one of the largest and most innovative art museums in the American South, the Brooks is recognized nationally for the museum's innovative educational programs, continual community outreach, and world-class art collection.
T.O. Fuller State Park

Memphis

T.O. Fuller State Park was the first state park east of the Mississippi River open to African Americans and only the second in the nation. The park was later changed from Shelby Bluffs to T.O. Fuller State Park in 1942 in honor of Dr. Thomas O. Fuller who spent his life empowering and educating African Americans.
Meeman-Shelby Forest State Park

Millington

Bordering on the mighty Mississippi River, two-thirds of this 13,467-acre park are bottomland hardwood forests of large oak, cypress and tupelo. The park also contains two lakes and many miles of hiking trails. The Meeman Museum and Nature Center is named for Edward J. Meeman, courageous conservation editor of Scripps-Howard newspapers who helped establish this park and the Great Smoky Mountains National Park. The park maintains a boat ramp on the Mississippi River. Deer, turkey, beaver and some 200 species of birds are abundant.
South Cumberland State Park

Monteagle

South Cumberland is one of the newer Tennessee State Parks. Almost all of our park lies atop the Cumberland Plateau and, unlike most state parks, ours is made up of ten different areas located in four different counties. The Visitor Center is located between Monteagle and Tracy City on Highway 41. From here the various components of our park are managed. Visitors can also obtain information and directions from the visitor center.
Panther Creek State Park

Morristown

Panther Creek State Park, covering approximately 1,435 acres, is located on the shores of Cherokee Reservoir, an impoundment of the Holston River. The Great Smoky Mountains National Park is located about 45 miles south.
Ripley's Believe It Or Not Museum

Multiple Locations

Offers museums and attractions in multiple countries focusing on odd and amazing things. Provides videos, details about exhibits, and their history.
Stones River National Battlefield

Murfreesboro

The Battle of Stones River began on the last day of 1862 and was one of the bloodiest conflicts of the Civil War. The website offers historical information about the battle for those who cannot visit in person.
Stones River National Cemetery

Murfreesboro

Learn about the history of the cemetery and search our list for soldiers buried there.
Adventure Science Center

Nashville

Adventure Science Center is Nashville's hands-on science and technology museum. In addition to interactive exhibits on human biology, space, music and sound, physical science, virtual reality, and physics, Adventure Science Center is home to the Sudekum Planetarium. See an educational planetarium show, explore science and leave enriched!
Madame Tussauds Wax Museum

Nashville

Madame Tussauds Nashville is focused on American musical Icons, and provides an interactive experience where your students have the opportunity to step into iconic musical scenes from past and present in a way that is educational and fun. Nashville's newest school field trip option offers additional workshop experiences for a more in depth look at the 250 year history and artistry of our amazing wax figures. $9 Museum Admission $3 Workshops.
Lane Motor Museum

Nashville

A unique collection of vehicles that crosses curriculum boundaries. Your ride includes stops around the globe with lessons in art, engineering, design, history, politics, mathematics, and language. At Lane Motor Museum, the collection items are used as tangible teaching tools! Learning Lane (Experiential Learning K-12) Self-Guided Tours, Guided Activities, Demonstrations, Customizable Tours, and Learning Lane on the Move Program Price: $6 per student or $3 per student with a group rate. Lil' Learning Lane (Preschool Programs) Geared towards ages 3-5. Every 4th Thursday 10:30-11:30AM
Bicentennial Capitol Mall State Park

Nashville

The Bicentennial Capitol Mall State Park is located in the shadow of the State Capitol in downtown Nashville. The 19-acre park is designed to complement the Tennessee Capitol Building, give visitors a taste of Tennessee's history and natural wonders, and to serve as a lasting monument to Tennessee's Bicentennial celebration.
Radnor Lake State Park

Nashville

Radnor Lake State Park is located in Davidson County in the midst of the Overton Hills, south of Metropolitan Nashville in the Oak Hill Community. This natural area provides a variety of scenic spots and a diversity of natural habitats ranging from the lake, to streams and placid sloughs. Wildlife and numerous species of plants are in abundance. It is a place that provides scenic, biological, geological, and passive recreational opportunities not found in other metropolitan areas of Nashville's size.
Natchez Trace Parkway

Natchez Trace Parkway

The 444-mile Natchez Trace Parkway commemorates an ancient trail that connected southern portions of the Mississippi River, through Alabama, to salt licks in today's central Tennessee. Today, visitors can experience this National Scenic Byway and All-American Road through driving, hiking, biking, horseback riding, and camping. The website offers historical information about the parkway for those who cannot visit in person.
Johnsonville State Historic Park

New Johnsonville

Located off U.S. Hwy. 70, the park is named for Military Governor Andrew Johnson. This 600-acre park on the eastern side of Kentucky Lake overlooks the site of the Battle of Johnsonville. Interpretive tours are available.
AMSE - American Museum of Science and Energy

Oak Ridge

AMSE tells the story of national and global security, science, research, engineering, technology development, and environmental restoration successes that have occurred in Oak Ridge since the very first days of the Manhattan Project. The museum also has several educational programs and traveling exhibits.
Big South Fork National River & Recreation Area

Oneida

Encompassing 125,000 acres of the Cumberland Plateau, Big South Fork National River and Recreation Area protects the free-flowing Big South Fork of the Cumberland River and its tributaries. The area boasts miles of scenic gorges and sandstone bluffs, is rich with natural and historic features and has been developed to provide visitors with a wide range of outdoor recreational activities.
Sgt. Alvin C. York Historic Park

Pall Mall

The historic park includes the York family farm and the grist mill he operated for many years on the banks of the Wolf River.
Pickwick Landing State Park

Pickwick Dam

Pickwick Landing State Park is located just south of Pickwick Dam, 12 miles south of Savannah, TN., in Hardin County. The lake and river offer excellent fishing, boating, swimming and a marina. Accommodations on the park include a modern Inn and Restaurant, cabins and camping. There is also a beautiful and challenging golf course. The park contains 1,400 acres of forested hills and hollows. There is a 2.8 mile trail to explore and enjoy the wildlife and plant life around the lake. Picnicking, swimming and play fields are also available.
Fall Creek Falls State Park

Pikeville

A paradise of more than 20,000 acres sprawled across the eastern top of the rugged Cumberland Plateau, Fall Creek Falls State Park is one of the most scenic and spectacular outdoor recreation areas in America. Laced with cascades, gorges, waterfalls, streams, and lush stands of virgin hardwood timber, the park beckons those who enjoy nature at her finest. While Fall Creek Falls, at 256 feet, is the highest waterfall in the eastern United States, other waterfalls in the park are Piney and Cane Creek Falls and Cane Creek Cascades.
Pinson Mounds State Archaeological Park

Pinson

Pinson Mounds, one of two state archaeological parks, is a special park, set aside to protect the prehistoric remains found there. Managed by the Tennessee Department of Environment and Conservation's Division of State Parks, the Pinson Mounds grouping consists of at least 15 earthen mounds, a geometic enclosure, habitation areas and related earthworks in an area that incorporates almost 1,200 acres. Pinson Mounds is a national historic Landmark and is listed on the National Register of Historic Places.
Big Hill Pond State Park

Pocahontas

Big Hill Pond State Park lies in the southwestern part of McNairy County and encompasses approximately 5,000 acres of magnificent timberland and hardwood bottom land. Cypress Creek and Tuscumbia River border the property. Several oxbow lakes and sloughs add to the waterway. The flood plain adjacent to both the Tuscumbia River and Cypress Creek contains small oxbow lakes and swamp areas which are desirable habitat for waterfowl, wildlife and fishing.
Roan Mountain State Park

Roan Mountain

Roan Mountain State Park encompasses 2,006 acres of southern Appalachian forest at the base of 6,285 foot Roan Mountain. Park elevation ranges from 3,000 feet in the valley to around 3,700 feet on surrounding ridges. Rich hardwood forests allow for a great diversity of life and a wide range of outdoor activities. Park guests have opportunities to hike along creeks and ridges, fish for trout, play tennis, swim, tour a century old farmhouse, join rangers and naturalists for educational programs, and enjoy mountain music concerts.
Rock Island State Park

Rock Island

The scenic beauty of this wooded park is dominated by the Great Falls of the Caney Fork River - an imposing limestone gorge (called a gulf in southern culture). It provides scenic overlooks, waterfalls and deep pools for fishing, rock-hopping and exploring. Located at the confluence of the Collins and Caney Fork Rivers, this 883-acre park has a natural sand beach on Center Hill Resevoir. Historic features of the park include a 19th century textile mill and one of Tennessee's early hydroelectric plants
Shiloh National Military Park

Shiloh

Shiloh National Military Park contains four important Civil War entities: Shiloh Battlefield, Shiloh National Cemetery, Shiloh Indian Mounds, and Corinth Battlefield. The website offers historical information about the park for those who cannot visit in person.
Shiloh National Cemetery

Shiloh

Shiloh National Cemetery was established in 1866 and has more than 3,500 Union graves. In 1933 responsibility of the cemetery was transferred from the War Department to the National Park Service.
Edgar Evins State Park

Silver Point

Edgar Evins State Park is located on one of the most beautiful reservoirs in Tennessee. Wildlife is abundant and includes three different owl species, numerous hawks and wintering bald eagles as well as the rare Cerulean Warbler, a summer resident of the park's mixed hardwood forests, which include stands of Tulip Poplar, Oak, Hickory, Buckeye and Wild Cherry. An observation tower at the Visitor Center offers a spectacular view of Center Hill Lake and the surrounding hillsides.
Historic Sam Davis Home and Museum

Smyrna

Offering a variety of field trip options on a range of topics from Tennessee History to Hands-on living history farm days. Groups or Co-ops can book a program of their choice from our website or individual homeschooling families can join one of the 5 Homeschool Field Trip Days scheduled for each school year. All ages and grades are incorporated into these programs to allow full families a learning opportunity.
Trail of Tears National Historic Trail

Southeastern US

The park commemorates the survival of the Cherokee people and their forced removal from their homelands in the Southeastern United States in the 1840s.
Burgess Falls State Park

Sparta

Burgess Falls State Natural Area, located in Middle Tennessee, lies on the eastern edge of Tennessee's Highland Rim adjacent to the Cumberland Plateau and is noted for its natural beauty. Sheer bluffs, narrow ridges, rolling water and abundant mixed forest, characterize this area. The Falling Water River drops approximately 250 feet, providing numerous waterfalls, breathtaking scenery and overlooks. The park is home to over 300 species trees and plants and an abundance of wildlife. Park visitors can visit the large Native Butterfly Garden located adjacent to the upper parking lot.
Honeysuckle Hill Farm

Springfield

Honeysuckle Hill Offers field trips for K-4th grade that include a Plant Life Tour and Rockin' Tour. $8 per person. The Plant Life Tour geared toward children in K-2nd discusses the different stages of the plant life, parts of the plant and what plants need to grow. Students get to plant a seed that they take home. The Rockin' Tour geared toward children in 3rd-4th teaches that rocks and minerals are non-living material found in the ground that can be very useful in our lives. Students get their hands wet panning for gemstones in our Gemstone Sluice, taking their treasures home.
Reelfoot Lake State Park

Tiptonville

Reelfoot Lake State Park, located in the northwest corner of Tennessee, is one of the greatest hunting and fishing preserves in the nation. The lake encompasses 25,000 acres (15,000 of which are water) and harbors almost every kind of shore and wading bird, as well as the golden and American bald eagles. Other animals are also diverse and abundant here. Its many species of flowering and non-flowering plants attract botany enthusiasts from all over the country. Cypress dominates the margins of the lake, but many other trees and shrubs are also present.
Fort Loudoun State Park

Vonore

This 1,200-acre site is the location of one of the earliest British fortifications on the western frontier, built in 1756. Nearby were the principal towns of the Cherokee Nation including Tenase, namesake of our state, and Tuskegee, birthplace of the genius Sequoyah, commemorated by the Cherokee Nation's Museum. Today the fort and the 1794 Tellico Blockhouse overlook TVA's Tellico Reservoir and the Appalachian Mountains.
Obed Wild and Scenic River

Wartburg

Experiencing the Obed - The Obed Wild and Scenic River looks much the same today as it did when the first white settlers strolled its banks in the late 1700s. While meagerly populated due to poor farming soil, the river was a hospitable fishing and hunting area for trappers and pioneers. Today, the Obed stretches along the Cumberland Plateau and offers visitors a variety of outdoor recreational opportunities.
Frozen Head State Park

Wartburg

Frozen Head State Park and Natural Area is situated in the beautiful Cumberland Mountains of eastern Tennessee. The 13,122 acres of relatively undisturbed forest contain some of the richest wildflowers areas in Tennessee. The mountainous terrain varies from an elevation of 1,340 feet to over 3,000 feet on 16 different mountain peaks. Frozen Head, elevation of 3,324, is one of the highest peaks in Tennessee west of the Great Smoky Mountains. From its observation tower on a clear day, one can plainly see the Cumberland Plateau, Tennessee Ridge and Valley, and the Great Smoky Mountains. In winter, the mountain peaks are often capped with snow or ice while the lower valleys remain unadorned, thus giving the park's namesake, Frozen Head. The park's lush vegetation, small streams, waterfalls and beautiful mountains make Frozen Head one of Tennessee's most scenic parks.
Natchez Trace State Park

Wildersville

With the many acres of scenic woodlands, the park includes four lakes, a swimming beach, a 47 room resort inn and restaurant complex, cabins, group lodge, camping areas, picnicking sites, playgrounds, a ball field, a regulation pistol firing range, picturesque hiking trails, a wrangler camp, 250 miles of horse riding trails, a park store, and archery range.
Tims Ford State Park

Winchester

Tims Ford State Park, located on the Tims Ford Reservoir in the rolling hills of southern middle Tennessee, is an outstanding recreational area and fishing paradise. Long before the construction of Tims Ford Dam on the headwaters of the Elk River, the area was used extensively by the Indians as a hunting and fishing territory. Archaeological excavations uncovered numerous artifacts and occupational sites, indicating that man had occupied the area as much as 10,000 to 12,000 years ago.