Homeschooling is regulated at the state level, so connecting with local homeschoolers is an important step to start homeschooling in Tennessee. Find the Tennessee homeschool groups closest to you and get connected with your local homeschooling community, learn about the homeschool requirements in Tennessee, and discover the co-ops, classes, sports and arts opportunities, and social get-togethers in your area.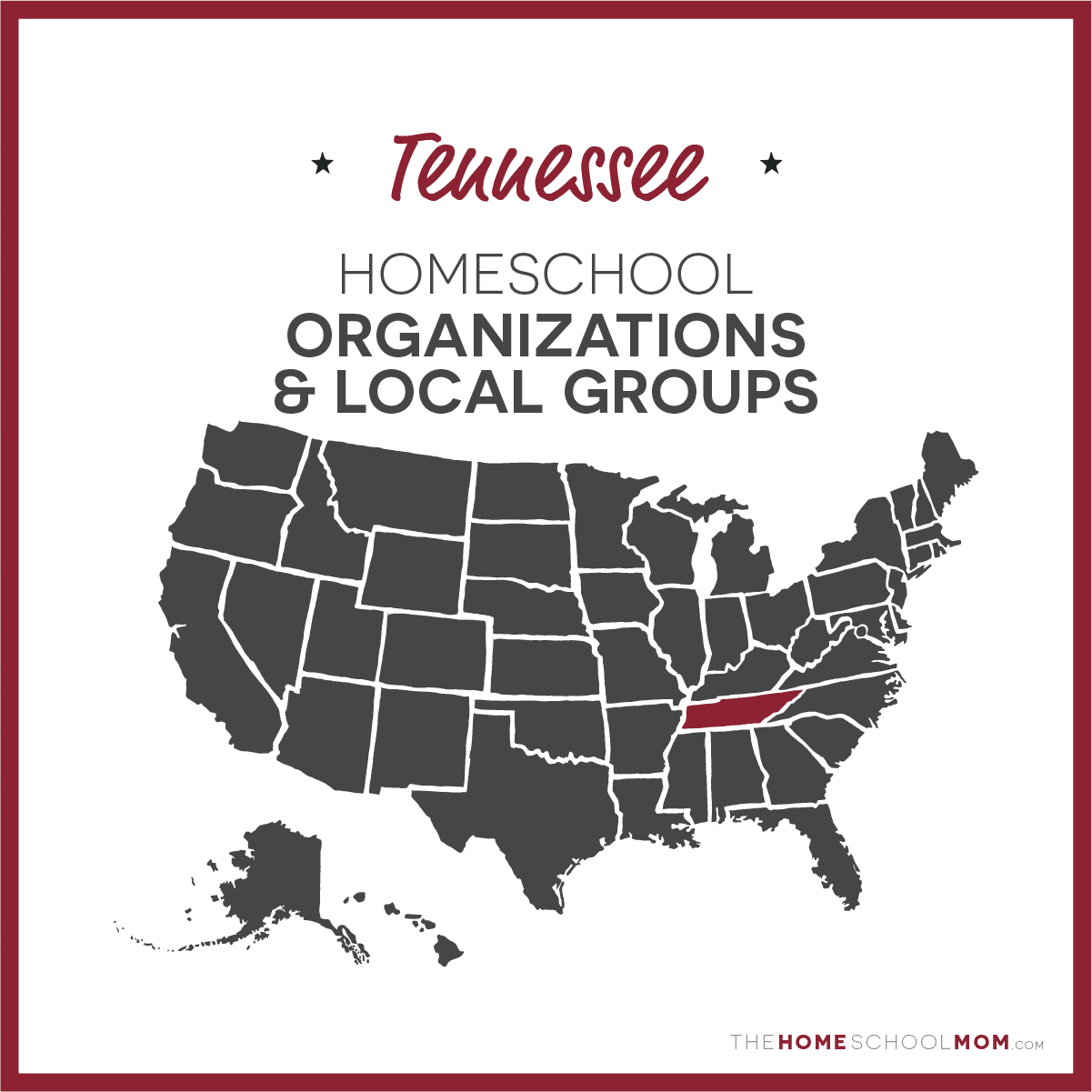 Submit a Local Resource
Jump to: State Organizations | Local Groups
Our listing of Tennessee state organizations and local homeschool groups is ordered alphabetically by city, with statewide organizations listed first. If you would like to submit a group, you may do so using the red button above.
Tennessee Homeschool Organizations (Statewide)
CSTHEA - Chattanooga Southeast Tennessee Home Education Association

Chattanooga

CSTHEA - Chattanooga Southeast Tennessee Home Education Association details
Tennessee Local Homeschool Groups
Blount Home EducationAssociation (BHEA)

Blount County

BHEA is an association of independent home schooling families that formed in the late 1980s to encourage successful home education in Blount County. The organization, which operates with the help of many parent volunteers, provides support, information and encouragement to home schooling families and has around 500 student members. BHEA sponsors many activities throughout the school year to enhance the educational program that each participating family provides at home.
Teach Me Truth Christian School

Blount County Maryville

Meets in-person for this mostly drop-off program in Maryville TN on Monday/Tuesday/Wednesday from 10 AM - 3 PM. Tuition includes optional live online courses as well. Utilizing A.C.E. Curriculum for individually tailored paces. All ages and denominations welcome. No statement of faith required. In-person subjects include: Bible, social studies, math, reading and science.
Bradley County Home Educators

Bradley County

In addition to a great network of homeschool families' ideas, resources, and excellent information about your child's education, your membership fees will allow you access to the BCHE Co-op, kindergarten and high school graduations, age-appropriate clubs, and exciting educational field trips. BCHE members also have fun members' events like parties for the kids, middle and high school social events, parent activities like bunco night, and more - all powered by the amazing homeschool parents that make up BCHE!
Chattanooga Southeast Tennessee Home Education Association

Chattanooga

We are the local chapter of the Tennessee Home Education Association (THEA).

Chattanooga Southeast Tennessee Home Education Association details
Dickson Christian Academy

Dickson

We are honored to be involved in your child's education this year as we strive toward our mission to strengthen students for lives of purpose, service, and leadership. We will journey through this year together. Our teachers lay the foundation for our class time, but we as individual students, parents, teachers and administrators bring light and life to our tutorial community. Let's pray together that the Lord will use our tutorial community for His glory and to help us to grow in knowledge, understanding and wisdom. Our tutorial community is designed to help students grow academically, spiritually, and in character. We weave Biblical principles into our discussions in order to explore God's hand in everything we do. We encourage students to learn character traits that will equip them to thrive and lead righteously. Our tutorial community is also designed to support homeschooling parents, the primary teachers of their students, by partnering with parents in the academic, spiritual, and moral growth of their children. Finally, we strive to provide a community of families who support one another on the homeschooling journey. We are excited to gather on meeting days, fostering an environment of open discussion, questioning, and excitement for learning. Outside gatherings are another great way to enter into community with others in our tutorial community and build lasting friendships!
Barefoot University Forest School - Tennessee

Eastern Tennessee

Barefoot University aims to connect kids to nature by encouraging child-led experiences and outdoor learning. Our Forest School communities promote the health and education of each child. We do this through engaging activities, community service, and equipping families to observe and explore our natural world together. Groups currently operating in Vonore, Kingsport, Bristol, East Knox, Erwin, Marysville, Kodak, and Johnson City.
TEACH

Johnson City

TEACH is a nonprofit 501(c)3 corporation that was created with the desire to reach out to and support Christian families in the Tri-Cities area of East Tennessee who educate their children at home. TEACH has over 200 member families. TEACH offers the opportunity for fellowship, friendships, field trips, activities, an athletics program, high school and kindergarten graduation, a spring formal, spelling bee, science fair, Modern Woodman Speech Contest, back-to-school picnic, yearbook, Co-op, mom's night out & more.
Ebony Homeschoolers

Memphis

Dedicated to homeschool help and inspiration. Ebony Homeschoolers, a Christ-centered homeschool support group, has a special heart for the African-American homeschooler. Our primary purpose is to serve as a resource for education, information, and encouragement.
Homeschoolers of Memphis eclectic

Memphis

A group of families in the Memphis area that works cooperatively to create an enriching community of homeschooling families. The purpose of this group is to provide a network of support and information for all families involved in home education, regardless of race, religion, sexual orientation, or philosophy of homeschooling.
Charlotte Mason Memphis

Memphis

We have a moms' support group that meets the second Tuesday evening each month to read and discuss Mason's volumes and other related books. We meet in a local park on the third Friday of each month so the children can have unstructured playtime to build friendships while the moms visit and get to know each other.
Blessed Sacrament Homeschool Group

Memphis-Metro, Tennessee

Please contact us if we can help you. We are an active Catholic group! We have activities for children of all ages, and parents! May God bless you as you discern the path for educating your family.
Academy of Natural Arts

Mount Juliet

A flexible, nature based homeschooling membership for children ages 10+ and their parents offering a wide variety of practical skills & wellness integration from the East to the West to encourage wellness, community connection & a lifelong love of learning.
Reaching Families

Murfreesboro

Families Reaching Families for Christ Home dedicated to Home Education
Murfreesboro Homeschoolers Cooperative & Tutorial

Murfreesboro

At MHS we provide academic courses, tutoring, educational clubs, activities and support for homeschooling families in Middle Tennessee. Ages: Preschool to 12th Grade.
Fusion Homeschooling

Murfreesboro

Fusion is a homeschool tutorial that can meet a variety of homeschooling needs. We can provide you with core classes that would provide grades and credit for high school. Enrichment classes will reinforce your learning at home. We also offer clubs, parties, dances, evening family events and performance opportunities
Murfreesboro Homeschoolers

Murfreesboro/Rutherford

Murfreesboro Homeschoolers provides academic courses, educational clubs and activities for home schooled children in preschool through high school as well as support for homeschooling families in Middle Tennessee. They strive to foster creativity, entrepreneurial spirit, and problem-solving by empowering students to take ownership of their education and commit to lifelong learning.This group is an inclusive community that respects all religious and spiritual backgrounds. Offer classes and activities for home schooled Children birth to 12th grade.
Middle Tennessee Home Education Assocation

Nashville

MTHEA is a ministry to serve home educators by providing a network of support. Our goal is to nurture, educate and motivate homeschool families. We are committed to help protect the right of the parent to "train up a child in the way they should go".
Family Christian Academy (FCA)

Nashville

Family Christian Academy (FCA) has been serving home educators for over 20 years. Founded as a church-related school, FCA is committed to helping provide parents with the all the resources and programs necessary to help make your homeschooling journey a rich and rewarding experience.
Nashville Waldorf Homeschoolers

Nashville

A friendly community of Waldorf-inspired homeschoolers. Although each family approaches their homeschooling independently, as a group we particularly value a creative, low-media childhood; plenty of time in nature, handwork, art and seasonal festivals; and cultivating supportive, consistent relationships.
Redemption Point Christian Academy

Ooltewah

This resource is a homeschool Academy with classes Monday through Thursday, Kindergarten through 8th grades.
Sevier County Homeschoolers

Sevierville

Sevier County Homeschoolers is a registered 501C3 Non-Profit organization that operates solely by parent and community volunteers. Our mission is to provide support and a networking environment for homeschooling families in the Sevier and surrounding counties of Tennessee and North Carolina. Sevier County Homeschoolers offers numerous activities throughout the year to help enhance the education each family provides at home. We offer field trips, homeschool 101 events, used curriculum sales, graduation ceremonies, family night out events, and much more! Check our calendar for events. Also offered is a homeschool cooperative throughout the school year.
Smoky Mountain Home Education Association

Smoky Mountain

SMHEA is a Christian led, non-profit service organization with membership open to all. We seek to promote home education by providing information and vital resources to all area home schoolers.
Whole Heart Family Ministries

South Nashville/Oak Hill

Whole Heart Family Ministries has been supporting families in the Nashville homeschool community since 1991. We believe we are better together and we are here to support you as you invest in your childrens' education. Our families meet together on Tuesdays in south Nashville. We offer an enrichment co-op for PreK-5th grade students and tutorial classes for 6th-12th grade students. Our moms are encouraged in their needs as home educators through our Mom's Ministry. This unique format enables our families to be encouraged, grow academically and build relationships on one campus, within a single community.
Spring Hill Area Parent Educators (SHAPE)

Spring Hill

SHAPE exists as a community support for Spring Hill Area Parent Educators to find encouragement, resources, and activities as they homeschool or explore homeschooling.
Sweetwater Christian Homeschool Fellowship

Sweetwater

We are a Christian Homeschool Fellowship Group in Sweetwater, TN. Our mission is to have a casual, safe, and Christian environment for our local homeschool kids in Sweetwater and surrounding local area to meet, make friends, have field trips, and play, as well as opportunities for the parents to connect and fellowship.
CSTHEA Support Groups

Tennessee Statewide
Heritage Homeschool Group - Tennessee

Thompson's Station

From Kindergarten to Twelfth Grade, the story is still the same. What an amazing world God has created! We offer opportunities for students to see the God-Story in Science, History, Language Arts, and so much more. Most importantly, we challenge, we create, we listen, we laugh, and we cheer each other on as we learn more and strive to honor God in all we do. We meet from August to April on Thursdays. Our classes focus on hands-on experiential learning that touches all the learning styles. We focus on having fun while learning in Elementary and Middle School. Our High School Program is college-preparatory and focuses on giving our students the tools to succeed, no matter the chosen path.