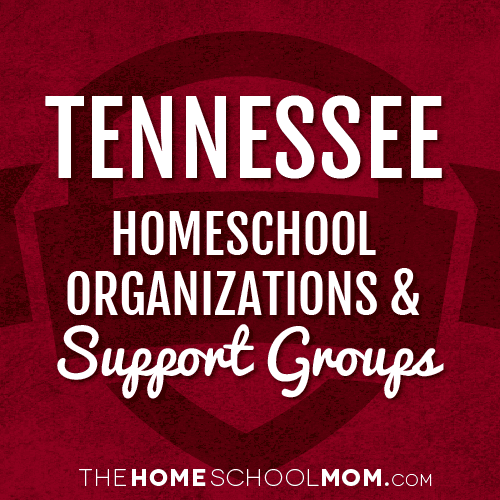 Since homeschooling is regulated at the state level, connecting with local homeschoolers is an important step to start homeschooling in Tennessee. State homeschool organizations and local homeschool groups are not just a good place to learn the specifics of legally homeschooling in Tennessee—they can also help you to get connected with the local homeschooling community. Many homeschool groups offer co-ops, classes, sports and arts opportunities, and social get-togethers.
Our listing of Tennessee state organizations and local homeschool groups is ordered alphabetically by city, with statewide organizations listed first. If you would like to submit a group, you may do so using the red button above.
Use the secondary navigation menu above to quickly make your way to pages for Tennessee state organizations, local homeschool groups, classes, co-ops, field trips, and more.
Tennessee Homeschool Organizations
CSTHEA – Chattanooga Southeast Tennessee Home Education AssociationChattanooga
Tennessee Local Homeschool Groups
Blount Home Education Association (BHEA)Blount County
BHEA is an association of independent home schooling families that formed in the late 1980s to encourage successful home education in Blount County. The organization, which operates with the help o...
Bradley County Home EducatorsBradley County
In addition to a great network of homeschool families' ideas, resources, and excellent information about your child's education, your membership fees will allow you access to the BCHE Co-op, kinder...
For the ChildrenCampbell County
A support group for Christian homeschooling families in Campbell County and surrounding areas of East Tennessee.
Chattanooga Southeast Tennessee Home Education AssociationChattanooga
We are the local chapter of the Tennessee Home Education Association (THEA).
ParentsChoiceChattanooga
Welcome to ParentsChoice. This is a site for parents of children with special needs who have chosen to homeschool.
H.O.P.EClarksville
Welcome to H.O.P.E.@ Home (Helping Other Parents Educate at Home)! We are an online Homeschool Support Group for those in the Clarksville, Tennessee (TN) area.
Collierville HomeschoolCollierville
Our foundation is based on our faith in Jesus Christ. We are here to encourage, uplift, provide information and help to all homeschool families. It is our desire to provide a Godly atmosphere for ...
TennKidsClubEast Tennessee/Knoxville/Oak Ridge
A central web resource for home schoolers that provides answers to questions concerning how to start home schooling, local home school activities, and learning opportunities in the Tennessee River ...
North Alabama TrailblazersHuntsville metro area, Madison, Morgan, Limestone, AL and Lincoln, TN
A group of homeschooling families. We meet together for mutual socialization and companionship of children and parents alike. About once or twice a month we do field trips. We also do seasonal an...
Revival Baptist ChurchKinsport (Tri-Cities) area
Homeschool-friendly Independent Fundamental Baptist Church! Are there any homeschoolers who are looking for a homeschool-friendly church, pastored by a one-time home schooled boy himself?
Ebony HomeschoolersMemphis
Dedicated to homeschool help and inspiration. Ebony Homeschoolers, a Christ-centered homeschool support group, has a special heart for the African-American homeschooler. Our primary purpose is to ...
Homeschoolers of Memphis eclecticMemphis
A group of families in the Memphis area that works cooperatively to create an enriching community of homeschooling families. The purpose of this group is to provide a network of support and informa...
Proverbs Twenty-Two SixMemphis
Proverbs Twenty-Two Six Homeschoolers is a support group to help raise and support each other in a loving godly manner. This group is open to everyone open to praying, sharing God's Word, and lovin...
Blessed Sacrament Homeschool GroupMemphis-Metro, Tennessee
Catholic Homeschool Support Group
Heritage Homeschool GroupMt. Pocono
A Christian support group for minority homeschoolers in the Poconos and surrounding areas. Providing support for new and seasoned homeschool moms and children.
Home Education Association Rutherford TennesseeMurfreesboro
HEART is a volunteer organization comprised of families who chose to home educate their children. The purpose of HEART is to provide a means of support and contact for home educating families that...
Reaching FamiliesMurfreesboro
Families Reaching Families for Christ Home dedicated to Home Education
Firestarters Homeschool Support GroupMurfreesboro
Firestarters: A Homeschool Support Group at Global Fire Ministries Firestarters' mission is to assist and encourage homeschooling families spiritually, emotionally, and academically to raise lifel...
Murfreesboro Homeschoolers Cooperative & TutorialMurfreesboro
At MHS we provide academic courses, tutoring, educational clubs, activities and support for homeschooling families in Middle Tennessee. Ages: Preschool to 12th Grade.
Murfreesboro HomeschoolersMurfreesboro/Rutherford
Murfreesboro Homeschoolers provides academic courses, educational clubs and activities for home schooled children in preschool through high school as well as support for homeschooling families in M...
Middle Tennessee Home Education AssocationNashville
MTHEA is a ministry to serve home educators by providing a network of support. Our goal is to nurture, educate and motivate homeschool families. We are committed to help protect the right of the pa...
Family Christian Academy (FCA)Nashville
Family Christian Academy (FCA) has been serving home educators for over 20 years. Founded as a church-related school, FCA is committed to helping provide parents with the all the resources and prog...
Free Autism Spectrum Support and Learning GroupNashville
This group exists to provide support and learning opportunities for families of minimally speaking or non-speaking children with Autism Spectrum Disorder. Group meetings focus on opportunities to m...
Three Rivers Homeschool NetworkPaducah
The Three Rivers Homeschool list functions to connect homeschooling families and their support groups in western Kentucky, southern Illinois, and northwest Tennessee. Its purpose is to keep familie...
Smoky Mountain Home Education AssociationSmoky Mountain
SMHEA is a Christian led, non-profit service organization with membership open to all. We seek to promote home education by providing information and vital resources to all area home schoolers.
CSTHEA Support GroupsTennessee Statewide