Jump to: Homeschool Arts | Homeschool Sports
In addition to the opportunity to get out of the house and socialize, homeschool sports and arts programs can offer long-term benefits by developing characteristics like leadership, self-confidence, perserverance, and self-esteem. Many organizations and businesses have opportunities specifically for homeschoolers, while others invite homeschoolers to participate in their regular programs.
Not sure how to choose activity/activities for your children? Read how Rebecca narrows down the choice of extra-curricular activities.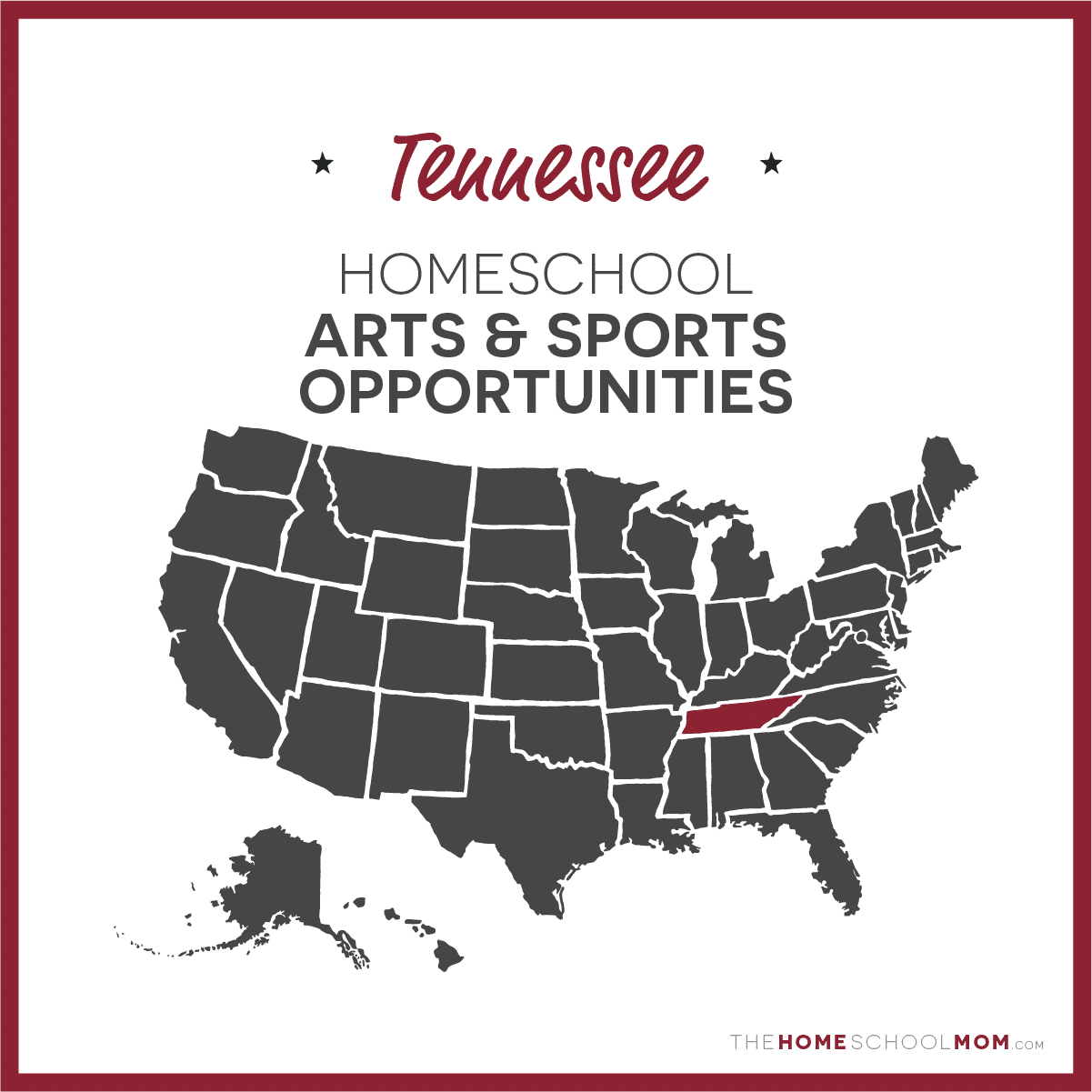 Submit a Local Resource
Our listing of Tennessee list of homeschool arts and sports programs is ordered alphabetically by city, with arts in the first section and sports in the second section. If you would like to submit an Tennessee arts or sports program, you may do so using the red button above.
Tennessee Homeschool Arts Programs
TN Art Yard

Brentwood

TN Art Yard offers a variety of homeschool art classes for K-12 in Brentwood, TN.
Creative Critters

Brentwood

Have your child explore their world through music and art! Creating through different modalities encourages problem solving skills, fine motor skills, creativity, teamwork, academic skills, self regulation, emotion identification, and self expression! Together, we will sing, draw, dance, paint, play instruments, sculpt, write songs, and create masterpieces both visual and auditory. No experience necessary! Suggested for ages 6 and up. Each session of this group explores a different theme with music, crafts, sensory play, and more. Classes are held at the Musical Bridges clinic in Maryland Farms-Brentwood. Each class is drop in. Enroll at musicalbridges.com/groups and select only the dates you want to come. The classes are also at an amazing rate of only $5 through May.
The Allegro Music, Art, and Tech Academy

Cane Ridge

This resource offers piano lessons (private lessons or group lessons) and vocal coaching. Our lessons aim to teach music theory, note reading, and different genres of music. Lessons begin from ages 5 years old to adult. Please contact us via our website for more information. This music studio already works with some home school students and is opening up morning classes to home schoolers as well. We offer one recital per year and students have the opportunity to perform in other festivals and competitions as well.
Insane Rhythm Music Lessons

Chattanooga

Insane Rhythm Music Lessons provides professional music lessons in Drums, Guitar, Bass, and Piano. Owner and Instructor started the studio after earning his Bachelors in Music Education from UTC. Call 423-762-0248 for scheduling.
The Chattanooga Girls Choir

Chattanooga

The Chattanooga Girls Choir has over 30 years experience training young ladies to be exceptional musicians and leaders. The choir meets August through May on Monday nights at Brainerd United Methodist Church (4315 Brainerd Rd) in Chattanooga TN for rehearsals, and performs throughout the season for community events in addition to presenting formal concerts. We have multiple choirs, designated by grade, that provide age appropriate musical education and performance experience for girls grades 3-12.
Homeschool Music Class

Chattanooga

Homeschool Music Class exists to teach elementary-age children to read the language of music and to help instill a lifelong love of music in each heart. Homeschool Music Class has age-appropriate classes that teach students to match pitch, feel the steady beat, read rhythms, sing music using solfege and read musical notes. Learning is enhanced with musical games and engaging group singing and playing on the recorder. Two programs are presented a year. Homeschool Music Class offers both in-person and on-line classes.. This listing is for the in-person classes.
Scott Burt Piano Studio

Columbia/Spring Hill

With a Master of Music degree in Piano Performance and over 30 years of teaching experience, Scott Burt relays his joy and passion for music to his students. His goal is to foster a love of music in each student, and provide a solid foundation in repertoire, technique, theory, sight reading and performance opportunities. By providing students with these tools, they have the opportunity to develop their full potential and use of their imagination, as well as having fun while playing the piano. Currently accepting students aged 5-adult, all levels.
An Art Review on Rutledge Hill

Davidson County

Preserve Lindsley Avenue Now and Metro Arts are sponsoring An Art Review on Rutledge Hill. Students are to focus on the colors and designs of stained glass in a two dimensional art piece. All Davidson County middle and high school students are eligible to participate. Teachers/Student Representative must register by September 15. All information and forms are available on the website.
Georgia English Music Lessons

Franklin

Offering in-home private and group guitar, voice, ukulele, and bass lessons through the lens of songwriting and album production. Lessons use an original curriculum, "The Triangle Method" which touches on three key angles: (1) repertoire, (2) technique/music theory, (3) songwriting/production. Students participate in annual trips to local recording studios where they professionally record their work, play live performances, and get invited to community events with other music students.
Franklin Suzuki Academy

Franklin

Franklin Suzuki Academy is a not-for-profit music academy offering instruction in violin, viola, cello, and early childhood music using the Suzuki philosophy. Instrumental lessons are open to children ages 3-18. Each instructor holds an undergraduate degree in music performance or education, and are extensively trained in the Suzuki method of teaching, many of whom have masters degrees in Suzuki pedagogy. FSA students participate in private and group lessons, recitals, and have the option of taking electives in fiddling and chamber music. FSA's vision is to cultivate children with high sensitivity and noble hearts through the study of music.
Music City Strings Academy

Franklin

Music City Strings Academy provides a high-quality music education program in Middle Tennessee. Offerings include instruction in violin, viola, cello, and early childhood music. The program curriculum is based on the Suzuki method and includes private lessons, group classes, recitals, music theory education, participation in performance competitions, and additional performing opportunities. All instructors hold music degrees from prestigious music schools. The MCSA program provides children the means to become confident, sensitive and beautiful artists.
River's Edge Christian Academy - University Model

Knoxville

River's Edge Christian Academy's educational approach combines private Christian school education with home education, serving students in grades pre-kindergarten through 12th grade. The Upper Academy (grades 9-12) is a certified University-Model School and is accredited by AdvancEd. Students attend classes on campus only three days per week – Mondays, Wednesdays, and Thursdays. Parents provide instruction at home two days per week – Tuesdays and Fridays (designated as "Home Study Days"). RECA offers core academic as well as enrichment classes taught by qualified instructors, academic advisement, field trips, activities, social events, and participation in a variety of sports in conjunction with TSSAA. An umbrella program is also available for home school students. A wide variety of services are available at a relatively affordable cost, and the school has three campus locations available in Knoxville, TN.
LeGrand Music Studios

Knoxville

LeGrand Music Studios offers music lessons and classes for people of all ages, young children to senior adults. The studio teaches lessons in various instruments including: voice, piano, violin, viola, guitar, mandolin, ukulele, banjo, saxophone, etc. These lessons meet once a week. The instructors at LeGrand Music Studios are all professional musicians who take pride in supplying top-quality lessons to all students. These instructors can be found performing locally in Knoxville, regionally in the South East, and nationally across the United States. The instructors are passionate and reliable in teaching their instrument. LeGrand Music Studios is located in the Fountain City Art Center in Knoxville, TN. Lessons take place in person inside the Art Center.
Knoxville Christian Youth Band

Knoxville

Knoxville Christian Youth Bands has been a staple in the community for 25 years. The bands provide a positive music experience for all levels of learners and is welcome to students in fourth through twelfth grade. Knoxville Christian Youth Bands rehearse once a week after school hours. We host two free concerts a year as well as participate in lots of music festivals and clinics. To find out more information, you can check out our website, www.kcyb.org or contact us via email at info@kcyb.org.
Knoxville Suzuki Academy

Knoxville

The Knoxville Suzuki Academy is East Tennessee's premier organization for children's music lessons. Our mission is to provide excellent musical instruction inspired and guided by the philosophies of Shinichi Suzuki. Our string faculty are trained Suzuki teachers and are actively engaged in the pursuit of excellence in music teaching. Each child's music lessons will be a collaboration between teacher, parent, and child, and feature a nurturing, encouraging, yet disciplined approach.
Tennessee Medieval Faire

Knoxville

The Tennessee Medieval Faire invites all to "Live the Age of Chivalry" with King Arthur circa 501 AD. Activities include jousting tournaments, combat chess, comedy shows, crafts, food, beverages, and games. Show dates Oct 7-8, 14-15, 21-22, 2023. Hours 11a-6p ET. Location 550 Fiske Rd, Harriman, TN 37748. There no field trips or kids' days are available, but there is a special discounts for schools: Buy one adult ticket (ages 13+ for $20), get one child ticket free (ages 5-12, $10 value). Online only with promo code RCSCM23. One free child ticket per transaction. Group discounts are also available for 10 or more entrance tickets (adults or children) purchased online in a single transaction for $2.00 off per ticket. https://darkhorsellc.ticketspice.com/tennessee-medieval-faire-2023
Topper's Music, LLC Music Lessons

Lebanon

Private music lesson openings are available at Topper's Music, in Lebanon TN. We offer guitar, bass, violin, ukulele, piano, drums, and voice instruction. We teach all year and have no semester schedule, so we are able to begin lessons at any time. Please contact Summer Robison Gregory, at 615-598-7007, to discuss times and availability!
Ballet On Wheels, Theatre of Dance

Memphis

Dance Classes and performances
Wonder Hollow Play Space

Mount Juliet

Wonder Hollow is an exploratory play space designed to offer play based learning in a small group setting. We offer classes as well as parent guided play opportunities. Our programming was designed with SAHM and home school families in mind because it offers a unique space for children to learn, explore and socialize. We also offer the use of space for field trips.
Jennifer White's Voice Studio

Mt. Juliet

Jennifer White provides voice lessons in the Nashville area, and can come to your home to teach. As someone who benefited from a homeschool education herself, Jennifer went on to obtain a Doctorate of Musical Arts degree at the University of Kansas and has been teaching since 2007. She has recently moved to the Nashville area and is currently accepting new students.
Live Creatively Music: Music Education Studio

Mt. Juliet

This studio offers private music lessons in Voice, Classical/Commercial Piano, Guitar, Ukulele, Violin, Viola, Flute, and Composition. It is a great resource for students seeking to further their musical education and improve their artistic and creative skills. At Live Creatively Music, you will learn skills that grow an appreciation for music, practicing, and kindness towards yourself and others. The first lesson is free, and then it is cost friendly starting at $30 for a half hour lesson, and $50 for an hour.
Little Art House, Art Classes

Nashville

Little Art House opened on Music Row in August, founded by two sisters who are licensed and experienced art teachers. Intending to support education as well as offer encouragement and confidence in art making for all ages. Currently offering classes for 6 months old through 8th Grades. Available to host classes for a group for specific art mediums and/or high school. Ability to accommodate a group of students interested in taking a challenging and rewarding art class. Please visit LittleArtHouseNashville.com or email Create@LittleArtHouseNashville.com
Nick Hayes - Brass Instruments Private Music Lessons

Nashville

In home lessons for brass instruments (Trumpet, French Horn, Trombone, Euphonium, Baritone, Tuba) in the Nashville and surrounding areas. Instructor, Nick Hayes, is a professional session musician in Nashville and would love to set up lessons with students today!

Nick Hayes - Brass Instruments Private Music Lessons details
Nashville Music Academy Music Lessons (special needs welcome)

Nashville

Nashville Music Academy offers music lessons for any age and every instrument, in-home or at the studio. The Academy also has programs for individuals with special needs. The highlight of the year for the students is the Annual Fall Recital.

Nashville Music Academy Music Lessons (special needs welcome) details
Gro55 School of Music with Jayna Gross

Nashville

Berklee College of Music graduate Jayna Gross is offering in-studio lessons, in-home lessons, and group lessons. Mrs. Gross teaches piano, voice, strings, clarinet, flute, percussion, music theory, music technology, music production, and performance (just to name a few) to students of all ages. Jayna Gross is a professional music educator who has been teaching for 10+ years and loves impacting others with the love of music. She can be reached at Jayna.Gross@gmail.com
Suzuki Violin Studio

Nashville

Deena Rizkalla​ is an enthusiastic educator and performer who looks to bridge cultural gaps and forge friendships by playing and exploring different styles of music. Equal parts educator and performer, Deena strives to ensure the success of her students by inspiring them to develop a personal connection with music and a love of learning. Since arriving to Nashville at the beginning of the year, she has had amazing freelance opportunities to play for recording sessions and live shows, and is currently accepting new students to her private studio. To learn more about Deena and what it's like to be in a Suzuki program, please visit darizkalla.com.
Henry A Diggins Music (Guitar), Music Theory, and Song-Writing Lessons

Nashville

Guitar (all styles), Bass, Banjo, Mandolin, Uku, Song Writing, and Music Theory lessons for all skill levels. Offering music lessons in person or through Zoom! See website for rates and contact information.

Henry A Diggins Music (Guitar), Music Theory, and Song-Writing Lessons details
Bach to Rock Music School

Nashville

Bach to Rock is America's Music School, offering well-balanced, fun, and effective music education for students of all ages. In addition to private lessons and band programs, Bach to Rock Nashville West offers a range of early education classes, group classes, recording arts and DJ instruction, camps, and birthday parties. Bach to Rock is a music education school for students of all ages from early childhood through high school and beyond. The B2R method is based on the belief that learning music is fun and students learn best when they play music they enjoy. Weekly ensemble instruction and jam sessions lead to public concerts, Battle of the Bands and recording sessions in B2R's professional recording studios. B2R builds technique, fosters teamwork and enhances self-esteem through private lessons, band instruction, and public performance. Bach to Rock Nashville West is located at 6702 Charlotte Pike, Suite 105 in the Nashville West shopping center.
Livy Blizzard Music and Studios

Nashville

Livy Blizzard is a Belmont alum with 10+ years of experience as a performer, including work in choirs, showchoir, theatre, opera, and both classical and commercial performance. She offers voice, piano and ukulele lessons on the beginner and intermediate levels, with a concentration on technique, theory, and each student's unique skills and artistic style! Lessons are available in Davidson and Sumner Counties (Tennessee), as well as virtual and travel lessons.
Music Together® with Glenda free demo classes

Oak Ridge

Music Together® classes are the gold standard of early childhood music education and movement programs. The 9 song collection cycle and the program used to teach it, is research based with award winning music that's as much fun as it is formative. Taught in a relaxed, family oriented, non-performance style, the Music Together experience provides quality time together during class and resources to use at home or on the go all week long. Mixed-Ages classes are for children (birth to age 5) and their parents, grandparents or caregivers. Free demo classes are ongoing. Visit the website for more details and to schedule a free demo class.
Daniel Crandall Photographer - Photography Class

Rutherford County

Art class credit with hands-on fun, learning photography with friends. This small group meets at a beautiful venue with vintage Indoor & outdoor spaces for photography, perfect for homeschool students and families, age 13 up. This is an in-person class for 12 weeks. Current class dates and times are listed on the website will be updated each semester.
Casa dei Montessori

West Nashville/Bellevue

Casa dei Montessori is a small West Nashville Montessori school in the Bellevue area. It has been serving the West Nashville community for over twenty years and offers Montessori programs from toddler through grade 6. Homeschool enrichment is offered 3 days per week for ages 5 through 12 (K-6). There are flexible options to guide in specific academic subject areas as well as attend on days when Art, Spanish, Music and African drumming are offered.
Tennessee Homeschool Sports Programs
Clarksville Tennis Program for Home Schoolers

Clarksville

Kujawa Tennis Academy Junior Programs and Camps Available Year Round. Children can participate in one of our many after-school programs or summer camps year round.
National Flag Football - Columbia

Columbia

National Flag Football is the largest NFL FLAG affiliate organization in the country. Offering programming designed exclusively for boys and girls Pre-K through 8th grade. This program provides a safe, convenient, affordable, and fun opportunity to build the Fundamentals of football. They host two seasons that you can play in, spring and fall, Spring registrations opens in November and Fall opens in May. check out their website for more information on how you can get your kid(s) in on the fun!
The Equestrian Performance Centre Horsemanship Program

Davidson County Williamson County Cheatham County Maury County

This Horsemanship Program located in Franklin meets twice weekly for 2 hours covering an in-depth study of horses. Beginner Group Riding Lessons meet weekly learning skill sets of riding in addition to the academic portion of Horsemanship.

The Equestrian Performance Centre Horsemanship Program details
Knoxville Home Educators Athletic Association

East Tennessee

An athletic program providing opportunities for homeschooled students to play competitive sports. Sport teams compete in basketball, baseball, softball,volleyball and cross country. Other sports teams are in the development stage and could include soccer and football as well as more. Visit the website to learn more.
Saddle Up!

Franklin

Saddle Up! is an equine assisted activities and therapies program in Franklin, Tennessee. For over 25 years Saddle Up! has offered children with special needs from the age of 4 to the age of 19 opportunities to grow and develop through therapeutic, educational and recreational activities with horses. Programs available during the day for families with qualifying children to participate in one of our 4 programs. Saddle Up! is a non-profit that utilizes over 200 volunteers every week, so we can also offer volunteer opportunities for homeschool students and their families.
Franklin Christian Academy

Franklin

Franklin Christian Academy Athletics seeks to reflect the mission of the school through high level performance in athletic competition. FCA competes in the Middle Tennessee Athletic Conference (MTAC). We offer Football, Basketball, Volleyball, Baseball, Soccer, Golf & Cross Country for Middle School through High School. For more information please contact our Athletic Director, Tim Petitt at tpetitt@franklinchristianacademy.org or call at 615.483.3917.
TOCA Football

Franklin

Welcome to the first of its kind, next generation soccer training. At TOCA Football, our technology-driven training sessions are led by world-class coaches and drive rapid improvements and results that cannot be matched anywhere else. Our techniques develop well-rounded players through quality repetition and game-like simulations utilizing our latest patented technology. Situated in the well-known TOA center in Franklin, our 25,000 square foot facility boasts 14 tech-enabled studios. With services for the entire family, TOCA Nashville offers soccer programs from the first touch at 18 months-7 years (TOCA Strikers), to technology-driven training, youth leagues, classes, and camps (ages 7-18), culminating in recreational soccer leagues for adults 18+. For questions on field rentals, team training, or birthday parties, call TOCA Nashville today!
National Flag Football - Goodlettsville

Goodlettsville

National Flag Football is the largest NFL FLAG affiliate organization in the country. Offering programming designed exclusively for boys and girls Pre-K through 8th grade. This program provides a safe, convenient, affordable, and fun opportunity to build the Fundamentals of football. They host two seasons that you can play in, spring and fall, Spring registrations opens in November and Fall opens in May. check out their website for more information on how you can get your kid(s) in on the fun!
Redline Athletics - Tennessee

Knoxville

RedLine Athletics Walker Springs is the preeminent facility for sports performance training. The 14,000 square foot training center includes a half basketball court with volleyball court, 5,500 square feet of low profile turf for speed and agility drills, batting cages and a strength room consisting of Hammer Strength weight equipment, kettle bells, resistance bands & slam balls.

At Redline Athletics we have a large enough facility to continue a healthy and athletic lifestyle. We can allow up to 40 athletes socially distance while trying to maintain strength, agility, and a healthy lifestyle. We do multiple daily workouts for athletes 8-18. We can also do sport specific and 1 on1 training if the parents would like to limit the exposure to multiple athletes.
Carroll Sports Academies

Knoxville

Learn soccer and meet new friends in a positive environment. Our CSA Homeschool Soccer Program is an 8-week recreational soccer program designed to meet the needs of the homeschool athlete. Each of the sessions are broken down into two parts with the first half focusing on soccer skills and the second half focusing on how to play in a game.
Shangri-La Therapeutic Academy of Riding (STAR)

Lenoir City

In this Equine Assisted Learning Program participants will participate in activities along with our equines to explore, create, and enjoy the world of the horse. Activities may include but are not limited too; horse body parts, grooming a horse, painting horses, The 5 Senses, scavenger hunt, horse profile, and so much more. The field trip can be tailored to the needs and educational goals of the group. Contact us today to schedule your trip. 25 to 30 kids ages 4 and up per group. Groups can be an hour and a half or two hours long. Two locations in Lenoir City and South Knoxville.
Memphis FCA Nighthawks Athletics

Memphis

The Memphis FCA (Fellowship of Christian Athletes) Nighthawks are a National Championship Homeschool Sports Organization based in Memphis, Tennessee. Sports include competitive Basketball, Soccer and Volleyball Teams for Homeschooled Boys and Girls from 8U thru 18U.
Middle TN Golden Eagles Homeschool Soccer Team

Middle Tennessee

A Christ-centered middle school and high school soccer team for homeschooled young women.
Dragon-K Martial Arts

Nashville

Teaching Tae Kwon Do classes during recess or PE class time to introduce students to the basics of Tae Kwon Do in a fun, controlled, and safe manner. The emphasis of this program will be on the positive character traits developed through Martial Arts training. These characteristics include focus, cooperation, respect, and perseverance. At the end of the program this resource will hold a graduation ceremony at the Tae Kwon Do school so that the children in the program will be able to perform for their parents (and even break a board)! This unique course is a specialized character development program that incorporates physical exercise with life lessons. The Black Belt instructors from this resource have volunteered their time to teach the recess program for five weeks (or five classes plus a sixth class as a special graduation ceremony). This innovative series of classes is designed to not only introduce your child to basic Martial Arts, but to also improve concentration, listening skills, cooperation, and courtesy. It will benefit your child at home, at school, and in team sports. This is an ongoing opportunity.
Baseball for Homeschoolers: Middle Tn Monarchs

Nashville

Baseball Teams for Homeschoolers for children aged middle school through high school. Christian-based. Program administrator is Barry Young. Program fees start at $775.00+ per calendar year. Fundraising opportunities are available to reduce tuition.
Nashville Skating Academy

Nashville

Nashville Skating Academy is the oldest ice skating school in Middle Tennessee. Established in 2005, NSA has been introducing Nashville area families to the world of skating for 16 years. NSA's mission is to foster a love of ice skating for Nashville's youth and adults through programs such as Learn to Skate USA group classes offered at select times during the day and during the evening, Summer Camps, Private Instruction, and various specialty programs. Learn to Skate is an ongoing 7 week class series that runs year round. Whether your future skaters dream is to play in the NHL, be a competitive figure skater or to just learn to skate, NSA has a program designed to help them reach their goals.
Soccer Stars of Northeast Nashville

Nashville

Play-based, non-competitive soccer curriculum for children ages 1yr and older. Classes offered include private lessons, small group classes, and Parent and Me. Seasons are typically 8-14 weeks.
LPG Sports Academy

Williamson County

LPG Sports Academy provides Home School Phys. Ed. classes for children ages 5-10. Small class sizes and a diverse sports curriculum teaches children sports fundamentals while also focusing on fitness and motor skill development.
Middle TN Golden Eagles

Wilson County

The Middle TN Golden Eagles offer a Christian based competitive soccer team for middle school and high school girls. Young ladies will learn soccer skills and gain life long friendships with their teammates.