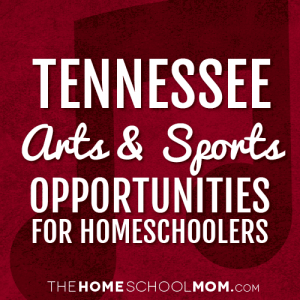 Our listing of Tennessee sports and arts opportunities for homeschoolers is ordered alphabetically by city, with arts resources in the first section and sports resources below. If you would like to submit a Tennessee arts or sports resource, you may do so using the red button above.
Use the secondary navigation menu above to quickly make your way to pages for Tennessee state organizations, local homeschool groups, classes, co-ops, field trips, and more.
Homeschool Arts Opportunities in Tennessee
Tenacity Performing ArtsBrentwood
A performing arts studio specializing in dance and musical theatre instruction for ages 18 months to 18 years. Offering an arts enrichment home school program, measuring student progress and advanc...
Artistic Elements Dance ComplexBrentwood
Artistic Elements Dance Complex offers unmatched, exceptional dance training for students ages 18 months & up in the styles of ballet, jazz, tap, hip-hop & more! Dance classes at Artistic E...
Music LessonsChattanooga
Insane Rhythm Music Lessons provides professional music lessons in Drums, Guitar, Bass, and Piano. Owner and Instructor started the studio after earning his Bachelors in Music Education from UTC. C...
Scott Burt Piano StudioColumbia/Spring Hill
With a Master of Music degree in Piano Performance and over 30 years of teaching experience, Scott Burt relays his joy and passion for music to his students. His goal is to foster a love of music i...
Georgia English Music LessonsFranklin
Offering in-home private and group guitar, voice, ukulele, and bass lessons through the lens of songwriting and album production. Lessons use an original curriculum, "The Triangle Method" which tou...
Source One FiveFranklin
Source One Five is Middle Tennessee's newest theater resource to create a collaborative and compassionate center for the arts. Through developmental theatre training and high quality productions, S...
Franklin Suzuki AcademyFranklin
Franklin Suzuki Academy is a not-for-profit music academy offering instruction in violin, viola, cello, and early childhood music using the Suzuki philosophy. Instrumental lessons are open to chil...
Miss Carla's Charm SchoolGoodlettsville
Miss Carla's Charm School instructs Children and Young Adults in Etiquette, Self-Presentation and Audition Skills. Miss Carla is a former franchised talent agent in NYC, actress and judge in the Mi...
River's Edge Christian Academy – University-ModelKnoxville
River's Edge Christian Academy's educational approach combines private Christian school education with home education, serving students in grades pre-kindergarten through 12th grade. The Upper Acad...
The Main Stage Music and Dance StudioLavergne/Springfield
A Music and Dance Studio that offers Homeschool Group and Private Lessons in Stringed Instruments, Voice, Piano, Band, Clogging, Hip Hop, Ballroom, and Square Dance. Specialty offering of Traditio...
Ballet On Wheels, Theatre of DanceMemphis
Dance Classes and performances
Round Table School of MusicMorristown
Round table School of Music offers online music instruction for guitar, bass, percussion, piano/ keyboard as well as general music theory and ear training. Participants in the Lakeway Area of East ...
Green Elephant Arts EnrichmentNashville
Green Elephant Arts Enrichment offers an art and music combo class on Thursday mornings from 10am-12pm at Edgefield Baptist Church in East Nashville.
Green Elephant Arts StudioNashville
Green Elephant Arts Studio is a locally-owned children's art studio in Nashville offering many homeschool class options, as well as mommy+me classes, preschool classes, camps, workshops, and birthd...
Little Art House, Art ClassesNashville
Little Art House opened on Music Row in August, founded by two sisters who are licensed and experienced art teachers. Intending to support education as well as offer encouragement and confidence in...
Piano and Voice LessonsNashville
Jennifer White provides voice lessons in the Nashville area, and can come to your home to teach. As someone who benefited from a homeschool education herself, Jennifer went on to obtain a Doctorate...
Piano lessonsNashville
"Are you looking for a piano teacher for your child, that can teach more than scales and arpeggios, and get them ready for band, All-State, or college auditions? Someone that can teach not only sca...
Private Music Lessons for Brass InstrumentsNashville
In home lessons for brass instruments (Trumpet, French Horn, Trombone, Euphonium, Baritone, Tuba) in the Nashville and surrounding areas. Instructor, Nick Hayes, is a professional session musician ...
Music Lessons (special needs welcome)Nashville
Nashville Music Academy offers music lessons for any age and every instrument, in-home or at the studio. The Academy also has programs for individuals with special needs. The highlight of the year ...
Suzuki Violin StudioNashville
Deena Rizkalla​ is an enthusiastic educator and performer who looks to bridge cultural gaps and forge friendships by playing and exploring different styles of music. Equal parts educator and perfor...
Music Lessons/ClassesNashville
Berklee College of Music graduate Jayna Gross is offering in-studio lessons, home lessons, group lessons, and online lessons. Ms. Gross teaches piano, voice, strings, clarinet, flute, percussion, ...
HIS StringsOoltewah/East Chattanooga Area
HIS Strings is for any string (violin, viola, cello, double bass or harp) player looking for an ensemble to part of. Open to families, students, etc. of any age that have had at least 2 years of le...
Flute ChoirOoltewah/East Chattanooga Area
Flute choir for advanced middle school students through adult. For flutists interested in playing in a group using piccolo, flute, alto & bass instruments.
Homeschool Sports Opportunities in Tennessee
Gifted AthletesBartlett
Gifted Athletes a Homeschool Physical Education class for students, K-12 in the Mid-South area. Teaching the ABC's of physical education; Agility, Balance and Coordination which enhance brain power...
Tennis Program for Home SchoolersClarksville
Kujawa Tennis Academy
Caywood School of KarateCleveland
Caywood School of Karate offers a special daytime program for homeschooled students. This is an opportunity to learn about Isshinryu Karate, which is focused on self-defense and character building....
Next Level AcademyCool Springs/Franklin
The Franklin Fieldhouse Next Level Academy provides children with opportunities to learn the basic fundamentals and mechanics of various sports and other activities. Classes are limited to eight ch...
The Equestrian Performance Centre Horsemanship ProgramDavidson County Williamson County Cheatham County Maury County
This Horsemanship Program located in Franklin meets twice weekly for 2 hours covering an in-depth study of horses. Beginner Group Riding Lessons meet weekly learning skill sets of riding in additio...
Knoxville Home Educators Athletic AssociationEast Tennessee
An athletic program providing opportunities for homeschooled students to play competitive sports. Sport teams compete in basketball, baseball, softball,volleyball and cross country. Other sports ...
Saddle Up!Franklin
Saddle Up! is an equine assisted activities and therapies program in Franklin, Tennessee. For over 25 years Saddle Up! has offered children with special needs from the age of 4 to the age of 19 op...
Franklin Christian AcademyFranklin
Franklin Christian Academy Athletics seeks to reflect the mission of the school through high level performance in athletic competition. FCA competes in the Middle Tennessee Athletic Conference (MT...
Hockey-Wise Homeschool TutorialFranklin
Hockey-Wise is a unique homeschool tutorial that is a wonderful opportunity for homeschooled hockey players to further their academic education while improving their skills at the best sport in the...
Dynamics Dance Gymnastics & MoreGallatin
A USA Gymnastics School and is a US All Star Federation Cheer and Dance School! We have highly credentialed instructors for Gymnastics, Dance, and Cheerleading...
Crossroads Christians Academy BaseballKnoxville
Providing home school and Crossroads students an opportunity to play baseball at the middle and high school level. The vision for the baseball program is to build a strong program that can last wel...
Memphis FCA Nighthawks AthleticsMemphis
The Memphis FCA (Fellowship of Christian Athletes) Nighthawks are a National Championship Homeschool Sports Organization based in Memphis, Tennessee. Sports include competitive Basketball, Soccer a...
Gifted Athletes Homeschool AthleticsMemphis
Homeschool fitness classes. K-12 grade. Teaching warm up drills, jog and power walk, agility, balance, and sport fundamentals. Fun, structured environment.
Middle TN Golden Eagles Homeschool Soccer TeamMiddle Tennessee
A Christ-centered middle school and high school soccer team for homeschooled young women.
LPG Sports AcademyWilliamson County
LPG Sports Academy provides Home School Phys. Ed. classes for children ages 5-10. Small class sizes and a diverse sports curriculum teaches children sports fundamentals while also focusing on fitn...