Jump to: Homeschool Arts | Homeschool Sports
In addition to the opportunity to get out of the house and socialize, homeschool sports and arts programs can offer long-term benefits by developing characteristics like leadership, self-confidence, perserverance, and self-esteem. Many organizations and businesses have opportunities specifically for homeschoolers, while others invite homeschoolers to participate in their regular programs.
Not sure how to choose activity/activities for your children? Read how Rebecca narrows down the choice of extra-curricular activities.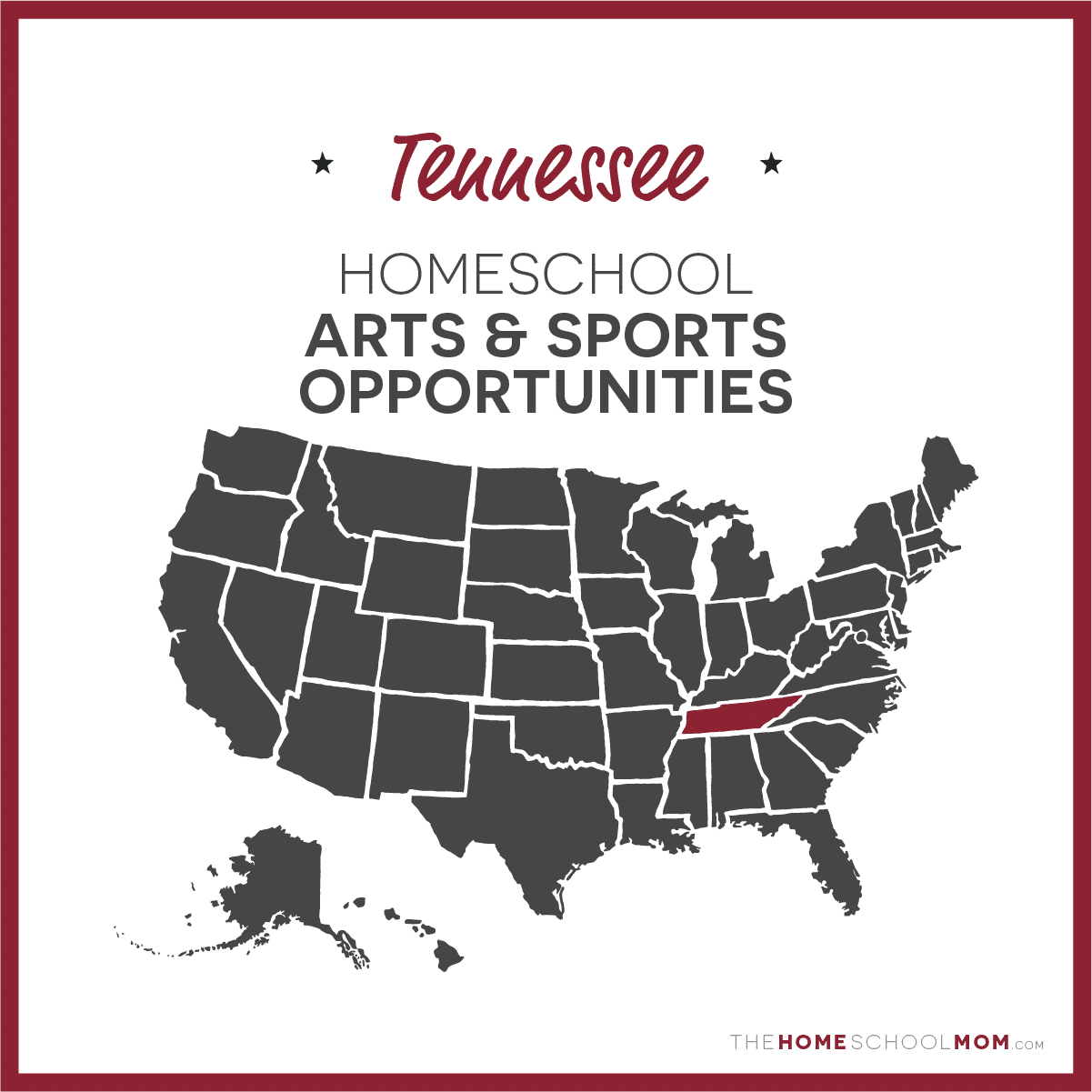 Submit a Local Resource
Our listing of Tennessee list of homeschool arts and sports programs is ordered alphabetically by city, with arts in the first section and sports in the second section. If you would like to submit an Tennessee arts or sports program, you may do so using the red button above.
Tennessee Homeschool Arts Programs
TN Art YardBrentwood
TN Art Yard offers a variety of homeschool art classes for K-12 in Brentwood, TN. [Read more...]
Insane Rhythm Music LessonsChattanooga
Insane Rhythm Music Lessons provides professional music lessons in Drums, Guitar, Bass, and Piano. Owner and Instructor started the studio after earning his Bachelors in Music Education from UTC. C... [Read more...]
The Chattanooga Girls ChoirChattanooga
The Chattanooga Girls Choir has over 30 years experience training young ladies to be exceptional musicians and leaders. The choir meets August through May on Monday nights at Brainerd United Method... [Read more...]
Scott Burt Piano StudioColumbia/Spring Hill
With a Master of Music degree in Piano Performance and over 30 years of teaching experience, Scott Burt relays his joy and passion for music to his students. His goal is to foster a love of music i... [Read more...]
Georgia English Music LessonsFranklin
Offering in-home private and group guitar, voice, ukulele, and bass lessons through the lens of songwriting and album production. Lessons use an original curriculum, "The Triangle Method" which tou... [Read more...]
Franklin Suzuki AcademyFranklin
Franklin Suzuki Academy is a not-for-profit music academy offering instruction in violin, viola, cello, and early childhood music using the Suzuki philosophy. Instrumental lessons are open to child... [Read more...]
Lexie's Piano StudioFranklin, Brentwood
This resource is a piano studio that serves children of all ages. It utilizes engaging and fun resources to help students learn about music history, music theory, rhythm, how to play the piano and ... [Read more...]
Studio Tenn EducationFranklin/Nashville
Studio Tenn Education (STE) is here to help with all of your arts needs. STE offers a comprehensive performing arts curriculum to enhance your homeschool experiences. Education Coordinator, Casey H... [Read more...]
River's Edge Christian Academy - University-ModelKnoxville
River's Edge Christian Academy's educational approach combines private Christian school education with home education, serving students in grades pre-kindergarten through 12th grade. The Upper Acad... [Read more...]
Knoxville Christian Youth BandKnoxville
Knoxville Christian Youth Bands has been a staple in the community for 25 years. The bands provide a positive music experience for all levels of learners and is welcome to students in fourth throug... [Read more...]
LeGrand Music StudiosKnoxville
LeGrand Music Studios offers music lessons and classes for people of all ages, young children to senior adults. The studio teaches lessons in various instruments including: voice, piano, violin, vi... [Read more...]
Knoxville Suzuki AcademyKnoxville
The Knoxville Suzuki Academy is East Tennessee's premier organization for children's music lessons. Our mission is to provide excellent musical instruction inspired and guided by the philosophies o... [Read more...]
Topper's Music, LLC Music LessonsLebanon
Private music lesson openings are available at Topper's Music, in Lebanon TN. We offer guitar, bass, violin, ukulele, piano, drums, and voice instruction. We teach all year and have no semester sch... [Read more...]
Ballet On Wheels, Theatre of DanceMemphis
Dance Classes and performances [Read more...]
Round Table School of MusicMorristown
Round table School of Music offers online music instruction for guitar, bass, percussion, piano/ keyboard as well as general music theory and ear training. Participants in the Lakeway Area of East ... [Read more...]
Jennifer White's Voice StudioMt. Juliet
Jennifer White provides voice lessons in the Nashville area, and can come to your home to teach. As someone who benefited from a homeschool education herself, Jennifer went on to obtain a Doctorate... [Read more...]
Little Art House, Art ClassesNashville
Little Art House opened on Music Row in August, founded by two sisters who are licensed and experienced art teachers. Intending to support education as well as offer encouragement and confidence in... [Read more...]
Nick Hayes - Brass Instruments Private Music LessonsNashville
In home lessons for brass instruments (Trumpet, French Horn, Trombone, Euphonium, Baritone, Tuba) in the Nashville and surrounding areas. Instructor, Nick Hayes, is a professional session musician ... [Read more...]
Nashville Music Academy Music Lessons (special needs welcome)Nashville
Nashville Music Academy offers music lessons for any age and every instrument, in-home or at the studio. The Academy also has programs for individuals with special needs. The highlight of the year ... [Read more...]
Music Lessons/Classes with Jayna GrossNashville
Berklee College of Music graduate Jayna Gross is offering in-studio lessons, travel-to-your-home lessons, group lessons, and online lessons. Mrs. Gross teaches piano, voice, strings, clarinet, flut... [Read more...]
Suzuki Violin StudioNashville
Deena Rizkalla​ is an enthusiastic educator and performer who looks to bridge cultural gaps and forge friendships by playing and exploring different styles of music. Equal parts educator and perfor... [Read more...]
Country Music Hall of Fame and MuseumNashville
Offered once a month, Homeschool Days provide interactive, engaging educational programs based on themes relevant to our one-of-a-kind collection. All programs are led by Museum staff and volunteer... [Read more...]
Henry A Diggins Music (Guitar), Music Theory, and Song-Writing LessonsNashville
Guitar (all styles), Bass, Banjo, Mandolin, Uku, Song Writing, and Music Theory lessons for all skill levels. Offering music lessons in person or online through Zoom! See website for rates and cont... [Read more...]
Michaela's Music StudioNashville
This resource is for student's of all ages. Studies show that music helps students focus better and improves their math and reading skills. Music lessons are wonderful for homeschool students due t... [Read more...]
Bach to Rock Music SchoolNashville
Bach to Rock is America's Music School, offering well-balanced, fun, and effective music education for students of all ages. In addition to private lessons and band programs, Bach to Rock Nashville... [Read more...]
Music Together® with Glenda free demo classesOak Ridge
Music Together® classes are the gold standard of early childhood music education and movement programs. The 9 song collection cycle and the program used to teach it, is research based with award wi... [Read more...]
Flute ChoirOoltewah/East Chattanooga Area
Flute choir for advanced middle school students through adult. For flutists interested in playing in a group using piccolo, flute, alto & bass instruments. [Read more...]
Casa dei MontessoriWest Nashville/Bellevue
Casa dei Montessori is a small West Nashville Montessori school in the Bellevue area. It has been serving the West Nashville community for over twenty years and offers Montessori programs from todd... [Read more...]
Tennessee Homeschool Sports Programs
Gifted AthletesBartlett
Gifted Athletes a Homeschool Physical Education class for students, K-12 in the Mid-South area. Teaching the ABC's of physical education; Agility, Balance and Coordination which enhance brain power... [Read more...]
Clarksville Tennis Program for Home SchoolersClarksville
Kujawa Tennis Academy Junior Programs and Camps Available Year Round. Children can participate in one of our many after-school programs or summer camps year round. [Read more...]
The Equestrian Performance Centre Horsemanship ProgramDavidson County Williamson County Cheatham County Maury County
This Horsemanship Program located in Franklin meets twice weekly for 2 hours covering an in-depth study of horses. Beginner Group Riding Lessons meet weekly learning skill sets of riding in additio... [Read more...]
Knoxville Home Educators Athletic AssociationEast Tennessee
An athletic program providing opportunities for homeschooled students to play competitive sports. Sport teams compete in basketball, baseball, softball,volleyball and cross country. Other sports te... [Read more...]
Saddle Up!Franklin
Saddle Up! is an equine assisted activities and therapies program in Franklin, Tennessee. For over 25 years Saddle Up! has offered children with special needs from the age of 4 to the age of 19 opp... [Read more...]
Franklin Christian AcademyFranklin
Franklin Christian Academy Athletics seeks to reflect the mission of the school through high level performance in athletic competition. FCA competes in the Middle Tennessee Athletic Conference (MTA... [Read more...]
TOCA FootballFranklin
Welcome to the first of its kind, next generation soccer training. At TOCA Football, our technology-driven training sessions are led by world-class coaches and drive rapid improvements and results ... [Read more...]
Redline Athletics - TennesseeKnoxville
RedLine Athletics Walker Springs is the preeminent facility for sports performance training. The 14,000 square foot training center includes a half basketball court with volleyball court, 5,500 squ... [Read more...]
Shangri-La Therapeutic Academy of Riding (STAR)Lenoir City
In this Equine Assisted Learning Program participants will participate in activities along with our equines to explore, create, and enjoy the world of the horse. Activities may include but are not ... [Read more...]
Memphis FCA Nighthawks AthleticsMemphis
The Memphis FCA (Fellowship of Christian Athletes) Nighthawks are a National Championship Homeschool Sports Organization based in Memphis, Tennessee. Sports include competitive Basketball, Soccer a... [Read more...]
Middle TN Golden Eagles Homeschool Soccer TeamMiddle Tennessee
A Christ-centered middle school and high school soccer team for homeschooled young women. [Read more...]
Baseball for Homeschoolers: Middle Tn MonarchsNashville
Baseball Teams for Homeschoolers for children aged middle school through high school. Christian-based. Program administrator is Barry Young. Program fees start at $775.00+ per calendar year. Fundra... [Read more...]
Dragon-K Martial ArtsNashville
Teaching Tae Kwon Do classes during recess or PE class time to introduce students to the basics of Tae Kwon Do in a fun, controlled, and safe manner. The emphasis of this program will be on the pos... [Read more...]
Nashville Skating AcademyNashville
Nashville Skating Academy is the oldest ice skating school in Middle Tennessee. Established in 2005, NSA has been introducing Nashville area families to the world of skating for 16 years. NSA's mis... [Read more...]
LPG Sports AcademyWilliamson County
LPG Sports Academy provides Home School Phys. Ed. classes for children ages 5-10. Small class sizes and a diverse sports curriculum teaches children sports fundamentals while also focusing on fitne... [Read more...]
Middle TN Golden EaglesWilson County
The Middle TN Golden Eagles offer a Christian based competitive soccer team for middle school and high school girls. Young ladies will learn soccer skills and gain life long friendships with their ... [Read more...]
Go to Tennessee...