Jump to: Homeschool Arts | Homeschool Sports
In addition to the opportunity to get out of the house and socialize, homeschool sports and arts programs can offer long-term benefits by developing characteristics like leadership, self-confidence, perserverance, and self-esteem. Many organizations and businesses have opportunities specifically for homeschoolers, while others invite homeschoolers to participate in their regular programs.
Not sure how to choose activity/activities for your children? Read how Rebecca narrows down the choice of extra-curricular activities.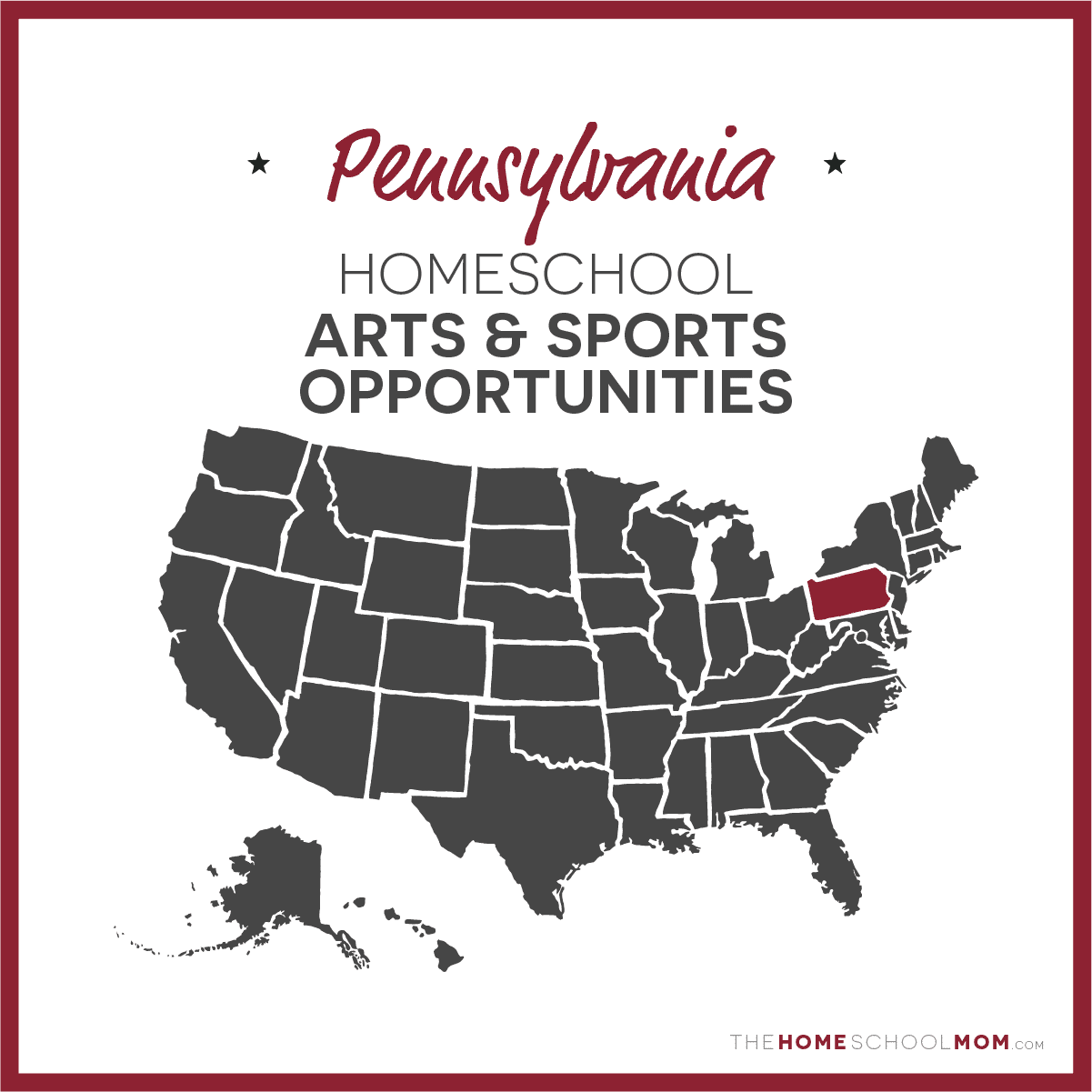 Submit a Local Resource
Our listing of Pennsylvania list of homeschool arts and sports programs is ordered alphabetically by city, with arts in the first section and sports in the second section. If you would like to submit an Pennsylvania arts or sports program, you may do so using the red button above.
Pennsylvania Homeschool Arts Programs
Encore Music Academy - Pennsylvania

Adams County

The Encore Academy is a band program designed for homeschool families. The program offers instruction on all band instruments for students age 7 years and older. Members are grouped in small ensemble settings and meet for one hour each week. Adults are welcome to join the program – a fun activity for families to do together! Our professional director assists from the very beginning, explaining how to select and play the instrument, how to read music, work in an ensemble and perform concerts. The program strives to provide a musical experience in a relaxed and fun environment. Free instrument petting zoo includes a hands-on demonstration/discussion and opportunity to make a sound on the instruments. Give your child the musical advantage and join the Encore Academy program. More information available at www.encoremusic.us, info@encoremusic.us, 410-374-2182.
The Lesson Center

Allentown, Bethlehem, Easton, Trexlertown, Coopersburg

The Lesson Center is the Lehigh Valley's largest private and small group music instruction studio, providing lessons to students of all ages, ranging from 4 to adult. Our professional educators teach students everything from piano and guitar to cello and trombone (and everything in between) in weekly 30, 45 and 60 minute lessons. Students receive comprehensive lessons that also include digital homework assignments and videos for parents to review at home to ensure their student is following their teacher's instruction in both the classroom and the living room.
The Art Nook

Allentown/Lehigh Valley

The Art Nook is a fun and exciting program for kids of all ages providing them with the opportunity to create unique art projects, experiments with different art materials, and develop their creativity! * Programs meet for about an hour once a week for 6 weeks * The program comes right to you with all the supplies and materials along with a qualified art instructor to guide each session * Students receive their very own Art Nook Box with all the supplies inside to create their projects each week and they get to keep all their own supplies * Students experience a wide variety of mediums from paint, clay, plaster, metal, ink, wire, etc. to create unique, one-of-a-kind works of art * Students complete a full art project each session that is based in either art history or cultural art * All projects include an information sheet about the artist of culture on which the project is based * There is an optional, end of program "art show" included that can be coordinated at your location
Drum Lessons In Your Home

Ardmore, Broomall, Bryn Mawr, Havertown, Lower Merion ,Narberth, Radnor

Drum lessons in your home with Fred Berman, a professional drummer with many years experience. Fred's teaching philosophy is to custom tailor a program combining technique (basic or other depending on the student level), drum beats and practical application by learning songs and most of all catering to what the student ultimately would like to accomplish by taking lessons.
Drama Kids of Delco

Aston, Media, Brookhaven

Drama Kids of Delco offers classes, workshops, camps and more to children aged 5 and up. Each class will focus on building confidence, public speaking skills, improv, creative movement and much more through a fun hour of drama education. We have a community class that meets at Rockdale Arts Center, and are always more than willing to set up a special class for your group!
Wolf Performing Arts Center Acting Classes

Bryn Mawr

Wolf Performing Arts Center is dedicated to enriching the lives of young people through learning, experiencing, and creating theatre. Providing students an opportunity to grow through theatre, developing confidence and creativity, while deepening the community's appreciation of performing arts.
Guitar Piano and Voice lessons in Yardley, PA Bucks County

Bucks County Yardley, Newtown, Fairless Hills, Southhampton, Levittown

This resource offers ongoing customized, private piano, guitar, voice and songwriting lessons to students of all ages grades 1-12 from beginner to advanced. Vocal and guitar begin at age 8. Taking music lessons in a pressure free and zero anxiety environment allows kids a place for self expression, a mind body connection, self esteem of learning a new musical skill, and a non threatening creative outlet.

Guitar Piano and Voice lessons in Yardley, PA Bucks County details
Artistic Elements

Bucks County, Mercer County

Artistic Elements offers excellent one on one, IN-HOME music lessons, adapted music lessons, and music therapy to children of all ages and abilities. Traveling to homes within Mercer and Bucks County, lessons can also be adapted to include music appreciation, history, and theory. Lessons are available on PIANO, VOICE, and BEGINNER GUITAR. Artistic Elements also hosts a yearly recital in June.
Central Pennsylvania Homeschool Orchestra

Carlisle

The Central Pennsylvania Homeschool Orchestra provides an opportunity for homeschooled musicians to play in a professionally run ensemble setting. CPHO also welcomes cyber-charter students as well as public and private school students who are able to conform to their rehearsal and performance schedule. In order to provide opportunities for proficient as well as beginning musicians, CPHO membership is structured to accommodate a range of musical abilities. The season begins with auditions in the summer, with rehearsals running September through April, and concludes with concerts in late April/early May.
Skippack School of Music

Collegeville

Skippack School of Music has been serving the Skippack Area since 2005 in professional music instruction for piano, voice and guitar. Skippack School of Music offers the Royal Conservatory Music Development Program (Music Development Program) which provides a recognized national standard of musical success through an effectively sequenced course of study from beginner to advanced levels.
Skippack School of Music Homeschool Club

Collegeville, Skippack, Harleysville, Souderton & all surrounding areas

Offering inexpensive music lessons to homeschoolers of all ages on various instruments. Group and private lessons available. Written music theory classes will also be offered.
Spirit of the Arts Academy

Delaware County

Spirit of the Arts Academy provides private music instruction for students of all ages and levels. Lessons are provided by experienced music professionals in a safe, stimulating environment with ample parking. Each lesson is customized to the student, where they can learn at their own pace and minimize frustration. Recitals and performance opportunities are available.
Delaware County Youth Orchestras

Delaware County

The Delaware County Youth Orchestras offer middle and high school musicians who aspire to an advanced level of play an opportunity to learn and perform works from the standard symphonic repertoire, as they develop the skills and discipline of orchestral performance. Students from all geographic areas are welcome to audition. Qualifications for admission are outstanding musical ability and the desire and dedication required to perform as an orchestral musician. The organization consists of two orchestras, the Delaware County Youth Orchestra and the Young Musicians' Orchestra. The Delaware County Youth Orchestra (DCYO) is an orchestra for advanced students, usually in high school. DCYO holds rehearsals on Tuesday evenings from September through May at Ardmore Presbyterian Church in Ardmore, Pennsylvania. The Young Musicians' Orchestra (YMO) is an orchestra for intermediate students of all ages. YMO holds rehearsals on Thursday evenings from September through May at Strath Haven High School in Wallingford, Pennsylvania.
Historical Performance with Daisy Century

Delaware, Maryland, and Pennsylvania

A Historical Interpreter from Philadelphia, Dr. Daisy Century performs a one woman show of seven historical women like Bessie Coleman, Harriet Tubman, and Sojourner Truth. Contact Dr. Century through the website to bring history to your Home Schooling programs, meetings, conferences, seminars, classes or special events.
Grace Kamfonas's Piano Studio

Devon/Wayne

Private piano lessons in the Devon/Wayne area studio. Day time and Friday evenings are available. For more information please contact Grace at 610-613-4777 or email ekamfonas@gmail.com
Doraymi lessons

Downingtown

Doraymi lessons offers high quality voice, piano, guitar, songwriting, ukulele, and audition prep classes. We are heavily booked but have many discounted afternoon times that will work for homeschoolers. This lesson experience goes above and beyond, offering: -recitals -community performances -recordings of lessons -resources to take home -well rounded, multi sensory lessons for kids which use a variety of tools to teach them everything from music theory to technique to composer history
Catherine K. Brown Voice Studio

Downingtown

Hello, my name is Catherine Brown and I am a private singing teacher, as well as a formerly homeschooled student (grades 1-12). I normally teach out of my home studio in Downingtown. I hold a B.A. in music and German from St. Olaf College and have completed extensive coursework in vocal pedagogy and child/adolescent voice. During the school year, I offer private lessons at Bishop Shanahan High School (Downingtown). My students have performed with professional theaters (Walnut Street Theatre, Bucks County Playhouse, Fulton Theatre, Media Theatre), with community theaters (Forge Theatre, Barley Sheaf Players, Footlighters Theater), and in lead roles in their school theatrical productions.
Youth and Family classes

Doylestown

The museum offers a diverse selection of educational programs and activities throughout the year. Of interest to many students are the writing classes which range from art based to literature based classes.
Little Rockers

Doylestown

Music Classes
School of Rock Doylestown

Doylestown

School of Rock offers students of all skill levels age 7-18 a performance-based music curriculum in a fun environment. Weekly private lessons are combined with structured group rehearsals. Students prepare to perform live on stage. Areas of instruction range from guitar lessons to bass, vocals, keys and drums lessons. Also offers summer camps, monthly events, workshops, clinics, guest professors and additional performance opportunities through the local House Band and national All Stars programs. Location: 135 South Main Street. Doylestown, Pennsylvania 18901
Selvedge Studio

Doylestown

Sewing, knitting and crochet lessons in the Central Bucks PA area. Taught by an Apparel Design graduate and garment industry professional. Lessons stress creativity and individuality. Group lessons are held in Doylestown, PA on Tuesday mornings from 10-12 for homeschoolers. $30 for 2 hours includes all machines and supplies, 20% sibling discount, ages 7 and up. Minimum of 3 students, maximum of 8 per session.
School of Rock - Lehigh Valley

Easton

School of Rock offers students of all skill levels age 7-18 a performance-based music curriculum in a fun environment. Weekly private lessons are combined with structured group rehearsals. Students prepare to perform live on stage. Areas of instruction range from guitar lessons to bass, vocals, keys and drums lessons. Also offers summer camps, monthly events, workshops, clinics, guest professors and additional performance opportunities through the local House Band and national All Stars programs. Call to schedule a trial lesson or a tour. 610-923-7625. Located at 19 South Bank Street in Easton, PA 18042 right on the PA/NJ border.
Pro Line Music

Fairless Hills

Music lessons 99.00 a month. Each lesson is a half hour private one on one with the teacher. We offer many extra programs like our Rockers program(Rock band). We have recitals for our students in the spring and fall. Our lessons run Monday through Saturday. Call us for more information 2157368055 or visit us on the web at thefham.com
School of Rock Fort Washington

Fort Washington

School of Rock offers students of all skill levels age 7-18 a performance-based music curriculum in a fun environment. Weekly private lessons are combined with structured group rehearsals. Students prepare to perform live on stage. Areas of instruction range from guitar lessons to bass, vocals, keys and drums lessons. Also offers summer camps, monthly events, workshops, clinics, guest professors and additional performance opportunities through the local House Band and national All Stars programs.
St. Thomas' Chorister Program

Fort Washington

The Chorister Program at St. Thomas church provides a free, professional music education to students, including individual voice lessons if desired. We are affiliated with the Royal School of Church Music in England, and the program of instruction is comparable to places like the Washington National Cathedral. Through our rehearsals and performing, students also gain valuable spiritual development and learn about their faith and our Anglican tradition and liturgy. Students also learn important 21st century skills like teamwork, character, resilience and grit, and executive functioning. The Choristers are for students age 8 and up, and they sing frequently at the 10:00 a.m. service in the Church with the professional adults. Rehearsals are offered on Thursday evenings from 6-7:15pm. Regular attendance at rehearsals and performances is required, and parental support is a crucial part of this. If you make a priority, the children will do the same and we will have an outstanding program. You will be amazed at what your child is capable of!
Private Voiceover and Acting Lessons with Adam Wennick

Franklin County

Adam Wennick is a professional actor and voice actor that offers private lessons. He worked in NYC for Fanta, Wawa, Yu-Gi-Oh and a bunch of other commercials. He is really good with kids and really knows his stuff!

Private Voiceover and Acting Lessons with Adam Wennick details
Jazzercise Dance Fitness

Gettysburg

Battlefield Jazzercise in Gettysburg, PA provides dance-based full-body workout class that combines cardio with strength training and stretching for a total body workout. Choreographed to today's current music, Jazzercise is a fusion of jazz dance, resistance training, Pilates, yoga, and kickboxing. Music is routinely updated to keep classes fresh. Franchise instructors complete a rigorous selection and training program and are periodically evaluated by the Jazzercise Corporation to ensure quality instruction. Please see https://www.jazzercise.com for more information on the program. Scheduling and pricing for youth-only classes to satisfy a home school physical education requirement can be arranged.
Art Therapy Studios- gallery, workshops & open art studio

Hanover

Several art workshops are being offered in various media on an ongoing basis. Private groups can be booked and tailored to your needs as well. Visit the website or Facebook page for more details.

Art Therapy Studios- gallery, workshops & open art studio details
Melody Place Studios

Harrisburg

Melody Place Studios offers voice, piano and guitar music lessons on Thursday and Friday mornings to home schoolers. Strings, percussion, brass and woodwinds to follow soon. For more info call 717-635-9278 or visit the website.
Riebe Home Studio Voice and Piano Lessons

Harrisburg

Music Educator, Jenice Riebe, offers private voice and piano instruction out of her home studio in Mechanicsburg, PA, and has openings for this fall. Jenice has over 20 years of collegiate teaching experience and enjoys working with kids! She is currently an adjunct voice faculty member at Millersville and Messiah Universities. Please visit her website for more information and to contact. www.jeniceriebe.com
Home School Connection at The Hockessin Montessori School

Hockessin

Home School Connection Enrichment Program - The Hockessin Montessori School brings expertise in education and creativity to the home school community through our HOME SCHOOL CONNECTION. This program offers a variety of enrichment subjects for children in Kindergarten through 8th grade including Art, Physical Education, Music, Spanish, S.T.E.M, Technology and Steel Drums (Middle School level only). Classes are prepared and taught by the HMS experienced instructional staff and teachers. Home School Connection Math Support Program - Teaching Mathematics can be an overwhelming task in a home school environment. The Elementary and Middle School staff of The Hockesson Montessori School are offering expertise in academics for parents and students in 4th, 5th, 6th, 7th, and 8th grade.

Home School Connection at The Hockessin Montessori School details
Leading Tone Lessons LLC

King of Prussia

Leading Tone Lessons LLC is a company that offers private, in-home music lessons as well as group lessons, piano and guitar classes, and band and orchestra programs to co-ops.
International Ballet Academy

Lancaster

The Viktor Yeliohin's International Ballet Academy is Lancaster's leading school of Ballet and classical dance. Dancers will learn the under Vaganova Syllabus style of dance, the Russian method of classical ballet. Dancers will also practice various genres of dance including Ballet, Pointe, Variations, Character, Jazz, Tap, Modern, and Contemporary.
Suzuki and Traditional Flute Lessons

Lancaster

Flute lessons offered for children as young as 4 and adults of any age in a supportive environment. Beginner through expert lessons offered by an experienced, professional flutist and educator. Students and parents may individualize the approach by requesting Suzuki or traditional style lessons and further customize the education to their tastes. Multiple performance opportunities.
Ashley Butters Violin Studio

Lebanon

Suzuki Violin for ages 5 years and up! Tuesday and Wednesday lesson slots available. Tuition is $100 a month and covers weekly, 30 minute private lessons and a monthly 1 hour group lesson.
JBY Academy Homeschool Group

Lehigh Valley

JBY Academy is a new homeschool group infused with the performing and creative arts. We serve families in Lehigh Valley, Pennsylvania; which includes the cities of Allentown, Bethlehem, and Easton. Plus, surrounding areas. JBY Academy is designed with diversity in mind. The group fosters a sense of inclusion and celebrates diversity through events and activities that will help children learn about and explore various cultures. JBY Academy meetups are infused with the creative arts to help students enhance and enjoy the learning experience. To become a member of JBY Academy please visit the website. JBY Academy is a faith-bashed homeschool group that has so much to offer homeschool families from all walks of life. Rooted in spiritual principles and guided by core values JBY Academy strives to bring forth harmony and unity to the homeschool community at large. There's something for every homeschooler; including, in-person meetups, field trips, performances, hybrid classes, and an after-school program. JBY Academy started in 2013 as a division of the mentoring, production and training organization Just Be You Performing Arts. Visit the website for more details on how to join JBY Academy.
Meridee Winters School of Music

Main Line

The MW School provides customized in-home lessons for piano, guitar, bass, voice, violin and more in your Main Line home. The original trailblazing methods help children to compose, create and build higher level thinking skills while learning an instrument in a fun and unique way. Meridee's exclusive method goes a step beyond traditional lessons (repertoire, skill drills, flash cards, reading, chords and more) by tapping into the brain's highest level of learning to build creative intelligence through supplemental materials. Each lesson is customized to suit the student. Through patterns, themes and songs and with the help of Meridee's exclusive books and games, students get the unique opportunity to learn more than just an instrument. MW students learn to think critically and creatively while also learning to express themselves.
The Little Gym of Pittsburgh-South Hills

McMurray

The Little Gym is an amazing program for children ages 4 months - 12 years. It helps promote early development and provides a strong foundation for a childs' early years of brain boost, physical development and social skills. The following programs are available:: Parent Child Classes, Gymnastics, Sports Skills, Karate and Dance.
Coyle School of Irish Dance

Mechanicsburg

The Coyle School of Irish Dance in Central PA Branch will be holding spring daytime classes for Home School students. The teacher of these classes, Colleen Coyle Kelly (TCRG,ADCRG) is certified to teach Irish dancing through An Coimisiún Le Rincí Gaelacha (CLRG)Dublin, Ireland, the oldest and largest Irish dancing commission worldwide. Colleen is also a certified adjudicator through the same organization which allows me to adjudicate competitions throughout the world. Colleen has been teaching Irish dancing in the Harrisburg area for the past 22 years. The spring class session will focus on the basic techniques as well as steps in both areas of Irish dance - solo and Ceili (group).
Media Youth Film Initiative (MyFi)

Media

Has your child ever wondered what it is like to write a film script, create a storyboard, perform in front of a camera, direct actors, light a set, or put it all together in an editing program? Whether their goal is to be in front of the camera or behind the scenes, area high school students get the chance to make and star in their own movies as part of the Media Youth Film Initiative, or "MyFi". MyFi is a film production class for high school students that combines the ageless art of story-telling with filmmaking. In small groups of 6-8, participants work collaboratively to form a production crew, learning: * screenplay writing * acting * directing * camera operation * set lighting * sound * film editing MyFi is a rich learning experience for high school students to tell meaningful stories of their life experiences while discovering the art of filmmaking. During the 10 week course, students are under the guidance of professional instructor Hezekiah Lewis, award-winning filmmaker and Assistant Professor of Communications at Villanova University, and Darryl Ridgeway, a filmmaker and mentor. Upon completion of the course, students invite their families and friends to walk the red carpet and enjoy a screening of their completed films on the big screen. This annual celebration of short independent film is held at the historic Media Theatre. In existence since 2012, MyFi is a partnership between the Media Arts Council and the Media Youth Center. There are sessions in fall and spring. Classes are held in the Media Youth Center's Strine Learning Center, 1 Youth Way, Media, PA 19063. For more information or to inquire about scholarship opportunities contact the Media Arts Council 484.445.4161 or exec@mediaartscouncil.org The 10-week class is offered every fall (September start date) and spring (February start date).
MAC Summer Arts Camp

Media

Media Arts Council's Summer Camp offers a unique opportunity for young artists to explore new mediums! Teaching artists will guide students through a week of artistic skill building, creative exploration, and project design. Each session ends with a gallery opening for artists to show their completed works to friends and family. Topics include: Printmaking • Comic & Anime Illustration • Sculpture • Celtic Art • Digital Design & Film Animation • Metalsmithing
Media Arts Council Summer Jazz Camp

Media

Temple University Jazz Professors, Jake Kelberman (guitar) and Chris Oatts (saxophone) are offering a week-long immersive Jazz Camp at Media Arts Council. Instruction will include: -Jazz History and Appreciation -Music Theory and Analysis -Jazz Improvisation and Aural Skills -An Introduction to Music Recording and Production Students will have the opportunity to rehearse daily in a small ensemble and to participate in open-mic jam sessions with their peers and faculty. Culminating in a final public concert, participating students will have a primer in the fundamentals of jazz performance to prepare them for future performances, college auditions, and a lifelong love of America's musical heritage. Open to instrumentalists and vocalists from 8th-12th grade.
Storybook Musical Theatre

Montgomery County

Storybook Musical Theatre is dedicated to the cultural enrichment and education of children and their families. The Theatre introduces and helps children to develop a lifelong appreciation for theater through adaptations of folk tales and children's literature. The goal is to stimulate young imaginations as the stories are being brought to life on stage.
Piano lessons by Patti Casella

Murrysville

Piano lessons in students' home or group meeting location if a piano is available. A discounted rate is available for lessons scheduled 10am-2pm. Along the journey of learning to play the piano there are times of difficulty. Lessons are taught with patience, observation and fun. When a student is struggling, different approaches to the struggle are used until the student gets it.
Rejoice! Dance, Art, Music, Gymnastics

New Freedom

We offer a program called Rejoice! which offers classes on Wednesdays and Thursdays in Dance, Art, Music and Gymnastics for homeschool families.
Dori Spector Fine Art

Newtwon Square

Dori Spector is a Philadelphia painter and printmaker who teaches classes in her Newtown Square studio. She has experience teaching teens at the Wayne Art Center, and crafts at the Quadrangle in Haverford. Offering drawing and oil painting and creative alternative printmaking techniques. Still Life and the portraiture will be explored. Students are encouraged to set up their own still life to work from. Contact the studio for class times and rates.
Dance with Mandy

Palmyra

Dance lessons for all ages and skill levels
Kimberly Rowe, Harp Lessons

Philadelphia

Classical harp lessons in Philadelphia Art Museum area
School of Rock Philadelphia

Philadelphia

School of Rock offers students of all skill levels age 7-18 a performance-based music curriculum in a fun environment. Weekly private lessons are combined with structured group rehearsals. Students prepare to perform live on stage. Areas of instruction range from guitar lessons to bass, vocals, keys and drums lessons. Also offers summer camps, monthly events, workshops, clinics, guest professors and additional performance opportunities through the local House Band and national All Stars programs. Location: 421 N 7th St (Electric Factory) 1 minute from I 95 in Philadelphia, Pennsylvania 19123
Japanese House and Garden enrichment classes

Philadelphia

Language Classes The Japanese Classroom Program offers evening Japanese classes for adults based on a college-style curriculum. There are four semesters annually, Spring (January-April), Summer I (May-June), Summer II (July-August), and Fall (September-December). Classes are held at International House Philadelphia. Conversation Club is an informal language exchange forum where Japanese and English speakers can practice their conversational language skills. Attendees include speakers of all levels of Japanese and English. Participation is free and open to the public. For dates, check the program calendar. Culture Classes and Workshops Tea Lessons - Our tea ceremony classes offer the opportunity to practice in a traditional style in an authentic setting. Our teachers are licensed by the Chado Urasenke Tankokai Philadelphia Association, licensed by Urasenke headquarters in Kyoto, Japan. Tea Ceremony - Tea ceremonies at Shofuso are led by members from the Chado Urasenke Tankokai Philadelphia Association, headquartered in Kyoto, Japan. Public demonstrations are narrated to provide context to guests. Taiko Lessons - Learn how to play taiko drums with beginner taiko classes from Kyo Daiko! Classes are open to adults of all ages, musical backgrounds and experience. In fact, no experience is necessary. We will teach you everything from proper stance, how to hold the drumsticks, and striking technique, in addition to teaching you about the history and traditions of taiko. Dance Lessons - Use movement to experience the culture of Japan in our Classical Japanese Dance Lessons! Lessons include both one-on-one and group instruction and are appropriate for all ages. Lessons are taught by licensed instructor Fujima Nishiki-no (Helen Moss).
Victoria Watts Music Classes

Philadelphia

Victoria Watts Music offering guitar classes for students of all ages and levels. Victoria Watts is a professional musician with ten years of teaching experience and offers a resume and a background check clearance to any interested parties.
Philly Music Lessons

Philadelphia

Philly Music Lessons specializes in connecting students of all ages and skill levels with great teachers in the Philadelphia and Main Line areas. We encourage our teachers to cultivate unique lesson plans based on the interests, needs, and learning styles of each individual student. Their expertise ranges from classical to jazz, to contemporary and other niche styles on all instruments and voice. We offer lessons and group classes at our Fishtown and South Philly studios. We also teach in-home lessons throughout the Greater Philadelphia Area, including the Main Line. See website to schedule a half price trial lesson
Classical Guitar Lessons with Luke Honer

Philadelphia

Luke Honer is a Philadelphia based guitar teacher with over 15 years of teaching experience. He holds a Master's in guitar performance from The Hartt School of Music. Mr. Honer is currently looking for guitar students to fill the morning schedule. A comprehensive curriculum awaits anyone who wants to learn the guitar. Check out his soundcloud page for listening samples. PA background check/clearances approved.
Temple Music Prep

Philadelphia

Temple Music Prep provides high quality, non-credit music and dance instruction, and related activities to the Philadelphia Community on behalf of the Boyer College of Music and Dance, and Temple University at-large. Offering research-based classes for infants through high school in music, dance/movement and music theory, private instruction for beginners through the highest level of high school students or adults, as well as adult classes in piano, guitar, voice and jazz. There are multiple ensemble opportunities in orchestra, harp and jazz!
Philadelphia Piano Institute

Philadelphia

Founded in 2017, the Philadelphia Piano Institute currently serves 55+ weekly piano students at its studio location in the Queen Village of Philadelphia. Private lessons are taught on a Steinway grand piano, and piano classes are taught with digital Casio keyboard. Erika Gingery, the founding instructor and director, received a MMus from Texas Christian University in Piano Pedagogy under the tutelage of Dr. Anne Gipson. The Philadelphia Piano Institute welcomes students of all ages; they currently work with elementary age students, middle schoolers, high schoolers, young professionals, and seniors. Live studio recitals are held each calendar year at the Fleischer Art Memorial, and live online instruction is available for students who cannot visit the studio in person.
Houser Music Lessons for Homeschoolers

Philadelphia

Houser Music Lessons offers customized music classes for homeschool co-ops, as well as affordable private lessons on Guitar, Ukulele, Bass and Piano. This is available to anyone living in the Philadelphia and surrounding areas. All materials are provided for co-op music classes. Ukuleles are provided for group ukulele classes. All lessons are focused on activity-based learning that creates a customized, fun and engaging experience for all students. Contact HouserMusicLessons@gmail.com to sign up for private lessons or group classes.
St. Mark's Boys' & Girls' Choir

Philadelphia

This highly-regarded choral program provides children and youth ages 7 and up with outstanding professional choral training, music theory, leadership development, choir camps and trips, and a stipend for each chorister. No previous musical experience is required, only an eagerness to learn, age-appropriate reading proficiency, and the ability to match pitch. Primarily an after-school program, with no tuition cost to parents, this is one of the best ways in the Philadelphia area for a child to receive a world-class mu­sical education.
Drum Lessons with Sam Gatewood

Philadelphia Metro Area

Sam Gatewood is a drum teacher in Philadelphia, PA with over 20 years of playing experience. With a focus on groove, technique, ear training, and most of all having fun behind the kit, you will leave his lessons with the skills and confidence required to reach your drumming goals. All ages and skill sets are welcome! Lessons will take place in your home on a weekly basis.
Bell School of Irish Dance

Pittsburgh

Traditional Irish Step Dancing geared for homeschooling families. Classes will be held on Wednesday mornings beginning September 4, 2013 for students ages 5-adult. Contact studio for times and cost details. Family discounts are available for sibling groups. For more information email kilpatricks@gmail.com or call (412)-980-3018.
Sarah Kendis - Oboe Lessons

Pittsburgh

This resource provides private oboe instruction to students of any age and musical level. Private lessons are tailored toward each individual student and cover everything from oboe fundamentals to advanced technique and musicianship. Lessons are provided in the Pittsburgh and surrounding areas, however, if the student is not local, online lessons through Skype are also offered to anyone across the country. Handmade, professional-quality oboe and English horn reeds are also available for purchase.
Michelle Cosgrove Flute and Piano Studio

Quakerstown

Michelle Cosgrove is a professional musician and educator in Bucks County, PA. She earned her bachelors degree in music education and a masters degree in performance, and she teaches lessons both in her home studio, in a music school, and online via Zoom or Skype. She works with children, teens, and adults, and all skill levels are welcome in the studio. There is no requirement for prior experience or an audition. Her students enjoy group classes, recitals, and the opportunity to perform in ensembles and duos.
Reading Orthodox Christian Co-Op

Reading

R.O.C.C. is a community of Orthodox homeschoolers providing supplementary education to PreK-6, while building a foundation in the faith. Our classes are taught by parent volunteers. We meet at Sts. Constantine & Helen Greek Orthodox Church in Reading, Pennsylvania. Please contact for class schedule!
Engage Art Studio

Schwenksville

Engage Art Studio ia a local woman-owned small business! We run fine art classes every day of the week for ages 3 and up. Our studio offers homeschool art classes every Friday, designed for parents who may not be artistically inclined, and give students a fantastic group atmosphere. Our teachers are either working towards art degrees or have graduated college with degrees in art. Our teachers have knowledge of art history, light, color, texture, shape, and much more. All of our art teachers' credentials can be found on our website under the "Our Artistic Team" tab.
Newave Studios

Scranton

Newave Studios offers a multitude of enrichment courses. Art class includes: Painting, sculpting and illustration. Textile class includes: hand sewing, knitting, dying fabrics and machine sewing. Robotics classes includes: Introductory coding, robot creation and motion. Science class includes: Biology through the prism of arts and crafts, horticulture and philosophy. Dance class includes: contemporary (urban ballet), hip hop and aerial dance!
Act Out Theatre Group LLC

Scranton

Act Out Theatre Group is an organization focusing on performance and education of the art of musical theatre. Our goal is to not only produce quality art but to facilitate an educational and fun social climate where students ages 4 to seniors in high school can be free to express themselves without judgment, to learn about art, music and theatre, and to share a common passion among peers. Virtual and in-person activities available. In addition, we seek to do the following with our performers: EDUCATE them on the arts and areas that will help them beyond the theatre; MOTIVATE them to not only be quality performers, but quality human beings; ELEVATE and enhance their levels of self-esteem and understanding of the world around them; and CULTIVATE an environment that encourages personal growth and community involvement.
The Art Room

Scranton Pa. Lackawanna County

Founder and Creative Director Of The Art Room, Cathy Boles Mineo holds a B.S. in Art Education K-12 and a Masters in Education K-6. With over 25 years of experience instructing artists from preschool through 8th grade, she brings her love for children and for creative expression into her studio curriculum and classes. Her vision is to encourage art that is child-directed, choice-driven, and celebrates the experience of discovery, where the final product is always unique and the focus lies in the creation of the work, not the outcome. Cathy is the proud mom of 5 children and 4 grandsons The Art Room offers a variety of classes for children ages 18 months to 13 years. These include: Mini Makers 18 months + with an adult. Ages 3 to 5 years: Art Room playgroups Ages 6 to 10: Mixed Media Clubs Ages 10-13: Friday Night Art Club Family Night: Open studio & family paint nights Private Art groups Birthday parties Classes are each 6-8 week sessions and designed for toddlers through 14 yrs old! Now also offering beginner painting classes for adults!
Voice Lessons with Jessica Graae

Springfield and Ridley Park

Voice lessons for ages 10 and up. More than twenty years of experience teaching vocal technique and repertoire. Recital and audition preparation. Classical, musical theatre, sacred and folk music. Masters in vocal performance, seasoned performer and songwriter.
Nadja Brown Ramsay Piano Studio: Piano and Voice

Warren/Hunterdon Counties

Nadja Brown Ramsay is a highly qualified music teacher (private piano & voice) with years of experience. Having been a homeschooler herself, Nadja realizes the importance of following the child's lead and honoring each individual's needs. She was on the music faculty at Ithaca College, at the French American Academy of New Milford and Jersey City, at a Montessori school, and has maintained a private teaching studio for over 30 years. NSRamsay@aol.com
Florence Phillips Piano Studio

West Chester

Florence Phillips Piano Studio offers lessons to beginners, intermediate students, and advanced students in the West Chester, PA area. Florence helps students improve by focusing on proper technique, reading, ear playing, musicianship, and more - she uses age-appropriate repertoire to help students improve, and she also supplements with piano methods. Florence received a masters degree in piano pedagogy from West Chester University, and prior to that, she earned a bachelors degree in piano performance. She is an active performer and collaborative pianist in the region.
Florence Phillips Music Studio

West Chester

This resource provides weekly music lessons and day-time availabilities. The resource includes piano, vocal, and violin music lessons.
Chester County Art Association

West Chester, PA

Chester County Art Association is a non-profit organization located in West Chester, PA. Their mission is to provide quality arts programming for all learners. They offer a variety of youth courses, along with teen-friendly adult courses in both afternoon and evening hours. Instructors are practicing artists in their medium, and can be seen in exhibits throughout Chester County.
Matthew Monticchio Music

York/Lancaster

As a composer and collaborative pianist, I teach all levels and abilities, helping students grow in their musicianship, artistry, and life-long love and understanding of music that enriches every area of life. I hold degrees in music education and music composition from West Chester University and the Peabody Conservatory, respectively. I build on the fundamentals of scales, chords and harmonic knowledge to approach the rich tradition of music literature from the great composers of the past, while also fostering an ability to create music through improvisation and composition, encouraging and guiding the student in their own creative musical expressions.
Pennsylvania Homeschool Sports Programs
Kids Brazilian Jiu-Jitsu

Allentown

This is a kids Jiu-jitsu program (ages 5-12) specifically for homeschool children. It aims to provide an opportunity for homeschool children to get into martial arts at a time that is more suitable for homeschool families. It runs every Tuesdays and Thursday from 1:30pm to 2:15pm. This is a full Jiu-Jitsu program, complete with professional coaching and promotions recognized throughout the jiu-jitsu martial arts community.
Action Karate

Ambler

Action Karate Kids Martial Arts activities offer opportunities for kids to learn new skills, feel more confident, explore new ideas, and make new friends. This pioneering Martial Arts Program for Kids allows school-aged children to balance learning and fun through a range of actual experiences. This program is structured where everyone goes home happy and with a new appreciation of staying active. The well-planned daily fitness activities keep your child healthy, energetic, and comfortable. By enrolling in the Kids Martial Arts classes, your child will learn the art of self-control through the well-designed curriculum. Highly-experienced instructors focus on giving your child the confidence boost and a fitness goals that will eventually help them grow into a responsible and successful adult.
Animal Assisted Therapy and Vocational Training

Baltimore County

Come out for a free tour and see how you can utilize an 80 acre farm of opportunities to help motivate your child to succeed and be more independent at home and in the workplace using horse, dog, and occupational therapy services tailored to your child, or your groups specific interests and needs. One mom noted how her children did not sleep before their first occupational therapy session on horseback! After 4 sessions, her daughter gained enough strength, balance, and confidence to ride a two wheeled bike! In addition to hippotherapy services, and therapeutic riding, Taking The Lead, Inc. offers a unique life skills program and a vocational training program overseen by an occupational therapist. Empower your child to be more independent, explore employment, and gain hands on experience with real animals at a working dog and horse training facility, We help your family bridge the gap to meaningful employment. Vocational services include dog training, kennel assistant, vet technician, landscaping, and horse care. The therapist is happy to customize programs for your child's or your group's needs. Schedule a tour and meet the animal team today!
Plants and Pillars Athletics

Beaver Falls

Plants and Pillars Athletics provides opportunites for boys and girls in grades 2 through 12 to compete in soccer, basketball, and track and field. Located in Beaver County and affiliated with the Plants and Pillars Homeschool Co-op, though athletes need not be members of the co-op. Students compete in a local conference against other homeschool groups, Christian/Catholic schools, and private schools.
Reach Indoor Climbing Gym

Bridgeport

This state of the art indoor climbing gym offers a full range of boulder, top rope, Krav Maga & yoga to get out and get active. Kids teams, parties & Lessons are also available for both kids and adults. Discount memberships available for homeschoolers! Ask for a manager to find out and mention this ad!
Gymsport Athletic Center

Bridgeville

Gymsport Athletic Center is a Gymnastics and Parkour 45,000 sq foot facility. Instructors can cater any field trip anytime of day. The Center is open daily from 9:00 am to 9:00 pm. All instructors are trained and certified in Gymnastics and Parkour, have all been cleared by federal background check and child safety course. the gym can incorporate your curriculum into the field trip upon request. It is also a great social outing. Also offering classes in the afternoon to accommodate anyone who home schools schedules and wants something on a regular basis.
Marple Sports Arena

Broomall

Two full size hockey rinks to be used for inline skating, sports or other team building activities, 4 sided rock climbing wall, 5 story indoor jungle gym and arcade. This is the perfect field trip of fun and activity! All ages welcome. Pricing depends on the amount of participants.
Life Center Academy Girls High School Basketball

Burlington

Life Center Academy is a private Christian school in Florence Twp., NJ. Our girls basketball program plays a competitive independent schedule during the high school season from November through February. Because we are an independent school our program is open to home school students. Any girls who are looking to play basketball at the collegiate level would benefit from the game schedule and coaching at LCA. For me information contact the Athletic Director - Tammy Nowicki tnowicki@lcmail.org
Meraki Run Club

Chester County

We are a youth running and empowerment group! Through our clubs and camps kids learn running skills and valuable life lessons. Runner will learn things like pacing, strength training, goal setting, resilience, and more. Run club is for ages 3-13. All abilities welcome.
Civil Air Patrol Delaware County Squadron 1007

Delaware County

Civil Air Patrol's cadet program transforms youth into dynamic Americans and aerospace leaders through a curriculum that focuses on leadership, aerospace, fitness and character. As cadets participate in these four elements, they advance through a series of achievements, earning honors and increased responsibilities along the way. Many of the nation's astronauts, pilots, engineers and scientists first explored their careers through CAP. Squadron 1007 meets Tuesdays at 6:30 pm at DELCO ES Training Center, Building 1 Lower Level, 1600 Calcon Hook Rd Sharon Hill PA
Makoto Martial Arts

Downingtown

Makoto is an afternoon shugyo (martial arts) program that offers children ages 6-15 the opportunity to learn life lessons beyond the school books while being part of a community of like-minded individuals.
Lupo Taekwondo (Martial Arts)

Downingtown

Lupo Taekwondo teaches a traditional martial arts program using an internationally recognized curriculum, taught by a certified Master Instructors. Our new daytime classes are designed for ages 7+. Parents are invited to learn and train with their children if they like. A great workout where students gain confidence and leadership skills along with improved focus, and self-control. Taekwondo prepares students not just for other sports, but for life itself. Visit Lupotkd.com, and call Master Fox at 267 290 8080 for more information.
Jazzercise Dance Fitness

Gettysburg

Battlefield Jazzercise in Gettysburg, PA provides dance-based full-body workout class that combines cardio with strength training and stretching for a total body workout. Choreographed to today's current music, Jazzercise is a fusion of jazz dance, resistance training, Pilates, yoga, and kickboxing. Music is routinely updated to keep classes fresh. Franchise instructors complete a rigorous selection and training program and are periodically evaluated by the Jazzercise Corporation to ensure quality instruction. Please see https://www.jazzercise.com for more information on the program. Scheduling and pricing for youth-only classes to satisfy a home school physical education requirement can be arranged.
Amazing Sports & Activity Program

Harrisburg

Come and be a part of our exciting HOME SCHOOL PE/ GYM CLASS PROGRAM!! Going into our 11th year, we have a program that enhances physical fitness, promotes teamwork, and provides skill development in sport specific classes. This year we are excited to take our program to a whole new level, helping kids that are in the home school program release their extra energy so that when they return home they are able to better focus on their school work. For the last 5 minutes of each class, we will have a short devotional lesson to end the day. (Optional)
Hersheypark Arena Ice Skating

Hershey

Homeschool families are invited to join us for a field trip to the historic Hersheypark Arena and participate in an on ice, Learn to skate class! This field trip includes 1 hour of on-ice instruction along with a lesson plan (learning the science and physics behind skating). Contact us at Hersheyfigureskate@gmail.com to schedule your field trip today!
Sports Plex Velocity

Lancaster

The mission of the Sports Plex Velocity is to provide support to youth who want to work hard, play hard, have fun and enjoy the results. Our facility provides services such as birthday party venues, summer camps, baseball instruction, travel teams and batting cages. Our services cater to families who require flexibility in their schedules and still want their youth to get the best experience possible.
RCW Athletic Club

Lancaster

RCW Athletic Club is offering tennis instruction for homeschoolers on Tuesday and Thursday afternoons from 2-3pm. This program will run through the fall and winter 2022/23. Registration can be by session or weekly. We are currently taking all levels and ages and plan to build the program as we go and it grows. Please contact RCW Athletic Club at 717-299-5631 for more information or visit rcwathleticclub.com for more details on all our programs.
Hooley School of Irish Dance

Lancaster

Hooley School of Irish Dance has dance classes for ages 2 years old and up. It has two locations. One is in the Brownstown/Leola area and the other is in Reading. Our curriculum, created by one of our own teachers, is full of creative lessons. Academics, listening skills, artistic movement, coordination, concentration, and fun are all utilized in teaching Irish dance. Lessons also have age appropriate memorization, spatial awareness, and cooperative learning. The sense of accomplishment Hooley dancers earn is truly special.
Ephrata Area Tennis Academy

Lancaster County

Certified teacher and coach for tennis and soccer, offering activities for home schooled students. Available to work with individuals or groups during the day.
American Tang Soo Do Karate

Lansdale

A traditional martial arts School focusing on discipline self-esteem character building for ages 6 years old and up. Ongoing classes throughout the year, you can join anytime. We always have a special going on, please mention if you are a homeschooler. Some of our activities include summer camp, special seminars, leadership training, weapons training, and much much more/ This is the ideal place for the homeschooler to get physically fit.
Freer Family Community Youth Center

Lebanon

The Lebanon Valley Family YMCA has a FREE Youth Center for teens (18 years and under) who are in or entering 6th-12th grade. The Youth Center offers fun activities, meaningful connections, and opportunities for youth leadership. Program and facilities include homework help, video and table games, supervised gym games, as well as special workshops and events. For more information, contact Alison Sherk, Youth Program Director, at asherk@lebanonymca.org or at 717-376-1395.
Marple Junior Tigers Cheerleading

Marple-Newtown

A local recreation cheer program that offers teams for both field and competition. The Tigers accept children ages 5-14 as of August 1st. Teams are comprised of children from all over our district as well as Home Schooled children from surrounding districts.
Premier Martial Arts

Mechanicsburg

We are family owned and operated DOJO in Mechanicsburg PA. We teach karate, tae kwon-do, kickboxing, and Krav Maga. In addition to martial arts training, we also offer character building skills that will help the success of our students in todays society. We also offer one on one private lessons with an instructor. For more information please contact @ 1-888-762-6324. Premier Martial Arts, Changing the world in a Positive way through Martial Arts.
Action Karate Nazareth

Nazareth

Complement your child's homeschooling with the benefits of Martial Arts training. Physical fitness, Balance and Coordination, Confidence, Honor, Improved listening skills, Discipline and Self-Esteem are just some of the benefits that come with your Action Karate training. Homeschool students have the flexibility to meet other Homeschooled students in our special Homeschool early afternoon classes or to join in our evening classes with all the Action Karate students.
Rejoice! Dance, Art, Music, Gymnastics

New Freedom

We offer a program called Rejoice! which offers classes on Wednesdays and Thursdays in Dance, Art, Music and Gymnastics for homeschool families.
Urban Athlete Youth

Philadelphia

Urban Athlete is holding a 19-week youth program specifically designed for homeschool students! Ages 10-13 will engage in structured game base play, body weight movement preparation, and agility exercises. This program is offered once or twice a week on Monday's and/or Wednesday's from 1-2:30 PM. We are certified by The International Youth Conditioning Association (IYCA). Please check-out our website and contact us with any questions!
Rainbow Ridge Farm Equine Homeschool Program

Pipersville

Equine Homeschool Program: Youth learn best when you find something they love (in this case, horses) and then design a coherent and consistent curriculum blending academic disciplines with everyday life-skills. Our program blends physical education (horseback riding, groundwork, and conditioning for riding) with classroom time for boys and girls 7-14.  Offered Tuesday or Thursday AM or PM. Sept-May.
Jewart's Gymnastics

Pittsburgh

Jewart's Gymnastics offers a 1 hour Weekly Fitness Class led by professional staff. The children ages 6 to 12 will run, jump, climb and have fun in the 30,000 square foot Gymnastics Gym and Rock Wall. Class sizes are 7 students to 1 instructor and are offered 3 days a week Monday, Wednesday and Friday. From 3pm to 4pm for $75 per month. Sibling Discounts are available.
Homeschool Climb Program at Public Lands - Cranberry

Pittsburgh

No matter the age, climbing builds self-confidence, problem solving skills, and healthy bodies and minds. Children in the homeschool climb program at Public Lands - Cranberry will spend an hour on the wall with experienced Climb Guides learning the fundamentals of climbing in an environment that fosters active lifestyles. Kids will develop teamwork skills while engaging with the other homeschoolers and making new friends while having fun on the wall! Homeschool Climb Program Information: Every Tuesday & Thursday at 11:00am & 1:00pm at Public Lands - Cranberry For Ages 6 and up. 1 hour sessions for $9.95 (includes harness and shoes). Participants will receive personalized guidance from Climb Guides.

Homeschool Climb Program at Public Lands - Cranberry details
Innovation Cheer & Tumbling Homeschool Tumlbling Classes

West Chester

Join Chester County's newest and most exciting recreational cheer and tumbling program! We have classes for all ages and skill levels. Have fun, make new friends and learn new skills!

Innovation Cheer & Tumbling Homeschool Tumlbling Classes details
Sky Zone Pittston

Wilkes-Barre / Scranton

Whether it's a birthday party, an afternoon game of Dodgeball, a charity event, or just a day out with the family, Sky Zone is the place to gather. Sky Zone offers a variety of activities to keep children, young and old, active and happy. As well as spaces for parents and non-jumpers to enjoy themselves while keeping an eye on the action. Grab some air and show off your moves on our Freestyle Court. Be a star for the day at our Sky Slam Court, hoops of different heights accommodate jumpers of all sizes. Take competition to the next level in a game of dodgeball. Grab some big air as you fly or flip into a pool of huge foam squares at Foam Zone. Experience Glow after dark as lasers & black lights transform the park into a jumping dance club. Toddler Zone is an exclusive time for toddlers and parents to laugh and play.