Jump to: Homeschool Arts | Homeschool Sports
In addition to the opportunity to get out of the house and socialize, homeschool sports and arts programs can offer long-term benefits by developing characteristics like leadership, self-confidence, perserverance, and self-esteem. Many organizations and businesses have opportunities specifically for homeschoolers, while others invite homeschoolers to participate in their regular programs.
Not sure how to choose activity/activities for your children? Read how Rebecca narrows down the choice of extra-curricular activities.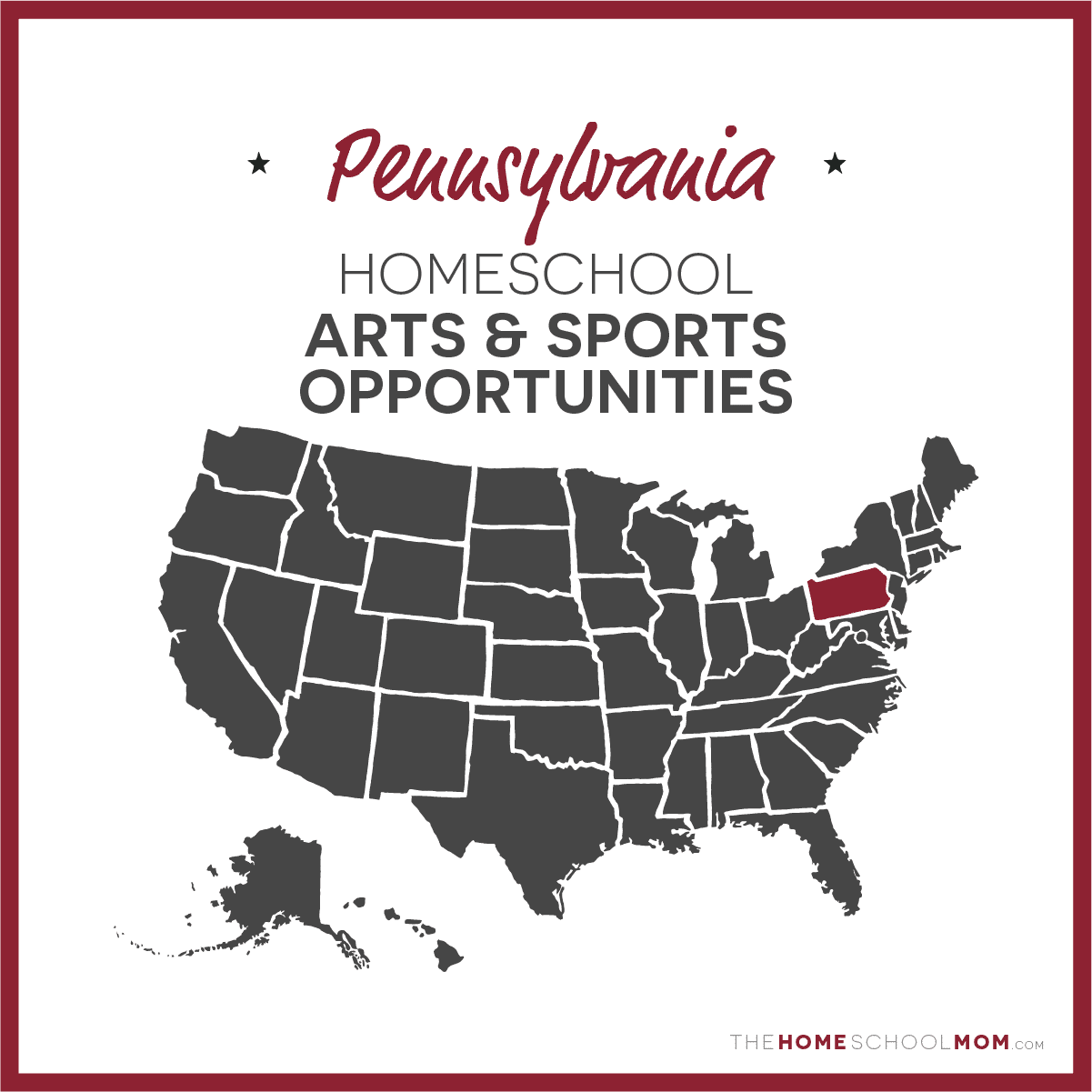 Submit a Local Resource
Our listing of Pennsylvania list of homeschool arts and sports programs is ordered alphabetically by city, with arts in the first section and sports in the second section. If you would like to submit an Pennsylvania arts or sports program, you may do so using the red button above.
Pennsylvania Homeschool Arts Programs
Encore Music Academy - PennsylvaniaAdams County
The Encore Academy is a band program designed for homeschool families. The program offers instruction on all band instruments for students age 7 years and older. Members are grouped in small ensemble settings and meet...
The Lesson CenterAllentown, Bethlehem, Easton, Trexlertown, Coopersburg
The Lesson Center is the Lehigh Valley's largest private and small group music instruction studio, providing lessons to students of all ages, ranging from 4 to adult. Our professional educators teach students everythi...
The Art NookAllentown/Lehigh Valley
The Art Nook is a fun and exciting program for kids of all ages providing them with the opportunity to create unique art projects, experiments with different art materials, and develop their creativity! * Programs mee...
Drum Lessons In Your HomeArdmore, Broomall, Bryn Mawr, Havertown, Lower Merion ,Narberth, Radnor
Drum lessons in your home with Fred Berman, a professional drummer with many years experience. Fred's teaching philosophy is to custom tailor a program combining technique (basic or other depending on the student leve...
Drama Kids of DelcoAston, Media, Brookhaven
Drama Kids of Delco offers classes, workshops, camps and more to children aged 5 and up. Each class will focus on building confidence, public speaking skills, improv, creative movement and much more through a fun hour...
Wolf Performing Arts Center Acting ClassesBryn Mawr
Wolf Performing Arts Center is dedicated to enriching the lives of young people through learning, experiencing, and creating theatre. Providing students an opportunity to grow through theatre, developing confidence an...
Guitar Piano and Voice lessons in Yardley, PA Bucks CountyBucks County Yardley, Newtown, Fairless Hills, Southhampton, Levittown
This resource offers ongoing customized, private piano, guitar, voice and songwriting lessons to students of all ages grades 1-12 from beginner to advanced. Vocal and guitar begin at age 8. Taking music lessons in a p...
Artistic ElementsBucks County, Mercer County
Artistic Elements offers excellent one on one, IN-HOME music lessons, adapted music lessons, and music therapy to children of all ages and abilities. Traveling to homes within Mercer and Bucks County, lessons can also...
Central Pennsylvania Homeschool OrchestraCarlisle
The Central Pennsylvania Homeschool Orchestra provides an opportunity for homeschooled musicians to play in a professionally run ensemble setting. CPHO also welcomes cyber-charter students as well as public and privat...
Skippack School of MusicCollegeville
Skippack School of Music has been serving the Skippack Area since 2005 in professional music instruction for piano, voice and guitar. Skippack School of Music offers the Royal Conservatory Music Development Program (M...
Skippack School of Music Homeschool ClubCollegeville, Skippack, Harleysville, Souderton & all surrounding areas
Offering inexpensive music lessons to homeschoolers of all ages on various instruments. Group and private lessons available. Written music theory classes will also be offered.
Spirit of the Arts AcademyDelaware County
Spirit of the Arts Academy provides private music instruction for students of all ages and levels. Lessons are provided by experienced music professionals in a safe, stimulating environment with ample parking. Each le...
Historical Performance with Daisy CenturyDelaware, Maryland, and Pennsylvania
A Historical Interpreter from Philadelphia, Dr. Daisy Century performs a one woman show of seven historical women like Bessie Coleman, Harriet Tubman, and Sojourner Truth. Contact Dr. Century through the website to br...
Grace Kamfonas's Piano StudioDevon/Wayne
Private piano lessons in the Devon/Wayne area studio. Day time and Friday evenings are available. For more information please contact Grace at 610-613-4777 or email ekamfonas@gmail.com
Doraymi lessonsDowningtown
Doraymi lessons offers high quality voice, piano, guitar, songwriting, ukulele, and audition prep classes. We are heavily booked but have many discounted afternoon times that will work for homeschoolers. This lesson e...
Catherine K. Brown Voice StudioDowningtown
Hello, my name is Catherine Brown and I am a private singing teacher, as well as a formerly homeschooled student (grades 1-12). I normally teach out of my home studio in Downingtown. I hold a B.A. in music and German ...
Youth and Family classesDoylestown
The museum offers a diverse selection of educational programs and activities throughout the year. Of interest to many students are the writing classes which range from art based to literature based classes.
Little RockersDoylestown
Music Classes
School of Rock DoylestownDoylestown
School of Rock offers students of all skill levels age 7-18 a performance-based music curriculum in a fun environment. Weekly private lessons are combined with structured group rehearsals. Students prepare to perform ...
Selvedge StudioDoylestown
Sewing, knitting and crochet lessons in the Central Bucks PA area. Taught by an Apparel Design graduate and garment industry professional. Lessons stress creativity and individuality. Group lessons are held in Doylest...
School of Rock - Lehigh ValleyEaston
School of Rock offers students of all skill levels age 7-18 a performance-based music curriculum in a fun environment. Weekly private lessons are combined with structured group rehearsals. Students prepare to perform ...
Pro Line MusicFairless Hills
Music lessons 99.00 a month. Each lesson is a half hour private one on one with the teacher. We offer many extra programs like our Rockers program(Rock band). We have recitals for our students in the spring and fall. ...
School of Rock Fort WashingtonFort Washington
School of Rock offers students of all skill levels age 7-18 a performance-based music curriculum in a fun environment. Weekly private lessons are combined with structured group rehearsals. Students prepare to perform ...
St. Thomas' Chorister ProgramFort Washington
The Chorister Program at St. Thomas church provides a free, professional music education to students, including individual voice lessons if desired. We are affiliated with the Royal School of Church Music in England, ...
Private Voiceover and Acting Lessons with Adam WennickFranklin County
Adam Wennick is a professional actor and voice actor that offers private lessons. He worked in NYC for Fanta, Wawa, Yu-Gi-Oh and a bunch of other commercials. He is really good with kids and really knows his stuff!
Jazzercise Dance FitnessGettysburg
Battlefield Jazzercise in Gettysburg, PA provides dance-based full-body workout class that combines cardio with strength training and stretching for a total body workout. Choreographed to today's current music, Jazzer...
Art Therapy Studios- gallery, workshops & open art studioHanover
Several art workshops are being offered in various media on an ongoing basis. Private groups can be booked and tailored to your needs as well. Visit the website or Facebook page for more details.
Melody Place StudiosHarrisburg
Melody Place Studios offers voice, piano and guitar music lessons on Thursday and Friday mornings to home schoolers. Strings, percussion, brass and woodwinds to follow soon. For more info call 717-635-9278 or visit th...
Riebe Home Studio Voice and Piano LessonsHarrisburg
Music Educator, Jenice Riebe, offers private voice and piano instruction out of her home studio in Mechanicsburg, PA, and has openings for this fall. Jenice has over 20 years of collegiate teaching experience and enjo...
Home School Connection at The Hockessin Montessori SchoolHockessin
Home School Connection Enrichment Program - The Hockessin Montessori School brings expertise in education and creativity to the home school community through our HOME SCHOOL CONNECTION. This program offers a variety o...
Leading Tone Lessons LLCKing of Prussia
Leading Tone Lessons LLC is a company that offers private, in-home music lessons as well as group lessons, piano and guitar classes, and band and orchestra programs to co-ops.
International Ballet AcademyLancaster
The Viktor Yeliohin's International Ballet Academy is Lancaster's leading school of Ballet and classical dance. Dancers will learn the under Vaganova Syllabus style of dance, the Russian method of classical ballet. Da...
Suzuki and Traditional Flute LessonsLancaster
Flute lessons offered for children as young as 4 and adults of any age in a supportive environment. Beginner through expert lessons offered by an experienced, professional flutist and educator. Students and parents ma...
Ashley Butters Violin StudioLebanon
Suzuki Violin for ages 5 years and up! Tuesday and Wednesday lesson slots available. Tuition is $100 a month and covers weekly, 30 minute private lessons and a monthly 1 hour group lesson.
JBY Academy Homeschool GroupLehigh Valley
JBY Academy is a new homeschool group infused with the performing and creative arts. We serve families in Lehigh Valley, Pennsylvania; which includes the cities of Allentown, Bethlehem, and Easton. Plus, surrounding a...
Meridee Winters School of MusicMain Line
The MW School provides customized in-home lessons for piano, guitar, bass, voice, violin and more in your Main Line home. The original trailblazing methods help children to compose, create and build higher level think...
The Little Gym of Pittsburgh-South HillsMcMurray
The Little Gym is an amazing program for children ages 4 months - 12 years. It helps promote early development and provides a strong foundation for a childs' early years of brain boost, physical development and social...
Coyle School of Irish DanceMechanicsburg
The Coyle School of Irish Dance in Central PA Branch will be holding spring daytime classes for Home School students. The teacher of these classes, Colleen Coyle Kelly (TCRG,ADCRG) is certified to teach Irish dancing ...
Media Youth Film Initiative (MyFi)Media
Has your child ever wondered what it is like to write a film script, create a storyboard, perform in front of a camera, direct actors, light a set, or put it all together in an editing program? Whether their goal is t...
Storybook Musical TheatreMontgomery County
Storybook Musical Theatre is dedicated to the cultural enrichment and education of children and their families. The Theatre introduces and helps children to develop a lifelong appreciation for theater through adaptati...
Piano lessons by Patti CasellaMurrysville
Piano lessons in students' home or group meeting location if a piano is available. A discounted rate is available for lessons scheduled 10am-2pm. Along the journey of learning to play the piano there are times of diff...
Rejoice! Dance, Art, Music, GymnasticsNew Freedom
We offer a program called Rejoice! which offers classes on Wednesdays and Thursdays in Dance, Art, Music and Gymnastics for homeschool families.
Dori Spector Fine ArtNewtwon Square
Dori Spector is a Philadelphia painter and printmaker who teaches classes in her Newtown Square studio. She has experience teaching teens at the Wayne Art Center, and crafts at the Quadrangle in Haverford. Offering dr...
Dance with MandyPalmyra
Dance lessons for all ages and skill levels
Kimberly Rowe, Harp LessonsPhiladelphia
Classical harp lessons in Philadelphia Art Museum area
School of Rock PhiladelphiaPhiladelphia
School of Rock offers students of all skill levels age 7-18 a performance-based music curriculum in a fun environment. Weekly private lessons are combined with structured group rehearsals. Students prepare to perform ...
Japanese House and Garden enrichment classesPhiladelphia
Language Classes The Japanese Classroom Program offers evening Japanese classes for adults based on a college-style curriculum. There are four semesters annually, Spring (January-April), Summer I (May-June), Summer II...
Victoria Watts Music ClassesPhiladelphia
Victoria Watts Music offering guitar classes for students of all ages and levels. Victoria Watts is a professional musician with ten years of teaching experience and offers a resume and a background check clearance to...
Philly Music LessonsPhiladelphia
Philly Music Lessons specializes in connecting students of all ages and skill levels with great teachers in the Philadelphia and Main Line areas. We encourage our teachers to cultivate unique lesson plans based on the...
Classical Guitar Lessons with Luke HonerPhiladelphia
Luke Honer is a Philadelphia based guitar teacher with over 15 years of teaching experience. He holds a Master's in guitar performance from The Hartt School of Music. Mr. Honer is currently looking for guitar students...
Temple Music PrepPhiladelphia
Temple Music Prep provides high quality, non-credit music and dance instruction, and related activities to the Philadelphia Community on behalf of the Boyer College of Music and Dance, and Temple University at-large. ...
Philadelphia Piano InstitutePhiladelphia
Founded in 2017, the Philadelphia Piano Institute currently serves 55+ weekly piano students at its studio location in the Queen Village of Philadelphia. Private lessons are taught on a Steinway grand piano, and piano...
Houser Music Lessons for HomeschoolersPhiladelphia
Houser Music Lessons offers customized music classes for homeschool co-ops, as well as affordable private lessons on Guitar, Ukulele, Bass and Piano. This is available to anyone living in the Philadelphia and surround...
St. Mark's Boys' & Girls' ChoirPhiladelphia
This highly-regarded choral program provides children and youth ages 7 and up with outstanding professional choral training, music theory, leadership development, choir camps and trips, and a stipend for each choriste...
Drum Lessons with Sam GatewoodPhiladelphia Metro Area
Sam Gatewood is a drum teacher in Philadelphia, PA with over 20 years of playing experience. With a focus on groove, technique, ear training, and most of all having fun behind the kit, you will leave his lessons with ...
Bell School of Irish DancePittsburgh
Traditional Irish Step Dancing geared for homeschooling families. Classes will be held on Wednesday mornings beginning September 4, 2013 for students ages 5-adult. Contact studio for times and cost details. Family dis...
Sarah Kendis - Oboe LessonsPittsburgh
This resource provides private oboe instruction to students of any age and musical level. Private lessons are tailored toward each individual student and cover everything from oboe fundamentals to advanced technique a...
Michelle Cosgrove Flute and Piano StudioQuakerstown
Michelle Cosgrove is a professional musician and educator in Bucks County, PA. She earned her bachelors degree in music education and a masters degree in performance, and she teaches lessons both in her home studio, i...
Reading Orthodox Christian Co-OpReading
R.O.C.C. is a community of Orthodox homeschoolers providing supplementary education to PreK-6, while building a foundation in the faith. Our classes are taught by parent volunteers. We meet at Sts. Constantine & H...
Newave StudiosScranton
Newave Studios offers a multitude of enrichment courses. Art class includes: Painting, sculpting and illustration. Textile class includes: hand sewing, knitting, dying fabrics and machine sewing. Robotics classes incl...
Act Out Theatre Group LLCScranton
Act Out Theatre Group is an organization focusing on performance and education of the art of musical theatre. Our goal is to not only produce quality art but to facilitate an educational and fun social climate where s...
Voice Lessons with Jessica GraaeSpringfield and Ridley Park
Voice lessons for ages 10 and up. More than twenty years of experience teaching vocal technique and repertoire. Recital and audition preparation. Classical, musical theatre, sacred and folk music. Masters in vocal per...
Masterworks Student Orchestra of Central PAState College
Masterworks Student Orchestra of Central PA is an orchestra made up of homeschooled and private schooled students from all over Central PA under the direction of Susan Kroeker. The orchestra will be starting its 17th ...
Nadja Brown Ramsay Piano Studio: Piano and VoiceWarren/Hunterdon Counties
Nadja Brown Ramsay is a highly qualified music teacher (private piano & voice) with years of experience. Having been a homeschooler herself, Nadja realizes the importance of following the child's lead and honoring...
Florence Phillips Piano StudioWest Chester
Florence Phillips Piano Studio offers lessons to beginners, intermediate students, and advanced students in the West Chester, PA area. Florence helps students improve by focusing on proper technique, reading, ear play...
Kennett Symphony Children's Chorus in Residence at West Chester UniversityWest Chester
The Kennett Symphony Chorus is an educational outreach of the Kennett Symphony of Chester County and gives qualified singers K-12 (all voice types) an opportunity to perform high-caliber, age-appropriate repertoire th...
Chester County Art AssociationWest Chester, PA
Chester County Art Association is a non-profit organization located in West Chester, PA. Their mission is to provide quality arts programming for all learners. They offer a variety of youth courses, along with teen-fr...
Matthew Monticchio MusicYork/Lancaster
As a composer and collaborative pianist, I teach all levels and abilities, helping students grow in their musicianship, artistry, and life-long love and understanding of music that enriches every area of life. I hold ...
Pennsylvania Homeschool Sports Programs
Action KarateAmbler
Action Karate Kids Martial Arts activities offer opportunities for kids to learn new skills, feel more confident, explore new ideas, and make new friends. This pioneering Martial Arts Program for K... [Read more...]
Animal Assisted Therapy and Vocational TrainingBaltimore County
Come out for a free tour and see how you can utilize an 80 acre farm of opportunities to help motivate your child to succeed and be more independent at home and in the workplace using horse, dog, a... [Read more...]
Plants and Pillars AthleticsBeaver Falls
Plants and Pillars Athletics provides opportunites for boys and girls in grades 2 through 12 to compete in soccer, basketball, and track and field. Located in Beaver County and affiliated with the ... [Read more...]
Reach Indoor Climbing GymBridgeport
This state of the art indoor climbing gym offers a full range of boulder, top rope, Krav Maga & yoga to get out and get active. Kids teams, parties & Lessons are also available for both kid... [Read more...]
Gymsport Athletic CenterBridgeville
Gymsport Athletic Center is a Gymnastics and Parkour 45,000 sq foot facility. Instructors can cater any field trip anytime of day. The Center is open daily from 9:00 am to 9:00 pm. All instructors ... [Read more...]
Marple Sports ArenaBroomall
Two full size hockey rinks to be used for inline skating, sports or other team building activities, 4 sided rock climbing wall, 5 story indoor jungle gym and arcade. This is the perfect field trip ... [Read more...]
Life Center Academy Girls High School BasketballBurlington
Life Center Academy is a private Christian school in Florence Twp., NJ. Our girls basketball program plays a competitive independent schedule during the high school season from November through Feb... [Read more...]
Meraki Run ClubChester County
We are a youth running and empowerment group! Through our clubs and camps kids learn running skills and valuable life lessons. Runner will learn things like pacing, strength training, goal setting,... [Read more...]
Civil Air Patrol Delaware County Squadron 1007Delaware County
Civil Air Patrol's cadet program transforms youth into dynamic Americans and aerospace leaders through a curriculum that focuses on leadership, aerospace, fitness and character. As cadets participa... [Read more...]
Makoto Martial ArtsDowningtown
Makoto is an afternoon shugyo (martial arts) program that offers children ages 6-15 the opportunity to learn life lessons beyond the school books while being part of a community of like-minded indi... [Read more...]
Jazzercise Dance FitnessGettysburg
Battlefield Jazzercise in Gettysburg, PA provides dance-based full-body workout class that combines cardio with strength training and stretching for a total body workout. Choreographed to today's c... [Read more...]
Amazing Sports & Activity ProgramHarrisburg
Come and be a part of our exciting HOME SCHOOL PE/ GYM CLASS PROGRAM!! Going into our 11th year, we have a program that enhances physical fitness, promotes teamwork, and provides skill development ... [Read more...]
Hersheypark Arena Ice SkatingHershey
Homeschool families are invited to join us for a field trip to the historic Hersheypark Arena and participate in an on ice, Learn to skate class! This field trip includes 1 hour of on-ice instructi... [Read more...]
Sports Plex VelocityLancaster
The mission of the Sports Plex Velocity is to provide support to youth who want to work hard, play hard, have fun and enjoy the results. Our facility provides services such as birthday party venues... [Read more...]
RCW Athletic ClubLancaster
RCW Athletic Club is offering tennis instruction for homeschoolers on Tuesday and Thursday afternoons from 2-3pm. This program will run through the fall and winter 2022/23. Registration can be by s... [Read more...]
Ephrata Area Tennis AcademyLancaster County
Certified teacher and coach for tennis and soccer, offering activities for home schooled students. Available to work with individuals or groups during the day. [Read more...]
American Tang Soo Do KarateLansdale
A traditional martial arts School focusing on discipline self-esteem character building for ages 6 years old and up. Ongoing classes throughout the year, you can join anytime. We always have a spec... [Read more...]
Freer Family Community Youth CenterLebanon
The Lebanon Valley Family YMCA has a FREE Youth Center for teens (18 years and under) who are in or entering 6th-12th grade. The Youth Center offers fun activities, meaningful connections, and oppo... [Read more...]
Marple Junior Tigers CheerleadingMarple-Newtown
A local recreation cheer program that offers teams for both field and competition. The Tigers accept children ages 5-14 as of August 1st. Teams are comprised of children from all over our district ... [Read more...]
Action Karate NazarethNazareth
Complement your child's homeschooling with the benefits of Martial Arts training. Physical fitness, Balance and Coordination, Confidence, Honor, Improved listening skills, Discipline and Self-Estee... [Read more...]
Rejoice! Dance, Art, Music, GymnasticsNew Freedom
We offer a program called Rejoice! which offers classes on Wednesdays and Thursdays in Dance, Art, Music and Gymnastics for homeschool families. [Read more...]
Urban Athlete YouthPhiladelphia
Urban Athlete is holding a 19-week youth program specifically designed for homeschool students! Ages 10-13 will engage in structured game base play, body weight movement preparation, and agility ex... [Read more...]
Saint Joseph's University Women's Basketball School Day GamePhiladelphia
Saint Joseph's University Women's Basketball is hosting a School Day Game on Dec 20th at 1pm. This is a great opportunity to provide a fun field trip for students during the holiday season. Group r... [Read more...]
Rainbow Ridge Farm Equine Homeschool ProgramPipersville
Equine Homeschool Program: Youth learn best when you find something they love (in this case, horses) and then design a coherent and consistent curriculum blending academic disciplines with everyday... [Read more...]
Jewart's GymnasticsPittsburgh
Jewart's Gymnastics offers a 1 hour Weekly Fitness Class led by professional staff. The children ages 6 to 12 will run, jump, climb and have fun in the 30,000 square foot Gymnastics Gym and Rock Wa... [Read more...]
Homeschool Climb Program at Public Lands - CranberryPittsburgh
No matter the age, climbing builds self-confidence, problem solving skills, and healthy bodies and minds. Children in the homeschool climb program at Public Lands - Cranberry will spend an hour on ... [Read more...]
Innovation Cheer & Tumbling Homeschool Tumlbling ClassesWest Chester
Join Chester County's newest and most exciting recreational cheer and tumbling program! We have classes for all ages and skill levels. Have fun, make new friends and learn new skills! [Read more...]
Sky Zone PittstonWilkes-Barre / Scranton
Whether it's a birthday party, an afternoon game of Dodgeball, a charity event, or just a day out with the family, Sky Zone is the place to gather. Sky Zone offers a variety of activities to keep c... [Read more...]
Go to...