Our listing of Pennsylvania jobs and volunteer opportunities for homeschoolers is ordered alphabetically by city. If you would like to submit a Pennsylvania co-op or academic resource, you may do so using the red button above.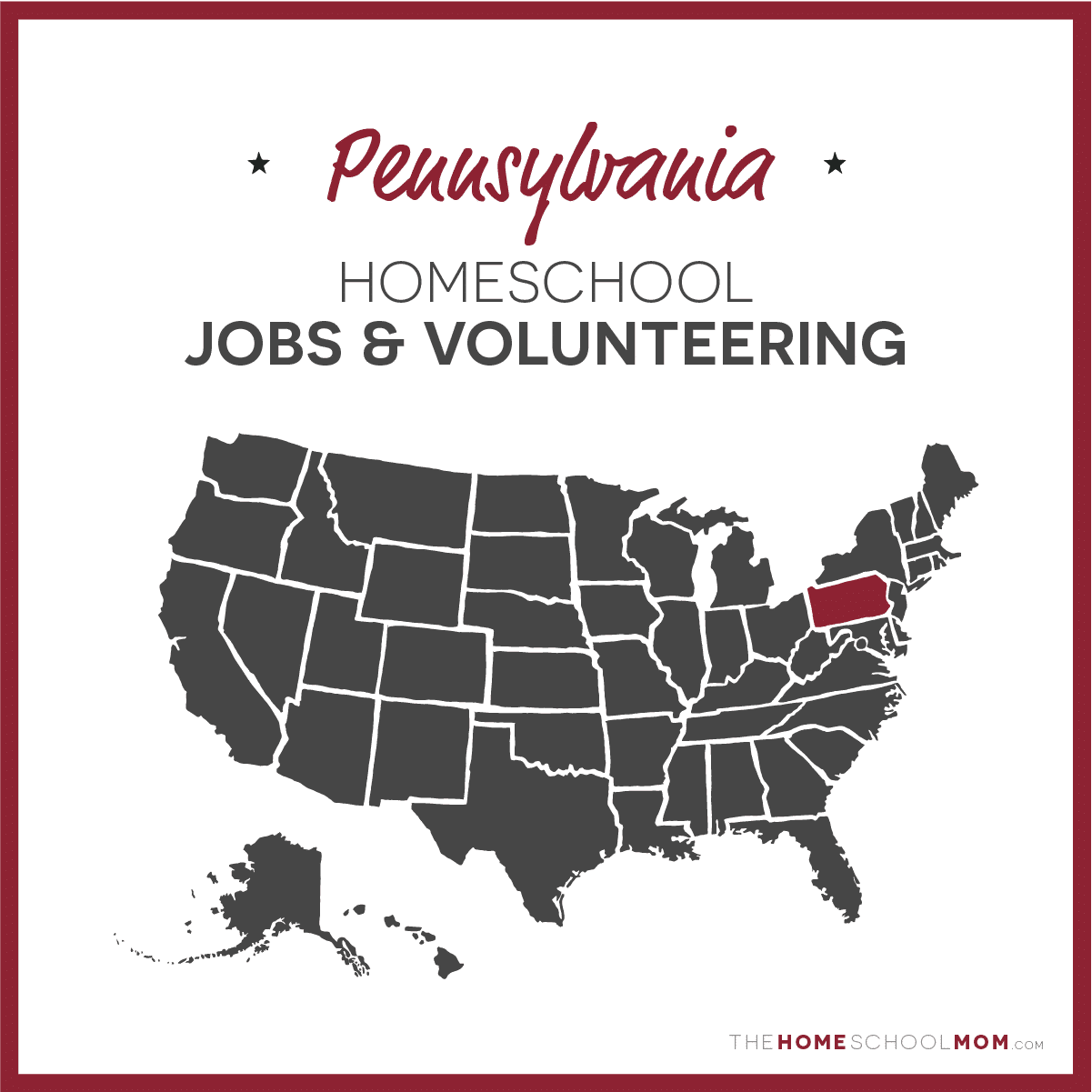 Submit a Local Resource
Teen Advisory Board

Abington

Hello! I am the Young Adult Librarian at the Abington Free Library, and I'm posting to get the word out about our Teen Advisory Board. The Teen Advisory Board (Ab-TAB) is a group of teens who help plan library programs for teens, as well as recommend materials to add to the Young Adult collection. Ab-TAB is a forum to have their opinions and suggestions heard, expand their leadership skills, and earn volunteer service hours. Ab-TAB meets monthly during the school year, on the third Monday from 6-7:30pm. The next meeting is September 18. Any "teen" in grades 6-12 are welcome to join. No registration necessary, just stop by a meeting to see what it's like! Teens earn service/volunteer hours for their time spent with Ab-TAB. If anyone has any questions, please do not hesitate to contact me at shuff@mclinc.org or 215-885-5180, ext. 147.
Animal Assisted Therapy and Vocational Training

Baltimore County

Come out for a free tour and see how you can utilize an 80 acre farm of opportunities to help motivate your child to succeed and be more independent at home and in the workplace using horse, dog, and occupational therapy services tailored to your child, or your groups specific interests and needs. One mom noted how her children did not sleep before their first occupational therapy session on horseback! After 4 sessions, her daughter gained enough strength, balance, and confidence to ride a two wheeled bike! In addition to hippotherapy services, and therapeutic riding, Taking The Lead, Inc. offers a unique life skills program and a vocational training program overseen by an occupational therapist. Empower your child to be more independent, explore employment, and gain hands on experience with real animals at a working dog and horse training facility, We help your family bridge the gap to meaningful employment. Vocational services include dog training, kennel assistant, vet technician, landscaping, and horse care. The therapist is happy to customize programs for your child's or your group's needs. Schedule a tour and meet the animal team today!
Chick-fil-a

Brookhaven

At Chick-fil-A Brookhaven you can be part of a team and make a difference! You will have the opportunity to work directly for the Operator of the restaurant, gaining business experience while on the job. Benefits include: competitive pay, flexible hours, Sundays off, scholarship opportunities, team events, and growth potential. Chick-fil-A is a great opportunity for people of all ages and backgrounds, and no experience is necessary. We have several homeschoolers on our leadership team!
Financial Services Experience Program at Vigilant, LLC

Chadds Ford

Financial Services Experience Program at Vigilant, LLC Work as an apprentice at Vigilant and kickstart your career in the Financial Field! How it works: If you are homeschooled or cyber schooled and would like to gain work experience without going to college straight away, we have the solution for you! Would you like to be emersed into a financial career and learn hands on if this is a field you are interested in pursuing? We have the Solution! Our Solution: You would work in a financial services role, and we would teach you and train you. We will get you ALL the training you would need! You would work in an apprenticeship type role and if you are interested there is opportunity for partial payment of college level classes. JOB DESCRIPTION Interested in Joining the Multi-Trillion Dollar Investment Management Industry? Join Vigilant Compliance, LLC, an Industry Leading Service Provider! We are based locally in Chadds Ford, PA. Conveniently located near routes 202 and 1. Vigilant is a full-service Investment management Solutions Firm servicing SEC Registered Investment Advisers, Private Fund Advisers, Advisers of Separately Managed Accounts, Registered Investment Companies, Broker/Dealers, Mutual Funds, ETFs, Asset Managers and more! The Financial Associate Apprentice will learn hands-on from Industry personnel various financial and administration servicing functions for Registered Broker-Dealers, Investment Advisers, ETFs, and Mutual Funds. No previous experience necessary. Looking for a motivated individual who wants to learn and begin their professional career in financial services. COMPETENCIES • Must exhibit integrity, professionalism, practical judgement, and a positive attitude at all times. • Basic Knowledge of the Microsoft Office Suite, including Word, Excel, PowerPoint, and Outlook would be helpful. • Ability to understand concepts and solve problems. • Attention to detail. • Communication and organizational skills. • Demonstrated attitude of responsibility. SALARY $33,ooo.ooo per Year 401(k) Matching, Vacation Days, Sick Days, and Competitive Benefits If Interested Please Contact: Kati Singley Director of Marketing Ksingley@vigilantllc.com

Financial Services Experience Program at Vigilant, LLC details
Tradesman Building Group- Now Hiring

Harrisburg

Tradesman Building Group is hiring! We are currently hiring. Many of our employees have been homeschooled. They are some of our best! We are looking for drywall hangers, drywall finishers, and carpenters. No experience is necessary, we will train! We are looking for potential candidates of high moral character, a strong work ethic and looking for a career in the construction industry. You may find out more about us and apply directly at our website www.tradesmanbuilders.com
Kendal at Longwood Activity Department

Kennett Square

The Health Center of a Kennett Square area CCRC is looking for youth to interact with residents in need of nursing care (both Personal Care and Skilled Care). Program includes monthly Integenerational program for a set group of youngsters or teenagers. Interested youth please call and ask for the Kendal Activity Department.
Lebanon YMCA

Lebanon

The Lebanon YMCA has a great opportunity for home schooled children in the Aquatics Department! Certified lifeguards will have the opportunity to serve the public in a safe, caring environment that includes a free Y membership and competitive wages. Certification classes are available periodically. Please inquire if in need of certification.
Clean Juice

Malvern

Grateful, Positive, Significant, Excellent, Respectful, Grinder, Transparent, and Graceful. Always Growing. Do you see yourself in the words above? These words are a summary of the ten core values on which our company is founded. We are teammates looking to grow Clean Juice into one of the most premiere and well known brands in the world, by giving each of our guests the best experiences accompanied by smiles, speed, and impeccable service. If our values and brand resonate with you, take a look below to see if our opportunities sound like a fit for you! Become a Juicerista with us!
Nanny Match, LLC

Pennsylvania and Delaware

Nanny Match is a Christian nanny referral agency that connects families and organizations with reputable childcare providers nationwide. Founded in Philadelphia, their mission is to strengthen families, equip nannies, and empower the next generation. As part of the company's service offerings, parents who homeschool can be relieved of the stress associated with finding assistance and support. Founded on biblical principles, they are committed to bringing families together through the gospel of Christ to achieve personal and relational impact.
AdventureEXP - Philadelphia

Philadelphia

We are a destination work program that offers paid jobs to offset the cost to travel to a cool, new location! We normally work with participants from the ages 18-25! We still have spots available for the Summer and we are looking towards our Fall/Winter locations! Our locations are all across the US and even abroad. I would love to reach out to all homeschoolers to share our program with them.
Pittsburgh Jewish Community Center

Pittsburgh

The JCC offers Lifeguard certification class, volunteer sports classes and fitness opportunities to be utilized for Physical Education credit. We also offer employment in many areas. All applicants must be 16 yrs of age. JCC has state of the art wellness facilities to meet all ages needs in the Physical Education areas.
Schuylkill County Therapeutic Riding Program

Schuylkill County

There are many similar therapeutic riding programs in East Central PA. They are always looking for volunteers, usually ages 14 and over. Horse experience is helpful, but not required. The lesson season typically runs from April through October. Riders have varying physical, mental, and emotional abilities, and equine therapy helps with core strength, social and emotional regulation, etc. Programs are led by Physical or Occupational Therapists. Volunteers perform duties commensurate with their experience and comfort level: tack up, lead, groom, feed, put away horses, side walk to assist rider, etc.
Refreshing Mountain Retreat & Adventure Center

Stevens

Multiple Job Positions Available! Check our website for current open positions. Refreshing Mountain has been providing overnight retreats and outdoor team building activities for over 30 years in Lancaster County, PA. We create exciting, outdoor day adventures for groups including team building challenges, zipline tours, high ropes course, rock climbing and much more. We have several meeting rooms available for conferences or meetings and have catering options in our dining hall. We also host overnight retreats for groups of all sizes, providing lodging, meeting space, activities and recreation.
The Salvation Army

West Chester

Looking for homeschoolers to volunteer at The Salvation Army food pantry ministry outreach program in West Chester. Also volunteer opportunities for Christmas bell ringing and Adopt a Family Gift program. Call: 610-696-8746. The social service and church office is located at 101 East Market Street, West Chester, PA 19380. The men's shelter and homeless feeding program is also located at this address/phone number. A helpful website is www.salvationarmy.org
ASSE International Student Exchange Program

Westmoreland County

ASSE International is a non profit organization that offers outbound and inbound multicultural opportunities for high school school students ages 15-18. The outbound experience is for the American high school student who wants to study abroad in another country for a year. ASSE has scholarship opportunities available for qualifying American students to study abroad for a year. This opportunity is one that needs to be applied for by May of 2019 for the student to Study abroad for the 2019-2020 school year. The inbound opportunity is for International students of excellent character and of high standing in their communities to come to the United States to study for a semester to a year while being hosted by an American family. This is a life changing opportunity for both the student and the host families. Host Families are needed in our area to help host all the ASSE gualified foreign exchange students that hope to arrive at the beginning of this upcoming school year of 2018-2019.
SUBWAY Restaurants

York, Lancaster, Dauphin, Adam

SUBWAY Restaurants has opportunities for students ages 16 and up to work across central PA. We have flexible schedules, free meals, and free uniforms. We offer a positive work environment with no grease, and growth opportunities. It's also easy to apply. Simply scan the QR code on the attached. Or, visit https://apply.mysubwaycareer.com/us/en/