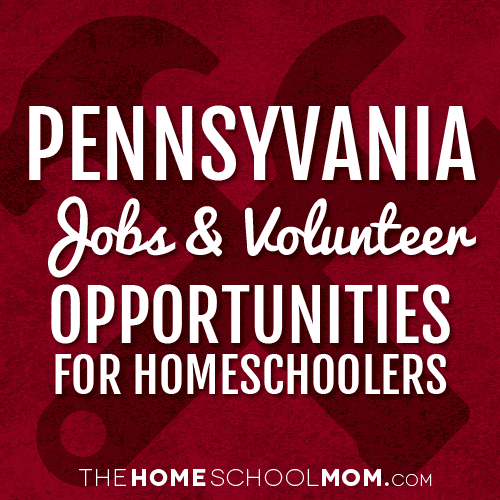 Our listing of Pennsylvania jobs and volunteer opportunities for homeschoolers is ordered alphabetically by city. If you would like to submit a Pennsylvania co-op or academic resource, you may do so using the red button above.
Use the secondary navigation menu above to quickly make your way to pages for Pennsylvania state organizations, local homeschool groups, classes, co-ops, field trips, and more.
Pennsylvania Homeschooling Jobs & Volunteer Opportunities
Jay Vending CompanyHershey
Jay Vending Company is a sub-contracted company that primarily works out of the Hershey Entertainment and Resorts complex (Hersheypark, Hersheypark Stadium, Giant Center, etc) who deals with conces...
Kendal at Longwood Activity DepartmentKennett Square
The Health Center of a Kennett Square area CCRC is looking for youth to interact with residents in need of nursing care (both Personal Care and Skilled Care). Program includes monthly Integenerati...
Job at Chick-fil-A RobinsonPittsburgh
Chick-fil-A Robinson is looking to hire. Looking for home-schooled high school students with a great work ethic. A job at Chick-fil-A Robinson can offer a flexible work schedule, opportunities for ...
The Salvation ArmyWest Chester
Looking for homeschoolers to volunteer at The Salvation Army food pantry ministry outreach program in West Chester. Also volunteer opportunities for Christmas bell ringing and Adopt a Family Gift ...
ASSE International Student Exchange ProgramWestmoreland County
ASSE International is a non profit organization that offers outbound and inbound multicultural opportunities for high school school students ages 15-18. The outbound experience is for the America...