Our listing of Pennsylvania jobs and volunteer opportunities for homeschoolers is ordered alphabetically by city. If you would like to submit a Pennsylvania co-op or academic resource, you may do so using the red button above.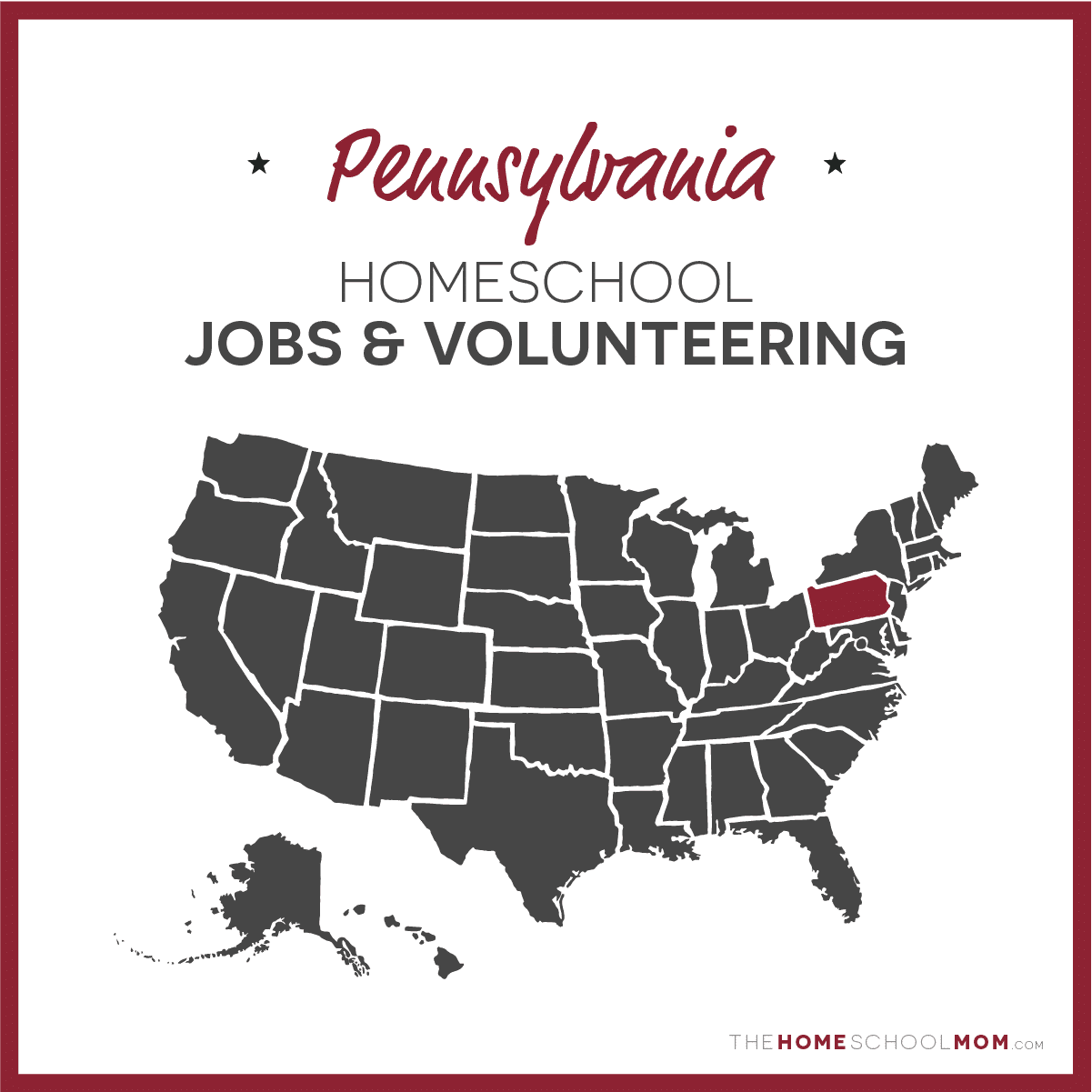 Submit a Local Resource
Animal Assisted Therapy and Vocational TrainingBaltimore County
Come out for a free tour and see how you can utilize an 80 acre farm of opportunities to help motivate your child to succeed and be more independent at home and in the workplace using horse, dog, a... [Read more...]
Financial Services Experience Program at Vigilant, LLCChadds Ford
Financial Services Experience Program at Vigilant, LLC Work as an apprentice at Vigilant and kickstart your career in the Financial Field! How it works: If you are homeschooled or cyber schooled an... [Read more...]
Tradesman Building Group- Now HiringHarrisburg
Tradesman Building Group is hiring! We are currently hiring. Many of our employees have been homeschooled. They are some of our best! We are looking for drywall hangers, drywall finishers, and carp... [Read more...]
Kendal at Longwood Activity DepartmentKennett Square
The Health Center of a Kennett Square area CCRC is looking for youth to interact with residents in need of nursing care (both Personal Care and Skilled Care). Program includes monthly Integeneratio... [Read more...]
Lebanon YMCALebanon
The Lebanon YMCA has a great opportunity for home schooled children in the Aquatics Department! Certified lifeguards will have the opportunity to serve the public in a safe, caring environment that... [Read more...]
Clean JuiceMalvern
Grateful, Positive, Significant, Excellent, Respectful, Grinder, Transparent, and Graceful. Always Growing. Do you see yourself in the words above? These words are a summary of the ten core values ... [Read more...]
Nanny Match, LLCPennsylvania and Delaware
Nanny Match is a Christian nanny referral agency that connects families and organizations with reputable childcare providers nationwide. Founded in Philadelphia, their mission is to strengthen fami... [Read more...]
Pittsburgh Jewish Community CenterPittsburgh
The JCC offers Lifeguard certification class, volunteer sports classes and fitness opportunities to be utilized for Physical Education credit. We also offer employment in many areas. All applicants... [Read more...]
Refreshing Mountain Retreat & Adventure CenterStevens
Multiple Job Positions Available! Check our website for current open positions. Refreshing Mountain has been providing overnight retreats and outdoor team building activities for over 30 years in L... [Read more...]
The Salvation ArmyWest Chester
Looking for homeschoolers to volunteer at The Salvation Army food pantry ministry outreach program in West Chester. Also volunteer opportunities for Christmas bell ringing and Adopt a Family Gift p... [Read more...]
ASSE International Student Exchange ProgramWestmoreland County
ASSE International is a non profit organization that offers outbound and inbound multicultural opportunities for high school school students ages 15-18. The outbound experience is for the American ... [Read more...]
SUBWAY RestaurantsYork, Lancaster, Dauphin, Adam
SUBWAY Restaurants has opportunities for students ages 16 and up to work across central PA. We have flexible schedules, free meals, and free uniforms. We offer a positive work environment with no g... [Read more...]
Go to...