Homeschooling is regulated at the state level, so connecting with local homeschoolers is an important step to start homeschooling in Pennsylvania. Find the Pennsylvania homeschool groups closest to you and get connected with your local homeschooling community, learn about the homeschool requirements in Pennsylvania, and discover the co-ops, classes, sports and arts opportunities, and social get-togethers in your area.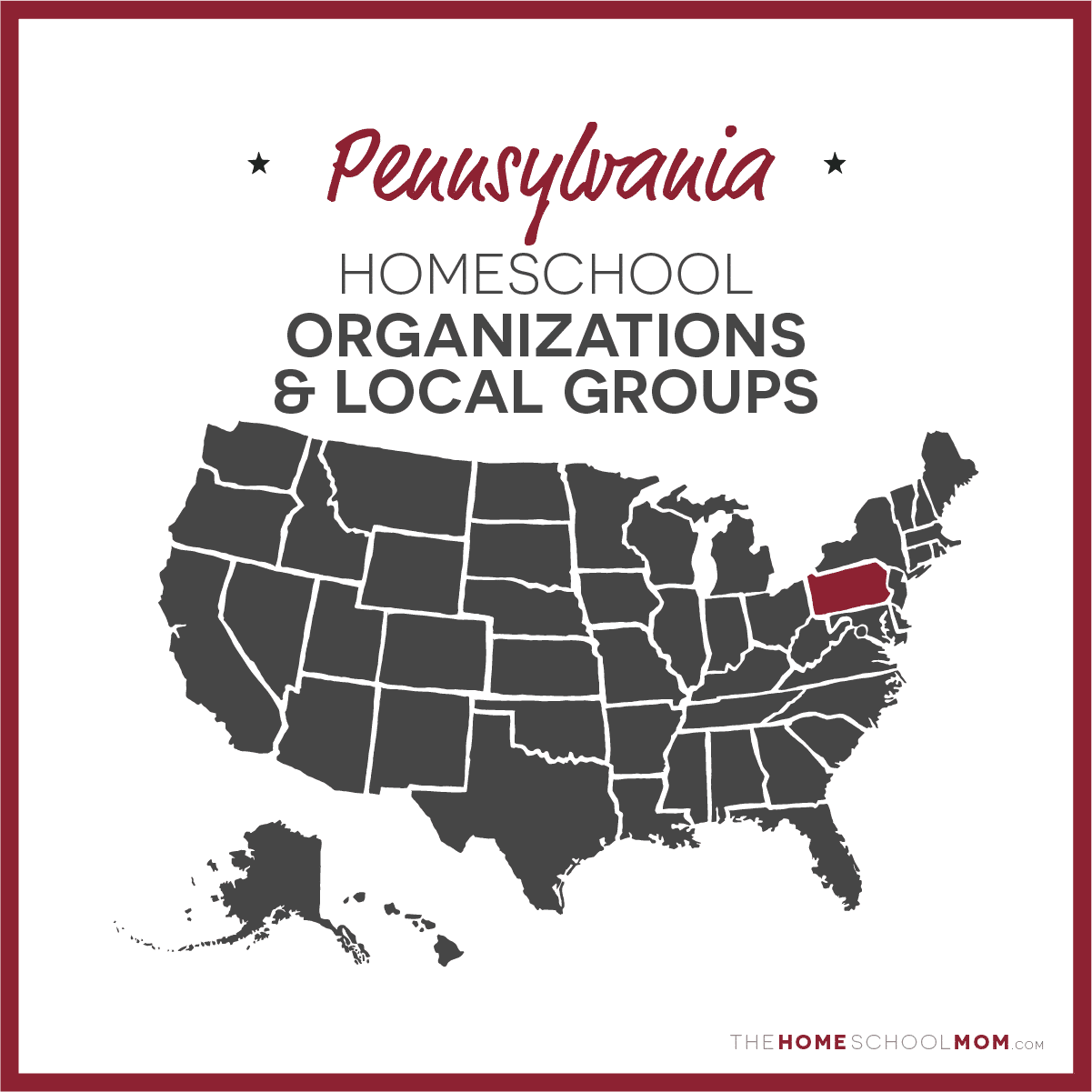 Submit a Local Resource
Jump to: State Organizations | Local Groups
Our listing of Pennsylvania state organizations and local homeschool groups is ordered alphabetically by city, with statewide organizations listed first. If you would like to submit a group, you may do so using the red button above.
Pennsylvania Homeschool Organizations (Statewide)
Coalition of Homeschoolers Across Lancaster Count

Lancaster County

CHALC serves over 800 homeschooling families throughout Lancaster County and its surrounding areas. In addition to publishing a monthly newsletter, the Scrawls, we offer support for homeschoolers in many ways -- providing assistance and resources new homeschoolers, creating a working network to disseminate information of interest to the homeschooling community, and building relationships between home educators. We hope CHALC, as a united fellowship of families, will also help in making a positive impact in the community where we live.
The Christian Homeschool Association of Pennsylvania

Pennsylvania Statewide

CHAP has been helping families since 1986. CHAP hosts the Largest Homeschool Convention on the East Coast. Thousands of homeschooling families have found a wealth of resources, a depth of practical insights through inspiring national & international speakers with hands-on experience at the annual CHAP Homeschool Convention. Fun, encouragement, support and insight are in abundance at the CHAP Homeschool Convention. CHAP also works throughout the year to promote and encourage homeschooling with support groups, co-ops, state educational leaders and legislators around Pennsylvania. CHAP is an acronym for Christian Homeschool Association of Pennsylvania, a nonprofit corporation founded to encourage and support families interested in home education. CHAP assists parents in understanding and fulfilling the laws requirements and is affiliated with several national organizations: the Home School Legal Defense Association, the National Center for Home Education, and the National Alliance of Home Education Leadership. CHAP provides leadership and direction on issues facing Christian homeschoolers on a national and state wide basis.

The Christian Homeschool Association of Pennsylvania details
Catholic Homeschoolers of Pennsylvania

Pennsylvania Statewide

This network serves hundreds of Catholic families in Pennsylvania who are faithful to the Magisterium of the Church & Pope Benedict XVI and who find home education to be their response to the Church's teaching to be the primary educators of their children.
Pennsylvania Local Homeschool Groups
New Horizons Homeschool Group

Adams, Cumberland, Dauphin and York counties

New Horizons Homeschool Group (NHHG) is a diverse, but unified community of Christian homeschooling families who love and support each other as they contribute their time and individual experiences teaching, learning, serving, and growing together. Committed to high academic standards, NHHG offers a full range of classes for students K4/5 - grade 12 every Tuesday for a 30 week school year. More information on classes and fees can be found at www.nhhgpa.com
TEACH-The Educator's Affiliation of Christian Homeschoolers

Adamstown

All of the various activities of our organization begin with our parent volunteers. Every person who participates in the leadership of TEACH is a parent whose child(ren) are participants of the group. We are truly a parent-led entity and the quality of our programming flows from the truth that we are creating something of worth for our own children. We do well because it's personal to us! TEACH has a parent Board which makes sure all the wheels on the bus keep spinning. Meeting every second month, the Board consists of those who lead the various programs listed below along with those who see to administrative tasks. The Board members act as organizational liaisons to the parent volunteers in each program. Programming TEACH runs multiple programs. Members may be involved in as many or as few activities as is appropriate to each family with one caveat- all families are expected to volunteer and contribute to the group. Families may use their gifts in various ways- you may teach or assist in an academic class, baby-sit in the nursery, serve as a coach or assistant in an athletic activity, organize field trips or playgroups: your contribution rises from your abilities and availability! TEACH Co-op Classes, Sports Programs, Cell Group get-togethers and field trips.

TEACH-The Educator's Affiliation of Christian Homeschoolers details
EtCH - Emmaus Christian Homeschool Cooperative

Allentown

EtCH is a small, parent-run Christian co-op offering enrichment classes and activities for homeschool children in the Lehigh Valley. We also support moms with nights out and other social gatherings. Hands-on classes and field trips offered from September through the end of April from 9:15-11:45. Extension classes for middle and high schoolers are offered in the afternoons immediately after EtCH. Large events include: Back to School Picnic, Talent Show, Christmas Party, Family Game Night, and the End of Year Celebration
Sky's the Limit Homeschool Group

Butler

Sky's the Limit Homeschool Group provides a safe, encouraging environment for homeschool or alternate learning families by offering support, resources, and educational opportunities to enrich at home curriculum, cultivate learning and socialization experiences that are positive and promote a growth mindset to further facilitate relationship building, education, and self-confidence. A non- profit home-school cooperative that meets weekly school year-round. (Sept- May) We meet on Tuesdays 9:30-2:30 at the Nazarene Retreat Center in Butler, Pa . We have two classes before lunch and two classes after lunch. Times may vary season to season. We offer different classes each session from Toddler age- middle school. We use outside teachers /professionals when able and are fortunate enough to have several teachers amongst us as parents. A lot of our classes are run by parents. We ask that parents lead classes, assist in classes and volunteer for the cleaning rotation. We have a small nursery that is open various times throughout the day. Classes are academic in nature for enrichment, as well as extracurricular classes. We lean towards mixed learning of instruction/structure, but also tactile, activities, free play and exploration. It is a healthy mix of learning styles. have various art classes, reading classes, outdoor classes, STEM/STEAM, Coding, Music, Gym, History, Math, Pets, Phonics, Literature, Science Creative writing, etc etc. Classes are chose based on need, interest/ requests, and parent ideas.
Franklin & Cumberland County Secular Homeschoolers

Chambersburg

Franklin & Cumberland County, PA Secular Homeschoolers group is a support group for local secular homeschoolers. The group also hosts meet-ups, activities and field trips.
Chester County Homeschoolers

Chester County

An online support group for those homeschooling in Chester County PA. A place to share information, concerns, activities, etc... Many types of posts including religous and sometimes political content.
Clarion County Secular Homeschoolers

Clarion County

This group is for home educators in Clarion County Pennsylvania (and surrounding areas) who use non-religious, secular curriculums and teaching materials. Support is offered via small get-togethers, play-dates, classes, and local outings.
Vine and Branches Homeschoolers Lancaster County

Ephrata

Christian homeschooling families that seek community and shared learning experiences as a supplement to their home-based schooling. We are a co-operative rooted in faith in Jesus and the truths in His Word. We desire this group to help homeschooling families abide in Jesus, bringing Him glory and bearing good fruit. We currently offer 2 Wednesday learning periods for preschool through high school: 1 classroom-based period and 1 period for physical education. Nursery care is provided for infants and toddlers while parents are serving. There is also a short group devotion time and shared lunch together. We meet approximately 10 weeks in Autumn and Spring. All families who apply for membership must affirm our Biblically based Statement of Faith as well as our Code of Honor. Each family must be homeschooling at least one child with an affidavit on record with their school district here in PA confirming home schooling status OR that their children are under the private tutor provision. Once accepted, families pay annual and bi-annual dues.
Classical Christian Community of Erie

Erie

A group of homeschooling families that come together once a week in Northeast PA for the purpose of educating and and encouraging our students in the process of "learning how to learn." Our classes are structured according to the classical approach which utilizes the strengths of each "age and stage." Currently. we serve students K4 through middle school. In addition to our weekly community days,, we offer field trips, social gatherings, and group standardized testing.
Mason-Dixon Homeschoolers Association

Franklin County Pennsylvania and Washington County Maryland

Serves homeschool families in Franklin County Pennsylvania, Washington County Maryland, and surrounding areas. We offer co-op classes, support groups, field trips and much more.
Harrisburg Area Homeschoolers Association (HAHA)

Harrisburg Area (Cumberland, York, Perry, Dauphin and Lancaster Counties)

Over 25 years ago, Harrisburg Area Homeschoolers Association was founded on Christian principles. Motivated by that foundation, we continue to serve as a year-round ministry to support and encourage home educating families and groups in a five-county area surrounding Harrisburg, Pennsylvania as they pursue a uniquely tailored educational path for their children.
Reasonable Homeschooling

Hazleton Area, Luzerne County

Flexible monthly parent meetings in homes for mentoring and fellowship.
CHALC- Support Groups

Lancaster

Support groups are organizations which may provide parent support meetings, family programs, field trips, kids clubs, and/or social activities- CHALC suggests that you join a support group that will enhance your homeschooling experience.
Conestoga Valley Homeschoolers

Lancaster

A Christian homeschool organization that believes God has brought us together to encourage us as we homeschool our children. We provide opportunities for our children to socialize and interact with other homeschool families. We also provide support and prayer for our families through various activities, meetings, fellowship, and field trips. Conestoga Valley Homeschoolers' co-op meets 10 weeks in the fall and 10 weeks in the winter/spring on Thursdays at the Lancaster Alliance Church. The co-op days are divided into three 45-minute periods. Classes are taught on a volunteer basis by our parents. All members are required to serve as a helper/sub during two of the three periods, except teachers who only serve one period.
Cornerstone Lower Tier

Lancaster

Cornerstone Homeschoolers exists to provide a supportive Christian community for homeschooling families. Cornerstone Lower Tier serves families with children in nursery – 8th grade with enrichment classes, gym, choir, field trips and opportunities to fellowship in a Christian environment. We meet for eight weeks in the fall and eight weeks in the spring. All participating members are expected to serve by monitoring, teaching and cleaning.
Treasures of Grace

Lancaster

The mission of Treasures of Grace Educational Home School Association is to support the member home-schooling families through friendship development, encouragement, and prayer; and to provide an opportunity for students to explore subjects which are best experienced in a group setting.

Treasures of Grace meets bi-monthly for a total of 16 weeks of co-op.
Co-op time is from 9:30-12:30.
We offer classes for nursery through high school.
Members pay an annual fee.
We meet on Tuesdays at Lancaster Alliance Church, 210 Pitney Road, Lancaster, PA.
JBY Academy Homeschool Group

Lehigh Valley

JBY Academy is a new homeschool group infused with the performing and creative arts. We serve families in Lehigh Valley, Pennsylvania; which includes the cities of Allentown, Bethlehem, and Easton. Plus, surrounding areas. JBY Academy is designed with diversity in mind. The group fosters a sense of inclusion and celebrates diversity through events and activities that will help children learn about and explore various cultures. JBY Academy meetups are infused with the creative arts to help students enhance and enjoy the learning experience. To become a member of JBY Academy please visit the website. JBY Academy is a faith-bashed homeschool group that has so much to offer homeschool families from all walks of life. Rooted in spiritual principles and guided by core values JBY Academy strives to bring forth harmony and unity to the homeschool community at large. There's something for every homeschooler; including, in-person meetups, field trips, performances, hybrid classes, and an after-school program. JBY Academy started in 2013 as a division of the mentoring, production and training organization Just Be You Performing Arts. Visit the website for more details on how to join JBY Academy.
Lititz Home Educators (LHE)

Lititz

Lititz Home Educators (LHE) is a Christian field trip community that is open to any home-schooling or cyber-schooling family from the Lancaster area. LHE is a unique alternative to a weekly co-op.  It allows you to be connected to other homeschoolers without a weekly time commitment and many members use it in addition to a typical co-op as it provides enrichment opportunities that you can pick and choose from that interest your family and suit your schedule.
Manheim Area Christian Homeschoolers

Manheim

We are a 28 week, academic co-op where your child will receive all the necessary instruction for science and history, as well as writing and literature for upper classes.  Your child will enjoy class interaction and learn to be responsible to another teacher.
Tapestry of Friends Christian Homeschool Network

Manheim

Tapestry of Friends is a diverse group of Christian homeschooling families with various denominational backgrounds.  We come together in an enjoyable unity by focusing on what we have in common - our love for the Lord Jesus & the ministry He's given us to homeschool our kids.  Our desire is to build & nurture caring relationships & we've been told that our atmosphere is friendly & warm.  Our families come from Berks, Lancaster, & Lebanon counties.
Juniata County Christian Homeschoolers (JCCH)

McAlisterville

A Christian support group who provides opportunities for Christian fellowship and support for parents in the endeavor of homeschooling as well as educational opportunities for the school age children.
Pike Christian Homeschool Connection (PCHC)

Milford

Pike Christian Homeschool Connection is a Christ-centered home educating support group ministering to families in North East PA. PCHC offers a weekly co-op, support group, and special events for homeschooling families.
Homeschoolers of Eastern Montgomery County PA

Montgomery County

An inclusive support group for all homeschoolers, unschoolers, and cyberschoolers in Eastern Montgomery County Pennsylvania and surrounding areas. Join us and connect with other families, plan play dates and field trips, and share educational information with other members.
North Penn Homeschoolers

Montgomery county, North Penn School District and surrounding area

The group is open to homeschooling families in the North Penn school district and surrounding areas looking to connect with other homeschoolers for support, fun, activities and building friendships and community. Our mission is to create a community for North Penn homeschoolers and a way for members to connect and share outting, ideas and events
Family Instructor of the North Suburbs

North Pittsburgh Area

A support group for home educators in the northern suburbs of Pittsburgh A Christ-centered group of home educators who wish to support and encourage one another. An inclusive group and invite all to participate. There is not a membership fee. Sponsor events, activities, and field trips as well as answer questions and provide other helpful information. Believe a support group should be more than just an email list. Offer the HSLDA group membership discount.
Northumberland County Homeschoolers

Northumberland County

Our mission is to work together as a team to educate our children in a Godly manner. Homeschooling can be as fun as you make it! We are all in this together and share the same cause of teaching our children values, ethics, and to learn and grow together as one. Everyones ideas are always welcomed.
Oxford Christian Academy

Oxford

The purpose of Oxford Christian Academy is to provide a safe place for moms and kids to create lasting, meaningful relationships, have fun learning together, and to grow in our Christian faith while praying and encouraging each other in our journeys. We are a Christian group of home educators in Southern Chester County, PA. The majority of our students currently range from Kindergarten to middle school. We typically meet 1-2 times a week for art, music, educational field trips, fun days, clubs, and sports. We also have moms nights out to fellowship together. OCA events are organized by parents - each family is expected to contribute to planning and assisting with field trips, events, parties, etc... throughout the year.
CHAP Support Groups

Pennsylvania Statewide

Select a county to search
CHAP

Pennsylvania Statewide

Christian Homeschool Association of Pennsylvania
Eclectic Learning Network

Philadelphia

Eclectic Learning Network is a resource that creates programs, workshops, events, field trips and more supporting homeschool families in the Philadelphia and surrounding area. Eclectic Learning Network is dedicated to assisting homeschool families in developing methods of ingenuity while supporting interest-driven learning experiences.
Classical Conversations Northeast Philadelphia

Philadelphia

Classical Conversations is a Christian homeschool program created by parents for parents. We meet weekly covering English, Math, Latin, History,Geography, Science and Fine, Arts. We work together to provide classes, field trips and other activities throughout the year. Contact us to learn more!
North Hills Christian Homeschoolers

Pittsburgh

An organization of Christians in the North Hills area of Pittsburgh, Pennsylvania who are personally committed to the home education of their children.
PALS Pittsburgh

Pittsburgh

PALS, which stands for People Always Learning Something is an eclectic, parent-run group of secular homeschoolers who run two 13-week sessions per year of enrichment classes, primarily taught by parents in our group.
Classical Homeschool Community of Shrewsbury (CHC)

Shrewsbury

Welcome to Classical Homeschool Community of Shrewsbury! We are a Christ-centered classical homeschool community that meets once a week during the school year. Our purpose is to encourage and equip families in classical home education by providing classes that focus on the truth, beauty, and wonder of our creator God. Our mission is to provide homeschooling families a Christ-centered community where hearts and minds are nurtured and guided to think critically, reason clearly, and communicate effectively all while cultivating a love of learning. We aim to accomplish this by exposing children to a vigorous (rather than rigorous) academic environment that fosters godly relationships and balances diligence with delight.
S.E.E.K Co-op

Sinking Spring

The acronym S.E.E.K. stands for Support, Encouragement, and Education for the Kingdom. We are a homeschool support group that also has a co-op which meets for classes on Fridays, September through April/May.
Kingdom Homeschool Services

Stevens

This is a homeschool educational service that is meant to develop spirit-filled students who can not only complete the required core subjects and earn school credits but also, learn, practice, and use their spiritual gifts and how to become and make disciples. All students will engage in grade-level class discussions, worship, projects, and services that lead to planning and discerning how to expand the Kingdom of God. Students will become active seekers of opportunities to reach the lost, and serve their communities.
Perry County Homeschoolers

Thompsontown

A Christian, non-profit, volunteer ministry committed to giving information, guidance, support and encouragement to homeschooling families in Perry County and neighboring counties.
Love First Homeschool Inc

Washington County

We are an organization of homeschooling families who gathers with each other to give our children opportunities to engage in academic and social learning with each other. We meet weekly on Monday where our children have classes determined and designed by the families who attend. The year is divided into two semesters. Classes can be set up as a semester class or year long class. We have classes for preschool, age 4, through 12th grade. This organization has an all-hands-on-deck approach. Parents will either teach or help with classes. We also have a nursery for siblings for babies through age 3. We go on outings and field trips together. We have dances, events, job shadowing opportunities, and even yearbooks. Our children often make life long friendships. We meet every Monday during the school year from 9:15 am - 12:50 pm.
Classical Civitas

West Chester

The mission of Classical Civitas is to serve and support homeschool families by facilitating classical Christian homeschool programs. Our members have access to community, classes, field trips, and educational development opportunities. As part of a one-day-a-week community day that meets at Meadowcroft Presbyterian Church in West Chester PA, Classical Civitas hosts student classes on Wednesdays that are classical and diverse in nature and taught from a Biblical World View. Primary grades meet for 28 weeks while secondary grades meet for 30 weeks out of the school year. Being a true co-op, every parent has a role and participates in facilitating our community day. We follow a four-year learning cycle in history and science from PreK-12th allowing families to study topics together at home and scale across all ages. We also include the cycle memory work from Claritas Publishing in grades 1st-6th. Memory work is taught at home and then classes are used to extend their knowledge in a fun, creative, integrated, and meaningful way. A shared curriculum is used in some grade-specific classes offered from 3rd-6th. Tutors of these classes guide class discussions and activities as well as assign work for the week. As the lead teachers in their homeschool, parents support their students at home through accountability, scaling, and grading when needed. In 7th through 10th grade, every class is run this way with a shared curriculum guided by a tutor and parental support at home.
NJPA Homeschool Collective

Willingboro

All families are welcome- not just moms! Preschool-only families are welcome as well but, please note that the group will cater mostly to those with school-aged kids. Regular playdates and events will be posted and members are encouraged to post their own local-to-them events as well! If you want to post an event, message me so I can add you as an Event Organizer, as Meetup doesn't allow all members to post events. Be sure to check the Events Tab regularly so you don't miss anything!
York Home School Association, Inc.

York County

YHSA is a Christian support group located in York, Pennsylvania. The mission of YHSA is to encourage excellence and integrity in home schooling. YHSA exists to serve the interests of parents educating their children at home under Act 169, the Pennsylvania Home Education Law of 1988. YHSA is a volunteer run ministry. Through the involvement and effort of all of its member families, YHSA can provide encouragement and resources for families, assist new home schoolers, and provide academic and social interaction with other parents and children with similar concerns and educational goals.