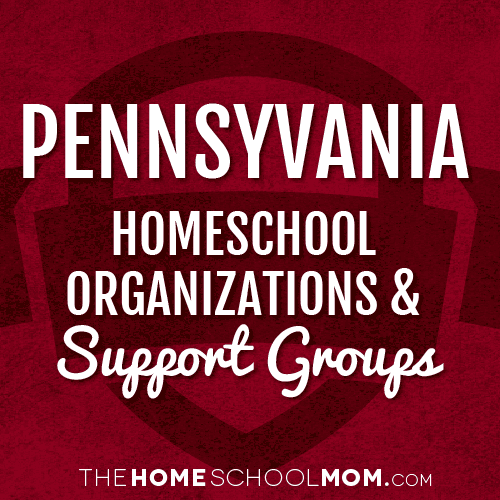 Since homeschooling is regulated at the state level, connecting with local homeschoolers is an important step to start homeschooling in Pennsylvania. State homeschool organizations and local homeschool groups are not just a good place to learn the specifics of legally homeschooling in Pennsylvania—they can also help you to get connected with the local homeschooling community. Many homeschool groups offer co-ops, classes, sports and arts opportunities, and social get-togethers.
Our listing of Pennsylvania state organizations and local homeschool groups is ordered alphabetically by city, with statewide organizations listed first. If you would like to submit a group, you may do so using the red button above.
Use the secondary navigation menu above to quickly make your way to pages for Pennsylvania state organizations, local homeschool groups, classes, co-ops, field trips, and more.
Pennsylvania Homeschool Organizations
Coalition of Homeschoolers Across Lancaster CountLancaster County
CHALC serves over 800 homeschooling families throughout Lancaster County and its surrounding areas. In addition to publishing a monthly newsletter, the Scrawls, we offer support for homeschoolers i...
The Christian Homeschool Association of PennsylvaniaPennsylvania Statewide
CHAP has been helping families since 1986. CHAP hosts the Largest Homeschool Convention on the East Coast. Thousands of homeschooling families have found a wealth of resources, a depth of practical...
Catholic Homeschoolers of PennsylvaniaPennsylvania Statewide
This network serves hundreds of Catholic families in Pennsylvania who are faithful to the Magisterium of the Church & Pope Benedict XVI and who find home education to be their response to the Churc...
Pennsylvania Local Homeschool Groups
MD_DC_VA_EducatorsBaltimore-Washington Metropolitan area, Hampton Roads (Tidewater) Virginia, Delaware and Pennsylvania.
This groups exists to create an online forum to share resources, activities, ideas, and support among the homeschooling community to include the Baltimore-Washington Metropolitan area, Hampton Road...
Blair County Area Homeschoolers' NetworkBlair County area
We are a local discussion and support group. We share ideas and organize local activities and trips.
Butler PA HomeschoolButler County
A group for homeschoolers/unschoolers of Butler County Pennsylvania!! Please join in and discuss our kids, programs, ideas and suggestions..Welcome!!
Chester County HomeschoolersChester County
An online support group for those homeschooling in Chester County PA. A place to share information, concerns, activities, etc... Many types of posts including religous and sometimes political content.
Home School of Chester County PAChester County
Secular, completely inclusive, unmoderated, free flow of information and dialog for current and potential home schoolers and families in Chester County and surrounding areas of Pennsylvania, near P...
Clarion County Secular HomeschoolersClarion County
This group is for home educators in Clarion County Pennsylvania (and surrounding areas) who use non-religious, secular curriculums and teaching materials. Support is offered via small get-togethers...
Cranberry Christian HomeschoolersCranberry Township
CCH is a Christian homeschool support group centered in Cranberry Twp., PA
Delco-homeschoolDelaware County
This group is for homeschoolers in Delaware County (and those considering homeschooling) to post information about upcoming events, opportunities, and concerns in our area. The group is open to all...
Mason-Dixon Homeschoolers AssociationFranklin County Pennsylvania and Washington County Maryland
Serves homeschool families in Franklin County Pennsylvania, Washington County Maryland, and surrounding areas. We offer co-op classes, support groups, field trips and much more.
Harrisburg Area Homeschoolers Association (HAHA)Harrisburg Area (Cumberland, York, Perry, Dauphin and Lancaster Counties)
Over 25 years ago, Harrisburg Area Homeschoolers Association was founded on Christian principles. Motivated by that foundation, we continue to serve as a year-round ministry to support and encourag...
Reasonable HomeschoolingHazleton Area, Luzerne County
Flexible monthly parent meetings in homes for mentoring and fellowship.
CHALC- Support GroupsLancaster
Support groups are organizations which may provide parent support meetings, family programs, field trips, kids clubs, and/or social activities- CHALC suggests that you join a support group that wil...
INCH of Lebanon CountyLebanon County
Welcome to Inclusive Nontraditional Cooperative Homeschoolers* of Lebanon County, PA! We are an eclectic group who home educate for a variety of reasons. We are made up of diverse backgrounds, reli...
Hazleton Area HomeschoolersLuzerne County
The purpose of HAH is to nurture a Christian home education support system based upon the Bible and to provide encouragement and support to Christian families who file under the PA Act 169 of 1988 ...
Eastern Montgomery County PA HomeschoolersMontgomery County
This group is for homeschoolers in Eastern Montgomery County and surrounding areas. It is a place to share information on homeschooling. Share field trips, classes, resources, links, meetings, ques...
North Penn HomeschoolersMontgomery county, North Penn School District and surrounding area
The group is open to homeschooling families in the North Penn school district and surrounding areas looking to connect with other homeschoolers for support, fun, activities and building friendships...
Allekiski_christianhomeschoolersNorth eastern Allegheny County
Support group offering weekly meetings and monthly field trips for the homeschooling family. Also offers outside events and information on free resources.
Family Instructor of the North SuburbsNorth Pittsburgh Area
A support group for home educators in the northern suburbs of Pittsburgh A Christ-centered group of home educators who wish to support and encourage one another. An inclusive group and invite all t...
Northumberland County HomeschoolersNorthumberland County
Our mission is to work together as a team to educate our children in a Godly manner. Homeschooling can be as fun as you make it! We are all in this together and share the same cause of teaching o...
CHAP Support GroupsPennsylvania Statewide
Select a county to search
CHAPPennsylvania Statewide
Christian Homeschool Association of Pennsylvania
Central Philadelphia HomeschoolersPhiladelphia
Families committed to growing along unique and individual paths, and interested in sharing that experience with other families.
Eclectic Learning NetworkPhiladelphia
Eclectic Learning Network is a resource that creates programs, workshops, events, field trips and more supporting homeschool families in the Philadelphia and surrounding area. Eclectic Learning Ne...
Family Instructors of the South HillsPittsburgh
FISH provides information, inspiration, and support for Christian home school families in the South Hills of Pittsburgh. FISH meets once a month on the third Monday at 7:15 p.m. in Mt. Lebanon, PA.
North Hills Christian HomeschoolersPittsburgh
An organization of Christians in the North Hills area of Pittsburgh, Pennsylvania who are personally committed to the home education of their children.
People Always Learning SomethingPittsburgh
A discussion list for the members of the PALS homeschooling group
PCHEC Pocono Christian Homeschool Education CenterStroudsburg
Academic Co-Op meets Tues from Sept to May includes Biology, Chemistry, Physics, Anatomy/Phyiology, Algebra, Geometry, Art, English Comp, US History, World Literature, Sew, Spanish, and more...
York Home School Association, Inc.York County
YHSA is a Christian support group located in York, Pennsylvania. The mission of YHSA is to encourage excellence and integrity in home schooling. YHSA exists to serve the interests of parents educa...