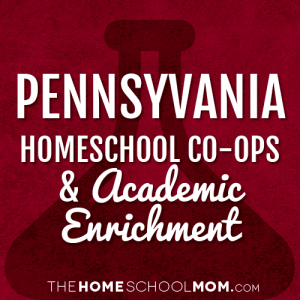 Our listing of Pennsylvania co-ops and academic classes for homeschoolers is ordered alphabetically by city, with co-ops in the first section and all other academic resources below. If you would like to submit a Pennsylvania co-op or academic resource, you may do so using the red button above.
Use the secondary navigation menu above to quickly make your way to pages for Pennsylvania state organizations, local homeschool groups, classes, co-ops, field trips, and more.
Pennsylvania Homeschooling Co-ops
Plants and Pillars Homeschool Co-opBeaver Falls
Plants and Pillars Homeschool Co-op is a Christian homeschool group designed to provide cooperative learning experiences for the Beaver County homeschool community to students in grades PK through ...
Fireside AcademyBethlehem, Allentown, Easton, Lehigh Valley, Northampton, Bucks, Carbon, Monroe
Fireside Academy is a community of homeschoolers that meets every Tuesday from September through May to engage in academic and enrichment classes. Fireside offers classes for Pre-K through 12th gra...
Butler Home Education NetworkButler
Butler Home Education Network is an inclusive, secular home education co-op serving families in Butler, PA (and surrounding areas).
Christiana Homeschool AcademyCarroll County, Frederick County, Baltimore County, Westminster,
Christiana Homeschool is an ecumenical 'co-op' that uses the classical model of education and meets two days a week. Parents provide home instruction the remaining days. Christiana Homeschool is a...
Innovate AcademyChadds Ford
Homeschool co-op located in Chadds Ford has 50% off scholarships!Innovate Academy is a unique learning community whereby like-minded parents, mentors, and local leaders are committed to the s...
Providence Hybrid AcademyLehigh Valley
Providence Hybrid Academy is a hybrid learning program that integrates the benefits of classroom learning with the independence of schooling at home. This approach prioritizes social development th...
Davisville Homeschool ConnectionPhiladelphia
Students meet at Davisville Church in Southampton (near Philadelphia) on Tuesday mornings from 9:15am - 1:45pm. (10 weeks in the fall and 10 weeks in the spring - actual times may vary slightly). T...
Claritas Classical AcademyPhiladelphia/Main Line
Claritas is a homeschool hybrid program meeting two days per week in Bryn Mawr, PA. This comprehensive program serves Philadelphia-area homeschool families and their pre-K through high school stude...
PCHEC Pocono Christian Homeschool Education CenterStroudsburg
Academic Co-Op meets Tues from Sept to May includes Biology, Chemistry, Physics, Anatomy/Phyiology, Algebra, Geometry, Art, English Comp, US History, World Literature, Sew, Spanish, and more...
Pennsylvania Homeschooling Classes & Academic Enrichment
Plants and Pillars Homeschool Co-opBeaver Falls
Plants and Pillars Homeschool Co-op is a Christian homeschool group designed to provide cooperative learning experiences for the Beaver County homeschool community to students in grades PK through ...
Omega Learning CenterBentonville
Omega Learning Center at South Hills provides AdvancED accredited tutoring and test prep programs with certified teachers in Bridgeville, PA and Allegheny County for all K-12 school subjects. Omega...
Fireside AcademyBethlehem
Fireside Academy provides Lehigh Valley homeschoolers and cyberschoolers opportunities to participate in cooperative, enriching, group learning experiences. We offer engaging learning experiences i...
Holden Home School ConsultingBucks
Successfully Educate Your Children at Home! Theresa and Sanford Holden offer Testing, Evaluation, Curriculum Design, and Tutoring services to Pennsylvania and New Jersey residents who are currently...
STEMgirlz TechshopsBucks County
Free Techshops for middle school girls. STEMgirlz Techshops is located in Bucks County, and supported by Bucks County Community College and local branches of AAUW (American Association of Univers...
Classical Conversations of Cranberry TownshipButler/Cranberry Township
Did you know these great thinkers were educated classically: CS Lewis, Thomas Jefferson, Aristotle, Issac Newton to name a few?Classical Conversations believes that children are a gift from the...
Smart Spot Educational Services, LLCCoopersburg
"Getting Ahead or Catching Up, Where remarkable outcomes happen"Tutoring for students with and without special needs. Focus on true mastery of foundation skills PK-8th grade. Reading Writing M...
Valley Family TherapeuticsCoopersburg/Lehigh County
Valley Family Therapeutics specializes in OT, ST, and PT. Providing outpatient services in the clinic, as well as equine therapy and home based therapy. Launching a social skills group for children...
National Institute for Learning DevelopmentDelaware and Chester County
NILD Educational Therapy stimulates areas of weakness in perception and cognition to function effectively through individualized, intensive, interactive stimulation producing independent learners i...
Delaware County Community CollegeDelaware County
High School Dual Enrollment classes for homeschooling students. For more information, contact: Katie Horn at khorn5@dccc.edu or 610-325-2791 or visit www.dccc.edu/highschool
Civil Air Patrol Delaware County Squadron 1007Delaware County
Civil Air Patrol's cadet program transforms youth into dynamic Americans and aerospace leaders through a curriculum that focuses on leadership, aerospace, fitness and character. As cadets participa...
Historical PerformanceDelaware, Maryland, and Pennsylvania
A Historical Interpreter from Philadelphia, Dr. Daisy Century performs a one woman show of seven historical women like Bessie Coleman, Harriet Tubman, and Sojourner Truth. Contact Dr. Century throu...
Minds in MotionDoylestown
"Minds in Motion" is a enrichment program that uses elements of yoga and kinesis to teach real life skills like perseverance, mentoring, mindfulness, motivation, problem solving, trust, communicati...
Classical Conversations of ErieErie
A classical Christian community offering weekly classes for k4- high school. Foundations (K4-6th grade). Morning class consisting of fun weekly memory work, fine arts project, science experiment, a...
Cornerstone Educational CommunityFranconia
Cornerstone Educational Community offers core subject classes and electives from a Christian worldview taught by qualified teachers for students grades 7th-12th. Core subject classes include Litera...
Adventure in Fun Exotic animal showGettysburg
At Adventure In Fun! Bringing fascinating animals directly to you! These shows are a fun & educational experience designed to educate and encourage people to engage and interact with nature around...
LMCAGreensburg
A homeschool learning center that offers classes twice a week for homeschooled students in grades 1-11 (12th grade in 2017). Current course offerings include: IEW writing, history, science, literat...
CornerstoneLancaster County
Cornerstone Upper Tier classes are offered for middle and high school home school students from September-April (30 weeks) with some one semester classes.
MonticellusLancaster County
From a Christian, reformed, and classical vantage, Monticellus offers courses in maths, sciences, and great books to aid parents in the instruction of their children. Tutor Seminars are held two da...
Providence Hybrid AcademyLehigh Valley
Providence Hybrid Academy is a hybrid learning program that integrates the benefits of classroom learning with the independence of schooling at home. This approach prioritizes social development th...
Providence Hybrid AcademyLehigh Valley
Providence Hybrid Academy exists to meet the needs of parents who want the best of private schooling and the best of homeschooling. Students in K-2nd grade are dropped off on campus for a full rang...
Why America Is FreeLigonier
Fort Ligonier is excited to offer 4th-8th grade home school students the opportunity to participate in an in-depth, hands-on study of the 18th century. This learning experience will cover the Fren...
Audrey Barto, Math Tutor and TeacherLititz
An experienced, certified math teacher is available for middle and high school math instruction, tutoring, and SAT test preparation. Can also provide teacher support services, such as grading, less...
Media Youth Film Initiative (MyFi)Media
Has your child ever wondered what it is like to write a film script, create a storyboard, perform in front of a camera, direct actors, light a set, or put it all together in an editing program? Wh...
Appalachian GeoSTEM GeoCampMorgantown
The United States Geological Survey and the West Virginia Geological & Economic Survey have teamed up with West Virginia University to initiate the Appalachian GeoSTEM GeoCamp this summer. High...
Literary AdventuresMorgantown
Literary Adventures is offering reading enrichment classes July 10-19, (Tue./Wed./Thur.) at the Chestnut Ridge Church, Morgantown WV 26508. The session has six classes for 150$.Students can ch...
Miss. Erica's Study RoomNorth Hills Pittsburgh Area
Miss. Erica's Study Room is an open session study hall where parents can drop off their children while to complete their regular school work. Tutors are available to teach intentional focus, readi...
Pennsylvania Classical ConversationsPennsylvania Statewide
CC is a national homeschooling program that uses a Bible based curriculum taught in a christian, classical tradition. Classes are geared for age 4 through high school.
The Franklin Institute Discovery CampPhiladelphia
The Franklin Institute Science Museum offers an 11-week summer Discovery Camp made up of one- and two-week sessions. Youngsters may enroll in as many sessions as desired. In addition, the Institute...
Mighty Writers NorthPhiladelphia
BlogAcademy for Philadelphia Students Ages 13-17 on Wednesdays, 1:30pm-3:00pm Jan 11 - June 14, 2017 (ongoing) This workshop will take place at 2123 N. Gratz Street. Blogging isn't just typing wor...
Japanese House and Garden Summer CampPhiladelphia
Shofuso Japanese House and Garden in West Fairmount Park offers a five week arts and culture enrichment camp. Youth can be enrolled in one week or all weeks depending on interests. For more informa...
Multi-Sensory Reading TherapyPhiladelphia
Language to Literacy LLC provides reading consultations and specialized reading interventions, including multi-sensory approaches (Wilson Reading System & Orton-Gillingham) to literacy, remedia...
Philly CoderDojoPhiladelphia
Philly CoderDojo (PCD) was started as a local CoderDojo to serve students in Philadelphia areas. CoderDojo is an open source, volunteer led international movement of free computer programming clubs...
GEZ: Girls Empowerment ZonePhiladelphia area
GEZ is a 501(c)3 PA nonprofit program for ages 7-14. The President of this organization homeschools her children and knows that the program impact on today's young ladies.The GEZ program offers...
ACE MentorPittsburgh
ACE mentor is a mentoring program for High School aged students that are interested in Architecture, Construction or Engineering. This program is free and runs from October to May every year. The s...
Our Lady of Perpetual Help Resource CenterPottstown and Malvern
The L.P.H. Resource Center classes are intended for Catholic homeschoolers, but are open to everyone, whether homeschooled or not.
Skidmore Pre-College ProgramSaratoga Springs
Skidmore's Pre-College Program is a summer college credit-bearing experience for motivated students who share a common interest in preparing for college success. Experience new people, places and i...
Newave StudiosScranton
Newave Studios offers a multitude of enrichment courses. Art class includes: Painting, sculpting and illustration. Textile class includes: hand sewing, knitting, dying fabrics and machine sewing. R...
Karen A. Lilly TutoringSpringfield
All ages and grade levels. Tutoring services also available in SAT essay prep, piano lessons, music classes, vocal coaching, voiceovers, and piano accompaniment for soloists, church services, thea...
Tutor DoctorState College
Tutor Doctor takes a comprehensive approach to learning by pairing each student with a tutor handpicked to fit their personality, learning style, and educational goals. By working together, tutors ...
Plus Plus Tutoringvarious locations Statewide
Plus Plus Tutoring offers private personal K-12 one-on-one in-home tutoring services. Plus Plus Tutoring offers subject tutoring, exam and test preparation, homework help, organization skills, stud...
Homeschool Day at the American Helicopter Museum & the Brandywine Redclay AllianceWest Chester
Homeschool Day 10/19/2018 Friday, October 19, 2018 - 11:00am to 3:00pmThe Museum will host Homeschool Day on Friday, October 19, between 11:00 a.m and 3:00 p.m. This is an opportunity for fami...
Girls in Science & Technology (GIST)West Chester
A 10 week science enrichment curriculum for girls in grades 3-12. Participants learn science through hands-on experiments/activities conducted by female college students majoring in STEM (science, ...
Home School DayWest Chester
Join us at the American Helicopter Museum on Monday February 18 for a day of hands-on learning designed for homeschool families. Between 10:00 AM and 3:00 PM, the American Helicopter Museum & E...
Tutoring Club of WilmingtonWilmington, Delaware
Tutoring Club will help your child on their way to success regardless of their skill level. Whether your student needs help with the fundamentals, math, reading, writing, or even SAT & ACT Prep...
Susan P. Byrnes Health Education CenterYork
A health education center in the Mid-Atlantic providing curriculum and education outreach programs on nutrition, bullying, student drug use, self-confidence, hygiene and other health related topics...