Jump to: Homeschool Co-ops | Homeschooling Classes & Academic Enrichment
Looking for someone to teach physics to your teen? Need a way to avoid teaching algebra? Want to enroll your Kindergartener in a co-op for social time? Homeschool classes and co-ops are a great way to spend time with other homeschoolers and skill-share with other homeschool parents.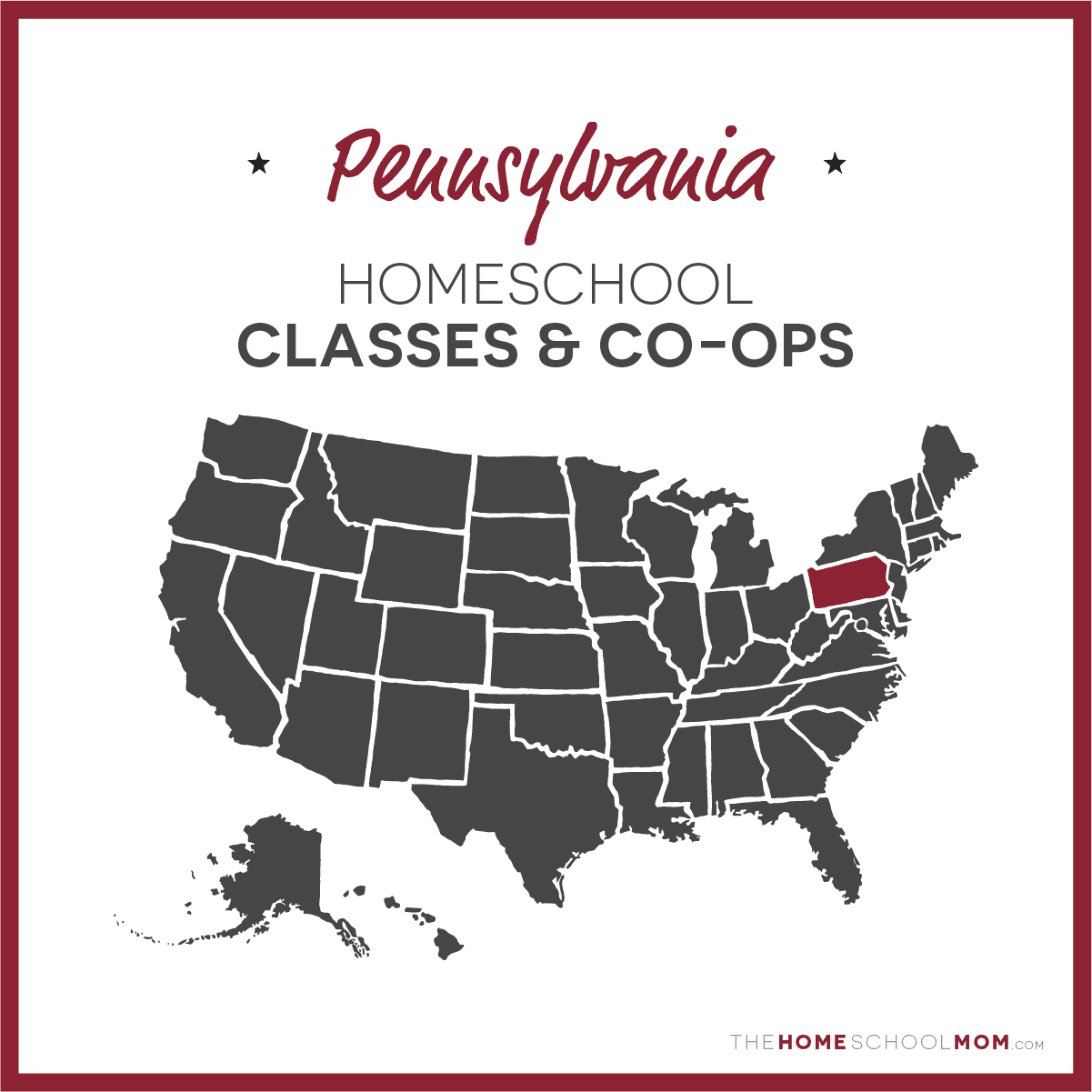 Submit a Local Resource
Our listing of Pennsylvania co-ops and academic classes for homeschoolers is ordered alphabetically by city, with co-ops in the first section and all other academic resources below. If you would like to submit a Pennsylvania co-op or academic resource, you may do so using the red button above.
Pennsylvania Homeschooling Co-ops
New Horizons Homeschool Group

Adams, Cumberland, Dauphin and York counties

New Horizons Homeschool Group (NHHG) is a diverse, but unified community of Christian homeschooling families who love and support each other as they contribute their time and individual experiences teaching, learning, serving, and growing together. Committed to high academic standards, NHHG offers a full range of classes for students K4/5 - grade 12 every Tuesday for a 30 week school year. More information on classes and fees can be found at www.nhhgpa.com
EtCH - Emmaus Christian Homeschool Cooperative

Allentown

EtCH is a small, parent-run Christian co-op offering enrichment classes and activities for homeschool children in the Lehigh Valley. We also support moms with nights out and other social gatherings. Hands-on classes and field trips offered from September through the end of April from 9:15-11:45. Extension classes for middle and high schoolers are offered in the afternoons immediately after EtCH. Large events include: Back to School Picnic, Talent Show, Christmas Party, Family Game Night, and the End of Year Celebration
Excelsior Homeschool Cooperative

Allentown

Excelsior Homeschool Cooperative is a Christ-centered learning experience endeavoring to promote excellence among participating students and coordinate the gifts and skills of Christian parents for the glory of God and well-being of its students.  Excelsior offers a full range of topics and activities with the goal of maturing our children in Christ-likeness and cultivating productive servants for the advancement of God's kingdom.  The participating families are comprised of a diversity of social, economic, and church backgrounds.
Salt and Light Homeschool Co-op

Beaver County

Salt and Light is a non-denominational Christian cooperative, which is located in Beaver County, Pennsylvania. We are comprised of approximately forty-five families that meet together during the school year to share and enhance our children's homeschooling experience. Our class selection differs each year, with classes being offered for preschool through high school levels. Parents and children alike take an active role in making Salt and Light an atmosphere where learning is encouraged.
Plants and Pillars Homeschool Co-op

Beaver Falls

Plants and Pillars Homeschool Co-op is a Christian homeschool group designed to provide cooperative learning experiences for the Beaver County homeschool community to students in grades PK through 12. Students meet weekly during the school year for classes, labs, activities, and extracurricular events.
Classical Christian Co-op Nazareth

Bethlehem/Lehigh Valley

Classical Christian Co-op Nazareth is a group of homeschooling families gathering together for the purpose of educating and encouraging children in the process of "learning how to learn."  It follows the structured classical approach to education, which coincides with the natural developmental stages of learning that occur within each child.  Believing that knowing Christ is the greatest wisdom of all, we faithfully trust that Christ is the center of all creation and connector of all subjects and therefore teach a solid Christian worldview through all subjects learned in connection to our daily lives.  Based on this firm foundation, our goal is to instill in our students a desire to seek a deeper knowledge and understanding of their subjects as a springboard to a lifetime of learning in service to Christ.  Accountability among students, between tutors and parents, and between parents and the co-op facilitator is important to us as well as the blessing of community fellowship.
Butler Home Education Network

Butler

Butler Home Education Network is an inclusive, secular home education co-op serving families in Butler, PA (and surrounding areas).
Sky's the Limit Homeschool Group

Butler

Sky's the Limit Homeschool Group provides a safe, encouraging environment for homeschool or alternate learning families by offering support, resources, and educational opportunities to enrich at home curriculum, cultivate learning and socialization experiences that are positive and promote a growth mindset to further facilitate relationship building, education, and self-confidence. A non- profit home-school cooperative that meets weekly school year-round. (Sept- May) We meet on Tuesdays 9:30-2:30 at the Nazarene Retreat Center in Butler, Pa . We have two classes before lunch and two classes after lunch. Times may vary season to season. We offer different classes each session from Toddler age- middle school. We use outside teachers /professionals when able and are fortunate enough to have several teachers amongst us as parents. A lot of our classes are run by parents. We ask that parents lead classes, assist in classes and volunteer for the cleaning rotation. We have a small nursery that is open various times throughout the day. Classes are academic in nature for enrichment, as well as extracurricular classes. We lean towards mixed learning of instruction/structure, but also tactile, activities, free play and exploration. It is a healthy mix of learning styles. have various art classes, reading classes, outdoor classes, STEM/STEAM, Coding, Music, Gym, History, Math, Pets, Phonics, Literature, Science Creative writing, etc etc. Classes are chose based on need, interest/ requests, and parent ideas.
Innovate Academy

Chadds Ford

Homeschool co-op located in Chadds Ford has 50% off scholarships! Innovate Academy is a unique learning community whereby like-minded parents, mentors, and local leaders are committed to the spiritual formation of young scholars through a collaborative model of education, that combines onsite, at home, and service to community learning. The mission is to engage the whole child through a head, heart, and hands approach to learning in order to shape thoughtful, passionate, and entrepreneurial leaders of culture. Innovate Academy takes a classical, Christian education approach to education but also use modern methods such as STEM-based projects and courses like coding to develop future culture makers.
JMJ Cooperative

Chester County

The cooperative supports Catholic homeschool family in educating their children in grades K-12. The co-op offers a hybrid schedule, with 3 in-person days and 2 at-home days. Courses offered are: Math, ELA, Science, History, Literature, and Religion.
Clarion County Homeschoolers

Clarion

Clarion County Home Schoolers (hereinafter referred to as CCHS) is a cooperative organization formed for the purpose of uniting Christian homeschooling families in Clarion County and the surrounding areas for the purpose of education, fellowship, and support. Some of our great co-op classes are: Computer Programming, Biology, Home EC, Theatre, Recorder, Lego Engineering, Creative Writing, Set Design, Choir, Art, Dodgeball, PA History, Jr. Jeopardy, Draw Through History, Science, Geography with Art, Book Club, Music, Gym, and more!!!!
Raising Delco

Delaware

An enriching homeschooling coop that embraces the essence of a holistic learning experience. Our carefully curated program seamlessly blends specially selected concepts, fostering a more natural and immersive approach to education. Prepare for a dynamic and engaging adventure where all classes come alive through hands-on exploration. Rain or shine, we embrace the beauty of outdoor learning, providing all-weather exposure that connects students with the wonders of nature. Emphasizing child-led projects, our program empowers students to take ownership of their learning, encouraging personal growth and self-directed exploration. With a focus on nurturing curiosity and fostering a love for lifelong learning, our wholesome homeschooling program creates an environment where students thrive, building essential skills and discovering their unique passions along the way.
New Horizons Homeschool Co-Op

Dillsburg

We believe the most personally invested teachers are parents, we dedicate ourselves to teaching and caring for our students while we provide them with quality academic and enrichment classes.  . Our co-op thrives on the dedication of our members. All members are expected to teach and/or assist in classrooms. Please prayerfully consider where your strengths lie and let us know.
Creative Home Educators' Support Services (CHESS)

Elizabethtown

CHESS meets for 30 Tuesdays from the end of August until the end of April of each school year.  We offer six 55 minute periods each Tuesday, with a lunch break in the middle.  Students are then assigned work to complete until they meet again the next week.  Classes are offered for 2nd-12th graders.  Parental involvement at home is a must to ensure that the student is prepared for in-class learning and participation. We hold classes at Grace Chapel in Elizabethtown.
Vine and Branches Homeschoolers Lancaster County

Ephrata

Christian homeschooling families that seek community and shared learning experiences as a supplement to their home-based schooling. We are a co-operative rooted in faith in Jesus and the truths in His Word. We desire this group to help homeschooling families abide in Jesus, bringing Him glory and bearing good fruit. We currently offer 2 Wednesday learning periods for preschool through high school: 1 classroom-based period and 1 period for physical education. Nursery care is provided for infants and toddlers while parents are serving. There is also a short group devotion time and shared lunch together. We meet approximately 10 weeks in Autumn and Spring. All families who apply for membership must affirm our Biblically based Statement of Faith as well as our Code of Honor. Each family must be homeschooling at least one child with an affidavit on record with their school district here in PA confirming home schooling status OR that their children are under the private tutor provision. Once accepted, families pay annual and bi-annual dues.
The Classical Christian Community of Erie (C3E)

Erie

The C3E is a classical homeschool co-op serving Northwest Pennsylvania families. The program is divided into three stages: Grammar (elementary), Logic (middle school), and Rhetoric (high school). The Grammar students concentrate on memory work with additional instruction in science, art, and music. Logic and rhetoric students enjoy a robust academic program with classes in history, literature, composition, science, geography, apologetics, logic, and more.
Classical Christian Community of Erie

Erie

A group of homeschooling families that come together once a week in Northeast PA for the purpose of educating and and encouraging our students in the process of "learning how to learn." Our classes are structured according to the classical approach which utilizes the strengths of each "age and stage." Currently. we serve students K4 through middle school. In addition to our weekly community days,, we offer field trips, social gatherings, and group standardized testing.
Christian Homeschoolers Exchange (CHEX)

Lancaster

Christian Homeschoolers Exchange (CHEX) is a group of homeschool families joining to fellowship, encourage each other in our life's journeys, and provide excellent group learning opportunities for our children. Member families must be home educating a child that is at least 5 years old, kindergarten age. There are academic co-ops and supplemental co-ops. Our niche is to provide the best of both worlds: supplemental in the primary grades and academic in the high school years. This enables families who want both to stay together in the co-op setting.
Conestoga Valley Homeschoolers

Lancaster

A Christian homeschool organization that believes God has brought us together to encourage us as we homeschool our children. We provide opportunities for our children to socialize and interact with other homeschool families. We also provide support and prayer for our families through various activities, meetings, fellowship, and field trips. Conestoga Valley Homeschoolers' co-op meets 10 weeks in the fall and 10 weeks in the winter/spring on Thursdays at the Lancaster Alliance Church. The co-op days are divided into three 45-minute periods. Classes are taught on a volunteer basis by our parents. All members are required to serve as a helper/sub during two of the three periods, except teachers who only serve one period.
Cornerstone Lower Tier

Lancaster

Cornerstone Homeschoolers exists to provide a supportive Christian community for homeschooling families. Cornerstone Lower Tier serves families with children in nursery – 8th grade with enrichment classes, gym, choir, field trips and opportunities to fellowship in a Christian environment. We meet for eight weeks in the fall and eight weeks in the spring. All participating members are expected to serve by monitoring, teaching and cleaning.
Treasures of Grace

Lancaster

The mission of Treasures of Grace Educational Home School Association is to support the member home-schooling families through friendship development, encouragement, and prayer; and to provide an opportunity for students to explore subjects which are best experienced in a group setting.

Treasures of Grace meets bi-monthly for a total of 16 weeks of co-op.
Co-op time is from 9:30-12:30.
We offer classes for nursery through high school.
Members pay an annual fee.
We meet on Tuesdays at Lancaster Alliance Church, 210 Pitney Road, Lancaster, PA.
JBY Academy Homeschool Group

Lehigh Valley

JBY Academy is a new homeschool group infused with the performing and creative arts. We serve families in Lehigh Valley, Pennsylvania; which includes the cities of Allentown, Bethlehem, and Easton. Plus, surrounding areas. JBY Academy is designed with diversity in mind. The group fosters a sense of inclusion and celebrates diversity through events and activities that will help children learn about and explore various cultures. JBY Academy meetups are infused with the creative arts to help students enhance and enjoy the learning experience. To become a member of JBY Academy please visit the website. JBY Academy is a faith-bashed homeschool group that has so much to offer homeschool families from all walks of life. Rooted in spiritual principles and guided by core values JBY Academy strives to bring forth harmony and unity to the homeschool community at large. There's something for every homeschooler; including, in-person meetups, field trips, performances, hybrid classes, and an after-school program. JBY Academy started in 2013 as a division of the mentoring, production and training organization Just Be You Performing Arts. Visit the website for more details on how to join JBY Academy.
Learning Station

Lititz

Learning Station supports homeschool families by providing a cooperative learning environment in which students develop academically and socially in a Christian community. Learning Station meets at Lancaster Evangelical Free Church in Lititz, PA. Classes meet on Wednesdays. Co-op track is open to families with students from infant through 12th grade, while upper-level only track is open to students in 7th through 12th grade. To learn more about Learning Station, visit our website.
FACE Co-op

Littlestown

FACE stands for "Family Academic and Christian Enrichment". FACE strives to provide classes that are beneficial to families and will help them succeed in their goal of educating their children. As a result, we strive to have educational and enriching classes for each age group in which parents are actively involved.
CHASE Academy

Manheim

Christian Homeschool Association of Scholastic Excellence (CHASE) is a Christian co-op offering weekly classes in academics, electives, and music.
Pike Christian Homeschool Connection (PCHC)

Milford

Pike Christian Homeschool Connection is a Christ-centered home educating support group ministering to families in North East PA. PCHC offers a weekly co-op, support group, and special events for homeschooling families.
Myerstown Enrichment Center

Myerstown/Bethel

Myerstown Enrichment Center (MEC) is a Christian homeschool support group that was founded in 1995. We meet each Tuesday from September to May, except for listed holidays. Our eight-member volunteer board coordinates and administers MEC activities. Our mission is to provide educational resources and support for homeschool families. MEC offers traditional parent/member-taught educational classes from first through twelfth grades. Nursery through kindergarten is primarily a babysitting/enrichment service designed to free mothers to help with older students. Our purpose is to work cooperatively in order to teach our children, while offering extra opportunities to help develop student leadership, provide incentives, and showcase student's individual achievements. We also seek to offer assistance to families as they comply with the PA Homeschool Law and to be a source of support to families through educational, personal, and prayer support.
Classical Christian Co-op (of the Poconos)

Nazareth, Win Gap, Pocono area

Classical Christian Co-op (of the Poconos), is a group of homeschool families gathering together for the purpose of educating and encouraging students in the process of "learning how to learn". The co-op follows the structured classical approach to education, which coincides with the natural developmental stages of learning that occurs within each child. The co-op faithfully trusts Christ is the center of all creation and connector of all subjects.
Walnut Grove Coop

Newark

Walnut Grove Coop is a nonprofit educational organization serving Delaware, Maryland, New Jersey, and Pennsylvania. This group provides opportunities for children to learn in a respectful, inclusive, secular community through fun classes and meaningful experiences. Walnut Grove Coop offers both instructor and child-led homeschool enrichment programs.
Greystone Academy - Newtown

Newton

Greystone Academy is a Christian hybrid school offering the flexibility of homeschooling with the benefits of a private school. For the 2023-2024 school year, we will be offering classes at two locations: Hamilton, New Jersey where we opened for the first time in Fall 2022, and Newtown, Pennsylvania, where we offered classes from the Fall of 2013 to the Spring of 2022. For days, tuition, and class descriptions, see our Classes page. Our mission is to provide a community for home-schooled students, to offer an accommodating atmosphere where students of all academic levels are welcome, to design adaptive classroom styles that nurture accelerated learners and those who need extra attention. Families of all faiths are welcome, we teach from a firmly Christian worldview, and our teachers use the Nicene Creed as our statement of faith. Email: Greystoneacademypa@gmail.com
Rising Roots Secular Homeschool Cooperative

Orefield

Rising Roots seeks to create a safe, supportive, and open space for homeschool families of all backgrounds. We are committed to the principles of inclusion while honoring the great need for support through the singular experience of homeschooling our children. Rising Roots is expressly open to and welcoming of individuals regardless of race, color, religion, sex, sexual orientation, gender identity or expression, age, disability, marital status, citizenship, national origin or genetic information. In this Co-Op we believe that Black Lives Matter and that LGBTQ+ rights are human rights. We pledge to see and honor each other's differences while taking the time to learn the world outside of our own, realizing that the experiences of others are valid and real. Rising Roots was created in 2021 by Jenn Terfinko-Barnett and Chelsea Grimmett when we saw the need for a secular homeschool co-op in the Lehigh Valley. We aim to be a safe place for religious and non-religious families alike. Acknowledgement of the statement of philosophy is required for membership to the Rising Roots Secular Homeschool Cooperative. All members of the Board are required to affirm, in writing, their personal agreement with the Statement of Philosophy. Members of the Educational Team shall not teach in opposition to the Statement of Philosophy.
Davisville Homeschool Connection

Philadelphia

Students meet at Davisville Church in Southampton (near Philadelphia) on Tuesday mornings from 9:15am - 1:45pm. (10 weeks in the fall and 10 weeks in the spring - actual times may vary slightly). There are no co-op classes on the 4th Tuesday of every month, throughout active semesters. Offer classes for children from pre-k up to 10th grade, who may participate in gym, along with various subject classes. Field trips are also organized throughout the semester. Nursery care is available for the littles aged 3 and under.
The Field Co-op

Philadelphia

We support families interested in creating and sustaining community in the Philadelphia region through a variety of activities such as field trips, hikes, social events, and book clubs. Because we are a cooperative, our members have the opportunity to contribute to the planning and coordinating of activities. We are welcoming and inclusive.
Claritas Classical Academy

Philadelphia/Main Line

Claritas is a homeschool hybrid program meeting two days per week in Bryn Mawr, PA. This comprehensive program serves Philadelphia-area homeschool families and their pre-K through high school students with its Christ-centered, classical curriculum. For more information please contact Alison Valentine at avalentine@claritasclassicalacademy.com or visit our website: www.claritasclassicalacademy.com
Reading Orthodox Christian Co-Op

Reading

R.O.C.C. is a community of Orthodox homeschoolers providing supplementary education to PreK-6, while building a foundation in the faith. Our classes are taught by parent volunteers. We meet at Sts. Constantine & Helen Greek Orthodox Church in Reading, Pennsylvania. Please contact for class schedule!
LAF Co-op

Shrewsbury

Learning, Activities and Fellowship (LAF) Co-op! Our goal is to assist homeschooling families by providing a variety of classes to help meet the educational needs of your PreK-12th grade students. Students may take just one class or as many as you would like. LAF meets from September through May.
S.E.E.K Co-op

Sinking Spring

The acronym S.E.E.K. stands for Support, Encouragement, and Education for the Kingdom. We are a homeschool support group that also has a co-op which meets for classes on Fridays, September through April/May.
Solid Foundation Educational Association (SFEA)

State College

The Solid Foundation Educational Association (SFEA) is a cooperative homeschool group that provides classes in State College, Pennsylvania. On Tuesdays, there are class options available for 4th-12th graders, and on Thursdays we offer nursery care for infants and classes for preschoolers through 12th graders. Tuesday and Thursday classes are all held at Park Forest Baptist Church. Our Friday afternoon Art & American History Class meets at Grace Presbyterian Church.
Kingdom Homeschool Services

Stevens

This is a homeschool educational service that is meant to develop spirit-filled students who can not only complete the required core subjects and earn school credits but also, learn, practice, and use their spiritual gifts and how to become and make disciples. All students will engage in grade-level class discussions, worship, projects, and services that lead to planning and discerning how to expand the Kingdom of God. Students will become active seekers of opportunities to reach the lost, and serve their communities.
Love First Homeschool Inc

Washington County

We are an organization of homeschooling families who gathers with each other to give our children opportunities to engage in academic and social learning with each other. We meet weekly on Monday where our children have classes determined and designed by the families who attend. The year is divided into two semesters. Classes can be set up as a semester class or year long class. We have classes for preschool, age 4, through 12th grade. This organization has an all-hands-on-deck approach. Parents will either teach or help with classes. We also have a nursery for siblings for babies through age 3. We go on outings and field trips together. We have dances, events, job shadowing opportunities, and even yearbooks. Our children often make life long friendships. We meet every Monday during the school year from 9:15 am - 12:50 pm.
Classical Civitas

West Chester

The mission of Classical Civitas is to serve and support homeschool families by facilitating classical Christian homeschool programs. Our members have access to community, classes, field trips, and educational development opportunities. As part of a one-day-a-week community day that meets at Meadowcroft Presbyterian Church in West Chester PA, Classical Civitas hosts student classes on Wednesdays that are classical and diverse in nature and taught from a Biblical World View. Primary grades meet for 28 weeks while secondary grades meet for 30 weeks out of the school year. Being a true co-op, every parent has a role and participates in facilitating our community day. We follow a four-year learning cycle in history and science from PreK-12th allowing families to study topics together at home and scale across all ages. We also include the cycle memory work from Claritas Publishing in grades 1st-6th. Memory work is taught at home and then classes are used to extend their knowledge in a fun, creative, integrated, and meaningful way. A shared curriculum is used in some grade-specific classes offered from 3rd-6th. Tutors of these classes guide class discussions and activities as well as assign work for the week. As the lead teachers in their homeschool, parents support their students at home through accountability, scaling, and grading when needed. In 7th through 10th grade, every class is run this way with a shared curriculum guided by a tutor and parental support at home.
Western PA Enrichment Center Inc

White Oak

A Christian, parent-run homeschooling co-op. We offer academic and enrichment classes for Pre-K thru 12th grade. There is a nursery available for families with younger children. Parents teach, help in classes, and help clean up after the day is finished. We meet at Living Word of Plum Church in Plum Boro. Classes vary per semester. Examples of academic classes we have offered:  science lectures & labs, Spanish, math, literature, writing, history, government. Enrichment classes: arts & crafts, chess, p.e. & dance, music, cooking, & Bible.
Agape Homeschool York

York

Agape Homeschool York is a non-profit homeschool co-op, partnering with parents in providing an environment that facilitates a love of learning and glorifies GOD. We believe the gaining of knowledge and characters development are equally important in accomplishing the well-roundnessness of a child's education. Our extra-curricular classes strive to provide the student with diverse skills beyond the core curriculum and to encourage deeper study. Worship and bible-based learning are purposefully incorporated in each subject, to highlight our GOD that has created all things. The word "Agape" is other-focused sacrificial love, and our passion is to demonstrate that love to the next generation.
Pennsylvania Homeschooling Classes & Academic Enrichment
ECWPA - The Enrichment Center of Western PA

Baden

The Enrichment Center of Western Pennsylvania has been providing structured learning opportunities for home educators in the Pittsburgh area for over twenty years. Through our parent-led cooperative, countless students from grades 1 - 12 have enjoyed the opportunity to learn about a wide range of interesting and fun subjects, socialize with friends, and be a part of a growing community.

Enrichment Day meets on Fridays from 9 am to 1:30 pm for two twelve-week semesters, September through December and February through May. The classes are taught primarily by the parents in the co-op. A nursery (for babies and toddlers) and a variety of preschool classes are offered for children birth through kindergarten only for families with children taking classes at the first grade level or higher.

As parents are required to stay on the premises while their children are there, they contribute to the co-op not only by teaching but also by helping instructors as assistants, working in the nursery, or serving on the lunch/cafeteria and clean-up crews.

The Credit Level Courses are open to students in grades 7-12 (with some exceptions for 6th graders) and meet on Tuesdays and Fridays from September through May for 30 weeks from 8 am to 4pm. Unlike Enrichment Day, the teachers in this program are paid professionals and design courses to meet most of the Pennsylvania diploma program requirements. While parents do not teach the courses in this part of the program, they are still contribute to the overall operation of the co-op. Working together for our children every week in such a supportive environment has proven to be a truly enriching experience for the parents as much as for the children.
Plants and Pillars Homeschool Co-op

Beaver Falls

Plants and Pillars Homeschool Co-op is a Christian homeschool group designed to provide cooperative learning experiences for the Beaver County homeschool community to students in grades PK through 12. Students meet weekly during the school year for classes, labs, activities, and extracurricular events.
Omega Learning Center

Bentonville

Omega Learning Center at South Hills provides AdvancED accredited tutoring and test prep programs with certified teachers in Bridgeville, PA and Allegheny County for all K-12 school subjects. Omega's academic assessment detects skill gaps before grades fall and includes the Woodcock Johnson IV academic assessment and MyStudyStyle, Omega's learning style assessment. Omega's certified teachers employ our trademarked AIM Tutoring System and OutpAce curriculum to fill skill gaps and build critical-thinking skills. Daily email updates are sent to parents and schoolteachers after each session. Omega Learning Center works with students in all grades and subjects helping them to achieve success. We have certified teachers and daily feedback sent to the parents. We offer tutoring in many different areas including Math, Reading, Enrichment, SAT Prep, Standardized Testing, ESL, Spanish, and many more.
Holden Home School Consulting

Bucks

Successfully Educate Your Children at Home! Theresa and Sanford Holden offer Testing, Evaluation, Curriculum Design, and Tutoring services to Pennsylvania and New Jersey residents who are currently homeschooling or are thinking about homeschooling.
STEMgirlz Techshops

Bucks County

Free Techshops for middle school girls. STEMgirlz Techshops is located in Bucks County, and supported by Bucks County Community College and local branches of AAUW (American Association of University Women).
Classical Conversations of Cranberry Township

Butler/Cranberry Township

Did you know these great thinkers were educated classically: CS Lewis, Thomas Jefferson, Aristotle, Issac Newton to name a few? Classical Conversations believes that children are a gift from the Lord and that parents are their children's best teachers. If you would like to teach your children using the classical method, and would like to become a part of a community where everyone is using the same curriculum and are encouraging each other weekly, please check us out. Classical Conversations teaches with a Christ-centered worldview. It is possible to homeschool through high school, and what better way than to use the classical model and participate with like-minded families in a community.
Dave & Buster's Homeschool Team Building

Camp Hill

Dave & Buster's has homeschool Team Building activities whereby kids can learn to work as a team, collaborate and practice being good Winners and good not-winners. We offer these challenges in an environment that's exciting and interactive. Team Challenges are lead by our coaches who turn teamwork into a blast. We offer special value pricing and there's also Free-Play so that kids can just have fun together. Packages are available with our without a meal. Email for more info.
Chadds Ford Historical Society

Chadds Ford

The Chadds Ford Historical Society preserves, maintains, and interprets several early 18th century historic buildings on the National Register of Historic Places: John Chads House, Barns-Brinton House, and the Springhouse/ Birmingham Schoolhouse No. 1 where we educate school children, adults, and our community through hands-on history. All Chadds Ford Historical Society School programs are built to reinforce Pennsylvania's Standards Aligned System (SAS) to coincide with your curriculum. (Delaware State Standards for Social Studies are also addressed as well as Common Core). Our school programs are renowned for being hands-on and guided by program specialists in historic dress. Each program utilizes our historic sites, artifacts from our objects collection, and engage students in a unique hands-on crafting experience to teach new skills and encourage students to learn by doing.
Snapology of King of Prussia

Chester, Delaware, and Montgomery counties

STEM classes and workshops all around the region, as well as come to your co-op or playgroup for your own class or event. Students will learn by doing, as they use LEGO bricks and technology to engineer, design, and build creations in art history, Bible, science, robotics, and more. Life skills such as teamwork and group presentation are also integrated into the curriculum.
Smart Spot Educational Services, LLC

Coopersburg

"Getting Ahead or Catching Up, Where remarkable outcomes happen" Tutoring for students with and without special needs. Focus on true mastery of foundation skills PK-8th grade. Reading Writing Math Free Assessment with Enrollment Parent Training and Consultation services National Experts are thrilled with our results. Rt 309- Coopersburg PA 484-306-3040 Special Ed Certification and Board Certified Behavior Analyst Former State project leader for early math- 20+ years serving kids
Valley Family Therapeutics

Coopersburg/Lehigh County

Valley Family Therapeutics specializes in OT, ST, and PT. Providing outpatient services in the clinic, as well as equine therapy and home based therapy. Launching a social skills group for children and adolescents to work on making friends, turn taking, etc. We can also offer a social skills group at your center as well.
National Institute for Learning Development

Delaware and Chester County

NILD Educational Therapy stimulates areas of weakness in perception and cognition to function effectively through individualized, intensive, interactive stimulation producing independent learners in a one-on-one setting.
Delaware County Community College

Delaware County

High School Dual Enrollment classes for homeschooling students. For more information, contact: Katie Horn at khorn5@dccc.edu or 610-325-2791 or visit www.dccc.edu/highschool
Civil Air Patrol Delaware County Squadron 1007

Delaware County

Civil Air Patrol's cadet program transforms youth into dynamic Americans and aerospace leaders through a curriculum that focuses on leadership, aerospace, fitness and character. As cadets participate in these four elements, they advance through a series of achievements, earning honors and increased responsibilities along the way. Many of the nation's astronauts, pilots, engineers and scientists first explored their careers through CAP. Squadron 1007 meets Tuesdays at 6:30 pm at DELCO ES Training Center, Building 1 Lower Level, 1600 Calcon Hook Rd Sharon Hill PA
Historical Performance with Daisy Century

Delaware, Maryland, and Pennsylvania

A Historical Interpreter from Philadelphia, Dr. Daisy Century performs a one woman show of seven historical women like Bessie Coleman, Harriet Tubman, and Sojourner Truth. Contact Dr. Century through the website to bring history to your Home Schooling programs, meetings, conferences, seminars, classes or special events.
Agape Christian Homeschool

Dillsburg

The purpose of Agape Christian Homeschool Organization, also known as AGAPE, is to provide children with educational opportunities that promote academic excellence and the development of Godly character as outlined in the Bible. This will be done in class settings under the supervision of other Christian homeschooling parents. Every attempt will be made to provide challenging and meaningful classes for our children.
Mindful Roots Yoga

Douglassville

Mindful Roots Yoga offers support for students in the social, emotional and physical space. Mindfulness and yoga instruction are available for students of all ages. Systematic teaching materials developed by our founder are used as carefully crafted lessons are delivered.
Minds in Motion

Doylestown

"Minds in Motion" is a enrichment program that uses elements of yoga and kinesis to teach real life skills like perseverance, mentoring, mindfulness, motivation, problem solving, trust, communication, creativity and collaboration. Each ten week session consists of both yoga fundamentals, such as beginner poses in a vinyasa flow, partner poses, create your own poses, mindful breathing techniques, as well as, kinesthetic principles of movement like positive/negative space, retrograde, isolation, weight sharing, etc. The students are introduced to principles of movement and then are asked to work in teams to solve challenges with their own creative movement phrases. This program is great for understanding how our bodies move through space in addition to exploring self regulation techniques through physical meditation. Each 10 week program can be customized to the individual/s specific needs or wants. The program instructor can travel to any location, indoor or outdoor, and is flexible with start dates.
Creative Home Educators' Support Services (CHESS)

Elizabethtown

CHESS meets for 30 Tuesdays from the end of August until the end of April of each school year.  We offer six 55 minute periods each Tuesday, with a lunch break in the middle.  Students are then assigned work to complete until they meet again the next week.  Classes are offered for 2nd-12th graders.  Parental involvement at home is a must to ensure that the student is prepared for in-class learning and participation. We hold classes at Grace Chapel in Elizabethtown.
River Mountain Retreat

Everett

River Mountain's field trip programs teach screen time management and digital citizenship to help students flourish back at home. We offer day field trips and overnight programs for young people in grades 3-12 focused on digital wellness and health. Our interdisciplinary programs, situated in a stunning classroom setting, are tailored to meet the curriculum goals of the homeschool programs we work with to maximize the educational and experiential benefit to students. Our impact-driven experiences are focused on safety, leadership, personal growth, wellness, and self-determination.
Adventure in Fun Exotic animal show

Gettysburg

At Adventure In Fun! Bringing fascinating animals directly to you! These shows are a fun & educational experience designed to educate and encourage people to engage and interact with nature around them. Experienced handlers give the audience a chance to meet and get hands-on education with some really cool animals that are usually only seen behind glass. Safety is a first priority and the company is fully insured, removing any chance of liability from you. Educational presentations are available anytime and can be booked by any individual or group
Laurel Mountain Classical Academy - LMCA

Greensburg

Laurel Mountain Classical Academy (LMCA) strives to provide an academic learning environment to assist parents in homeschooling their children.  While we recognize parents as the primary educators, we promote structure and standards to allow families to achieve academic success. In addition, LMCA recognizes the importance of supporting families and developing community.  

A homeschool learning center that offers classes twice a week for homeschooled students in grades 1-11 (12th grade in 2017). Current course offerings include: IEW writing, history, science, literature, art, civics, and Latin.
The Hershey Story - The Museum on Chocolate Avenue

Hershey

The Hershey Story Museum showcases the failures to fortune life story of Milton Hershey. Explore how Milton Hershey created not only a company, but a whole town and how his legacy continues today. Families learn through fun, interactive exhibits and can even participate in hands-on chocolate making classes. Special Homeschool events occur every fall and spring. Private classes for groups of 15 or more are available all year.
Home School Connection at The Hockessin Montessori School

Hockessin

Home School Connection Enrichment Program - The Hockessin Montessori School brings expertise in education and creativity to the home school community through our HOME SCHOOL CONNECTION. This program offers a variety of enrichment subjects for children in Kindergarten through 8th grade including Art, Physical Education, Music, Spanish, S.T.E.M, Technology and Steel Drums (Middle School level only). Classes are prepared and taught by the HMS experienced instructional staff and teachers. Home School Connection Math Support Program - Teaching Mathematics can be an overwhelming task in a home school environment. The Elementary and Middle School staff of The Hockesson Montessori School are offering expertise in academics for parents and students in 4th, 5th, 6th, 7th, and 8th grade.

Home School Connection at The Hockessin Montessori School details
Outdoor School at College Settlement

Horsham

Hands-on education is the heart of our Outdoor School Program.  Teacher Naturalists lead small groups of school students through environmental education, team building, and retreat-type activities. We work with a wide variety of great schools, from public and private to charters and alternative curriculum schools. School groups come for a one-day trip, or for our 2- or 3-day overnight programs. We can provide scholarships to assist students who need assistance with the cost of attending our programs.
Christian Homeschoolers Exchange (CHEX)

Lancaster

Christian Homeschoolers Exchange (CHEX) is a group of homeschool families joining to fellowship, encourage each other in our life's journeys, and provide excellent group learning opportunities for our children. Member families must be home educating a child that is at least 5 years old, kindergarten age. There are academic co-ops and supplemental co-ops. Our niche is to provide the best of both worlds: supplemental in the primary grades and academic in the high school years. This enables families who want both to stay together in the co-op setting.
LRS microSchool

Lancaster City

A revolutionary idea in education. At LRS microSchool, we work with families who have chosen to home school to provide a new way to think about education. We all know that kids need an alternative to the "mass production" model in public education that does not work for so many of them. And the high-price-tag, private school model may work better for some but it is often financially out of reach. What if there was another way? LRS microSchool aims to be that way. If your child thrives with hands-on work, more control over HOW to learn a topic or just learns differently – our school is the place for you! We value our young learners as partners in their own unique voyage of discovery. And we gently guide them so that they learn more than the WHAT but the HOW and the WHY. Our high quality classes are taught by paid, trained and vetted experts in their fields who typically hold undergraduate or masters level degrees in their subject area. We are inclusive and secular in nature. And we encourage acceptance and understanding from student and staff alike.
Cornerstone - Upper Tier

Lancaster County

Cornerstone Upper Tier classes are offered for middle and high school home school students from September-April (30 weeks) with some one semester classes.
Providence Hybrid Academy

Lehigh Valley

Providence Hybrid Academy is a hybrid learning program that integrates the benefits of classroom learning with the independence of schooling at home. Our approach prioritizes social development through free play, creativity through the arts, and developmentally appropriate academics enhanced by the camaraderie of group learning. Complete range of subjects for a K-6th grade education Two days of instruction on campus with teachers Assignments and support for three days of parent instruction at home Short lessons presented in a developmentally appropriate manner Daily outdoor play and multiple recesses Affordable tuition
A One-Room Schoolhouse

McDonald, PA

"A One-Room Schoolhouse is a hybrid homeschool academy working to build faith, knowledge, and character. Students enjoy the flexibility of attending our drop-off program anywhere from one to three days a week. Parents find support in navigating the homeschool world and in providing a high quality education to their children." Our goal at A One-Room Schoolhouse is to create a flexible, rigorous, individualized, and comprehensive educational environment that reflects the counsel of Paul to learn and teach those things that are pure, lovely, virtuous, and praiseworthy. (Philippians 4:8) We aspire to be an edifying classroom environment with the expertise of professional teachers to support all families seeking after these educational values in their homeschool endeavors.
West Shore Christian Evangelical Community

Mech

A like-minded group of homeschooling families who come together to educate and enrich the lives of our children ages infant to high school. We offer both enrichment (meet every other week) and academic (meet weekly) classes. We meet on Thursdays for both a Spring and Fall semester. Our semesters are 7 class times for enrichment and 14+ for academic. We meet at Christian Life Assembly Church in Camp Hill. We desire to support and encourage homeschooling moms and dads.  
Media Youth Film Initiative (MyFi)

Media

Has your child ever wondered what it is like to write a film script, create a storyboard, perform in front of a camera, direct actors, light a set, or put it all together in an editing program? Whether their goal is to be in front of the camera or behind the scenes, area high school students get the chance to make and star in their own movies as part of the Media Youth Film Initiative, or "MyFi". MyFi is a film production class for high school students that combines the ageless art of story-telling with filmmaking. In small groups of 6-8, participants work collaboratively to form a production crew, learning: * screenplay writing * acting * directing * camera operation * set lighting * sound * film editing MyFi is a rich learning experience for high school students to tell meaningful stories of their life experiences while discovering the art of filmmaking. During the 10 week course, students are under the guidance of professional instructor Hezekiah Lewis, award-winning filmmaker and Assistant Professor of Communications at Villanova University, and Darryl Ridgeway, a filmmaker and mentor. Upon completion of the course, students invite their families and friends to walk the red carpet and enjoy a screening of their completed films on the big screen. This annual celebration of short independent film is held at the historic Media Theatre. In existence since 2012, MyFi is a partnership between the Media Arts Council and the Media Youth Center. There are sessions in fall and spring. Classes are held in the Media Youth Center's Strine Learning Center, 1 Youth Way, Media, PA 19063. For more information or to inquire about scholarship opportunities contact the Media Arts Council 484.445.4161 or exec@mediaartscouncil.org The 10-week class is offered every fall (September start date) and spring (February start date).
The Conococheague Institute

Mercersburg

The Conococheague Institute is a 30 acre site located in Franklin County, PA. With a focus on hands on engaging programs in the fields of history and nature there is something for everyone. From 18th Century Medicine and Surgery, Birding and Botany Walks, Frontier Life, and opportunities to volunteer in the community garden more and more families are joining CI's community. Ongoing free programs every Friday and Saturday, special bookings available, and monthly events.
Ned Smith Center for Nature and Art

Millersburg

The Ned Smith Center for Nature and Art is a 501(c)(3) non-profit, the mission of which is to honor the legacy of Ned Smith by merging the arts and natural world through education, exhibition, and experiences. The Center's lands offer a tranquil outdoor experience on more than 500 acres of rustic beauty just outside Ned Smith's hometown of Millersburg, Pennsylvania, 20 miles North of the state capital of Harrisburg. The Center offers educational programs to school, scout, and homeschool groups as well as ongoing opportunities for learning throughout the year through guided hikes and workshops.
Living Oaks Academy

Morgantown

Living Oaks Academy is Christian academy focusing on discipleship for students in Kindergarten to 6th Grade. The schedule is two days per week and also offers homeschool support and curriculum counseling. Students learn in a tech free atmosphere using the educational philosophy of Charlotte Mason. There are a variety of formal lessons as well as outdoor educational experiences on our 30 acre campus.
Myerstown Enrichment Center

Myerstown/Bethel

Myerstown Enrichment Center (MEC) is a Christian homeschool support group that was founded in 1995. We meet each Tuesday from September to May, except for listed holidays. Our eight-member volunteer board coordinates and administers MEC activities. Our mission is to provide educational resources and support for homeschool families. MEC offers traditional parent/member-taught educational classes from first through twelfth grades. Nursery through kindergarten is primarily a babysitting/enrichment service designed to free mothers to help with older students. Our purpose is to work cooperatively in order to teach our children, while offering extra opportunities to help develop student leadership, provide incentives, and showcase student's individual achievements. We also seek to offer assistance to families as they comply with the PA Homeschool Law and to be a source of support to families through educational, personal, and prayer support.
Meet The Pharaohs Exhibition and Workshops program for school children

PA, DE, NJ

An educational program on ancient Egypt that teaches children through creative, hands-on on various topics of this amazing culture. Topics include: *Kings of Egypt *Queens of Egypt *Jewelry and Fashion *Lifestyle *Architecture *Communication * Family *The magic of symbols *Ancient Egypt and Africa *Ancient Egypt animal deity *Mummification and Afterlife...etc. Workshops and lectures can be done in your space or on-line

Meet The Pharaohs Exhibition and Workshops program for school children details
Pennsylvania Classical Conversations

Pennsylvania Statewide

CC is a national homeschooling program that uses a Bible based curriculum taught in a christian, classical tradition. Classes are geared for age 4 through high school.
The Franklin Institute Discovery Camp

Philadelphia

The Franklin Institute Science Museum offers an 11-week summer Discovery Camp made up of one- and two-week sessions. Youngsters may enroll in as many sessions as desired. In addition, the Institute has Spring Break Camps. Visit www.fi.edu/Discovery or phone 215.448.2195 for additional information.
Japanese House and Garden enrichment classes

Philadelphia

Language Classes The Japanese Classroom Program offers evening Japanese classes for adults based on a college-style curriculum. There are four semesters annually, Spring (January-April), Summer I (May-June), Summer II (July-August), and Fall (September-December). Classes are held at International House Philadelphia. Conversation Club is an informal language exchange forum where Japanese and English speakers can practice their conversational language skills. Attendees include speakers of all levels of Japanese and English. Participation is free and open to the public. For dates, check the program calendar. Culture Classes and Workshops Tea Lessons - Our tea ceremony classes offer the opportunity to practice in a traditional style in an authentic setting. Our teachers are licensed by the Chado Urasenke Tankokai Philadelphia Association, licensed by Urasenke headquarters in Kyoto, Japan. Tea Ceremony - Tea ceremonies at Shofuso are led by members from the Chado Urasenke Tankokai Philadelphia Association, headquartered in Kyoto, Japan. Public demonstrations are narrated to provide context to guests. Taiko Lessons - Learn how to play taiko drums with beginner taiko classes from Kyo Daiko! Classes are open to adults of all ages, musical backgrounds and experience. In fact, no experience is necessary. We will teach you everything from proper stance, how to hold the drumsticks, and striking technique, in addition to teaching you about the history and traditions of taiko. Dance Lessons - Use movement to experience the culture of Japan in our Classical Japanese Dance Lessons! Lessons include both one-on-one and group instruction and are appropriate for all ages. Lessons are taught by licensed instructor Fujima Nishiki-no (Helen Moss).
Philly CoderDojo

Philadelphia

Philly CoderDojo (PCD) was started as a local CoderDojo to serve students in Philadelphia areas. CoderDojo is an open source, volunteer led international movement of free computer programming clubs for young people. At Dojos, young people between 7 and 17 learn how to code, develop websites, apps, programs, games and more. Dojos are set up, run by and led by volunteer members of the community, for their local community. Philly CoderDojo youth (ninjas) are developing coding expertise. Simultaneously they are being invited to attend science and technical fairs; engineering, design and robotics competitions; given opportunities for entrepreneurship by innovating and developing new technologies and exploring original design and ideas; engage in STEM internships and summer jobs; re-invest in their communities via design problem solving projects; visit and apply to technical-oriented high schools, college and universities giving them a cognitive and early professional advantage. Philly CoderDojo plans to combat the digital skills gap creating a diverse pipeline to these fast-growing technology enabled jobs. Monthly clubs held 1st Saturdays: PCD@BHBC 10am-12pm 12/1/18 (Combined), 1/5/19, 2/1/19, 3/2/19, 4/6/19, 5/4/19, 6/1/19 & 3rd Saturdays: PCD@BBC 3-5pm 1/19/19, 2/15/19 , 3/16/19, 4/19/19, 5/17/19, 6/15/19. After registration monthly RSVPs are sent Register Here – CLICK TO JOIN (https://www.jotform.com/path2prosper/philly-coderdojo-saturday-students)
Motivated Young Scholars, Inc

Philadelphia

Motivated Young Scholars is a non-profit organization based out of Philadelphia.  We support learners K - 12 one on one and in small groups through our onsite facility and our virtual support department.   Our class sizes are kept small to allow the Success Guides to cater to the individual needs of every student. Motivated Young Scholars Academy (MYS) provides a learning center where home/cyber school students and their families can utilize on a daily basis and to gather for social activities, workshop, field trips, and events.
Chess and Coding

Philadelphia

Chess and Coding are both STEM subjects that kids need to be exposed to at an early age. Many resources teach kids these two critical thinking skills. This resource teaches kids in the city park that it is easy to get to via public transportation. Parents' participation is a must and appreciated since the meeting is held in a park. Some days when it's raining or too cold, there will be no meeting. When it's sunny and warm, kids will learn the ancient chess game and learn computer technology.
4 Elements Earth Education

Philadelphia

4 Elements Earth Education (4EEE) is a 501(c)(3) educational non-profit organization home to the west coast Fox Walkers and east coast Coyote Tracks Youth Programs. Our mission is to offer programs that guide children, teens, and families to a pure connection to the earth through direct experiences in nature. 4 Elements Earth Education provides programs that introduce Earth skills; which are a blend of the ancient arts of tracking, wilderness survival, and nature awareness. Our curriculum and well-trained instructors give children, teens and adults first-hand experience of how to "read" the landscape as stewards of the Earth. Through our programs, a re-thinking of our relationship to nature begins to occur; nature is not simply a "resource" that we control as a product, but a relationship we must cultivate. We offer programs multiple days per week to get the family out and about in the beautiful Wissahickon Valley Park in Philadelphia. Here is spent learning about the natural world, and participating in engaging activities aimed at developing personal relationships with the Earth itself as well as other homeschool families in the area.
GEZ: Girls Empowerment Zone

Philadelphia area

GEZ is a 501(c)3 PA nonprofit program for ages 7-14. The President of this organization homeschools her children and knows that the program impact on today's young ladies. The GEZ program offers the following to girls and engagements for Moms * Customized 5 week Summer Experience/Camp (both overnight & day camp options available)-June 24-August 2,2018. Registration opens Dec 1, 2018 * Mother-Daughter Weekend Retreat-May 31 - June 2,2019. Registration opens January 2019 (5th-8th grade girls) * Particpation In academic enrichment(Math, Reading & Language)-email us for details *Saturday Program: September 2019-May 2019 - Are you & your Powerful girl ready to join us? Spend 2 Saturdays a month exploring different genres of Music, Art, Science and Culture. Includes surprise guests and field trips. Registration opens September 1, 2019 GEZ@TheWomensEmpowermentSeries.org
ACE Mentor

Pittsburgh

ACE mentor is a mentoring program for High School aged students that are interested in Architecture, Construction or Engineering. This program is free and runs from October to May every year. The students meet from 4-6pm every other Wednesday throughout that time period and work on a design project together while learning about the various fields of study. There is also an opportunity to apply for scholarships at the end of the program.
Snapology - Pennsylvania

Pittsburgh

Snapology classes and programs are available to support your homeschool education goals. Save time and simplify your life by allowing your child to benefit from Snapology's play-based classes. Our curriculum can be adapted as customized to accomplish your goals. Children can enroll in regularly scheduled programs, or Snapology can come to your co-op or playgroup for your own class or event. Students will participate in hands-on learning using LEGO bricks and technology to engineer, code, design, and build. Snapology's three prong approach of educational enrichment, social development and fun are the perfect fit for homeschool families.
Home Away from Homeschool

Pittsburgh

Home Away From Homeschool (HAFHS) is a nonprofit, community resource center for homeschool families in Pittsburgh and surrounding areas. HAFHS offers a local gathering place for individual and/or group study, an art studio, educational programs and classes, clubs and groups, as well as a social area for parents and siblings.
Fern Hollow Nature Center

Pittsburgh

Are you ready a hands-on experience in environmental science at Fern Hollow Nature Center! We will spend the year learning and growing our curiosity in the world around us. In this class, students will have the opportunity to learn field techniques and apply environmental topics to real-world concepts in our program designed for homeschool kids ages 5-9 and 9-13. There is so much to discover! Most programs will take place at Fern Hollow Nature Center and will run from September to June. An email will be sent in advance of offsite programs that require parents transportation.
Children's Language Immersion Program (CLIP)

Pittsburgh/South Hills

Immersion learning is the gold standard for learning a second language. Research shows that immersion learning strengthens the brain and improves understanding of the target language and culture. CLIP's after school language program (Copiosa) and preschool story time (Los Amiguitos) will offer children an exciting, enriching, and inspiring environment that allows them to learn Spanish in a fun way. The curriculum for Copiosa is filled with entertaining and scholastic activities that will motivate students to participate and interact, and employs formal lessons, games, songs, and various other proven methods to best facilitate the learning process. The story time has a great balance of Spanish nursery rhymes & stories, as well a guided arts & crafts project that parents/caretakers can help their children accomplish. It's a great for both parents and children to start their Spanish learning journey together!
Mater Laetitiae Academy

Pottstown; Chester County

Mater Laetitiae Academy is a hybrid Catholic learning environment based on the classical educational philosophy. Our goal is to assist parents in the education of their children while honoring the parent as the primary educator. It is the mission of our academy to nurture each child academically and spiritually. Our hope is to bring children and families into a strong community of faith and friendship. Students meet three days a week in class and work two days from home. The courses are taught by teachers who also provide assignments for the at-home days. The school offers classes for students K-12, with an option of a la carte courses for secondary students.
Newave Studios

Scranton

Newave Studios offers a multitude of enrichment courses. Art class includes: Painting, sculpting and illustration. Textile class includes: hand sewing, knitting, dying fabrics and machine sewing. Robotics classes includes: Introductory coding, robot creation and motion. Science class includes: Biology through the prism of arts and crafts, horticulture and philosophy. Dance class includes: contemporary (urban ballet), hip hop and aerial dance!
Tutor Doctor

State College

Tutor Doctor takes a comprehensive approach to learning by pairing each student with a tutor handpicked to fit their personality, learning style, and educational goals. By working together, tutors can identify the strategies that will most effectively help each child reach their full academic potential. Tutors offer programs for home schooled students of all ages, from elementary to high school.
Grace Alliance Academy

Stroudsburg

This is a hybrid school that meets two days a week for teacher-led, in-school instruction and leaves three days for schooling at home. The school covers multiple subjects daily in a classroom environment, provides hands-on and outdoor learning, and serves grades K-4th grade.
The Bullock Garden Project, Inc.

Swedesboro

This resource can assist in building and maintaining a learning garden (outdoor classroom). Educators can also provide literature-based garden education activities for children. Through this resource's website a contact form can be submitted to gain additional information.
Kleine Klasse Tutoring Center

Washington, PA and Wheeling, WV

Kleine Klasse is a tutoring and instructional center that aims at increasing self confidence and academic knowledge in students that may have some gaps in their background. Students range from 1st grade through 12th grade, as well as some college. Most courses are available for tutoring. Visit www.kleineklasse.com or contact drkathleenmiller@gmail.com for more information.
Brain Balance of Wilmington

Wilmington

Brain Balance helps children struggling with social, academic or behavioral issues. The program is designed for children with ADHD, Asperger Syndrome (ASD), High Functioning Autism, PDD-NOS, Dyslexia, Processing Disorders and other spectrum disorders. The program establishes a unique plan for each child that includes sensory motor work, eye tracking, core exercises, academic skill training, healthy nutrition, confidence building and many other activities that work to bolster a child's developmental deficits. What is unique is that Brain Balance brings all these activities together in one program, including monitoring and reporting on a child's progress. It's is ideal for home school parents of children who are struggling.
Tutoring Club of Wilmington, DE

Wilmington

At the Tutoring Club, we serve New Castle County and Garnet Valley, PA, helping students of all ages and grade levels. We provide both in-center and live online tutoring. We can help your child to succeed regardless of their skill level. If your student needs help with the fundamentals in math, reading, writing, coursework from school, or even SAT & ACT Prep, our highly skilled tutors will get them pointed in the right direction.
Tutoring Club of Wilmington

Wilmington, Delaware

Tutoring Club will help your child on their way to success regardless of their skill level. Whether your student needs help with the fundamentals, math, reading, writing, or even SAT & ACT Prep, our tutors will get them pointed in the right direction with all the guidance that they need. Tutoring Club's individualized approach targets the student's weak points and improves them, bringing their ability up to the set goals. Please feel free to reach out to Eric Levin or Jennifer Bridges at (302) 295-6288.
Susan P. Byrnes Health Education Center

York

A health education center in the Mid-Atlantic providing curriculum and education outreach programs on nutrition, bullying, student drug use, self-confidence, hygiene and other health related topics for K-12 students.
Inclusive Academy of York County

York

The Inclusive Academy of York County provides homeschool enrichment programming for families in York County and surrounding areas. We welcome all homeschooling families regardless of worldview, lifestyle, or homeschooling method.