Jump to: Homeschool Co-ops | Homeschooling Classes & Academic Enrichment
Looking for someone to teach physics to your teen? Need a way to avoid teaching algebra? Want to enroll your Kindergartener in a co-op for social time? Homeschool classes and co-ops are a great way to spend time with other homeschoolers and skill-share with other homeschool parents.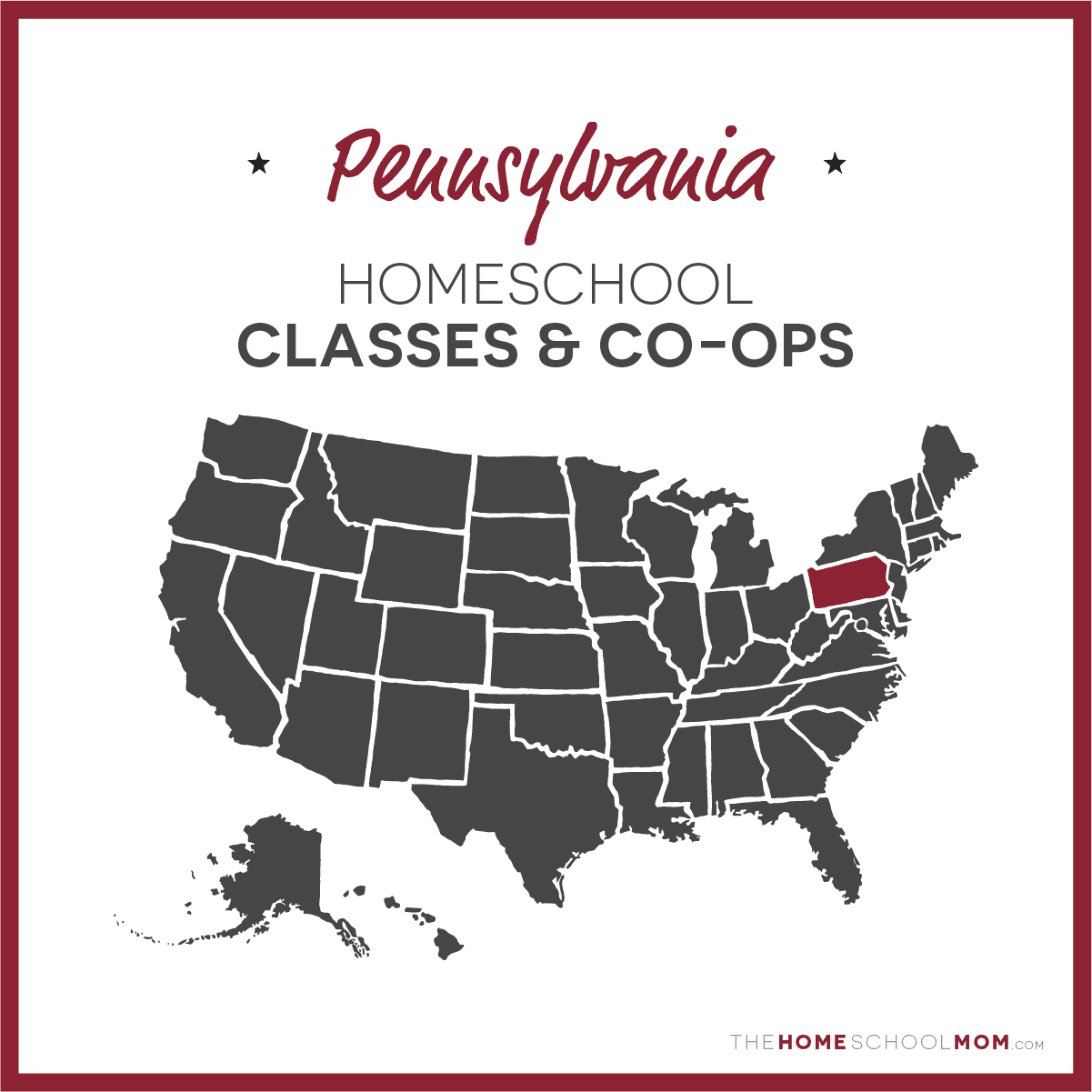 Submit a Local Resource
Our listing of Pennsylvania co-ops and academic classes for homeschoolers is ordered alphabetically by city, with co-ops in the first section and all other academic resources below. If you would like to submit a Pennsylvania co-op or academic resource, you may do so using the red button above.
Pennsylvania Homeschooling Co-ops
New Horizons Homeschool GroupAdams, Cumberland, Dauphin and York counties
New Horizons Homeschool Group (NHHG) is a diverse, but unified community of Christian homeschooling families who love and support each other as they contribute their time and individual experiences teaching, learning,...
EtCH - Emmaus Christian Homeschool CooperativeAllentown
EtCH is a small, parent-run Christian co-op offering enrichment classes and activities for homeschool children in the Lehigh Valley. We also support moms with nights out and other social gatherings. Hands-on classes a...
Excelsior Homeschool CooperativeAllentown
Excelsior Homeschool Cooperative is a Christ-centered learning experience endeavoring to promote excellence among participating students and coordinate the gifts and skills of Christian parents for the glory of God an...
Salt and Light Homeschool Co-opBeaver County
Salt and Light is a non-denominational Christian cooperative, which is located in Beaver County, Pennsylvania. We are comprised of approximately forty-five families that meet together during the school year to share a...
Plants and Pillars Homeschool Co-opBeaver Falls
Plants and Pillars Homeschool Co-op is a Christian homeschool group designed to provide cooperative learning experiences for the Beaver County homeschool community to students in grades PK through 12. Students meet we...
Classical Christian Co-op NazarethBethlehem/Lehigh Valley
Classical Christian Co-op Nazareth is a group of homeschooling families gathering together for the purpose of educating and encouraging children in the process of "learning how to learn."  It follows the structured cl...
Butler Home Education NetworkButler
Butler Home Education Network is an inclusive, secular home education co-op serving families in Butler, PA (and surrounding areas).
Sky's the Limit Homeschool GroupButler
Sky's the Limit Homeschool Group provides a safe, encouraging environment for homeschool or alternate learning families by offering support, resources, and educational opportunities to enrich at home curriculum, culti...
Innovate AcademyChadds Ford
Homeschool co-op located in Chadds Ford has 50% off scholarships! Innovate Academy is a unique learning community whereby like-minded parents, mentors, and local leaders are committed to the spiritual formation of you...
Clarion County HomeschoolersClarion
Clarion County Home Schoolers (hereinafter referred to as CCHS) is a cooperative organization formed for the purpose of uniting Christian homeschooling families in Clarion County and the surrounding areas for the purp...
New Horizons Homeschool Co-OpDillsburg
We believe the most personally invested teachers are parents, we dedicate ourselves to teaching and caring for our students while we provide them with quality academic and enrichment classes.  . Our co-op thrives on t...
Creative Home Educators' Support Services (CHESS)Elizabethtown
CHESS meets for 30 Tuesdays from the end of August until the end of April of each school year.  We offer six 55 minute periods each Tuesday, with a lunch break in the middle.  Students are then assigned work to comple...
Vine and Branches Homeschoolers Lancaster CountyEphrata
Christian homeschooling families that seek community and shared learning experiences as a supplement to their home-based schooling. We are a co-operative rooted in faith in Jesus and the truths in His Word. We desire ...
The Classical Christian Community of Erie (C3E)Erie
The C3E is a classical homeschool co-op serving Northwest Pennsylvania families. The program is divided into three stages: Grammar (elementary), Logic (middle school), and Rhetoric (high school). The Grammar students ...
Classical Christian Community of ErieErie
A group of homeschooling families that come together once a week in Northeast PA for the purpose of educating and and encouraging our students in the process of "learning how to learn." Our classes are structured acco...
Christian Homeschoolers Exchange (CHEX)Lancaster
Christian Homeschoolers Exchange (CHEX) is a group of homeschool families joining to fellowship, encourage each other in our life's journeys, and provide excellent group learning opportunities for our children. Member...
Conestoga Valley HomeschoolersLancaster
A Christian homeschool organization that believes God has brought us together to encourage us as we homeschool our children. We provide opportunities for our children to socialize and interact with other homeschool fa...
Cornerstone Lower TierLancaster
Cornerstone Homeschoolers exists to provide a supportive Christian community for homeschooling families. Cornerstone Lower Tier serves families with children in nursery – 8th grade with enrichment classes, gym, choir,...
Treasures of GraceLancaster
The mission of Treasures of Grace Educational Home School Association is to support the member home-schooling families through friendship development, encouragement, and prayer; and to provide an opportunity for stude...
JBY Academy Homeschool GroupLehigh Valley
JBY Academy is a new homeschool group infused with the performing and creative arts. We serve families in Lehigh Valley, Pennsylvania; which includes the cities of Allentown, Bethlehem, and Easton. Plus, surrounding a...
Learning StationLititz
Learning Station supports homeschool families by providing a cooperative learning environment in which students develop academically and socially in a Christian community. Learning Station meets at Lancaster Evangelic...
FACE Co-opLittlestown
FACE stands for "Family Academic and Christian Enrichment". FACE strives to provide classes that are beneficial to families and will help them succeed in their goal of educating their children. As a result, we strive ...
CHASE AcademyManheim
Christian Homeschool Association of Scholastic Excellence (CHASE) is a Christian co-op offering weekly classes in academics, electives, and music.
Pike Christian Homeschool Connection (PCHC)Milford
Pike Christian Homeschool Connection is a Christ-centered home educating support group ministering to families in North East PA. PCHC offers a weekly co-op, support group, and special events for homeschooling families.
Myerstown Enrichment CenterMyerstown/Bethel
Myerstown Enrichment Center (MEC) is a Christian homeschool support group that was founded in 1995. We meet each Tuesday from September to May, except for listed holidays. Our eight-member volunteer board coordinates ...
Classical Christian Co-op (of the Poconos)Nazareth, Win Gap, Pocono area
Classical Christian Co-op (of the Poconos), is a group of homeschool families gathering together for the purpose of educating and encouraging students in the process of "learning how to learn". The co-op follows the s...
Walnut Grove CoopNewark
Walnut Grove Coop is a nonprofit educational organization serving Delaware, Maryland, New Jersey, and Pennsylvania. This group provides opportunities for children to learn in a respectful, inclusive, secular community...
Rising Roots Secular Homeschool CooperativeOrefield
Rising Roots seeks to create a safe, supportive, and open space for homeschool families of all backgrounds. We are committed to the principles of inclusion while honoring the great need for support through the singula...
Davisville Homeschool ConnectionPhiladelphia
Students meet at Davisville Church in Southampton (near Philadelphia) on Tuesday mornings from 9:15am - 1:45pm. (10 weeks in the fall and 10 weeks in the spring - actual times may vary slightly). There are no co-op cl...
The Field Co-opPhiladelphia
We support families interested in creating and sustaining community in the Philadelphia region through a variety of activities such as field trips, hikes, social events, and book clubs. Because we are a cooperative, o...
Claritas Classical AcademyPhiladelphia/Main Line
Claritas is a homeschool hybrid program meeting two days per week in Bryn Mawr, PA. This comprehensive program serves Philadelphia-area homeschool families and their pre-K through high school students with its Christ-...
Heart Christian Academy - PhoenixvillePhoenixville
A hybrid homeschool academy. Two days in person grade level instruction in a classroom, three days at home. All curriculum is thoroughly vetted and broken down in to lesson plans making it easy to stay on track and co...
Reading Orthodox Christian Co-OpReading
R.O.C.C. is a community of Orthodox homeschoolers providing supplementary education to PreK-6, while building a foundation in the faith. Our classes are taught by parent volunteers. We meet at Sts. Constantine & H...
LAF Co-opShrewsbury
Learning, Activities and Fellowship (LAF) Co-op! Our goal is to assist homeschooling families by providing a variety of classes to help meet the educational needs of your PreK-12th grade students. Students may take ju...
S.E.E.K Co-opSinking Spring
The acronym S.E.E.K. stands for Support, Encouragement, and Education for the Kingdom. We are a homeschool support group that also has a co-op which meets for classes on Fridays, September through April/May.
Solid Foundation Educational Association (SFEA)State College
The Solid Foundation Educational Association (SFEA) is a cooperative homeschool group that provides classes in State College, Pennsylvania. On Tuesdays, there are class options available for 4th-12th graders, and on T...
Kingdom Homeschool ServicesStevens
This is a homeschool educational service that is meant to develop spirit-filled students who can not only complete the required core subjects and earn school credits but also, learn, practice, and use their spiritual ...
Love First Homeschool IncWashington County
We are an organization of homeschooling families who gathers with each other to give our children opportunities to engage in academic and social learning with each other. We meet weekly on Monday where our children ha...
Classical CivitasWest Chester
The mission of Classical Civitas is to serve and support homeschool families by facilitating classical Christian homeschool programs. Our members have access to community, classes, field trips, and educational develop...
Western PA Enrichment Center IncWhite Oak
A Christian, parent-run homeschooling co-op. We offer academic and enrichment classes for Pre-K thru 12th grade. There is a nursery available for families with younger children. Parents teach, help in classes, and hel...
Agape Homeschool York is a non-profit homeschool co-op, partnering with parents in providing an environment that facilitates a love of learning and glorifies GOD. We believe the gaining of knowledge and characters dev...
Pennsylvania Homeschooling Classes & Academic Enrichment
ECWPA - The Enrichment Center of Western PABaden
The Enrichment Center of Western Pennsylvania has been providing structured learning opportunities for home educators in the Pittsburgh area for over twenty years. Through our parent-led cooperative, countless student...
Plants and Pillars Homeschool Co-opBeaver Falls
Plants and Pillars Homeschool Co-op is a Christian homeschool group designed to provide cooperative learning experiences for the Beaver County homeschool community to students in grades PK through 12. Students meet we...
Omega Learning CenterBentonville
Omega Learning Center at South Hills provides AdvancED accredited tutoring and test prep programs with certified teachers in Bridgeville, PA and Allegheny County for all K-12 school subjects. Omega's academic assessme...
Holden Home School ConsultingBucks
Successfully Educate Your Children at Home! Theresa and Sanford Holden offer Testing, Evaluation, Curriculum Design, and Tutoring services to Pennsylvania and New Jersey residents who are currently homeschooling or ar...
STEMgirlz TechshopsBucks County
Free Techshops for middle school girls. STEMgirlz Techshops is located in Bucks County, and supported by Bucks County Community College and local branches of AAUW (American Association of University Women).
Classical Conversations of Cranberry TownshipButler/Cranberry Township
Did you know these great thinkers were educated classically: CS Lewis, Thomas Jefferson, Aristotle, Issac Newton to name a few? Classical Conversations believes that children are a gift from the Lord and that parents ...
Dave & Buster's Homeschool Team BuildingCamp Hill
Dave & Buster's has homeschool Team Building activities whereby kids can learn to work as a team, collaborate and practice being good Winners and good not-winners. We offer these challenges in an environment that'...
Chadds Ford Historical SocietyChadds Ford
The Chadds Ford Historical Society preserves, maintains, and interprets several early 18th century historic buildings on the National Register of Historic Places: John Chads House, Barns-Brinton House, and the Springh...
Snapology of King of PrussiaChester, Delaware, and Montgomery counties
STEM classes and workshops all around the region, as well as come to your co-op or playgroup for your own class or event. Students will learn by doing, as they use LEGO bricks and technology to engineer, design, and b...
Smart Spot Educational Services, LLCCoopersburg
"Getting Ahead or Catching Up, Where remarkable outcomes happen" Tutoring for students with and without special needs. Focus on true mastery of foundation skills PK-8th grade. Reading Writing Math Free Assessment with...
Valley Family TherapeuticsCoopersburg/Lehigh County
Valley Family Therapeutics specializes in OT, ST, and PT. Providing outpatient services in the clinic, as well as equine therapy and home based therapy. Launching a social skills group for children and adolescents to ...
National Institute for Learning DevelopmentDelaware and Chester County
NILD Educational Therapy stimulates areas of weakness in perception and cognition to function effectively through individualized, intensive, interactive stimulation producing independent learners in a one-on-one setting.
Delaware County Community CollegeDelaware County
High School Dual Enrollment classes for homeschooling students. For more information, contact: Katie Horn at khorn5@dccc.edu or 610-325-2791 or visit www.dccc.edu/highschool
Civil Air Patrol Delaware County Squadron 1007Delaware County
Civil Air Patrol's cadet program transforms youth into dynamic Americans and aerospace leaders through a curriculum that focuses on leadership, aerospace, fitness and character. As cadets participate in these four ele...
Historical Performance with Daisy CenturyDelaware, Maryland, and Pennsylvania
A Historical Interpreter from Philadelphia, Dr. Daisy Century performs a one woman show of seven historical women like Bessie Coleman, Harriet Tubman, and Sojourner Truth. Contact Dr. Century through the website to br...
Agape Christian HomeschoolDillsburg
The purpose of Agape Christian Homeschool Organization, also known as AGAPE, is to provide children with educational opportunities that promote academic excellence and the development of Godly character as outlined in...
Mindful Roots YogaDouglassville
Mindful Roots Yoga offers support for students in the social, emotional and physical space. Mindfulness and yoga instruction are available for students of all ages. Systematic teaching materials developed by our found...
Minds in MotionDoylestown
"Minds in Motion" is a enrichment program that uses elements of yoga and kinesis to teach real life skills like perseverance, mentoring, mindfulness, motivation, problem solving, trust, communication, creativity and c...
Creative Home Educators' Support Services (CHESS)Elizabethtown
CHESS meets for 30 Tuesdays from the end of August until the end of April of each school year.  We offer six 55 minute periods each Tuesday, with a lunch break in the middle.  Students are then assigned work to comple...
River Mountain RetreatEverett
River Mountain's field trip programs teach screen time management and digital citizenship to help students flourish back at home. We offer day field trips and overnight programs for young people in grades 3-12 focused...
Adventure in Fun Exotic animal showGettysburg
At Adventure In Fun! Bringing fascinating animals directly to you! These shows are a fun & educational experience designed to educate and encourage people to engage and interact with nature around them. Experience...
Laurel Mountain Classical Academy - LMCAGreensburg
Laurel Mountain Classical Academy (LMCA) strives to provide an academic learning environment to assist parents in homeschooling their children.  While we recognize parents as the primary educators, we promote structur...
The Hershey Story - The Museum on Chocolate AvenueHershey
The Hershey Story Museum showcases the failures to fortune life story of Milton Hershey. Explore how Milton Hershey created not only a company, but a whole town and how his legacy continues today. Families learn throu...
Home School Connection at The Hockessin Montessori SchoolHockessin
Home School Connection Enrichment Program - The Hockessin Montessori School brings expertise in education and creativity to the home school community through our HOME SCHOOL CONNECTION. This program offers a variety o...
Outdoor School at College SettlementHorsham
Hands-on education is the heart of our Outdoor School Program.  Teacher Naturalists lead small groups of school students through environmental education, team building, and retreat-type activities. We work with a wide...
Christian Homeschoolers Exchange (CHEX)Lancaster
Christian Homeschoolers Exchange (CHEX) is a group of homeschool families joining to fellowship, encourage each other in our life's journeys, and provide excellent group learning opportunities for our children. Member...
LRS microSchoolLancaster City
A revolutionary idea in education. At LRS microSchool, we work with families who have chosen to home school to provide a new way to think about education. We all know that kids need an alternative to the "mass product...
Cornerstone - Upper TierLancaster County
Cornerstone Upper Tier classes are offered for middle and high school home school students from September-April (30 weeks) with some one semester classes.
Providence Hybrid AcademyLehigh Valley
Providence Hybrid Academy is a hybrid learning program that integrates the benefits of classroom learning with the independence of schooling at home. Our approach prioritizes social development through free play, crea...
A One-Room SchoolhouseMcDonald, PA
"A One-Room Schoolhouse is a hybrid homeschool academy working to build faith, knowledge, and character. Students enjoy the flexibility of attending our drop-off program anywhere from one to three days a week. Parents...
West Shore Christian Evangelical CommunityMech
A like-minded group of homeschooling families who come together to educate and enrich the lives of our children ages infant to high school. We offer both enrichment (meet every other week) and academic (meet weekly) c...
Media Youth Film Initiative (MyFi)Media
Has your child ever wondered what it is like to write a film script, create a storyboard, perform in front of a camera, direct actors, light a set, or put it all together in an editing program? Whether their goal is t...
The Conococheague InstituteMercersburg
The Conococheague Institute is a 30 acre site located in Franklin County, PA. With a focus on hands on engaging programs in the fields of history and nature there is something for everyone. From 18th Century Medicine ...
Ned Smith Center for Nature and ArtMillersburg
The Ned Smith Center for Nature and Art is a 501(c)(3) non-profit, the mission of which is to honor the legacy of Ned Smith by merging the arts and natural world through education, exhibition, and experiences. The Cen...
New Perspectives In Learning- Solutions for Dyslexia, ADD, and ADHDMontclair, NJ, New Jersey/New York/PA area
This resource provides one-on-one, hands-on programs that tap into the learning strengths of the visual/spatial learner. Dyslexia is a learning difference, not a "disability." The thinking style of bright, but often s...
Living Oaks AcademyMorgantown
Living Oaks Academy is Christian academy focusing on discipleship for students in Kindergarten to 6th Grade. The schedule is two days per week and also offers homeschool support and curriculum counseling. Students lea...
Myerstown Enrichment CenterMyerstown/Bethel
Myerstown Enrichment Center (MEC) is a Christian homeschool support group that was founded in 1995. We meet each Tuesday from September to May, except for listed holidays. Our eight-member volunteer board coordinates ...
Meet The Pharaohs Exhibition and Workshops program for school childrenPA, DE, NJ
An educational program on ancient Egypt that teaches children through creative, hands-on on various topics of this amazing culture. Topics include: *Kings of Egypt *Queens of Egypt *Jewelry and Fashion *Lifestyle *Arc...
Pennsylvania Classical ConversationsPennsylvania Statewide
CC is a national homeschooling program that uses a Bible based curriculum taught in a christian, classical tradition. Classes are geared for age 4 through high school.
The Franklin Institute Discovery CampPhiladelphia
The Franklin Institute Science Museum offers an 11-week summer Discovery Camp made up of one- and two-week sessions. Youngsters may enroll in as many sessions as desired. In addition, the Institute has Spring Break Ca...
Japanese House and Garden enrichment classesPhiladelphia
Language Classes The Japanese Classroom Program offers evening Japanese classes for adults based on a college-style curriculum. There are four semesters annually, Spring (January-April), Summer I (May-June), Summer II...
Philly CoderDojoPhiladelphia
Philly CoderDojo (PCD) was started as a local CoderDojo to serve students in Philadelphia areas. CoderDojo is an open source, volunteer led international movement of free computer programming clubs for young people. A...
Motivated Young Scholars, IncPhiladelphia
Motivated Young Scholars is a non-profit organization based out of Philadelphia.  We support learners K - 12 one on one and in small groups through our onsite facility and our virtual support department.   Our class s...
Chess and CodingPhiladelphia
Chess and Coding are both STEM subjects that kids need to be exposed to at an early age. Many resources teach kids these two critical thinking skills. This resource teaches kids in the city park that it is easy to get...
4 Elements Earth EducationPhiladelphia
4 Elements Earth Education (4EEE) is a 501(c)(3) educational non-profit organization home to the west coast Fox Walkers and east coast Coyote Tracks Youth Programs. Our mission is to offer programs that guide children...
GEZ: Girls Empowerment ZonePhiladelphia area
GEZ is a 501(c)3 PA nonprofit program for ages 7-14. The President of this organization homeschools her children and knows that the program impact on today's young ladies. The GEZ program offers the following to girls...
ACE MentorPittsburgh
ACE mentor is a mentoring program for High School aged students that are interested in Architecture, Construction or Engineering. This program is free and runs from October to May every year. The students meet from 4-...
Snapology - PennsylvaniaPittsburgh
Snapology classes and programs are available to support your homeschool education goals. Save time and simplify your life by allowing your child to benefit from Snapology's play-based classes. Our curriculum can be ad...
Children's Language Immersion Program (CLIP)Pittsburgh/South Hills
Immersion learning is the gold standard for learning a second language. Research shows that immersion learning strengthens the brain and improves understanding of the target language and culture. CLIP's after school l...
Newave StudiosScranton
Newave Studios offers a multitude of enrichment courses. Art class includes: Painting, sculpting and illustration. Textile class includes: hand sewing, knitting, dying fabrics and machine sewing. Robotics classes incl...
Tutor DoctorState College
Tutor Doctor takes a comprehensive approach to learning by pairing each student with a tutor handpicked to fit their personality, learning style, and educational goals. By working together, tutors can identify the str...
Grace Alliance AcademyStroudsburg
This is a hybrid school that meets two days a week for teacher-led, in-school instruction and leaves three days for schooling at home. The school covers multiple subjects daily in a classroom environment, provides han...
The Bullock Garden Project, Inc.Swedesboro
This resource can assist in building and maintaining a learning garden (outdoor classroom). Educators can also provide literature-based garden education activities for children. Through this resource's website a conta...
Kleine Klasse Tutoring CenterWashington, PA and Wheeling, WV
Kleine Klasse is a tutoring and instructional center that aims at increasing self confidence and academic knowledge in students that may have some gaps in their background. Students range from 1st grade through 12th g...
Brain Balance of WilmingtonWilmington
Brain Balance helps children struggling with social, academic or behavioral issues. The program is designed for children with ADHD, Asperger Syndrome (ASD), High Functioning Autism, PDD-NOS, Dyslexia, Processing Disor...
Tutoring Club of Wilmington, DEWilmington
At the Tutoring Club, we serve New Castle County and Garnet Valley, PA, helping students of all ages and grade levels. We provide both in-center and live online tutoring. We can help your child to succeed regardless o...
Tutoring Club of WilmingtonWilmington, Delaware
Tutoring Club will help your child on their way to success regardless of their skill level. Whether your student needs help with the fundamentals, math, reading, writing, or even SAT & ACT Prep, our tutors will ge...
Susan P. Byrnes Health Education CenterYork
A health education center in the Mid-Atlantic providing curriculum and education outreach programs on nutrition, bullying, student drug use, self-confidence, hygiene and other health related topics for K-12 students.
Inclusive Academy of York CountyYork
The Inclusive Academy of York County provides homeschool enrichment programming for families in York County and surrounding areas. We welcome all homeschooling families regardless of worldview, lifestyle, or homeschoo...
Go to...