Jump to: Homeschool Arts | Homeschool Sports
In addition to the opportunity to get out of the house and socialize, homeschool sports and arts programs can offer long-term benefits by developing characteristics like leadership, self-confidence, perserverance, and self-esteem. Many organizations and businesses have opportunities specifically for homeschoolers, while others invite homeschoolers to participate in their regular programs.
Not sure how to choose activity/activities for your children? Read how Rebecca narrows down the choice of extra-curricular activities.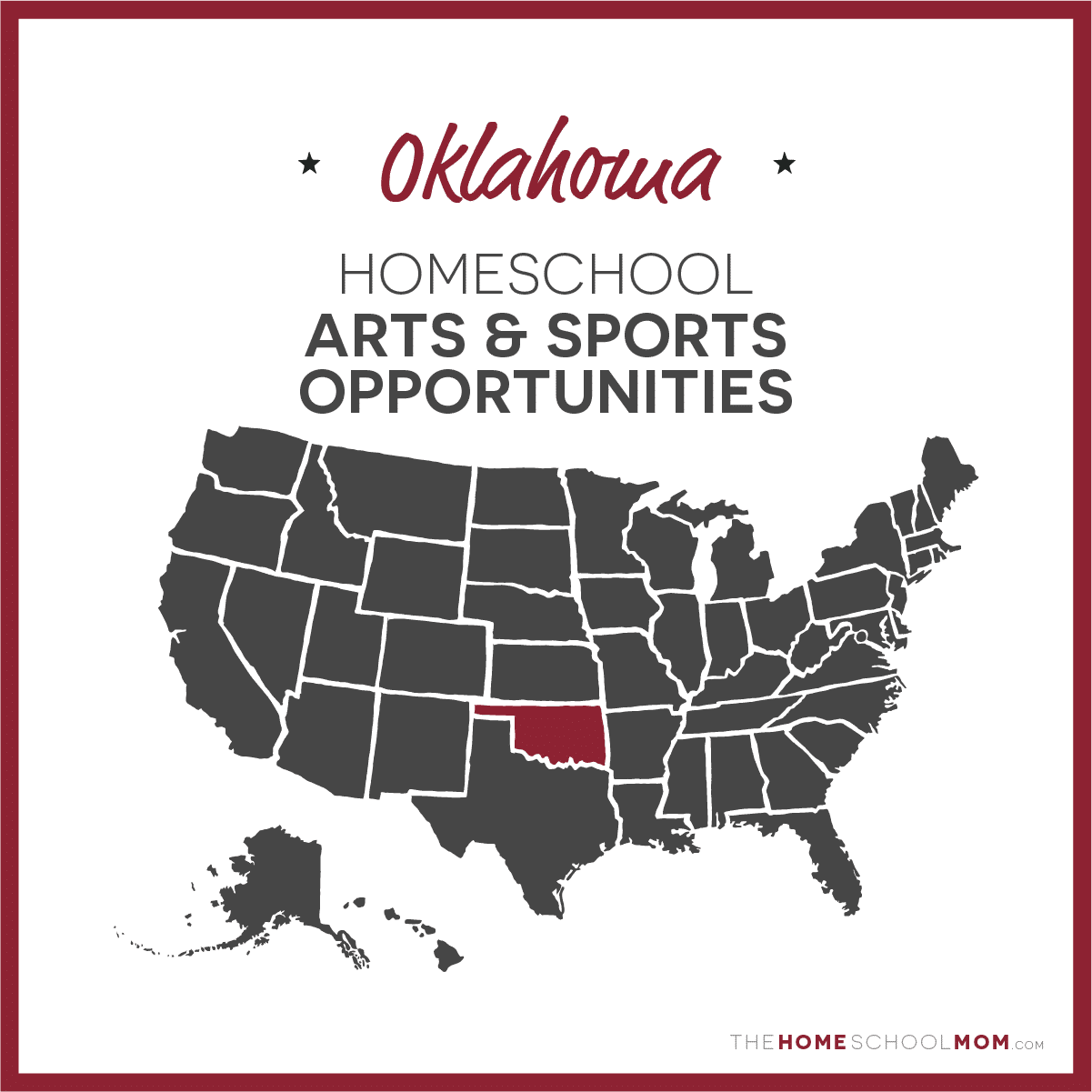 Submit a Local Resource
Our listing of Oklahoma list of homeschool arts and sports programs is ordered alphabetically by city, with arts in the first section and sports in the second section. If you would like to submit an Oklahoma arts or sports program, you may do so using the red button above.
Oklahoma Homeschool Arts Programs
3J Farms OK - A Learning Farm

Blanchard

Thos family owned farm serves the local Oklahoma community through a holistic blend of classes, events and tours on the farm. Learners are exposed to both active and passive farm activities that encourage mind, body, heart and soul in union with the land. Sharing with others sustainable farming practices, farm arts & crafts, food preparations & preservation, and wellness through food, medicinal plants and physical exertion. Things are always growing and changing at the farm.
Flute Instructions with Dr. Morrigan O'Brien Kane

Cincinnati

Private flute instruction for students. Lessons focus on learning proper embouchure for good tone production, technical facility, note and rhythm reading, appropriate studies and solo repertoire. Students are featured in annual recitals and have opportunities to participate in flute choir sessions throughout the year. Lessons are taught in the West Chester area.
Geometric and MADI Art Museum

Dallas

Located in Uptown Dallas, the Museum of Geometric and MADI Art (the MADI) is the only museum dedicated to MADI art and the primary point of focus for the MADI movement in the United States. Opening in 2003, the MADI has presented exhibitions of MADI art including MADI movement founder Carmelo Arden Quin, as well as works by contemporary artists working in geometric forms. Find out more about the Museum of Geometric and MADI Art at www.geometricmadimuseum.org, or call (214) 855-7802 Artist receptions, special music events, salons, tours, and workshops are just some of the programs that are happening at any given time. All programs of the MADI are free, but members have preference and some events are for members only. Visit the ATTEND section for a listing of all scheduled programs or the RESERVE section to schedule a workshop or tour.
Edmond Parks & Recreation

Edmond

Offering a variety of classes from dance to pottery. Dance classes include ballet, jazz, contemporary, hip-hip and tumbling. If dance is not what you are looking for, try cooking, art, bisque, wheel throwing, or self-defense. The Outdoor Adventure Series program teaches hiking, kayaking, mountain biking, and camping. Most classes are under $15 dollars and some are available as private classes.
STAGE Productions

Edmond/Guthrie

STAGE Productions is a performing arts studio with a strong emphasis on theater. We exist to glorify Christ through the performing arts. We currently provide theater opportunities, classes and workshops for students age 7 to 19. We strive to provide a place where performers can explore their God-given talents in an environment that is both fun and encouraging.
Jennifer Jennings Piano Studio

Edmond/North Oklahoma City

Jennifer Jennings is a private piano teacher offering weekly lessons to home school students in the Edmond and North Oklahoma City area. Performance opportunities are offered throughout the year. Visit the studio website www.jenniferjenningspianostudio.com, text/call (405)205-4047 or email jenningspianostudio@gmail.com.
Norman Cultural Connection

Norman

Norman Cultural Connection (NCC) is committed to enhancing awareness, understanding, and appreciation of cultural diversity, social differences, and the wisdom of world cultures. NCC believes cultural traditions, rituals, practices, art forms, and music are important parts of our shared experience and understanding of the world. Through outreach—which includes educational programs, lectures, and opportunities for dialogue—NCC seeks to create a supportive community for the development of personal and collective well-being. Regular programming includes African drumming classes and annual workshop, Tibetan sand mandala creation, and a Compassion Around the World lecture series.
Cadenza Studios Piano Lessons

Oklahoma City

This studio located in Central Oklahoma City (near NW 30th and Villa) offers private piano lessons to students of all ages and abilities. All styles of music are taught and lessons are guided by student's personal interests and goals. The perfect place for lessons for serious or hobby students. Free trial lesson to any prospective students!
Central Oklahoma Homeschool Choirs

Oklahoma City

Central Oklahoma Homeschool Choirs seeks to provide an excellent choral music education midst a Christian environment to area home school families. The program strives to ignite a love of music through the singing of sacred, traditional, and contemporary choral literature, cultivate basic vocal techniques and music literacy skills through a varied repertoire and musical activities, promote the development of personal character and teamwork through performance preparation, and provide opportunities to serve the community and proudly represent the home school sector both locally and nationally through musical presentations. The choirs meet at multiple locations across the OKC metro area.
Tippi Toes Dance

Oklahoma City

Tippi Toes Dance's mission is to develop a love of dancing in children by creating a positive experience that promotes healthy living habits, helps build self-confidence, and a love for others. Since 1999, Tippi Toes® teachers have been cheerfully providing children with a fun, positive and nurturing environment so they are able to experience the joys of dance, self-expression and movement. Classes are available in Oklahoma City, Edmond, Moore and Norman. Home school families can join an existing class or create their own class time for their group!
Creative Music Academy, inc

Oklahoma City

We are here to support families in teaching students Music as well as support parents in their academics with a CO-OP style learning for virtual and home schooled students. We know this school year will look different for many, so we invite you to join us as we help you and your student(s) work through it successfully.
Jennifer Boyes Music Studio

Oklahoma City

Private lessons for violin, viola, and piano in NW Oklahoma City. Students also have access to performance opportunities and participation in small ensembles.
Oklahoma Youth Dance Connections – Non Profit

Oklahoma City / War Acres

Oklahoma Youth Dance Connections will transform the lives of young individuals through a unique approach to teaching the artistry and athleticism of ballroom dance.
Exodus Resource Center

Tulsa

Exodus is a Christian Resource Center which exists to equip and connect homeschooling, and school at home families, providing them with the tools and support they need to thrive in their schooling journey. Exodus has a homeschool Co-op, and Classes along with many other resources available, even offering a summer fun day Co-op beginning June 2021!
Kingma Piano Studio

Tulsa

Joseph Kingma offers piano lessons for intermediate to advanced students and is located in Tulsa, OK
Oklahoma Homeschool Sports Programs
Edmond Outdoor Ice Rink

Edmond

Outdoor Ice Skating opportunities every fall in Edmond, OKlahoma. Edmond Outdoor Ice Rink offers fundraising opportunities for groups of more than 50 participants. Also available are small group party or private party rates. Contact Ruth Green at expressice.ruth@gmail.com for more information.
Oklahoma Swim Academy

Edmond

Oklahoma Swim Academy teaches the love of safe swimming to all ages! Offer water safety to children as young as 4 months and teach through adult levels in the Edmond, OKC, and surrounding communities. Oklahoma Swim Academy specializes in private lessons that are tailored and paced to each individual child.
Edmond Parks & Recreation

Edmond

Offering a variety of classes from dance to pottery. Dance classes include ballet, jazz, contemporary, hip-hip and tumbling. If dance is not what you are looking for, try cooking, art, bisque, wheel throwing, or self-defense. The Outdoor Adventure Series program teaches hiking, kayaking, mountain biking, and camping. Most classes are under $15 dollars and some are available as private classes.
The Forge BJJ Kids - Jiu Jitsu for Homeschool Kids

Edmond

The Forge BJJ in Edmond now offers a Homeschool Program for kids on Wednesdays and Fridays, at 10:00am. They have an excellent, young instructor who is great with kids, and was homeschooled himself. They offer a "no pressure" learning system that gives our kids confidence as they progress through earning stripes and belts, by learning new techniques and control. There are also opportunities to compete in local BJJ tournaments if your child aspires to do so.
Oak Tree Country Club Homeschool Group TENNIS Lessons and Leagues

Edmond

The Oak Tree Country Club Home School Tennis Program provides top instruction Tuesdays and Thursdays from USPTA certified professionals. 10 & Under Students have class from 12 - 1:30 pm T/Th and 11 - 18 yr olds have class from 1:30 - 3 pm. In addition the Home School Program provides regular team leagues with uniforms, music, and fun. The team leagues provide an excellent character and friendship building opportunity. Email billy.popejoy@clubcorp.com for more information. The cost $16/hour.

Oak Tree Country Club Homeschool Group TENNIS Lessons and Leagues details
Granville Christian Academy Varsity soccer

Fairfield, Knox, Licking and Muskigum Counties

Granville Christian Academy is extending an invitation to high school age home school students to play soccer for thier varsity soccer team. Contact Eric.Zimmerman@colliers.com for more information.
Oklahoma Homeschool Volleyball League

Norman

Oklahoma Homeschool Volleyball League (OHVL) consist of teams from various cities in Oklahoma and one from Texas. Homeschool teams compete against each other in Norman, Ok from January to March, ages 12-19, coed, all gender teams, and all skill levels Divisions are based upon skill level. OHVL is a developmental league providing an opportunity for sports with an emphasis on honoring the Lord on and off the court.
Red River Athletic Association

North Texas/Southern Oklahoma

The Red River Rattler Athletic Association is dedicated to providing home school students in the North Texas/Southern Oklahoma area with the opportunity to play competitive sports in a Christian environment. The purpose is to provide a positive, Christ-centered experience for all players; honoring Christ and keeping Him first. Red River Rattlers offers Boys and Girls Basketball and Girls Volleyball to home-schooled athletes Middle School aged through High School. Check the website often for sign-up information.
Stingray Volleyball Academy

Oklahoma City

A high school homeschool volleyball team. Looking for homeschool students interested in joining. Opportunities in the summer to play. Practices begin in early August. Games/tournaments will begin mid-August through the end of October.
Riversport OKC Field Trips

Oklahoma City

Looking for opportunities to engage students in new and exciting ways? Visit the Boathouse District for a field trip! The most popular field trip activities for all sizes of groups is dragon boating. This is an on-the-water experience unlike anything else in Oklahoma. Your group will start with a tour of the Oklahoma City National High Performance Center, and then will climb in to our 10 and 20-man dragon boats and learn to paddle together to move the boat. At the end, all the boats will race to see which group can work together the best. This experience is $15 per participant and requires a minimum of 20 participants. Book a field trip or get more information on other field trip options by emailing us at info@riversportokc.org!
SKATES Mommy & Me Homeschool Skate

Sand Springs

SKATES hosts Mommy & Me Homeschool Skate the 3rd Wednesday of each month from 1-3pm. The cost is $4.00 per person which includes skate rental. Children under 2 are free.
Homeschool Gymnastics at Pride Gymnastics Academy

Tulsa

- Offering gymnastics for boys and girls for all levels and ages. - Special offers for home school families (Waive the $30 enrollment fee) - Parents can organize a class of 7 students and their child does not have to pay tuition. - Flexibility of schedule. Tell us your needs in terms of days and times and we can make it happen!
ProDay Sports Training

Tulsa

This Gym specifically has a home school program during the day for youth athletes and general fitness. They offer high intensity interval training and the classes are different every time for good variety. Do their 1 week trial so you can see if it s a good fit for you and your family. Particularly helpful for speed and agility training of athletes in basketball, volleyball, soccer, swimming, lacrosse, wrestling, cheerleading, tennis, and gymnastics.