Jump to: Homeschool Arts | Homeschool Sports
In addition to the opportunity to get out of the house and socialize, homeschool sports and arts programs can offer long-term benefits by developing characteristics like leadership, self-confidence, perserverance, and self-esteem. Many organizations and businesses have opportunities specifically for homeschoolers, while others invite homeschoolers to participate in their regular programs.
Not sure how to choose activity/activities for your children? Read how Rebecca narrows down the choice of extra-curricular activities.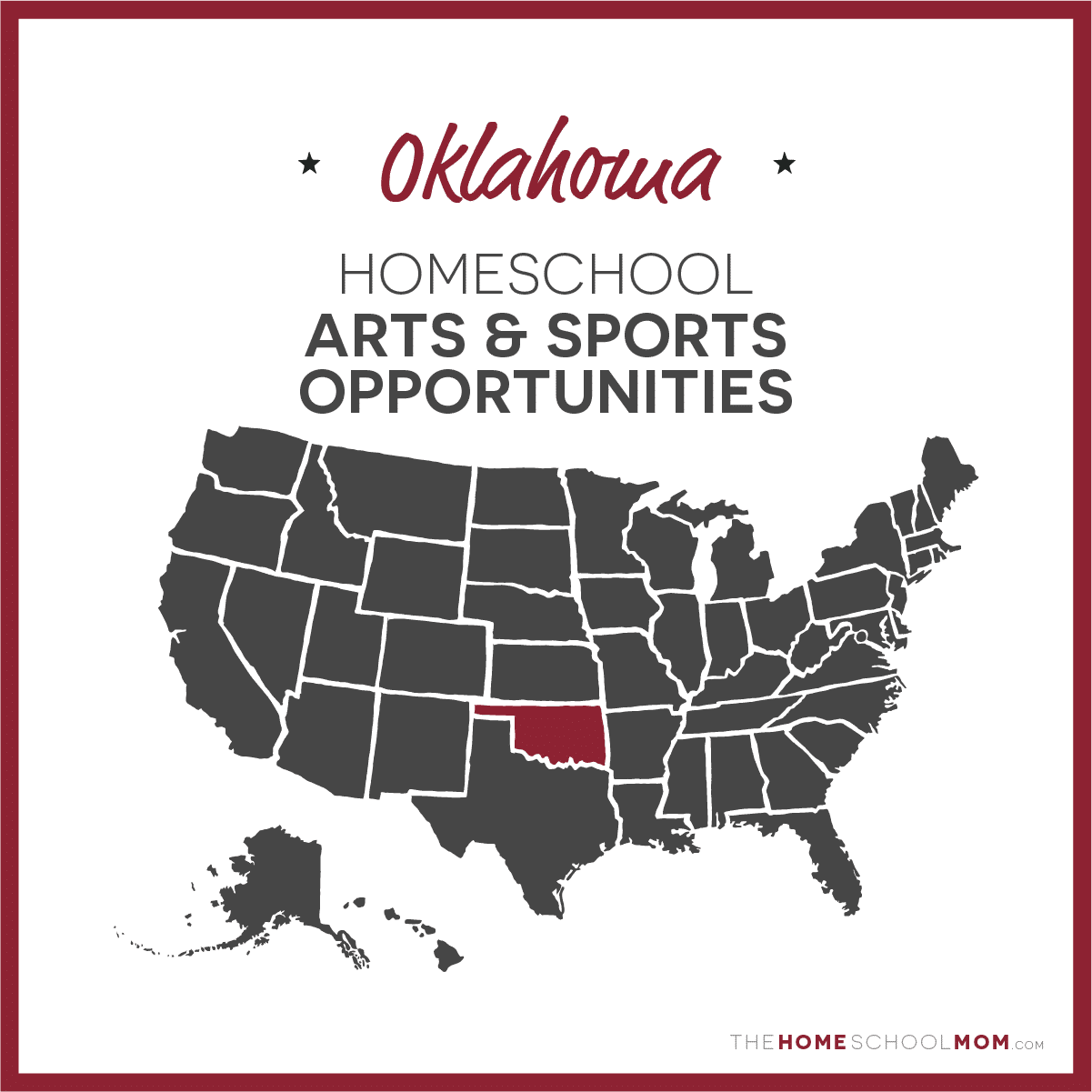 Submit a Local Resource
Our listing of Oklahoma list of homeschool arts and sports programs is ordered alphabetically by city, with arts in the first section and sports in the second section. If you would like to submit an Oklahoma arts or sports program, you may do so using the red button above.
Oklahoma Homeschool Arts Programs
3J Farms OK - A Learning FarmBlanchard
Thos family owned farm serves the local Oklahoma community through a holistic blend of classes, events and tours on the farm. Learners are exposed to both active and passive farm activities that encourage mind, body, ...
Flute Instructions with Dr. Morrigan O'Brien KaneCincinnati
Private flute instruction for students. Lessons focus on learning proper embouchure for good tone production, technical facility, note and rhythm reading, appropriate studies and solo repertoire. Students are featured...
Geometric and MADI Art MuseumDallas
Located in Uptown Dallas, the Museum of Geometric and MADI Art (the MADI) is the only museum dedicated to MADI art and the primary point of focus for the MADI movement in the United States. Opening in 2003, the MADI h...
Edmond Parks & RecreationEdmond
Offering a variety of classes from dance to pottery. Dance classes include ballet, jazz, contemporary, hip-hip and tumbling. If dance is not what you are looking for, try cooking, art, bisque, wheel throwing, or self-...
STAGE ProductionsEdmond/Guthrie
STAGE Productions is a performing arts studio with a strong emphasis on theater. We exist to glorify Christ through the performing arts. We currently provide theater opportunities, classes and workshops for students a...
Jennifer Jennings Piano StudioEdmond/North Oklahoma City
Jennifer Jennings is a private piano teacher offering weekly lessons to home school students in the Edmond and North Oklahoma City area. Performance opportunities are offered throughout the year. Visit the studio webs...
Norman Cultural ConnectionNorman
Norman Cultural Connection (NCC) is committed to enhancing awareness, understanding, and appreciation of cultural diversity, social differences, and the wisdom of world cultures. NCC believes cultural traditions, ritu...
Cadenza Studios Piano LessonsOklahoma City
This studio located in Central Oklahoma City (near NW 30th and Villa) offers private piano lessons to students of all ages and abilities. All styles of music are taught and lessons are guided by student's personal int...
Meadowlark Violin StudioOklahoma City
Lora Gallman at Meadowlark Violin Studio offers online violin lessons for homeschoolers via Skype. She holds a Bachelor's degree in Music Performance from the University of Alabama and Master's degree in String Pedago...
Central Oklahoma Homeschool ChoirsOklahoma City
Central Oklahoma Homeschool Choirs seeks to provide an excellent choral music education midst a Christian environment to area home school families. The program strives to ignite a love of music through the singing of ...
Tippi Toes DanceOklahoma City
Tippi Toes Dance's mission is to develop a love of dancing in children by creating a positive experience that promotes healthy living habits, helps build self-confidence, and a love for others. Since 1999, Tippi Toes®...
Creative Music Academy, incOklahoma City
We are here to support families in teaching students Music as well as support parents in their academics with a CO-OP style learning for virtual and home schooled students. We know this school year will look different...
Oklahoma Youth Dance Connections – Non ProfitOklahoma City / War Acres
Oklahoma Youth Dance Connections will transform the lives of young individuals through a unique approach to teaching the artistry and athleticism of ballroom dance. Students will improve balance, grace and physical fi...
Exodus is a Christian Resource Center which exists to equip and connect homeschooling, and school at home families, providing them with the tools and support they need to thrive in their schooling journey. Exodus has ...
Oklahoma Homeschool Sports Programs
Edmond Outdoor Ice RinkEdmond
Outdoor Ice Skating opportunities every fall in Edmond, OKlahoma. Edmond Outdoor Ice Rink offers fundraising opportunities for groups of more than 50 participants. Also available are small group pa... [Read more...]
Oklahoma Swim AcademyEdmond
Oklahoma Swim Academy teaches the love of safe swimming to all ages! Offer water safety to children as young as 4 months and teach through adult levels in the Edmond, OKC, and surrounding communiti... [Read more...]
Edmond Parks & RecreationEdmond
Offering a variety of classes from dance to pottery. Dance classes include ballet, jazz, contemporary, hip-hip and tumbling. If dance is not what you are looking for, try cooking, art, bisque, whee... [Read more...]
The Forge BJJ Kids - Jiu Jitsu for Homeschool KidsEdmond
The Forge BJJ in Edmond now offers a Homeschool Program for kids on Wednesdays and Fridays, at 10:00am. They have an excellent, young instructor who is great with kids, and was homeschooled himself... [Read more...]
Oak Tree Country Club Homeschool Group TENNIS Lessons and LeaguesEdmond
The Oak Tree Country Club Home School Tennis Program provides top instruction Tuesdays and Thursdays from USPTA certified professionals. 10 & Under Students have class from 12 - 1:30 pm T/Th an... [Read more...]
Granville Christian Academy Varsity soccerFairfield, Knox, Licking and Muskigum Counties
Granville Christian Academy is extending an invitation to high school age home school students to play soccer for thier varsity soccer team. Contact Eric.Zimmerman@colliers.com for more information. [Read more...]
Oklahoma Homeschool Volleyball LeagueNorman
Oklahoma Homeschool Volleyball League (OHVL) consist of teams from various cities in Oklahoma and one from Texas. Homeschool teams compete against each other in Norman, Ok from January to March, ag... [Read more...]
Red River Athletic AssociationNorth Texas/Southern Oklahoma
The Red River Rattler Athletic Association is dedicated to providing home school students in the North Texas/Southern Oklahoma area with the opportunity to play competitive sports in a Christian en... [Read more...]
Stingray Volleyball AcademyOklahoma City
A high school homeschool volleyball team. Looking for homeschool students interested in joining. Opportunities in the summer to play. Practices begin in early August. Games/tournaments will begin m... [Read more...]
Riversport OKC Field TripsOklahoma City
Looking for opportunities to engage students in new and exciting ways? Visit the Boathouse District for a field trip! The most popular field trip activities for all sizes of groups is dragon boatin... [Read more...]
SKATES Mommy & Me Homeschool SkateSand Springs
SKATES hosts Mommy & Me Homeschool Skate the 3rd Wednesday of each month from 1-3pm. The cost is $4.00 per person which includes skate rental. Children under 2 are free. [Read more...]
Homeschool Gymnastics at Pride Gymnastics AcademyTulsa
- Offering gymnastics for boys and girls for all levels and ages. - Special offers for home school families (Waive the $30 enrollment fee) - Parents can organize a class of 7 students and their chi... [Read more...]
This Gym specifically has a home school program during the day for youth athletes and general fitness. They offer high intensity interval training and the classes are different every time for good ... [Read more...]
Go to...