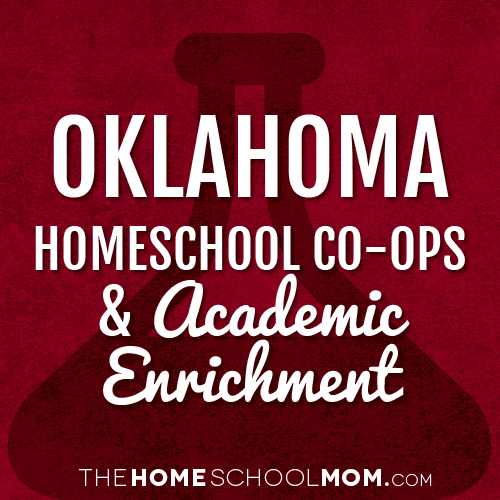 Looking for someone to teach physics to your teen? Need a way to avoid teaching algebra? Want to enroll your Kindergartener in a co-op for social time? Homeschool classes and co-ops are a great way to spend time with other homeschoolers and skill-share with other homeschool parents.
Our listing of Oklahoma co-ops and academic classes for homeschoolers is ordered alphabetically by city, with co-ops in the first section and all other academic resources below. If you would like to submit a Oklahoma co-op or academic resource, you may do so using the red button above.
Use the secondary navigation menu above to quickly make your way to pages for Oklahoma state organizations, local homeschool groups, classes, co-ops, field trips, and more.
Oklahoma Homeschooling Co-ops
Trailblazers Homeschool AssociationMoore
Trailblazers Homeschool Association is a homeschool co-op in central Oklahoma. They are a Christian organization but are open to members of other religious backgrounds. They offer classes on Friday...
Christian Life SchoolMoore/Norman
Christian Life School offers co-op classes on Mondays. Some of the classes that we will offer are: Music and Motion, Storybook Adventures, Science, Math, Geography, Literature, French, Spanish, Ok...
The Parish Community SchoolOklahoma City
The Parish Community School is a 4 day co-op that is parent taught. The co-op meets 4 days each week, while parents must volunteer 2 days each week. Class sizes are kept to a 10 student maximum. Ac...
Christian Education Alliance – TulsaTulsa
Christian Education Alliance is a unique education ministry to home school families in the Tulsa metro area. Founded in 1994, CEA's mission is to provide limited classroom instruction to home schoo...
Oklahoma Homeschooling Classes & Academic Enrichment
Heartland BESTAlva
BEST (Boosting Engineering Science and Technology) is a non-profit volunteer based program organization whose mission is to inspire students to pursue careers in engineering, science and technology...
Pumpkin Festival at Shepherd's CrossClaremore
Shepherd's Cross Pumpkin Festival is a harvest celebration held at an authentic working farm, just north of Claremore Oklahoma on Scenic Route 66, come to the farm and enjoy the peace of a few hour...
Honors Summer Academy at Oklahoma ChristianEdmond
Registration is open for the 2018 Honors Summer Academy, July 8-13th. Students can earn 2 hours of transferable college credit in Engineering, Bible, Humanities, or Science. The week is an exceptio...
Edmond Parks & RecreationEdmond
Offering a variety of classes from dance to pottery. Dance classes include ballet, jazz, contemporary, hip-hip and tumbling. If dance is not what you are looking for, try cooking, art, bisque, whee...
Norman Civil Air Patrol ProgramMoore
Civil Air Patrol's cadet program transforms youth into dynamic Americans and aerospace leaders through a curriculum that focuses on leadership, aerospace, fitness and character. As cadets participa...
Tutoring with Mrs. BowlanNorman
Offering tutoring services to the Norman community.
Norman Cultural ConnectionNorman
Norman Cultural Connection (NCC) is committed to enhancing awareness, understanding, and appreciation of cultural diversity, social differences, and the wisdom of world cultures. NCC believes cultu...
OKBESTOklahoma City
BEST (Boosting Engineering Science and Technology) is a non-profit volunteer based program organization whose mission is to inspire students to pursue careers in engineering, science and technology...
OKC Zoo 2018 Summer CampsOklahoma City
Looking for a unique adventure filled with fun for your child this summer? Come join us for summer camps taking place at the Zoo all summer long! Summer camps are filled with crafts, animal guests,...
Lindey's Tutoring and LessonsOklahoma City
This resource offers parents help homeschooling with peace. Tutoring and lessons in sewing, cooking, cleaning, budgeting, scripture, animal husbandry, beginner computer skills and coding, art, entr...
LAFF LabOklahoma City
The LAFF LAB is short for Learning and Family Fun Lab. "The purpose is simple: to foster a love for learning. We believe if parents are involved in the learning process and show their children how ...
Oklahoma Classical ConversationsOklahoma Statewide
CC is a national homeschooling program that uses a Bible based curriculum taught in a christian, classical tradition. Classes are geared for age 4 through high school.
Classical Conversations of Owasso, SouthwestOwasso
Classical Conversations of Owasso, Southwest Campus is a home-centered, classical Christian home education program that equips you to teach your child through resources and community support. Paren...
Philosophy: A Modern AcademyTulsa
Philosophy is an elite private education program designed for students who need a flexible schedule combined with the professional instruction and curriculum of a private education. Philosophy has ...
Be Ready 24/7 CPR LLCTulsa, Rogers, Creek, Cleveland
This organization offers affordable, dynamic and innovative on-site CPR/AED/1st Training courses to groups, companies, and families. THe schedule is flexible. All instructors are American Red Cross...