TheHomeSchoolMom's local resource listings are sponsored by Time4Learning, where you can find resources, support groups, test prep info, and more.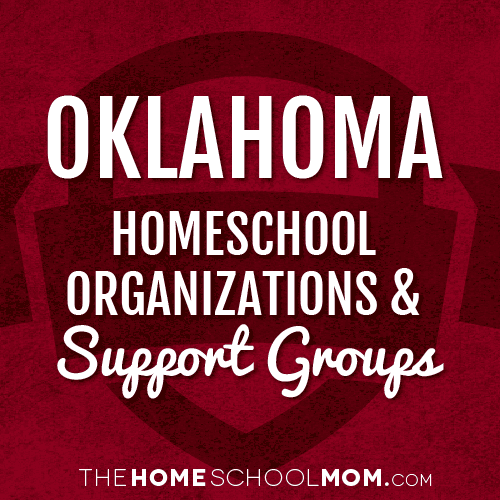 Since homeschooling is regulated at the state level, connecting with local homeschoolers is an important step to start homeschooling in Oklahoma. State homeschool organizations and local homeschool groups are not just a good place to learn the specifics of legally homeschooling in Oklahoma—they can also help you to get connected with the local homeschooling community. Many homeschool groups offer co-ops, classes, sports and arts opportunities, and social get-togethers.
Our listing of Oklahoma state organizations and local homeschool groups is ordered alphabetically by city, with statewide organizations listed first. If you would like to submit a group, you may do so using the red button above.
Oklahoma Homeschool Organizations
Christian Home Educators Fellowship of OklahomaOklahoma Statewide
CHEF of Oklahoma is a support and service organization for home educating families throughout the state of Oklahoma. CHEF was formed in 1986 and became a statewide organization in 1995. Based in Tu...
Oklahoma Christian Home Educators ConsociationOklahoma Statewide
OCHEC, Inc. is a statewide organization providing encouragement and support to those who endeavor to faithfully train and educate their children at home.
Oklahoma Local Homeschool Groups
Ardmore Adventures in HomeschoolingArdmore / Texhoma
An inclusive homeschool support group welcoming homeschoolers from all walks of life, culture, religious choice, home planet, etc... Parents and caregivers meet once a month to share tips, wins, di...
Christian Home Educators Fellowship of Oklahoma- Support GroupsBroken Arrow, Creek County, Inola/Catoosa/East Tulsa, North/Central Tulsa, Payne County, Rogers County, Sand Springs, Skiatook/Osage
Local Support Groups
HEART (Home Educating and Righteously Training)Broken Arrow/Tulsa
This Christian homeschool support group meets in Broken Arrow. The group meets monthly to provide support from seasoned homeschool moms, field trips, moms' nights out, holiday parties, park/kids' d...
Red River Christian HomeschoolersCooke County/Gainesville
Red River Christian Homeschoolers include families from Gainesville, Lake Kiowa, Collinsville, Whitesboro, Tioga, Mountain Springs, Valley View, Era, Muenster and Lindsay, TX. Thackerville and Mari...
Oklahoma Homeschool Moms Information NetworkMetro OKC and beyond
Information and Resource Network-fully moderated DAILY DIGEST
Tahlequah and Muskogee Area HomeschoolersTahlequah and Muskogee area
Tahlequah and Muskogee Area Homeschoolers a member-driven group open to traditional homeschoolers in northeastern Oklahoma.
Tulsa Home EducatorsTulsa
T.H.E. Coalition provides support and encouragement for leaders so they can be refreshed and have something to offer the groups that depend on them. We organize semi-monthly ice skating, an annual ...
Tulsa Area HomeschoolersTulsa/Broken Arrow
We are a casual, laid back group that meets weekly for the kids to play and Mom's to get "mom fuel". Dad's are always welcome as well. We do monthly activities, cookouts, parties,awesome field trip...