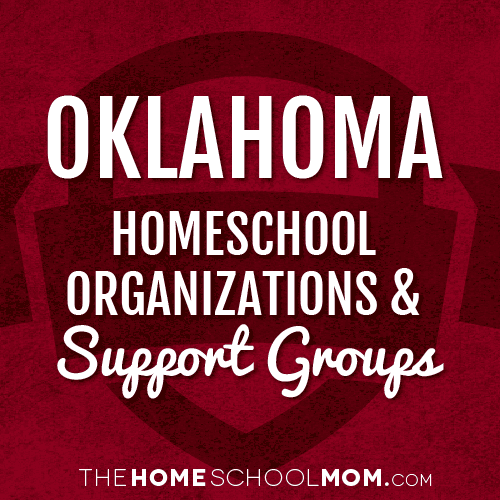 Oklahoma Homeschool Organizations
Christian Home Educators Fellowship of Oklahoma
CHEF of Oklahoma is a support and service organization for home educating families throughout the state of Oklahoma. CHEF was formed in 1986 and became a statewide organization in 1995. Based in Tulsa, CHEF of Oklahoma has local support groups in the Tulsa and surrounding areas.
Oklahoma Christian Home Educators Consociation
OCHEC, Inc. is a statewide organization providing encouragement and support to those who endeavor to faithfully train and educate their children at home.
Oklahoma Homeschool Support Groups
Tri-City Home Educators (TCHE) Blanchard/Newcastle/Tuttle
TCHE is a Christian organization serving Blanchard, Newcastle, Tuttle, and the surrounding areas, offering a variety of clubs, classes and activities designed specifically for the homeschool family. As a group, we desire to give support, encouragement and fellowship to all homeschool families in our aea. We would love to help your family on your own amazing educational journey!
Christian Home Educators Fellowship of Oklahoma- Support Groups Broken Arrow, Creek County, Inola/Catoosa/East Tulsa, North/Central Tulsa, Payne County, Rogers County, Sand Springs, Skiatook/Osage
Local Support Groups
Faith Homeschool Fort Smith
Information and Encouragement for Fort Smith Area Homeschoolers.
Great Plains Christian Home Educators Hydro and surrounding areas
GPCHE is an organization of families from Western Oklahoma who come together for the common purpose of encouraging one another in their endeavors to faithfully train and educate their children at home. While the leadership of GPCHE is Christ led, and each individual family allows God to determine the path of their homeschooling, as a service organization, we will strive to support and encourage anyone who seriously desires to educate their children at home.
Oklahoma Homeschool Moms Information Network Metro OKC and beyond
Information and Resource Network-fully moderated DAILY DIGEST
Norman Secular Homeschool Association Norman, Oklahoma City, Moore, Edmond
Norman Secular Homeschool Association (NSHA) welcomes homeschooling families with children of all ages and homeschooling styles who seek to connect with others who share a secular approach to education.
Homeschooling in OKC Metro Oklahoma City Metro area
Welcome! This group is based in the Oklahoma City Metro area. We wish for this to be a home to discuss homeschooling and all that comes with it! If you homeschool, you know that pretty much encompasses just about everything. Please feel free to post your ideas, tell us what you are doing, ask for ideas. Post activities/meetings that you know that are happening around the city. Let's broaden our knowledge of local homeschool groups and their activities. You never know who may benefit from that information! We are all in this together, so let's get to sharing!! Got links? We would love to hear about them!
Heritage Homeschool Co-Op Owasso
A support group for homeschool families and serves Owasso, Oklahoma and surrounding areas. Our Co-Op offers field trips (1-2 p/month), special classes (such as P.E. and Art), school pictures, fellowship activities, holiday parties, monthly support meetings, Mom's Night Out, family events and special guest speakers - and most of all, encouragement for homeschool families.
Support Groups Statewide
From OCHEC
ACRES Homeschool Group Stilwell
Small homeschool group POC:thetaylor6tribe@yahoo.com
Tahlequah and Muskogee Area Homeschoolers Tahlequah and Muskogee area
Tahlequah and Muskogee Area Homeschoolers a member-driven group open to traditional homeschoolers in northeastern Oklahoma.
Cornerstone-Tulsa Tulsa
Cornerstone is a participant-driven homeschooling information and support network for families in Northeastern Oklahoma. We seek to facilitate networking opportunities and to empower families in their homeschooling decisions. We believe there is strength in diversity, therefore we support the individual freedom of each family to choose home education and to autonomously direct such education in the manner best suited for their family. We do not discriminate on the basis of a person's race, religion, belief system or ethnicity.
Tulsa Home Educators Tulsa
T.H.E. Coalition provides support and encouragement for leaders so they can be refreshed and have something to offer the groups that depend on them. We organize semi-monthly ice skating, an annual spelling bee, and various other group events. Some of our member groups offer workshops and other activities that they will open up to all home educators.
St. John Auxiliary Tulsa
Teen Volunteer Opportunities
Green Country HERO Tulsa
Green Country HERO (Green Country Home Educators Resource Organization) was established to provide support for homeschoolers in the greater Tulsa area. The group is open to all homeschoolers and is Christian based. We provide a wide variety of social and educational opportunities, all organized by group members. Benefits include the following: a monthly newsletter, a member directory, use of our lending library, an HSLDA discount, bi-monthly business meetings, and monthly moms\' night out. If you are interested in joining GC Hero, please contact us at gcheromail@yahoo.com.
Tulsa Area Homeschoolers Tulsa/Broken Arrow
We are a casual, laid back group that meets weekly for the kids to play and Mom's to get "mom fuel". Dad's are always welcome as well. We do monthly activities, cookouts, parties,awesome field trips, art and crafts. Lego Club Teen and Tween groups. This is a great time to meet other families and learn from other HS'ers! We hope you will join us.Meeting: Every Friday from 1:00 p.m. until 3:00 p.m. in Broken Arrow.
Wagoner Homeschool Group Wagoner
This is for homeschoolers in Wagoner, Oklahoma. We are a FAITH-BASED homeschool group.
TheHomeSchoolMom lists local resources, including but not limited to classes, events, legal information, and support resources, to help homeschoolers find local support and resources. Although we believe that the information provided is reliable, we are not responsible for its accuracy or suitability for any purpose.