Jump to: Homeschool Arts | Homeschool Sports
In addition to the opportunity to get out of the house and socialize, homeschool sports and arts programs can offer long-term benefits by developing characteristics like leadership, self-confidence, perserverance, and self-esteem. Many organizations and businesses have opportunities specifically for homeschoolers, while others invite homeschoolers to participate in their regular programs.
Not sure how to choose activity/activities for your children? Read how Rebecca narrows down the choice of extra-curricular activities.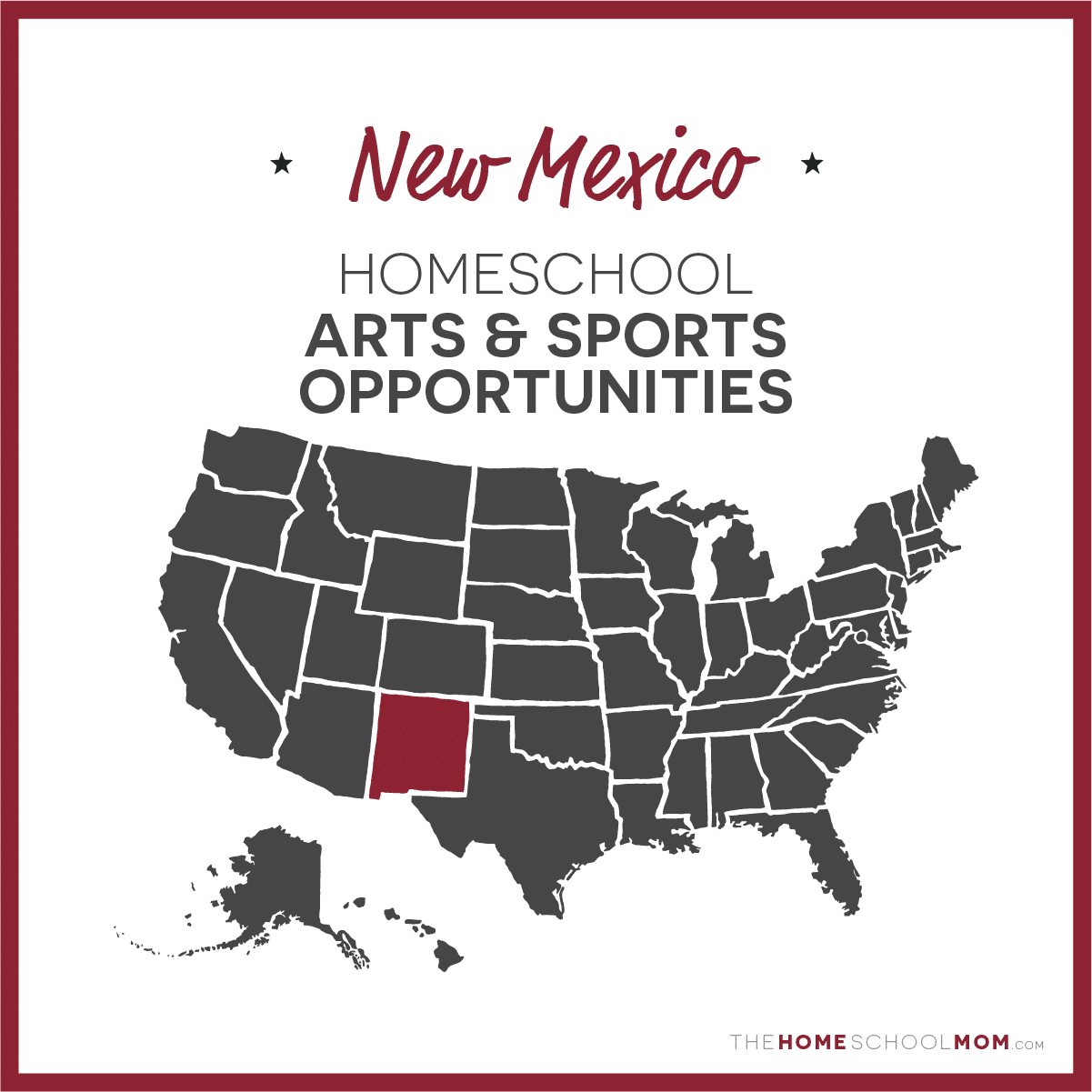 Submit a Local Resource
Our listing of New Mexico list of homeschool arts and sports programs is ordered alphabetically by city, with arts in the first section and sports in the second section. If you would like to submit an New Mexico arts or sports program, you may do so using the red button above.
New Mexico Homeschool Arts Programs
Kid's Open Studio at OffCenter Arts

Albquerque

Kids (and their adults) are invited to join for a weekly art-making party on Tuesdays from 10:00am - 2:00pm! Zimmy will be gently guiding projects every Tuesday, and kids are welcome to explore the studio materials and work on projects of their own. Free & open to everyone 18 and under; ages 14 and under must be accompanied by an adult. Pre-school kiddos and homeschool groups welcome. Groups of 6 or more, please email info@offcenterarts.org so we can make sure we have space for you!
Canvas and Kids

Albuquerque

Canvas and Kids is a working art studio. Kisa learn to paint on canvas. Kids classes are geared toward 5 to 13 year olds. For more information, please call Terry DeWitt at 505-803-4230
Sol Acting Academy

Albuquerque

A day-time educational drama program and acting class for home schoolers. In this class students will learn about all aspects of the dramatic process. Students will put on their own plays, make their own movies and develop their own language of creative expression. With an emphasis on building self confidence and social skills students who take this class will learn how to embrace their inner artist and confidently jump into any character or project.
Art Discovery

Albuquerque

Art Discover teaches art processes and art history to students K-12. The program offers a 2 hour class once a week for 34-36 weeks of the school year. Students will work in a variety of mediums including, drawing, painting, sculpting, ceramics, charcoal, watercolor, and mixed media. Art Discovery has been offering classes for 17 years and will now be at a new location. Los Altos Christian Church has provided their education building to Art Discovery three days a week. The Church is located at 11900 Haines Ave NE Albuquerque NM 87112.
Mad Hatter School of Music, LLC.

Albuquerque

Mad Hatter School of Music is a family friendly oriented music school for ages 2-92 offering private and group lessons in piano, flute, violin, guitar, voice, and other instruments. The school has been in business since 2010. Mad Hatter offers recitals 2-4 times per year. Lessons are tailored to the individual student. Respect of the student and the instrument are key to the student's success. Every student is asked to come up with a list of their top ten songs they wish to learn on their instrument. This school continues to work with developmental challenges including students with autism spectrum. This school's prices are very reasonable.
Raven Art Center

Albuquerque

Raven Art Center is a new Art Center in the Nob Hill neighborhood of Albuquerque, NM. Raven Art Center focuses on cultivating creativity in a non-toxic, chemical free and smoke-free environment. Focus is on classes that enhance one's own creativity and help adults and children grow into their own creative process with encouragement and a can-do attitude!
~DRUM & PERCUSSION LESSONS~

Albuquerque

Private drum/percussion lessons available either in person, or nationwide via Skype. This resource offers competitive rates and is a registered business with the city of Albuquerque, New Mexico.
Rock 101

Albuquerque

Rock 101 has been empowering Albuquerque youth through music since 2011. They offer an inclusive environment where every student (all ages!) feels welcome. You can find one-on-one classes, group classes, and summer camps. They also offer Band League where students are paired up with others of similar levels to create rock bands that perform in Albuquerque. Rock 101 is excited to create classes and opportunities for the homeschool community. Please reach out to let us know how we can specifically help you!
Grindatto Voice Studio

Albuquerque

A home school graduate herself, Lydia Grindatto is a professional opera singer, teacher, and coach. Lydia offers vocal training in a variety of genres, as well as teaches performance techniques to students of all ages and backgrounds. Lydia teaches in a comfortable home studio located in Taylor Ranch. Having been classically trained for 10+ years, Lydia has a Bachelor's degree in Vocal Performance from the University of New Mexico where she graduated in 2017. Lydia currently sings opera professionally, as well as directs the music program at Forest Meadow Baptist Church. If you are interested in a personalized approach to unlocking your vocal potential, then please don't hesitate to contact Grindatto Voice Studio. The first lesson is free, and parents/siblings are always welcome and encouraged to attend! Call/text: 505.236.3822 Email: lkgrindatto@gmail.com
Actors Space ABQ

Albuquerque

A non-profit acting school run by ABQ local and Hollywood Veteran Lauren Letherer (Die Hard 2, Hawaii Five-0, Days of Our Lives, and more!). Offers 6-week long Teen Acting workshops throughout the year, and Kids' Acting Workshops according to demand. From the website: Actors Space ABQ is "devoted to offering joy and uninhibited freedom to the creative art of acting. Utilizing a sense of play, improv, scene-study, and each person's own unique imagination. Removing fear from self-expression, allowing an unrestrained openness to come forth." Kids and teens especially need a safe place for self-expression, to grow their confidence, develop empathy and self-acceptance. Acting class gives them a chance to let loose outside of school, and get off their screens! Free 15-minute zooms or phone calls available with Lauren Letherer, and free class audits if class is in-session, so you can see if the school is a good fit for you and your child: no pressure or obligation. We'd love to offer "HomeSchoolLove10" as a coupon code for 10% off!
Laura's Let's Play Music Classes

Albuquerque

Sound Beginnings is a parent-child music class for ages 0-4. Let's Play Music is a 3-year complete musicianship course beginning at ages 4-6. Private music lessons are available for ages 7-adult.
Songbird Studio

Albuquerque/ Rio Rancho/ Corrales

Edin Woodard is a native of Albuquerque, and a graduate from the University of New Mexico with a B.A. in vocal performance, during which time she sang with the UNM Concert Choir, Las Cantantes and UNM opera theater. She serves as a Soprano section leader and Chorister assistant at the Cathedral of St. John and has accompanied them on multiple tours to England singing at Westminster Abbey, Winchester Cathedral, Wells Cathedral as well as Washington National Cathedral, Washington D.C. Mrs. Woodard has performed solo works for various performances and is active in the music community in Albuquerque, singing with ensembles such as Polyphony Voices of New Mexico. In her free time, she enjoys spending time with her husband and cat. Edin loves to garden, cook and craft at her Corrales Casita. Edin has been teaching privately for the last ten years and absolutely loves it. At the Songbird Studio students are provided with a safe and welcoming environment to learn and grow. It is important for learning to take place in such an environment so that students are not only free to be themselves, but free to make mistakes and experiment with their instrument. Student interests and learning styles are always taken into account when planning lessons. In this studio students will have multiple opportunities to showcase their hard work and gain performance practice. Songbird studio will engage students in activities that require them to be creative, disciplined, flexible, and work cooperatively with others. Lessons offered are piano, voice, ukulele, and music theory. Due to the pandemic Songbird studio is offering virtual lessons and provides virtual recitals and oppourtunities. Students will focus on building a solid foundation of technique, musicianship, sight-reading skills, theory, as well as becoming story-tellers through their music. Edin has a passion for teaching students of all ages, and creates a warm, positive environment in which her students can thrive and learn.
Flute Lessons with Sarah Farrell

Corrales, Rio Rancho

Local Suzuki Flute and Recorder teacher! If you are interested in Flute or Recorder lessons for your child, please visit https://sarahfarrell.weebly.com/ for information about lessons and contact information. Currently teaching students ages 5 to 14, Sarah provides an individualized learning experience for each student. Trained in Suzuki, and a licensed general and special educator with endorsements in Gifted, Performing Arts, Sarah uses a fun and personalized approach to ensuring every student loves his/her instrument and reaches his/her full potential.
Singing & Acting Lessons with Mary Walker Morton

Los Alamos & White Rock

Singing and acting lessons available now in White Rock at Mary Walker Morton's home studio. Mary Walker Morton is a music and acting teacher as well as a critically-acclaimed vocalist and composer. To learn more about her singing and acting lessons, go to https://marywalkermorton.com or email her at singingwithmaryla@gmail.com.
Dragonfly Art Studio

Santa Fe

Dragonfly Art Studio is a place where kids and adults can express themselves through art, learn new techniques, and have fun! Our Art Classes, Workshops and Summer Camps are designed to teach the fundamentals of art for children and adults to explore a range of materials, mediums, and techniques, learn new skills and discover their creativity! Dragonfly Art Studio designs imaginative class themes that enrich children and adults' learning experiences and encourages everyone to express themselves artistically and individually. Spend some creative time with us for a break from the norm.
Social Dance; Ballroom, Latin, Swing

Santa Fe

Day time private or small group (max 4) lessons available. Kids ages 7-14 will be introduced to partner dances such as waltz and jitterbug. Contact Mary at mary@dancestationusa.com or phone 505-989-9788.
New Mexico Homeschool Sports Programs
Albuquerque Homeschool Sports

Albuquerque

A Christian homeschool sports organization providing opportunities for homeschool students to participate in competitive athletics at the middle and high school levels in the Albuquerque area.
Running 505 Physical Education Classes k-12

Albuquerque

Running 505, youth wellness nonprofit, and Cantina CrossFit have partnered together to support the local Albuquerque home school community. Contact youthrunning505@gmail.com or running505@gmail.com for information on weekly physical education classes for children in the prek-12th grades. Programing involves emphasis on physical activity, nutrition, social-emotional wellness and the goal of life long positive healthy choices.
Bates Premier Taekwondo

Albuquerque

Bates Premier Taekwondo offers exceptional training in Olympic-style sport Taekwondo for ages two through adult. We are a Commissioned Club of USA-Taekwondo (The National Governing Body of Taekwondo for the United States which also certifies all of our coaches.​ We produce the highest-caliber Taekwondo athletes in the state of New Mexico by specifically charting and specializing a specific course of learning for each of our students. Some athletes will advance faster than others, while others may stay on a more steadily progressing program. ​ Our path to the black belt averages around 4-5 years of training (in contrast to 6-10 years at alternate Taekwondo programs). At Bates we focus on family, fitness & fun! One of our core beliefs is no matter what your ability or age, with some time, effort, and patience, anyone can become a black belt. We offer unlimited classes, Monday through Saturday during our business hours and we do not require any contracts! Athletes may attend as many classes as they wish each week. The more time our students put in, the greater the results. We also encourage families to train together so we offer a 50% family discount.
RISE Basketball School

Albuquerque

RISE Basketball School is a local basketball training and development program that's been serving the Albuquerque area for over 5 years. We offer a variety of services for players of all ages and skill levels, including: Practice gym space: We have a state-of-the-art gym that we can rent out to teams and individuals for practices. This would be a great option if you're looking for a convenient and affordable place to practice. Training/instruction: We offer a variety of training programs for players of all ages and skill levels. Our coaches are experienced and knowledgeable, and they can help your players improve their skills and learn the game of basketball. Team evaluation: We can evaluate your players and provide you with feedback on their strengths and weaknesses. This would be helpful if you're looking to make decisions about team placement or player development. We're also happy to work with teams and individuals to create a custom training program that meets their specific needs. RISE Basketball School is committed to providing our players with the best possible training and development experience. We believe that everyone has the potential to be great, and we're here to help you reach your full potential.
The Athlete's Playground, LLC.

Albuquerque / Santa Fe New Mexico

The Athlete's Playground Home School Physical Education Program. The Athlete's Playground is a functional strength and conditioning gym that was designed around children and teenagers. We offer a physical education program that teaches children and teens the importance of fitness, exercise, eating healthy, along with the many benefits associated with doing so. We offer parents an opportunity to split up their homeschooling day with an hour of structured physical exercise. We meet 2-3 times a week starting with a short 15-minute classroom time to talk about the activities for the day (the "why" behind the exercise and the benefits), we then take the students through a structured and age-appropriate workout. After the workout, we play a structured sport like basketball, soccer, etc. For more information, please call Brandon Learson @ (505) 414-6218 or email @ brandon@theathletesplayground.com
Farmington Gymnastics Academy PE Class

Farmington

Keep your kids active! Farmington Gymnastics Academy homeschool PE class introduces basic sports skills, games, strength challenges, and activities including the foam pit and ninja course!
Santa Fe Skating Club Learn to Skate

Santa Fe

This is a curriculum-based Learn to Skate program run under the umbrella of Learn to Skate USA. Santa Fe Skating Club offers five-week sessions on Saturdays at the Genoveva Chavez Community Center. Classes are 30 minutes and take place at 12:00pm or 12:35pm depending on skating level.
Genoveva Chavez Community Center Homeschool Figure Skating

Santa Fe

A Homeschool and parent and me classes. The program is geared to Homeschoolers (parents welcome) and preschoolers and their moms . This program will run every Monday (unless state or Federal Holiday) from 10:45 to 11:45 am . The cost is not $3 a person includes rental skates and 30 minutes of skating instruction.

Genoveva Chavez Community Center Homeschool Figure Skating details
Field Institute of Taos Nature Out There Program

Taos, Questa, Penasco, Dixon, Tres Piedras, Taos Ski Valley, Espanola, Velarde, Pilar/Northern New Mexico

N.O.T. SCHOOL (Nature Out There) Program is an exciting program for youth that takes place outside of school hours (after school, non school days, weekends) and designed specifically for enrichment. This program is a unique blend of environmental education and outdoor adventure that is fun, educational, and physically challenging. Thoughtfully engaging students while exploring connections to the natural world through active, hands-on activities. All groups are welcome, including school groups, homeschoolers, scouts, clubs, and families. Topics include: Outdoor recreation, natural and cultural history, community, ecology, natural processes, teamwork and leadership and more. Activities may include (weather permitting): hiking, mountain biking, sledding, and more. Programs can be after-school, half-day, full-day, or multi-day; weekly, monthly or seasonally; and generally happen once a week for 4-8 weeks. The age range for each program generally is a 3-4 year span to encourage teamwork and mentorship. Custom programs for ANY group of youth who have a common block of time are available. There is a cost involved for these programs that varies, depending on duration and activities. Transportation to and from all activities, instruction, preparation, and materials are all included. Sometimes the cost is covered by a particular school or organization while other times a parent or guardian may cover the cost per child. These programs can be completely customized for a group or left to the fabulous FITaos staff to design in our unique style. We ask for a minimum of 6 students but are happy to discuss possibilities for smaller groups. Our Program Leaders are energetic, highly qualified, experienced environmental educators and outdoor adventurers. Scholarships and grants are available. We do not want finances to be a barrier to all youth having these experiences. The above information is a brief overview of our FITaos N.O.T. School program. For more information on our organization, staff, philosophy, grants, scholarships, and other programs, contact Liana Sonne via telephone (575) 779-6693 or email programs@fitaos.org.