Jump to: Homeschool Arts | Homeschool Sports
In addition to the opportunity to get out of the house and socialize, homeschool sports and arts programs can offer long-term benefits by developing characteristics like leadership, self-confidence, perserverance, and self-esteem. Many organizations and businesses have opportunities specifically for homeschoolers, while others invite homeschoolers to participate in their regular programs.
Not sure how to choose activity/activities for your children? Read how Rebecca narrows down the choice of extra-curricular activities.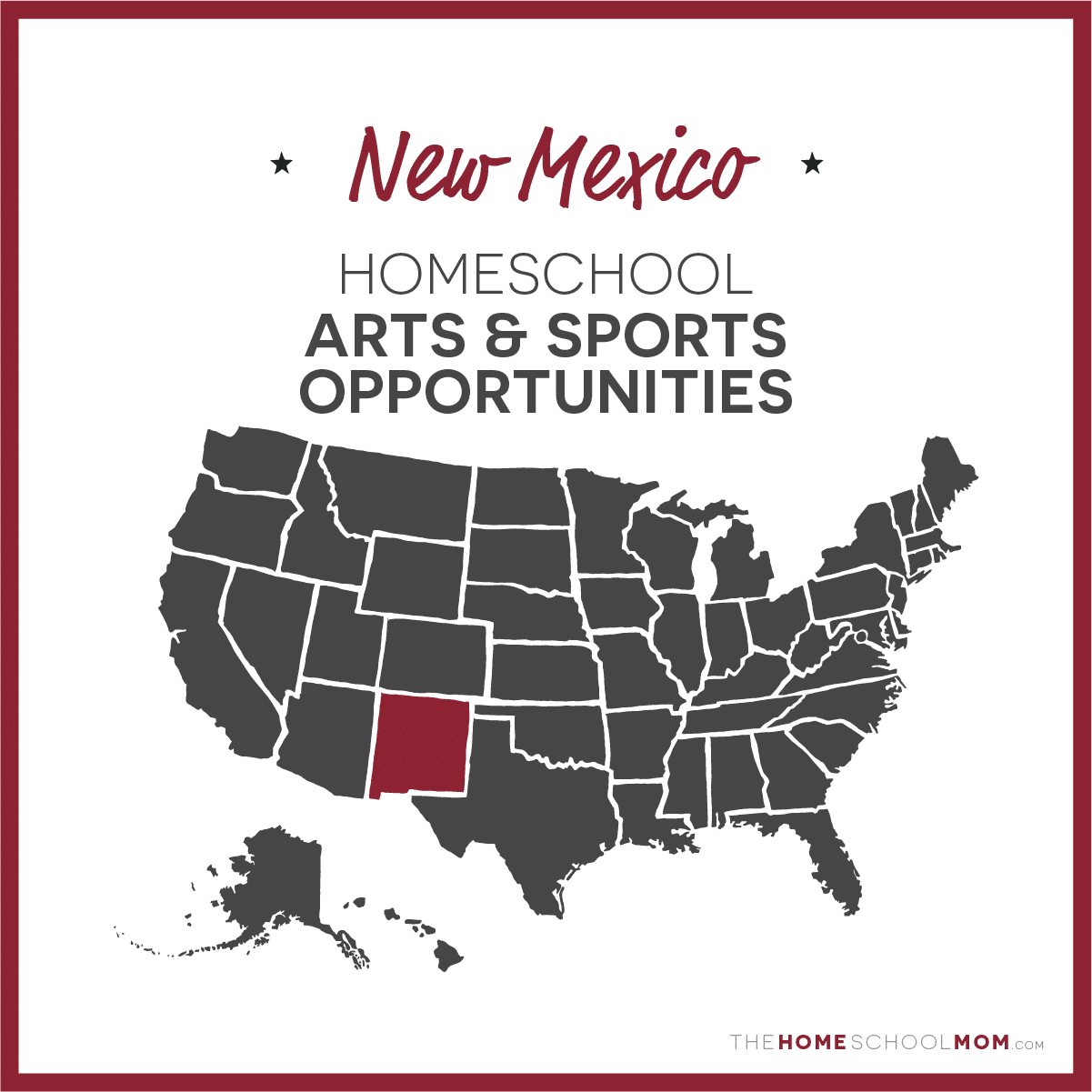 Submit a Local Resource
Our listing of New Mexico list of homeschool arts and sports programs is ordered alphabetically by city, with arts in the first section and sports in the second section. If you would like to submit an New Mexico arts or sports program, you may do so using the red button above.
New Mexico Homeschool Arts Programs
Kid's Open Studio at OffCenter ArtsAlbquerque
Kids (and their adults) are invited to join for a weekly art-making party on Tuesdays from 10:00am - 2:00pm! Zimmy will be gently guiding projects every Tuesday, and kids are welcome to explore the studio materials an...
Canvas and KidsAlbuquerque
Canvas and Kids is a working art studio. Kisa learn to paint on canvas. Kids classes are geared toward 5 to 13 year olds. For more information, please call Terry DeWitt at 505-803-4230
Sol Acting AcademyAlbuquerque
A day-time educational drama program and acting class for home schoolers. In this class students will learn about all aspects of the dramatic process. Students will put on their own plays, make their own movies and de...
Art DiscoveryAlbuquerque
Art Discover teaches art processes and art history to students K-12. The program offers a 2 hour class once a week for 34-36 weeks of the school year. Students will work in a variety of mediums including, drawing, pai...
Mad Hatter School of Music, LLC.Albuquerque
Mad Hatter School of Music is a family friendly oriented music school for ages 2-92 offering private and group lessons in piano, flute, violin, guitar, voice, and other instruments. The school has been in business sin...
Raven Art CenterAlbuquerque
Raven Art Center is a new Art Center in the Nob Hill neighborhood of Albuquerque, NM. Raven Art Center focuses on cultivating creativity in a non-toxic, chemical free and smoke-free environment. Focus is on classes th...
~DRUM & PERCUSSION LESSONS~Albuquerque
Private drum/percussion lessons available either in person, or nationwide via Skype. This resource offers competitive rates and is a registered business with the city of Albuquerque, New Mexico.
Grindatto Voice StudioAlbuquerque
A home school graduate herself, Lydia Grindatto is a professional opera singer, teacher, and coach. Lydia offers vocal training in a variety of genres, as well as teaches performance techniques to students of all ages...
Actors Space ABQAlbuquerque
A non-profit acting school run by ABQ local and Hollywood Veteran Lauren Letherer (Die Hard 2, Hawaii Five-0, Days of Our Lives, and more!). Offers 6-week long Teen Acting workshops throughout the year, and Kids' Acti...
Songbird StudioAlbuquerque/ Rio Rancho/ Corrales
Edin Woodard is a native of Albuquerque, and a graduate from the University of New Mexico with a B.A. in vocal performance, during which time she sang with the UNM Concert Choir, Las Cantantes and UNM opera theater. S...
Flute Lessons with Sarah FarrellCorrales, Rio Rancho
Local Suzuki Flute and Recorder teacher! If you are interested in Flute or Recorder lessons for your child, please visit https://sarahfarrell.weebly.com/ for information about lessons and contact information. Currentl...
Singing & Acting Lessons with Mary Walker MortonLos Alamos & White Rock
Singing and acting lessons available now in White Rock at Mary Walker Morton's home studio. Mary Walker Morton is a music and acting teacher as well as a critically-acclaimed vocalist and composer. To learn more about...
Dragonfly Art StudioSanta Fe
Dragonfly Art Studio is a place where kids and adults can express themselves through art, learn new techniques, and have fun! Our Art Classes, Workshops and Summer Camps are designed to teach the fundamentals of art f...
New Mexico Homeschool Sports Programs
Albuquerque Homeschool SportsAlbuquerque
A Christian homeschool sports organization providing opportunities for homeschool students to participate in competitive athletics at the middle and high school levels in the Albuquerque area. [Read more...]
Running 505 Physical Education Classes k-12Albuquerque
Running 505, youth wellness nonprofit, and Cantina CrossFit have partnered together to support the local Albuquerque home school community. Contact youthrunning505@gmail.com or running505@gmail.com... [Read more...]
Bates Premier TaekwondoAlbuquerque
Bates Premier Taekwondo offers exceptional training in Olympic-style sport Taekwondo for ages two through adult. We are a Commissioned Club of USA-Taekwondo (The National Governing Body of Taekwond... [Read more...]
The Athlete's Playground, LLC.Albuquerque / Santa Fe New Mexico
The Athlete's Playground Home School Physical Education Program. The Athlete's Playground is a functional strength and conditioning gym that was designed around children and teenagers. We offer a p... [Read more...]
Farmington Gymnastics Academy PE ClassFarmington
Keep your kids active! Farmington Gymnastics Academy homeschool PE class introduces basic sports skills, games, strength challenges, and activities including the foam pit and ninja course! [Read more...]
Santa Fe Skating Club Learn to SkateSanta Fe
This is a curriculum-based Learn to Skate program run under the umbrella of Learn to Skate USA. Santa Fe Skating Club offers five-week sessions on Saturdays at the Genoveva Chavez Community Center.... [Read more...]
Genoveva Chavez Community Center Homeschool Figure SkatingSanta Fe
A Homeschool and parent and me classes. The program is geared to Homeschoolers (parents welcome) and preschoolers and their moms . This program will run every Monday (unless state or Federal Holida... [Read more...]
Field Institute of Taos Nature Out There ProgramTaos, Questa, Penasco, Dixon, Tres Piedras, Taos Ski Valley, Espanola, Velarde, Pilar/Northern New Mexico
N.O.T. SCHOOL (Nature Out There) Program is an exciting program for youth that takes place outside of school hours (after school, non school days, weekends) and designed specifically for enrichment... [Read more...]
Go to...