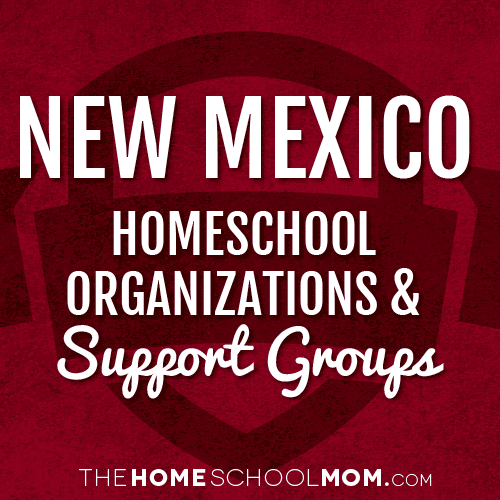 Since homeschooling is regulated at the state level, connecting with local homeschoolers is an important step to start homeschooling in New Mexico. State homeschool organizations and local homeschool groups are not just a good place to learn the specifics of legally homeschooling in New Mexico—they can also help you to get connected with the local homeschooling community. Many homeschool groups offer co-ops, classes, sports and arts opportunities, and social get-togethers.
Our listing of New Mexico state organizations and local homeschool groups is ordered alphabetically by city, with statewide organizations listed first. If you would like to submit a group, you may do so using the red button above.
Use the secondary navigation menu above to quickly make your way to pages for New Mexico state organizations, local homeschool groups, classes, co-ops, field trips, and more.
New Mexico Homeschool Organizations
Christian Association of Parent EducatorsNew Mexico Statewide
Dedicated to serving God by providing Biblical encouragement and information on home school law and resources to interested parents, legislators, and officials. CAPE is an incorporated 501c3 organi...
New Mexico Local Homeschool Groups
Otero County Home-School EducatorsAlamogordo
A diverse, non-sectarian group of homeschool educators from Otero County and surrounding areas, which includes Alamogordo, Holloman AFB, Tularosa, Ruidoso, High Rolls, Cloudcroft, Weed, Sacramento ...
Fusion – Albuquerque Homeschool Social Club for TeensAlbuquerque
Fusion is an Albuquerque-based, secular social club for homeschooled teens, ages 12-18. Fusion provides relaxed, unstructured opportunities for teens to make new friends and socialize. The mission...
Mesilla Valley HomeschoolersLas Cruces
We meet weekly and offer field trips and several online forums. Membership is free and open to current homeschooling families with school aged children regardless of religious affiliation or curric...
Homeschool Las Cruces and Southern NMLas Cruces and Southern NM
Homeschool Las Cruces and Southern NM is the premier place for all things Homeschool in the Southern NM area. Events include Weekly Friday Park Days, Field Trips and other events. HSLCSNM also off...
Los Alamos Home Educators (LAHE)Los Alamos
Los Alamos Home Educators (LAHE) is a loosely connected group of homeschooling families in Los Alamos and the surrounding area
New Mexico Home School Community BlogspotNew Mexico Statewide
We are many individuals and groups bound together by homeschooling. This community welcomes all religions, all cultures, all styles of homeschooling and teaching! We love the variety as it is the s...
Santa Fe Homeschool AssociationSanta Fe
An inclusive, cooperative group who has been around for many years, offering support to homeschooling families residing in and around Santa Fe, New Mexico. The SFHA is comprised of families of many...