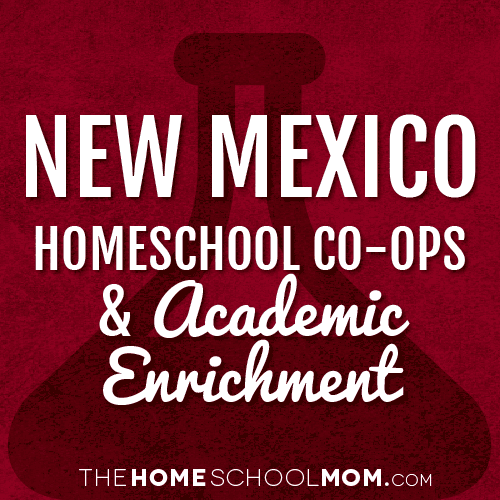 Looking for someone to teach physics to your teen? Need a way to avoid teaching algebra? Want to enroll your Kindergartener in a co-op for social time? Homeschool classes and co-ops are a great way to spend time with other homeschoolers and skill-share with other homeschool parents.
Our listing of New Mexico co-ops and academic classes for homeschoolers is ordered alphabetically by city, with co-ops in the first section and all other academic resources below. If you would like to submit a New Mexico co-op or academic resource, you may do so using the red button above.
Use the secondary navigation menu above to quickly make your way to pages for New Mexico state organizations, local homeschool groups, classes, co-ops, field trips, and more.
New Mexico Homeschooling Co-ops
Sierra Blanca Christian AcademyRuidoso
Offering homeschool co-op classes to students grades 7th through 12th. Sierra Blanca Christian Academy desires to produce well rounded Christian disciples through academic excellence and the study ...
New Mexico Homeschooling Classes & Academic Enrichment
Cinnamon Cafe Cooking ClassesAlbuquerque
Cooking classes for both adults and kids. Rates are reasonable and classes designed based on needs. Minimum of 10 people to participate. All classes are hands-on and students eat everything they...
Dion'sAlbuquerque
Dion's offers an educational and fun opportunity for children Pre-K through 5th grade. The tour is composed of two facilitator-taught lessons along with a behind-the-scenes look at the restaurants....
Bilingual Birdies AlbuquerqueAlbuquerque
The mission of Bilingual Birdies is to encourage cross-cultural awareness through a foreign language and live music curriculum. Spanish is taught through live music, movement, dance, puppetry, and ...
Nutrition EducationAlbuquerque
This resource offers a range of topics in nutrition education for homeschool children of any age. Classes can be taught in the store location or the Nutritional Health Coach (NHC) can come to your ...
UNM Continuing Education Youth ProgramsAlbuquerque and Rio Rancho
The UNM Continuing Education Youth Program is a community dedicated to engaging children and adolescents in interesting and challenging classes and camps taught by expert instructors that encourage...
Sunspot Solar ObservatoryCloudcroft, New Mexico
Sunspot Solar Observatory has been a premier facility for solar research since its establishment in 1947. Bring your group and escape to a fun and educational adventure through our observatory. Tes...
New Mexico BESTLas Cruces
BEST (Boosting Engineering Science and Technology) is a non-profit volunteer based program organization whose mission is to inspire students to pursue careers in engineering, science and technology...
New Mexico Classical ConversationsNew Mexico Statewide
CC is a national homeschooling program that uses a Bible based curriculum taught in a christian, classical tradition. Classes are geared for age 4 through high school.
Field Institute of Taos Nature Out There ProgramTaos, Questa, Penasco, Dixon, Tres Piedras, Taos Ski Valley, Espanola, Velarde, Pilar/Northern New Mexico
N.O.T. SCHOOL (Nature Out There) Program is an exciting program for youth that takes place outside of school hours (after school, non school days, weekends) and designed specifically for enrichment...