Jump to: Homeschool Co-ops | Homeschooling Classes & Academic Enrichment
Looking for someone to teach physics to your teen? Need a way to avoid teaching algebra? Want to enroll your Kindergartener in a co-op for social time? Homeschool classes and co-ops are a great way to spend time with other homeschoolers and skill-share with other homeschool parents.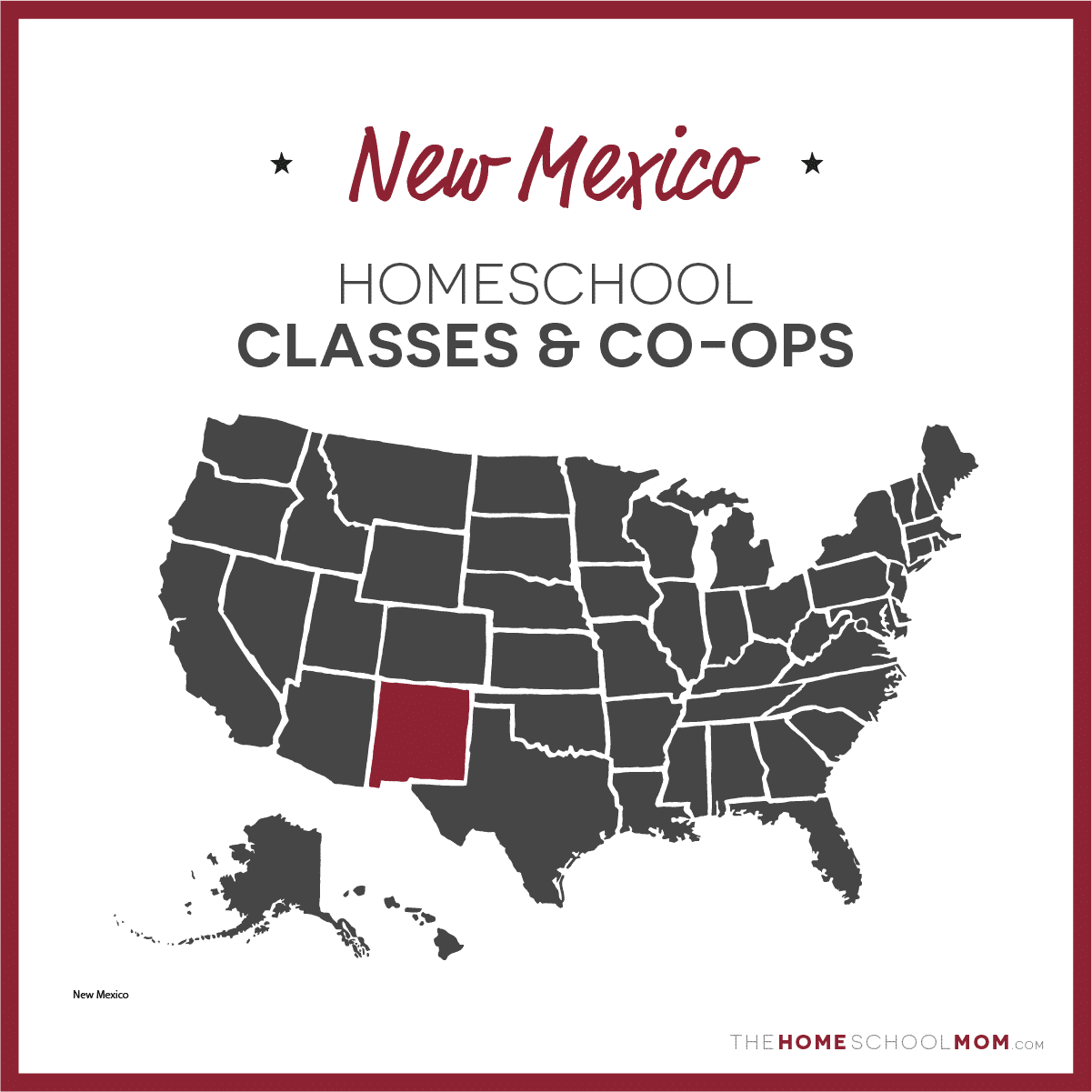 Submit a Local Resource
Our listing of New Mexico co-ops and academic classes for homeschoolers is ordered alphabetically by city, with co-ops in the first section and all other academic resources below. If you would like to submit a New Mexico co-op or academic resource, you may do so using the red button above.
New Mexico Homeschooling Co-ops
No co-op information found for New Mexico.
New Mexico Homeschooling Classes & Academic Enrichment
Cinnamon Cafe Cooking Classes

Albuquerque

Cooking classes for both adults and kids. Rates are reasonable and classes designed based on needs. Minimum of 10 people to participate. All classes are hands-on and students eat everything they make. Cinnamon Cafe provides recipe cards for each item, teaches cooking safety, and cooks up fun!
Dion's

Albuquerque

Dion's offers an educational and fun opportunity for children Pre-K through 5th grade. The tour is composed of two facilitator-taught lessons along with a behind-the-scenes look at the restaurants. In addition, each child receives a workbook containing a number of activities designed with Common Core in mind. The tour is conducted by a dedicated tour guide and occur prior to store openings at 9:30 am. After the tour is complete, the students eat pizza in the dining room. The cost for the tour is $4.00 per child which includes lunch, a guided tour, a workbook, crayons, a pencil and a t-shirt.
Nutrition Education

Albuquerque

This resource offers a range of topics in nutrition education for homeschool children of any age. Classes can be taught in the store location or the Nutritional Health Coach (NHC) can come to your event or group. Classes offered include Brain Health: Attention Support, Children's Nutrition, Special Diets (i.e. Gluten Free, Dairy Free, Vegan), Sustainable Agriculture, and many more. The NHC is a well qualified expert in their field with 164 hours of continuing education each year.
Little Lions Learn

Albuquerque

We are certified teachers helping support homeschool families. We teach a full year's curriculum in subjects parents don't want to teach or are not confident with, including Math, English (reading and writing), Spanish and English as a second language, and more. Our goal is to help busy homeschool moms find balance by offering free and affordable homeschool resources including educational games, video lessons, worksheets, and more.
Mind Research Network

Albuquerque

Wonderful opportunity to participate in a research study. Children will be taught about neuroscience and neuroimaging. MEG and MRI are non-invasive techniques to see how the brain develops. Children are compensated $50/visit. This is a 5 year longitudinal study recruiting year-round. Ages 6-8, 11-13.
Noble Warrior LLC

Albuquerque

Safety Awareness Presentation, Mindset Presentation, and/or a Self Defense Seminar for adults, young adults, and children. Video presentations available. Facebook https://www.facebook.com/Noble-Warrior-LLC-1835156380095889/
Cut & Dry Lumber Company

Albuquerque

Cut & Dry Lumber is an urban lumber / tree recycling facility in Albuquerque's North Valley. Education is a huge part of our mission, because tree stewardship is long-term -- multi-generational, in fact. We encourage visits, especially for young people (ages 8+), to talk about our city's tree canopy and health, the economic and environmental impact of this kind of recycling, and what it means to the overall quality of life and long term sustainability of our area. This is an interactive experience, students get a 1 hour facility tour. The tour covers the lifecycle of trees and teaches them how trees get turned into wood products, with lots of time for questions. They will also learn about the machinery, safety and health issues, and of course lots of wood! Overview handouts are available, including a contact list for those interested in exploring forestry-related careers. We can also provide materials for woodworking of all kinds. If your home school program incorporates woodworking of any kind, please ask us about pricing and availability.
New Mexico Forensics Club

Albuquerque

The New Mexico Forensics Club is an academic speech and debate club geared toward the Christian homeschool community in New Mexico, while at the same time being open to participants in any educational setting and from any faith background. Its mission is to develop in young men and women the skills that are foundational to fostering open and honest dialogue. The club works toward that goal by coaching both students and parents alike as they participate in a number of different public speaking and debate events.
The Hearth School

Albuquerque

The Hearth School is a multi-aged, multi-skilled cooperative learning community. The program is child-centered and cultivates a love of learning. The Hearth School is a hybrid homeschool program that teaches reading, writing and math skills through projects that incorporate seasonal changes, art and handwork. Workshops for homeschool parents to learn how to teach reading, writing and math skills are also offered.
Canyon Wren Dot Org LLC

Albuquerque

We provide science enrichment and hands-on experiential field trips for students in and around Albuquerque NM. We specialize in environmental field trips to the Bosque, the river, and geological and archeological sites in and around the city.
RayKitty Creation Workshop

Albuquerque

Informal Science Sessions. Sessions are based on a week to week topic with soft scaffolding. Students can drop in any week and not feel like they have missed out. Sessions are designed to be multi aged with hands on, and demonstration style learning.
Rio Grande Educational Collaborative (RGEC)

Albuquerque

Free Grant funded After School Programs for Home Schooled students and traditional school students. This resource offers support and services to families in the Home School community. Students can attend an After School Time Program that offers lessons in science, geography, literacy, and the arts. As well as homework help with lite meals and regular visits from community partners such as Explora, Kids Cook, and Bricks 4 Kids. This offers students socialization, social emotional learning, academic enrichment opportunities and respite for parents. Students will have access to a fun safe learning environment with qualified staff. Locations in, Moriarty, Edgewood, Albuquerque, Los Lunas, Belen, and Socorro.
Sunspot Solar Observatory

Cloudcroft, New Mexico

Sunspot Solar Observatory has been a premier facility for solar research since its establishment in 1947. Bring your group and escape to a fun and educational adventure through our observatory. Test your knowledge of the sun and solar system as you explore the exhibits in the museum. Take a walking tour of the property as we share the history and science conducted in each of the facilities. Included in the tour is an inside view of the last active telescope. Inside the telescope you will learn about the unique, state-of-the-art instruments we use to study the Sun. Participate in hands-on learning activities where concepts like How Big is the Sun?, Why is the Sky Blue?, Magnetism, and Reflection and Refraction are explored.
New Mexico Classical Conversations

New Mexico Statewide

CC is a national homeschooling program that uses a Bible based curriculum taught in a christian, classical tradition. Classes are geared for age 4 through high school.
Innoventure NMSU

New Mexico Statewide

Innoventure offers free entrepreneurial education for K-12 students in New Mexico. We offer and array of workshops, self-guided activities, competitions, and summer camps to NM youth. Each program is designed to introduce students to the fundamentals of entrepreneurship while also improving on students soft skills. Our programs are offered year round and designed to be flexible.
New Mexico Youth and Government

Statewide

Youth & Government is a non-partisan, student-led civic education experience that focuses on educating high school students about state government. Unlike many other civic programs that tend to be competition-based, Youth & Government focuses on creating a platform for civil debate on complex problems and building collaboration between students of diverse backgrounds to seek solutions to challenges we see in our communities. This program addresses needs for increased student engagement and leadership. Youth & Government offers legislative, judicial, and executive branches of government as well as a media program. The annual program culminates in a three-day conference in Santa Fe at the State Capitol in April. Scholarships are available based on financial need.
Field Institute of Taos Nature Out There Program

Taos, Questa, Penasco, Dixon, Tres Piedras, Taos Ski Valley, Espanola, Velarde, Pilar/Northern New Mexico

N.O.T. SCHOOL (Nature Out There) Program is an exciting program for youth that takes place outside of school hours (after school, non school days, weekends) and designed specifically for enrichment. This program is a unique blend of environmental education and outdoor adventure that is fun, educational, and physically challenging. Thoughtfully engaging students while exploring connections to the natural world through active, hands-on activities. All groups are welcome, including school groups, homeschoolers, scouts, clubs, and families. Topics include: Outdoor recreation, natural and cultural history, community, ecology, natural processes, teamwork and leadership and more. Activities may include (weather permitting): hiking, mountain biking, sledding, and more. Programs can be after-school, half-day, full-day, or multi-day; weekly, monthly or seasonally; and generally happen once a week for 4-8 weeks. The age range for each program generally is a 3-4 year span to encourage teamwork and mentorship. Custom programs for ANY group of youth who have a common block of time are available. There is a cost involved for these programs that varies, depending on duration and activities. Transportation to and from all activities, instruction, preparation, and materials are all included. Sometimes the cost is covered by a particular school or organization while other times a parent or guardian may cover the cost per child. These programs can be completely customized for a group or left to the fabulous FITaos staff to design in our unique style. We ask for a minimum of 6 students but are happy to discuss possibilities for smaller groups. Our Program Leaders are energetic, highly qualified, experienced environmental educators and outdoor adventurers. Scholarships and grants are available. We do not want finances to be a barrier to all youth having these experiences. The above information is a brief overview of our FITaos N.O.T. School program. For more information on our organization, staff, philosophy, grants, scholarships, and other programs, contact Liana Sonne via telephone (575) 779-6693 or email programs@fitaos.org.