Jump to: Homeschool Co-ops | Homeschooling Classes & Academic Enrichment
Looking for someone to teach physics to your teen? Need a way to avoid teaching algebra? Want to enroll your Kindergartener in a co-op for social time? Homeschool classes and co-ops are a great way to spend time with other homeschoolers and skill-share with other homeschool parents.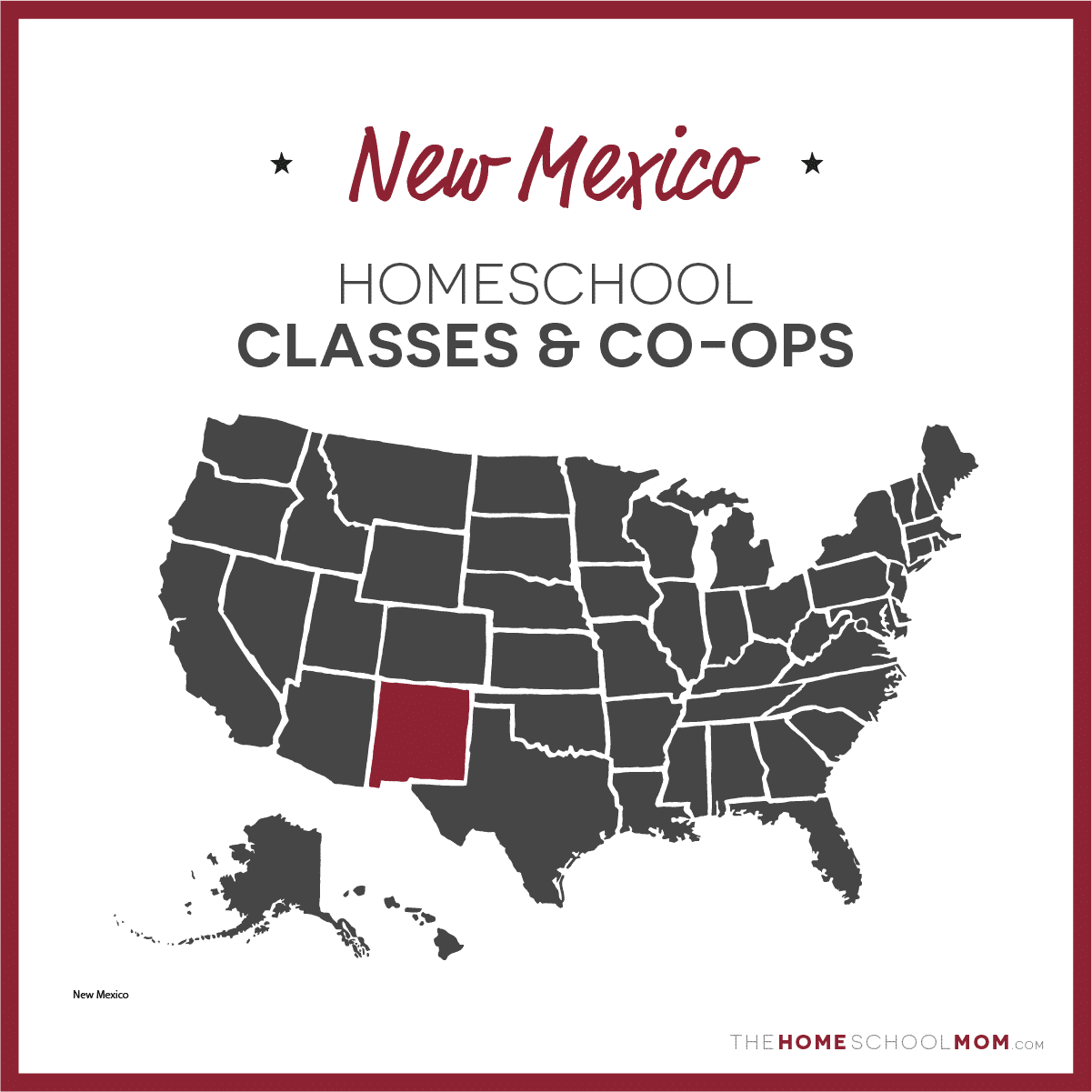 Submit a Local Resource
Our listing of New Mexico co-ops and academic classes for homeschoolers is ordered alphabetically by city, with co-ops in the first section and all other academic resources below. If you would like to submit a New Mexico co-op or academic resource, you may do so using the red button above.
New Mexico Homeschooling Co-ops
No co-op information found for New Mexico.
New Mexico Homeschooling Classes & Academic Enrichment
Cinnamon Cafe Cooking ClassesAlbuquerque
Cooking classes for both adults and kids. Rates are reasonable and classes designed based on needs. Minimum of 10 people to participate. All classes are hands-on and students eat everything they make. Cinnamon Cafe pr...
Dion'sAlbuquerque
Dion's offers an educational and fun opportunity for children Pre-K through 5th grade. The tour is composed of two facilitator-taught lessons along with a behind-the-scenes look at the restaurants. In addition, each c...
Nutrition EducationAlbuquerque
This resource offers a range of topics in nutrition education for homeschool children of any age. Classes can be taught in the store location or the Nutritional Health Coach (NHC) can come to your event or group. Clas...
Little Lions LearnAlbuquerque
Little Lions Learn offers language classes for children. We deliver high-quality, immersive second language instruction in Spanish and English for children between the ages of 4 and 13. Our Lions will master listening...
Mind Research NetworkAlbuquerque
Wonderful opportunity to participate in a research study. Children will be taught about neuroscience and neuroimaging. MEG and MRI are non-invasive techniques to see how the brain develops. Children are compensated $5...
Noble Warrior LLCAlbuquerque
Safety Awareness Presentation, Mindset Presentation, and/or a Self Defense Seminar for adults, young adults, and children. Video presentations available. Facebook https://www.facebook.com/Noble-Warrior-LLC-18351563800...
Cut & Dry Lumber CompanyAlbuquerque
Cut & Dry Lumber is an urban lumber / tree recycling facility in Albuquerque's North Valley. Education is a huge part of our mission, because tree stewardship is long-term -- multi-generational, in fact. We encour...
New Mexico Forensics ClubAlbuquerque
The New Mexico Forensics Club is an academic speech and debate club geared toward the Christian homeschool community in New Mexico, while at the same time being open to participants in any educational setting and from...
The Hearth SchoolAlbuquerque
The Hearth School is a multi-aged, multi-skilled cooperative learning community. The program is child-centered and cultivates a love of learning. The Hearth School is a hybrid homeschool program that teaches reading, ...
Canyon Wren Dot Org LLCAlbuquerque
We provide science enrichment and hands-on experiential field trips for students in and around Albuquerque NM. We specialize in environmental field trips to the Bosque, the river, and geological and archeological site...
RayKitty Creation WorkshopAlbuquerque
Informal Science Sessions. Sessions are based on a week to week topic with soft scaffolding. Students can drop in any week and not feel like they have missed out. Sessions are designed to be multi aged with hands on, ...
Sunspot Solar ObservatoryCloudcroft, New Mexico
Sunspot Solar Observatory has been a premier facility for solar research since its establishment in 1947. Bring your group and escape to a fun and educational adventure through our observatory. Test your knowledge of ...
New Mexico Classical ConversationsNew Mexico Statewide
CC is a national homeschooling program that uses a Bible based curriculum taught in a christian, classical tradition. Classes are geared for age 4 through high school.
Innoventure NMSUNew Mexico Statewide
Innoventure offers free entrepreneurial education for K-12 students in New Mexico. We offer and array of workshops, self-guided activities, competitions, and summer camps to NM youth. Each program is designed to intro...
The Homeschool ClassroomSanta Fe
The Homeschool Classroom has helped hundreds of historically underserved children ages 5-14 become more successful in a learning environment and equip them with the academic knowledge and mental skill set to continue ...
Field Institute of Taos Nature Out There ProgramTaos, Questa, Penasco, Dixon, Tres Piedras, Taos Ski Valley, Espanola, Velarde, Pilar/Northern New Mexico
N.O.T. SCHOOL (Nature Out There) Program is an exciting program for youth that takes place outside of school hours (after school, non school days, weekends) and designed specifically for enrichment. This program is a ...
Go to...