Field trips are a great way to reboot a bad homeschooling week, get out of the house when everyone has cabin fever, and learn about your local area. Before heading out, check out Jeanne's tips for improving homeschool field trips.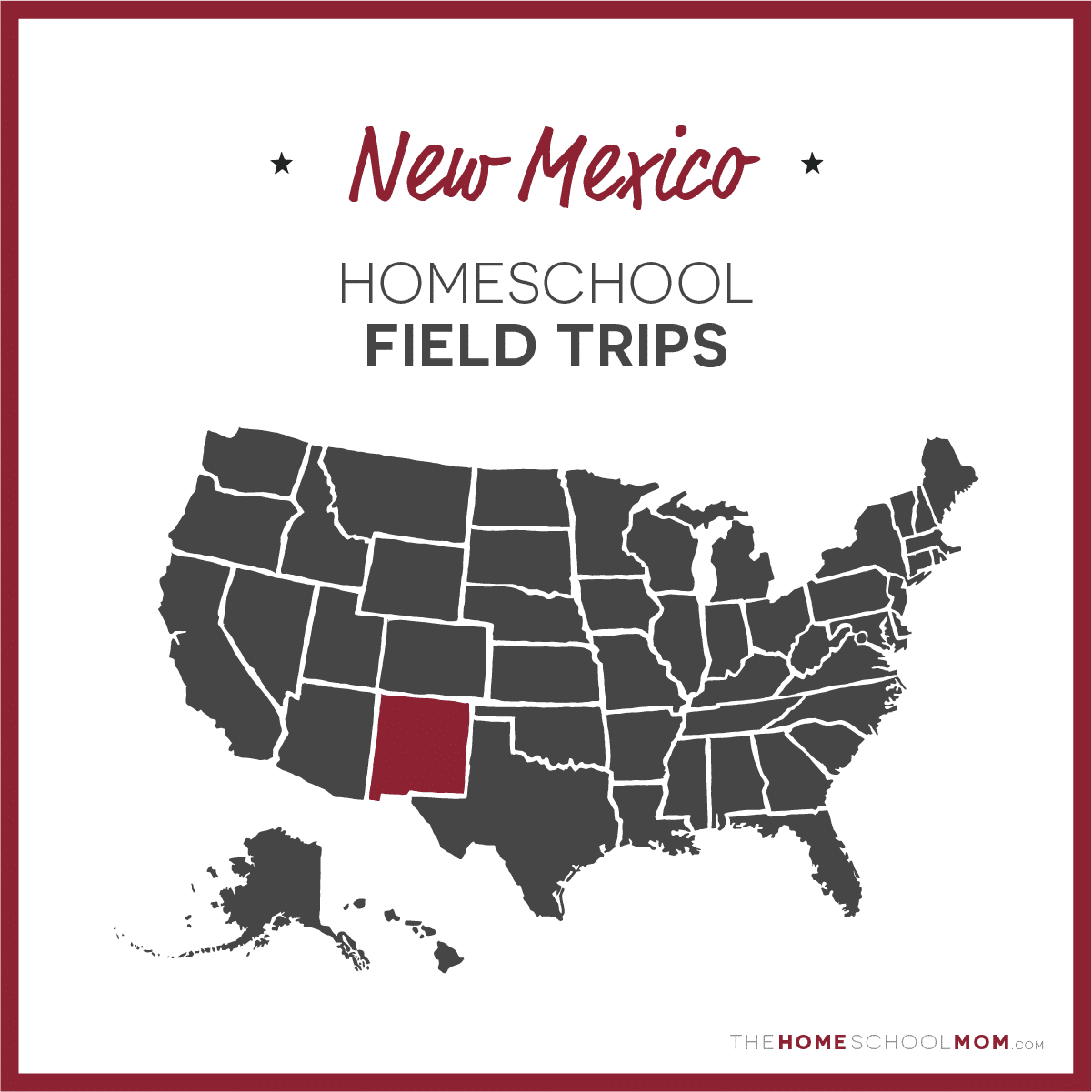 Submit a Field Trip Destination
Our listing of New Mexico field trips for homeschoolers is ordered alphabetically by city. If you would like to submit a New Mexico field trip destination, you may do so using the red button above.
An asterisk * after the title indicates that a virtual field trip is also available.
El Camino Real de Los Tejas National Historic Trail

Hola! Bienvenidos al Camino Real de los Tejas National Historic Trail. Come on a journey that will carry you through 300 years of Texas and Louisiana frontier settlement and development.
Oliver Lee Memorial State Park

Alamogordo

Set against the desert foot of the dramatic Sacramento Mountains, this park features historic exhibits and a fully restored 19th century ranch house.
New Mexico Museum of Space History

Alamogordo

The mission of the museum is to educate the people of New Mexico and our visitors from around the world in the history, science, and technology of space. The museum stresses the significant role that the state of New Mexico has played in the development of the U.S. Space Program through collecting, preserving, and interpreting significant artifacts relevant to the history of space.
Petroglyph National Monument

Albuquerque

Petroglyph National Monument protects a variety of cultural and natural resources including volcanos, archeological sites and an estimated 20,000 carved images. Many of the images are recognizable as animals, people, brands and crosses; others are more complex. These images are inseparable from the cultural landscape, the spirits of the people who created, and who appreciate them.
Rio Grande Nature Center State Park

Albuquerque

Located on the central Rio Grande flyway, Rio Grande Nature Center State Park is winter home to Canada geese, sandhill cranes, and various species of ducks and other waterfowl. A trail system along the river, classrooms, and an extensive library with viewing areas add to this valuable public resource.
National Hispanic Cultural Center

Albuquerque

The National Hispanic Cultural Center (NHCC) is dedicated to the preservation, promotion, and advancement of Hispanic culture, arts, and humanities. Since our grand opening in 2000, we have staged over 25 art exhibitions and 500 programs in the visual, performing, and literary arts. We provide venues for visitors to learn about Hispanic culture throughtout the world. Our beautiful campus is located along the banks of the Rio Grande in the historic Albuquerque neighborhood of Barelas.
New Mexico Museum of Natural History and Science

Albuquerque

The mission of the Education Division is to provide educational opportunities about natural history and science for the benefit of New Mexico citizens and visitors by connecting where we live and how we live to natural systems and evolving processes. The Museum has eight permanent exhibit halls that take visitors on a journey through time we refer to as "Timetracks" providing snapshots of New Mexico from the formation of the universe to the present day. Check out the Dynatheater and Planetarium.
Vietnam Veterans Memorial State Park

Angel Fire

The Vietnam Veterans Memorial provides veterans, and those who honor them, a refuge in which to reflect and heal. A representative from the Department of Veterans Affairs is present to offer assistance to veterans who require or request it. The 6,000 square foot visitor center/museum houses exhibits, videos and memorabilia. Veterans can use on-site computers to locate friends or loved ones. Tours are available, with advance notice by calling ahead, for schools and other groups wishing to learn more.
Aztec Ruins National Monument

Aztec

Follow ancient passageways to a distant time. Explore West Ruin, a center of ancestral Pueblo society that once housed over 500 masonry rooms. Look up and see original timbers holding up the roof. Search for the fingerprints of ancient workers in the stucco walls. Listen for an echo of ritual drums in the reconstructed "Great Kiva." Adventure into the past.
City of Rocks State Park

Bayard,

Formed of volcanic ash welded together 30 million years ago, then sculpted by wind and water into rows of monolithic blocks, these incredible rock formations give City of Rocks its name. New hiking trails and a new public night sky observatory add to this unique destination.
Coronado State Monument

Bernalillo

Coronado State Monument where Francisco Vasquez de Coronado--with 300 soldiers and 800 Indian allies from New Spain--entered the valley while looking for the fabled Seven Cities of Gold. Instead he found villages inhabited by prosperous native people. Coronado's party camped near the Tiwa pueblo of Kuaua, one of the many villages encountered by the explorers.
Percha Dam State Park

Caballo

Set in the intimate shade of towering cottonwoods, Percha Dam State Park features camping, picnicking, fishing and bird-watching on the Rio Grande.
Capulin Volcano National Monument

Capulin

Mammoths, giant bison, and short-faced bears witnessed the earthquakes and firework-like explosions which hurled molten rock thousands of feet into the air. Approximately 60,000 years ago, the rain of cooling cinders formed Capulin Volcano, a nearly perfectly-shaped cinder cone, rising more than 1000 feet above the surrounding landscape.
Carlsbad Caverns National Park

Carlsbad

As you pass through the Chihuahuan Desert and Guadalupe Mountains of southeastern New Mexico and west Texas--filled with prickly pear, chollas, sotols and agaves--you might never guess there are more than 300 known caves beneath the surface. The park contains 113 of these caves, formed when sulfuric acid dissolved the surrounding limestone, creating some of the largest caves in North America.
Brantley Lake State Park

Carlsbad

Brantley Lake State Park, a southern desert park, is a refreshing place to fish and enjoy other water sports. The visitor center includes historical exhibits about the Wild West town of Seven Rivers.
Living Desert Zoo and Gardens State Park

Carlsbad

Living Desert Zoo & Gardens State Park is an indoor/outdoor living museum displaying more than 40 native animal species and hundreds of succulent plants from around the world. While on the 1.3 mile self-guided tour, visitors discover many faces of the Chihuahuan Desert, from sand dunes and pygmy forest to the desert floor.
Cerrillos Hills State Park

Cerrillos

There are 1,100 years of mining history in these hills which can be seen by hiking, biking, or horseback riding on the 5 miles of trail among rolling juniper savanna.
Clayton Lake State Park

Clayton

Set among rolling grasslands, Clayton Lake State Park offers excellent trout, catfish and bass fishing. Walk a half-mile to the lake's spillway and see the internationally significant dinosaur trackway, containing more than 500 footprints dating back more than 100 million years.
Pancho Villa State Park

Columbus

TRAVEL THROUGH TIME - The park is located on the grounds of former Camp Furlong from where Gen. John J. "Black Jack" Pershing launched 10,000 troops on an 11-months, 500-mile pursuit of Villa into Mexico. The Exhibit Hall tells the story that begins with the 1910 Mexican Revolution and ends with Pershing's command of the Allied Forces when the U.S. entered World War I.
Conchas Lake State Park

Conchas Dam

Conchas Lake State Park offers a wide variety of water sport activities including boating, fishing and water-skiing at this refreshing, 25-mile long reservoir.
Rockhound State Park

Deming

Rugged slopes of the Florida and Little Florida Mountains are home to Rockhound State Park. Hiking trails offer views of nearby "sky islands." Agates and quartz crystals can be found at the park.
Cimarron Canyon State Park

Eagle Nest

Set in New Mexico's high country, where spectacular palisade cliffs and clear running waters dominate the landscape, Cimarron Canyon State Park is part of the 33,116-acre Colin Neblett Wildlife Area -- the largest wildlife area in the state.
Eagle Nest Lake State Park

Eagle Nest

Set in the scenic Moreno Valley and surrounded by two of the state's highest peaks, Baldy Mountain and Wheeler Peek, this 2,400-acre lake is known for its kokanee salmon and rainbow trout fishing.
Elephant Butte Lake State Park

Elephant Butte

The largest and most popular lake in New Mexico, Elephant Butte Lake State Park provides a setting for every imaginable water sport. The visitor center offers regional interpretive exhibits. The mild climate of the area makes this park a popular year-round destination.
Farmington Museum

Farmington

The facility hosts two permanent exhibits: "From Dinosaurs to Drill Bits" and "Farmington: 100 Years of Change." The Museum hosts a wide variety of indoor and outdoor events throughout the year as well as "Currents," the Farmington Museum store.
The E3 Children's Museum & Science Center

Farmington

Dinosaurs, Sound, Light, Magnetism, Shadows Art... are all found at the E3 Children's Museum and Science Center in downtown Farmington. For the younger children we have Tot's Turf, a room filled with activities that will delight and teach youngsters under the age of six. The museum hosts performances by entertainers and new exhibits are added regularly. School classes and families will find many things to do and learn at the Children's Museum.
Riverside Nature Center Wetlands

Farmington

The Nature Center was originally designed to overlook a wetlands of one of the oxbows which once existed along the Animas River. The wetlands were constructed and the wildlife have inhabited it. The wetlands serve as a refuge for wildlife and provides people an unique viewing opportunity from the Nature Center and specific points on the trail. Come and enjoy this wonderful hideaway in Animas Park
Sumner Lake State Park

Fort Sumner

Sumner Lake State Park offers many activities, such as camping, hiking, swimming, wildlife viewing and fishing. The lake is home for many warm water species including walleye, bass, crappie, and channel catfish.
Bosque Redondo Memorial

Fort Sumner

Fort Sumner was the center of a million-acre reservation known as the Bosque Redondo Indian Reservation. The story of how the U.S. Army forcibly moved the Navajo and Mescalero Apache people from their traditional homelands to the land surrounding this lonely outpost is pivotal to the history of the American West. Today a unique new museum designed by Navajo architect David Sloan--shaped like a hogan and a tepee--and an interpretive trail, provide information about the tragic history of Fort Sumner and Bosque Redondo Indian Reservation.
El Malpais National Monument

Grants

El Malpais means the badlands but this volcanic area holds many surprises. Lava flows, cinder cones, pressure ridges and complex lava tubes dominate the landscape. A closer look reveals high desert environments where animals and plants thrive. Prehistoric ruins, ancient cairns, rock structures, and homesteads remind us of past times. Visitors need to be prepared for exploring this rugged place.
Coyote Creek State Park

Guadalupita

Coyote Creek State Park is nestled in the Sangre de Cristo Mountains along a meandering stream. Enclosed by a forest of spruce and pine, the small valley displays abundant wildflowers and beautiful fall foliage. The park is ideal for fishing, family camping and leisurely nature walks.
White Sands National Monument

Holloman AFB

Like No Place Else on Earth - Rising from the heart of the Tularosa Basin is one of the world's great natural wonders - the glistening white sands of New Mexico. Here, great wave-like dunes of gypsum sand have engulfed 275 square miles of desert and created the world's largest gypsum dune field. White Sands National Monument preserves a major portion of this unique dune field, along with the plants and animals that have successfully adapted to this constantly changing environment.
Fenton Lake State Park

Jemez Springs

A popular year-round retreat surrounded by beautiful ponderosa pine forests, Fenton Lake features a cross-country ski and biathlon trail and wheelchair-accessible fishing platforms.
New Mexico Farm and Ranch Heritage Museum

Las Cruces

The New Mexico Farm and Ranch Heritage Museum is 47 acres packed with real stories about real people. The interactive museum, which has welcomed visitors from all over the world, brings to life the 3,000-year history of farming and ranching in New Mexico.
Storrie Lake State Park

Las Vegas

Favorable summer breezes attract colorful wind-surfing boards to Storrie Lake State Park, which is also popular for fishing and boating. The visitor center features historical photos of the Santa Fe Trail and 19th century Las Vegas.
Lincoln State Monument

Lincoln

Lincoln State Monument is the most widely visited state monument in New Mexico and is part of a community frozen in time--the 1870's and 1880's. The monument includes 17 structures and outbuildings, 4 of which are open year round and 2 more seasonally as museums. Most of the buildings in the community are representative of the Territorial Style of adobe architecture in the American Southwest.
Ute Lake State Park

Logan

Ute Lake State Park, a Canadian River reservoir, offers some of the best walleye fishing in New Mexico. Anglers can also try their luck for bass, crappie, and catfish.
Bandelier National Monument

Los Alamos

The People of Bandelier - Bandelier has a long human history and links to the modern Pueblos. Traditions which began in the distant past are still practiced today. At Bandelier, evidence of the Ancestral Pueblo people can be found in the dwellings, artifacts, and continuing culture of the modern pueblos. Early Spanish settlers, the Civilian Conservation Corp (CCC), and the National Park Service also left their mark on the local landscape.
Heron Lake State Park

Los Ojos

A picturesque lake set among tall pines, Heron Lake State Park has been designated a "quiet lake" where boats operate at no-wake speeds only. This park is known for its excellent sailing, fishing, cross-country skiing, and hiking.
Morphy Lake State Park

Mora

Sitting pretty at 8,000 feet among ponderosa pines and surrounded by mountains, Morphy Lake is the perfect place to get away from it all, catch a few fish and enjoy the scenery.
Schwebach Farm

Moriarty

Children and their chaperones will enjoy a hay ride, harvesting some veggies and learning all about "life on the farm"! Come and join us for a wonderful time at the farm!
Salinas Pueblo Missions

Mountainair

Once, thriving American Indian trade communities of Tiwa and Tompiro speaking Puebloans inhabited this remote area of central New Mexico. Early in the 17th-century Spanish Franciscans visited the area and found it ripe for their missionary efforts. However by 1677 the entire Salinas District, was depopulated of both Indian and Spaniard alike.
Manzano Mountains State Park

Mountainair

Nestled in the wooded foothills of the Manzano (the Spanish word for apple tree) Mountains, Manzano Mountains State Park is an excellent place for fishing, bird watching, photography, hiking and cross country skiing.
Chaco Culture National Historical Park

Nageezi

Chaco Canyon was a major center of Puebloan culture between AD 850 and 1250. The Chacoan sites are part of the homeland of Pueblo Indian peoples of New Mexico, the Hopi Indians of Arizona, and the Navajo Indians of the Southwest.
Navajo Lake State Park

Navajo Dam

Navajo Lake is New Mexico's second largest lake--more than 15,000- acre ft. capacity --and offers the full gamut of water sports and services. Early Inhabitants - Evidence of some of the earliest known villages in the Southwest are found in the area.
Pecos National Historical Park

Pecos

Pecos history includes the ancient pueblo of Pecos, Colonial Missions, Santa Fe Trail sites, 20th century ranching, and the site of the Civil War Battle of Glorieta Pass. The website offers historical information about the park for those who cannot visit in person.
Oasis State Park

Portales

A true oasis on the expansive, grassy plains of east-central New Mexico, Oasis State Park is set among cottonwood trees and shifting sand dunes. Points of interest include a small fishing lake and prairie trails.
Bluewater Lake State Park

Prewitt

Rolling hills studded with pinon and juniper trees encircle the lake, which is stocked with trout and catfish. Bluewater Lake State Park is popular for boating and year-round fishing. Geology Galore. Bluewater Lake is situated on the north flank of the Zuni Mountains in the Las Tusas Basin. The reservoir is located in a valley carved in shale and limestone. The latter of which contains snail and brachiopod fossils.
Leasburg Dam State Park

Radium Springs

Leasburg Dam State Park offers camping, picnicking and bird watching. From mid-March to mid-October the park offers fishing, canoeing and kayaking.
Mesilla Valley Bosque State Park

Radium Springs

Mesilla Valley Bosque State Park is New Mexico's 34th state park and broke ground on its new Visitor Center in December 2005, with an expected completion in fall 2008. A remnant of riverside woodland and restored wetland along the Rio Grande, this park is a haven for migratory birds and for people seeking walking trails and quiet enjoyment of nature.
Fort Selden State Monument

Radium Springs

Fort Selden was established in 1865 in an effort to bring peace to the south central region of present day New Mexico. Built on the banks of the Rio Grande, this adobe fort housed units of the U.S. Infantry and Cavalry. Their intent was to protect settlers and travelers in the Mesilla Valley from desperados and Apache Indians. Several of the units stationed at the fort were black troopers, referred to as Buffalo Soldiers. A young Douglas Mac Arthur called the fort home while his father was post commander in the late 1880s. Today the stark adobe brick walls of the frontier past evoke a feeling of personal connection to the past. A visitor center offers exhibits on frontier and military life.
El Morro National Monument

Ramah

A reliable waterhole hidden at the base of a sandstone bluff made El Morro (the headland) a popular campsite. Ancestral Puebloans and Spanish and American travelers carved over 2,000 signatures, dates, messages, and petroglyphs for hundreds of years. We invite you to make El Morro a stopping point during your travels.
Sugarite Canyon State Park

Raton

Located on the Colorado border, Sugarite Canyon State Park features heavily wooded mountains and meadows painted with wildflowers and butterflies. Visitors can fish and boat (electric motors only), observe the plentiful wildlife, hike scenic trails,cross-country ski, camp and picnic.
Bottomless Lakes State Park

Roswell

Actually several small lakes bordered by high red bluffs, Bottomless Lakes State Park offers a variety of activities including hiking, swimming, fishing and scuba diving. The lakes are water filled sinkholes in the local gypsum terrain. Odd geology and water chemistry create homes for unusual plants and animals, like the Pecos Sunflower.
Jemez State Monument Heritage Area

San Ysidro

the Jemez State Monument Heritage Area includes the stone ruins of a 500 year old Indian village and the San Jose de los Jemez church dating to 1610. The heritage center contains exhibitions that tell the story of the site through the words of the Jemez people. A 1,400-foot interpretive trail winds through the impressive site ruins.
El Camino Real de Tierra Adentro National Historic Trail

Santa Fe

Savor 300 years of heritage and culture in the Southwest.

El Camino Real de Tierra Adentro National Historic Trail website
Hyde Memorial State Park

Santa Fe

Beautiful scenery, a quiet natural setting, and easy access make Hyde Memorial State Park a favorite picnic area, campground, respite, and base camp for excursion to the surrounding Santa Fe National Forest.
The Museum of Indian Arts & Culture

Santa Fe

The mission of the Museum of Indian Arts and Culture/Laboratory of Anthropology is to inspire appreciation for and knowledge of the diverse native arts, histories, languages, and cultures of the Greater Southwest. The Museum of Indian Arts & Culture offers several choices of thematic tours with related hands-on activities for grades K-8. Special thematic tours for high school students may be arranged and include a gallery or classroom activity.
Museum of International Folk Art

Santa Fe

The mission of the Museum of International Folk Art is to enrich the human spirit by connecting people with the arts, traditions, and cultures of the world. The Museum of International Folk Art (MOIFA) explores the dynamics of artistic expression in the context of cultural change. Through its collections, exhibitions, publications, and educational programs, the museum expands perceptions of folk art and encourages dialogue about traditions, cultural identity, community and aesthetics.
New Mexico Museum of Art

Santa Fe

The New Mexico Museum of Art building dates only to 1917, but its architects looked to the past, and based the design on the 300 year-old mission churches at Acoma and other pueblos. It shares the graceful simplicity of pueblo architecture and the sense of being created from the earth. In turn, the building established the Pueblo Spanish Revival style of architecture, for which Santa Fe is known.
New Mexico History Museum/Palace of the Governors

Santa Fe

The new museum includes permanent and temporary exhibitions that span the early history of indigenous people, Spanish colonization, the Mexican Period, and travel and commerce on the legendary Santa Fe Trail. The museum serves as the anchor of a campus that encompasses the Palace of the Governors, the Palace Press, the Fray Angelico Chavez History Library and Photo Archives.
Santa Fe National Historic Trail

Santa Fe Trail

The Santa Fe National Historic Trail connects western Missouri and Santa Fe. The website offers historical information about the trail for those who cannot visit in person.
Santa Rosa Lake State Park

Santa Rosa

The centerpiece of Santa Rosa Lake State Park is a large reservoir on the plains of eastern New Mexico. The park offers a variety of water recreation. Anglers are known to catch bass, catfish and walleye. Corps of Engineers visitor center has displays about area history, creation of the dam and natural history.
Gila Cliff Dwellings National Monument

Silver City

Gila Cliff Dwellings National Monument offers a glimpse into the homes and lives of the Mogollon people who lived in this area over 700 years ago.
Old Spanish National Historic Trail

Southwestern US
Harwood Museum of Art

Taos

The mission of the Harwood Museum of Art of the University of New Mexico is to collect, preserve, exhibit and interpret the arts, especially those created in, inspired by, or relevant to northern New Mexico. The museum advances the University's mission and engages diverse audiences by stimulating learning, creativity and research through exhibitions, programs and publications.
El Vado Lake State Park

Tierra Amarilla

Located in New Mexico's northern mountains, El Vado Lake State Park offers fishing, boating, water-skiing, and winter cross-country skiing.
Caballo Lake State Park

Truth or Consequences

The Caballo Mountains serve as a majestic backdrop for Caballo Lake State Park. The park boasts a full array of water recreation, winter waterfowl watching, and cactus gardens in bloom.
Villanueva State Park

Villanueva

Villanueva State Park is a charming riverside park situated in a canyon of red and yellow sandstone cliffs. Towering cottonwoods and a variety of other native trees and shrubs add additional color to the landscape. The park's adobe-style picnic shelters were designed and grouped to resemble a Spanish hamlet, similar to those that existed in the area in earlier times. A footbridge gives hikers access to trails leading along the river to other sites, including a prehistoric Indian ruin and a cliff-top vantage point.
Fort Union National Monument

Watrous

Fort Union was established in 1851 as the guardian of the Santa Fe Trail. During its forty-year history, three different forts were constructed close together. The third Fort Union was the largest in the American Southwest, and functioned as a military garrison, territorial arsenal, and military supply depot for the southwest. The largest visible network of Santa Fe Trail ruts can be seen here.