Jump to: Homeschool Co-ops | Homeschooling Classes & Academic Enrichment
Looking for someone to teach physics to your teen? Need a way to avoid teaching algebra? Want to enroll your Kindergartener in a co-op for social time? Homeschool classes and co-ops are a great way to spend time with other homeschoolers and skill-share with other homeschool parents.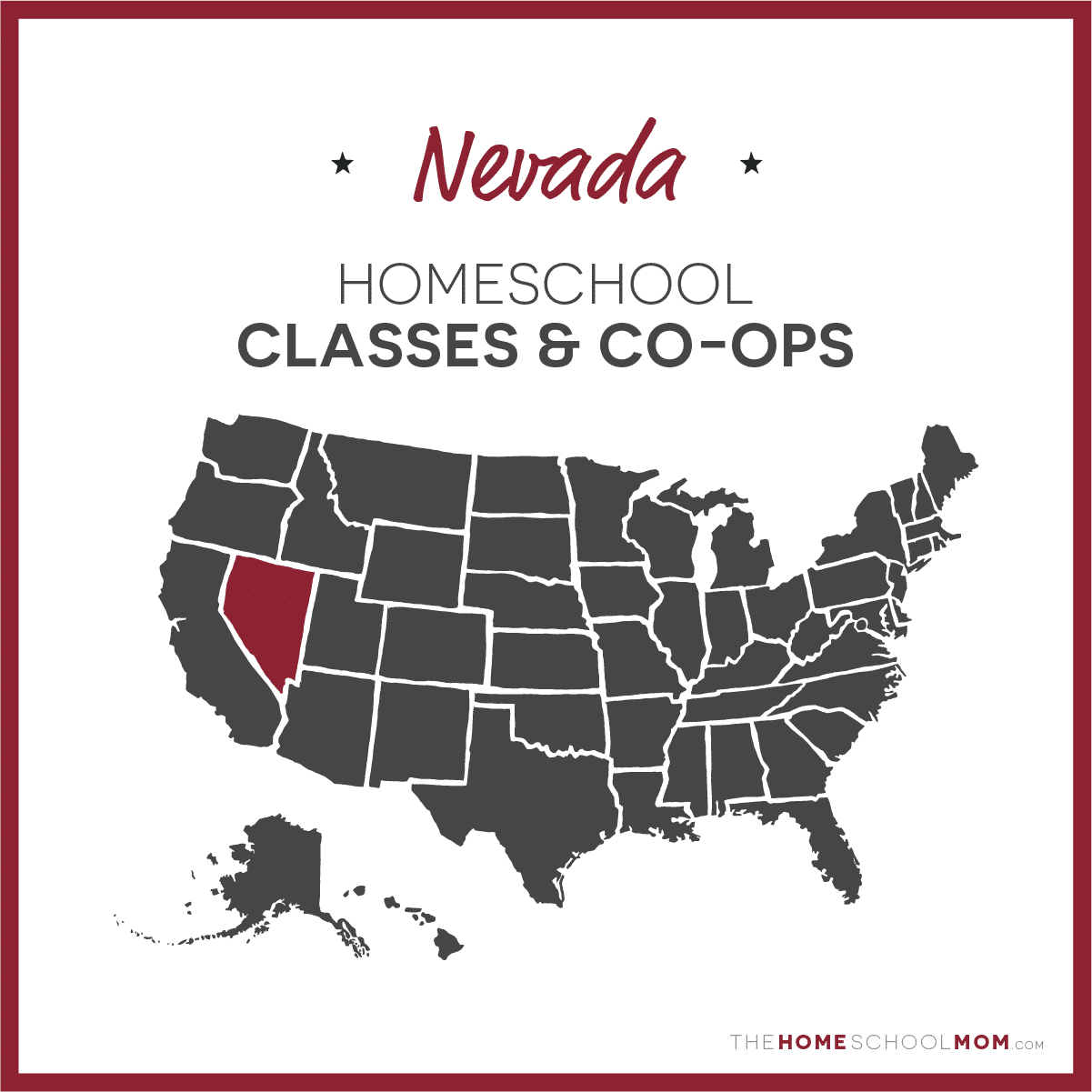 Submit a Local Resource
Our listing of Nevada co-ops and academic classes for homeschoolers is ordered alphabetically by city, with co-ops in the first section and all other academic resources below. If you would like to submit a Nevada co-op or academic resource, you may do so using the red button above.
Nevada Homeschooling Co-ops
Faith HomeschoolersDouglas County
A Christian Faith based co-op. Classes offered for all age children, plus classes for moms. Faith Homeschoolers also has regular field trips and get-togethers.
Training Up Arrows Homeschool Co-op ClassesHenderson & Las Vegas
Our group is a Bible believing homeschool support group and Co-Op classes. We are conservative in our political beliefs and wish to surround ourselves with like-minded Christians. Our group offers ...
CHIEFS Christian HomeschoolLas Vegas
CHIEFS Christian Homeschool offers monthly field trips, a writing inspiration program, Co-ops, park days, holiday socials are events, parent meetings, and monthly teen events.
Eagles Homeschool Group LVLas Vegas
EAGLES Homeschool Group is a ministry of Canyon Ridge Christian Church and seeks to support families as they educate their children at home. We believe that together is better, and we strive to cre...
Eagle Home School Co-opReno, Sparks
EAGLE Home School Co-op is designed to provide cooperative and group learning experiences for our Northern Nevada homeschool community.
Northern Nevada Home Schools Co-opsReno, Sparks and Carson City
IMPACT Home-school Co-opSparks
IMPACT home school Co-op exists to bring home-school families together to learn in a loving environment. IMPACT is a parent-run home school co-op made up of families from a wide variety of backgrou...
Nevada Homeschooling Classes & Academic Enrichment
Brain Balance of NV Henderson or SummerlinHenderson
Brain Balance Achievement Centers combine physical, sensory motor activities with cognitive skills training and healthy nutrition. Complimentary fields trips include challenging, yet fun physical a...[Read more...]
Classical ConversationsHenderson, Green Valley, Las Vegas
Share the love of learning through a Christian worldview and fellowship with other families. Our families thrive using three keys to a great education: Classical, Christian, and Community. We enabl...[Read more...]
Drivers ed Las VegasLas Vegas
Northwest Driving School provides drivers ed both on campus and behind the wheel. Northwest Driving School has DMV certified instructors who are highly experienced and friendly. Currently offering ...[Read more...]
STEAM Programming Las Vegas-Clark County Library DistrictLas Vegas
The library offers free STEAM programming to schools. This looks like three 15 minute stations where students can build with different materials, program and/or code with different types of technol...[Read more...]
Nevada Classical ConversationsNevada Statewide
CC is a national homeschooling program that uses a Bible based curriculum taught in a christian, classical tradition. Classes are geared for age 4 through high school.[Read more...]
Math Tutor Reno - Damon Lewis TutoringReno
Independent math tutor in the Reno/Sparks area offering tutoring services at a discounted rate for home schoolers.  Mention TheHomeSchoolMom.com for discounted rate.[Read more...]
Geared to LearnSummerlin
Geared to Learn understands that children are unique learners and is committed to supporting students with different learning styles by providing intervention and remediation. Shelley Kalb, M.Ed ha...[Read more...]
Go to Nevada...