Jump to: Homeschool Co-ops | Homeschooling Classes & Academic Enrichment
Looking for someone to teach physics to your teen? Need a way to avoid teaching algebra? Want to enroll your Kindergartener in a co-op for social time? Homeschool classes and co-ops are a great way to spend time with other homeschoolers and skill-share with other homeschool parents.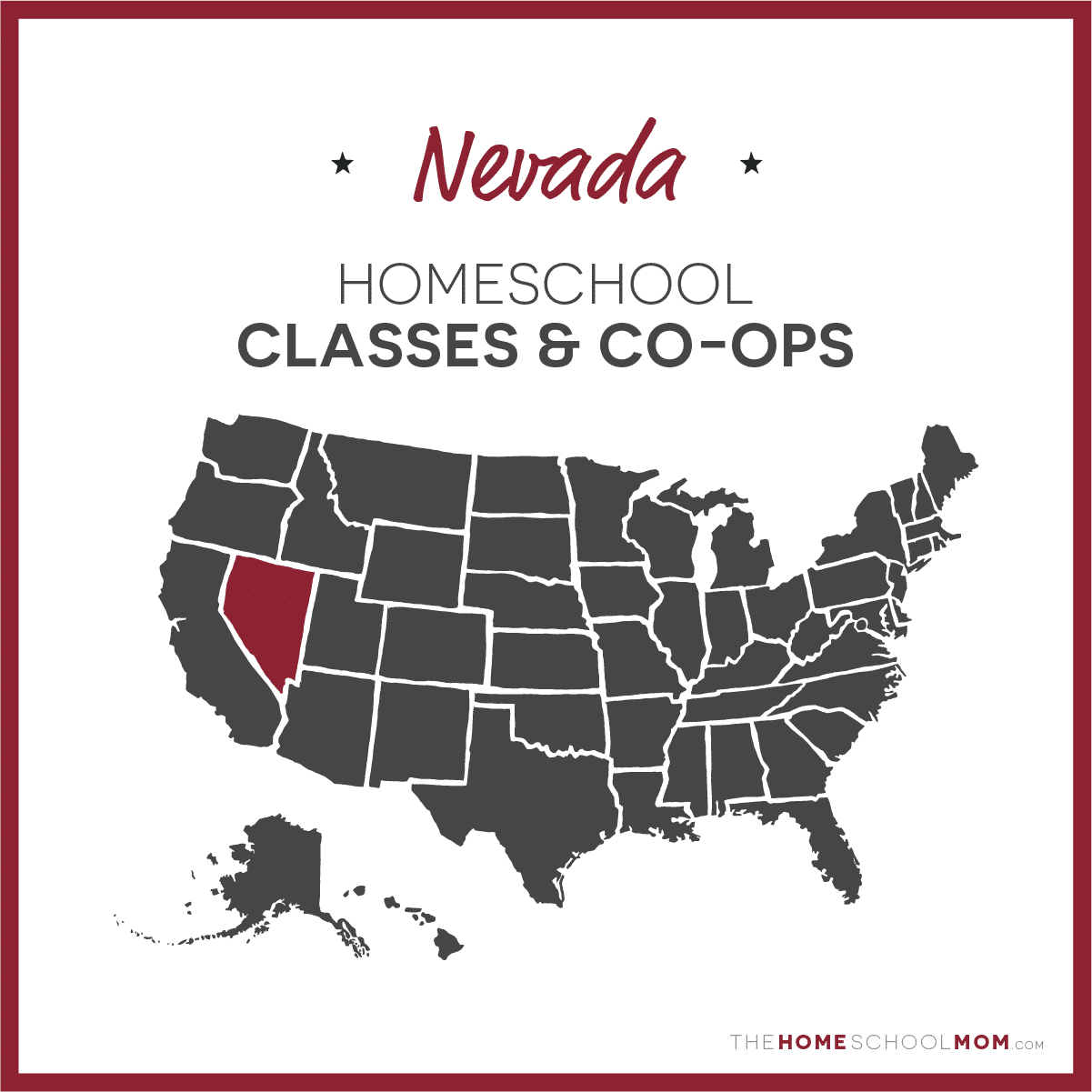 Submit a Local Resource
Our listing of Nevada co-ops and academic classes for homeschoolers is ordered alphabetically by city, with co-ops in the first section and all other academic resources below. If you would like to submit a Nevada co-op or academic resource, you may do so using the red button above.
Nevada Homeschooling Co-ops
Training Up Arrows Homeschool Co-op Classes

Henderson & Las Vegas

Our group is a Bible believing homeschool support group and Co-Op classes. We are conservative in our political beliefs and wish to surround ourselves with like-minded Christians. Our group offers classes for all school aged children. We focus on academic classes that parents request to be taught in a group setting. These parents/teachers use their God given gifts to teach our children. We are always open to adding more volunteer teachers so please feel free to ask. Our fees are very reasonable and vary depending on classes offered. Families must be a member of our group to join Co-Op classes.
CHIEFS Christian Homeschool

Las Vegas

CHIEFS Christian Homeschool offers monthly field trips, a writing inspiration program, Co-ops, park days, holiday socials are events, parent meetings, and monthly teen events.
Eagles Homeschool Group LV

Las Vegas

EAGLES Homeschool Group LV seeks to support Christian families as they educate their children at home. We believe that together is better, and we strive to create a community of unity. Whether you are new to homeschooling, a seasoned pro, or just curious about what homeschooling is all about, we would love to offer support and join you on this journey. You are not alone! In order to best serve our families, our events are categorized by age group or event type: Elementary (ages 5-10), Tweens (ages 11-13), Teens (ages 14-18), Special Events (dances, used curriculum sale, etc), & Family Events (usually at two events per year, sometimes more) We offer the following: Weekly PE classes, Park Days, Holiday Parties, Dances, Field Trips & Activities, Moms Nights Out, Graduation Ceremony, and Co-op Classes.
Colorful Geniuses Homeschool Co-Operative

Las Vegas

CGHC is a homeschool co-operative located in Las Vegas, Nevada. We believe in catering a learning experience that is both fun, informative, explorative, and that will provide a sense of community and belonging. We are a community of homeschool families who meet collectively to share resources, information, education and value amongst one another in order to enhance the learning experiences of our homeschooled children. Families from all walks of their homeschool journey are welcome. Our classes are extracurricular in nature, culturally based, with many fun electives as well!
Eagle Home School Co-op

Reno, Sparks

EAGLE Home School Co-op is designed to provide cooperative and group learning experiences for our Northern Nevada homeschool community.
Northern Nevada Home Schools Co-ops

Reno, Sparks and Carson City
IMPACT Home-school Co-op

Sparks

IMPACT home school Co-op exists to bring home-school families together to learn in a loving environment. IMPACT is a parent-run home school co-op made up of families from a wide variety of backgrounds united by our shared goal of providing a high-quality educational experience of enrichment to supplement and support established home school programs.
Nevada Homeschooling Classes & Academic Enrichment
Brain Balance of NV Henderson or Summerlin

Henderson

Brain Balance Achievement Centers combine physical, sensory motor activities with cognitive skills training and healthy nutrition. Complimentary fields trips include challenging, yet fun physical activities for children ages 5-16. Participants will learn about their amazing brain and how the different activities they are doing help build important connections that enable better focus, processing, and overall brain health. Parents in attendance will participate in an informational seminar about developing better academic, behavioral, and social skills in their children.
Kumon - "The Homeschool Hub"

Henderson

This program is an afterschool foundational program that helps students get caught up to grade level if they are behind and advance them beyond grade level. They start at 2 years old all the way to high school. They specialize in early childhood development to prepare them for kindergarten and above! Their philosophy is teaching students how to be independent and life study skills to be able to succeed in anything they do either inside the classroom or outside the classroom.
Classical Conversations

Henderson, Green Valley, Las Vegas

Share the love of learning through a Christian worldview and fellowship with other families. Our families thrive using three keys to a great education: Classical, Christian, and Community. We enable parents everywhere to equip their children with a Christ-centered worldview and the classical "tools of learning" in order to impact the world for God's glory. Homeschooling is a journey. We're with you every step of the way. Our Classical Conversations programs offer: Community (In-person and online), encouragement and fellowship Accountability and support from like-minded parents Rich downloadable resources, online forums and video tutorials Tried and trusted learning framework with recommended assignments Trained parent-tutors that model the Classical approach
Drivers ed Las Vegas

Las Vegas

Northwest Driving School provides drivers ed both on campus and behind the wheel. Northwest Driving School has DMV certified instructors who are highly experienced and friendly. Currently offering 15-6 program which is the perfect fit for most new drivers in Las Vegas. Conducting 5 hours of traffic courses which will help drivers to remove maximum three traffic ticket points on your record. Call 702-212-5667 or fill out the form from the website.
STEAM Programming Las Vegas-Clark County Library District

Las Vegas

The library offers free STEAM programming to schools. This looks like three 15 minute stations where students can build with different materials, program and/or code with different types of technology, or create an art piece to take home. It is an one hour program that comes to you. Please contact Glenda Billingsley if you are interested 702-507-6330. Groups should be 12 students or more.

STEAM Programming Las Vegas-Clark County Library District details
Homeschool PE at the Y

Las Vegas

Home School PE at the Y offers a way for your child to learn valuable physical and social skills that will last a lifetime. Whether your child is an athlete on a select sports team, or an artist that has never kicked a ball, Homeschool Y P.E. has something to offer. Classes are offered on Tuesday & Thursday 1-3PM.
Nevada Classical Conversations

Nevada Statewide

CC is a national homeschooling program that uses a Bible based curriculum taught in a christian, classical tradition. Classes are geared for age 4 through high school.
Math Tutor Reno - Damon Lewis Tutoring

Reno

Independent math tutor in the Reno/Sparks area offering tutoring services at a discounted rate for home schoolers.  Mention TheHomeSchoolMom.com for discounted rate.
Geared to Learn

Summerlin

Geared to Learn understands that children are unique learners and is committed to supporting students with different learning styles by providing intervention and remediation. Shelley Kalb, M.Ed has over 20 years' experience as a classroom teacher and administrator. Shelley has worked with students of varying abilities and learning styles. Mathematics, Writing, Grammar, Study Skills, Reading and Comprehension. Training in Orton Gillingham and Executive Functioning.