Field trips are a great way to reboot a bad homeschooling week, get out of the house when everyone has cabin fever, and learn about your local area. Before heading out, check out Jeanne's tips for improving homeschool field trips.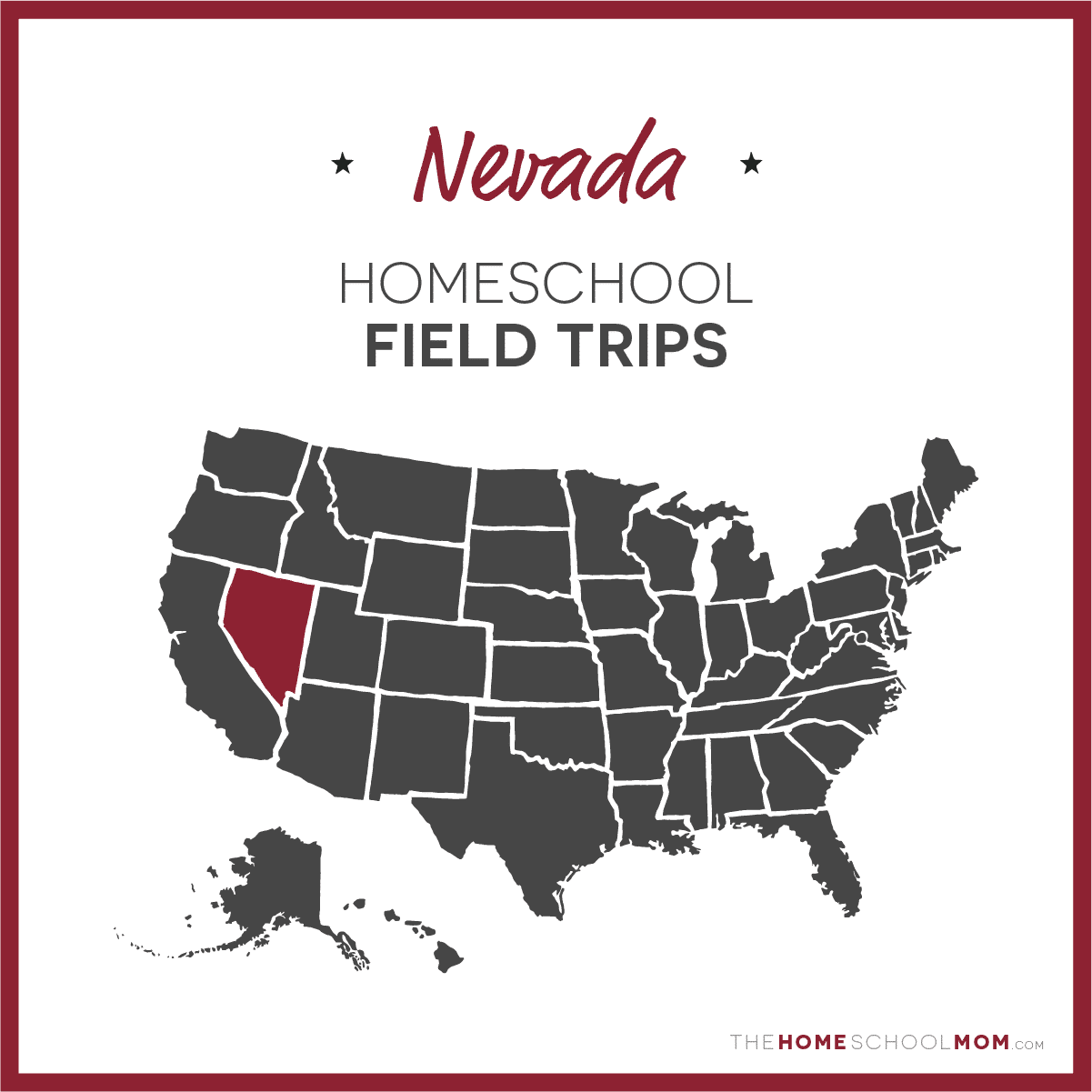 Submit a Field Trip Destination
Our listing of Nevada field trips for homeschoolers is ordered alphabetically by city. If you would like to submit a Nevada field trip destination, you may do so using the red button above.
An asterisk * after the title indicates that a virtual field trip is also available.
California National Historic Trail

More than 250,000 gold-seekers & farmers crossed into to the gold fields & rich farmlands of California during the 1840's and 1850's. 1,000 miles of trail ruts and traces can still be seen to remind us of early American travelers and settlers.
Pony Express National Historic Trail
Berlin-Ichthyosaur State Park

Austin

Berlin-Ichthyosaur State Park is open all year but extreme winter weather may prohibit travel. A trail through the town site tells the story of Berlin and its mine.
Great Basin National Park

Baker

In the shadow of 13,063-foot Wheeler Peak, 5,000 year old bristlecone pine trees grow on rocky glacial moraines. Come to Great Basin National Park to experience the solitude of the desert, the smell of sagebrush after a thunderstorm, the darkest of night skies, and the beauty of Lehman Caves. Far from a wasteland, the Great Basin is a diverse region that awaits your discovery.
Spring Mountain Ranch State Park

Blue Diamond

Spring Mountain Ranch's many springs provided water for Paiute Indians and later brought mountain men and early settlers to the area. This ranch was developed into a combination working ranch and luxury retreat.
Lake Mead National Recreation Area

Boulder City

Lake Mead National Recreation Area offers a wealth of things to do and places to go year-round. Its huge lakes cater to boaters, swimmers, sunbathers, and fishermen while its desert rewards hikers, wildlife photographers, and roadside sightseers. It is also home to thousands of desert plants and animals, adapted to survive in an extreme place where rain is scarce and temperatures soar.
Kershaw-Ryan State Park

Caliente

Kershaw-Ryan State Park offers visitors a picnic area, restrooms and trails for nature study, photography, picnicking, and hiking.
Beaver Dam State Park

Caliente

Beaver Dam State Park is Eastern Nevada's most remote park. It is popular with hikers and nature enthusiasts. Activities include: fishing, camping, picnicking, hiking, photography and nature study. Facilities include campgrounds, a group use area, a day-use picnic area, and hiking and interpretive trails. Beaver Dam is open year-round, weather permitting, but travel is not advised during winter months.
Dayton State Park

Dayton

Dayton State Park is located in the town of Dayton, one of Nevada's first permanent settlements. The Rock Point Mill, built in 1861, was once used to process silver ore. Remnants of the mill are still visible within the park. Activities include: Picnicking, camping and group use facilities.
Death Valley National Park

Death Valley

A Land of Extremes: Hottest, Driest, Lowest: A superlative desert of streaming sand dunes, snow-capped mountains, multicolored rock layers, water-fluted canyons and three million acres of stone wilderness. Home to the Timbisha Shoshone and to plants and animals unique to the harshest deserts. A place of legend and a place of trial.
Wild Horse State Recreation Area

Elko

Wild Horse State Recreation Area visitors enjoy camping, picnicking, hunting, fishing and boating. Facilities include campgrounds, a trailer dump station, boat launch and ranger station. The park Wildhorse Reservoir is open year-round, but access may be hampered by extreme cold and snow in winter months.
Northeastern Nevada Museum

Elko

The Cultural Center of Northeastern Nevada. The Northeastern Nevada Museum Children's Education Department works with area schools to help meet certain school education standards.
Ward Charcoal Ovens State Historic Park

Ely

Ward Charcoal Ovens State Historic Park is known for its six beehive-shaped historic charcoal ovens. Activities include: trails for hiking, mountain biking and ATV riding. There are abundant wildlife viewing and birding opportunities.
Cave Lake State Park

Ely

Cave Lake is open year round and is popular for trout fishing, crawdadding, boating, hiking, picnicking and camping. Facilities include campgrounds, picnic areas, hiking trails and a boat launch. Winter sports such as ice fishing, cross-country skiing and ice skating are also available. Snow sculpting is becoming a popular activity, and the White Pine Fire & Ice Show is the premier winter event in the area.
Old Las Vegas Mormon State Historic Park

Genoa

Old Vegas Mormon State Historic Park is located in downtown Las Vegas. The park includes a remnant of the original adobe fort, which contains interpretive displays. The Visitor Center contains exhibits on the history of the site and historic artifacts. The "Friends of the Fort" also provide a series of programs throughout the year.
Mormon Station State Historic Park

Genoa

Mormon Station is the site of Nevada's first permanent nonnative settlement. A replica of the original trading post built in 1851 houses a small museum with relics of pioneer days. Picnic and group facilities are available.
Walker Lake

Hawthorne

Walker Lake is one of the last remnants of an ancient inland sea which covered much of western Nevada nearly 10,000 years ago. Visitors enjoy fishing, boating, swimming and picnicking, plus facilities at the park include shade ramadas, tables and grills along a sandy beach.
Lake Tahoe-Nevada State Park

Incline Village

Lake Tahoe-Nevada State Park offers a number of different areas for visitors to enjoy. Sand Harbor is the most popular, with sandy beaches, a boat launch, picnicking and group use facilities.
Dig This Las Vegas

Las Vegas

Park up the Tonka and experience the thrill of operating real 1-Ton Caterpillar earth separating equipment. Be the Boss on this super fun experience that is both affordable and memorable. Ages +3 and up can participate in a kids dig and group rates will be provided.
SeaQuest Las Vegas

Las Vegas

Make learning fun and engaging at SeaQuest as students interact with animals from all over the planet and learn about behind-the-scenes operations at an aquarium. SeaQuest Field trips are guided group tours led by a team of marine and environmental educators. SeaQuest provides enhanced, age-specific Field Trip adventures for learners of all ages. Experience fun, hands-on learning when you feed and touch saltwater stingrays, hold reptiles and take a walk through the bird aviary. Homeschool field trip groups receive special pricing on Mondays!
Kayak Lake Mead

Las Vegas

Provide your student with a valuable, interactive learning experience on the Colorado River just an hour's drive outside Las Vegas. Incorporating physical activity with hands-on adventure, our knowledgeable guide will provide information that covers history, geoscience, ecology and natural science. This event is appropriate for all skill levels - from beginner to expert. At our core, we prioritize safety, education, and enjoyment for all of our guests. That's why our guides are trained in river rescue, wilderness first-aid, and CPR. so you can trust that you're in capable hands at all times.
Marvel Avengers STATION located at Treasure Island Hotel & Casino

Las Vegas

Marvel Avengers S.T.A.T.I.O.N. is an interactive and educational experience bringing visitors into the Marvel cinematic universe. Guests will have access to intelligence files & experiments that explore the history of the characters.

Marvel Avengers STATION located at Treasure Island Hotel & Casino website
Big Bend of the Colorado Recreation Area

Laughlin

Big Bend State Recreation Area activities include: Camping, Picnicking, Hiking, Boat Launch, Nature Study, Swimming and Fishing.
Elgin Schoolhouse State Historic Site

Lincoln County

The Elgin Schoolhouse is a historic school in rural Nevada's Lincoln County. The schoolhouse was used from 1922 through 1967, when its last student reached eighth grade. In 1998, the building was restored to its original appearance and volunteers opened the building for tours by request. It became a State Historic Site in July 2005. The Elgin Schoolhouse State Historic Site features half of the house's original items. SR 317 was heavily damaged in 2005 floods. Until the reconstruction on SR 317 (Rainbow Canyon Highway) is complete, the Elgin School house State Historic Site will be closed.
Rye Patch State Recreation Area

Lovelock

Park visitors enjoy fishing, boating, water skiing, camping, and picnicking. A campground, boat launch and picnic sites are provided.
Dangberg Home Ranch Historic Park

Minden

The Dangberg Home Ranch Historic Park is one of Carson Valley's first and largest ranches. The ranch was home to German immigrant Heinrich Friedrich Dangberg who founded the site in 1857. A local businessman, rancher and politician, Dangberg started his ranch with just a log cabin. The county and state are restoring the original buildings, including a main house, a stone cellar, a laundry building, a carriage house, a garage and a bunkhouse. These buildings and original artifacts are on display.
Valley of Fire State Park

Overton

Valley of Fire is Nevada's oldest and largest state park, dedicated 1935. Popular activities include camping, hiking, picnicking and photography. The park offers a full-scale visitor center with extensive interpretive displays. Several group use areas are also available. The park is open all year.
Cathedral Gorge State Park

Panaca

Cathedral Gorge erosion has carved dramatic and unique patterns in the soft bentonite clay. The big draw tot he areas is cave-like formations and cathedral-like spires. The park activities include: Hiking, picnicking, camping, nature study, photography and ranger programs.
Spring Valley State Park

Pioche

Spring Valley State Park offers boat launching, picnicking and camping facilities are available. Visitors also enjoy hiking, exploring and touring the historic Ranch House museum.
Echo Canyon State Park

Pioche

Echo Canyon State Park offers camping, fishing, hiking and enjoying the beautiful scenery of eastern Nevada.
Lahontan State Recreation Area

Silver Springs

Lahontan State Recreation Area offers: camping, a dump station, showers, picnicking, a boat launch, nature study, swimming, fishing and hunting.
Fort Churchill State Historic Park

Silver Springs

Fort Churchill was once an active U.S. Army fort built to protect early settlers. A visitor center displays information and artifacts of the fort's history. Facilities include: trails, a campground, picnic area, group-use area and access to the Carson River. Visitors can enjoy hiking, historic and environmental education, camping, picnicking, photography and canoeing.
South Fork State Recreation Area

Spring Creek

South Fork Reservoir is popular for hunting, camping, boating, picnicking, winter sports and wildlife viewing. The park is best known for its trophy-class trout and bass fishery. Facilities include a boat launch, campground, trailer dump station and picnic area.
Washoe Lake State Park

Washoe Valley

Washoe Lake and Little Washoe Lakes activities include: nature study, bird watching, hiking, horseback riding, picnicking, windsurfing, water skiing, catamaran sailing, jet skiing and fishing. A campground, boat launches, group use area, day-use picnic sites and equestrian trailhead are available. A wetlands area with a viewing tower and interpretive displays is a new addition to the park.