Jump to: Homeschool Arts | Homeschool Sports
In addition to the opportunity to get out of the house and socialize, homeschool sports and arts programs can offer long-term benefits by developing characteristics like leadership, self-confidence, perserverance, and self-esteem. Many organizations and businesses have opportunities specifically for homeschoolers, while others invite homeschoolers to participate in their regular programs.
Not sure how to choose activity/activities for your children? Read how Rebecca narrows down the choice of extra-curricular activities.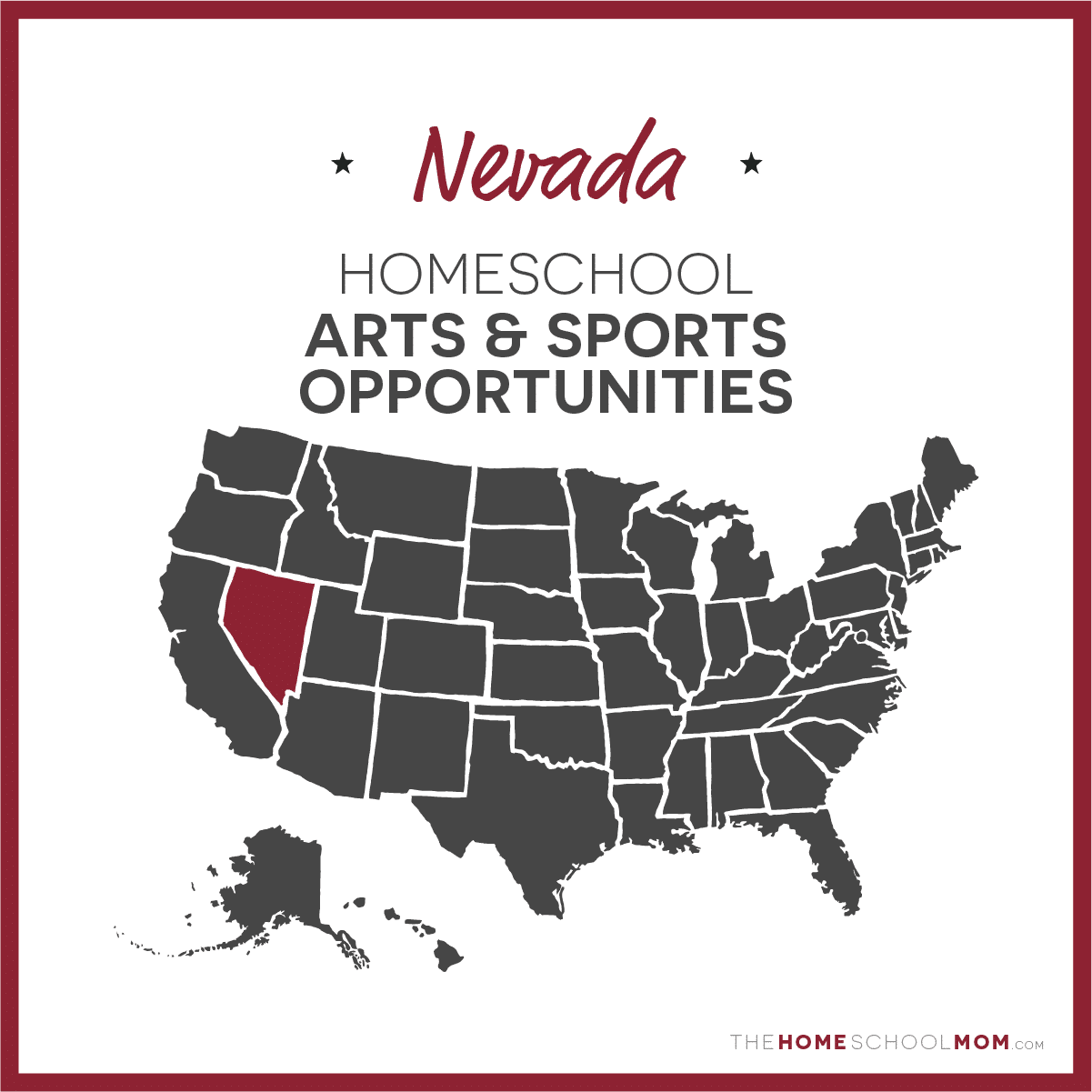 Submit a Local Resource
Our listing of Nevada list of homeschool arts and sports programs is ordered alphabetically by city, with arts in the first section and sports in the second section. If you would like to submit an Nevada arts or sports program, you may do so using the red button above.
Nevada Homeschool Arts Programs
Art lessons at The King Art StudioHenderson
At The King Art Studio, each individual is creative in their own way! Students strive to strengthen their artistic talents. Students are encouraged to think outside of the box. Art is not just visu... [Read more...]
Musicology AcademyHenderson
As a NATS certified vocal coach since 1995, Musicology Academy offers in person and online VOICE and PIANO lessons to accommodate the student. We also have vocal performing group classes for both B... [Read more...]
Margie Samuels School of Art - Art Lessons for HomeschoolersHenderson
I offer ongoing in-person Art Lessons with over 20 years experience teaching school-aged children. I teach the Fundamentals and techniques of all significant art. My drawing skills are second to no... [Read more...]
Sing City Vocal StudioHenderson/Las Vegas
Sing City Vocal Studio works with kids and adults ages 10 and up for private voice lessons and vocal, performance and audition coaching. All sessions are 60 minutes and are one on one with Amanda K... [Read more...]
Las Vegas Homeschool ChoirLas Vegas
An A2Z Homeschool Community group [Read more...]
studioBpianoLas Vegas
Operated by sole instructor Dr. Bethany Campbell, studioBpiano provides private, in-home piano instruction to students of all age and skill levels in Las Vegas. Students participate in various perf... [Read more...]
Southern Nevada Home School Performing ArtsLas Vegas
The mission of SNHPA is to offer a music program in the Las Vegas Valley that teaches music from 'the ground up', starting at the Elementary Music program and continuing into the beginning instrume... [Read more...]
Lessons by Laura LLCLas Vegas
Lessons by Laura LLC offers private music instruction on piano, flute, oboe, clarinet, saxophone and bassoon. The instructor has over 30 years of teaching experience working with pre-school age thr... [Read more...]
Real Talk Arts ProgramLas Vegas
Real Talk Arts Program has Acting and Theatre classes along with dance and singing. Real Talk will pay for Acting/Theatre classes monthly for ages 8 to 18 years of age once they join Real Talk Yout... [Read more...]
Leah Willis Dance Arts Innovative Arts Education (Homeschool/Afterschool) ProgramLas Vegas/Henderson
The LWDA Innovative Arts Education (I.A.E.) Program specializes in utilizing the vehicle of Dance to teach and enhance academic learning in an amazingly fun experience! Firmly planted in the Las Ve... [Read more...]
Aria School of Music and ArtReno
This resource is a non-profit music school that provides scholarships for qualifying families that need private music lessons for their children and can't afford it. The school also finds instrumen... [Read more...]
Nevada Homeschool Sports Programs
Las Vegas Ice Center Home School FridaysLas Vegas
Las Vegas Ice Center offers Home Sc hool Fridays during the 1230-230pm Public Skate Session on the First Friday of each month, year round! Admission, skate rental and a free hot cocoa. [Read more...]
Water Wings Swim - Family Fun SwimLas Vegas
Water Wings Swim school offers a variety of services including swimming lessons and fun family swim. Offering great rates for homeschool children, the BEST thing about being enrolled is that you re... [Read more...]
Family Karate TaekwondoLas Vegas
Family Karate Taekwondo is offering morning Taekwondo class for homeschool students. This Homeschool class will be 2 classes per week, Tuesday and Wednesday at 11:00am starting April 17, 2018. In T... [Read more...]
Horses4Heroes Equestrian CenterLas Vegas
Non-profit organization dedicated to helping veterans, first-responders and their families. Learn about horses, visit the farm animals, learn about and assist with work around the farm, even ride a... [Read more...]
Boys & Girls Indoor Sports ActivitiesLas Vegas
"The Gem" will be hosting weekly indoor sports training classes marketed to the Homeschool Community. Sessions include Basketball, Volleyball, Dodgeball, Pickle Ball, & more. We have a safe, &a... [Read more...]
Go to Nevada...