Jump to: Homeschool Arts | Homeschool Sports
In addition to the opportunity to get out of the house and socialize, homeschool sports and arts programs can offer long-term benefits by developing characteristics like leadership, self-confidence, perserverance, and self-esteem. Many organizations and businesses have opportunities specifically for homeschoolers, while others invite homeschoolers to participate in their regular programs.
Not sure how to choose activity/activities for your children? Read how Rebecca narrows down the choice of extra-curricular activities.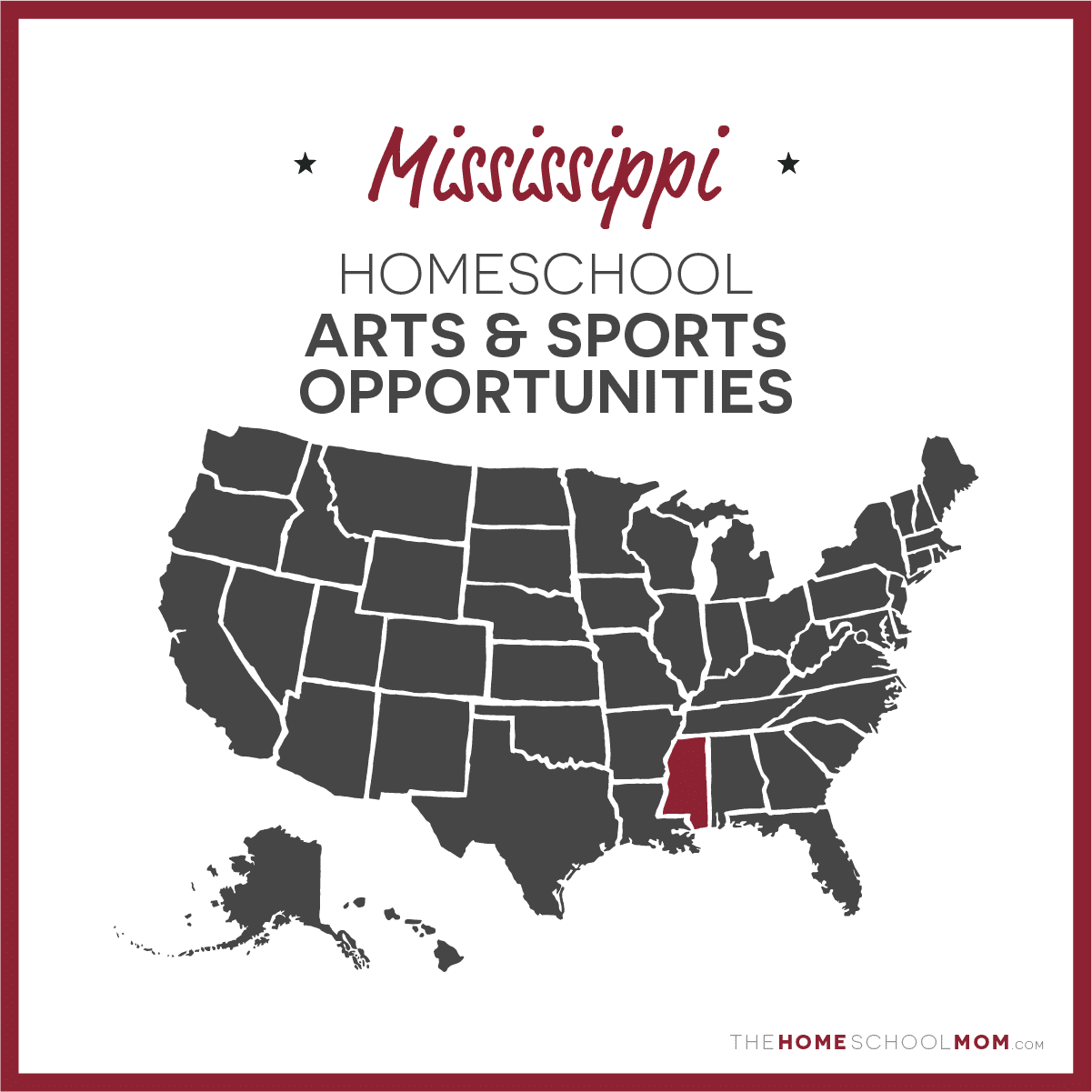 Submit a Local Resource
Our listing of Mississippi list of homeschool arts and sports programs is ordered alphabetically by city, with arts in the first section and sports in the second section. If you would like to submit an Mississippi arts or sports program, you may do so using the red button above.
Mississippi Homeschool Arts Programs
Connections Dance Club & Studio

Hattiesburg

Connections Dance Club & Studio would like to present kids ballroom dance courses especially for homeschool children and teens. (Ages 9-12 and 13-17). Each session would end with a dress up dance party. Benefits are: - increased learning skills and information retention - social and etiquette skills - enhanced physical coordination - posture, poise and presentation of self - dance skills they will use for the rest of their lives - communication skills - enhanced leadership abilities - friendships - understanding how to dress and feel comfortable in clothing other than play clothes
New Stage Theatre

Jackson

Students attend main stage productions during the school day at 10 a.m. Discussions with the company follow the special matinees. You will receive a comprehensive study guide before the show. Check the website for shows and date selections. Cost is $7 or $8 per person.
Academy of Arts

Jackson

The First Baptist Jackson Academy of Arts exists to reclaim the arts for Christ through unparalleled instruction in musical excellence and their interaction into daily life. The Academy of Arts seeks to create a stream of devoted and excellent artists dedicated to multiplying disciples to live like Jesus for generations. The AoA has an exceptional array of faculty who provide music lessons (strings, piano, woodwinds, brass, guitar, voice, special needs general music) for anyone and everyone - preschool to adult! In-person teaching options at our wonderful church facility.
Goodine Music Piano Studio

Madison

Goodine Music Piano Studio offers piano lessons with Elizabeth Goodine in the Madison, Mississippi area. The student will receive three 45-minute lessons per month. The emphasis is in classical piano music, coaching through the book "Simplifying Chords: A Textbook For the Classroom and a Reference For the Road", training in gospel music, and preparation for worship leading. They offer a trial lesson at no cost or obligation.
Pleasant Hill Art Center

Olive Branch (Desoto County)

Art Classes for Children and Adults.
The Country Schoolhouse

Purvis

This organization is a privately owned education resource center that offers supplemental and enrichment classes that can be added to any homeschool curriculum program. All Classes are taught by certified teachers. Classes range from music, art, drama to farm biology, S.T.E.A.M. (science, technology, engineering, art, math) and coding. Students, ages 4-18yrs old, can find classes to attend. Monthly field trips, holiday parties, and special activities are planned by this organization, but membership is required to participate in these additional activities. Other services also available at The Country Schoolhouse: Homeschool consultations for new homeschooling families, tutoring, private music lessons, and facility rental for birthday parties, showers, or civic organizations.
Starkville Homeschool Music Cooperative

Starkville, Columbus, West Point, Golden Triangle

Starkville Homeschool Music Cooperative is a is a Christian homeschool cooperative dedicated to promoting the performing arts for students in the greater Golden Triangle Area. The co-op currently offers three choirs, Music Adventurers for Kindergarten - 3rd Grade, Music Explorers for 4th-6th grades, and a Concert Choir for 7th-12 grades. Also offering both a beginning and an advanced band.
Conservatory of the Fine Arts

Vicksburg

The Conservatory of the Fine Arts offers private music lessons, art classes, ensembles, and workshops to the Vicksburg-Warren area.
Mississippi Homeschool Sports Programs
Coastal Mississippi Homeschool Sports Association

Gulfport

Coastal Mississippi Homeschool Sports Association is a non-profit corporation whose purpose is to promote the Gospel of Christ through youth boys' and girls' sports in the Coastal and Southern Mississippi area and to further promote the development of leadership, character, sportsmanship, discipline, and athletic ability, and to nurture youth fitness, volunteerism, and a lifelong love of sports.
The World Taekwondo Academy - Osseo

Maple Grove

The World Taekwondo Academy - Osseo is conveniently located at 9122 Cottonwood Lane North in Maple Grove. Our Dojang trains students from Maple Grove, Osseo, Champlin and Brooklyn Park. The facility has over 5,000 square feet of space including a large training area, large viewing area, After School Program classroom, Wifi and more! Meet your child's physical education needs in a fun and challenging way! The World Taekwondo Academy (WTA) in Osseo, Minnesota offers beginner classes, geared to homeschoolers, conveniently offered during the day. The classes are twice a week, on Tuesdays and Thursdays at 12:15pm. Group discounts and multiple child discounts are available. No contracts or start-up fees, try it free for two weeks (uniform included).
Square1 Outdoors, Inc Archery Team

Prentiss County and surrounding area

Home-school youth grades 4-12 in Prentiss County and surrounding area are invited to participate on an archery team hosted by MSYESS and the Prentiss County Sportsman's Club (Square1 Outdoors, Inc). No fee and no equipment needed. This team will practice and compete locally in the AIMS program and in other target and 3D archery formats. We are also a USA Archery-affiliated club.  We also have other shooting sports opportunities for home-school youth.  Air rifle, air pistol, and BB gun, Recreational and competitive shotgun sports, Rimfire rifle, and Water Safety/Paddling Instruction - Canoeing/kayaking.
Home Educators of Southwest Mississippi

Summit, McComb, Tylertown, Osyka, Brookhaven

Home Educators of Southwest Mississippi is a non-profit homeschool group which offers support to homeschool families. HESWM has baseball, basketball, and cross country teams. HESWM also offers Beta Club, spring formal dances, and a formal graduation ceremony for members seniors. Lego league and Robotics along with field trips are also hosted by this group.