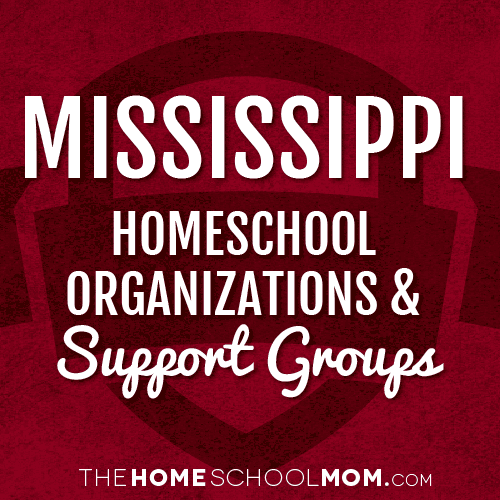 Since homeschooling is regulated at the state level, connecting with local homeschoolers is an important step to start homeschooling in Mississippi. State homeschool organizations and local homeschool groups are not just a good place to learn the specifics of legally homeschooling in Mississippi—they can also help you to get connected with the local homeschooling community. Many homeschool groups offer co-ops, classes, sports and arts opportunities, and social get-togethers.
Our listing of Mississippi state organizations and local homeschool groups is ordered alphabetically by city, with statewide organizations listed first. If you would like to submit a group, you may do so using the red button above.
Use the secondary navigation menu above to quickly make your way to pages for Mississippi state organizations, local homeschool groups, classes, co-ops, field trips, and more.
Mississippi Homeschool Organizations
Mississippi Home Educators Association (MHEA)Mississippi Statewide
A Christian ministry dedicated to assisting - according to Biblical principles - those families who are committed to the education of their children at home. It is also our desire to strengthen the...
Mississippi Local Homeschool Groups
PEAK Homeschool NetworkAlabama and Mississippi Statewide
If you live in Alabama or Mississippi and are looking for a diverse, collaborative community of inclusive homeschoolers, welcome to PEAK!
Mississippi Homeschool LifeDesoto County
Mississippi Homeschool Life, LLC is a Christian homeschool support group for families in Desoto, Marshall and Tate Counties in Mississippi and Shelby County in Tennessee.Providing family event...
Coast Christian Home Educators Association (CCHEA)Gulfport (Gulf Coast)
The Coast Christian Home Educators Association (CCHEA) is a volunteer lead home school group established to provide information and support to the homeschool community of the Mississippi Gulf Coast...
Christian Home Educators of Hattiesburg (C.H.E.H.)Hattiesburg
Information about the CHEH support group and all of its activities. It is our hope that our web page will also help families who are considering home-education by providing answers to common questi...
Independent School of ThoughtHernando
Cottage School to supports home school families
NMHEAHernando, MS (Desoto County & Tate County)
A support group for homeschooling moms serving the North MS area. Members come together monthly to encourage each other and share ideas. There are monthly field trips for the kids and monthly moms...
CHEC -Christian Home Educators ConnectionHinds, Madison, Rankin Counties
The purpose of CHEC is to support and encourage home educators by providing information and opportunities for fellowship both educational and social. Although CHEC is a Christian organization with ...
Jackson Metro Homeschool SocialJackson
JMHS is for homeschooling and Unschooling families living in the Jackson, Mississippi metropolitan area. Members join together for weekly park days, field trips, luncheons, game days, group classes...
Love Of LearningJackson
Love of Learning is an online and socially active group created for Mississippi families choosing a non-traditional, non-institutionalized approach to education (natural learning, relaxed learning,...
From MHEAMIssissippi Statewide
Local Support groups listed by county
Pearl River County Christian Home Educators Association (PRCCHEA)Pearl River County/Picayune
PRCCHEA is a local support group for Christian homeschooling families in Pearl River County, MS and surrounding areas. PRCCHEA offers field trips, group meetings, clubs, Mom's Nights Out, Social ev...
Mississippi Independent Homeschool Group (MIHG)Rankin
Mississippi Independent Homeschool Group (MIHG) is a group dedicated to providing opportunities for you and your children to improve your homeschool experience. Helping to connect homeschool famili...
Northwest Mississippi Home School Educators (NWMHE)Tate County
Offering homeschool families the opportunity to get connected to other homeschool families in the Tate County area. Members enjoy monthly activities, prom, kindergarten and senior graduation as wel...
Vicksburg Christian Home EducatorsVicksburg and surrounding areas
VCHE shares information with new home schooling families, provides fellowship, encouragement, and support; and plans educational field trips, family socials, and group activities for our children. ...
MS Delta Christian Home EducatorsYazoo, Humphreys, Sharkey, and Issaquena Counties
Mississippi Delta Christian Home Educators is an active homeschool group that meets regularly for service projects, field trips, art class, physical education class, Mom's night out, and park days....