Homeschooling is regulated at the state level, so connecting with local homeschoolers is an important step to start homeschooling in Mississippi. Find the Mississippi homeschool groups closest to you and get connected with your local homeschooling community, learn about the homeschool requirements in Mississippi, and discover the co-ops, classes, sports and arts opportunities, and social get-togethers in your area.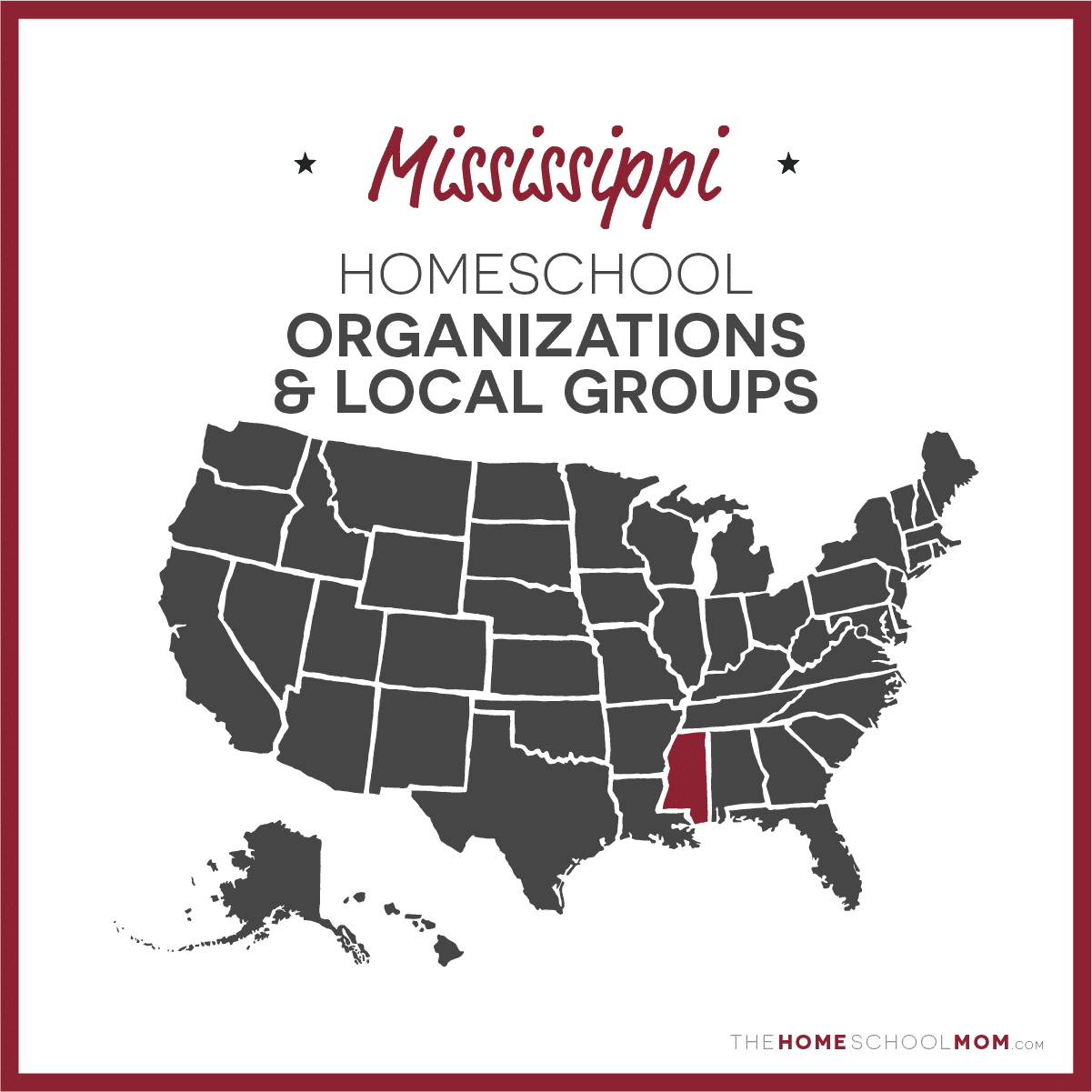 Submit a Local Resource
Jump to: State Organizations | Local Groups
Our listing of Mississippi state organizations and local homeschool groups is ordered alphabetically by city, with statewide organizations listed first. If you would like to submit a group, you may do so using the red button above.
Mississippi Homeschool Organizations (Statewide)
Mississippi Home Educators Association (MHEA)

Mississippi Statewide

A Christian ministry dedicated to assisting - according to Biblical principles - those families who are committed to the education of their children at home. It is also our desire to strengthen the local support groups and their leadership, thus making them effective in their ministry to the home educators of Mississippi. We hope to provide the information and resources you need to assess the educational needs of your family or in continuing to pursue home education.
Mississippi Local Homeschool Groups
HEARTS - Biloxi

Biloxi

HEARTS Ministry is a non-profit organization whose purpose is to (1) train students to serve God and others in the church and community; (2) minister to student's and parent's needs as they arise; (3) provide the platform for students to learn to serve others; (4) provide quality instruction in the classroom. HEARTS Ministry wants to partner with the home school parent who wishes to supplement their child's home education with educational and enrichment classes. HEARTS Ministry is a home school support ministry - not a full-time school. It is the parent's responsibility to adhere to the Mississippi Home School Law. HEARTS Ministry meets one day per week on Monday. There are two, 8-week sessions per school year. The first session begins in early September and ends in early November. The second session begins in late February or early March and ends in late April to early May. Classes are available for grades Pre-k (age 2) —12.
Stella Maris Explorers Club

Biloxi

The Stella Maris Explorers Club is weekly catholic science and art enrichment club for elementary homeschooled students in the greater Biloxi area. The purpose of which is to provide club members the opportunity to join friends in exploring the beauty, wonder, and goodness of God through the study of His creation.
IMPACT

Braxton

Impact is a community of believers seeking to provide educational, social, and spiritual growth opportunities in order to equip our children to be world changers. Co-op classes begin the first week of August. No classes in December. Classes end in April.
Brookhaven Home Educators

Brookhaven

Brookhaven Home Educators (BHE) is a homeschool support group that began in 1988 in Lincoln County, Mississippi with less than five member families. In the years since, we've grown greatly in number, but our purpose remains the same – to inform, encourage, and aid Christian homeschooling families in Brookhaven and the surrounding areas.
Mississippi Homeschool Life

Desoto County

Mississippi Homeschool Life, LLC is a Christian homeschool support group for families in Desoto, Marshall and Tate Counties in Mississippi and Shelby County in Tennessee. Providing family events such as picnics and holiday parties. Creating field trips to places all over the greater Memphis area. Activities for moms, such as Mom's Night Out, and clubs for students, such as Chess Club. There are monthly teen events in addition to a yearly Banquet. Members hold a Kindergarten and High School Graduation event each year.
Laurel Christian Home Educators

Ellisville

The Laurel Christian Home Educators support group serves Laurel and the surrounding areas. Our purpose is to support and encourage Christian families who choose to educate their children at home. We provide support, fellowship, social activities, field trips, and educational and cultural activities for our member families. We do not, however, endorse or recommend certain curricula or provide specific instructions concerning how to home educate your child(ren).
MS Delta Homeschoolers

Greenville

MS Delta Homeschoolers is a newer group with the goal to support and interact with other families. There will be events, classes, play dates, and field trips scheduled for kids of all ages.
Coast Christian Home Educators Association (CCHEA)

Gulfport (Gulf Coast)

The Coast Christian Home Educators Association (CCHEA) is a volunteer lead home school group established to provide information and support to the homeschool community of the Mississippi Gulf Coast including but not limited to Harrison, Jackson, Hancock, and surrounding countries. Coast Christian Home Educators Association is made up of many Christian homeschool families from the area. Each family brings years of experience in homeschooling, serving God, successful parenting, and healthy marriages. They are eager to help you succeed in this journey.
Christian Home Educators of Hattiesburg (C.H.E.H.)

Hattiesburg

Information about the CHEH support group and all of its activities. It is our hope that our web page will also help families who are considering home-education by providing answers to common questions as well as support
Independent School of Thought

Hernando

Cottage School to supports home school families
NMHEA

Hernando, MS (Desoto County & Tate County)

A support group for homeschooling moms serving the North MS area. Members come together monthly to encourage each other and share ideas. There are monthly field trips for the kids and monthly moms night out for moms! NMHEA also organizes a coed kids skill/craft group called Keepers and Contenders that meets monthly as well. The moms meet at a local church for the moms night outs.
CHEC -Christian Home Educators Connection

Hinds, Madison, Rankin Counties

The purpose of CHEC is to support and encourage home educators by providing information and opportunities for fellowship both educational and social. Although CHEC is a Christian organization with Christian leadership, membership is open to all those wishing to home school their children.Support Group
Jackson Metro Homeschool Social

Jackson

JMHS is for homeschooling and Unschooling families living in the Jackson, Mississippi metropolitan area. Members join together for weekly park days, field trips, luncheons, game days, group classes, seasonal parties and other fun social learning activities across the metro area. We also plan day trips and vacations for our members.
Christian Home Educators Connection (CHEC)

Jackson (Tri-County Area)

CHEC's purpose is to support and encourage home educators by providing information as well as educational and social opportunities. CHEC is a Christian, non-profit organization. Membership is open to all those wishing to home school their children in an environment of Christian principles applied cooperatively to enhance home education. CHEC offers elementary co-ops, junior high and senior high academic clubs, field trips, holiday parties, social events, academic competitions, high school graduation ceremony, senior year activities, yearbook, etc. CHEC membership usually exceeds 500 families.
HEARTS (Home Educating and Ready to Serve)

Meridian

HEARTS, a Christian homeschool support group, has been established to foster relationships between like-minded families. We encourage and minister to one another as well as provide social and educational activities that enrich our lives. We ultimately aim to reach the hearts of our children for Christ.
Meridian Christian Home Educators

Meridian

Meridian Christian Home Educators is a support group for homeschooling families in and around Lauderdale County.  The purpose of this organization is to share encouragement and resources with one another as we seek to educate our children and train them in the Christian faith.
From MHEA

MIssissippi Statewide

Local Support groups listed by county
Pearl River County Christian Home Educators Association (PRCCHEA)

Pearl River County/Picayune

PRCCHEA is a local support group for Christian homeschooling families in Pearl River County, MS and surrounding areas. PRCCHEA offers field trips, group meetings, clubs, Mom's Nights Out, Social events, and more. Families are welcome to join without regard to individual religious beliefs.

Pearl River County Christian Home Educators Association (PRCCHEA) details
Starkville Christian Home Educators

Starkville

Come join the Starkville-area homeschool group with families in Starkville, West Point, Columbus, Cedar Bluff, Pheba, Tibbee, Maben, and beyond. Made up of homeschool families from all walks of life and all levels of experience, there is a friend here for everyone.
Home Educators of Southwest Mississippi

Summit, McComb, Tylertown, Osyka, Brookhaven

Home Educators of Southwest Mississippi is a non-profit homeschool group which offers support to homeschool families. HESWM has baseball, basketball, and cross country teams. HESWM also offers Beta Club, spring formal dances, and a formal graduation ceremony for members seniors. Lego league and Robotics along with field trips are also hosted by this group.
Northwest Mississippi Home School Educators (NWMHE)

Tate County

Offering homeschool families the opportunity to get connected to other homeschool families in the Tate County area. Members enjoy monthly activities, prom, kindergarten and senior graduation as well as a yearbook. NWMHE is associated with Monday School, a Homeschool Co-op in the area, where moms and dads come together to teach each others kids one day a week.
Vicksburg Christian Home Educators

Vicksburg and surrounding areas

VCHE shares information with new home schooling families, provides fellowship, encouragement, and support; and plans educational field trips, family socials, and group activities for our children.  An affiliate of the Mississippi Home Educators Association.