Field trips are a great way to reboot a bad homeschooling week, get out of the house when everyone has cabin fever, and learn about your local area. Before heading out, check out Jeanne's tips for improving homeschool field trips.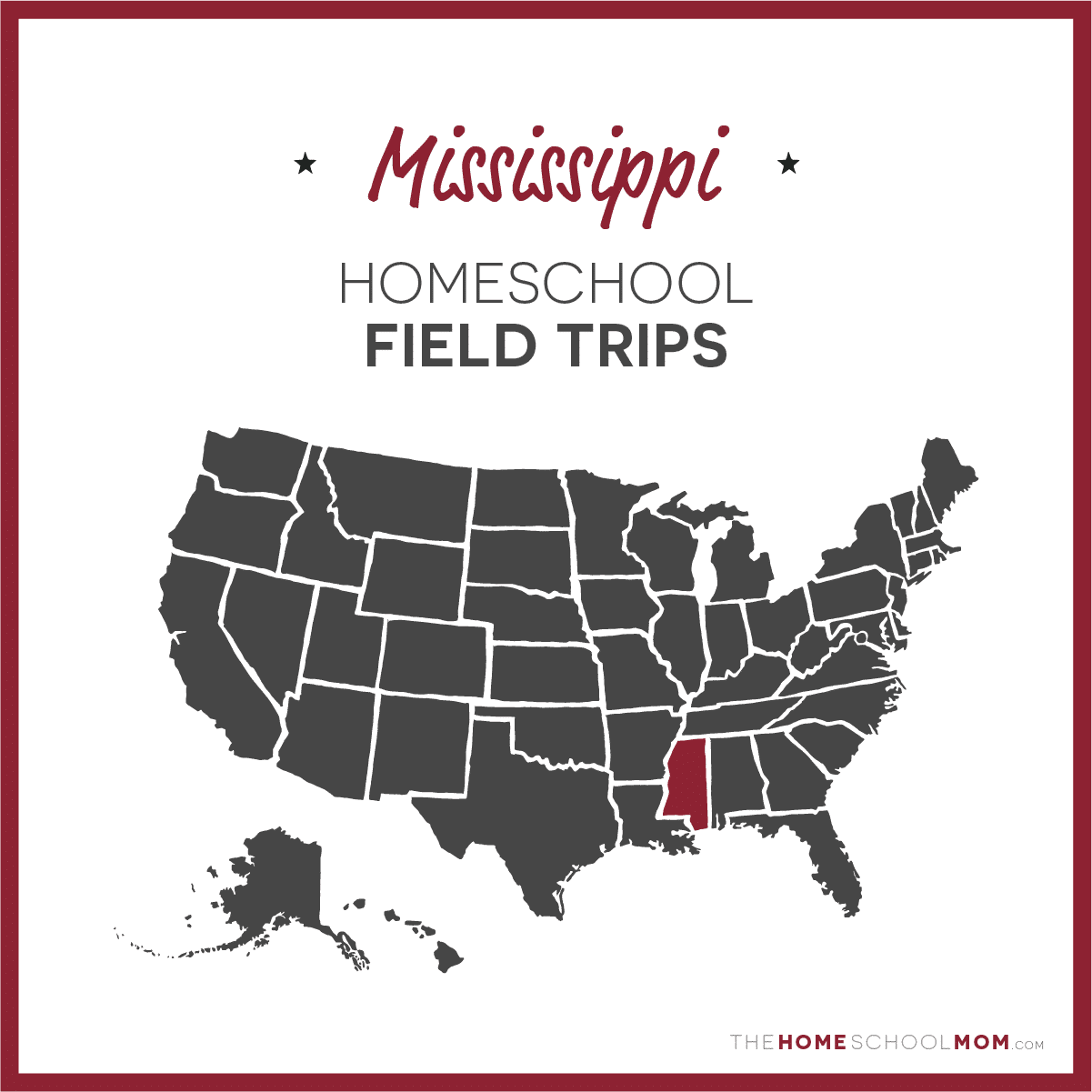 Submit a Field Trip Destination
Our listing of Mississippi field trips for homeschoolers is ordered alphabetically by city. If you would like to submit a Mississippi field trip destination, you may do so using the red button above.
An asterisk * after the title indicates that a virtual field trip is also available.
Natchez Trace National Scenic Trail

The Old Natchez Trace was a 500-mile footpath that ran through Choctaw and Chickasaw lands connecting Natchez, Mississippi, to Nashville, Tennessee. Today there are four separate trails totaling 65 miles and they are administered by the Natchez Trace Parkway. The website offers historical information about the trail for those who cannot visit in person.
Ethel Wright Mohamed Stitchery Museum

Belzoni

Often called Mississippi's Grandma Moses of stitchery, Ethel Wright Mohamed, was born in 1906 and died in 1992. She used beautiful and intricate stitches to tell the stories of her family's life on fabric. Through this unique and beautiful "painting with thread" she has given us a view into the history of the Mississippi Delta's way of life. She called her work "memory pictures". This history includes her marriage, eight children, and numerous scenes of family memories that they all shared. She included their beloved housekeeper, Mittie, who helped raise the children and care for the family. Her stitchery has achieved international acclaim.
BEAUVOIR

Biloxi

The Jefferson Davis Home and Presidential Library.
OHR-O'Keefe Museum of Art

Biloxi

Ten years in the making, the Ohr-O'Keefe Museum of Art celebrates the innovative, independent and creative spirit of namesake Mississippi master potter George Ohr. Just as Ohr (1857-1918) rose from devastating personal and professional loss to create an extraordinary body of work, so too the Ohr-O'Keefe has risen from Hurricane Katrina's destruction. A process which is as an homage to the enduring human spirit.
Maritime & Seafood Industry Museum

Biloxi

The Maritime & Seafood Industry Museum was established in 1986 to preserve and interpret the maritime history and heritage of Biloxi and the Mississippi Gulf Coast. It accomplishes this mission through an array of exhibits on shrimping, oystering, recreational fishing, wetlands, managing marine resources, charter boats, marine blacksmithing, wooden boat building, netmaking, catboats/Biloxi skiff, shrimp peeling machine and numerous historic photographs and objects.
Mississippi Armed Forces Museum

Camp Shelby

The Armed Forces Museum serves as the military history museum for the State of Mississippi. The museum honors the service and sacrifices of Mississippi's servicemen and women of all branches and those from other parts of the country that trained in Mississippi during times of war. The museum's state-of-the-art exhibits tell personal stories of the heroes and heroines of our Republic and serves to educate future generations about the price paid for the freedom and prosperity Americans enjoy today.
GRAMMY Museum Mississippi

Cleveland

The Museum is an exciting and interactive celebration of the power of music occupying a vibrant space in Cleveland, Mississippi with cutting edge exhibits and interactive experiences often described as engaging, educational, celebratory and inspirational. Opportunities include: Exhibit Exploration, Interactive Workshops, Sensory Programming & Resources, Professional Development Sessions, and Lesson Plans & Activities.
Lake Lowndes

Columbus

Lake Lowndes offers complete recreational facilities for individuals, families and groups. Located on beautiful 150 acre Lake Lowndes, the park offers unlimited opportunities for picnicking, fishing and camping, as well as complete facilities for football, soccer, softball, tennis, basketball, volleyball, disc golf and other organized sports. Mississippi University for Women (The "W") and Mississippi State University (MSU) are just a short drive to the west, making Lake Lowndes State Park the perfect place to stay during a football weekend at MSU or while visiting either campus.
Safari Wild Animal Park and Preserve

Como

A 466 Acre Authentic African Drive Through Safari Park, Walk Through Safari, Wild Animal Preserve, Animals Up Close and Personal, Giraffe Feeding Station, Camel Rides, Lorikeet Feeding and a Children's Petting Safari. Experience all the above and more at your Safari Wild Animal Park. Drive through the 5 miles of African Safari Roads in your own car and interact and feed animals as you make your way through the wilds of Africa. After your journey return to the Foot Safari. An experience you will never forget, Africa at your back door. No pets allowed. All inquiries can be made at info@safariwildanimalpark.com
Holmes County State Park

Durant

The beautiful hardwood forests of Holmes County State Park are home to an abundant of wildlife, and provide the scenic backdrop for a variety of outdoor activities. Built around two lakes covering 88 acres, the park offer such diverse activities as fishing, roller skating, camping and cabin rentals.
North MS Fish Hatchery and Visitor Education Center

Enid

The North Mississippi Fish Hatchery Visitor Education Center in Enid provides an educational and entertaining experience that promotes freshwater sport fishing, encourages the conservation and stewardship of aquatic resources and offers information about the Mississippi Department of Wildlife, Fisheries, and Parks.
Shepard State Park

Gautier

Shepard State Park is nestled in the heart of Singing River (Pascagoula River) country, where legend has it that members of the Pascagoula Indian nation linked hands and walked into the Pascagoula River rather than be taken captive by hostile Indian tribes. The mournful death chant they sang as they walked earned the Pascagoula River the nickname "Singing River". Tales of the heroic exploits of French and Spanish settlers and romantic legends of the Pascagoula and Biloxi Indians are standard fare in the scenic coastal area surrounding Shepard State Park.
The Museum of the Mississippi Delta (formerly Cottonlandia Museum)

Greenwood

Although it is called "Cottonlandia," the Museum is about so much more than cotton. It focuses on the five "A's": art, archaeology, agriculture, antiques and animals. The Museum has a large collection of Mississippi art work, made possible by the state-wide biannual Cottonlandia Fine Arts Competition.

The Museum of the Mississippi Delta (formerly Cottonlandia Museum) website
Hugh White State Park

Grenada

Located on scenic Grenada Lake, Hugh White State Park offers the finest outdoor recreation amenities available, all nestled in a setting unmatched in natural beauty. Grenada Lake is best known as a haven for crappie fishermen, but is also well-stocked with bass, bream and catfish.
Gulf Islands National Seashore

Gulf Breeze

The nation's largest seashore, Gulf islands stretches from Mississippi to Florida. The park offers guided programs, camping, cast netting, fishing, picnicking, boating, birding, swimming, hiking, exploring the historic forts and beach walking.
Lynn Meadows Discovery Center

Gulfport

Learn and Laugh at the Lynn Meadows Discovery Center in Gulfport, Mississippi's only children's museum. Visitors can crank a crane, touch a tornado, sort seafood, cross a creek, understand a pulley fully, tromp in treehouses, take tea for two, star on a show and much more. The Discovery Center, located in the former Mississippi City Elementary School, constructed in 1915 and an architectural exhibition itself, offers 15,000 square feet of indoor exhibit space and six acres of outdoor play space that includes Treehouse Village, Bear Creek and picnic areas.
Paul B. Johnson State Park

Hattiesburg

Located in the heart of Mississippi's pine belt region, Paul B. Johnson is the gateway to a natural wonderland marked by majestic long-leaf and loblolly pines, delicate dogwoods and ancient oaks. The deep forests surrounding Paul B. Johnson State Park provide a picturesque setting for a variety of outdoor activities. The University of Southern Mississippi (USM) is just a 20-minute drive to the north, making Paul B. Johnson State Park the perfect place to spend a football weekend.
African American Military History Museum

Hattiesburg

Visit a place, that from its inception in 1942 has been dedicated to America's African American soldiers. Experience the history and witness their acts of valor and bravery while under fire. From their beginning as Buffalo Soldiers to their modern day service in Operation Iraqi Freedom, hundreds of artifacts,photos and unique displays tell the story, so that we may be inspired by their courage and patriotism.
Hattiesburg Zoo

Hattiesburg

Field trip includes admission, a train ride, and an education lesson. The zoo recently opened a high ropes adventure course.
Hattiesburg Area Historical Society

Hattiesburg

The HAHS Museum collection consists of materials donated by members and friends. All new donations related to area history and growth are welcome. The collection includes: city directories; high school annuals and composite pictures; uniforms; old photographs; furnishings; household goods; and information on homes, industries, and buildings.
Leroy Percy State Park

Hollandale

The oldest of Mississippi's state parks, Leroy Percy is characterized by artesian springs, cypress trees and ancient oaks dripping with Spanish moss. Leroy Percy is the only state park featuring a wildlife preserve. The seasonal pursuit of deer, squirrel, turkey, duck and dove beckons to hunters in search of an unspoiled hunting area away from the crowd. Leroy Percy is also known for its alligator population - visitors can safely observe the scaly reptiles from two observation towers over their hot artesian water home.
Wall Doxey State Park

Holly Springs

Wall Doxey State Park offers an abundance of outdoor recreation opportunities in a setting rich in natural beauty centered around a 60-acre, spring-fed lake. The University of Mississippi (''Ole Miss") is just a 25-minute drive away, making Wall Doxey State Park the perfect place to spend a football weekend. For a weekend getaway or as a central vacation spot, Wall Doxey State Park is an ideal destination.
J. P. Coleman State Park

Iuka

Perched on a rocky bluff overlooking the Tennessee River, J. P. Coleman State Park offers the finest in all types of water sports. Visitors experience unmatched sailing, swimming, skiing and fishing for Smallmouth bass in the sparkling waters of Pickwick Lake and enjoy camping and exploring in the untamed wilderness along the banks of the Tennessee River.
The Oaks

Jackson

"The Oaks," is one of Jackson's oldest dwellings. This Greek Revival-style cottage was built about 1853 on four acres of land located near the center of Mississippi's capital city. The house is one of few extant structures that survived the burning of Jackson in the Civil War. The Oaks is a Mississippi Landmark and is listed on the National Register of Historic Places.
Mississippi Sports Hall of Fame & Museum

Jackson

The Mississippi Sports Hall of Fame & Museum is a slam-dunk choice for your next field trip! Students will learn about the Magnolia state's proud sports history in new and exciting ways. Did you know that Mississippi has produced Olympic gold medalists, Super Bowl MVPs, World Series stars, and record-setting athletes in almost every sport? Students will have the opportunity to throw a pitch, score a goal, race the clock, and much more in our interactive Hall of Fame Stadium. With a group rate of just $3 per student, your class will cheer for a visit to the place where legends come to live!
LeFleur's Bluff State Park Golf Course

Jackson

The only State Park golf course in the Greater Jackson Metropolitan area, LeFleur's Bluff offers you an opportunity to play a quick nine holes at the end of the day, introduce the family to the game of golf on generous practice facility, or even work on your swing during your lunch break.
Mississippi Museum of Art

Jackson

The Mississippi Museum of Art offers educational programs and activities for everyone, old and young, in a dynamic and energetic environment. Come mingle with friends, meet new people and expand your horizons. There are wonderful activites for children set right in the galleries, where learning can take place much differently than in the classroom. The arts are an incredible medium that can be used to access many different subjects and that will spark a vibrant exchange of ideas.
LeFleur's Bluff

Jackson

LeFleur's Bluff provides a lush green spot in the heart of urban Jackson. In addition to camping, fishing, picnic spots and nature trails, the 305-acre park features a nine-hole golf course and a driving range. The park is named for Louis LeFleur, a French-Canadian explorer who established a trading post on the banks of the Pearl River in the late 1700s. The city of Jackson was originally known as "LeFleur's Bluff". Today Mississippi's vibrant capital city combines the earth and charm of its rich cultural heritage with exciting activities and attractions and contemporary lifestyles. Visitors to Jackson discover a diversity of museums, unlimited shopping and dining, an exciting night life and a calendar of events packed with activities to suit every mood. For the campsite reservations call Lefleur's Office at 601-987-3923
Mississippi Children's Museum

Jackson

Field trips and group visits are available for groups of 15 or more children! This opportunity is great for schools, churches, community organizations, tours and family reunions. MCM's field trips promote inquiry-based learning and support critical thinking skills while supporting best practices. Our interactive, multi-disciplinary programs will make the concepts introduced and developed in the classroom come alive in our thematic learning environments. New ideas will ignite as students become interested in learning and making hands-on connections to classroom concepts!
Goldring-Woldenberg Institute of Southern Jewish Life

Jackson

Jews have lived in the South since the late 17th century. As late as 1820, more Jews lived in Charleston, South Carolina than in New York City. Jews have been an important part of the South ever since they first arrived. Though they are less than 1% of the general Southern population, and less than 5% of America's Jewish population, southern Jews have made a significant mark on the communities in which they lived. The mission of the ISJL History Department is to preserve this story of Jewish life in the South and make it available to a wider audience. The ISJL History Department is actively collecting information and documents relating to every Southern Jewish community that has ever existed. This project provides a valuable resource for researchers, scholars, and people interested in their family history.

Goldring-Woldenberg Institute of Southern Jewish Life website
International Museum of Muslim Cultures

Jackson

The International Museum of Muslim Cultures is dedicated to educating the public about Islamic History and Culture. The Museum also celebrates the contributions Muslims have made to the city of Jackson, the state of Mississippi, the region, the nation, and the world. In educating the public about the diversity of the area's cultural and religious heritage, the Museum describes the Muslim experience and places it in context with other cultural and religious groups.
Jackson Zoo

Jackson

The Zoo serves up to 175,000 visitors annually. The Zoo is a living classroom. More than 35,000 school children visit the Zoo each year with their teachers. Zoo programs provide teachers with exciting curriculum-based lessons for their students.
Central Creativity

Laurel

Visit Central Creativity for a field trip destination that is sure to please both students and teachers. Students have an incredible time exploring our 20,000 square foot multi-sensory environment that turns learning into fun! Immerse yourself in our virtual reality lab, or explore music in the digital sound studio. Learn the science behind Super Slime in our science lab and then play with robots that fit in your hand. Come visit the space that everyone is talking about. You'll leave with a bag filled with science and a lifetime of memories. K4-12th grade welcome! Lunch available upon request.
Lauren Rogers Museum of Art

Laurel

Opened in 1923, the Museum draws approximately 32,000 visitors each year from across the nation with its outstanding collections of European and American art, Native American baskets, British Georgian silver, and Japanese woodblock prints, as well as an extensive art history library. The Lauren Rogers Museum of Art offers visitors an enjoyable artistic experience in the Museum Galleries, the Museum Library and the Museum Shop.
Legion State Park

Louisville

The fourth of the original state parks developed by the Civilian Conservation Corps, Legion State Park remains as unspoiled today as when the Choctaw Indian Nation first inhabited the area centuries ago. Hidden in the red hills country of Mississippi, Legion State Park strikes the perfect balance of natural beauty and modern comfort with all man-made structures in the park designed to complement the pristine beauty of the area. Of particular interest is Legion Lodge, a hand-hewn log structure that has remained unaltered since its construction in the 1930s.
Percy Quin State Park

McComb

Loblolly pines and stately magnolia trees, rolling hills, spectacular wildlife, and seasonal flowers await visitors at Percy Quin State Park. One of the original state parks cleared and constructed by the Civilian Conservation Corps in the 1930s. Percy Quin is today a delightful blend of the old and new. Located just two and a half hours from New Orleans. The 1700 acre Percy Quin State Park, which includes a 700 acre lake and a championship golf course, provides a colorful natural backdrop for a variety of outdoor activities.
Jimmie Rodgers Museum

Meridian

The Father of Country Music
Meridian Museum of Art

Meridian

The Meridian Museum of Art (MMA) is located in downtown Meridian, Mississippi (in east central Mississippi) at 628 25th Avenue. The Museum is housed in the historic Old Carnegie Library building (constructed 1912-1913). The Museum is open 11am-5 p.m., Wednesday-Saturday, and admission to the Museum is free. The mission of the Meridian Museum of Art is to promote the visual arts through exhibitions and collections, art education and support of regional artists, and to enhance community life through the celebration of the diverse cultures of the region.
Mississippi Entomological Museum

Mississippi State

The MEM, with its collection of more than a million pinned specimens, alcohol collection of immature insects and spiders, and photographic collections, is a valuable resource for those interested in the study of arthropods. The MEM is involved with a unique web based classroom curriculum called the "Orkin Insect Zoo" that provide teachers with information to aid their teaching efforts.
Roosevelt State Park

Morton

Conveniently located between Meridian and Jackson, Mississippi, Roosevelt State Park offers an abundance of outdoor recreational opportunities in a picturesque setting. The park scenic overlook provides a panoramic view of the Bienville National Forest. The gently sloping landscape is particularly striking during the fall, when the forest is bright with autumn color.
Natchez State Park

Natchez

Natchez State Park is located just 10 miles north historic Natchez, the oldest settlement on the Mississippi River. Prior to the Civil War, over half of the millionaires in the entire United States lived in Natchez, constructing elegant mansions unrivaled in size and elegance by any in the nation. Most of these splendid homes were spared during the Civil War, and many are now open for tours. Natchez State Park is also famous in its own right. The largest bass in Mississippi history a largemouth weighing 18.15 pounds - was caught in Natchez lake in 1992.
Natchez National Historical Park

Natchez

Commemorates the history of Natchez, Mississippi. The website offers historical information about the Natchez area for those who cannot visit in person.
Grand Village of The Natchez Indians

Natchez

The Natchez Indians inhabited what is now southwest Mississippi ca. AD 700-1730, with the culture at its zenith in the mid-1500s. Between 1682 and 1729 the Grand Village was their main ceremonial center, according to historical and archaeological evidence. The 128-acre Grand Village site features a museum accredited by the American Association of Museums, a reconstructed Natchez Indian house, and three ceremonial mounds. Two of the mounds, the Great Sun's Mound and the Temple Mound, have been excavated and rebuilt to their original sizes and shapes.
Natchez Trace Parkway

Natchez Trace Parkway

The 444-mile Natchez Trace Parkway commemorates an ancient trail that connected southern portions of the Mississippi River, through Alabama, to salt licks in today's central Tennessee. Today, visitors can experience this National Scenic Byway and All-American Road through driving, hiking, biking, horseback riding, and camping. The website offers historical information about the parkway for those who cannot visit in person.
Union County Heritage Museum

New Albany

Welcome to the Union County Historical Society & Heritage Museum. There are a variety of exhibits inside the 4,000 square foot facility as well as in "The Hamlet" -the outdoor exhibit area that includes the Faulkner Literary Garden, a Burlington Northern caboose, a country store, a jail cell, an early 20th century doctor's office, a blacksmith shop and a barn.
George P Cossar State Park

Oakland

This sits on peninsula point located on the Enid Reservoir in Oakland, MS. This park offers 83 campsites. Yocona Ridge offers 35 waterfront sites, a laundry room, a playground, and a bathhouse. Jones Creek campground offers 48 naturalized wooded camping areas, restrooms, and a small playground. We offer 13 cabins, 2 pavilions, visitor center, putt putt golf course, and an 18 hole disc golf course. The Enid Reservoir is 28,000 acres and holds the world record crappie being caught.
Walter Anderson Museum of Art

Ocean Springs

A visit to the Walter Anderson Museum of Art (WAMA), opened in 1991 in historic Ocean Springs, MS, is an enchanting and unique experience. WAMA is dedicated to the celebration of the works of Walter Inglis Anderson (1903-1965), American master, whose depictions of the plants, animals, and people of the Gulf Coast have placed him among the forefront of American painters of the Twentieth Century; and to his brothers, Peter Anderson (1901-1984), master potter and founder of Shearwater Pottery; and James McConnell Anderson (1907-1998), noted painter and ceramist. The watercolors, drawings, oils, block prints, ceramics, and carvings by the three Anderson brothers are all represented in the museum's permanent collection. Diverse changing exhibitions, many featuring the work of other significant artists, occur throughout the year.
William Faulkner's Rowan Oak

Oxford

In 1930 William Faulkner purchased what was then known as "The Bailey Place," a large primitive Greek Revival house that pre-dated the Civil War, standing on four acres of cedars and hardwood. Faulkner renamed it "Rowan Oak." Rowan Oak was William Faulkner's private world, in reality and imagination. His imagination was stimulated by local stories of Indians, runaway slaves, old Colonels, spinsters who gave china-painting lessons, and his own memories of coming of age in a South torn between old ways and modern development. Faulkner's years spent at Rowan Oak were productive as he set stories and novels to paper, culminating in his being awarded the Nobel Prize in 1950 for his literary genius. Faulkner remains today the most-studied author in the world, with more books, articles, and papers written about his work than any other writer besides Shakespeare.
The University Museum

Oxford

The University of Mississippi Museum.
Infinity Science Center/ Stenis Space Center

Pearlington

INFINITY Science Center is a non-profit science museum dedicated to providing our guests with a quality, fun, and fascinating learning experience. INFINITY also is host to the NASA Stennis Visitor Center. INFINITY offers a blend of space, Earth science, engineering and technology content, spiced with innovative programming. At INFINITY, we seek to inspire the next a--ha moment, and be a place where science is fun, fascinating and accesible to everyone. The Science center offers frog dissection classes and other classes for a small fee for homeschoolers!
The Crosby Arboretum

Picayune

The Crosby Arboretum is dedicated to educating the public about their environment. This mission is carried out by preserving, protecting, and displaying plants native to the Pearl River Drainage Basin ecosystem, providing environmental and botanical research opportunities, and offering cultural, scientific, and recreational programs. The Arboretum displays three basic habitats found in this ecosystem. They are a Savanna exhibit, a Woodland exhibit, and an Aquatic exhibit. Both drastic and subtle changes in landscape patterns can be observed within each exhibit. In addition to the 104-acre interpretive site, the Arboretum also collectively maintains 700 acres of off-site natural areas that are preserved for scientific study.
Clarkco State Park

Quitman

Located just south of Meridian, Mississippi near the Mississippi-Alabama state line, Clarkco State Park has been favorite Mississippi recreation spot since 1938. Situated on 815 acres of gently rolling woodlands, Clarkco State Park offers camping, cabin rentals and water sports in a convenient yet unspoiled location, providing the perfect retreat for an afternoon or weekend getaway.
Great River Road State Park

Rosedale

Great River Road State Park offers magnificent views of the "Fathers of Waters" from a setting unmatched in natural beauty. The focal point of the park is a 75-foot high overlook tower, which provides panoramic views of the Mississippi River as well as being the ideal spot for a picnic. The park is named for the Great River Road, a scenic parkway that follows the Mississippi from its beginning as a small Canadian creek to its end at the Gulf of Mexico.
John W. Kyle State Park

Sardis

Located on scenic Sardis Reservoir just one hour south of Memphis. John W. Kyle State Park offers a wide array of recreational opportunities in an area abundant in natural beauty. The historic campus of the University of Mississippi (Ole Miss) is just 25 miles away, making John W. Kyle state Park the perfect spot to spend a football weekend.
Alice Moseley Folk Art and Antique Museum

St. Louis

The Museum's mission is increase public awareness of the art and life of Alice Moseley and to do charitable good works in the state of Mississippi.
Tishomingo State Park

Tishomingo

Located in the foothills of the Appalachian Mountains, Tishomingo State Park is steeped in history and scenic beauty. Archaeological excavations confirm the presence of Paleo Indians in the area now encompassed by the park as early as 7000 B. C.; the park takes its name from the leader of the Chickasaw nation, Chief Tishomingo. The famous Natchez Trace Parkway, the premier highway of the early 1800s and a modern scenic parkway, runs directly through the park. Today's visitors to Tishomingo State Park discover the same timeless natural beauty that enchanted the Indians centuries ago. Tishomingo offers a unique landscape of massive rock formations and fern-filled crevices found nowhere else in Mississippi. Massive boulders blanketed in moss dot the hillsides, and colorful wildflowers border trails once walked by Native Americans.
Trace State Park

Trace

Trace State Park offers a quiet, natural retreat and a variety of outdoor activities ranging from fishing and water sports to exploring miles of secluded nature trails. A special arrangement with the Pontotoc Country Club allows Trace State Park guests to enjoy the club's 18-hole golf course without paying green fees.
Tupelo Automobile Museum

Tupelo

Featuring 120,000 square feet of automobile displays and open viewing restoration bays. Over 100 antique, classic and collectible automobiles, chronologically displayed, illustrate the progress of over 100 years of automobile design and engineering. Your self-guided tour begins with an 1886 Benz, representing the birth of the automobile, and culminates with a never-driven 1994 Dodge Viper. The collection, valued at over $6 million, includes a rare Tucker, a Lincoln previously owned by Elvis Presley, other movie and celebrity vehicles, Hispano Suizas, a Duesenberg, and many more rare brands and American favorites.
Tombigbee State Park

Tupelo

Tombigbee State Park offers the finest in outdoor recreation opportunities just minutes from one of Mississippi premier shopping, dining and entertainment areas. Tupelo is the site of the bi-annual Tupelo Furniture Market, home of the Elvis Presley Birthplace; and the headquarters of the Natchez Trace Parkway.
Oren Dunn Museum

Tupelo

MUSEUM is a Latin word meaning "muse," which means "to think." At the Oren Dunn City Museum, you will find a place to think, explore, discover, & learn. We have one mission: "to collect & preserve the history & heritage of Tupelo, Lee County, & Northeast Mississippi; & to engage & to educate in an enriching & entertaining manner. What does a visit to the Oren Dunn City Museum mean to you? You will learn about the history of a people and a place that weaves a story tapestry of what community is all about. Come visit the Oren Dunn City Museum & learn why Tupelo is a city of first: the first "All-American TVA City" & how Lee County had the very first library bookmobile in the state of Mississippi. Prepare to be enchanted!
Brices Cross Roads National Battlefield Site

Tupelo

The Confederate victory at Brices Cross Roads was a significant victory for Major General Nathan Bedford Forrest, but its long term effect on the war proved costly for the Confederates. Brices Cross Roads is an excellent example of winning the battle, but losing the war. The website offers historical information about the park for those who cannot visit in person.
Tupelo National Battlefield

Tupelo

Tupelo National Battlefield commemorates the July 14--15, 1864, Battle of Tupelo. Lieutenant General Nathan Bedford Forrest tried to cut the railroad supplying the Union's march on Atlanta. The website offers historical information about the battle for those who cannot visit in person.
Natchez Trace Parkway National Park

Tupelo

The Natchez Trace Parkway Visitor Center near Tupelo, MS at milepost 266 is open every day (except Dec. 25th) from 8am-5pm and offers a 15-minute film and interactive exhibits. Call 800-305-7417 to set up a Ranger-led program, or check out our Calendar of Events on our website to see what activities are being offered. Admission and all programs/activities are free. There are hands-on free programs at the Visitor Center almost every Saturday.
Old Court House Museum

Vicksburg

The Old Court House, built in 1858, stands today as Vicksburg's most historic structure and has hosted such guests and speakers as Jefferson Davis, Ulysses S. Grant, Booker T. Washington, Teddy Roosevelt, and William McKinley. Confederate flags, including one that was never surrendered, the tie worn by Jefferson Davis at his inauguration as Confederate President, fine portraits, china and silver, exquisite antique furniture, the trophy antlers won by the steamboat Robert E Lee in an 1870 race, antebellum clothing, toys, Indian and pioneer implements, and an original Teddy Bear given to a local child by Theodore Roosevelt are just a few of the thousands of artifacts which are housed in the Old Court House Museum- Eva W. Davis Memorial.
Vicksburg Battlefield Museum

Vicksburg

Military, Naval, and inland waterway history center.
Vicksburg National Military Park

Vicksburg

Vicksburg National Military Park commemorates the campaign, siege and defense of Vicksburg. Vicksburg was a fortress located on high ground guarding the Mississippi River. Its surrender on July 4, 1863, divided the South, and gave the North undisputed control of the Mississippi River. The website offers historical information about the seige for those who cannot visit in person.
Biedenharn Coca-Cola Museum

Vicksburg

The Biedenharn Coca-Cola Museum features the history of one of the Nation's beloved beverages, along with equipment of the type that Joseph Biedenharn used to bottle Coke for the first time anywhere in the world in 1894. The restored candy store and office area will take you back to a simpler, sweeter time with furnishings and displays from the 1890s. Visitors are offered ice cream, fountain Cokes, Coke floats and a wide selection of Coke souvenirs.
The Gray and Blue Naval Museum

Vicksburg

This museum presents the naval history of the War Between the States, using paintings, reference materials, artifacts and model ships. The Gray & Blue houses models of 86 Union and Confederate vessels, the largest known collection of American Civil War model ships in the world.
The Jacqueline House Museum

Vicksburg

The Jacqueline House African American Museum is Vicksburg's only museum for the exclusive study of history and culture of people of African descent in the Vicksburg-Warren County area. The collection of over 20,000 items has material in all formats: photographs, books, manuscripts, music, posters, newspapers and rare ephemera. In addition, the collections house selected artifacts, including items dating back to the slave period.
Historic Jefferson College

Washington

At Historic Jefferson College, the first educational institution of higher learning in Mississippi, visitors can tour a restored dormitory room, student dining room, kitchen buildings, and other historic sites. The adjacent nature trail winds up and down through a wooded ravine, past St. Catherine's Creek, over bridges, past Ellicott Springs, and a historic cemetery, with plants and trees clearly identified along the way.
Water Valley Casey Jones Railroad Museum

Water Valley

The Water Valley Casey Jones Railroad Museum is located in the heart of downtown Water Valley, Mississippi and preserves the areas railroad history.
Lake Lincoln State Park

Wesson

Nestled in the shade of towering hardwood trees, Lake Lincoln State Park is the quintessence of serenity. Located in the northeast corner of Lincoln County, the park's close proximity to Interstate 55, U. S. Highway 51 and State Highway 27 provide easy access for visitors.
Wilkinson County Museum

Woodville

The museum building was built as the Office and Banking House of the West Feliciana Rail Road, the first standard gauge railroad in the South, chartered by Woodville entrepreneurs.