TheHomeSchoolMom's local resource listings are sponsored by Time4Learning, where you can find resources, support groups, test prep info, and more.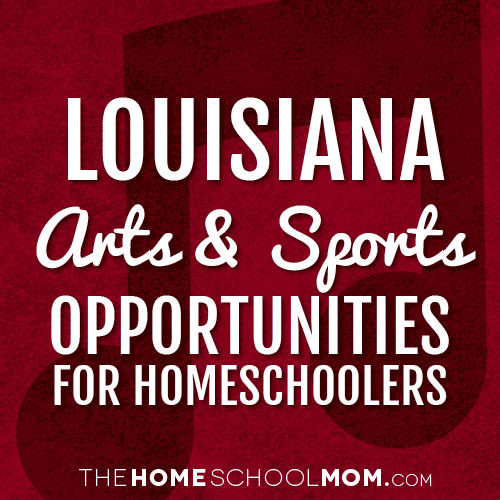 In addition to the opportunity to get out of the house and socialize, homeschool sports and arts programs can offer long-term benefits by developing characteristics like leadership, self-confidence, perserverance, and self-esteem. Many organizations and businesses have opportunities specifically for homeschoolers, while others invite homeschoolers to participate in their regular programs.
Not sure how to choose activity/activities for your children? Read how Rebecca narrows down the choice of extra-curricular activities.
Below is a list of homeschool sports and arts programs in Louisiana listed alphabetically by city, with arts resources in the first section and sports resources below. If you would like to submit a Louisiana arts or sports resource, you may do so using the red button above.
Homeschool Arts Opportunities in Louisiana
Cenla Violin and Viola LessonsAlexandria/Pineville
Violin & Viola Lessons in Alexandria/Pineville area.
Cangelosi Dance Project Day ProgramBaton Rouge
The Cangelosi Dance Project offers a day dance program ages 5 through 18 to male and females interested in Ballet, Contemporary dance and performing opportunities. CDP is 501(c) 3 non-profit organ...
Piano Pathways, LLCBaton Rouge
This music learning center for children and adults offers piano lessons and classes. Private lessons, partner lessons, and group classes are available, with a individualized approach in the curricu...
Dance Center and School of Performing ArtsBaton Rouge
The Dance Center and School of Performing Arts is a professional performing arts school that is the result of a merger of two well established Baton Rouge art schools. This resource's vision is to ...
Northpoint Homeschool EnrichmentBossier City
Northpoint is a drop-off program for twice-a-week homeschool enrichment classes, including languages, public speaking, arts, and more. Classes are approached with a hands-on, project-based, and lea...
Christian Youth Theater – LafayetteLafayette
Christian Youth Theater (CYT) is an after-school theater arts training program for students ages 4 - 18. CYT is a non-profit 501(c)(3) educational organization funded primarily through its tuition...
The Art RoomLafayette
Certified art teacher in Lafayette Parish providing art lessons to home school students in the evening or on some weekend days. Centrally located, the studio provides ample space for up to 24 stud...
Southern Co'Motion Dance Co.Lafayette
Southern Comotion Dance Co. caters to homeschoolers on teaching many fundamentals of dance, rhythm, coordination and choreography. Offering lessons in zydeco, line dance, waltz, swing, jazz/hip hop...
Academy of Christian ArtsLafayette & Scott
A Christian dance studio focused on inspiring dancers to dance with passion and purpose. ACA offers many different classes including daytime classes for homeschooler children. Two locations in the...
Arco Music StudioLafayette, LA
Arco Music Studio is for anyone interested in learning how to play violin and learn music theory. Both traditional and Suzuki violin methods are offered to students of any level or age. Whether yo...
The Art FactoryLake Charles
Homeschooling art classes offer a dynamic experience while engaging the student with lessons using a variety of media. Semesters are 12 weeks of bi-monthly classes; visit the website for more infor...
Pembo Cieutat Academy of Dance Home School BalletMandeville
Our Morning Ballet program offers fun, exercise, and the chance to develop dance and movement skills in a safe and positive learning environment. It will explore classical dance concepts, dance stu...
Iberia Music Academy: Guitar, Voice, Piano, and Violin LessonsNew Iberia
Offering music lessons from 8 a.m.-1 p.m. Monday-Friday to homeschoolers in the New Iberia area. Classesw include: guitar, voice, piano, and violin.
Pre-Professional Day Program at Schramel Conservatory the official school of New Orleans Ballet TheatreNew Orleans and all surrounding areas
Schramel Conservatory of Dance, the official school of New Orleans Ballet Theatre is offering a Pre-Professional Day Program for serious-minded dancers training to enter professional companies. Stu...
Tammany Twirlers Square Dance ClubSlidell
Square dance lessons beginning with a Dance Party with live music to interest students and their parents in a healthy activity with friendly wholesome people.
Homeschool Art LessonsSt. Amant, Gonzales, French Settlement, etc.
I teach art & painting lessons in my home studio. I also offer childrens & adults painting parties.
Homeschool Sports Opportunities in Louisiana
Baton Rouge Fencing ClubBaton Rouge
Club offers instruction in fencing
Tiger Elite-Baton RougeBaton Rouge
We are an all-star cheerleading program for ages 3-18. We offer a variety of activities that are related to cheerleading, tumbling, motor skill development, and general exercise. We emphasis posit...
Oak Knoll Country Club Homeschool Tennis GroupHammond
Oak Knoll Country Club recently created a Homeschool tennis class that their tennis professional used in Baton Rouge to teach classes of kids to obtain their weekly activity requirements. This is a...
The Better Golf AcademyNew Orleans Metro Area
Along with academics, sports and recreation are an integral part of becoming a well-rounded child. The Better Golf Academy provides children the opportunity to explore and experience the exciting w...
Gator Pit Martial Arts Homeschool ClassShreveport-Bossier
This class is every Wednesday at 12:30pm at Gator Pit Brazilian Jiu Jitsu. It is a combination of jiu jitsu and taekwondo (heavy emphasis on fundamentals). The class lasts about 45 minutes. The cla...