Jump to: Homeschool Arts | Homeschool Sports
In addition to the opportunity to get out of the house and socialize, homeschool sports and arts programs can offer long-term benefits by developing characteristics like leadership, self-confidence, perserverance, and self-esteem. Many organizations and businesses have opportunities specifically for homeschoolers, while others invite homeschoolers to participate in their regular programs.
Not sure how to choose activity/activities for your children? Read how Rebecca narrows down the choice of extra-curricular activities.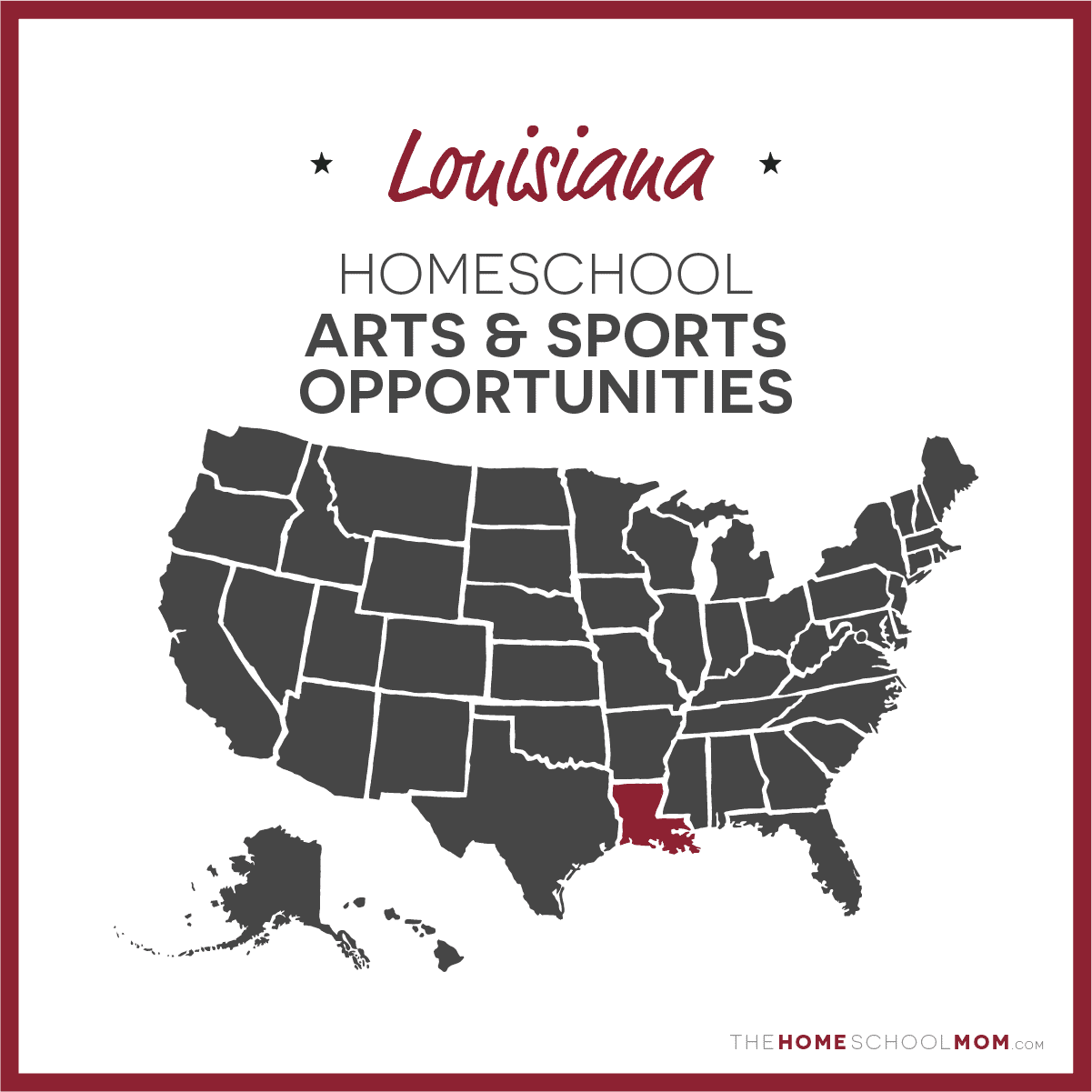 Submit a Local Resource
Our listing of Louisiana list of homeschool arts and sports programs is ordered alphabetically by city, with arts in the first section and sports in the second section. If you would like to submit an Louisiana arts or sports program, you may do so using the red button above.
Louisiana Homeschool Arts Programs
Cenla Violin and Viola Lessons

Alexandria/Pineville

Violin & Viola Lessons in Alexandria/Pineville area.
Homeschool Band Lessons

Alexandria/Pineville

The CENLA Homeschool Band program offers individual and group lessons on all school band instruments: flute, clarinet, saxophone, trumpet, French Horn, trombone, baritone Horn, tuba, snare drum, bells/xylophone, and more. Beginning, intermediate, and advanced instruction is available for students in grades 5-12. Pre-band General Music classes featuring the recorder are available for students in 3rd and 4th grade also. The teacher is a retired band director with 30 years of successful teaching experience and a Master of Music degree from L.S.U.
Cangelosi Dance Project Day Program

Baton Rouge

The Cangelosi Dance Project offers a day dance program ages 5 through 18 to male and females interested in Ballet, Contemporary dance and performing opportunities. CDP is 501(c) 3 non-profit organization. The director holds a Bachelor of Fine Arts from LSU and certified through Dance Masters of America with thirty years plus in the education system.
Piano Pathways, LLC

Baton Rouge

This music learning center for children and adults offers piano lessons and classes. Private lessons, partner lessons, and group classes are available, with a individualized approach in the curriculum. An emphasis is placed on music reading and notating, performing alone and with others, music theory, listening to and evaluating music, and using technology to make learning fun and accessible. Ask about family lesson offerings!
Dance Center and School of Performing Arts

Baton Rouge

The Dance Center and School of Performing Arts is a professional performing arts school that is the result of a merger of two well established Baton Rouge art schools. This resource's vision is to achieve excellence through quality instruction in dance, music, drama, and art for students wishing to pursue a professional career as well as those who prefer to learn about their art form for their own personal enjoyment. They offer several morning and early afternoon classes, specifically for homeschooled children.
Christian Youth Theater - Lafayette

Lafayette

Christian Youth Theater (CYT) is an after-school theater arts training program for students ages 4 - 18. CYT is a non-profit 501(c)(3) educational organization funded primarily through its tuition, ticket sales and outside contributions. Every session (fall, winter and spring) CYT offers theater arts classes for children as an after-school activity. Each local program conducts three ten-week sessions throughout the school year, teaching drama, voice, dance and a broad spectrum of specialty theatrical workshops at weekly two-hour classes. Enrolled students have the opportunity to work behind the scenes, or audition and perform on stage in a Broadway-style musical performed for the community.
Academy of Christian Arts

Lafayette & Scott

A Christian dance studio focused on inspiring dancers to dance with passion and purpose. ACA offers many different classes including daytime classes for homeschooler children. Two locations in the Lafayette area to choose from.
Arco Music Studio

Lafayette, LA

Arco Music Studio is for anyone interested in learning how to play violin and learn music theory. Both traditional and Suzuki violin methods are offered to students of any level or age. Whether you are a beginner violin student learning how to hold an instrument, an advanced level player seeking for improvement, or violin enthusiast who wants to take lessons as a hobby, Emil Ivanov can help you achieve your goal. ​Private lessons duration are 30, 45 or 60 minutes. The length of the lessons is based on the age and level of the students. Music theory is implemented in the lessons.
Pembo Cieutat Academy of Dance Home School Ballet

Mandeville

Our Morning Ballet program offers fun, exercise, and the chance to develop dance and movement skills in a safe and positive learning environment. It will explore classical dance concepts, dance studies, and choreography. Focus will be on technique with an emphasis on anatomically correct alignment and placement to achieve technical mastery and expressivity. Students will improve self-discipline and focus, as well as enjoy positive social interactions. Novice and experienced dancers are welcomed. Wednesday Mornings beginning in the fall; Ages 5 and up. (Combo classes for Ages 3-4) Email info@pembocieutat.com for more information.
School of Rock Summer Camps and Music Programs

Mandeville

Do you want to learn how to play in a band or learn to write songs? School of Rock Northshore offers a wide variety of music camps and workshops that cover topics such as these. Our local music camps are perfect for musicians of any skill level who want to play guitar, bass, drums, keyboard and vocals. Every day, we watch our students grow from beginner musicians to confident and inspiring rock stars in their community. Browse photos, videos, posts and more to find out why School of Rock Northshore is more than just your local music school.
Iberia Music Academy: Guitar, Voice, Piano, and Violin Lessons

New Iberia

Offering music lessons from 8 a.m.-1 p.m. Monday-Friday to homeschoolers in the New Iberia area. Classesw include: guitar, voice, piano, and violin.

Iberia Music Academy: Guitar, Voice, Piano, and Violin Lessons details
New Orleans School of Ballet

New Orleans

Calling all Homeschool Families – Veterans and Newbies Alike! Our daytime dance classes were created specifically with our homeschool families in mind! Enjoy the ballet, jazz, and modern, classes during the daytime. This is a great way to incorporate P.E. classes into your curriculum while making friends with other homeschoolers in the area!
New Orleans Academy of Fine Arts

New Orleans

Objective: To provide Visual Arts Foundation Instruction toward the creation of a solid visual arts portfolio that reflects the student's voice and craft in the fine arts. The portfolio can include such student art works as observational drawings, still life studies, self-portraits, abstract pieces, drawings from memory, 3-dimensional works, a working sketch book and a basic artist statement or outline. In Practice: Middle School and High School Students will work to develop a visual art portfolio of creative works, drawings from direct observation, working sketchbook ideas and the beginnings of an artist's statement. There will be an emphasis on developing visual arts skills and proficiency in a variety of art media. The student's artwork will also incorporate visual concepts that reflect The Elements of Art (space, color, shape, form, value, texture, and line) and The Principles of Design (balance, contrast, emphasis, movement, pattern, rhythm, and unity).
Pre-Professional Day Program at Schramel Conservatory the official school of New Orleans Ballet Theatre

New Orleans and all surrounding areas

Schramel Conservatory of Dance, the official school of New Orleans Ballet Theatre is offering a Pre-Professional Day Program for serious-minded dancers training to enter professional companies. Students can join anytime and classes are current and ongoing. For pricing and more information please email or call 504-826-0646 *State of the art studios with sprung, marley dance flooring *All classes taught by qualified master teachers *Performance + Convention workshop opportunities *Over 22 hours of day classes per week + unlimited evening classes

Pre-Professional Day Program at Schramel Conservatory the official school of New Orleans Ballet Theatre details
Tammany Twirlers Square Dance Club

Slidell

Square dance lessons beginning with a Dance Party with live music to interest students and their parents in a healthy activity with friendly wholesome people.
Homeschool Art Lessons

St. Amant, Gonzales, French Settlement, etc.

I teach art & painting lessons in my home studio. I also offer childrens & adults painting parties.
Louisiana Homeschool Sports Programs
Alexandria Homeschool Art & Athletics

Alexandria

Alexandria Homeschool Art & Athletics ("AHAA") is a non-profit organization established to serve home school families and students. The Board consists of volunteers who desire to accomplish the following Statement of Purpose: "The purpose of AHAA is to provide positive and constructive opportunities for the social, physical, and educational growth of home school students in the greater Alexandria area." AHAA's efforts include competitive team sports, recreational sports, educational classes, and monthly sports days. Board members have purposed that the organization's activities and any publications will be consistently in line with our Christian beliefs which are to honor and glorify the Lord God. AHAA does not discriminate in its provision of services due to race or religion.
Baton Rouge Fencing Club

Baton Rouge

Club offers instruction in fencing
Topgolf Baton Rouge

Baton Rouge

Topgolf is a great field trip destination to Learn + Eat + Play! Our new field trip packages include a teacher-friendly, self guided Topgolf experience for students to learn outside. Lessons include TopScience (3rd - 5th grade), TopMotion (6th - 9th grade) and TopPhysics (9th - 12th grade).
YMCA Homeschool PE

Baton Rouge Downtown

Homeschool PE program at the downtown Baton Rouge Charles W. Lamar YMCA. This will be a parent led program with the support of the YMCA Wellness staff and a Tulane Kinesiology Instructor to provide guidance addressing Louisiana State Standards in Health and PE curriculum. We would like to provide space at no cost to our members. If you are not a member, we can waive the joining fee (savings of $100). The space is available M-F 1:30-3:30p.m. (with exception during holidays when the branch will be closed). We also provide free parking in the Lasalle garage since this location is in downtown Baton Rouge. Please contact Jamie Tanner for more information Jtanner@ymcabr.org
Northshore Vultures

Covington

Based in Covington, Louisiana, Northshore Vultures was founded to give kids from third grade through high school the opportunity to develop physically, mentally, and spiritually through tackle football and cheer. Vultures football exists to build character in young men and women that will provide strength throughout their lives. Vultures football is fundamentals focused, teaching proper technique to promote a safe environment. We believe winning is about working as a team at the highest ability possible. Sometimes the score does not reflect who the true winners are. True winners come off the field with class and head held high, knowing they played the best they could.
Louisiana Rhythmic Gymnastics

Elmwood

Louisiana Rhythmic Gymnastics is the 1st and Only Recreational Rhythmic Gymnastics Program in the state of Louisiana. Rhythmic Gymnastics is a beautiful Olympic Sport in which gymnasts perform on a floor with an apparatus: hoop, ball, clubs, ribbon or rope. This sport combines elements of gymnastics, dance, ballet and calisthenics; our recreation Home School Program teaches; strength, flexible, agility, acro, ballet and apparatus handling. This class offers fun exercises and the chance to develop acro, ballet, dance and movement skills in a safe and positive learning environment, yet still focusing on technique with an emphasis on anatomically correct alignment and placement to achieve technical mastery and expressiveness. Students will improve self-discipline and focus, as well as enjoy positive social interactions. Email louisianarhythmic@hotmail.com for more information
S.E.R.V.E Homeschool Outreach

Greater New Orleans, Kenner

S.E.R.V.E. is a charitable non-profit 501c3 organization which offers yearly membership to ALL homeschooling families. Yearly membership ($35.00) is used to enable us to provide things needed to aid in service projects. We want to help shepherd the hearts of our children and model with stepping out and becoming the change that we want to see in the world. We are always seeking members who are like-minded and desire the heart to serve together in our community. We promote supporting one another on the homeschool journey, leaving all differences outside of this organization, coming together as one to serve the needs of our community. We believe that everyone can make a difference in the world and that it starts out by acting out in love and helping those in need. We want to connect with our community to gain knowledge of what various careers entail, as well as serving those who will take the time out to provide that information. We always desire the opportunity to serve and give back. We provide an encouraging supportive atmosphere for all homeschooling families in our organization. SERVE Homeschool Outreach is always seeking out opportunities to serve and better our community while also helping to support the homeschool community as well. We assist parents with providing a variety of ways to serve their community but also with educational experiences , a variety of outings, park days, PE classes for the spring and fall semester, curriculum/educational material give away events, assistance with end of the year ceremonies, and so much more. We do our best to strengthen and build new relationships with parents, children and with our community and surrounding communities. If there is a need that we come across, we do our best to help make a difference. ​
SERVE Homeschool PE

Greater New Orleans, Metaire

PE classes offered in spring and fall semester. Classes held outside for ages 3 to 18 years old. Classes are broken up by age groups. For more information contact us at SERVEhomeschool@gmail.com or visit our website https://www.serve-outreach.com.
Cajun Archers Academy & Range

Lafayette

Cajun Archers Academy develops archers of all skill levels from beginner to the advanced athlete. Also providing training and certification for club leaders.
Southwest Louisiana Homeschool Athletic Club

Lake Charles Area

Southwest Louisiana Home School Athletic Club is an organization dedicated to the belief that a balanced and complete education of the young involves not only academics, but also participation in sports. As a volunteer-based organization, serving home school children in the Lake Charles Area of Southwest Louisiana, we afford young men and women, both teenagers and pre-teens, the opportunity to participate in organized sports in a Christian environment. SWLAHAC is a member of Association of Christian Educators of Louisiana.
Stretch-N-Grow Fitness

Walker/Livingston Parish

Stretch-N-Grow Fitness offers a variety of sports and fitness programs for ages 2yrs and older. Activities include: tumbling, dance, fitness, cheer & PE classes. Parent's Night Out & other events held monthly to encourage social interaction. Contact Stretch-N-Grow Fitness to enroll today-and don't forget to ask about our specialty programs for Mom's!