Jump to: Homeschool Arts | Homeschool Sports
In addition to the opportunity to get out of the house and socialize, homeschool sports and arts programs can offer long-term benefits by developing characteristics like leadership, self-confidence, perserverance, and self-esteem. Many organizations and businesses have opportunities specifically for homeschoolers, while others invite homeschoolers to participate in their regular programs.
Not sure how to choose activity/activities for your children? Read how Rebecca narrows down the choice of extra-curricular activities.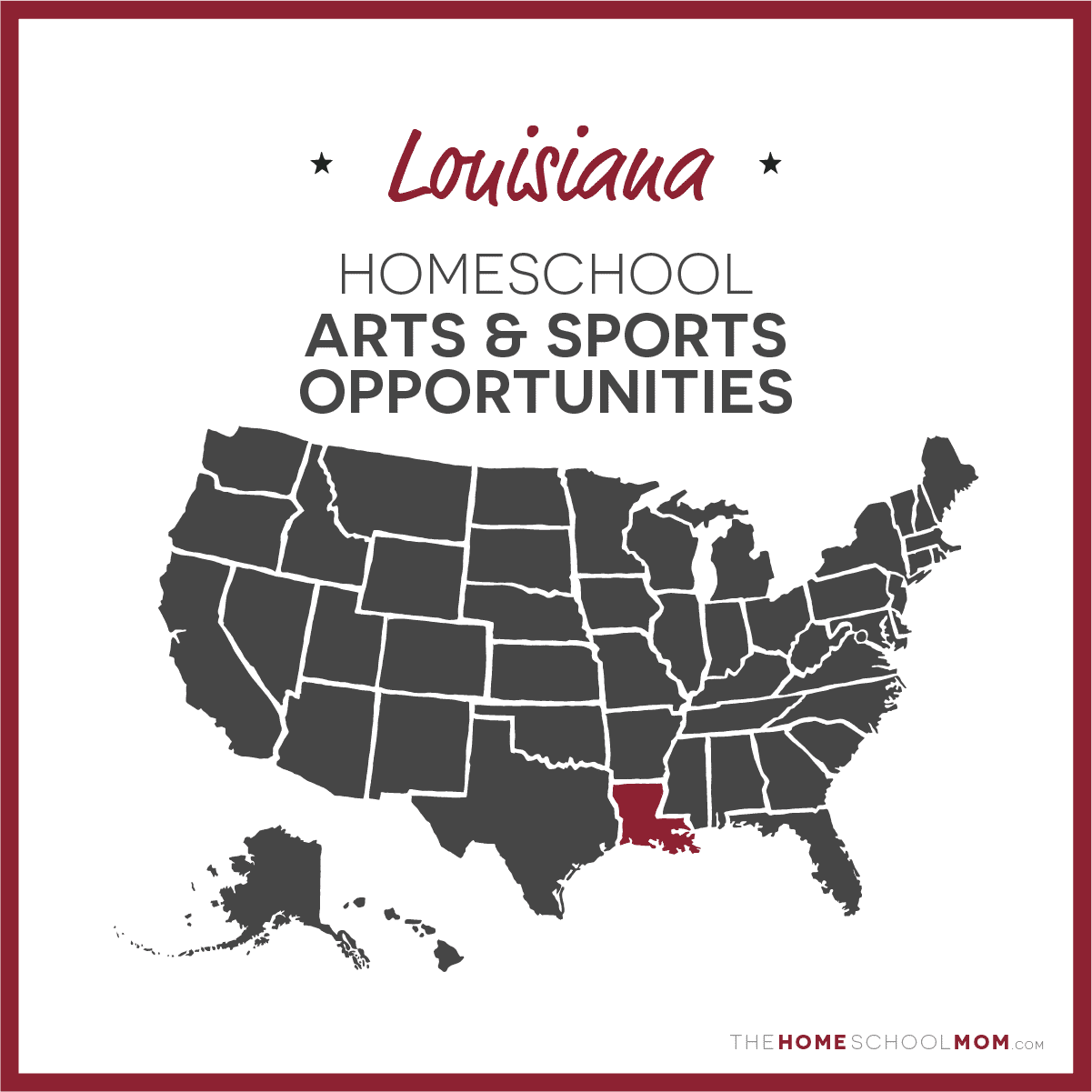 Submit a Local Resource
Our listing of Louisiana list of homeschool arts and sports programs is ordered alphabetically by city, with arts in the first section and sports in the second section. If you would like to submit an Louisiana arts or sports program, you may do so using the red button above.
Louisiana Homeschool Arts Programs
Cenla Violin and Viola LessonsAlexandria/Pineville
Violin & Viola Lessons in Alexandria/Pineville area.
Homeschool Band LessonsAlexandria/Pineville
The CENLA Homeschool Band program offers individual and group lessons on all school band instruments: flute, clarinet, saxophone, trumpet, French Horn, trombone, baritone Horn, tuba, snare drum, bells/xylophone, and m...
Cangelosi Dance Project Day ProgramBaton Rouge
The Cangelosi Dance Project offers a day dance program ages 5 through 18 to male and females interested in Ballet, Contemporary dance and performing opportunities. CDP is 501(c) 3 non-profit organization. The director...
Piano Pathways, LLCBaton Rouge
This music learning center for children and adults offers piano lessons and classes. Private lessons, partner lessons, and group classes are available, with a individualized approach in the curriculum. An emphasis is ...
Dance Center and School of Performing ArtsBaton Rouge
The Dance Center and School of Performing Arts is a professional performing arts school that is the result of a merger of two well established Baton Rouge art schools. This resource's vision is to achieve excellence t...
Art Classes for Homeschoolers with Amy GinesHaughton/ Bossier City
Art Classes for Homeschoolers will be a hands on, studio art class for school aged children. There will be two and three dimensional projects, most of which will not be completed in one class. There will usually be mo...
Christian Youth Theater - LafayetteLafayette
Christian Youth Theater (CYT) is an after-school theater arts training program for students ages 4 - 18. CYT is a non-profit 501(c)(3) educational organization funded primarily through its tuition, ticket sales and ou...
The Art RoomLafayette
Certified art teacher in Lafayette Parish providing art lessons to home school students in the evening or on some weekend days. Centrally located, the studio provides ample space for up to 24 students.
Southern Co'Motion Dance Co.Lafayette
Southern Comotion Dance Co. caters to homeschoolers on teaching many fundamentals of dance, rhythm, coordination and choreography. Offering lessons in zydeco, line dance, waltz, swing, jazz/hip hop, etc. Private and g...
Academy of Christian ArtsLafayette & Scott
A Christian dance studio focused on inspiring dancers to dance with passion and purpose. ACA offers many different classes including daytime classes for homeschooler children. Two locations in the Lafayette area to ch...
Arco Music StudioLafayette, LA
Arco Music Studio is for anyone interested in learning how to play violin and learn music theory. Both traditional and Suzuki violin methods are offered to students of any level or age. Whether you are a beginner viol...
The Art FactoryLake Charles
Homeschooling art classes offer a dynamic experience while engaging the student with lessons using a variety of media. Semesters are 12 weeks of bi-monthly classes; visit the website for more information.
Pembo Cieutat Academy of Dance Home School BalletMandeville
Our Morning Ballet program offers fun, exercise, and the chance to develop dance and movement skills in a safe and positive learning environment. It will explore classical dance concepts, dance studies, and choreograp...
Iberia Music Academy: Guitar, Voice, Piano, and Violin LessonsNew Iberia
Offering music lessons from 8 a.m.-1 p.m. Monday-Friday to homeschoolers in the New Iberia area. Classesw include: guitar, voice, piano, and violin.
New Orleans School of BalletNew Orleans
Calling all Homeschool Families – Veterans and Newbies Alike! Our daytime dance classes were created specifically with our homeschool families in mind! Enjoy the ballet, jazz, and modern, classes during the daytime. T...
Pre-Professional Day Program at Schramel Conservatory the official school of New Orleans Ballet TheatreNew Orleans and all surrounding areas
Schramel Conservatory of Dance, the official school of New Orleans Ballet Theatre is offering a Pre-Professional Day Program for serious-minded dancers training to enter professional companies. Students can join anyti...
Tammany Twirlers Square Dance ClubSlidell
Square dance lessons beginning with a Dance Party with live music to interest students and their parents in a healthy activity with friendly wholesome people.
Homeschool Art LessonsSt. Amant, Gonzales, French Settlement, etc.
I teach art & painting lessons in my home studio. I also offer childrens & adults painting parties.
Louisiana Homeschool Sports Programs
Alexandria Homeschool Art & AthleticsAlexandria
Alexandria Homeschool Art & Athletics ("AHAA") is a non-profit organization established to serve home school families and students. The Board consists of volunteers who desire to accomplish the fol... [Read more...]
Baton Rouge Fencing ClubBaton Rouge
Club offers instruction in fencing [Read more...]
Topgolf Baton RougeBaton Rouge
Topgolf is a great field trip destination to Learn + Eat + Play! Our new field trip packages include a teacher-friendly, self guided Topgolf experience for students to learn outside. Lessons includ... [Read more...]
YMCA Homeschool PEBaton Rouge Downtown
Homeschool PE program at the downtown Baton Rouge Charles W. Lamar YMCA. This will be a parent led program with the support of the YMCA Wellness staff and a Tulane Kinesiology Instructor to provide... [Read more...]
Northshore VulturesCovington
Based in Covington, Louisiana, Northshore Vultures was founded to give kids from third grade through high school the opportunity to develop physically, mentally, and spiritually through tackle foot... [Read more...]
Louisiana Rhythmic GymnasticsElmwood
Louisiana Rhythmic Gymnastics is the 1st and Only Recreational Rhythmic Gymnastics Program in the state of Louisiana. Rhythmic Gymnastics is a beautiful Olympic Sport in which gymnasts perform on a... [Read more...]
S.E.R.V.E Homeschool OutreachGreater New Orleans, Kenner
S.E.R.V.E. stands for Supporting, Encouraging, Reaching, Volunteering and Educating. S.E.R.V.E. is a Christian non-profit 501c3 organization which is open to ALL homeschooling families. S.E.R.V.E H... [Read more...]
SERVE Homeschool PEGreater New Orleans, Metaire
PE classes offered in spring and fall semester. Classes held outside for ages 3 to 18 years old. Classes are broken up by age groups. For more information contact us at SERVEhomeschool@gmail.com or... [Read more...]
Full Bore Sports Performance and Physical EducationNew Orleans Area
Physical Education and Sports Performance training center ages 10 and up. [Read more...]
The Better Golf AcademyNew Orleans Metro Area
Along with academics, sports and recreation are an integral part of becoming a well-rounded child. The Better Golf Academy provides children the opportunity to explore and experience the exciting w... [Read more...]
Gator Pit Martial Arts Homeschool ClassShreveport-Bossier
This class is every Wednesday at 12:30pm at Gator Pit Brazilian Jiu Jitsu. It is a combination of jiu jitsu and taekwondo (heavy emphasis on fundamentals). The class lasts about 45 minutes. The cla... [Read more...]
Stretch-N-Grow FitnessWalker/Livingston Parish
Stretch-N-Grow Fitness offers a variety of sports and fitness programs for ages 2yrs and older. Activities include: tumbling, dance, fitness, cheer & PE classes. Parent's Night Out & other ... [Read more...]
Go to...