Field trips are a great way to reboot a bad homeschooling week, get out of the house when everyone has cabin fever, and learn about your local area. Before heading out, check out Jeanne's tips for improving homeschool field trips.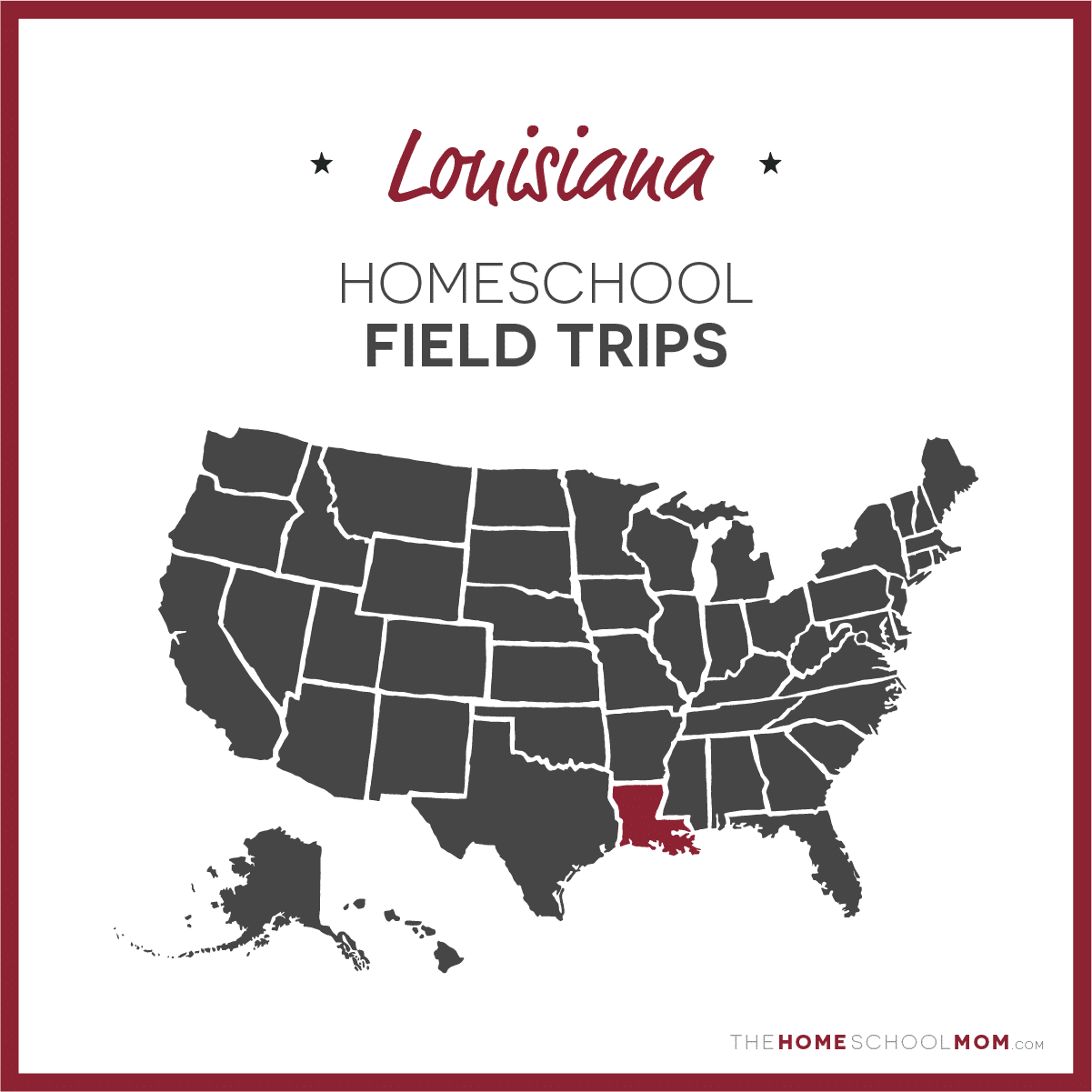 Submit a Field Trip Destination
Our listing of Louisiana field trips for homeschoolers is ordered alphabetically by city. If you would like to submit a Louisiana field trip destination, you may do so using the red button above.
An asterisk * after the title indicates that a virtual field trip is also available.
El Camino Real de Los Tejas National Historic Trail

Hola! Bienvenidos al Camino Real de los Tejas National Historic Trail. Come on a journey that will carry you through 300 years of Texas and Louisiana frontier settlement and development.
UCM Museum - Abida Mystery House

Abita Springs

At the UCM, Louisiana's Most Eccentric Museum - This roadside attraction near New Orleans is a folk art environment with 1000s of found objects, and home made inventions. See a miniature Southern town with push-buttons that activate animated "displays." On exhibit are odd collections, memorabilia, pure junk, and old arcade machines that are a lot of fun to play.
Alexandria Museum of Art

Alexandria

Through its exhibition program of an ever-changing array of collections on loan from around the world, its extensive permanent collection of contemporary Louisiana art and the state's largest collection of North Louisiana Folk Art, AMoA entices visitors of diverse tastes.
Alexandria Zoological Park

Alexandria

The park offers a wide variety of programs, classes, events and volunteer opportunities designed to enrich appreciation of wild life and wild places. The hands-on classes for home school children include a presentation and a lab activity. Students will also get to take a hands-on activity home.
Arna Wendell Bontemps Museum

Alexandria

Arna Bontemps - a noted Black poet, author, anthologist, librarian - was born in Alexandria, Louisiana on October 13, 1902. He is credited with writing over 20 books, plays, and anthologies and was considered the leading authority on the Harlem Renaissance.
South Toledo Bend State Park

Anacoco

Pleasantly located on several small bluffs that extend over and into the Toledo Bend Reservoir, South Toledo Bend Reservoir State Park offers a scenic, waterfront view from many vantage points. While the reservoir is nationally recognized as a destination for bass fishing tournaments, visitors to the park can also enjoy other outdoor recreational activities such as hiking, cycling, birding, camping and enjoying the many forms of wildlife in the area.
Barksdale Global Power Museum

Barksdale AFB

Take an exciting journey through the past and discover the dynamic history of Strategic Bombardment at the home of the 2nd Bomb Wing, the mighty 8th Air Force, and the new Air Force Global Strike Command. The Barksdale Global Power Museum is not only a memorial to our successes in battle, but a recognition of the many years spent training to deter war. The peacetime history of Barksdale Air Force Base is as significant as those years at war. Come out and see vintage aircraft like the venerable B-17 and B-24 bombers of World War II: along with their best "Little Friend", the P-51 Mustang. You can also see Cold War heroes such as the B-52D and B-52G Stratofortress. We will show you the highest and fastest flying jet aircraft ever - the MACH 3+ SR-71 Blackbird.
Chemin-A-Haut State Park

Bastrop

This 503-acre site takes its name from the French word meaning "high road," which was the route used by Native Americans many years ago in their seasonal migrations. Chemin-A-Haut State Park was designed with children in mind. Two playgrounds in the day-use area are a favorite spot of the younger patrons as is the wading pool in the swimming complex.
Louisiana State Museum - Capitol Park Museum

Baton Rogue

The Capitol Park Museum tells a story of passion, adventure and discovery that could have happened only in the Bayou State. Come explore a way of life like no other.
Louisiana Art & Science Museum

Baton Rouge

Housed in a historic railroad depot on the banks of the Mississippi River, the Louisiana Art & Science Museum offers educational entertainment for visitors of all ages. The art galleries showcase changing fine art exhibitions and selections from the permanent collection. In the interactive art and science galleries designed just for children, creative and enlightening fun comes in many forms. The Ancient Egypt Gallery houses ancient artifacts and a Ptolemaic-era mummy that rests in a re-created rock-cut tomb. The Irene W. Pennington Planetarium features sky shows, large-format films, visual music shows, and galleries devoted to space science. In the Museum Store at LASM, visitors enjoy shopping for unique handcrafted merchandise, books, toys, and a large selection of objects related to LASM's exhibits.
Magnolia Mound Plantation

Baton Rouge

Magnolia Mound Plantation is a rare survivor of the vernacular architecture influenced by early settlers from France and the West Indies. This venerable landmark is unique in southern Louisiana not simply because of its age, quality of restoration, or outstanding collections, but because it is still a vital part of the community. Through educational programs, workshops, lectures, festivals, and other special events, Magnolia Mound's mission is to illustrate and interpret the lifestyle of the French Creoles who formed the fascinating culture which still influences and pervades life in southern Louisiana.
Old Arsenal Museum

Baton Rouge

The Old Arsenal Museum, formerly known as the Powder Magazine, was built in 1838 and is the third structure to stand on this site. Listed on the National Register of Historic Places, the site was of particular military importance due to its location on the Mississippi River. It later served as the main defensive position of the southwestern United States. The museum contains exhibits about the structure of the historic powder magazine and the history of the State Capitol grounds.
Louisiana's Old State Capitol - Museum of Political History

Baton Rouge

Louisiana's Old State Capitol, a Gothic architectural treasure, stands high on a bluff overlooking the Mississippi River. The 150-year-old statehouse has withstood war, fire, scandal, bitter debate, abandonment and an occasional fistfight. Today, the building stands as a testament to bold, inspired leadership and active citizenship. Now referred to as the Museum of Political History, the Old State Capitol has received awards for its architecture, exhibits and preservation.

Louisiana's Old State Capitol - Museum of Political History website
Rural Life Museum

Baton Rouge

Encounter the past at one of the "Top 10 Outdoor Museums in the World," according to the British Museum! Travel back in time in three unique areas of the Museum containing the largest collection of material culture of 19th century Louisiana, all in a safe, outdoor rural landscape: * The Exhibit Barn features hundreds of artifacts dealing with everyday rural life up to the early 20th century. * The Plantation Quarters consists of a complex of 19th century buildings - commissary, overseer's house, kitchen, slave cabins, sick house, schoolhouse, blacksmith's shop, sugar house, and grist mill - authentically furnished to replicate all the major activities of life on a typical 19th century working plantation. * Louisiana Folk Architecture is interpreted in a wonderful collection of buildings exemplifying the house types of Louisiana including - a country church, pioneer's cabin, Carolina cabin, shotgun house, Acadian house, and dogtrot house - whose divergent construction traits illustrate the various cultures of Louisiana settlers.
USS KIDD

Baton Rouge

Welcome to the official Internet home port of the Fletcher-class destroyer USS KIDD (DD-661), the "Pirate of the Pacific." Located in the heart of scenic downtown Baton Rouge, Louisiana, she is the centerpiece of a memorial which serves to honor the men and women of our American armed forces. Examine the dented helmet of an infantryman who stormed the beaches of Normandy. Touch the names of the fallen Americans whose names are carved into the black granite walls of the Louisiana Memorial Plaza.
Bluebonnet Swamp Nature Center

Baton Rouge

Bluebonnet Swamp Nature Center is a 103-acre facility dedicated to conservation, education, recreation and tourism. It houses an award-winning, 9500-square-foot building filled with live animal exhibits; photographic presentations of the site's flora and fauna; natural artifact displays; and a sizeable, vintage Louisiana waterfowl decoy carving collection. Ecology and art exhibits are featured periodically. Over a mile of gravel paths and boardwalks link varied habitats including cypress-tupelo swamp, beech-magnolia and hardwood forests. Programs and special events are offered year-round.
Main Event Entertainment

Baton Rouge

Main Event's Home-School All Access Pass is $18.95 per child and includes up to 4-hours of All You Can Play Activities (Bowling, Laser Tag, Gravity Ropes), $10 Arcade Card, 2 Slices of Pizza + Soft Drink. Note: Package must be booked ahead of time through the Main Event Sales Office. Package is available Monday through Friday until 5pm with a minimum booking of 20 children. Laser Tag and Gravity Ropes have a 48" Height Requirement. Bowling shoes are included. Price is not inclusive of tax.
Baton Rouge Zoo

Baton Rouge

"Where people connect with Animals". The zoo offers a Zoo Krewe program open to all teenagers 13-17 years old with a GPA of at least 3.0 or higher. Zoo Krewe is designed for youths that are thinking about a career with exotic animals and in public speaking.
St. Bernard State Park

Braithwaite

St. Bernard State Park is the ideal spot for visitors who are seeking a family atmosphere and natural experience, as well as for campers who don't want to or cannot stray far from civilization. Many campers consider combining a camping vacation with a touring vacation of the New Orleans area. The Chalmette National Historic Park, Jackson Barracks, and other historic sites and plantation homes are also nearby.
KidStrong Acadiana

Broussard

KidStrong is a milestone accelerator for kids walking through 11 years old. We help parents discover their child's superpowers and build future-ready kids who are confident making friends, run the playground, and raise their hand high in the classroom. In other words, kids who will win at life. We do this by giving parents the tools to build stronger kids at our centers and at home. Private training centers run classes with custom equipment and KidStrong-Certified Coaches for KidStrong members
Jimmie Davis State Park

Chatham

Located on a peninsula on Caney Lake, Jimmie Davis State Park offers two boat launches and a fishing pier that cater to the sportsmen looking for a prime freshwater fishing spot. Waterskiing is another way to enjoy the clear waters of the lake, which was created by damming Caney Creek in 1986. Don't forget to look back at the lakeshore to appreciate the beautiful mixed pine and hardwood forest surrounding the lake and the birds and animals that make the forest their home.
Schepis Museum

Columbia

Welcome to the Schepis Museum of Columbia, Louisiana. Founded in 1994, the museum has grown and developed greatly over the past 10 years. Initially presenting artifactual exhibits of local interest, the museum now features varying artistic and historical exhibits.
Cypremort Point State Park

Cypremort Point

Cypremort Point is the only locality near the Gulf of Mexico that can be reached by car. A half-mile stretch of a man-made beach provides a delightful area for relaxing, picnicking and enjoying the water. It also affords an opportunity for fishing, crabbing, water skiing, windsurfing and, of course, sailing.
Poverty Point Reservoir State Park

Delhi

Offers visitors an outlet for a variety of watersport activities and a scenic backdrop for waterfowl migration each spring and fall. The fish and wildlife species inhabiting or migrating through the reservoir are numerous. Anglers can fish the lake year round. The region falls within the Mississippi Flyway for many winged species. Depending on the season, visitors will see cormorants, ducks, geese and pelicans.
Destrehan Plantation

Destrehan

The sands of Louisiana time seem to stand still for a moment at Destrehan Plantation. This majestic antebellum home watches over the banks of the great Mississippi River, just minutes from New Orleans. Listed on the National Register of Historic Places, Destrehan Plantation was established in 1787 and remains the oldest documented plantation home in the lower Mississippi River Valley.
River Road African American Museum

Donaldsonville

Showcases the contributions of African Americans who lived and worked on the plantations along the Mississippi River. The museum's location in Donaldsonville is significant in that it incorporates the stories and unique history and landmarks of the Donaldsonville area which once was the capital of Louisiana.
Lake Bistineau State Park

Doyline

Situated on the western shore of Lake Bistineau, this park offers a satisfying blend of beautiful vistas and outstanding recreational facilities. Memorable for its upland mixed hardwood forest, its open waters, and its enchanting stands of cypress and tupelo trees, the park offers two boat launches, hiking and biking trails, playgrounds, two swimming pools, a lakefront beach, camping, cabins, lodges, and excellent fishing!
CM Farms LLC

Dry Creek

Calling all homeschoolers! Baby animals and Spring on the farm are just a few things kids will learn about on their field trip to CM Farms. All 4-hour field trips include a wagon ride around the farm, LIVE milking demonstrations, meet 'n' feed time with farm animals, and an explanation of how food is grown in the Hamburger Garden. Enjoy loads of playground time (Jumping Pillow, Dirt Mountain Slide, Rubber Duck Races, Diggers Sand Pile, and more). Add-on options including Easter Egg Hunts, Gemstone Mining, and U-Pick Strawberries are available. Ages 3 and up.
Poverty Point National Monument

Epps

Located in northeastern Louisiana, Poverty Point commemorates a culture that thrived during the first and second millennia B.C. This site, which contains some of the largest prehistoric earth works in North America, is managed by the state of Louisiana. These state park facilities are open to the public.
Lake D'Arbonne State Park

Farmerville

Piney forests, rolling hills, five fishing piers, and a beautiful lake draw visitors to this quiet, majestic state park. Designed to keep the focus on nature, park facilities blend with the natural landscape to enhance the outdoor experience of this 655-acre park.
Delta Music Museum

Ferriday

Previously known as the Ferriday Museum and housed in the old post office, the Delta Music Museum is located in Concordia Parish just minutes away from historic Natchez, Miss. Ferriday is the birthplace of entertainers Jerry Lee Lewis and Mickey Gilley, evangelist Jimmy Swaggart and blues trombonist Leon "PeeWee" Whittaker. See exhibits focusing on the history and culture of Louisiana's and Mississippi's Delta region music and visit the museum's hall of fame.
Hodges Gardens State Park

Florien

Over 700 acres of wild and cultivated beauty, Hodges Gardens State Park, located in Sabine Parish, is a unique member of the State Parks system. Originally designed and opened to the public in 1956 by oil and gas businessman A.J. Hodges Sr., the site's gardens consist of a variety of plants and flowers, from a formal rose garden to a collection of Japanese Red Maple trees.
Grevemberg House Museum

Franklin

Our Mission is to focus attention on Louisiana's Historic buildings; to promote interest in the study of Louisiana's architectural heritage; to disseminate information on Louisiana's landmarks and to support their preservation. Through the Society's management and maintenance of the Grevemberg House Museum, the vitality of 19th century life in south Louisiana is showcased, thus making the past more meaningful to present and future generations.
Grand Isle State Park

Grand Isle

This is Grand Isle State Park--a natural haven on the most popular barrier island off the coast of Louisiana. A beach ridge created by the action of the waves of the Gulf, Grand Isle serves as a breakwater between the Gulf and the network of inland channels that connect to the bayou tributaries of the Mississippi River. It is also the launching point for excellent deep-sea salt-water fishing adventures.
New Orleans French Quarter

Gretna

Civil War Tours of New Orleans is the only guided Civil War tour west of Nashville, Tennessee. Started three years ago by a historian, former Park Ranger for the State of Louisiana and the National Park Service, and a student of the Civil War for over thirty years, Civil War Tours of New Orleans offers tours that cover the significance of New Orleans during the Civil War. Topics covered on our most popular tour, the French Quarter, will touch on secession, economics, politics, social history, and Union occupation.
Gretna Historical Society Museum

Gretna

The Gretna Historical Society welcomes you to its Museum Complex of historic buildings, blacksmith shop, guided tours and gift shop, in the midst of one of the nation's largest National Register Historic Districts. Gretna, Louisiana, an old German town, is replete with shot-gun houses (singles and doubles), camel back houses and Creole cottages. And it's all across the Mississippi River from New Orleans.
Lake Claiborne State Park

Homer

Take your pick: swimming, fishing, birding, boating of all kinds, waterskiing, camping, hiking or just plain relaxing and enjoying unsurpassed natural beauty. It's all here . . . at Lake Claiborne State Park. For fishermen, the freshwater lake was lavishly stocked with largemouth bass, bluegill sunfish, channel catfish, black crappie, striped bass, chain pickerel, bream, and white perch. The lake itself, at full reservoir level, has a surface area of 6,400 acres.
H.S. Ford Memorial Museum

Homer

History of Claiborne Parish. The museum today includes a chronological timeline from the arrival of the original settlers with an Indian period and a Pioneer period. An actual log cabin that was acquired in the late summer of 1982 from the George Green Estate was disassembled at its present location and reassembled inside the museum.
Southdown Plantation House

Houma

Southdown Plantation House is a 19th-century sugar manor house and home to the Terrebonne Museum of history and culture. Exhibits include original bedroom furniture of the Minor family and other antique furnishings; a history and culture room; a Mardi Gras room; a Native Peoples room; changing works by local artists; a sugar industry room; Boehm and Doughty porcelain birds; Charles Gilbert art collection; Thad St. Martin literature collection; a re-creation of the Washington, D.C office of U.S. Senator Allen J. Ellender; and a restored 1880's plantation worker's cabin.
Zigler Museum

Jennings

Ah-Louisiana, The Land of the Acadians: Wildfowl Carvers. Wildfowl decoys are not only a work of art as a carved and painted sculpture, but also a piece of history. Unique to North America, the wildfowl decoy is folklore, a form of regional art. Decoys depict bird species found along our waterways, and become history of a people, a time, and a place.
Saints Hall of Fame Museum

Kenner

The Saints Hall of Fame has brand new exhibits and memorabilia covering the entire history of the New Orleans Saints from the awarding of and formation of the franchise to the present. Fans can review a time line tracing the history of the team through the years, enjoy the Saints Theater with highlight films from every season in team history, check out the lockerroom display, the broadcast studio, the great moments in Saints history video, the actual playing surface on the floor of the Superdome, updated standings boards, the all-time team display, and the Hall of Honors with all of the busts and portraits of previously inducted Saints Hall of Famers.
Paul and Lulu Hilliard University Art Museum

Lafayette

The Paul and Lulu Hilliard University Art Museum offers a number of educational programs for children. International Children's Museum, Docent led tours and academic enrichment programs all designed for students grades K through 8th.
Vermilionville

Lafayette

Vermilionville authentically portrays a way of life preserved with a distinctly French accent. Situated on the banks of the Bayou Vermilion, this Cajun/Creole heritage and folklife park recreates life in the Acadiana area between 1765 and 1890. The beautiful grounds, which are laid out as an historic village, contain eighteen structures, including six restored original homes. In most of the structures, costumed interpreters demonstrate traditional crafts or musical styles.
Acadian Village

Lafayette

As a folklife museum, Acadian Village offers an authentic vision of Acadian society in South Louisiana during the 19th century. Period homes of Acadian architecture have been restored to their original appearance and furnished with antiques native to the area.
Acadiana Park Nature Station

Lafayette

The Nature Station and its accompanying 3+mile trail system is owned and operated by the Division of Arts & Culture, in the Department of Community Development, Lafayette Consolidated Government. Environmental education programming began here in 1974 as an offshoot of our parent organization, the Lafayette Natural History Museum. As a result of increasing demand for our programs, the Nature Station was constructed in 1978. Since that time, our staff has conducted field trips, workshops, and other educational activities and programs for many thousands of school children and adults alike.
Childrens Museum of Acadiana

Lafayette

The Children's Museum of Acadiana (CMA) is a hands-on participatory museum serving children and their families, schools, and community organizations by providing interactive exhibits, special services, performances, and workshops.
Imperial Calcasieu Museum

Lake Charles

The Imperial Calcasieu Museum is a leading cultural and educational resource for the Lake Charles community, providing model education an outreach activities.
Sam Houston Jones State Park

Lake Charles

Originally named for the Texas folk hero who traveled extensively in the western reaches of Louisiana, Sam Houston Jones was given its current name in honor of the state's 37th governor, who was instrumental in setting aside this tract of land for the public to enjoy. Abundant wildlife inhabits the area. The park is located just north of the most productive birding region of Louisiana. The numerous waterways in this area make water sports a natural highlight at the park. The three hiking trails winding through this beautiful park make strolling or serious hiking, pleasurable.
Children's Museum

Lake Charles

The Children's Museum, established by the Junior League of Lake Charles in 1988, is the home of 19,000 square feet of hands-on exhibits for kids and parents. The museum has three floors and over 45 hands-on exhibits that provide children and their parents the opportunity to interact, learn and have fun in a safe atmosphere. It offers field trips, birthday parties and special events year round.
Louisiana State Cotton Museum

Lake Providence

The museum is dedicated to preserving the history and heritage of cotton cultivation and its influence on life in Louisiana.
Southern Forest Heritage Museum

Long Leaf

Southern Forest Heritage Museum is the oldest complete sawmill facility in the South. This complex is unique in that it is a complete sawmill complex dating from the early 20th century, and that it has the most complete collection of steam-powered logging and milling equipment known to exist. The museum is spread over a 57 acre area. On the property is the commissary, providing an entrance to the museum, the Planer Mill, the Planer Mill Power Plant, the Water Pumping Station, the Round House, the Machine Shop, the Carknocker Shop, the Sawmill, the Sawmill Power Plant, and Storage Sheds. Railroad equipment that can be seen at the museum includes three locomotives, a McGiffert Loader, and a rare Clyde Rehaul Skidder. In addition, one can see many artifacts that were left in place when the mill closed February 14, 1969.
Fairview-Riverside State Park

Madisonville

Scattered throughout the park beneath a canopy of huge oak trees, you will find numerous picnic tables, as well as a group pavilion, a playground, and comfort stations. Spend a relaxing afternoon on the river or venture out into the water for lively outdoor recreation. When you enter the park, you will notice a large home facing the water. This is Otis House, originally built in the 1880s.
Fontainebleau State Park

Mandeville

The crumbling brick ruins of a sugar mill built in 1829 by Bernard de Marigny de Mandeville, founder of the nearby town of Mandeville, suggest an interesting history for this site, and indeed there is. The 2,800-acre park is located on the shore of Lake Pontchartrain. On a clear day, visitors can see the lake dotted with multi-colored sailboats of all sizes and types. The sandy beach also is a delight for sunbathers. An old railroad track that runs through the park has been converted into the Tammany Trace as a part of the Rails to Trails program. It is a wonderful route for cycling, hiking and in-line skating.
Surge Trampoline Park

Metairie

Searching for that special field trip venue? Look no further, Surge has you covered. Surge Metairie, LA welcomes all ages and offers a variety of field trip and private event options. Kids love Surge Trampoline Park and it's also a known fact that parents love us too! Schedule your field trip with Surge Metairie, LA and let our hosts do all of the work. From organization to setup and cleanup, parents should feel like they are able to sit back and enjoy the field trip as much as the kids.
Germantown Colony and Museum

Minden

The Germantown Colony and Museum, located northeast of Minden, provides visitors with a look into the past, to a way of life once believed by its founders to be a utopia. The colony is one of three founded in the U.S. in the early 19th century by the Utopian Movement of the Harmonist Society, which originated in Germany. In 1835, under the leadership of the Countess von Leon, the colony was established and operated on a communal basis until 1871.
Masur Museum of Art

Monroe

The largest visual arts museum in northeast Louisiana, and is a vital part of our local culture. Because admission is always free, all members of our community can expand their horizons through the museum's many and diverse offerings.
Northeast Louisiana Children's Museum

Monroe

Permanent exhibits include, Kids' Cafe, Health Hall, the Think Tank and Toddler Town. The museum also hosts a variety of changing traveling exhibits centered on hands-on learning.
Northeast Louisiana Delta African American Heritage Museum

Monroe

Preservation and Promotion of African American Contributions and Culture Through Public Education, Artistic and Cultural Events.

Northeast Louisiana Delta African American Heritage Museum website
Biedenharn Museum and Gardens

Monroe

The Biedenharn is an exciting place with many activities including guided tours, special exhibits, children's programs, concerts and more.
International Petroleum Museum and Exposition

Morgan City

International Petroleum Museum and Exposition is a non-profit corporation established for the purpose of educating the general public, and the next generation, on the significance of the offshore oil and gas industry and its affect on the local area, the state, the nation, and the world.
Cane River Creole National Historical Park

Natchez

Wander thoughtfully through the grounds of Oakland and Magnolia Plantations. While admiring a hand-wrought door hinge or a cleverly-worked wooden gate, we might reflect on the social and agricultural practices that built these tenant houses, pigeonniers, carpenter and blacksmith shops.
Cane River National Heritage Area

Natchitoches

A place where many cultures - American Indian, French, Spanish, African, Creole, and later American - came together to create a way of life dependent on the land, the river, and each other.
Rip Van Winkle Gardens

New Iberia

Lose yourself in a wonderland of flora and fauna, a twenty five-acre semi tropical paradise that captures the senses and cleanses the soul. Discover a year-round explosion of color where irises, magnolias, hibiscus, camellias, azaleas, thousands of springtime bulbs and a breathtaking array of annuals paint a landscape across the Southern sky.
Shadows on the Teche

New Iberia

The Shadows-on-the-Teche is an antebellum historic house museum property of the National Trust for Historic Preservation. Dedicated to telling the story of life on a nineteenth-century southern Louisiana plantation. Located in the lush semi-tropical city of New Iberia, Louisiana, set among towering live oak trees, draped with Spanish moss swaying in the breeze off the Bayou Teche, bathed by the sunlight as it gently shines across the trees casting shadows on the house and the flowing muddy waters of the bayou.
Historic New Orleans Collection

New Orleans

The Historic New Orleans Collection is a museum, research center, and publisher dedicated to the study and preservation of the history and culture of New Orleans and the Gulf South region.
House of Broel

New Orleans

A Victorian Mansion, Wedding Chapel and Dollhouse Museum. This architectural gem is an impressive feat of engineering. In addition to being beautiful, the house is also very interesting. The original two story home built in 1850 was lifted in 1884 by Wm. Renaud, who added the magnificent first floor as a spacious setting for family weddings, receptions and parties. On the second floor, enter the magical wonderland of an extensive dollhouse collection that was personally designed and decorated by the owner, author and Polish Countess, Bonnie Broel, over a period of fifteen years. The enchanting collection of over sixty historically accurate scale model mansions, houses, shops and vignettes includes an English manor house, an antebellum plantation and a 28 room Russian palace, 10 ft. tall & 12 ft. wide.
Jackson Barracks Military Museum

New Orleans

Visit the Official Museum of The Louisiana National Guard. See artifacts, weapons and memorabilia from every major American war.
Longue Vue House and Gardens

New Orleans

A National Historic Landmark in New Orleans, Louisiana. Longue Vue features Classical Revival style buildings and landscaped gardens, a magnificent collection of European and American decorative and fine arts pieces, museum exhibits, entertaining tours, educational programs, and a delightful museum shop.
Louisiana Children's Museum

New Orleans

The Louisiana Children's Museum is New Orleans' most playful place to explore, experience and learn. Plan a fun family outing. Enroll your child in a dynamic art holiday or summer camp. Organize a field trip or let the LCM bring the fun and learning to your classroom with unique outreach programs that make classroom lessons come to life.
The Cabildo

New Orleans

An elegant Spanish colonial building that houses many rare artifacts of America's history. Among them is Napoleon's death mask, one of only four in existence.
The Presbytere

New Orleans

The Presbytere, originally called Casa Curial or "Ecclesiastical House," was built on the site of the residence, or presbytere, of the Capuchin monks. The building was used for commercial purposes until 1834 when it became a courthouse. In 1911, it became part of the Louisiana State Museum. The Presbytere's two permanent exhibits tell two sides of the ongoing Louisiana story; one of celebration and one of resilience.
The National World War II Museum

New Orleans

Renowned historian, author and educator, Dr. Stephen Ambrose founded The National World War II Museum Foundation in New Orleans in 1991. The Museum, which opened on June 6, 2000, is the only museum in the United States that addresses all of the amphibious invasions or "D-Days" of World War II, honoring the more than one million Americans who took part in this global conflict. The National World War II Museum opened its doors on the 56th anniversary of the Normandy invasion that liberated Europe. It is located in New Orleans, Louisiana because it was here that Andrew Higgins built the landing craft used in the amphibious invasions; the landing craft which President Eisenhower believed won the war for the Allies. The Museum stands as our country's tribute to the men and women who made the invasions in Europe, Africa and the Pacific theaters successful. It presents their stories to an international audience, preserves material for research and scholarship, and inspires future generations to apply the lessons learned from the most complex military operation ever staged.
New Orleans Museum of Art

New Orleans

The mission of the New Orleans Museum of Art is to inspire the love of art; to collect, preserve, exhibit and present excellence in the visual arts; to educate, challenge and engage a diverse public.
New Orleans Pharmacy Museum

New Orleans

Listed on the National Register of Historic Places as an historic building within the Vieux Carre Historic District, the New Orleans Pharmacy Museum showcases its extensive collection and provides interpretive educational programs to present and preserve the rich history of pharmacy and healthcare in Louisiana; past and present. The Museum also highlights the role of Louis Joseph Dufilho, Jr. whose work symbolizes the beginning of a system of certifying the professional competence of pharmacists, and recognizing the vital significance of that competence for the public health.
Pitot House

New Orleans

The only Creole colonial style house museum in New Orleans. It tells the story of life along Bayou St. John since the earliest days of settlement. The Pitot House has had a variety of owners from prominent lawyers to austere nuns. One of the most prominent was James Pitot, the first American mayor of New Orleans who lived here from 1810-1819. The Pitot House is a National Trust for Historic Preservation Partner Place.
Grow Dat Youth Farm

New Orleans

Field trips at Grow Dat provide hands-on, experiential learning opportunities to students in grades K-8. The seven-acre site in New Orleans City Park hosts a 2.5-acre farm, produce handling and storage facilities, and a lush, dynamic wild space along our Birding Corridor, which runs parallel to the bayou on the west side of our campus. There are three curriculum tracks that incorporate these interactive spaces on the farm to engage students in science and social studies concepts throughout the field trip learning experience. Go to growdatyouthfarm.org/fieldtrips for more info!
Sankofa Wetland Park and Nature Trail

New Orleans

The Sankofa Wetland Park & Nature Trail project is restoring 40 acres of a deteriorated natural area adjacent to the Bayou Bienvenue Triangle into a bald cypress-water tupelo wetland habitat. The already-developed 8 acre Wetland Park offers outdoor recreation and STEM education with hiking, biking, natural play, fishing, and birding. Youth learn about wetland conservation and green infrastructure through activities such as water quality testing, flora and fauna species identification, and planting of native trees.
New Orleans Botanical Garden

New Orleans

Bring your class to the New Orleans Botanical Garden and take a natural science tour both you and your students will enjoy! Knowledgeable tour guides share interesting and amazing facts about the plants, animals, insects and living fossils encountered on a stroll through our garden. To register, call (504) 483-9470 or e-mail nobgeducation@nocp.org.? Age group: Kindergarten - 8th Grade? Tour fee: $4/student? Requirements: Free entry for chaperones (one per 8 students required). Additional chaperones are $6/each. Reservations are required two weeks in advance.
National WWII Museum: Worldwide Casualties

New Orleans

The National WWII Museum of New Orleans offers a wealth of information for learning about World War II. In addition to the casualty statistics listed on this page, you can find articles profiling veterans and service members, lessons and educator resources, and resources for additional research.
Jean Lafitte National Historical Park and Preserve

New Orleans

Jean Lafitte was a French pirate and privateer in the Gulf of Mexico in the early 19th century. The park tells the story of pirates and treasures of the times, as well as, the New Orleans culture that has shaped the area. Website has educational information for those unable to visit the park in person.
New Orleans Jazz National Historical Park

New Orleans

A story rich with innovation, experimentation, controversy and emotion, the park provides an ideal setting to share the cultural history of the people and places that helped shape the development and progression of jazz in New Orleans.
American Italian Cultural Center

New Orleans

The museum tells the history of Italian Americans in the Southeast and their contributions to all areas of our daily lives through photographs, articles, family histories, and memorabilia. The museum memorabilia are displayed on different walls identified and categorized by themes such as Societies and Festivals, Music, the Immigrant, Genealogy, Personalities, and much more.
Audubon Nature Institute

New Orleans

Audubon Nature Institute is a 501(c)3 not for profit that operates a family of museums and parks dedicated to nature. These New Orleans facilities include: Audubon Park, Audubon Zoo, Woldenberg Riverfront Park, Audubon Aquarium of the Americas, Freeport-McMoRan Audubon Species Survival Center, Entergy IMAX® Theatre, Audubon Center for Research of Endangered Species, Audubon Wilderness Park, Audubon Insectarium and Audubon Nature Institute Foundation.
Beauregard-Keyes House

New Orleans

One of New Orleans' best known historic homes. The Beauregard-Keyes House, built in 1826 for wealthy auctioneer Joseph LeCarpentier, is a fine example of a raised center hall house. It is named for two of its former residents, Confederate General Pierre Gustave Toutant (P.G.T.) Beauregard and author Frances Parkinson Keyes. In addition to public tours, the house and garden are available for private events, including weddings, receptions and parties. Listed on the National Registry of Historic Places
Louisiana's Civil War at Confederate Memorial Hall

New Orleans

Confederate veterans of Louisiana founded Memorial Hall, also known as the Confederate Museum, in New Orleans in 1891 as a repository for their memorabilia from the War Between the States. These veterans and their families have donated more than 90% of the artifacts preserved and now exhibited in Memorial Hall. Memorial Hall contains the second largest collection of Confederate memorabilia in the United States and is the oldest continually operating museum in Louisiana.
Gallier House/Hermann-Grima House

New Orleans

Gallier House - In 1857, esteemed New Orleans architect, James Gallier, Jr., put his considerable talen to work designing a residence of his own. Gallier House is an outstanding example of accurate and comprehensive historic restoration of one of New Orleans' loveliest and time-honored landmarks. - Experience this wonderfully furnished home with its detailed garden, elegant carriageway and slave quarters. Hermann-Grima House - Prior to the Civil War, prosperous Creole families enjoyed an elegant lifestyle in the Vieux Carre. Walk through this meticulously restored residence and experience the Golden Age of New Orleans. Built in 1831, the Hermann-Grima House is one of the most significant residences in New Orleans. This handsome Federal mansion with its courtyard garden boasts the only horse stable and functional 1830s outdoor kitchen in the French Quarter. Painstakingly restored to its original splendor through archaeological studies and careful review of the building contract and inventories, the museum complex accurately depicts the gracious lifestyle of a prosperous Creole family in the years from 1830 to 1860.
Louisiana State Museum

New Orleans, Baton Rouge, Thibodeaux and Patterson

A complex of national landmarks housing thousands of artifacts and works of art reflecting Louisiana's legacy of historic events and cultural diversity. The Museum operates five properties in the famous French Quarter: the Cabildo, Presbytere, 1850 House, Old U.S. Mint and Madame John's Legacy. Also the Louisiana State Museum - Patterson in Patterson, Louisiana State Museum - Baton Rouge, the Old Courthouse in Natchitoches, and the E.D. White Historic Site in Thibodeaux.
Pointe Coupee Parish Museum

New Roads

The Pointe Coupee Parish Museum, located on the west bank of False River near Parlange Plantation, is architecturally significant because it is a rare example of a log cabin type construction in a Creole type house. The original portion of the house dates from the early 19th century. It has a typical Creole plan, consisting of two rooms, front and rear galleries, and a single central chimney.
Louisiana State Oil and Gas Museum

Oil City

Chronicles the growth of Oil City with exhibits featuring the Caddo Indians and a variety of early oil-field equipment. The museum was formed in 1969 by a group of citizens dedicated to preserving the historical importance of the area as the site of the 1911 "Ferry No. 1" well, one of the world's first over-water discovery wells. Artifacts include a wooden flow line pipe, an electric motor patented in 1899, a steam-driven fluid pump, pipe tongs and other equipment. There is also a large collection of early boomtown and gusher photographs. Another part of the museum, the Caddo Indian Room, features Caddo Indian relics and arrowheads dating back 10,000 years. And, be sure to visit the oil derrick and historic boomtown buildings just outside the museum.
Opelousas Museum and Interpretive Center

Opelousas

The Opelousas Museum and Interpretive Center is a general history museum dedicated to collecting, preserving, and interpreting those objects and artifacts which provide information about the history and culture of the Opelousas area from prehistoric times to the present. Exhibits cover prehistory, agriculture, home and family, business and professions, music, food and a Hall of Fame. One room is dedicated to the Civil War, and two other rooms house the Geraldine Smith Welch Doll Collection of over 400 dolls. The museum is also home to the Louisiana Video Collection Library and the Southwest Louisiana Zydeco Music Festival Archives.
Wedell-Williams Aviation and Cypress Sawmill Museum

Patterson

The Louisiana State Museum, Patterson is the official state aviation and cypress sawmill industry museum and houses two very important collections documenting our state's rich history. The Wedell-Williams Aviation Collection focuses on the legacy of Louisiana aviation pioneers Jimmie Wedell and Harry Williams who formed an air service in Patterson in the 1928. Both men became nationally prominent during what was known as the Golden Age of Aviation. Although both Wedell and Williams perished in plane crashes, their legacy lives on in the memorabilia and planes on display. The Patterson Cypress Sawmill Collection documents the history of the cypress lumber industry in Louisiana. Lumbering became the state's first significant manufacturing industry. As a result, cypress lumber harvested and milled in Louisiana was shipped in mass quantities across the United States. The town of Patterson was once home to the largest cypress sawmill in the world, owned by Frank B. Williams, and in 1997 the Louisiana State Legislature designated Patterson as the cypress capitol of Louisiana. The exhibit features a variety of artifacts, photographs, and film that tell the story of this important regional industry.
Battle of Pleasant Hill

Pelican

Pleasant Hill re-enactments and activities in the re-enactors camp will take place 3 miles north of Pleasant Hill at 23271 Hwy. 175, Pelican, LA. Early April. Check website for information and schedule for Education Day.
Iberville Museum

Plaquemine

The Iberville Museum is located in the first Iberville Parish Courthouse. It houses artifacts of life in the parish from the early 1900s and features a Mardi Gras Room, complete with costumes of kings and queens of past carnival balls.
Creators Wanted at RPCC Campus, Plaquemine

Plaquemine

A great interactive field trip for 6th-12th graders sponsored by Dow. Experience what modern manufacturing is today, in a way you've never seen it before. Students enter a challenge every ten minutes, competing against the clock to bust myths, solve riddles, crack codes, solve problems and work together to create their future.
North Louisiana Military Museum

Ruston

The Louisiana Military Museum contains a unique collection of exhibits chronicling our conflicts from the Spanish American War, Civil War, World War I, World War II, Korea, Vietnam, Desert Storm and today's war on terror. The museum features an expansive weapons collection, from swords and muskets to heavy machine guns. In addition, artillery pieces are displayed on the grounds.
Meadows Museum of Art

Shreveport

The Meadows Museum of Art at Centenary College of Louisiana is an educational unit of the College charged with the collection, conservation, preservation and interpretation of visual art works of museum quality from the permanent College Collection inclusive of the Indochina Collection of Jean Despujols. This comprehensive Collection represents the aesthetic achievements of a variety of world cultures and includes works by George Grosz, Emilio Amero, Mary Cassatt and Alfred Maurer. The Meadows Museum of Art has received a copy of The Triumphal Arch of Maximiliian I by Northern Renaissance artist and engraver Albrecht Durer.
R.W. Norton Art Gallery

Shreveport

Free to the public for enjoyment and enlightenment, The R.W. Norton Art Gallery is a non-profit museum built in 1966 which features original works of American and European art. With the addition of the South Wing in 1991 and the North Wing in 2003, the Norton has continued to expand its permanent collection and bring outstanding art exhibitions from all over the country to the greater Shreveport area. Explore the Norton online and plan your next visit to experience its amazing art and gorgeous gardens.
Sci-Port: Louisiana's Science Center

Shreveport

Sci-Port: Louisiana's Science Center provides a fun, educational environment for people of all ages to explore and actively engage in the world of mathematics, science and technology. Sci-Port serves to spark curiosity about the world around us, provides hands-on tools for using scientific discovery in everyday life, and encourages a passion for life-long learning. Sci-Port is a 92,000 square-foot science and entertainment center in Shreveport-Bossier, featuring over 290 science, space science, technology and math exhibits; daily changing programs, an IMAX Dome Theatre, open-access, interactive, laser SPACE DOME Planetarium, gift shop and cafe.
Spring Street Historical Museum

Shreveport

The Spring Street Historical Museum's building was constructed in the 1860s as Tally's Bank and is one of the oldest remaining buildings in downtown Shreveport. The building retains one of Northwest Louisiana's few remaining examples of New Orleans-style cast-iron gallery grill work.
Stephens African American Museum

Shreveport

To cultivate and preserve African American History. To Increase awareness and recognize African American contributions. To foster and promote African American artists.
Touchstone Wildlife and Art Museum

Shreveport

Touchstone Wildlife and Art Museum includes more than 1,000 mounted animals from around the world displayed in natural habitats with hand painted backgrounds. The museum also features displays of American Indian artifacts and various memorabilia from the Civil War, World War I and World War II.
Shreveport Aquarium

Shreveport

Our educational fieldtrips combine age-appropriate STEM based, hands-on learning with educational talks and up-close animal encounters! During your interactive visit students will gain a deeper understanding and appreciation of the earth's oceans and the creatures that inhabit them. Our fieldtrips include grade-level appropriate guided tours, animal feedings, biology lessons and more!
Multicultural Center of the South

Shreveport

The Multicultural Center of the South is located in Downtown Shreveport and is host to numerous cultural exhibits that display a variety of cultures prominent in Northwest Louisiana. Students through grades Pre-K and up are welcome to take a vicarious journey through cultural exhibits such as Mexico, Iran, Greece, Ireland, Africa, India, China, Korea, and more! Tours with activity are available by appointment and are tailored to fit each grade level.
Tickfaw State Park

Springfield

Strolling through four ecosystems on over a mile of boardwalks through Tickfaw State Park, visitors can experience the sights and sounds of a cypress/tupelo swamp, a bottomland hardwood forest, a mixed pine/hardwood forest and the Tickfaw River.
Lake Bruin State Park

St. Joseph

There are over 3,000 acres of water surface on Lake Bruin, and the visitors to Lake Bruin State Park have access to every acre for incomparable freshwater fishing, superb water sports and fine outdoor living. The 53-acre site was originally established in 1928 as a fish hatchery.
Lake Fausse Pointe State Park

St. Martinville

Lake Fausse Pointe State Park, at the edge of a beautiful water wilderness, is a perfect point from which to explore the natural and cultural heritage of South Louisiana. Fishing, boating and canoeing opportunities abound. A boat launch gives visitors easy access to the labyrinth of waterways that winds through the Basin. A visitor center complex features a boat dock with rentals, and a nature center provides fun programs and activities as a way to learn about the surrounding environment.
Acadian Memorial

St. Martinville

Honors the 3,000 men, women and children who found refuge in Louisiana after British forces exiled them from Acadie, their homeland on the Atlantic Coast of Canada, in the mid 18th century.
African American Museum

St. Martinville

The African American Museum tells the story of the arrival of the Africans and of the development of the Free People of Color community in Louisiana. The museum also interprets their struggles, adaptations and contributions, with particular emphasis on the Attakapas District of Southwest Louisiana during the 18th and 19th centuries. It outlines the rise and fall of slavery, highlighting the Free People of Color and the economic struggles they faced during Reconstruction after the Civil War, through the end of Reconstruction..
Almosta Ranch

Sulphur

Family friendly farm raising many different farm animals. Field trips consist of a mule driven hayride, walking tour to pet and feed the various farm animals, and a barrel train ride. Groups may bring picnic lunches to enjoy on picnic tables or spread out a blanket underneath one of our many huge live oak trees. In the Fall, we will have a pumpkin patch with a chart on how to grow a pumpkin. We will also have tools to weigh and measure your pumpkin. We have scavenger hunts available upon request.
Brimstone Museum

Sulphur

Our mission is preserving and enriching the culture of Southwest Louisiana. To accomplish this goal, we are currently working on a permanent exhibit on the history of the sulfur industry and how it has played a role in developing the city of Sulphur, Louisiana.
Camp Moore Confederate Cemetery and Museum

Tangipahoa

Camp Moore was the largest Confederate training camp in Louisiana and the only Confederate training camp still open to the public.
Chicot State Park

Ville Platte

The cool, clear waters of Lake Chicot have yielded record freshwater catches of largemouth bass, crappie, bluegill and red-ear sunfish. An extensive hiking/backpacking trail completely encircles Lake Chicot and includes several primitive campsites along the way. The park includes cabins, a group camp, a lodge, picnic areas and playgrounds, a swimming pool, a boat launch, a fishing pier and a dock with rental boats.
Bayou Segnette State Park

Westwego

Bayou Segnette State Park offers the best of everything. Just a thirty-minute drive across the Mississippi River from New Orleans, a multitude of recreational opportunities awaits visitors of all ages--boating, fishing, canoeing, picnicking, playgrounds and, of course, swimming in the wave pool, as well as an ecosystem that offers you the chance to spot plants, trees and wildlife from both swamps and marshland.
Louisiana Political Museum and Hall of Fame

Winnfield

Winnfield is considered to be the birthplace of politics in Louisiana, for it is the home of three governors. The museum has accumulated over 100,000 artifacts and memorabilia relating to politicians and politics in Louisiana. There are life-sized mannequins of the two famous brothers, Huey and Earl Long. Frequently you can hear recordings of the speeches made by both men being played as visitors look back into the political past of Winnfield. Each of the inductees into the Hall has his own display with a caricature drawn by famed political cartoonist Pap Dean, who is also a member of the Hall of Fame. Currently there are 120 inductees into the Political Hall of Fame.
North Toledo Bend State Park

Zwolle

Located on Toledo Bend Reservoir, one of the country's largest man-made reservoirs, North Toledo Bend State Park provides a venue for a wide variety of water-related activities in a pleasant environment. And for land-based activities, more than 900 acres are available for camping, picnicking, hiking, and relaxing in the heart of nature.